As a gamer girl, you've probably experienced some degree of harassment in online gaming or you might just want to safeguard your privacy. In that case, you can use e girl voice changers, specifically the gamer girl voice changer, on various platforms.
In this article, we'll delve into the top 5 gamer girl voice changers for online voice chat trolling and voice beatify in 2023.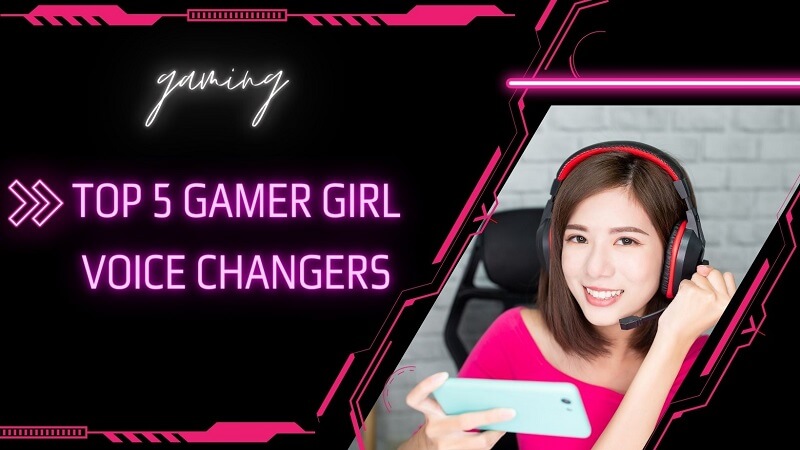 Change Voice
Tips
Watch this video to learn more about using real-time voice changer to change your voice into male.
Part 1:Best Real-Time Gamer Girl Voice Changer for PC [Mac and Windows]
As a voice changer that can transform your voice into any sound, MagicMic AI egirls voice changer has earned a considerable reputation in a short period as a fabulous voice changer. It is compatible with both Windows and Mac. Since it offers a slick interface, everyone can take the opportunity to change their voice using this tool.
MagicMic is also known as the game chat voice changer, and it also serves you as a perfect gamer girl voice changer with various inbuild female to male voice effects and egirl voice memes in multiple games.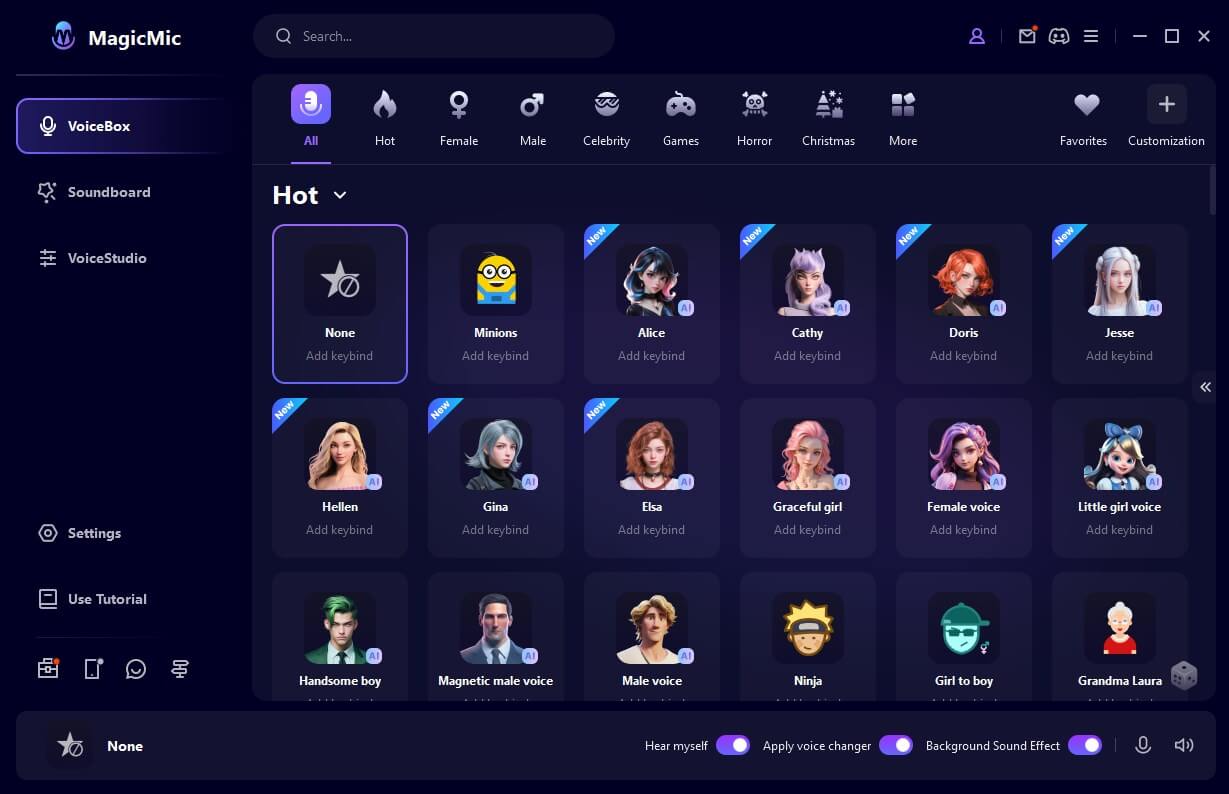 Main Features:
It provides you with 250+ voice filters, you can alter your voice with one click.
Various anime girl voice filters, like the voice of Hastune Miku, old lady, Lolita, Paimon, Grandma, Little girl and so on.
MagicMic supports various live streaming, chatting, or gaming platforms like Valorant, PUBG, Second Life, Fortnite, Call of Duty, and more.
It also offers over 600+ sound effects and voice memes.
It is available on Windows and Mac.
MagicMic allows you to create your own voice using its "Customization" feature.
How to use MagicMic voice changer for egirl in gaming?
Step 1: Download and install MagicMic.
Step 2: Select the virtual audio device.
Now, you'll need to open the communication app you've been using for GTA-V, PUBG, Second Life, Fortnite, etc.
From there, you'll need to set WDM (Voice Changer Virtual Audio Device as your audio input device.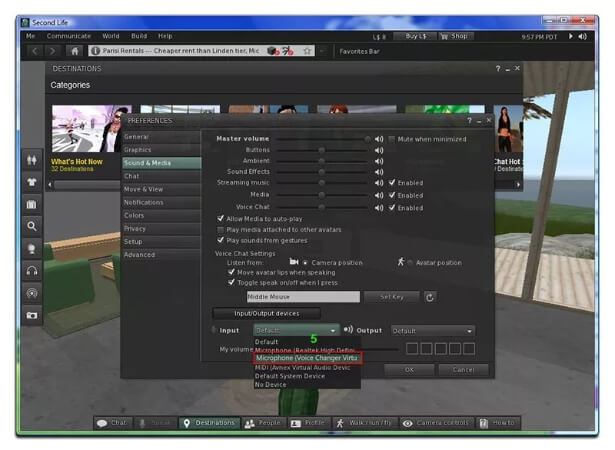 Step 3: Select a voice effect.
In this phase, you'll need to pick the voice effects you'd wish to use in the games.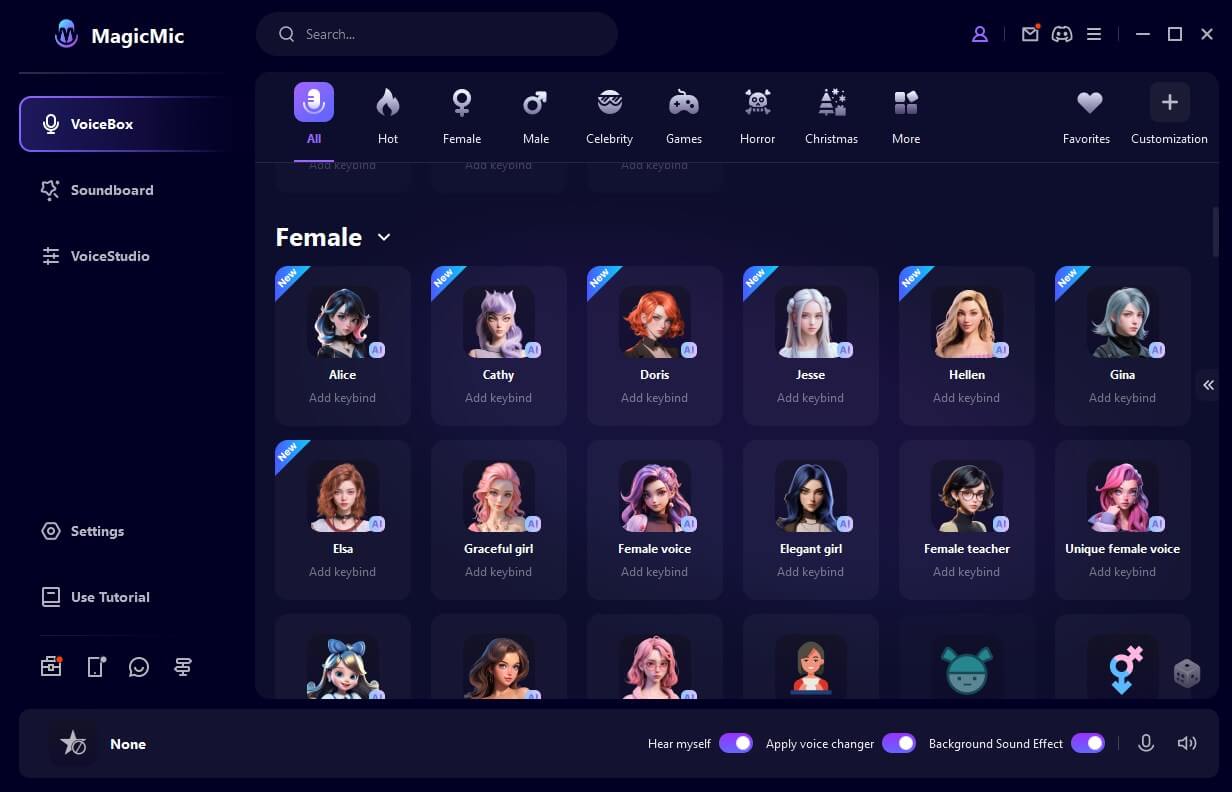 Deep Voice Changer | How to Make Your Voice Deeper?>>
More E-Girl Soundboard Free Download in 2023 >>
Part 2: Other Real-Time Voice Changers for Gamer Girl Recommended
1. Voicemod - E Girl Voice Changer
If you're a game lover who wants to change your voice in real time, Voicemod can effectively serve your purpose. It is a versatile and most dynamic tool that can transform a man's voice or a girl's voice into something else's voice.
It supports multiple chatting and streaming software, including Discord, Twitch, VR Chat, and Skype. Using this tool, you can change your voice in various real-time games such as PUBG, Minecraft, and Fortnite.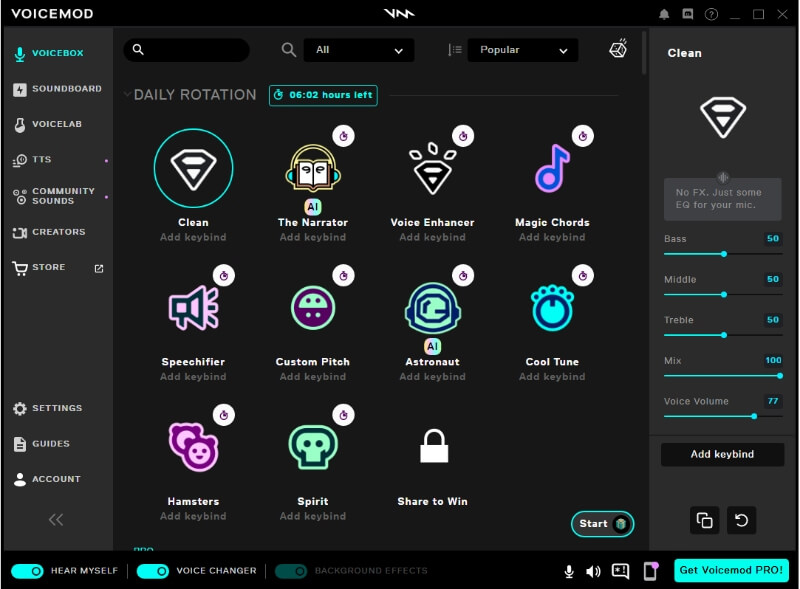 Main Features:
Voicemod comes with about 60 voice filters.
It offers a free trial with limited functions. You can buy the pro version to enjoy all features.
It comes user-friendly yet pretty effective interface, meaning you can maintain complete control of it while changing the voice.
Voicemod comes with some of the most popular voice editing features, including satanic agents, chipmunk, xbox gamer girl voice changer, and an alien.
Is Voicemod Girl Voice Good?>>
It is a simple free voice changer for gamer girls and efficient way to change the voice on online games or only e-chat like Steam or Skype. This tool supports Windows and can be used to change your voice in any game you want.
It offers some mind-blowing voice effects like baby pitch, Optimus Prime, Robot, and girls voice changer for the game like xbot, Fortnite and so on.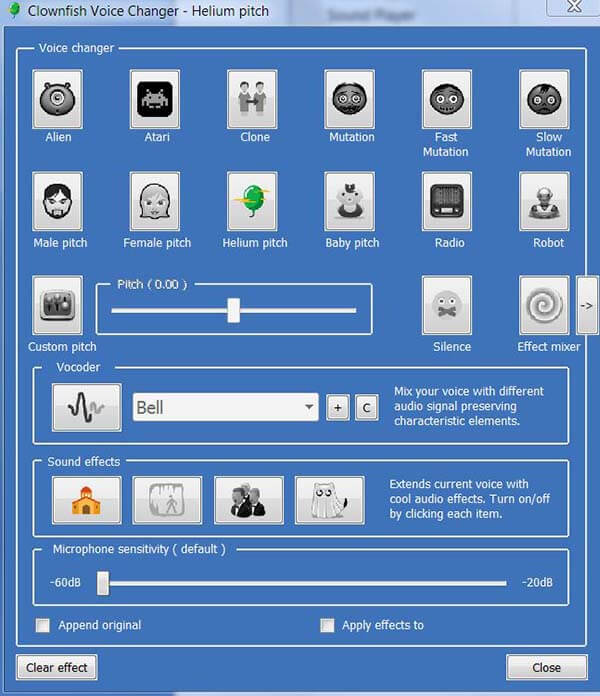 Main Features:
Since Clownfish girls voice changer supports VST plugins, it helps you to generate about 20+ audio effects and new sounds.
The installation process and method of using this excellent tool are pretty remarkable.
After changing the voice of your audio, you can export it to many social websites like Instagram, YouTube, Facebook, Vimeo, DailyMotion, etc.
It is easy to use, and you only need to download the application, register it with your email ID, and get your job done.
Clownfish Voice Changer Review in 2023 [Unbiased & Comprehensive]>>
If you're looking for a straightforward way to alter your voice in a game, Voxal Voice Changer can be a perfect gig. It comes with some flawless features that can make your job easier.
Apart from its premium version covering all the basics, the voice changer's free version comes with partial functions. It offers some breathtaking voices of about 30 kinds.
Using the tool, you can record your voice and then add voice effects to it. In addition, it also allows you to alter the voice pitch of existing files.
Besides supporting games like Xbox, PUBG, Fortnite, and CS: GO, it also supports various streaming websites, like Facebook, YouTube, and DailyMotion.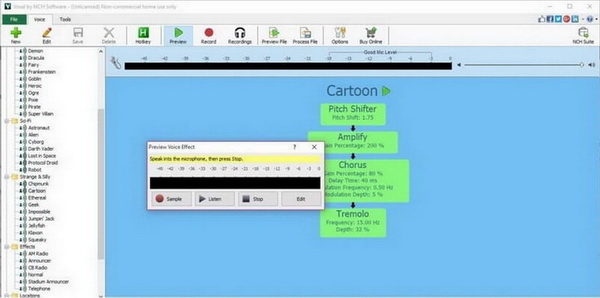 Main Features:
It allows you to add about 30 voice effects using a microphone in real time.
It supports various games and existing applications.
Using this tool, you can use a male or female voice in online games.
It offers many fascinating and scary voice-changing effects that can surely make your game competitors frighten. Moreover, it also contains funny voice effects to lift the mood when things don't look good.
Complete Guide for Voxal Voice Changer>>
Audacity is a pretty professional and advanced voice changer that sets apart its opponents with its tremendous ability to satisfy users. It comes with various voice-changing effects, including male, female, Darth Vader, robot, and many more.
Apart from being creative, you'll find its user interface nothing less than intuitive. If you want to record your voice using Audacity voice changer, it allows you to serve your purpose effortlessly.
After recording your voice, you can add your preferred voice effects to it. Apart from that, it also lets you allow change the voice of your recorded audio.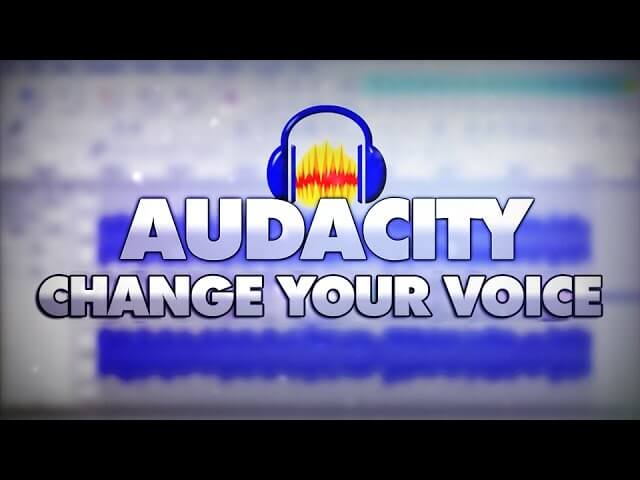 Main Features:
Using Audacity Voice Changer, you can alter the voice with minimal effort.
It offers many voice-changing effects like Darth Vader, gamer girl voice changer, robot, etc.
Using Audacity Voice Changer, you can edit the voice of existing audio as well as in real time.
Audacity offers easy to use interface, making it a perfect gig for newbies.
Best Audacity Voice Changer for PC>>
Part3: FAQs About E Girl Voice Changer
1. How to get gamer girl voice changer?
To obtain the gamer girl voice changer, MagicMic egirl voice changer is a fantastic choice. It provides 300+ voice effects and 800+ soundboards, that can easily change your voice in gaming.
2.Is there a girl voice changer?
As a professional software, MagicMic girl voice changer is a very friendly software for game lovers. It provides a lot of sound effects to change your voice in the game, hide your real voice, and completely hide your privacy on the screen. Behind the scenes, you don't have to worry about your identity and you can still have fun.
3.Are egirl voice changers only for girls?
No, egirl voice changer can be used by anyone regardless of gender. While they are commonly used by individuals who want to change their voice to sound more feminine, they can also be used by males for creative purposes or to play female characters in various contexts.
Conclusion
If you're looking for a befitting voice changer, we've explored the best 5 gamer girl voice changers for Xbox and various platforms in this article. Every e girl voice changer for pc we've mentioned possesses the unique and fantastic capability to make your experience wonderful.
However, MagicMic AI voice changer is the best egirl voice changer with various voice filers for pc you'll ever find. It has all those attributes that you search for in a voice changer for egirl. It supports multiple game apps and allows you to change your voice playing many popular games like Xbox, PUBG, and Fortnite. Due to its massive ability to make you satisfied, we strongly recommend this to you.