Text-to-speech (TTS) voice generators have become increasingly popular for their versatility. They find applications in various fields, such as video promotions, advertisements, pranks, comedy videos, memes, and even voice dubbing for cartoons and dramas. In this article, we will explore a range of highly effective and promising celebrity AI voice generators with TTS and voice cloning, that users can leverage for their diverse needs.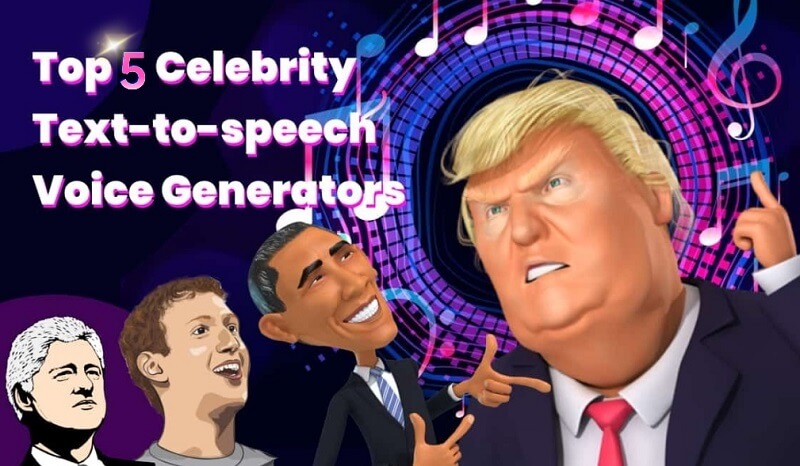 Bonus Tips
To gain a deeper understanding of using AI voice generators to create natural and realistic celebrity voices By following watch this resource, you can further explore the capabilities and potential applications of AI voice generators in achieving authentic celebrity voice synthesis.
Part 1: Have You Desired a Celebrities Speech?
Everyone in their lives has once desired a celebrity speech. It is because they are widely known and have a deep and effective voice. This can be achieved using text-to-speech voice generators. All of these tools have different characters and voices that users can choose from. The user just needs to type the text, select the voice and click on generate to transform the text into speech. It works very without any hassle.
Some of these text-to-speech tools have more voices than others but all work in the same way. If anyone wants to do an advertisement in any celebrity's voice, then a text to speech voice generator is the best tool they can go for. There are hundreds of male and female artists whose voices can be generated with these tools.

Part 2: Best 4 Celebrity Text-to-Speech AI Voice Generators
1) VoxBox-The Ultimate Celebrity AI Voice Generator
Voxbox is an AI text-to-speech generator that supported to make celebrities' voices like Jordan Peterson, Val Kilmer, etc. It also gives the user different options to choose a language from. The user just needs to enter the text and click on generate. Then they can download this speech to the computer easily.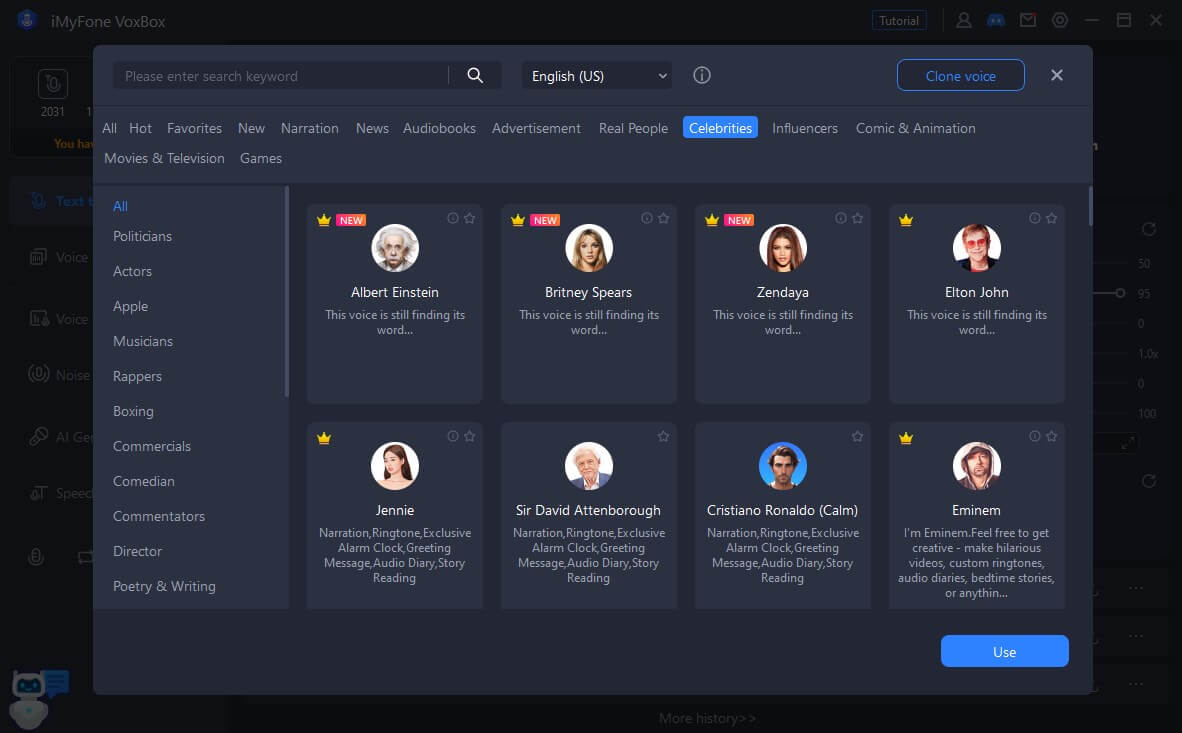 Features:
Extensive Voice Selection: With 3200+ voices available, users can choose from a diverse range of options such as rappers, YouTubers, characters, and even famous personalities like Trump or the President.

Accent Varieties: VoxBox provides support for 100+ accents, including British and Hindi accents, among others.

Wide Range of Functions: The platform offers voice generation, speech-to-text conversion, voice cloning, voice recording, video conversion, and audio editing capabilities.

Control Over Voice Properties: Users can adjust parameters like speed, pause, pitch, emphasis, and volume to customize the generated voice.

User-Friendly Interface.

Audio Editing Capabilities: VoxBox enables users to trim, cut, clip, and delete soundtracks as needed.

Free Trial Version.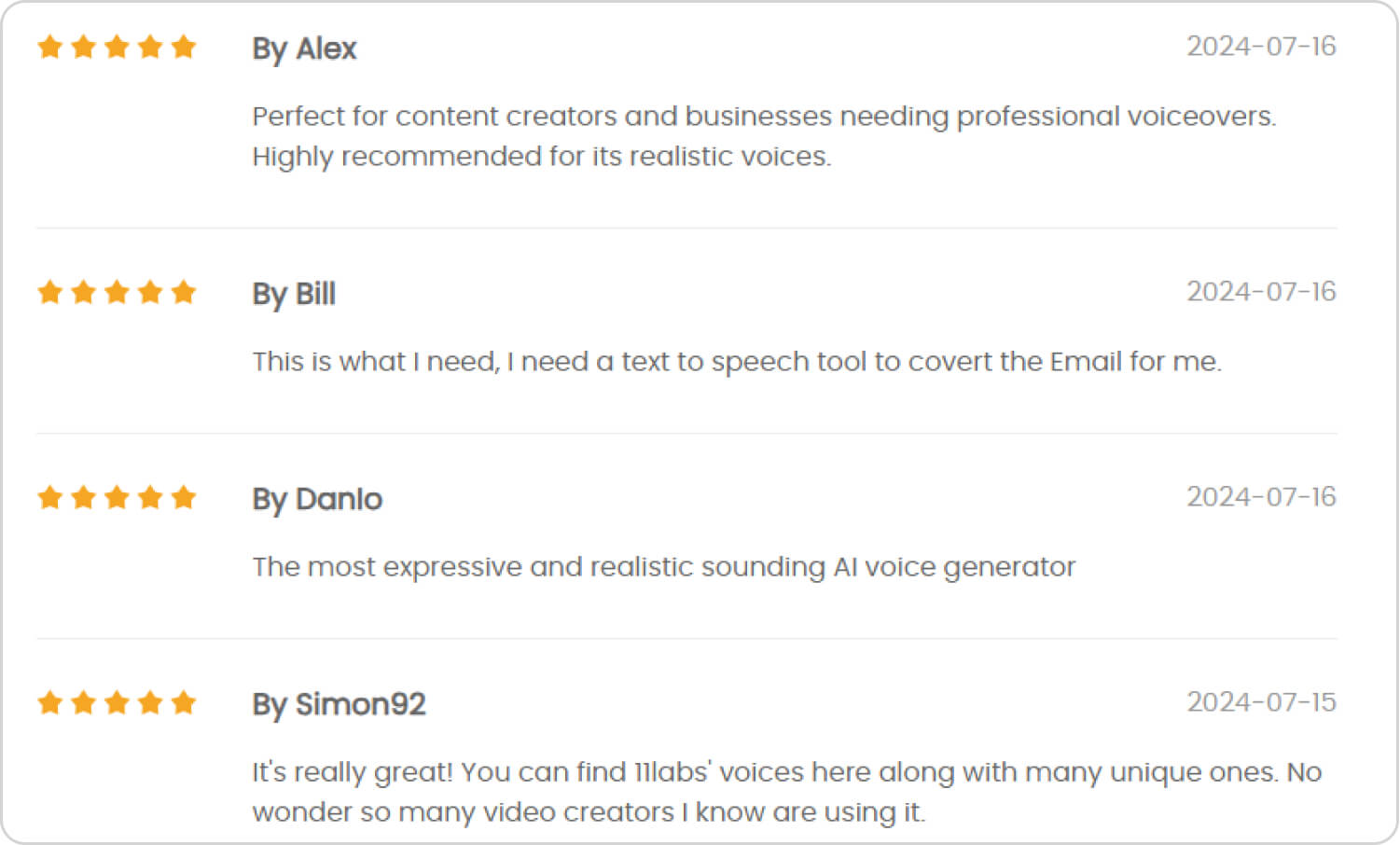 Listen to the Obama's AI Voice Generated by VoxBox.
Obama
If you are looking for an AI voice generator that works online and without any trouble, then Murf is the best website you can go for. It has a wide range of voice libraries and processes the voices in a few seconds.
Murf has different voices for different scenarios, including educator, author, animator, customer support, marketer, and more. It has a great editing studio that users can use and edit their creations.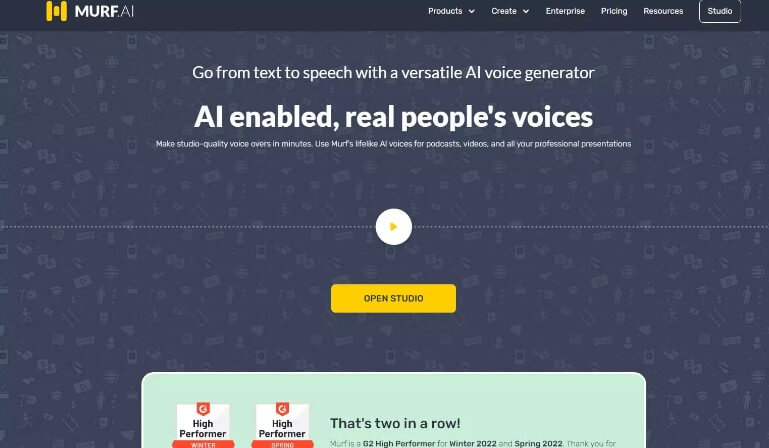 Features:
Murf has a powerful studio that allows the user to generate quality voiceovers without wasting much time (not apply for entertainment).

It has a wide library from which the user can choose different text-to-speech voices.

The user can add music, video, or image and be creative.

With Murf, the user can adjust the pitch, speed, emphasis, and interjection of the soundtrack.

It has won three consecutive awards for being a high-performing tool, so it is extremely reliable.

The interface is quite professional, but anyone can understand it as it is simple.
Azure is also a paid text-to-speech online tool, but it has a free version that people can download. It uses AI to convert text to speech and provides the user options to customize the voice in different ways. It is built on JavaScript SDK, and the user can also enjoy the free demo.
Features:
Azure enables the user to match the emotion of the human voice through synthesized speech.

It has different controls for text-to-talk audio.

Azure can convert text to speech like lifelike speech.

The user can customize the text talker voice and make it unique through AI.

The user can customize the text talker voice and make it unique through AI.

It has different language options that users can choose from.

It also has different voices and speaking styles, so the user can customize the voice.

With Azure, the user can adjust the speaking speed and pitch of the voice.

The speech services of Azure are certified by SOC, HIPAA, HITECH, ISO, FedRAMP, and more.
If you want to instantly transform the text into speech, then Speechelo is an amazing tool that you can find. It uses AI to generate the user but sounds like a real human voice. The user can convert text to speech in three simple steps. With Speechelo, the user can add inflections to the voice. There are three ways to read the text: normal, joyful, and serious tone. It has both male and female voices from which the user can choose.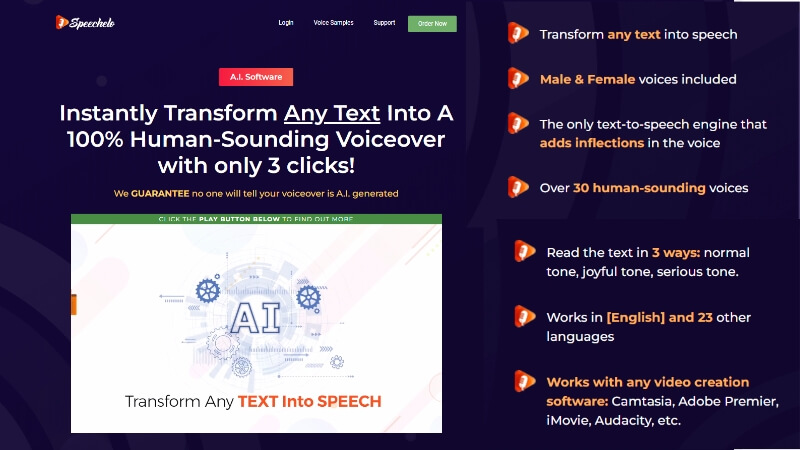 Features:
Speechelo has an online text editor that adds pronunciation and punctuation marks to the text that the user enters.

The user gets to add different breathing and pauses in the voice. Or the user can allow AI to add pauses between the phrases.

It supports up to 23 languages.

The user can change and adjust the speed and pitch of the voice.

Provides 30 different natural voices to choose from.

It offers a 60-day money-back guarantee to the user.

Speechelo can use different video editing tools like Premiere Pro, iMovie, and more.
Part 3: Hot FAQs about Celebrities AI Voice
1.How accurate are AI-generated celebrity voices in terms of replicating the original voice?
AI-generated celebrity voices have made significant advancements in replicating the original voices. While they can produce impressive results, the accuracy may vary depending on factors such as the quality of the training data and the specific AI model used.
2.Are there any limitations to AI-generated celebrity voices?
AI-generated celebrity voices still have certain limitations. They may struggle with capturing nuanced emotions or delivering performances that match the natural spontaneity of human voices. Additionally, certain accents, dialects, or unique speech patterns may be more challenging for AI models to replicate accurately.
3.How do AI-generated celebrity voices compare to human impersonators or voice actors?
AI-generated celebrity voices can offer a cost-effective and time-efficient alternative to human impersonators or voice actors. While they can produce convincing results, human impersonators or voice actors may still offer a more nuanced and personalized touch to the performances.
Conclusion
In the aforementioned article, we extensively covered the practical uses of celebrity text-to-speech voice generators. We also provided a list of recommended text-to-speech voice generators that allow users to effortlessly convert text into their desired voices. Among these tools, iMyFone VoxBox stands out as a user-friendly option with robust functionalities.
In addition to being a text-to-speech generator, VoxBox also supports voice cloning, enabling users to generate and utilize celebrity voices indefinitely. To experience the convenience of generating celebrity voices, we encourage you to download and install VoxBox now!