Everyone idealizes someone in politics or TV shows as these celebrities and politicians inspire generations. Many people would love to look like their favorite crush or celebrity. At the same time, they also want to sound like their favorite person and want to show other people that they are also like them or just to prank. Transformer to celebrity AI voice would be a great idea.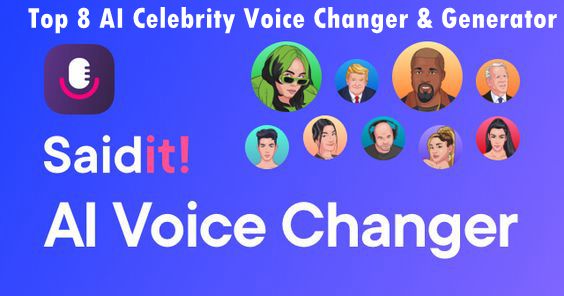 However, you can't sound like a celebrity without using any tool. Luckily, you can find celebrity voice changer that can fulfill your wish. Here, in this guide, we'll reveal the best 10 celebrity voice generator tools for you and tell you about the best option.
5 Real Time Celebrity Voice Changer for PC
MagicMic is an excellent voice changer that helps to generate celebrity voice filters with no effort. Except for celebrity voice-changing effects, there are also various in-build voice memes of celebrities.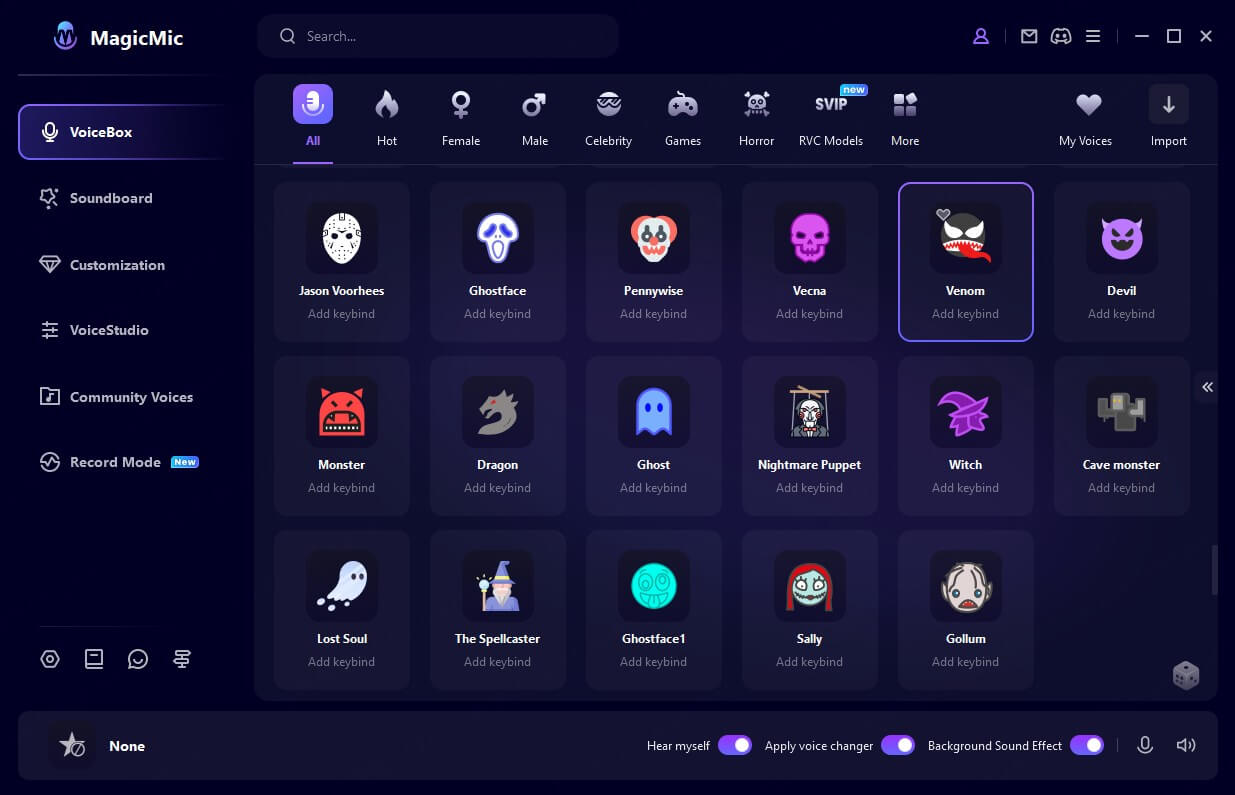 What's most surprising is that you can adjust the celebrity voice filters, like Donald Trump AI voice, with adjustment parameters like pitch and timbre. In short, no other tool can offer you more powerful and affordable services than MagicMic. From allowing you to explore flawless features to enable you to change voice in real-time for online gaming voice chat, MagicMic has all covered.
Features:
Using this tool, you've got the privilege to use about 125+ breathtaking celebrity voice filters, including celebrity AI voices, 600+ sound effects, and voice memes in real-time gaming and chatting apps.

Except for real time voice changing, it also works for recording and audio voice modulate.

It only covers 3 MB of space on your Windows and Mac devices.

You can also import sound effects, and music and play them in real time online voice chat.

It helps you to control the playback of voice and sound effects with keybinds so that you won't be interrupted while gaming and chatting.

You can create and custom new and unique voice with adjustment sound parameters.
User Rate: 4.9
Some users say, it is good for real-time voice change on both Mac and Windows, and hope if there is text to speech features then it would be the best.
Part 2: 4 Good Celebrity Voice Changers for PC
Morphvox is a voice changer for Windows devices, considering the amount of quality it brings. Besides being easy to use, Morphvox Pro offers you high-quality sound effects.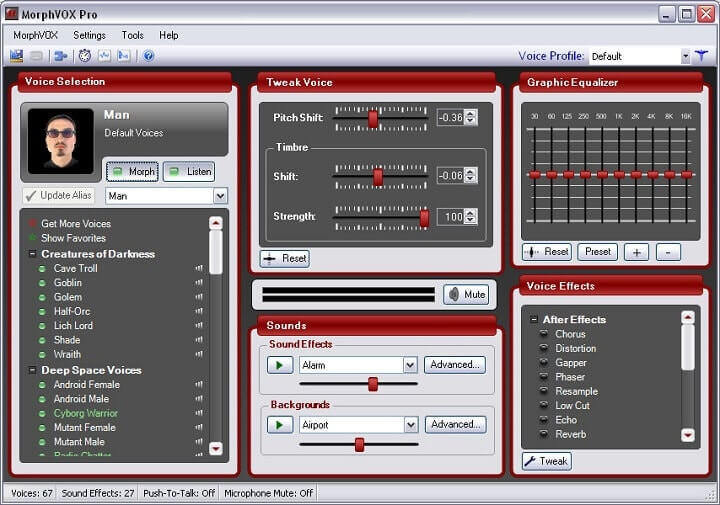 This voice changer keeps on evolving regularly and doesn't stop its progress. Moreover, Morphvox Pro also doesn't burden your PC as it comes with a pretty pleasing user interface. Using this interesting voice changer, you can add background music while playing online games or interacting with your friends and family members.
Features:
Morphvox is fitting to use in real-time gaming platforms.

You've got the luxury to select from high-quality audio effects.

It also comes with ultra-quiet background cancelation.

Apart from gaming platforms, you can also use Morphvox in real-time streaming and chatting platforms.

Morphvox Pro comes with a pretty reasonable premium package.
User rate: 3.9
Most users complain that Morphvox junior only offers 3 voice-changing effects, and its pro version priced at 39.99$ is too expensive.
If you're looking for a befitting celebrity voice changer, you can look at Voicemod. It is a reliable voice changer for PC that can make your voice sound like a celebrity. It offers you tons of voice filters and sound effects to choose from.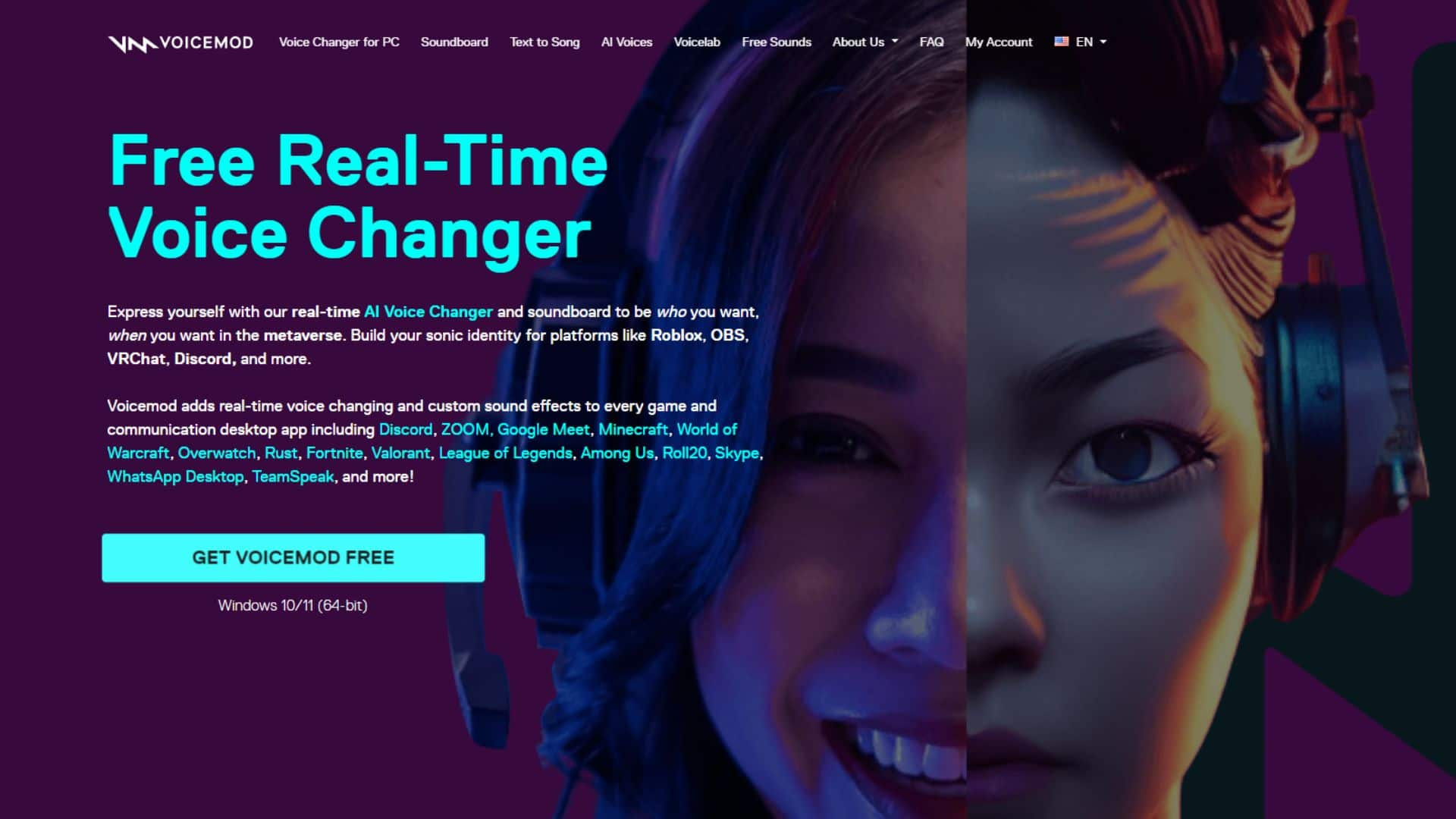 Voicemod is a popular voice changer, and many people use it as a voice modulator on various online platforms in real time.
Features:
An online voice changer allows you to change your voice live on different platforms.

Voicemod enables you to use funny sounds like troll sounds or memes.

Voicemod offers an effortless user interface, meaning you don't need to worry about its working procedure.

Apart from gaming platforms, you can also use Morphvox in real-time streaming and chatting platforms.
User rate: 4.2
The most common negative comment is that Voicemod's morphing effects are similar and unnatural. The most fatal shortcoming is that the server of this software is unstable and often fails to work.
3.Voxal [Mac/Windows]
Voxal Voice Changer is another voice changer that can help you make your voice like a celebrity. Whether you're looking to convert your voice into a male voice or female voice, Voxal Voice Changer has got everything covered.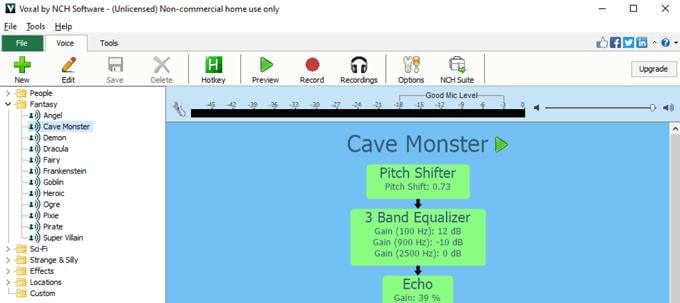 Moreover, you can pair this voice changer with gaming and chatting platforms, meaning you've got the opportunity to prank your friends in real time. Interestingly, this tool allows you to establish high-quality podcasts with minimal effort.
Features:
It allows you to explore tons of sound effects.

You can also create custom voice effects using this flawless voice changer.

Voxal Voice Changer allows you to use sound effects in real-time.
User rate: 4
The interface of Voxal is very old-fashion and not cool at all. Second, it's not cheap to charge, but the built-in voice changing and sound effects are not rich.
Opting for Voice Candy won't be a bad idea if you're looking to use it for personal purposes. It is a pretty simple yet reliable voice changer that enables you to change the voice of recorded audio sounds.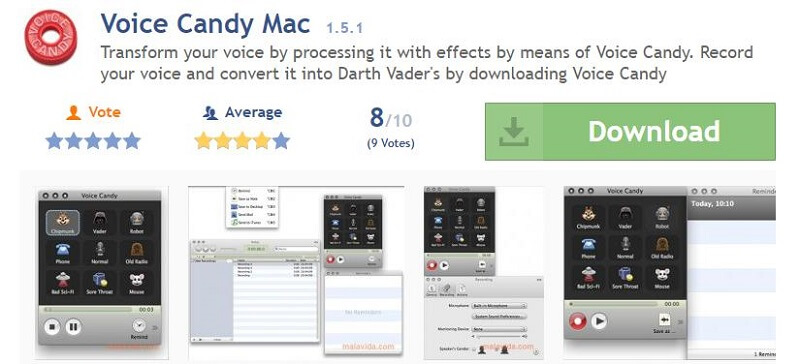 It means you'll have to record your audio file in the first place to change its pitch and voice. Although it doesn't offer you tons of sound effects still, all the eight sound effects it comes up with can make your experience worth remembering.
Features:
Voice Candy allows you to share your recorded voice directly to iTunes.

It supports the MOV format.

Voicemod offers an effortless user interface, meaning you don't need to worry about its working procedure.

It comes with fascinating sound effects, including Chipmunk, Normal, Sore Throat, Old Radio, etc.
User rate: 3.7
Voice Candy can be used to change voices, but it still needs to be improved. There aren't many voice changers for Mac, hope it fixes bugs and makes it smoother to use. In contrast, if you are a Mac system user, MagicMic recommended at the beginning of the article is recommended.
Part 3: 3 Best Celebrity Voice Changers for Mobile
You can sound like your favorite movie or TV star by using Celebrity Voice Changer. Apart from offering scintillating voice filters, this voice changer allows you to request your favorite movie stars' voice filters and sound effects.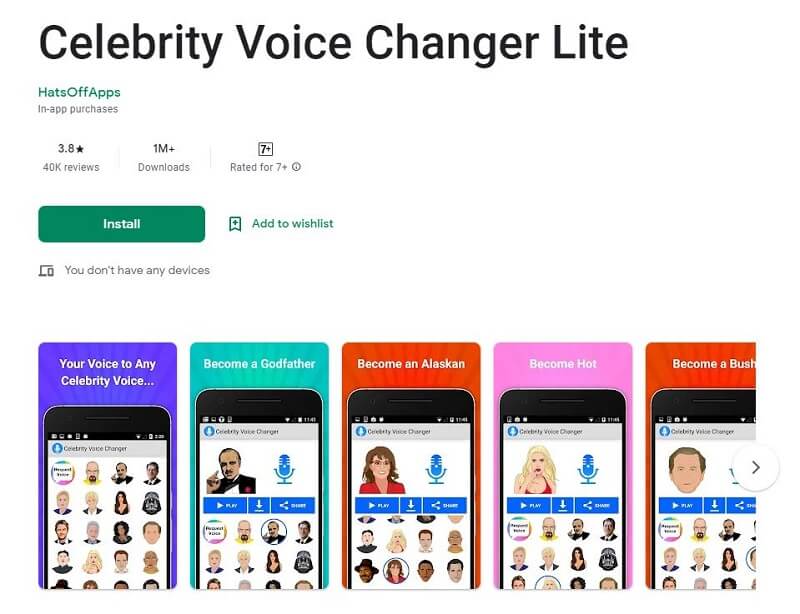 Although Celebrity Voice Changer only supports English, still it's worth your attention. However, you need to make in-app purchases to access all the features.
Features:
Celebrity Voice Changer comes with automatic voice modulation.

You've got a huge amount of voice filters to select from.

The voice changer comes with fabulous impressions of celebrities.
User rate: 4.0
, Unlike many mobile voice changers, Celebrity Voice Changer Parody doesn't provide mediocre services. Instead, it comes with fantastic voice filters recorded by a high-quality microphone. Using this incredible voice changer, you can easily convert your voice into any celebrity's voice.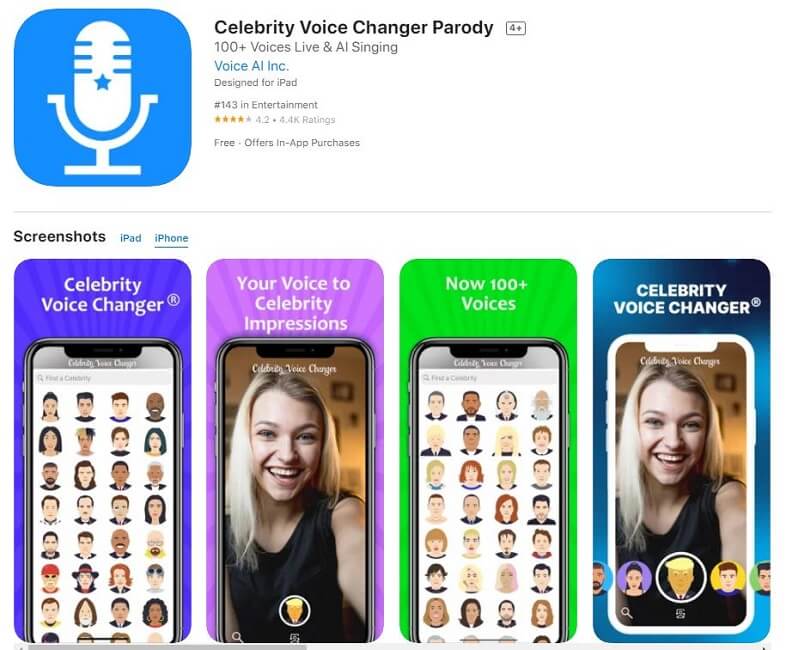 Moreover, it comes with a pretty easy user interface as you'll only need to follow a couple of steps to record your voice and then apply sound effects to it.
Features:
You can request new voice filters.

It allows you to share recorded voices on multiple social media platforms, including Facebook, Instagram, Twitter, and many more.

It is compatible with almost every iOS device.
User rate: 4.2
Voicer is another prestigious celebrity voice changer app that can help you generate prolific celebrity voice changers. Using this voice changer, you've got the massive opportunity to generate flawless ringtones for your mobile device.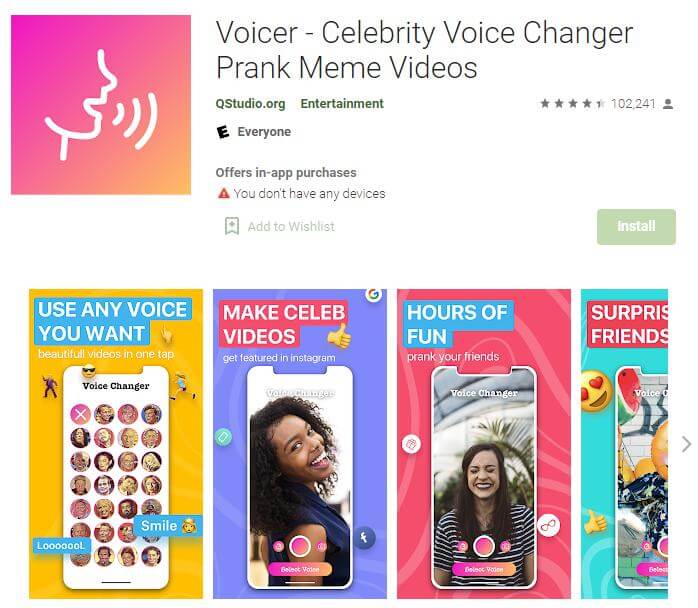 Features:
Voicer allows you to have 10+ famous actors and celebrities' sound effects to select from.

It gets updated regularly.

Many celebrities have recorded prank audios with this tool.
User rate: 4.4
Conclusion
Generating a celebrity voice is no longer difficult as you can acquire the services of a celebrity voice generator. Considering your aspiration to be a celebrity, we've explored 10 celebrity voice changers in this guide.
Every voice changer offers a unique feature and is worth a try. However, no voice changer can beat MagicMic as it possesses unbelievable powers. The high-quality features and professional services of MagicMic can impress anyone.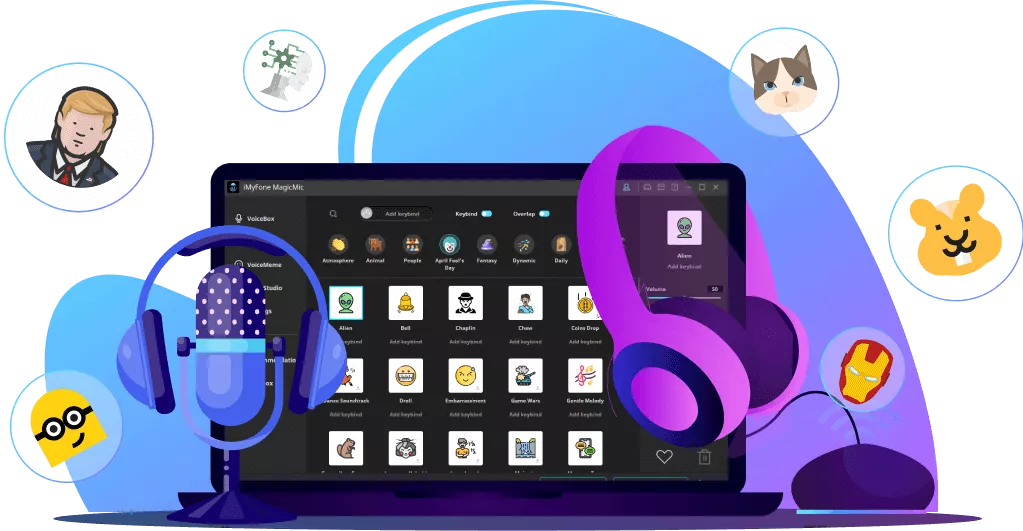 125+ Voice effects for one-click voice changing in real-time.
Huge library with 400+ Voice Effects and 150+ Voice Memes.
Voice modulate in games, live, chatting, online classes, and more.
Voice recording and audio voice changing are supported.
Voice studio lets you create any voice you like.