We all know that composing a song and recording it is an expensive process. You need to get a good singer and a studio to record the song. All of these expenses can be cut down by using a singing text-to-speech tool. With the singing text-to-speech tool, you can create a song in multiple singers' voices, edit the audio file and make it sound like you want. The text-to-speech tool has made it easy for people to create songs of their own choice without spending too much.
Try it Free
Part 1: What is Singing Voice Synthesis?
Singing voice synthesis is the way of generating a singing voice from musical instruments with lyrics using the computer, like text-to-speech. Singing voice synthesis was developed in the early 1950s. Text-to-speech for singing voice synthesis is based on two things, statistical parametric synthesis and unit selection. Statistical parametric synthesis means when you reproduce the features of a voice, while unit selection means when small snippets of recordings are recombined to make a song. It makes it easy for small composers to create songs from musical scores and text-to-speech in different singers'voices.
With text-to-speech tools, you can generate your song using your lyrics but in the voices of different singers. It is a timesaver for composers that are looking for singers to sing their songs. They can listen and compare different singers and finalize on one. So, through singing voice synthesis, there is no need to go through a lengthy process and waste a lot of money. Moreover, there is no need to have a large crew. This tool also works with games and applications that require a high degree of audio support. With iMyFone VoxBox, you have a tool that can help you in creating and distributing your song all over the world.
Part 2: Singing Text-to-Speech Alternative - VoxBox
Text-to-speech not only means that you can use different voices and produce a talking tone. With iMyFone VoxBox, you can also select multiple singers and use your lyrics to create a song. You can choose any singer from the list and reproduce their voice in your way.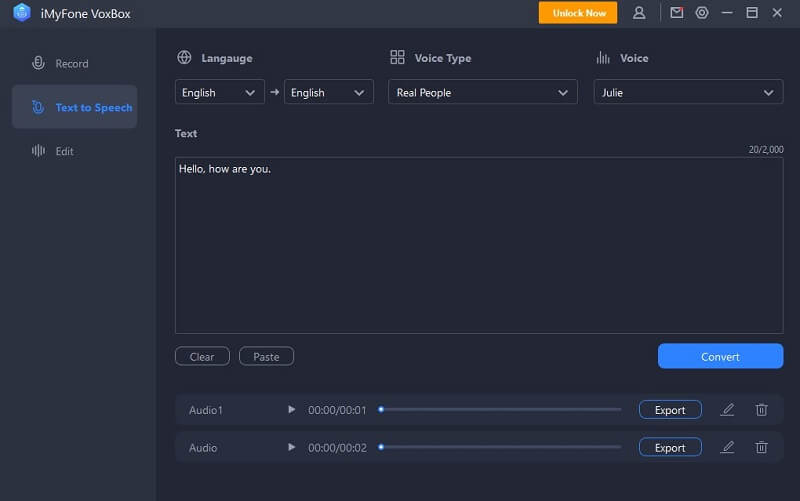 Key Features:
3200+ voices like rappers, YouTubers, cartoons, celebrities, etc.

22+ global languages like Spanish, Japanese, British.

25+ Country accents like a British accent and a Hindin accent, etc.

4-in-1 software of voice record, generate, convert, and edit.

You can export the file in different audio formats, like MP3, WAV, etc.

VoxBox also has editing features like trimming, cutting, recording.

It has an intuitive and straightforward interface.
Pros:

It has a user-friendly interface.

Easy to use.

The trial version is available for free.

It can also record and edit audio files.
Cons:

You need to download and install this tool to be able to use it.

Not available on macOS.
Review:
iMyFone VoxBox is not only used officially, but people use it for entertainment purposes as well. Many users love this tool because of its simplicity and its diversity. The editing and recording feature of this tool is a plus point for the users. The wide range of voice libraries attracts users.
Price:
| Plan | Price |
| --- | --- |
| 1-month Plan | $14.95 |
| 1-year Plan | $39.95 |
| Lifetime Plan | $79.95 |
Conclusion
This article sums up the information regarding singing voice synthesis. With the help of a text-to-speech tool, you can create your songs. iMyFone Voxbox has multiple singer's voices from which you can choose. You can create songs in multiple languages as well. It is very easy to use and has a trial version that can be used to create songs with your lyrics.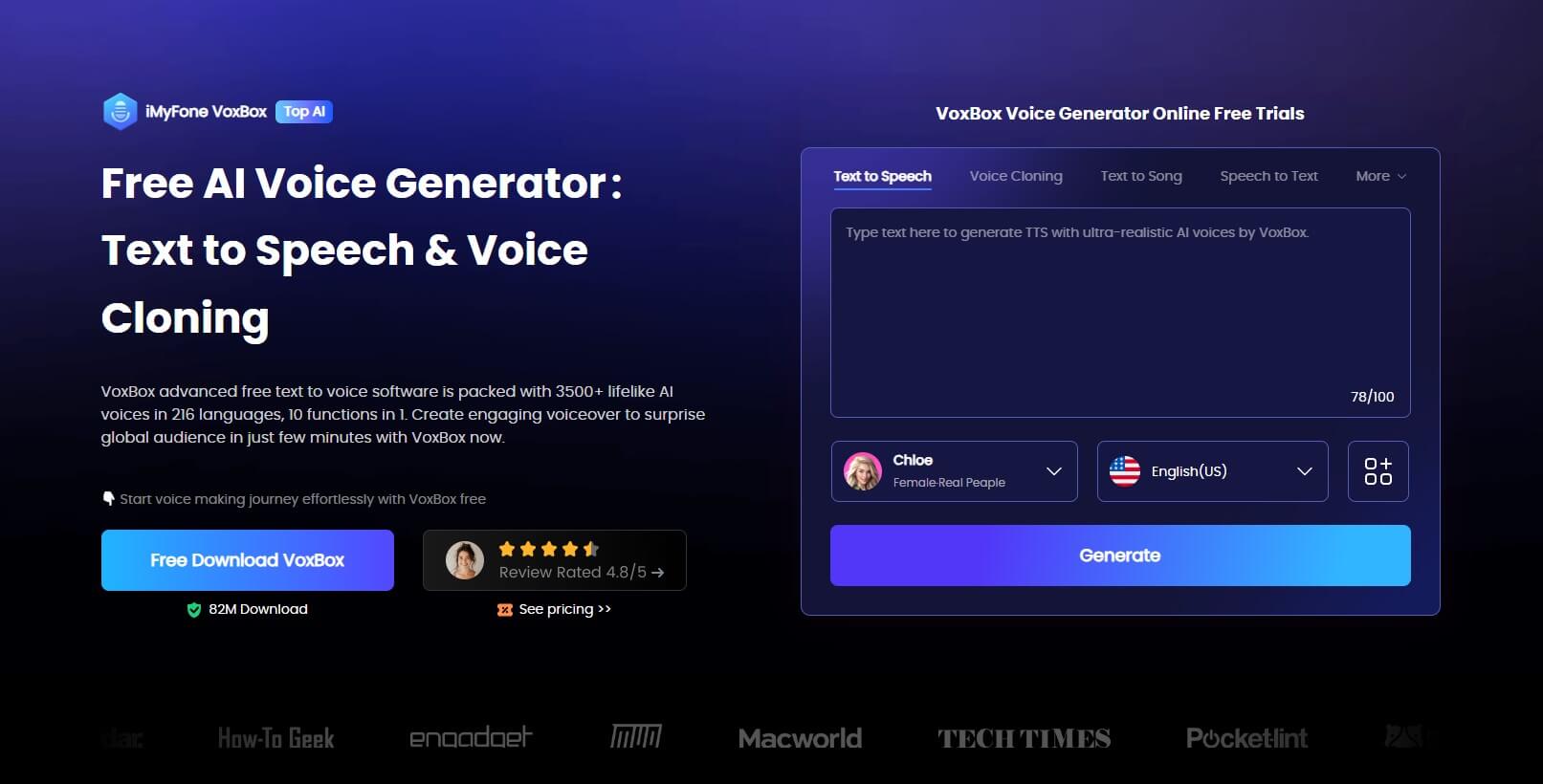 Watch this video to learn more about the Best TTS Tool iMyFone VoxBox:
Try it Free