Thanks to deep learning AI models, it's now possible to hear your custom-written text read aloud in the iconic voice of David Attenborough. In this article, I'll be introducing the top David Attenborough voice AI generators that can help you create stunning voiceovers that are sure to captivate your audience.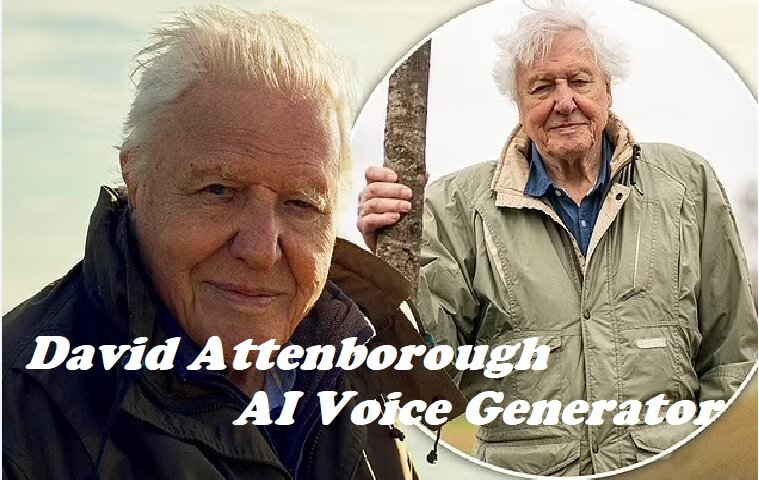 Part 1: Who is David Attenborough?
David Attenborough is a British broadcaster and naturalist known for his work in natural history programming. He has created, produced, and narrated numerous documentaries such as "Life on Earth","The Living Planet", "Blue Planet", and "Planet Earth".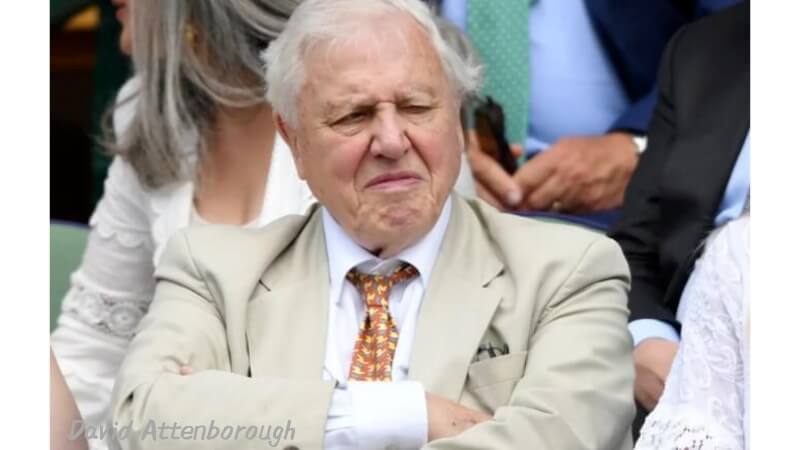 Attenborough has won multiple awards and honors for his work, including Emmys, BAFTA awards, and the prestigious Order of Merit from the British government. He has also been a prominent voice in the environmental movement, using his platform to raise awareness of climate change and the importance of protecting the natural world.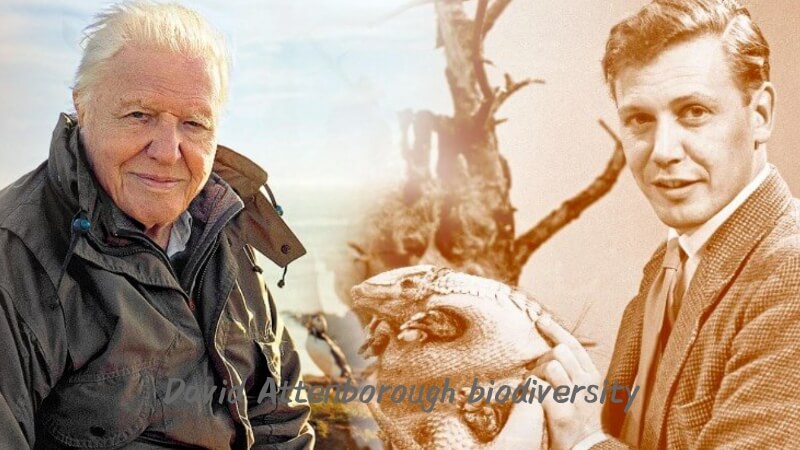 Attenborough continues to work in broadcasting and conservation, inspiring and educating audiences around the world on the wonders of nature and the urgent need to protect our planet's biodiversity.
Part 2: Highly Recommended: David Attenborough Voice AI Generators
iMyFone VoxBox is an excellent AI dubbing software that can help you create David Attenborough AI voice, which is equipped with a range of built-in functions and versatile features.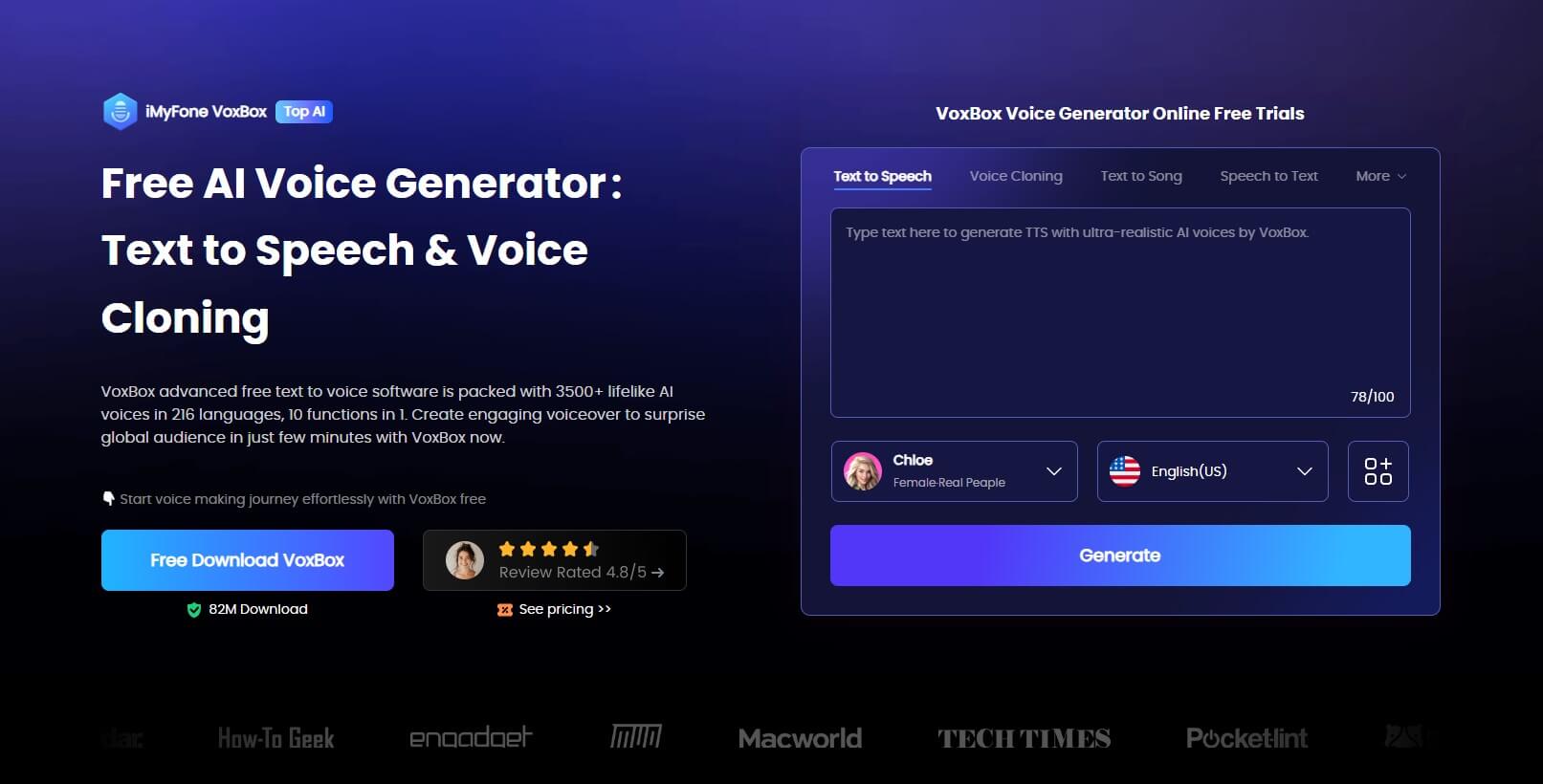 How to Make David Attenborough AI Voice:
Step 1: Download and install the iMyFone VoxBox on your device.
Step 2: Navigate to the Text-to-Speech option located in the left sidebar of the main interface.
Step 3: From the available voice options, choose "Sir David Attenborough". Additionally, you can adjust the various parameters to suit your preferences.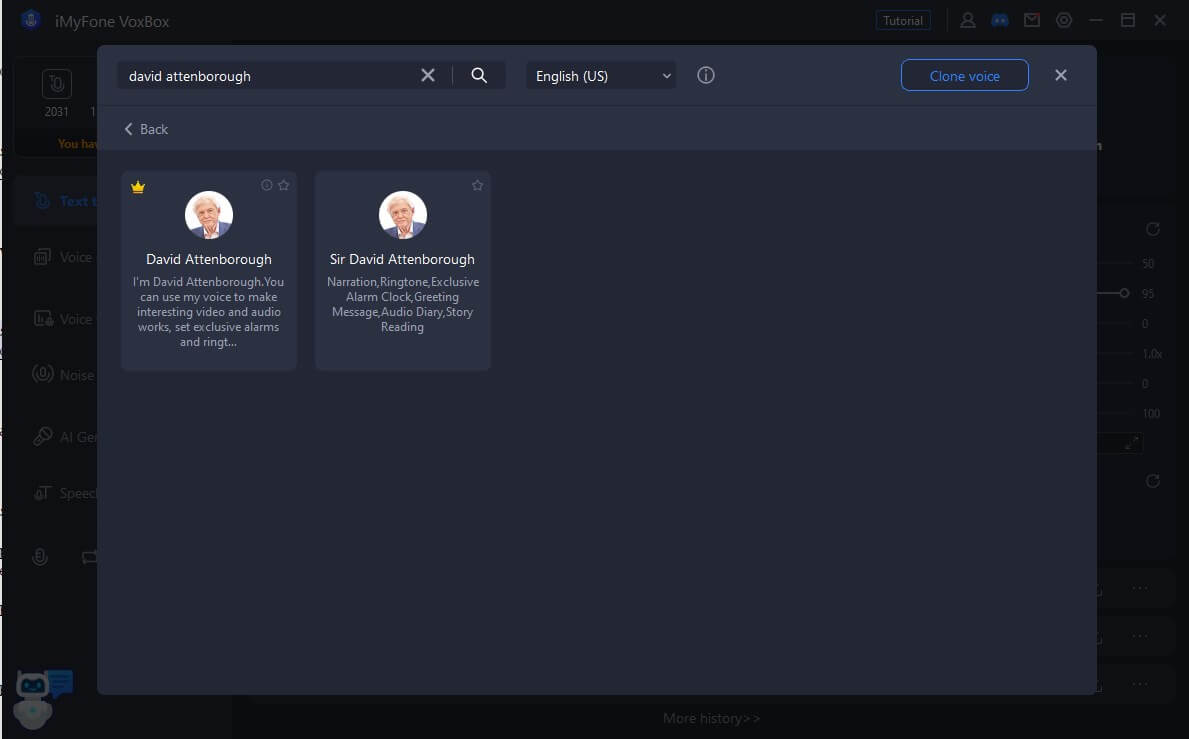 Step 4: Type your content and generate your audio output.
Tips
Listen to David Attenborough AI Voice Generated by VoxBox.

Watch the video below to know more about David Attenborough Voice Generator
Key Features:
With over 3200 unique voices, VoxBox offers a wide range of voice options to choose from.

It provides access to 40+ languages and 100+ accents, making it easy to generate voiceovers in different languages.

It can be used to generate various reporter voices.

A quick and efficient process.

New function of David Attenborough Voice AI cloning.

As a 6-in-1 software, VoxBox offers multiple functions, including TTS, STT, cloning, conversion, recording, and editing.

The sofware will meet all yours needs including commercial purpose.

Secure software & Easy to use
2. Fakeyou
With the FakeYou deep fake technology, you can create audio or video content featuring your favorite characters. Additionally, you can use the David Attenborough voice AI generator to generate audio with a his voice.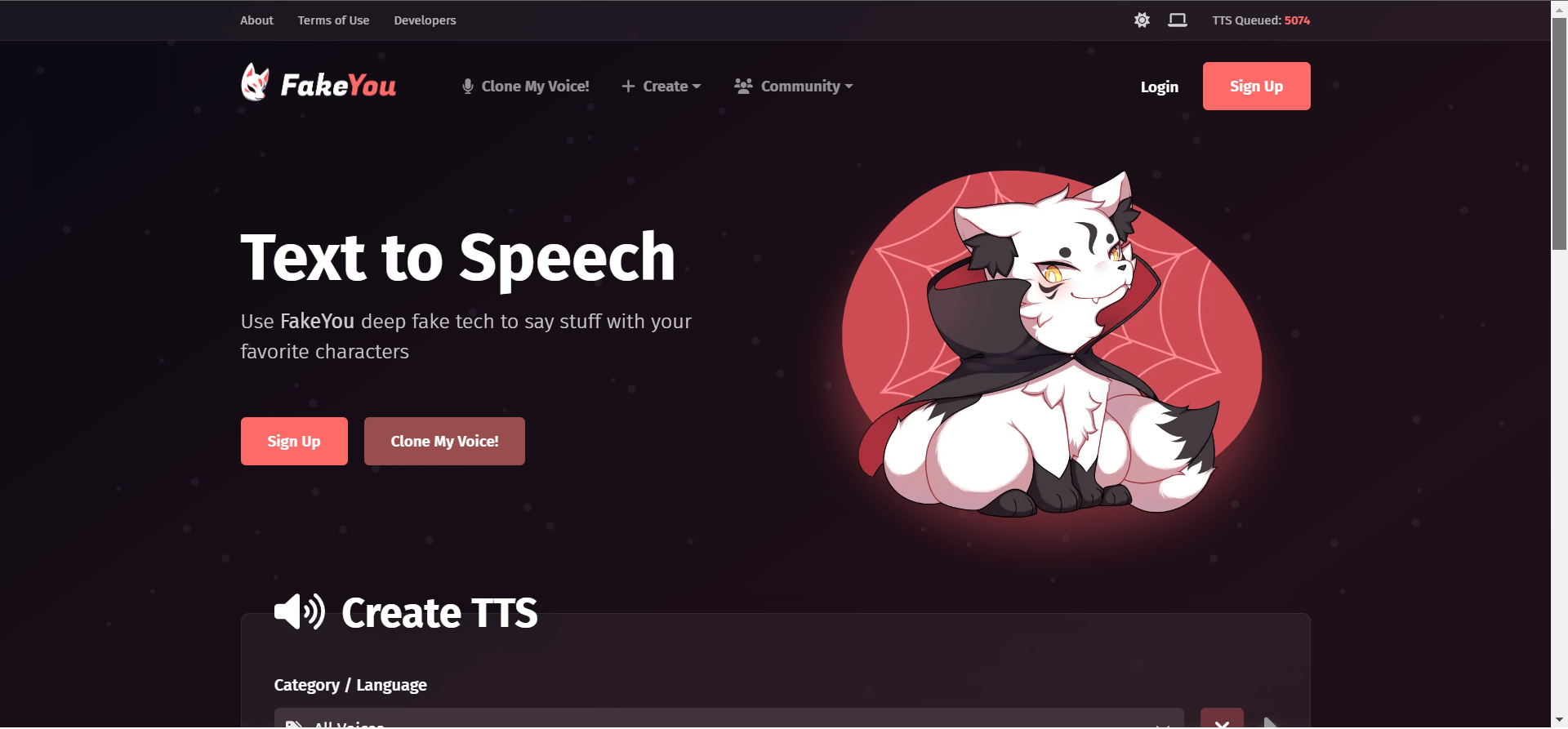 Key Features:
There are over 2400 different voices available for you to choose from.

In addition to browsing categories and voices, you can also search for pre-made phrases.

The user interface of online voice generator is very user-friendly and easy to navigate.

It has a variety for a single voice with different pronunciations.
3. MagicMic
If you're looking to sound like David Attenborough, the MagicMic David Attenborough voice AI generator is an instant voice-changing solution, as it features a specialized David Attenborough filter that can replicate his voice to perfection.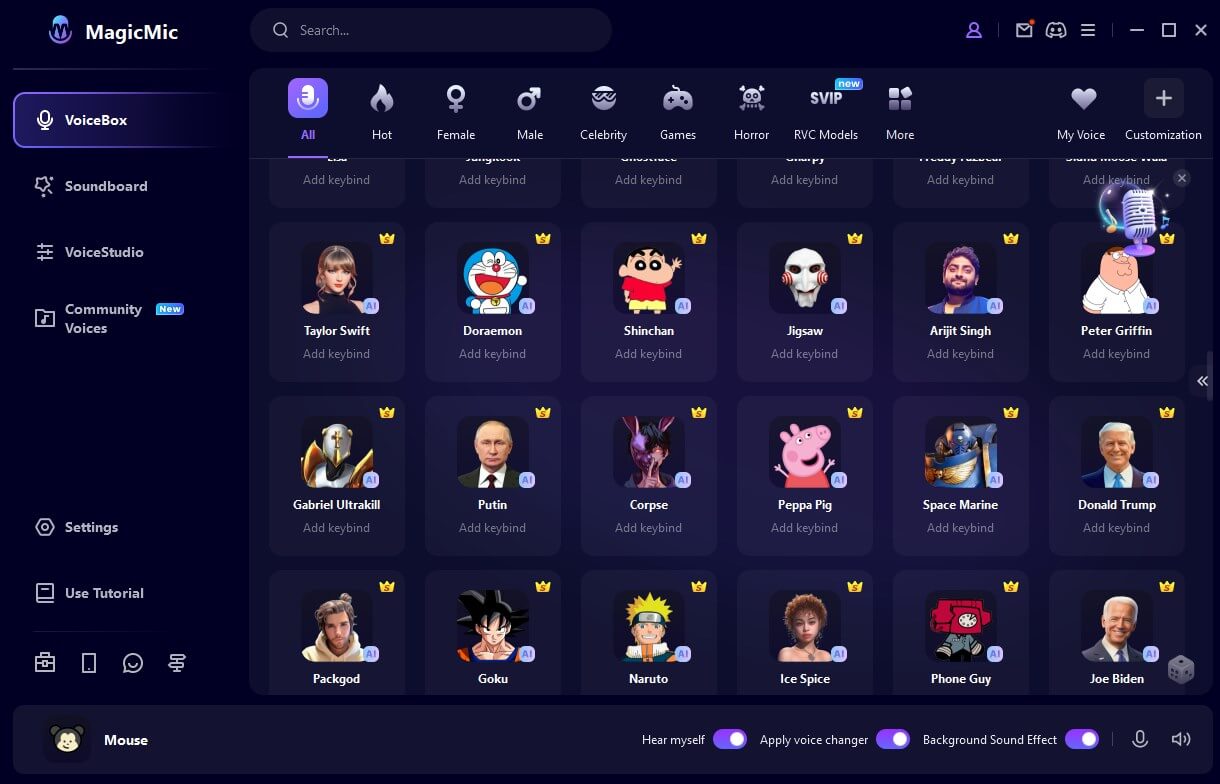 Key Features:
This exceptional application boasts an extensive library of more than 125 voice filters.

With 600+ soundboards available, you can create hilarious memes or sound like iconic characters while gaming, chatting, or live-streaming.

You can easily assign your preferred voiceovers and quickly switch between them on-the-go.

The app is compatible with both Windows PCs and laptops, as well as Mac operating systems.
Conclusion
The David Attenborough Voice AI generator is essential for those seeking to create captivating and engaging audio content with the Sir David Attenborough AI voice.With iMyFone VoxBox, you can easily generate lifelike audio output with the David Attenborough Voice AI, making it the perfect solution for educational content, documentaries, and podcasts.