Are you wondering how to make your voice deeper or looking for a deep voice changer?
You must have thought about taking your online experiences to the next level with the deep voice changer and make your voice truly stand out!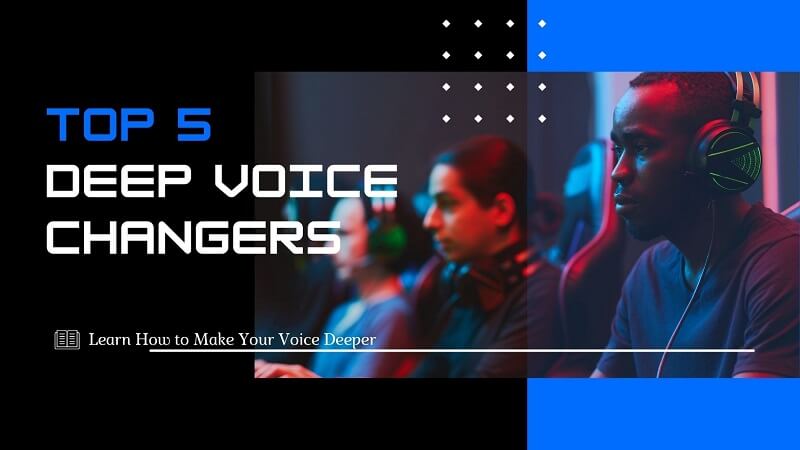 Moreover, you can use a voice deeper in any chatting platform like Discord, Twitch, and Streamlabs, or gaming platforms like PUBG and Fortnite that possess an input device.
However, selecting an appropriate option always demands something extra. Luckily, you don't have to roam about it as we're going to introduce the top 5 deep voice generators in this article.
Let us begin it
Part 1: How to Deepen Your Voice
How to make your voice deeper? Follow the two methods below.
Way 1: Do exercises
You can't change the whole complexion of your voice as it is natural. The health experts don't justify all the online exercises that claim to make your voice deeper.
However, you can do voice training that might help make your voice lit deeper and more attractive.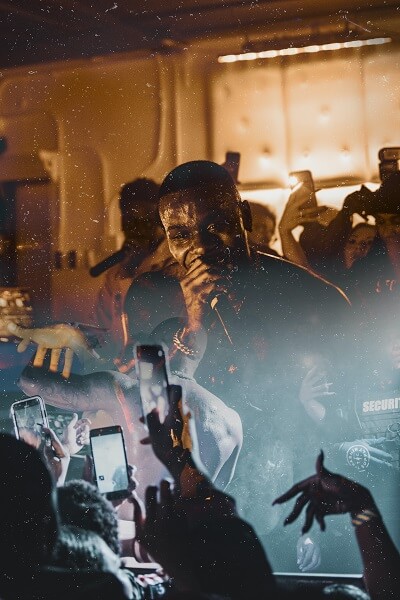 Here's the list of steps to put things in order.
Step 1:
You can try yawning to make your voice deeper than ever. It assists you in stretching your mouth and throat.
Step 2:
Another thing that might help you increase your voice pitch is when you cough deliberately. Doing so helps your inner body organs to exercise that can change the pitch of your voice.
Step 3:
If you're to sing a song without letting your mouth open, it might assist you in making your voice attractive and deeper.
Way 2: Use voice changer to make your voice deeper (The easiest way)
Doing vocal exercises to make your voice won't help you a lot. Instead, the possibility of you being able to serve your purpose is almost zero.
It is why you need to look for a voice changer to change your voice instead of doing it naturally. Nowadays, countless voice changers are available that can help you transform your voice in real-time and pre-recorded files. Also, it is the easiest way to make your voice deeper.
Moreover, using a voice changer also helps you change your voice and add various sound effects while playing games like Fortnite, Valorant, and others. In addition, you can use the voice changer is many chatting platforms like Skype, Twitch, Streamlabs, and more.
Part 2: Top 5 Deep Voice Changers to Deepen Your Voice
If you're looking for a voice changer with a dark, deep pitch like a radio while playing online voice chat or games, you can follow the guide of recommended voice changers below.
iMyFone MagicMic is a fantastic deep voice changer, with 300+ stunning voice-changing effects and 600 sound effects and 200+ voice memes which will be updated weekly, you can surely tease your friends by speaking many horrors and funny characters in the voice. Also, background sounds are supported partly voice filters.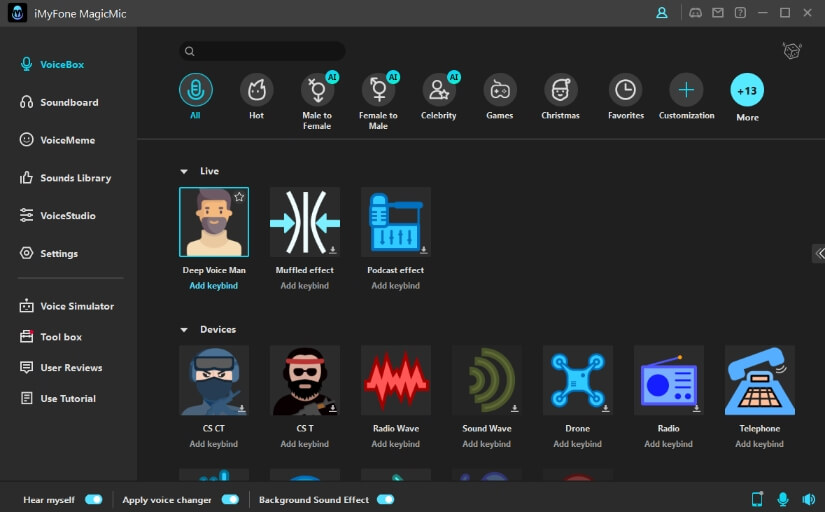 [Editor's Opinion]
When it comes to AI voice changers, Magicmic stands out as the software with the fewest crashes in my experience, surpassing several others I've tried. It boasts an extensive range of voice effects and comprehensive functionalities. However, one drawback is that some of its guides lack clear instructions. Nevertheless, this software compensates with its user-friendly interface, ensuring ease of use for all.
Features:
MagicMic comes with the most voice effects than other voice changers on the Market.

It allows you to import audio files as your sound effects with ease.

You can make your voice deep on multiple platforms like CSGO, PUBG, Xsplit, Zoom, Call of Duty, Zoom, Skype, etc with using MagicMic.

Some voice effects come with background sound effects to let you change your environment sounds.

It has hotkey settings for sound effects replay, circle, and mute control.

It comes with voice customization feature.

It supports to clone any voice you want to make yourself sound like it in real time.
How to Make Your Voice Deeper with MagicMic Deep Voice Changer:
Download MagicMic from the official website or the button below and install it, and set up your microphone and headphones.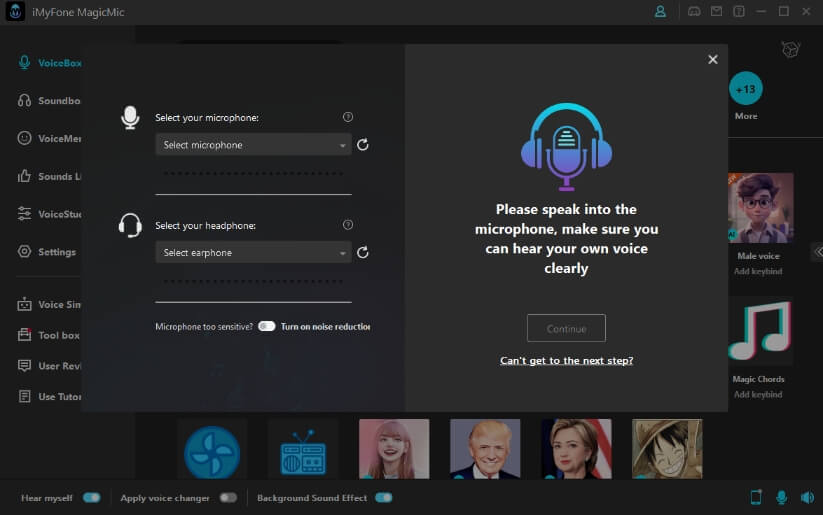 Click on "VoiceBox" on the left-hand side, and choose the sound effect you prefer, such as "Deep Strong Voice," "Deep Voice Man," or any other sound that interests you.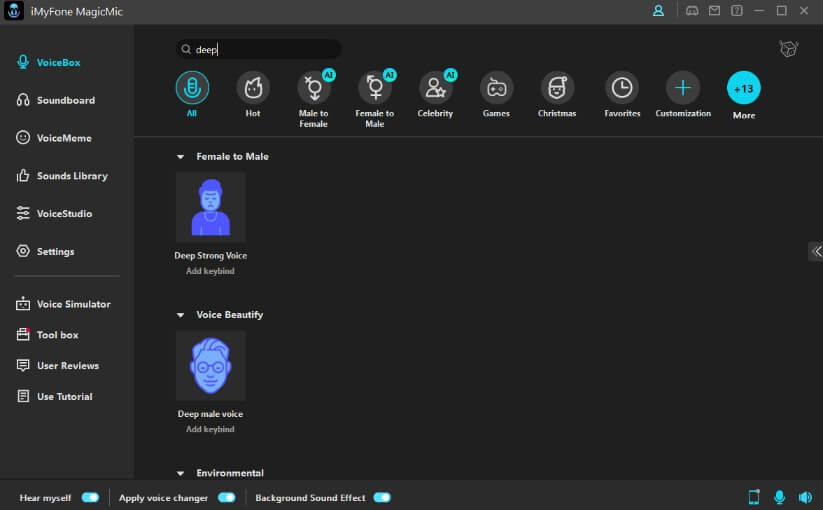 Not satisfied with this sound? Adjust the sound parameters in the adjustment section on the right-hand side. You can also add background effects in real-time. Alternatively, you can even create your own AI voice.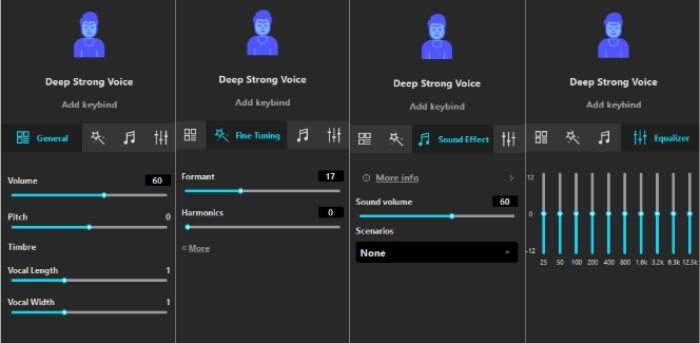 Special Offer: Get Official MagicMic with A Discount
35% off Coupon Code: MAGICMICYT
If you want to make voice deeper online with AI, you should try using Voicemod. Using this tool, you can transform your voice into multiple characters' voices with minimal effort. Moreover, it also allows you to change your voice on various chatting and gaming platforms. Also,you can click to get more info about how to use Voicemod on Discord.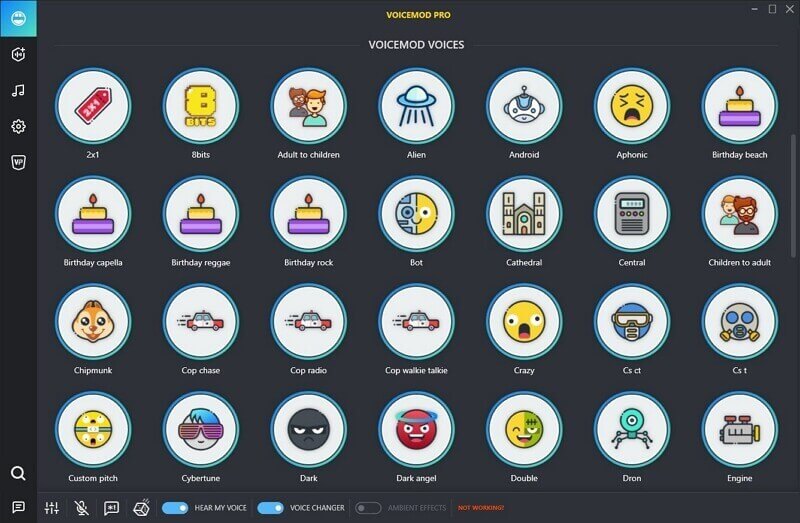 [Editor's Opinion]
Voicemod is a renowned deep voice generator, known for robust advertising and high product quality. With over 60 sound variations and numerous effects, it offers great potential. But the product stability could be further improved if it wants to stand out from other voice changers. I've been using it for a month, encountering instances of lag and flashbacks while on Discord and LoL.
Features:
Using Voicemod, you can make your voice sound like a woman, man, robot, girl, boy, etc.

Voicemod supports Streamlabs, Elgato Stream Deck, Audacity, Omegle, etc.

You can upload your sound effects to Voicemod community for other users' download.

It comes with huge sound effects.
Clownfish is a free deep voice changer for multiple platforms. The wide array of voice-altering choices provided by Clownfish Voice Changer demands your consideration. Key voice effects include slow and fast mutation, Optimus Prime, robot, baby pitch, and female pitch, among others.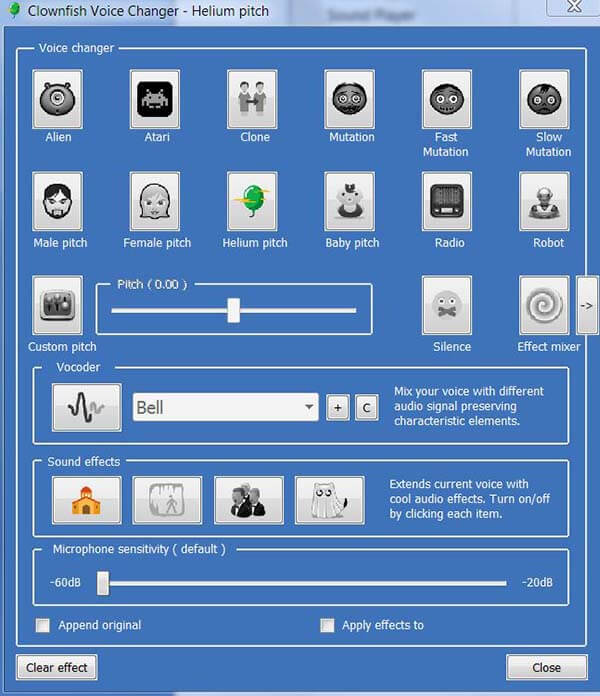 [Editor's Opinion]
For a free software, Clownfish has done a good job, with basic functions such as voice changer and sound effect playback. The variety of sounds is also very small, and the entertainment will be less. But after all, it is free software, and cannot be too demanding of it.
Features:
While playing online games, you can use VST plugins to generate audio effects and new sounds.

Clownfish Voice Changer also comes with a Voice Assistant feature, meaning you can convert your text into speech.

The interface that Clownfish Voice Changer comes with is nothing less straightforward, making the installation effortless.

Surprisingly, it also controls background microphone music.

Using this tool, you can alter your pitch and scare anybody with a horrible voice.
If you don't know how to make your voice deeper, Voice Changer Plus can help serve your purpose. Art Software designed this particular voice-changing tool for iPhone and iPad users. Using this tool, you can record your voice in multiple voices and then activate these voices before pranking your friends.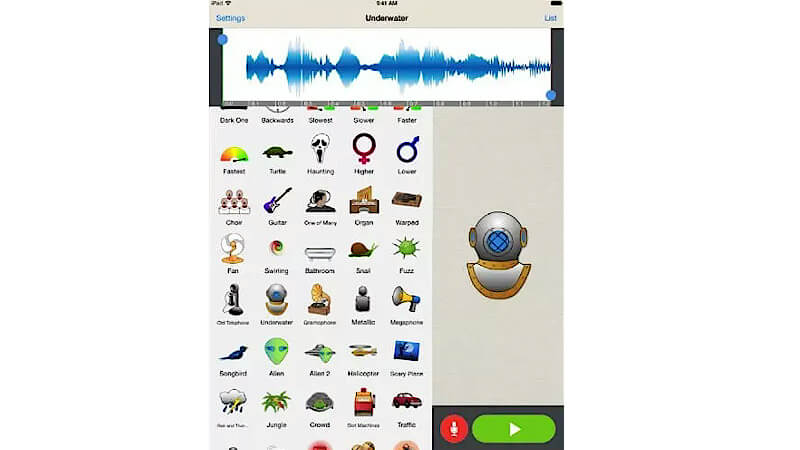 [Editor's Opinion]
It's free but offers an in-app paid app. It doesn't have a real-time voice-changing function, but it offers 55 voice-changing effects and sound effects to make your audio more interesting. Its reviews in the app store are very good, and I use it very smoothly, but relatively speaking, I still prefer it to have a real-time voice-changing function, because sound editing is a bit time-consuming for me.
Features:
Using this tool, you can add 55+ sounds to your background.

It allows you to record your voice in real using multiple chatting and gaming platforms.

After recording your voice, you can share it with various social media platforms like Facebook, YouTube, Vimeo, DailyMotion, and many more.

Voice Changer Plus also allows you to trim, save, and share your recording through iCloud.

If you're to create your ringtone, you can purchase its premium version.
Murf is more like a deep voice generator, courtesy of its powerful feature of creating high-quality voiceovers, making your voice deeper with single click. In addition, you can remove unwanted background noise to get a clearer and pristine voice with it.
So what's bad about it is that it cannot enable users to change their voice into a deeper one in real time, serving as a bad choice while gaming, streaming or online chatting with others.
[Editor's Opinion]
Also, it is not a real-time voice changer. Murf provides 130 options for TTS voice changing, and also provides a platform for voice creators to upload works. If you have TTS voice change needs, Murf is a good choice. But, it is more like dubbing software, which cannot meet the needs of games and instant chat.
Features:
Murf is a professional voice-changing tool that can help you prepare presentations and speeches appropriately.

It assists you in pointing out the grammatical errors in your script.

Murf offers you 100+ voice effects to sound like a thorough professional.

Luckily, Murf ensured to remove all the unwanted portions from your audio recording, making the recorded file according to your expectations.

Using Murf, you can alter the pitch and speed of your voice.
User Reviews:
No available reviews yet.
Part 3: FAQs about Deep Voice Changer
Can I change my voice to deep?
Yes, you can make your voice deeper mannually or by using deep voice changer. For the first method, you can do voice training to make it lit deeper; Another method is to use a deep voice changer to achieve that in one click.
What is the voice changer that makes your voice deeper?
iMyFone MagicMic is the best deep voice changer to make your voice more deeper, with which you only need to set up your microphone and earphone, choose the deep voice, and speak to the microphone, you will find yourself voice change greatly.
How can I manually deepen my voice?
You can deepen your voice through constant voice training.
Conclusion
After reading the article, you might get the answer of how to make your voice deeper. People looking for a deep voice changer can look at this guide as were pretty keen to explore fascinating voice changer tools.
All the tools we've highlighted in this guide aren't ordinary. Instead, every voice changer mentioned in this article will add value to your purpose and help you generate the content you must have been looking for.
So, when I need to choose a real-time voice changer to make my voice deeper, MagicMic would be my choice. When I need to make my voice deeper on recording on phones, I will choose Voice Changer Plus. If I need to do TTS voice changing, Murf would be my best choice. All you need to do is to figure out your need and choose the correct voice changer to make your voice deeper.