K-pop AI covers is more and more popular these days because K-pop songs' catchy melodies, captivating visuals, synchronized choreography, and diverse range of artists have resonated with global audiences. K-pop's international appeal has led to a growing demand for K-pop song generators, allowing fans to create their own K-pop covers.
These generators enable users to produce authentic and high-quality K-pop songs, complete with beats, lyrics, and vocals. By leveraging AI technology, K-pop song generators provide a unique opportunity for fans and aspiring artists to immerse themselves in the K-pop phenomenon, showcasing their creativity and passion while capturing the essence of their favorite K-pop idols.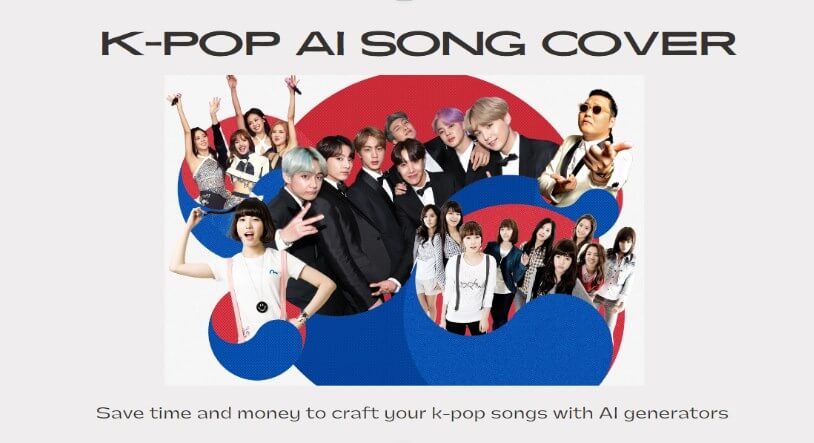 Free listen to Rosé - I AM(AI Cover) generated by iMyFone MusicAI!

Part 1: The History of K-pop
K-pop, short for Korean pop music, emerged in the 1990s and has since become a global phenomenon. Initially influenced by Western pop, K-pop gradually developed its unique sound, style, and performance aspects. The late 1990s witnessed the rise of boy bands like H.O.T and Seo Taiji and Boys, while the early 2000s saw the emergence of girl groups like S.E.S and Fin.K.L.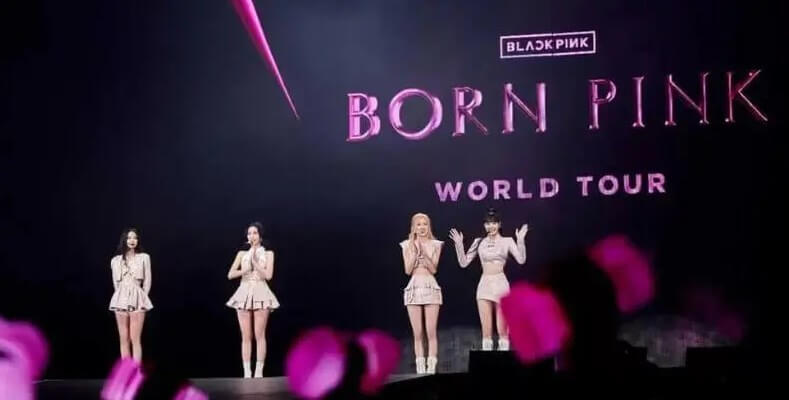 However, it was in the late 2000s and early 2010s that K-pop truly gained international recognition. This period saw the introduction of powerful agencies like SM Entertainment and YG Entertainment, which shaped the industry by promoting their artists and producing high-quality music videos. The catchy melodies, synchronized choreography, and visually appealing aesthetics became the trademark of K-pop. Artists like BTS, BLACKPINK, and EXO garnered massive global fanbases, breaking records and charting on Billboard. K-pop's infectious beats and energetic performances continue to captivate audiences worldwide, making it a global cultural phenomenon.
Part 2: What's the Style of Popular K-pop?
The popular K-pop style is characterized by a fusion of various musical genres, captivating visuals, and synchronized choreography. It often incorporates elements of pop, hip-hop, R&B, EDM, and rock, creating a unique and dynamic sound. K-pop idols are known for their polished performances, showcasing impressive vocals, rap verses, and intricate dance routines. The music videos and live performances emphasize high production values, fashion-forward aesthetics, and captivating storytelling. With its infectious melodies, energetic performances, and visually appealing presentations, the popular K-pop style has captivated audiences worldwide, establishing itself as a global cultural phenomenon.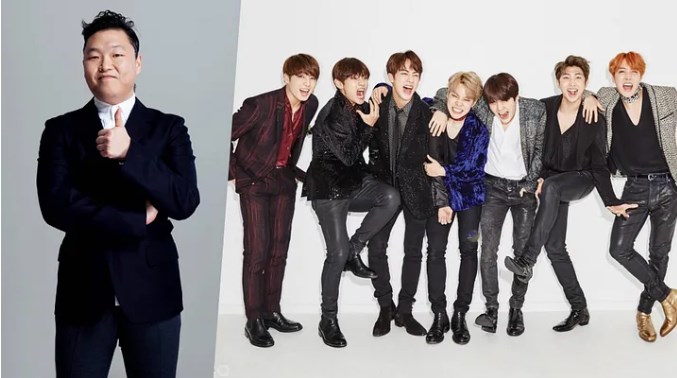 Part 3: How to Make K-pop Song Cover with AI Generator?
1. iMyFone MusicAI - Best Choice For AI Cover K-pop
MusicAI is an AI cover K-pop software that changes the way you create AI covers of your favorite K-pop songs. With its AI technology and extensive library of sounds, MusicAI empowers you to produce professional-grade K-pop music with Korean singer voices while adding your own creative flair.
Whether you aim to perform diverse songs with the voice of your beloved K-pop idol or interpret your favorite K-pop tracks with various voices, including those of celebrities and cartoon characters, MusicAI can assist you in achieving these goals.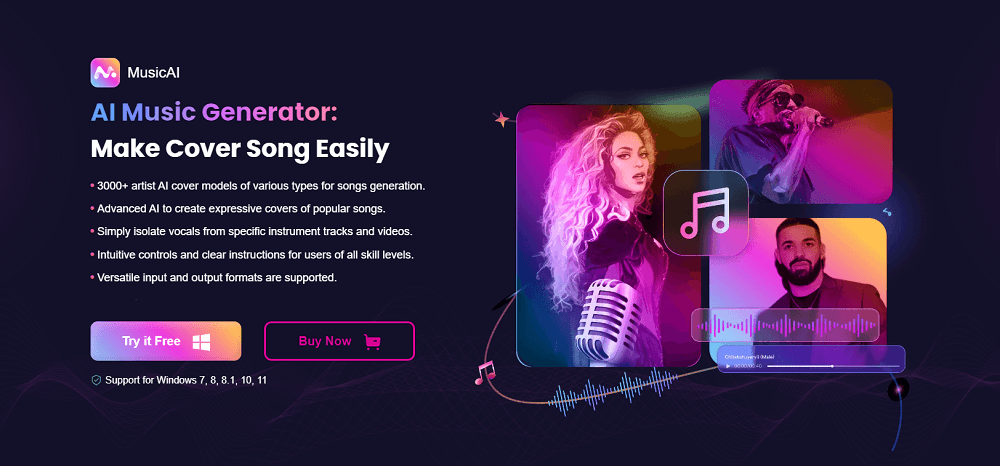 Free Tips To Do A.I. Cover K-pop
Step 1: Download and install MusicAI in the official website.
Step 2: Open the software and access "AI Covers".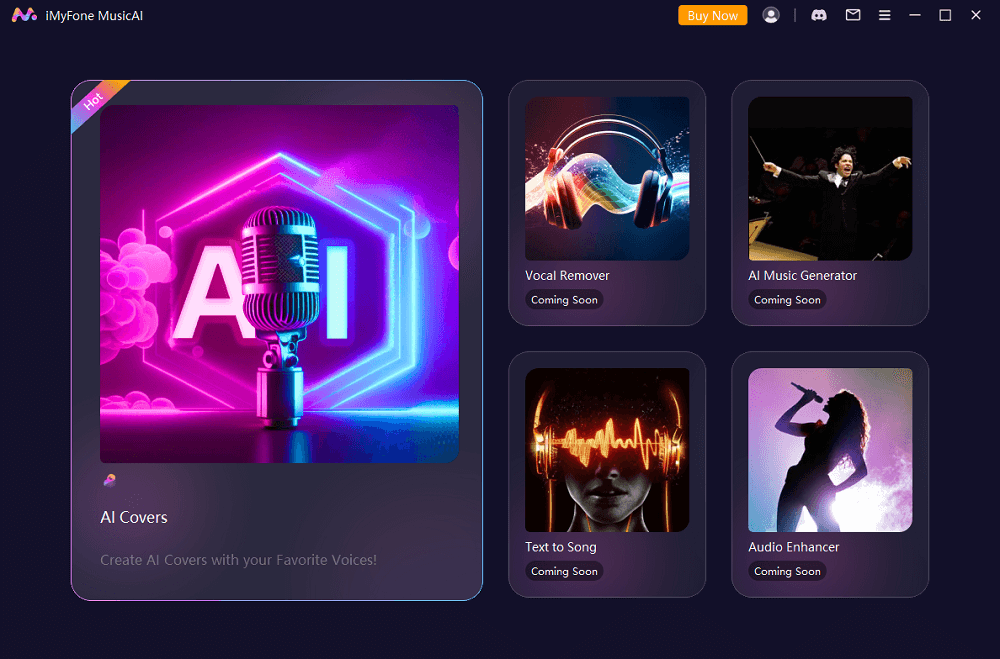 Step 3: Simply choose voice model, upload audio file and click on "Start," the AI-generated k-pop covers will be ready for you.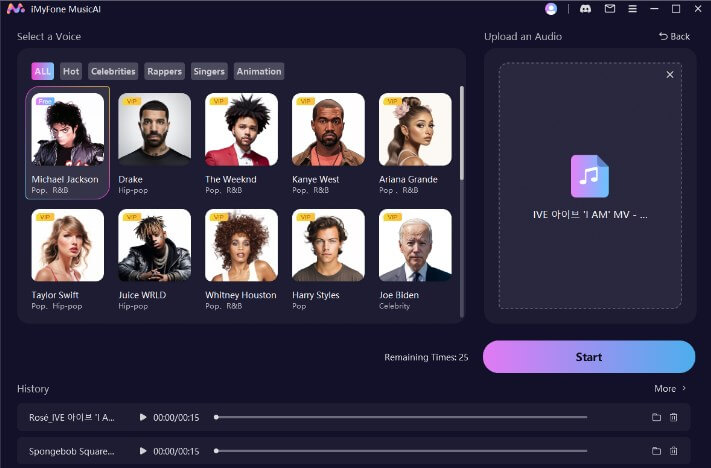 Key Features:
Various types of artist AI voices including most famous people.

Songs creation of a majority of music genres like pop, jazz supported except k-pop songs.

Free to try the software and download it for forever listening.

More k-pop singer AI voices like BTS, Blackpink included.

The voice library will continue to expand, you can look forward to different character voices.

Multiple functions coming soon to enrich your k-pop songs: Vocal Removal, Text to Song, AI Composition and Audio Enhancer.

Export the AI covers in all kinds of formats to meet your need.
2. Voicify.ai- AI Cover Kpop Song
Voicify is an online AI K-pop song covers creation platform popular on TikTok and YouTube, enabling users to produce custom songs using the voices of renowned artists like Drake, Juice WRLD, Kanye West, Travis Scott, and The Kid Laroi. It offers a seamless experience, allowing users to create high-quality AI covers in seconds, revolutionizing music production.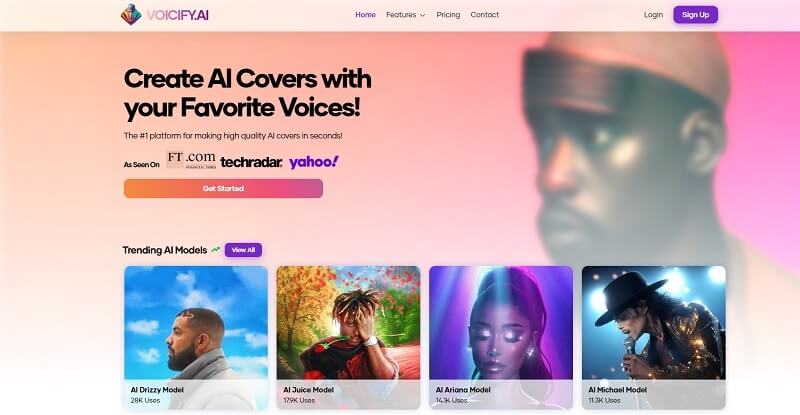 Steps of Cover K-pop Song with AI:
Step 1: Go to the website and log in with your account.
Step 2: Search and choose your favorite Kpop like Blackpink, etc Ai K-pop models.
Step 3: Enter the YouTube url, and create the ai cover songs, then save it on your device.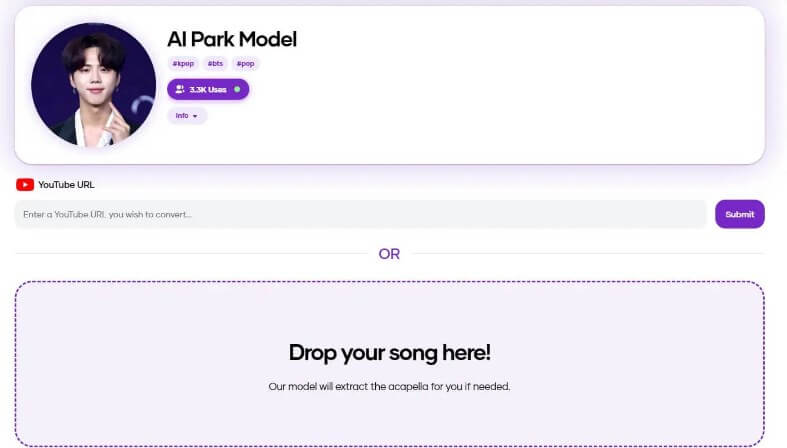 Key Features:
Custom AI Covers: Users can generate custom songs using the voices of popular artists like Drake, Juice WRLD, Kanye West, Travis Scott, and The Kid Laroi.

Trending and Popular Models: Offers a wide range of trending and popular artist models, with hundreds of covers already created by thousands of customers.

Covers generated by Voicify are currently popular on platforms like TikTok and YouTube.

Designed to be user-friendly, allowing anyone to create their first AI-generated tracks for free and customize the output of their songs.

Wide User Appeal.
3. MusicStar.AI- AI Generated K-pop Song
MusicStar.AI is an AI k-pop song generator that uses deep learning algorithms to produce royalty-free music across genres like k-pop, pop, hip-hop, rap, rock, and country. It creates complete tracks with beats, lyrics, and vocals, drawing from its training on a vast collection of existing songs.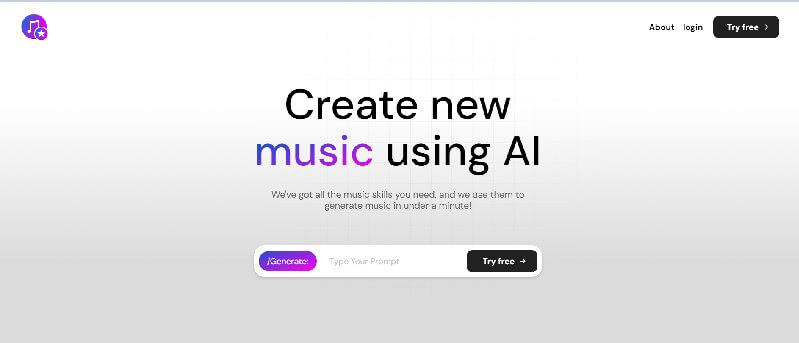 How MusicStar.AI Make K-pop Song?:
Step 1: Pick a genre-Select your style of music from a variety of genres including k-pop, hip hop, rap, rock, country, etc. It's never been easier to write a hit song or find inspiration for writing one of your own.
Step 2: Choose your style-What's your favorite style? Our AI-powered generator creates new music based on your favorite style.
Step 3: Give the song a title-Choose a title for the song. Pick something unique or choose a title that already exists.
Step 4: Add your lyrics-Have writers block and need inspiration? Add your own lyrics and use it to jump start your creativity! Or add lyrics from your favorite song and our generator will continue writing lyrics for it.
Key Features:
Royalty-Free Music Generation: Generates royalty-free music across genres like pop, hip-hop, rap, rock, and country.

Deep Learning Algorithms: Employs deep learning algorithms trained on thousands of pre-existing songs to produce music with beats, lyrics, and vocals.

Quick and Easy: Users can select a genre, or artist, and provide a title or lyrics to generate music in under a minute.

Artist-Inspired Music: Enables users to generate music similar to their favorite artists without the need for extensive music production skills.

Customizable Lyrics: Provides appropriate lyrics in the preferred genre's structure, which can be adjusted until the desired result is achieved.

Ideal for creatives and user-friendly, innovative technology.
Part 4: Bouns tips for Getting K-pop AI Voice
VoxBox is an advanced AI voice generator with voice cloning that provides the unique capability to create voices of rappers, singers, and pop artists effortlessly, making voiceovers a breeze with text-to-speech (TTS) technology.

Key Features:
Realistic and Expressive AI Voice: Generate authentic and expressive AI voices using voice cloning technology.

Flexible Format Support: Supports multiple output and input formats, including MP3, WAV, and more.

User-Friendly Experience: Easy-to-use interface, intuitive navigation, secure platform, and faster processing for a seamless user experience.
Part 5: List of The Most Popular K-pop Songs
Here is a list of eight popular K-pop songs along with their detailed names and famous song names:
Popular K-pop song:
"Gangnam Style (강남스타일)" by Psy-This 2012 hit became a global sensation, introducing K-pop to the mainstream audience with its catchy tune and signature horse-riding dance.

"I Need U (아이 니드 유)" by BTS-Released in 2015, this emotional track propelled BTS to greater recognition and showcased their storytelling abilities.

"Gee (지)" by Girls' Generation-Girls' Generation's 2009 release "Gee" became a massive hit, capturing the hearts of fans worldwide with its addictive melody and charming concept.

"Fantastic Baby (판타스틱 베이비)" by BIGBANG-Released in 2012, this iconic song by BIGBANG features a powerful blend of EDM and hip-hop, solidifying their status as one of K-pop's leading groups.

"Boombayah (붐바야)"by BLACKPINK-BLACKPINK's debut single in 2016, "Boombayah," showcased their fierce charisma and catchy rap verses, making it an instant hit.

"Sorry, Sorry (쏘리 쏘리)"by Super Junior-Super Junior's 2009 release, "Sorry, Sorry," propelled them to international fame and popularized the trend of synchronized choreography in K-pop.

"Blood Sweat & Tears (피 땀 눈물)" by BTS-This 2016 track showcased BTS's artistic and mature side, combining captivating visuals, intricate choreography, and a haunting melody.

"Fancy (펜시)" by TWICE-TWICE's 2019 release, "Fancy," captivated listeners with its addictive chorus and vibrant music video, cementing their status as one of K-pop's top girl groups.
These songs represent a diverse range of K-pop's immense popularity and cultural impact over the years.
Conclusion
All in all, K-pop song generator provides a rare opportunity for you to create your own AI cover K-pop songs.
With the K-pop song generator MusicAI, you can unlock the ability to generate authentic and expressive K-pop voices effortlessly. Whether you're a fan looking to create K-pop covers or an aspiring artist seeking to explore the K-pop genre, MusicAI provides a powerful tool for bringing your K-pop dreams to life.