In recent times, voice changer applications have seen immense demand. People like to record their voices and then opt to add effects on the voices. Many people prefer to select anime character's voices. Then they tend to convert their voice into some anime voices.
However, finding an appropriate anime voice changer is still a dream for many people. But you don't need to worry about this matter.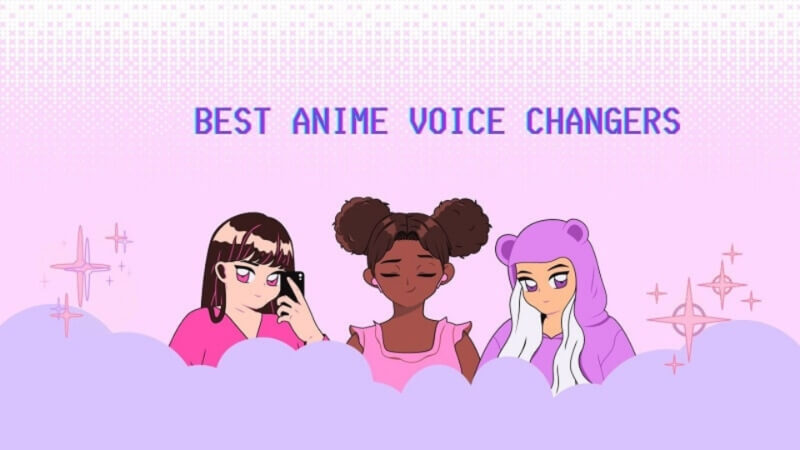 We are going to introduce some of the best anime voice changers for both PCs and Mobile phones.
Let's start it.
Part 1: Best Anime Voice Changer for Desktop
If you are willing to know about some of the most influential and creative anime voice changers, we have an appropriate list for you.
Let's discuss it.
1. Best Voice Changer -iMyFone MagicMic
iMyFone MagicMic is a purely voice changer that can help you transform voice in real-time.
It has 100+ voices up in the sleeves. Besides, you can get high-quality and stable output voice when changing in real-time. Its 300+ sound effects are also available for you to use on gaming, chatting or livestreaming platforms.
Price: 9.95$ for 1 quarter,19.95$ for 1 year and 39.95$ for lifetime.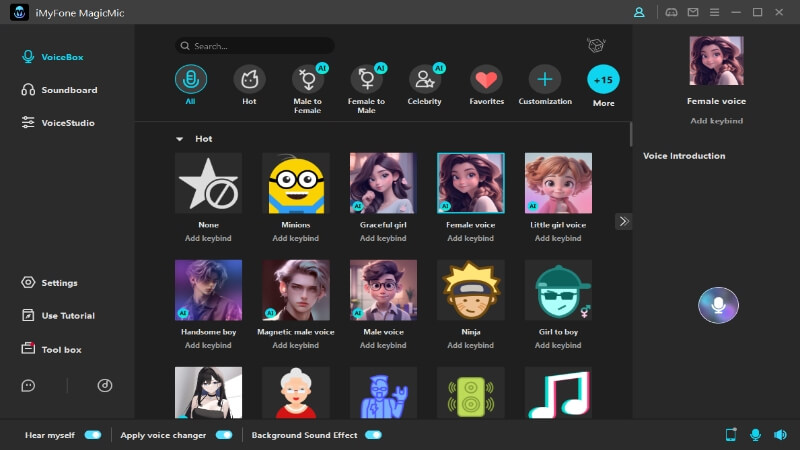 Features
Change your voice in real-time. You can also set the keybind and switch your voice with just 1 click.
Can be used on Discord, Skype, Zoom, PUBG, Second Life, Fortnite, CSGO, Overwatch,Twitch, Xsplit, Streamlabs and more.
100+ voice-changing effects, such as: Monster, Minions, Devil, Chipmunks,Robot, Alien, etc.
200+ sound effects imitating people, animals, the environment, and so on.
Voice changing for voice record and audio files are supported.
Pros:

You can customize your voice with voice studio function.

You can change your voice in 100+ voice filters and 500+ sound effects.

It allows to control your voice and sound effect with keybinds.

It supports Windows and Mac.
With plenty of outrageous sounds effects and built-in sounds, Morphvox has been winning people's hearts unbelievably.
Its features are so popular and worth a look at them. You will enjoy every bit of it using this software.
Price: pro version subscription at $39.99.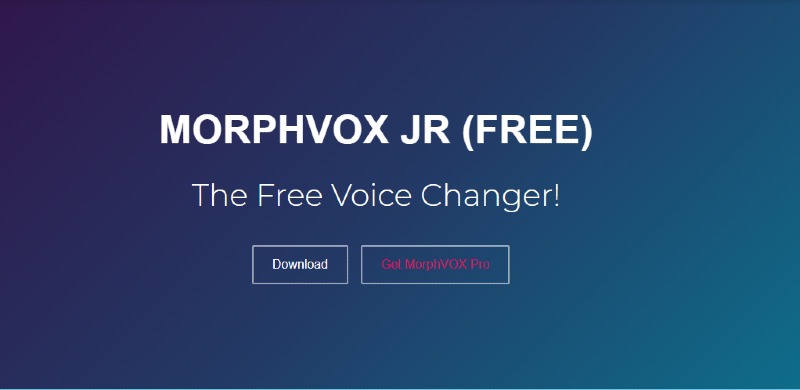 Features
It possesses modern and high-quality audio effects
You can dispatch sound effects with your preferred quick keys.
For your background cancellation, the Ultra-quiet version is available.
It is the perfect gig for online game streaming purposes.
Pros:

Morphvox uses pretty little CPU power and bandwidth.

There are custom cuts available that will make your work easier.
Cons:

Its pro subscription is pretty expensive.
Voxal Voice Changer is the go-to software for many people who what to change their anime voice effects.
This software made a massive headline due to its unique and exciting features. It doesn't contain a brutal setting to understand but a pretty simple interface.
Price: 14.95$ for homeuse and 19.95$ for commercial use.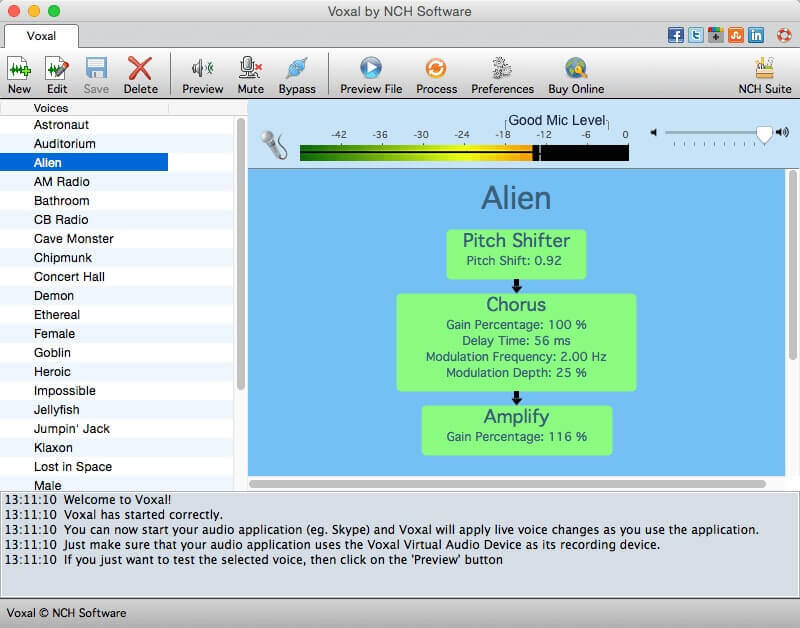 Features
Low CPU usage
With this software, a user can easily create and manage custom voice effects.
You can apply and enjoy different effects in real-time.
Universal settings are available for all applications.
Pros:

Its interface is user-friendly.

You can add effects to recorded and live voices.
Cons:

A lot of ads will pop your way.
Clownfish is a dynamic voice Changer Apps for PCs or Mac. It is pretty fast and can change your audio voice quicker than you think. Clownfish offers some courageous sound effect features.
Price: Free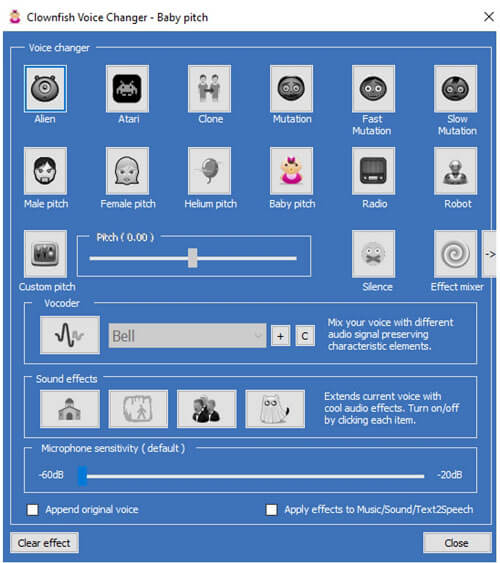 Features
It has a pretty dynamic sound player, which can help you play various sounds.
Clownfish also has unique features which allow it to change the text form into speech.
It can also control your microphone's background music.
Pros:

It works for all kinds of window versions.

It is available at the plate without subscription condition.

It is fast and creative.
Cons:

Some of its It only comes with 14 kinds of voice filters.
Part 2: Best Anime Voice Changer for Android/iOS
Often people discuss the difficulty of finding an effective voice changer for their videos. It is indeed tricky to choose a worthy one. However, we are helping you in this cause by reviewing the most adorable anime voice changers for either Android or iPhone.
Let's explore them one by one.
Voice Changer App is a great anime voice app. It possesses some great voices and sound effects. Users have the luxury of choosing their favorite sound effects using this app.
Price: 1.99$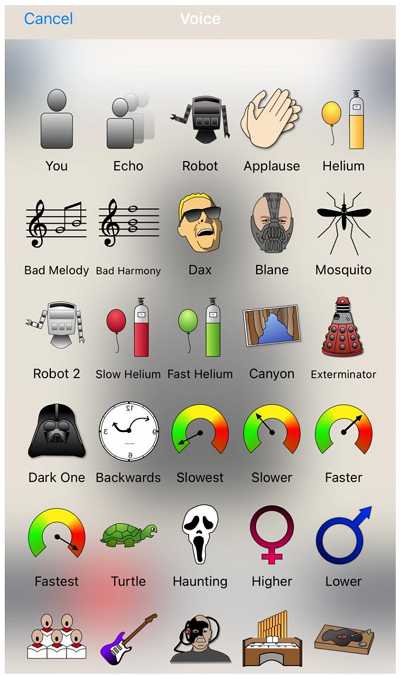 Features
You can record your voice with just one tap.
A user can listen to the same recording and in different sounds by selecting "new voice".
Supports full voiceOver
It provides a trim control facility for recording.
It is free to share and save the record.
Pros:

It offers more and unique voice effects compared to its competitors.

You can edit all audio recordings even after the voice modulation.
Cons:

There is no modulating audio option available in the video files.
VoiceMod is probably the best anime girl voice Changer for Android or iPhone. It can convert user voices into male, reboot, and female characteristics.
Price: The basic version of this app is free, but if you want to acquire a lifetime license, you will have to spend around 20$.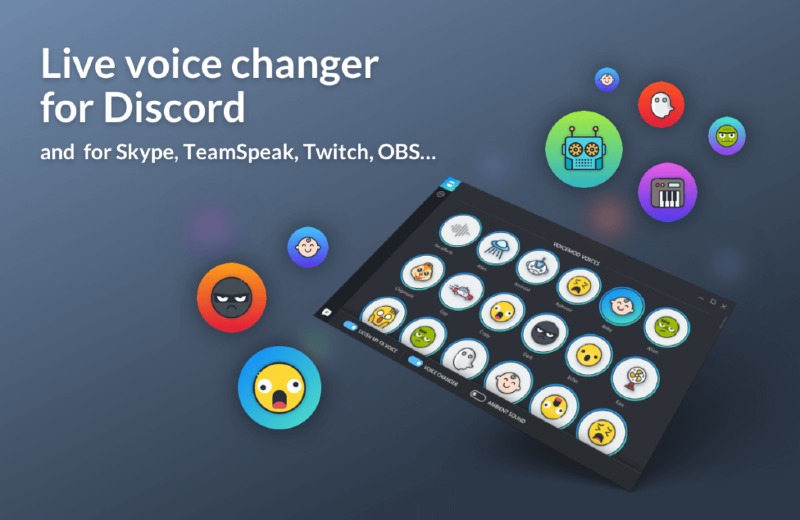 Features
It is compatible with many chat servicing software such as Viber, Paltalk, Hangouts, and many more.
By using Voicemod, you can change the voice with a simple SDK in real-time.
Pros:

It is a terrific voice app that will add extraordinary production value and huge effectivity to your stream.

It possesses easy to use and up-to-date interface.

You will be provided with a lot of voices to choose the appropriate one.
Cons:

Subscription-based
Voice Changer is another brilliant voice changer mobile app that is a great addition. You can change your anime's voice by applying some effects on audio files. Voice Changer supports the Android version.
Price: Free
Features
In Voice Changer, you can apply an effect on audio after recording it.
You can easily edit or view the audio file you have saved.
It provides a facility to share saved audio files via Bluetooth or networks.
Pros:

Loads of funny and engaging effects

Simple and straightforward audio recording setup

It possesses a modern and intuitive design interface.

You can share your files easily via social media platforms or Bluetooth.
Cons:

Sometimes, the quality of saved files doesn't look fine.
Part 3: Hot FAQs about Anime Voice Changer
There has been a lot of discussion regarding how a person can get to an appropriate anime girl voice generator.
It is not a daunting task to find a worthy voice, Changer. You can either get it from the Google app store or Playstore App. Essential free and pros versions will be available for you.
2. How to create an anime voice changer effect
You can easily create an anime changer effect using any voice changer application. The first thing which you need to do is to select an anime character in which you want to record your voice. After setting it, you can then move forward and help your cause by recording and editing that sound.
Final Thoughts
A lot of people like to change their voices to add a new touch to videos. In this piece of writing, we have done some research to enlist the most exciting and professional tools which can help you change your video's voice.
Out of all of them, we rank iMyFone MagicMic anime voice changer as the best tool to acquire. MagicMic will do the job in a more befitting manner with unique features than any other voice changer.
You can change the voice in real-time and make your voice more interesting. Above all, users will find it pretty easy to understand.