Can you remove emojis from picture?People usually share their images along with some stickers and emojis to express their feelings. Emojis are commonly used when people share their images on social media. Sometimes, we need to get rid of these emojis and have the original picture.
Fortunately, in this article, we will show you 5 best ways to remove emoji from your saved pictures and videos for free easily.
5 Best Emoji Removers to Erase Stickers
Part 1. One Click to Remove Emoji Using AI Algorithm
iMyFone MarkGo is a state of the art emoji remover that can automatically remove memes/emojis/stickers from your photos. The logic behind MarkGo is that it combines image detection and deep learning techniques to find your background, objects, smiley, emojis, white background , and stickers from your images. You do not need to select the watermark explicitly, it will be automatically detected.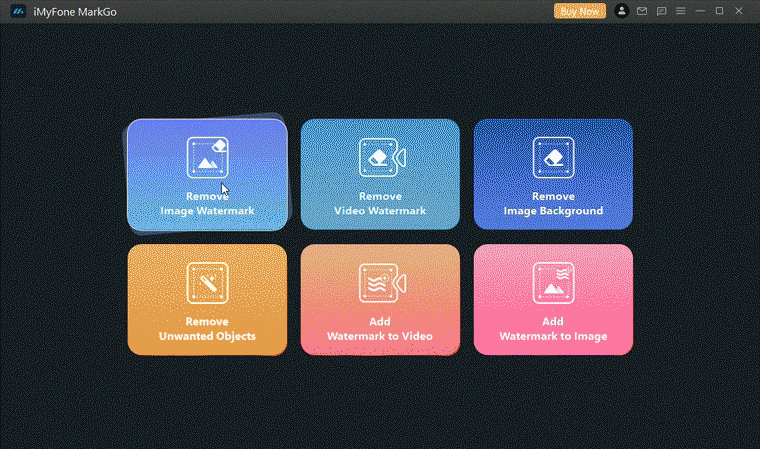 How to Remove Emoji from Photo?
Step 1: Enter "Remove Image Watermark" feature
Install and open iMyFone MarkGo on your desktop. You will have a bunch of options. Click on "Remove Image Watermark". Although you have clicked on watermark removal, it will help you to remove emoji from pictures.
Step 2: Add Image
Click on Add Image and import the image that has a emoji/sticker.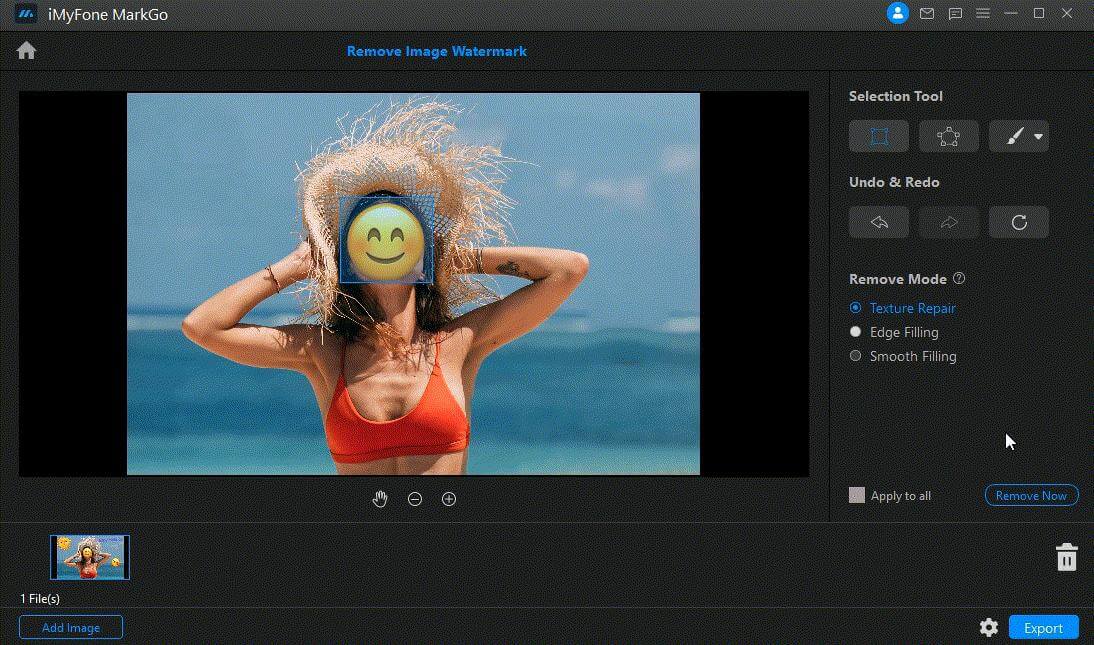 Step 3: Select Emoji/Sticker to Remove
After importing the image, you will see an option of "Selection Tool" on the right side of iMyFone MarkGo. Click on it, and it will generate a box over the photo.
Step 4: Remove the Sticker
Use this box to mark the area of the emoji/sticker. After you have selected the area, you will have the option of "Remove Now". Click on it, and it will remove the emoji/sticker from the photo in no time.
Part 2. Best Sticker Remover Apps to Get Rid of Stickers from Photo [Android & iOS]
We have discussed how you can remove stickers and emojis/smiley from photos using iMyFone MarkGo. But if you don't have a PC, you can use your mobile. We will discuss phone apps that you can also use for the same purpose. We will discuss both iOS and Android apps. Let us get straight into it.
1) Snapseed
Snapseed is among few applications that are available for both Android and iOS devices and can be used to remove emoji/stickers. It has a very friendly user interface that allows the user to edit images easily.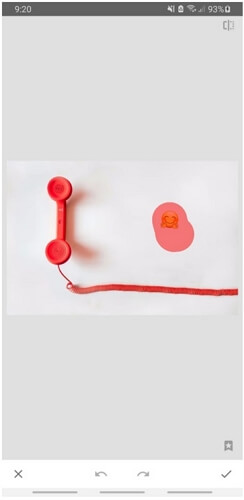 With Snapseed, you just need to import the image from which you want to remove the stickers. Secondly, go to effects and then to the "Healing" tool. Select the sticker area, and you are done. The app will take care of the rest, and the sticker will be removed easily.
Features:
It has tons of image editing tools that can help you make your photos more than perfect.

It can save you a lot of time. Just pick the tool you need and use it without any hassle.

You will feel like you are using a professional tool as it has curves for adjustment and advanced tools.
Price:
It is a free emoji remover for all users, whether iOS or Android.
2) TouchRetouch
TouchRetouch is an app that is for object removal . You can remove any kind of object, smiley, emoji, or stickers from a photo with this app easily. It is also available on iOS and Android.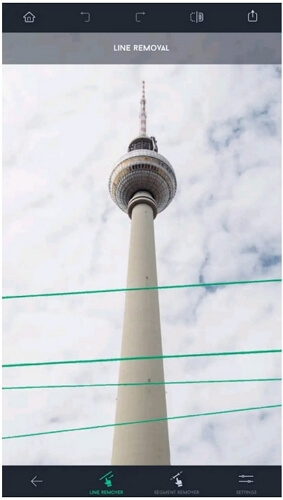 By using TouchRetouch, you can just mark the area of the object, sticker, or emoji and tap on the erase button. The sticker or emoji will easily be removed.
Features:
It also contains multiple effects that help the user to edit their photos.

It fixes everything in one touch. So, it can save you a lot of time.

The app is intelligent enough. Even if you do not select the line with perfection, it will remove the line on its own.
Price:
It is a paid tool and costs around $2.
Part 3. Sticker Removers from Photos Online Erase Emojis [No Download]
Among all these desktop software and phone applications, there are also online tools available that can remove emojis/stickers from photos. It is very simple, and you don't have to download or install anything. Just go to the website, upload the photo, and erase or remove the emoji/sticker.
1) Fotor
The first online tool that you can use to remove emojis from photos is Fotor. This website is pretty easy to use, and you can remove emojis without any hassle. The best part is that it is a complete photo editor. You can make almost any changes to your images.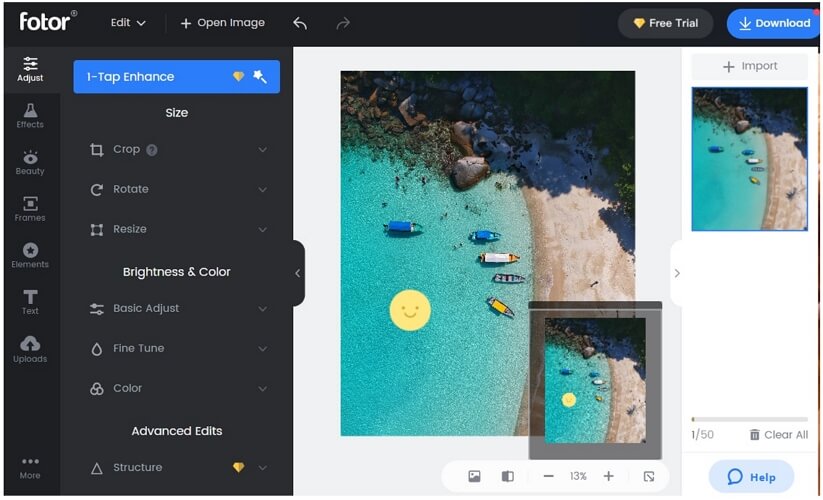 Features:
The image editor has everything, including effects, frames, beauty tools, elements, text styles, and other adjustment tools.

It can remove emojis with perfection and offer optimal quality.

The final image can be downloaded in various qualities, so you can choose whatever you need. You can also select the file format.
Price:
It offers a free trial that has basic features. If you want to explore the advanced features, the Pro plan is for $8.99, and the Pro+ is available for $19.99 per month.
2) PicWish
The second website that you can use to remove any kind of emoji from the photo is PicWish. It is a simple and free online tool to remove objects . You can easily select the stickers or emojis using its selection tools.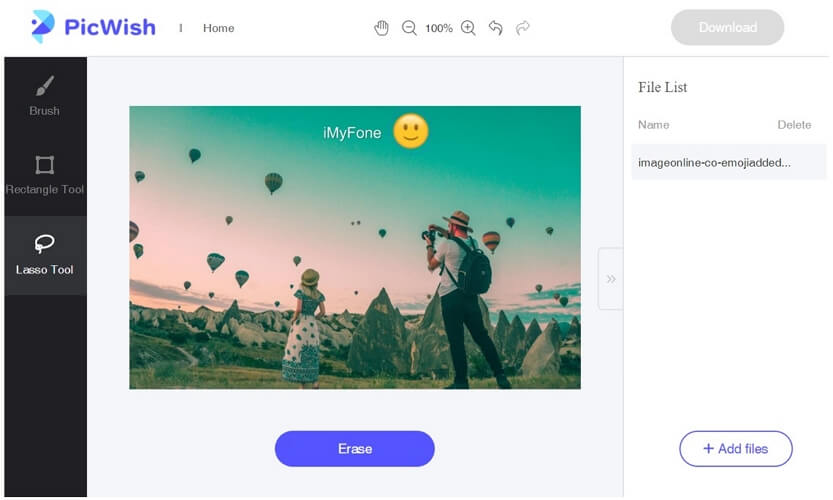 Features:
It has a lasso tool, brush, and rectangle tool to select any type of emoji or object.

You just need to select the emoji and click on the Erase button. It is pretty simple.

There is no watermark when you export the image.
Price:
It is a free emoji remover that you can use as much as you want.
You might be interested in:
How to Remove White Background from Emoji >>
How to Change Background on Snapchat -- 4 Tips and Alternative >>
How to Blur Image Background in Zoom >>
Part 4. FAQs About Removing Emoji from Photo
1) Can I erase emojis from Facebook/Twitter pictures?
Yes. You can easily remove emojis from Facebook/Twitter pictures. You just need to download the specific picture and use one of the above-mentioned techniques that suit you. Emojis can be removed from phone applications, online, or by using iMyFone MarkGo.
2) Can I get rid of emojis/stickers from others' Instagram stories pictures?
People mostly use emojis/stickers for their Instagram stories pictures. Some pictures are attractive, and people want to save them, but the stickers ruin the beauty of the image. Don't worry; you can remove emojis/stickers from others' Instagram stories. Download the image and use phone apps like Snapseed or TouchRetouch to remove stickers without any hassle. You can also use MarkGo.
3) How to remove Snapchat emojis/stickers from someone else's picture?
Snapchat's filters and emojis are frequently used. You can remove Snapchat stickers and emojis/smiley from someone else's picture. Download the image from which you want to remove the sticker. With the help of iMyFone MarkGo, remove the sticker with just a 1-Click.
4) Can you remove emojis from pictures?
Sure, you can easily remove emojis from pictures using MarkGo, which is an excellent photo watermark remover to get rid of text and logo fast. Simply erase the emojis, you can get of rid them within 3 clicks.
Conclusion
It was a brief demonstration of how you can remove emoji from photos. This task can easily be done with iMyFone MarkGo, phone applications, and online. But among them all, MarkGo is the easiest because it lets you remove the stickers or background with just a click. It is easily available and has a very friendly user interface.