Do you want to change or recreate your voice during live streaming or conversations with your friends? If yes, then it is possible today because of the real-time voice changer discord, PC, and Mac versions. There are several reasons to change your real voice, but most of the time, people do it to have fun with family and friends.
In this article, we will show you the best real-time voice changers Mac, Pc, and Android versions. Stay with us, and you will get to know the pros, cons, and pricing of the ten best voice changers.
Part 1. Top 10 Voice Changers for you to change voice easily
Voicemod is on the top of the list because of its smooth and quick voice conversion. It is free software that can convert the user's voice into the female, child, man, chipmunk, and robot voice. It can be used to change voices for online games and live streams to have fun.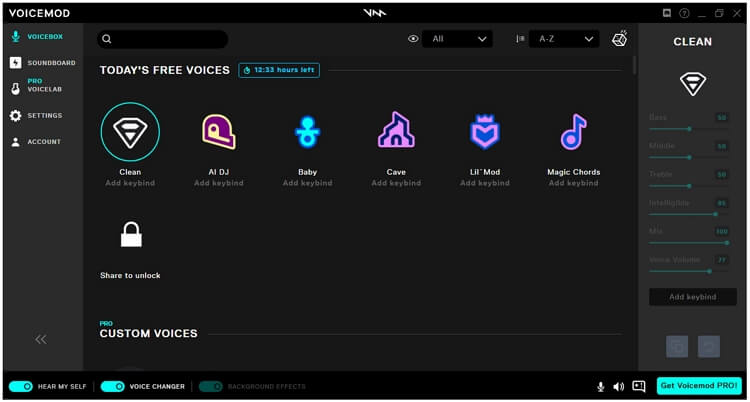 Pros:
It can work for various software like Hangout, Paltalk, and Viber.
You can add many effects to your voice during the conversion.
It is very easy to use. A beginner can easily operate the software to select any type of voice.
After changes, you can have your files in WAV and MP3 formats.
Cons:
The software will force you to install games and apps while using it.
Compatibility:
Voicemod is suitable for iOS, Android, and Windows PC.
Pricing:
Voicemod has a free and paid version. The paid version is called Voicemod Pro, which costs about $20 dollars for a lifetime license, $10 dollars for a year, and $3 or $4 dollars for a month.
RoboVox Voice Changer is a voice-changing application for Android users. It is straightforward to use and has almost 32 different styles to which anyone can convert your voice. This voice-changer allows users to change the pitch of their voice according to their desire.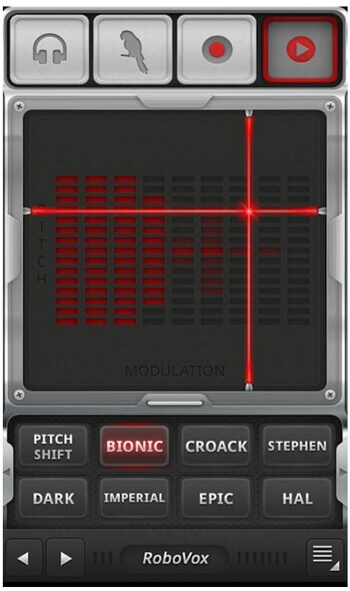 Pros:
It provides numerous voice-changing modes like recording and real-time.
You can have real-time spectral analysis to analyze your voice.
Easy to use.
You can record your changed voice on your device.
It helps you make ringtones.
Cons:
You cannot find every sound in it.
It is not worth it.
Compatibility:
It is suitable for Android devices.
Pricing:
You need to pay $1.49 to download this app on your device.
It is lightweight and user-friendly software to change the voice instantly during calls, streams, gaming, and messaging. You can easily turn your voice to other styles to make it super entertaining. It is a free real-time voice changer for pc and Mac users to add numerous songs and voice effects to their audio recordings.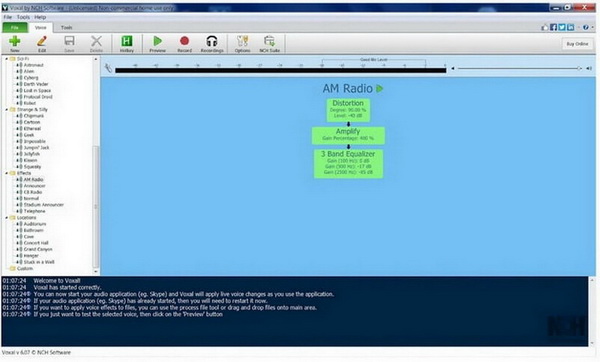 Pros:
Users can apply effects.
Voice can be changed to the voice of a robot, boy, alien, girl, echo, and atmosphere. There are various options available.
You can add effects to your voice and save the edited mode.
You can also create audiobooks.
Simple and attractive interface
It can be used to change voices in real-time.
Cons:
Not all effects are free to use
Sometimes, you need to restart your device.
Compatibility:
It is supported by Windows 10, XP, Vista, 7, 8, and 8.1. It is also suitable for macOS users.
Pricing:
| Plans | Prices |
| --- | --- |
| 1. Commercial License | $14.99/one-time purchase |
| 2. Home Use Only | $12.99/one-time purchase |
| 3. Commercial License Quarterly Plan – Monthly Subscription Plan | $1.11/month for one user |
Voicemeeter is a smart audio mixer that can be used to edit audio in different ways. You can add audio from your device or from any application. It will seamlessly mix your voice with games, different kinds of music, plates, and other types of sounds.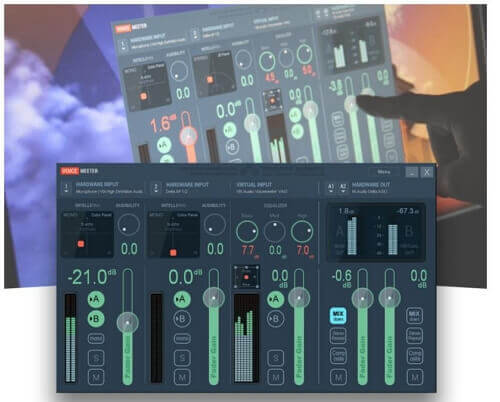 Pros:
All types of voices are supported.
Powerful voice changer
Free to use
Cons:
It's a little bit difficult to learn and start.
Not for beginners.
Compatibility:
It is suitable for Windows 10, 8, 7, XP, and Vista.
Pricing:
Voicemeeter is totally free to use. However, you can buy some features while using the software, which is not compulsory.
Clownfish Voice Changer is one of the easiest, user-friendly, and simple ways of changing voice from one style to another. It can be your best voice changer real time because of the ease and simple interface.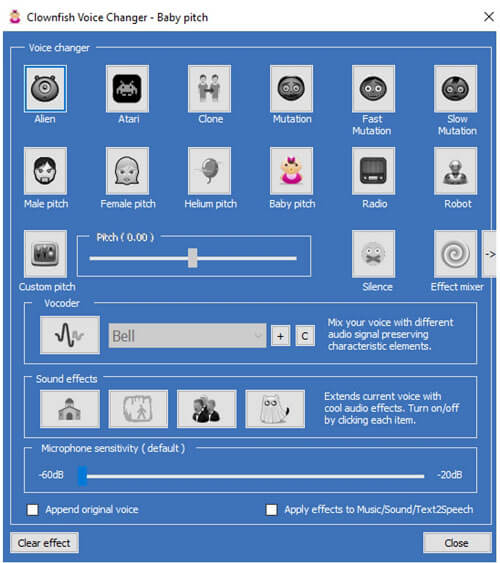 Pros:
It has a built-in sound player, which is effective for audio management.
It has text-to-speech support.
Advantageous sound players and audio control features.
It supports the VST plug-in.
You can change your voice in a few clicks.
Compatibility:
Clownfish Voice Changer supports Windows only.
Pricing:
Clownfish Voice Changer is a free application.
Voice Changer with Effects is an app for doing voice editing on Android devices. This app allows the user to record and edit the voice by adding various crazy effects and sounds to the recorded voice. It also allows the user to create different images with different voices.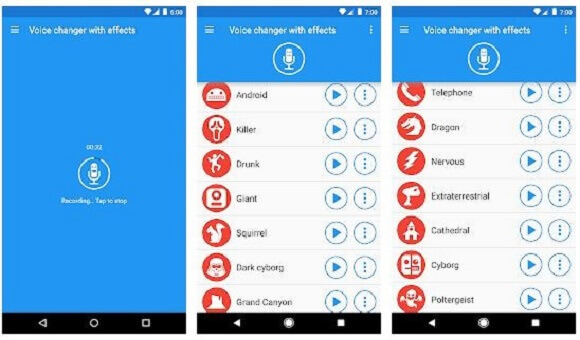 Pros:
It is very easy to use.
You can customize your voice effortlessly.
You can create pictures with any sound you like.
The interface is user-friendly.
Cons:
The interface is a little bit old-fashioned.
It does not have advanced editing options.
Compatibility:
This app can work on Android platforms only.
Pricing:
This voice changer software is totally free to install and use. There are no premium packages for its installation.
Morph VOX is software to change the covers of the user's voice in different styles. There are built-in voices, sounds, and effects that users can use to change their voice into the voice of a female, man, child, and various other supported voices.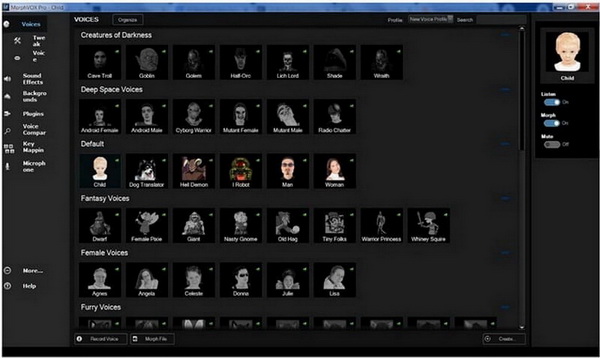 Pros:
There are many built-in voices and sounds available for its users.
You can do optimal voice change effects.
It allows users to perform fine customization of voice editing and changing.
Cons:
It is not easy to use.
You need to learn it before using it.
Compatibility:
Morph VOX is supported on Windows and Mac.
Pricing:
A free version is available for its users. However, if you want to use it for consistent voice changing, then a paid version is also available, starting from$39.99
It is known as a real-time voice changer. You can use it to change voices while chatting on Skype. It allows its users to completely turn a person's voice or audio into different pitches.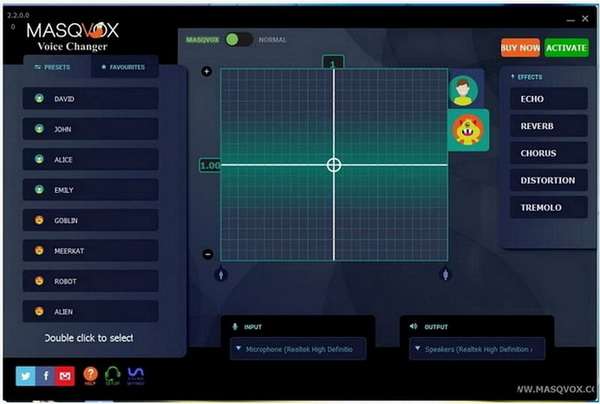 Pros:
This voice changer contains different voices of cartoons and other characters.
It is lightweight software that can easily be used on your device without making trouble.
Real-time voice chatting.
Ideal for gaming.
Cons:
Only a few features are free.
Compatibility:
It is compatible with Windows.
Pricing:
It is free to download and install. You can use this software to change your voice free of cost.
It is real-time sound-changing software to give your sound a unique and different style. It can work with different platforms like Skype, WhatsApp, Line app, and recorder. It is very easy to use. You will not need to change any advanced settings because everything is automatically and already set in the software.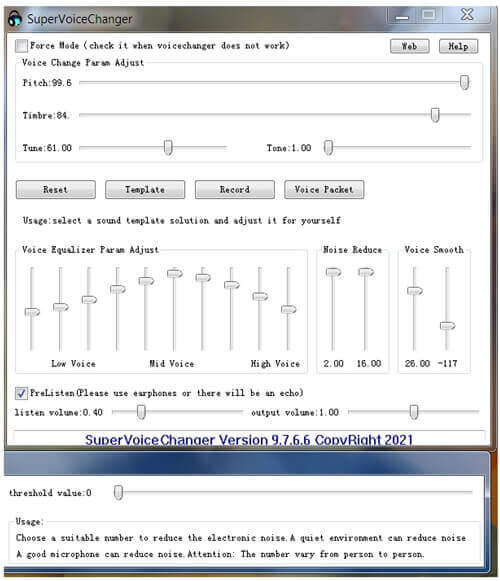 Pros:
All settings are automatically installed and set.
You can use it while chatting with others. It will change sound or voice on its own.
It has advanced customization features.
Cons:
You need to learn various functions to use them.
Difficult to install.
Compatibility:
It is compatible with Windows 7, 8, and 10.
Pricing:
This software is completely free to use. No charges are required to activate it.
By using AV Voice Changer Software Diamond, anyone can make his/her voice unrecognizable to family, friends, and other listeners. The tool allows you to choose any voice and sound that is available in this tool. You can create a unique and totally different voice every time you use it.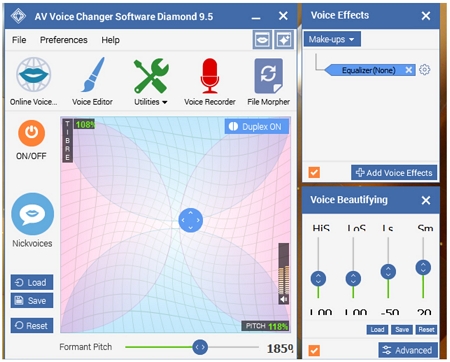 Pros:
It can create many sound effects.
It can record and edit any type of sound or voice.
The quality of the edited voice is commendable.
Different keyboard shortcuts are supported by this Voice Changer.
Cons:
The advertisement pop-ups irritate a lot.
Shows some problems with Windows 7 and 8.1
Compatibility:
This Voice Changer is compatible with Windows from Windows XP to Windows 8.
Pricing:
A free version is available. You can also get a full license for $99.95.
Part 2. Best video editor with voice changing feature - iMyFone Filme
Filme is a professional video editor that can edit videos with perfection. It has every tool you could expect from a video editor. It is also an amazing real-time voice changer for Mac and Windows. You can record the screen as well as your voice. The voice changer works in real-time, so it automatically converts the voice into the selected voice. You can also change the voice of recorded audio.
Features of Filme:
There are 10+ voices available. You can choose any of them. You can also apply fade-in and fade-out effects.

You can edit audio with precision. You can change its volume and duration. Music and sound effects can also be mixed with the voice. Filme also has a music library that can make everything easier.

Filmeenables you to add exciting effects and transitions. You can use them to make your videos more attractive.

The basic tools of Filme help you cut, split, trim, adjust speed, and make other changes to the video.

You can export the file in any format you like. There are various video and audio formats. You can also adjust sample rate, bit rate, and other advanced settings. You can also convert MP4 to MP3.
Steps to Change Voice on PC Using Filme
Step 1: Open Filme on your computer. Go to File>New Project and select any aspect ratio of your choice.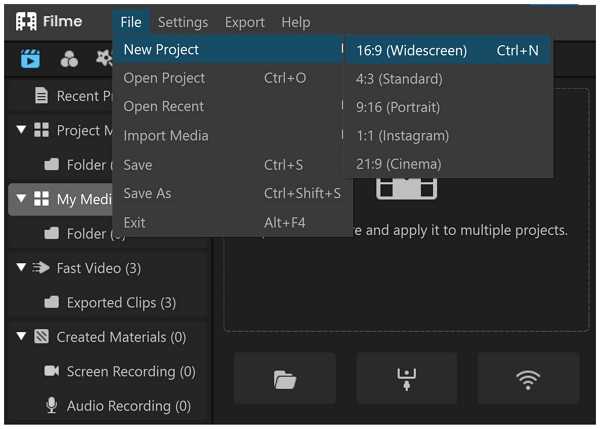 Step 2: Go to the Media menu and import the video and audio files that you need.
Step 3: After importing the videos and audio, drag them to the timeline.
Step 4 (For Changing Voice of a Recorded Audio): If you want to change the voice of audio in the timeline, double-click on it. The editing menu will open on the right of the video preview. You will see the voice changer option. Select any voice you like and click on OK.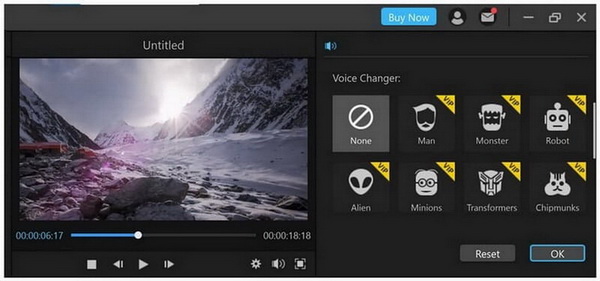 Step 4 (For Changing Voice While Recording): Move the playhead to an empty area for voice recording. Click on the microphone icon on the toolbar over the timeline.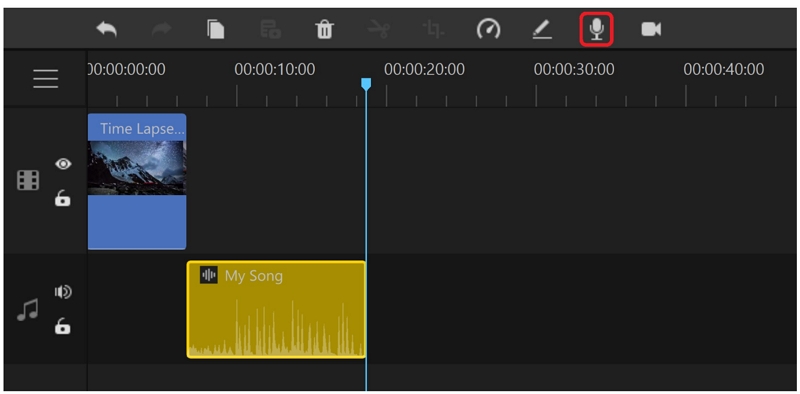 Select the input device and voice changer you want. Click on the record button to start recording. You are ready to record your voice. When you are done, click on the stop button.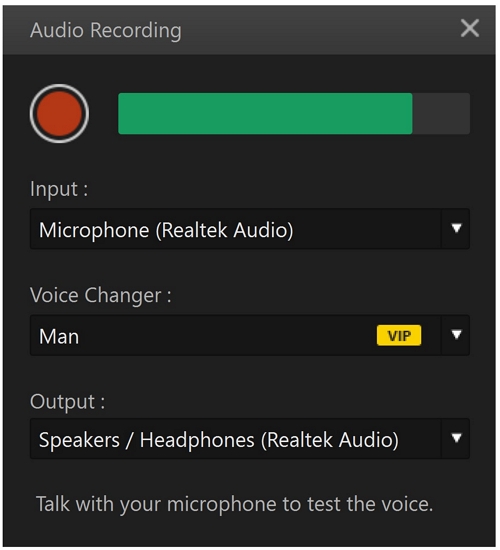 Step 5: You can trim the audio as well and make other changes. Finally, click on the Export button. Select the format you want. Click on Export.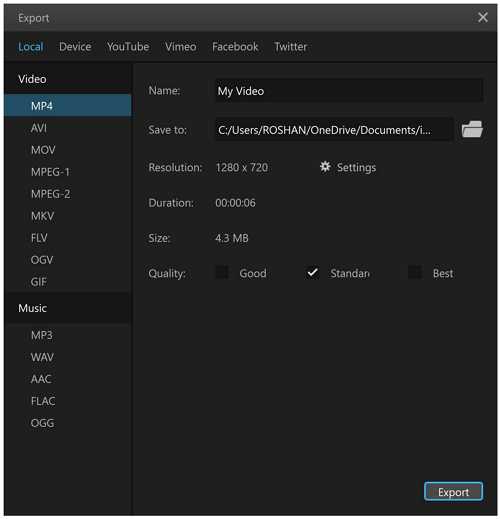 Watch this video about voice changers including Filme and 2 more voice changing tools:
Final Words
We often change our voices to have fun and give a new touch to streaming, gaming, and videos. We have introduced some of the best tools you can use to change your voice. All these tools are excellent, and you can easily pick the suitable one after looking at the pros, cons, and compatibility. We recommend Filme as it is a video editor as well as a voice changer. It will help you change your voice in various unique voices. You can change voice in real-time or change the voice of a recorded video. The best part is that it is user-friendly, so anyone can use it without any experience