If you like novelty items, the voice changer will be on your wish list for a birthday, Christmas, or any other upcoming event. The audacity voice changer is easy to use, and one can use this software on Windows, GNU/Linux, or macOS operating systems. The use of these tools helps its users to translate interfaces into different languages.
Keep reading this guide because it will be beneficial for you if you want to change your voice.
Part 1: Can you Change Voice in Audacity?
Many of us want to know how to change voice audacity. For this, you must have third-party software, and you can change the audio pitch by using effect. Users can change the voice in audacity by slowing down or speeding up the audio to lower or raise the pitch respectively. Lower pitch noises are booming, and high-pitched voices are squeaky. To change the voice, you need to have an audacity voice changer. There are different tools available for this purpose, and some of them are entirely based on voice changing.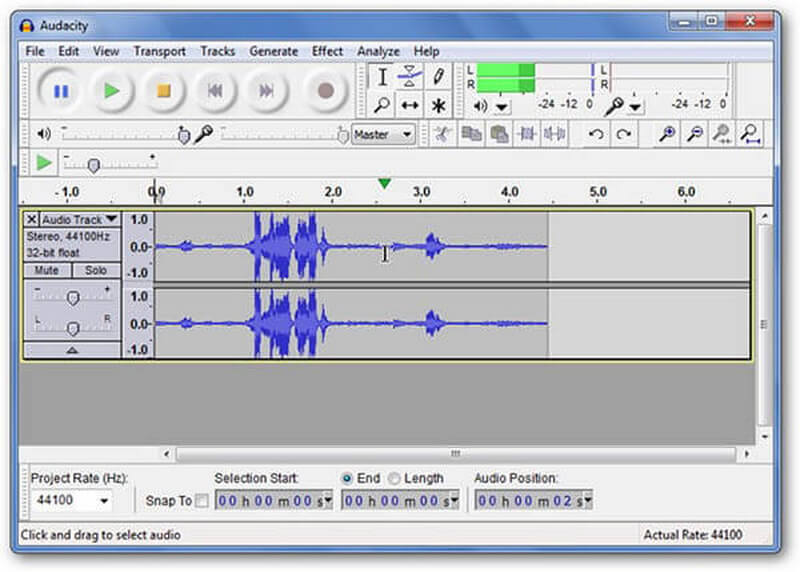 Steps to Change Voice with Audacity:
If you want to know how to change your voice with audacity, follow these steps.
Open the recording where you want to change the voice audacity. Tap and drag the mouse with audio to choose the portion that you want to edit. You can select the whole audio or only the part of it.

Tap on the "effects" menu at the top of the screen and choose the "change pitch" option. These tools will help you to slow down or fasten the pitch mode.

The next step is to use the slider to increase the voice pitch. You can choose your voice pitch manually using an audacity voice changer that is great if you know how to target the pitch.

When you have done your voice changing, hit "OK". It will take few seconds to press the audio. Once it is done, play it to check the changing and save the project.
Also Read:
Clownfish Voice Changer Not Working >>
Part 2: Optimal Solution-Apply Voice Changer Effects on Live Recording
The pitch will depend upon the adjustment that you made. Therefore, whether you want to imitate the voice of a robot, or a man, you have different voice-changing tools for this purpose. If you are looking for a professional voice changer with premium effects, iMyFone MagicMic can change your voice in real time.
Here is the video guide to change the voice
Pros:

Low CPU Storage.

MagicMic offers you extensive support for troubleshooting the software.

It has support for a wide range of third-party applications giving you complete control over your voice and sound effects.
Cons:

At present, MagicMic is only available on Windows operating system.
Step 1: Launch the Latest Version
First, you need to download and install the iMyFone MagicMic from the official website. Make sure to download the latest version to have all the functions available.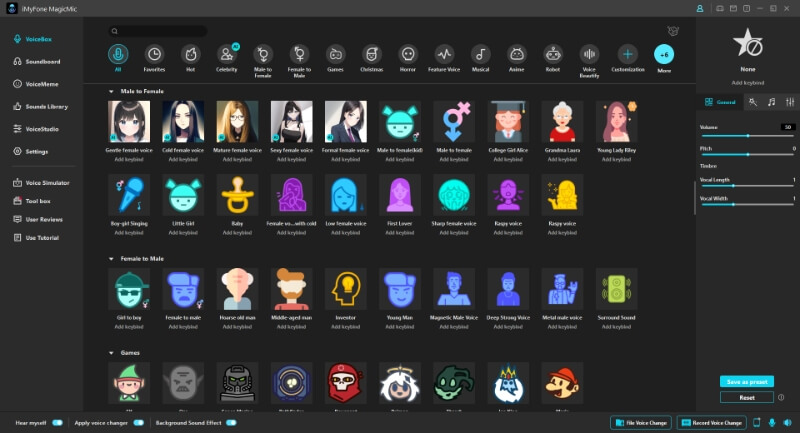 Step 2: Set the Input Device
Then select your real microphone as the input device. Select your headphones as the output device.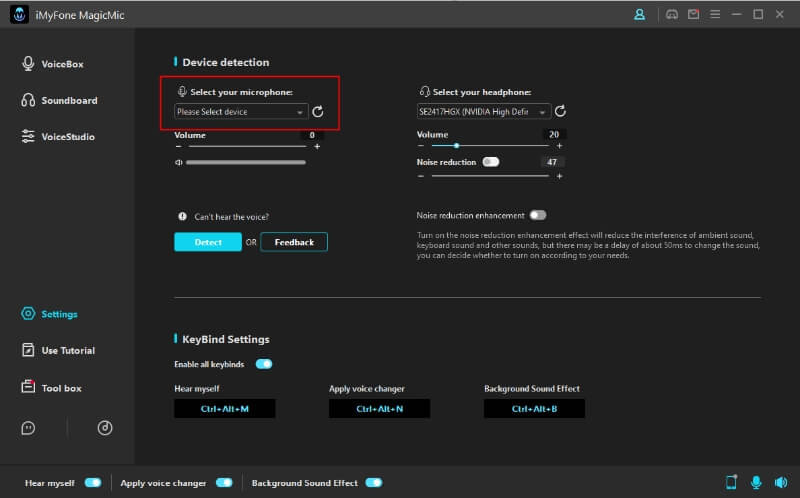 Step 3:Set the Output Device
Then select your real microphone as the input device. Select your headphones as the output device.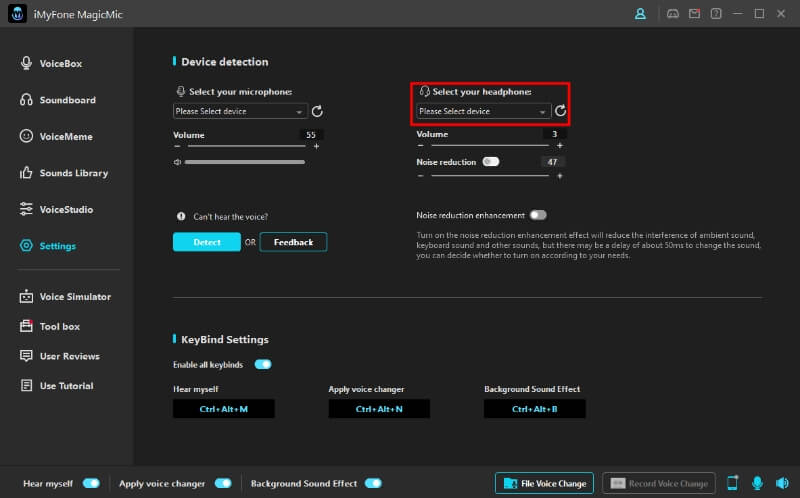 Step 4: Choose Voice Effect
Now you can click any voice effect in MagicMic and speak into your microphone to check if it really change your voice.
Part 3: Change Your Voice in Audacity with Third-Party Live Voice Changer
MorphVOX is the best audacity voice changer that can be used in Discord. The software has both free and paid versions and is ideal to change voice competitively. The tool is exceptional with extra features and you can use it to optimize online gaming as well. Therefore, if you want to know how to change your voice with audacity, you can use this amazing tool.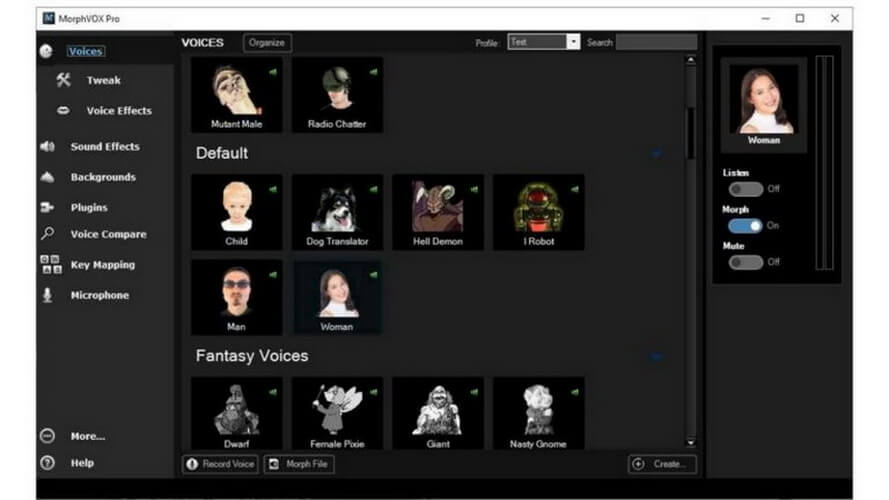 Pros:

MorphVOX is compatible with both IOS and windows operating systems.

It is easy to install.

The tool has a free version with basic voice-changing features.

The features are adjustable, and you can set them according to your preference.
Cons:

The paid version of MorphVOX is expensive.

The interface is complex
Steps to Change Voice:
Open MorphVOX and go to the tools menu. Select the quick voices option from the tools.

You will get different options to check and set the toggle keys.

Listen to them to have an idea about the voice-changing sample.

The MorphVOX will offers you different voices samples.

After selecting the desired voice, click the "OK" button.
Voicemod is the ideal audacity voice changer program that enables users to modify their voices. This software offers different effects with real-time changes. Furthermore, the tool is compatible with the soundboard, and it helps users in playing audio effects and also modify audio from existing media. Voicemod is compatible with online games, and it can integrate streaming apps.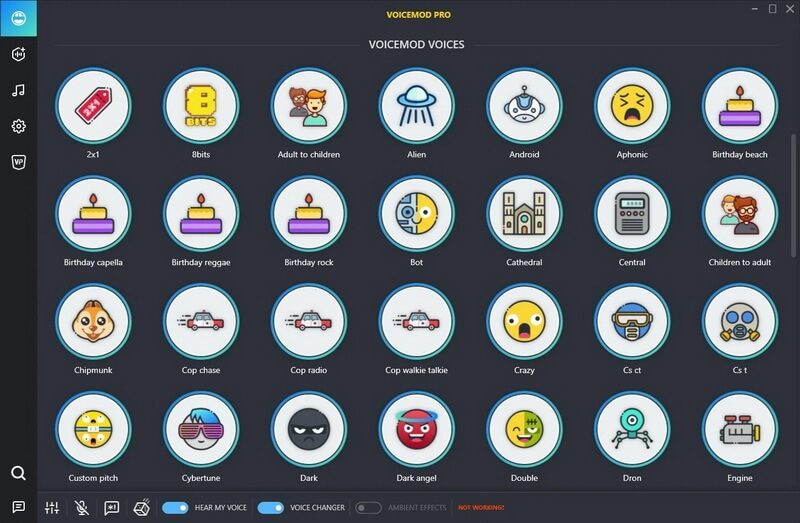 Pros:

Voicemod will add exclusive production value and effective streaming.

The tool possesses an easy to use interface.

It will provide you with different voices to select the appropriate one.
Cons:

Subscription-based
Steps:
To know more about how to change voice audacity, you can make use of Voicemod by following easy steps:
Download and install the Voicemod on your PC. Set your microphone as an input device.

At the bottom of the window, you will find a toggle button to change the voice.

You will find a collection of built-in voices, and you can select one according to your choice.

After selecting and applying the voice, save it in the device.
The Voxal voice changer is an ideal software for those people who want to change their voice effects. This tool made a massive headline because of its exciting and unique features. The tool is specially designed to change and disguise voices for entertainment on the internet.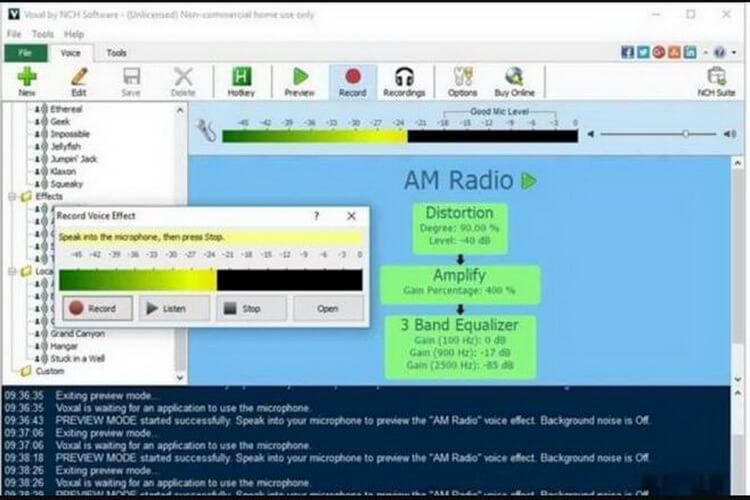 Pros:

Real-time recording mode

Extensive compatibility with devices and apps

Straightforward UI

Voice effects with customization
Cons:

Apps require restarting

Some effects are paid
Steps:
Open up Voxal and choose a voice that you want to use. You will find a list of voice effects such as chipmunk, robot, and AM radio.

Tap on the one to select it and apply effects. Now check the voice changes, and you can also edit them according to your choice.

Select the preview button to check the voice, and save it to your device.
Final Words:
Audacity voice changer refers to the tool that can change the tone or pitch of the user's voice. You can use these tools to record your voice and share with other people by using different social media websites like discord.
When you are about to buy a voice changer, make sure to ask the salesman for a proper guide. Always select one that provides different options to change the gender, age, and other aspects of your voice. MagicMic might be your best choice.