CS:GO is one of the most popular game chat service platforms you'll find on social media. It offers both text and voice-based chat services, and the majority of the people use voice changers to prank their friends in CS:GO.
Some people change their voices for fun, and some use them for their privacy. Whatever your reasons for using voice changers are, you need to acquire the services of reliable voice changers.
So if you want to change your voice using CS:GO, here are the top 8 best voice changer apps for CS:GO.
How to Choose A Good Voice Changer for CS:GO?
Picking the right voice changer for CS:GO can be a bit tough at times. But if you do the hard work, everything is possible.
Here are some things you need to consider while selecting a voice changer.
The voice changer is offering creative voice-changing effects for you.

It's easy to use.

The voice changer you select should possess robust functionalities.

Your voice changer offers additional features or not.

It would help if you saw the presence of Plug-ins support.

The voice changer is capable of exporting your file.

It possesses the ability to change your voice in real-time.

You should be able to share and save recorded audio files.
Don't waste time and grab its services if you find everything mentioned above in a voice changer.
Top 8 Voice Changers for CS:GO
Let's get straight into the top 8 voice changers.
If you're looking for the best voice changer for CS:GO, iMyFone MagicMic is an ideal choice for you. When it comes to voice-changing features, iMyFone MagicMic stands tall by providing its users with astonishing sound effects. It allows you to change your voice in real-time.
Features
iMyFone MagicMic comes with a pretty straightforward interface, making it a perfect gig for users to avail themselves of.

iMyFone MagicMic offers 20+ voice-changing options, including Monster, Minions, Devil, Chipmunks, Robot and more.

You can really change your voice in real-time on CS:GO using this amazing voice changer.

MagicMic voice changer can be also used when chatting, gaming or livestreaming.

It comes with 190+ sound effects to add timed actions on various platforms.
Pros:

It offers a pretty easy-to-use interface.

It only takes two seconds to startup.

It works on Windows 7/ 8/ 8.1/ 10 and 11.

It has a free trial so that you can use some free voices directly.
Cons:

It is relatively a new product in the market.
Voicemod is one of the most versatile voice changers you'll ever find. It offers tons of voice options to add, making it the perfect voice changer for you. Voicemod is also known as a voice changer for CS:GO due to its superb quality.
Besides CS:GO, you can also use it in other chat services, including PUBG, Mumble, Fortnite, and Google Chat. Its voice effects sound more professional than any other voice changer you'd have ever tried.
Some of the favorite voice effects of the audience are possessed, cave, kong, among others, and cathedral. Voicemod offers hundreds of fascinating mods to pick from. You only need to install the app to get cracking.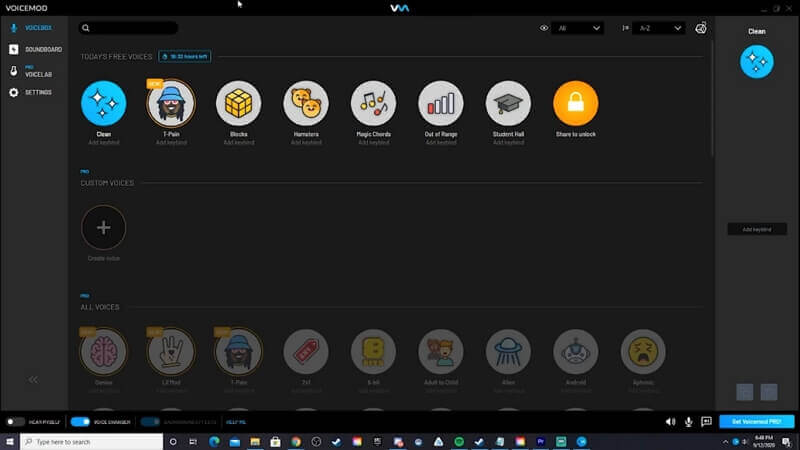 Features
Voicemod possesses an effortless user interface, meaning a user won't face any trouble operating it.

It supports multiple streaming websites and calling applications.

Besides offering numerous sound effects, you'll also get voice distortion effects with it.

It allows you to record voices in MP3 or WAV files.

Using Voicemod, you can change the voice of your audio in real-time.
Pros:

It comes with hundreds of different voices.

Its effects sound more natural.

Voicemod supports many voice chat services.
Cons:

Some effects don't offer much.
If you've got a little bit of knowledge about audio mixing, you can't find a better voice changer than Voicemeeter.
It offers some outrageous features and commendable voice effects. Voicemeeter allows you to establish your sound effect and make your life pretty entertaining and enjoyable.
Considering all the above-mentioned good things about Voicemeeter, you need to do nothing but install Voicemeeter and make your voices laughable.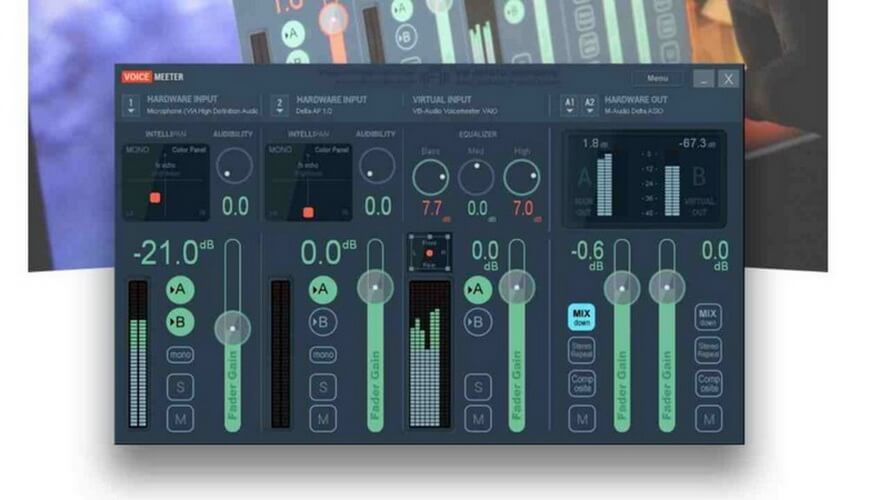 Features
Voicemeeter offers some fascinating sound effects.

Using this tool, you can prank your friends with ease.

You export an audio file without quality loss.
Pros:

Despite aiming at advanced users, it offers some fantastic features for you.

Besides offering tremendous voice effects, it also provides its users with customized sound effects.

It supports DX, MME, ASIO, and KS.
Cons:

To use this application, you'll have to gather some knowledge about it.
Adobe Audition is a voice changer for CS:GO Mac that offers courageous services to its users. The quality which it possesses is quite remarkable. It allows you to record audio, manipulate audio, and change the voice of audio.
This application has all the essential covers by providing unique and creative voice-changing features for its users. Above all credentials, you'll find its interface pretty exciting and intuitive.
In addition, it also provides you with a Multitrack recording environment, making it possible for you to change your voice in any manner you want.
You only need to import a file you want to add voice effects. And then all you need to do is apply your preferring sound effects from its timeline.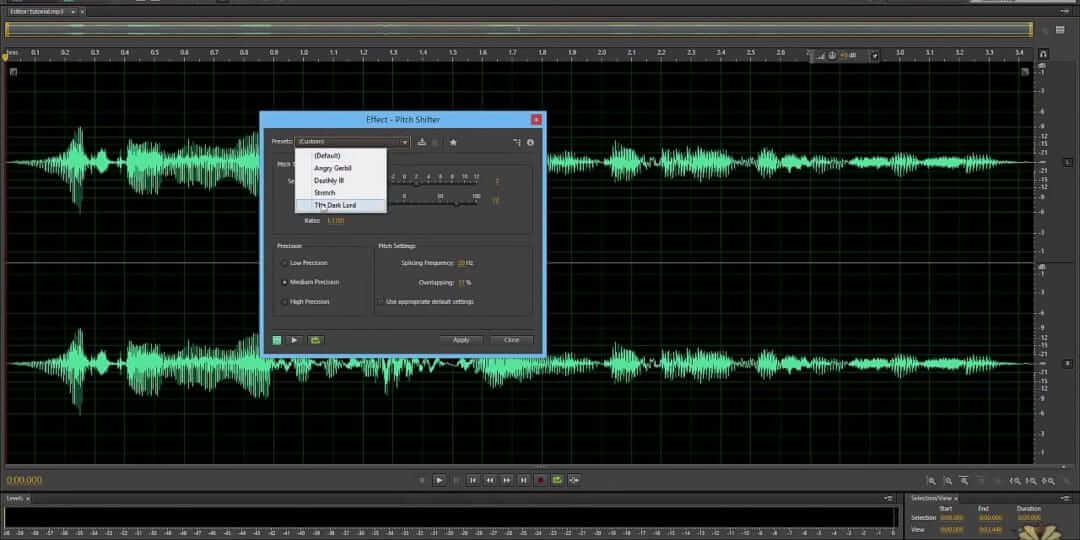 Features
Adobe Audition is pretty good at removing background noise and reverb from recordings.

It offers 120 audio tracks for your content.

Tons of audio effects in your video, making your content mesmerizing

You can add multiple audio voice effects to your content without any trouble.

Despite providing additional advanced features, it offers a pretty smooth user interface.

It allows you to preview your content before exporting. This aspect helps you to assess whether you've created appropriate content or not. If not, you can make certain adjustments to it.
Pros:

Vital sound Removal, audio restoration, and noise reduction tools

Adobe Audition possesses valuable visualization tools.

It can serve you as a prolific stereo waveform editor.
Cons:

It lacks MIDI support
Accusonus is a versatile and cross-platform software that offers mesmerizing features for its users. It's a plug-in capable of converting a character voice into any other character. Easy to use and fascinating features are the most common things that set this tool apart from any other voice changer.
It possesses countless terrific sound effects that can make pretty exciting content for you. You can also prank your friends using this outstanding tool. More importantly, it doesn't require any of your extraordinary doings to operate.
You'll only need to install the software and launch it. After launching, it will ask you to import a file. After importing a file, you can add any sound effect you want. User reviews have been encouraging, indicating the worth of this courageous software.
Despite possessing breathtaking features, it still needs an upgrade to compete with some advanced voice changers.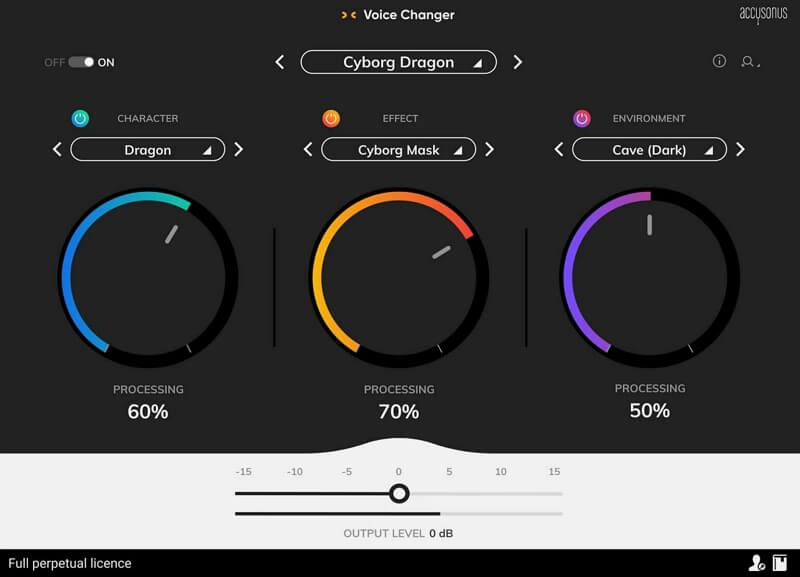 Features
You can install it without any fuss.

It allows you to add the preferred sound with a couple of clicks.

You can merge multiple audio sounds into one another.

You can add alien, robotic, organic, and futz sound effects to your video.

It holds the ability to manipulate any voice you want.

You can set up audio with minimal effort.
Pros:

If you're not familiar with pro tools, you can use this particular software.

You'll get a reasonably effortless user interface.

It offers some fantastic voices notes for adding to the video.

You don't need to do something special to operate it.

It's a good voice changer for CS:GOMac.
Cons:

Not Yet
Did you ever wish to acquire voice effects with minimal efforts required to operate?
Voice Changer with Effects for Android can live up to your expectations. It allows you to record what you want then add any sound effects from its timeline.
If you wish to sound like a horrible ghost or a funny joker, this software lets allow creating anything you want. One of the best features is its ability to allow pre-recorded fine and sound tunes with one clip.
It supports the majority of the steaming websites, meaning you can change voice your sound from many websites.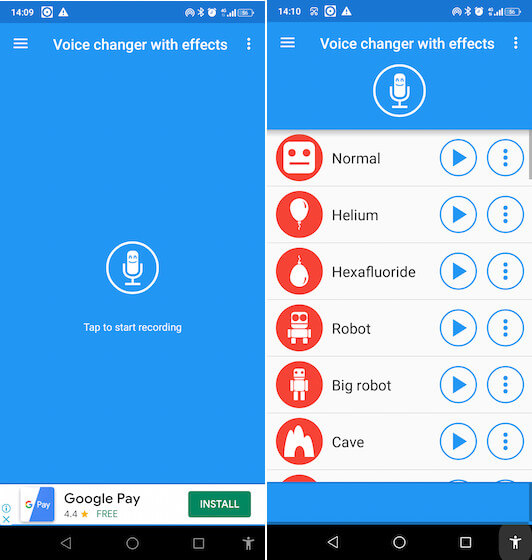 Features
Using this tool, you can apply child, chipmunk, phone, transformer effects to your audio.

Besides providing prolific sound effects, it also allows you to import any sound effects from your phone gallery.

You can also write any text in your video after changing its voice.

Voice changer with Effects allows you to change your voice in real-time.

Due to its appealing abilities, Voice changer with Effects is a reliable voice changer for CS:GO.
Pros:

You can easily customize and record your voice

It offers a variety of fascinating effects.

With this tool, you create an image adding some fascinating effects.
Cons:

It lacks advanced options.
Although this app isn't unique still, its clever interface makes it a reliable voice changer.
You can add plenty of voice effects to your video using this tool. It offers all the possible features of voice changing in the lite version, making it easier for users to understand it.
You don't need to put in some extra yards to get your job done. After recording your voice, you need to move the application's dial onscreen to change your sound. You can also add appropriate voice effects from there. It allows you to sound like a choir, reboot, and guitar. One of the best things is to alter background sound to a slot machine, helicopter, jungle, or others.
Besides providing massive voice-changing facilities, it is also fully capable of editing your audio. It can trim you at your will.
iPhone users can take advantage of Voice Changer Plus and explore all its fascinating features with one click. Importantly, it doesn't offer a challenging interface to start with but an intuitive interface acceptable to everyone.
Nonetheless, if this app suits your caliber, you need to go for it.

Features
Using this magnificent tool, you can record and change your voice with one click.

It allows you to listen to particular audio in different voices by selecting a '' New Voice'' option and clicking the play button.

You can save and share any audio you want for free.

It offers trim control abilities for its users.

Supporting full voiceover is one of the best voice changers for CS:GO.
Pros:

You'll get more voice-changing effects compared to its competitors.

It offers a voiceover recording option.

You can also trim your audio file using it.
Cons:

You need to acquire its premium version to explore all features.
If you're looking to acquire an online voice changer because you don't want to download or your mobile storage doesn't support this move, Voice Changer can be an ideal gig for you. Despite being easily accessible, it offers some unique features for its users.
Using it, you can customize your voice with a single click. You'll find a variety of sound effects on its home screen, making it one of the easiest voice changers you'll ever see.
If you want to make your voice like a particular character, Voice Changer lets you allow it to serve your purpose. You only need to click on its microphone to record your sound.
After recording your voice, you can add countless fascinating sound effects to it with minimal effort. After applying sound effects, you can export your file pretty easily.

Features
After searching this tool in a web browser, it allows you to record your voice by tapping a microphone.

You can upload files from the hard drive to make a change to them.

It supports outrageous sound effects, making it the perfect free voice changer for CS:GO.

You can change the voice of recorded videos or in real-time.
Pros:

It offers many funny effects.

Pretty easy audio recording procedure

Modern and intuitively designed interface.

It allows you to share files via social media platforms and Bluetooth.
Cons:

It doesn't offer any editing tool.
How to Use a Voice Changer on CS:GO
There are voice changers available, and we have discussed some of them. We recommend iMyFone MagicMic for desktop users. Whether you are using Windows, you can use MagicMic to change your voice while playing the game. It is an exceptional tool that anyone can use without any hassle.
Steps to Change Voice in CS:GO Using MagicMic Voice Changer
Step 1: Install and launch MagicMic on your PC. Then configure it according to the in-screen instructions.
Step 2: In the communication app that you used for online games, select Voice Changer Virtual Audio Device (WDM) as audio input.
Step 3: Now choose the voices you want to use in CS:GO and then your voice will change in real-time.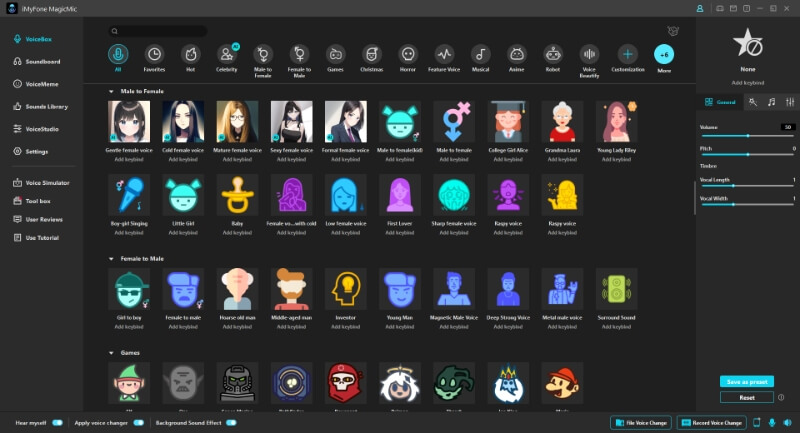 Conclusion
A voice changer should be capable of serving your purpose according to your expectations. All the voice changers we've reviewed are worth your attention. You'll find some fascinating features and a smooth interface with them.