RemoveYou Want
Remove Watermark from Video with 3 AI-powered Removing Modes.
Our professional video watermark remover MarkGo helps you erase the annoying texts, undesired tourists, and unwanted object without a pause. Within simple clicks, you can remove watermarks from video and export them without any quality loss.
Video Watermark Remover

Color Filling
Recovery of lost color. Having detected pixel colors automatically, MarkGo acquires the best fit color to restore image perfectly.

Matte Filling
Smart filling algorithm. MarkGo uses updated digital media processing algorithm to remove object from video seamlessly.

Gaussian Blur
Low-pass filter to reduce video noise. To ensure high resolution of image, MarkGo smoothly optimizes details as to remove logo.
Free Select and Remove Image Watermark in Batch Instantly
iMyFone MarkGo Watermark Remover facilitates removing any unwanted object from your photo with 3 powerful watermark selection tools and removing modes. All types of image files (JPG/JPEG/PNG/BMP/TIFF) are supported.
Image Watermark Remover
Smooth Filling
Retouch of any minor speckles. MarkGo maintains picture's original aesthetics flawlessly by smoothing details.
Edge Filling
Blend of surrounding edge pixels. MarkGo detects edge pixel and renders these elements to make undesired objects invisible.

Texture Repair
Reconstruction of textures. Through auto repair of the selected area, MarkGo helps recover the textures for images and videos.
AI Algorithm to Batch Remove Watermarks
Combine image detection and AI deep learning technique. Enable users to batch remove watermarks from video and image in 1 click.
Add Watermark to Video & Image Completely Free
Import Logo images as watermark to protect copyright

Add customized text as watermark for copyright protection
3 Steps to Erase Watermark from Your Video and Image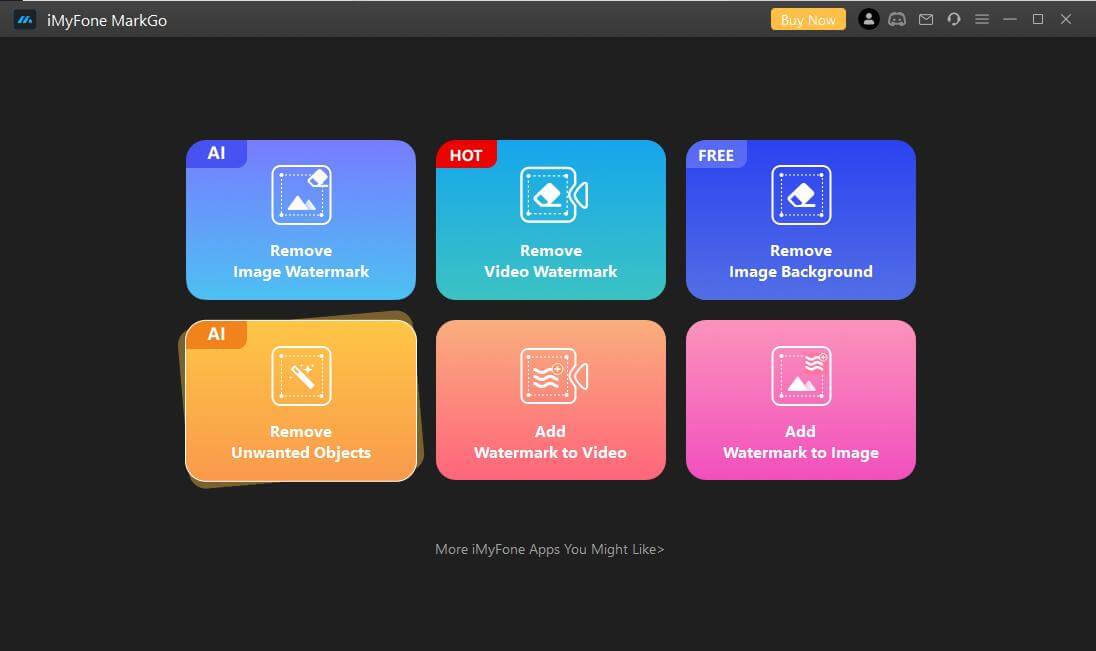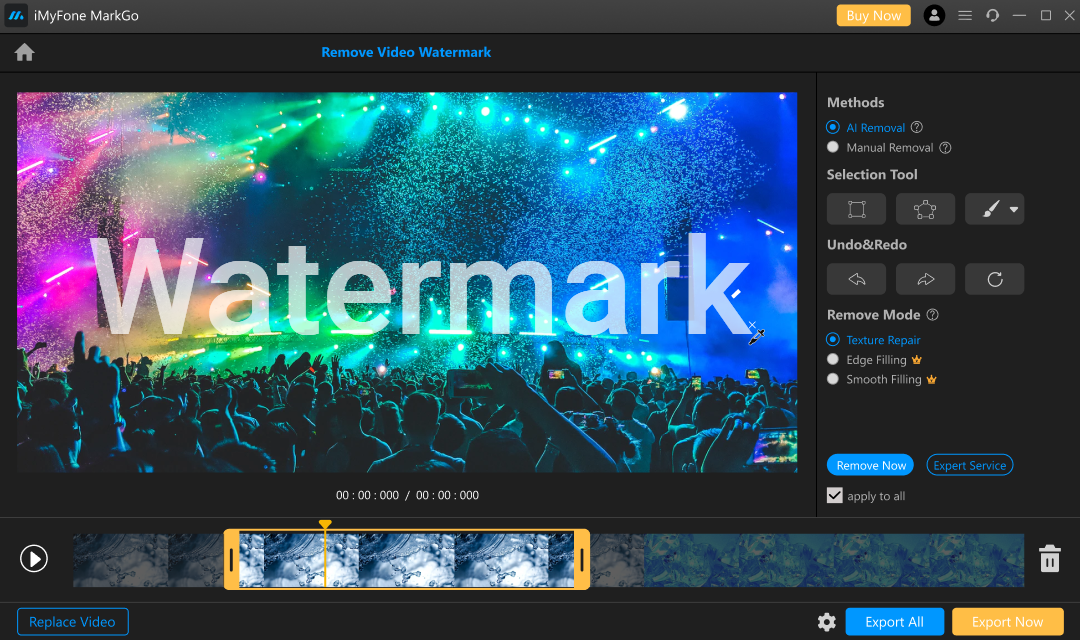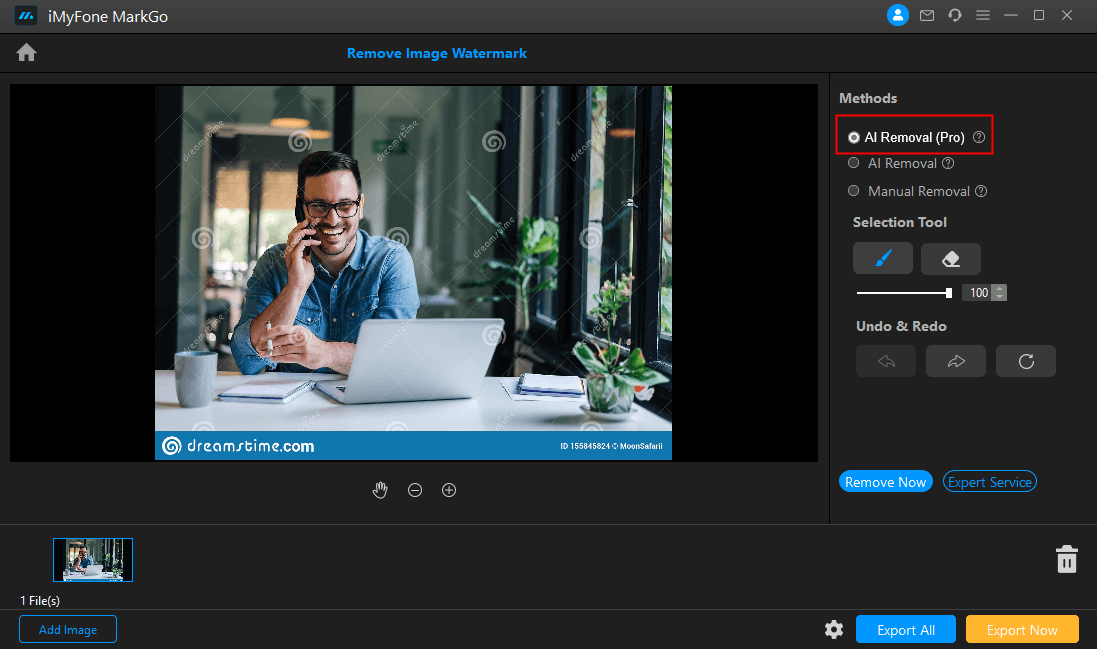 MarkGo is Highly Trusted
I found MarkGo during Covid-19 where our company had to turn to digital media to show our performances. When we conducted our business, watermark had always been a tricky problem until I met MarkGo. It is a great program for beginners to remove watermark from photo and add them in batch. I don't have to be bothered by watermark issues any more. With few clicks, I can handle all of them in MarkGo.
——Jeffrey

I used to pay a lot for 4K stock videos to get videos without watermark, about $100 per video and turned out to run over my budget every month. Luckily, this software MarkGo video watermark remover helps me with it, which is useful for all the stock photo and video websites and social media platforms. Sooooo convenient and useful! Really thankful for this software, saving my money and time!!!
——Jonathan

I use MarkGo to remove different kinds of annoying unwanted objects from videos and pictures and it works like charm! This helps a lot for me! Thanks. Highly recommend this software for you..
——Juliana

I have searched a lot of tools to remove video watermarks and they didn't work well for me until I met MarkGo video watermark remover. In just a few clicks, this tool easily removes the unwanted objects from the videos and the best thing about it is that the quality of the exported video is also satisfactory!
——Victoria

I got a lot of images with bothering unwanted objects and I didn't want to remove watermark from photos and export them one by one. That would be painful! Luckily, I found MarkGo and it enables me to remove watermarks from photo in batch. It saves me a lot of time and effort.
——Dominick

iMyFone MarkGo
Best Watermark Remover Free Download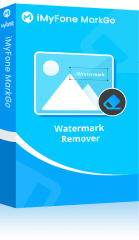 1,000,000+
people have downloaded it
30-Day Money Back Guarantee
100% Secure
Transactions Protected
Serving Millions of Users
FAQS about MarkGo Watermark Remover
Tips & Tricks
FAQS about MarkGo Watermark Remover
What is the best watermark remover for PC/ Online/ App?

Featured with advanced AI-powered technology, MarkGo is universally considered as the best video watermark remover in the software market, standing out among average watermark removers. State of the art watermark remover as it is, MarkGo fulfills the technology of image watermark auto detection and removes watermarks from photos and videos beyond imagination, combining intelligently image detection and deep learning techniques by training its deep neural networks. What is the icing on the cake of MarkGo is that it's free to try the remover, during which you can check compatibility and its attractive features for watermark removing of video editor watermark, advertisements, copyright texts or even artists' signature.

How can i remove watermark from video for free?

Logos or unnecessary texts are absolutely annoying for those who pursue aesthetic. To remove watermark from video for free, MarkGo is your best choice, providing you the top-notch AI-powered algorithm to get rid of unwanted objects, from mosaic on faces, people to logos. Within 3 clicks, you can successfully erase the watermark without any traces with the AI mode MarkGo possesses. Besides, it also enables you to preview the result in real-time and continue removing other elements based on the changed photo.

No limitation is set in regard to input and output image and video formats - JPG, JPEG, PNG, MP4, MOV, WMV, AVI, FLV, BMP, TIFF, just to name a few.

Is it illegal to remove watermarks from video?

Watermark is much often reckoned as an effective copyright protection mechanism, however the aesthetics of media like videos and images are spoiled in the process, triggering people to hunt for a way to remove them cleanly.

MarkGo watermark remover always provides its users with the most advanced AI-powered watermark removal technology to remove any unwanted objects, enabling users to utilize the original video to the utmost. Given enough freedom to remove watermarks as they like, users are not restricted in regard of their behaviors . Yet it's suggested that users should not remove watermarks from the video for commercial use, or remove copyrighted images watermarks. It cannot be emphasized more that users must not use the video for illegal purposes. Whereas using videos without watermark for personal purposes is totally acceptable. After remove watermark from those videos, you can not upload those videos to other platform to make money, you need get the original video owner's authorization.

Can you use MarkGo to remove people from photo?

Absolutely yes, MarkGo can perfectly remove people from photos without any traces. Do not worry other tourists on the beaches will ruin your summer trip's pictures anymore. You can post a fabulous Ins, FB or Tweet after removing person from your photos using MarkGo watermark remover. Not only does MarkGo enable you to remove any unwanted objects, strangers from photos, but also it makes it a reality for you to add other elements to make your photo unique and attractive.

The difference between the MarkGo paid version and the free version?

For the free trial, users get access to removing watermark, free updates and free customer support.

Paid version supports 3 different removing modes like Color filling, Mattle filling, Gaussian blur, providing you with prestige features, such as removing and adding logos in batch, exporting videos without watermark in HD and 4K with high image resolution, and countless AI-powered advanced features that you surely want to have a try yourself!
Tips & Tricks