Scream is a 1996 horror movie about a group of friends who are targeted by a masked ghostface killer. It popularized the "slasher" genre. Scream VI is gonna released on March 31, 2023. Everyone enjoys using Scream Ghostface voice changer, whether you're crafting an intricate prank or giving the final touches to a homemade horror movie!
With a deep, terrifying ghost face voice changer app, you may transform your voice into a ghost. These voice packages may change the way you sound in strange ways, whether you want to play a bad role or seem intimidating.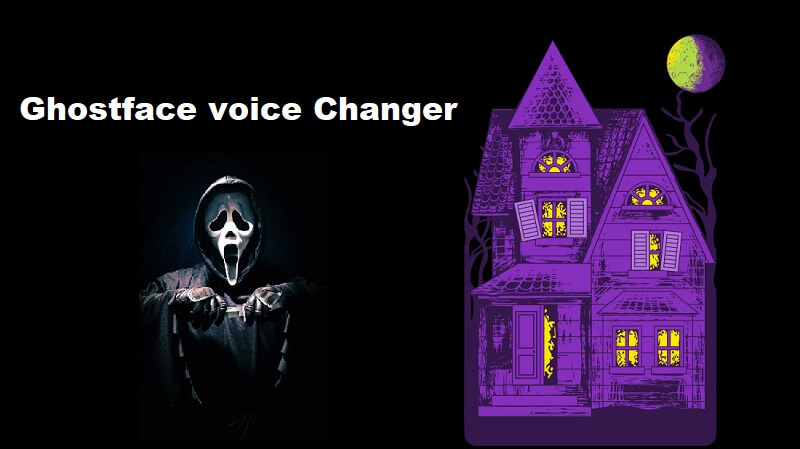 In this article, we will explore how to get a ghost face voice changer for pc and mobile, as well as how to modify your original voice using a voice changer online.
Part 1: How to Get a Ghostface Voice Changer on PC
There is plenty of creepy voice changer online available to create different voices, like Ghostface from Scream. But, only a very few can offer a true-sounding fun experience. Responsiveness, interface, useability, and sound quality are the prominent factors that must be counted while opting for one.
Let's discuss two of the popular ghostface voice changer online setups for Windows and Mac.
If you're looking for an all-around free voice changer for both Mac and Windows, then scroll no further because MagicMic has everything one can think of. It's the best real-time voice changer with various horror voices, allowing you to explore and play with mesmerizing horror voices and sound effects, like scary and scream sound effect.
MagicMic Ghostface voice changer offers an immersive gaming experience by adding 125+ voices including terrifying voices to freak out your friends and ensure an unforgettable gaming experience.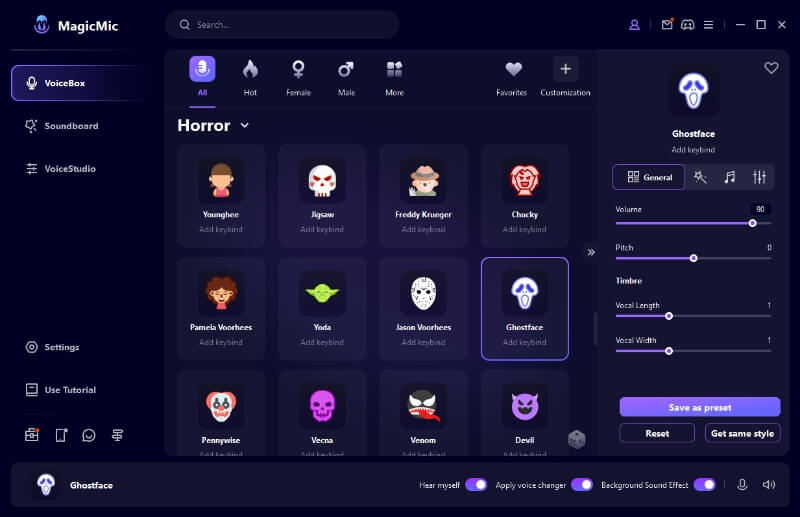 Note
Most voice changers on the market do not support using on Windows 11 or Mac! MagicMic voice changer wins!
Features of MagicMic Voice Changer to Create Horror Atmosphere
Offers more than 125+ voice filters, including various creepy voice filters, like Ghostface, Jigsaw, and Vecna, and 600+ spooky sound effects and voice memes to fulfill all your needs.
Ghostface similar voices like demon, Vecna, Pennywise voice effects are available.
Voice Studio function allows you to customize your own ghost voice filter.
Import Audio File function makes you apply any sound effects you like.
Extremely pleasant interface to offer a soothing experience as all features are easily accessible.
Voice filters come with background effects that make you create a different environment. Horror background sounds are included.
Keybind settings for sound effects and voices to make you without any interruption.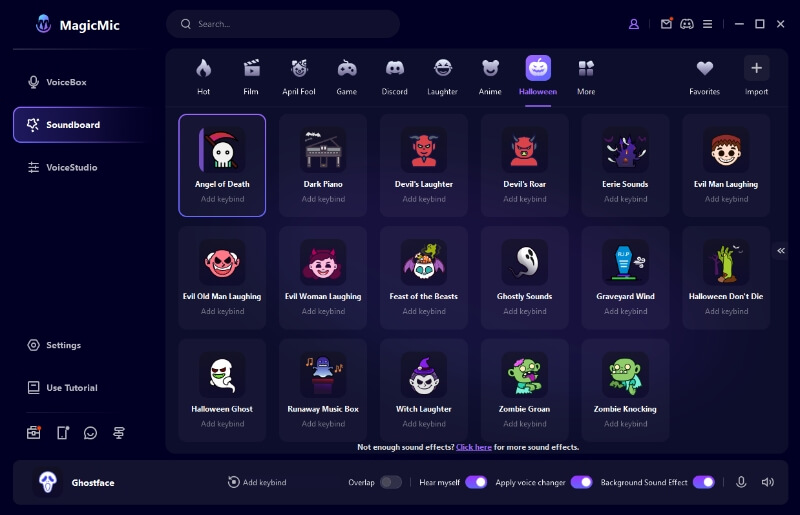 Pros:

It works with Mac,Windows,Android and iOS.

It offers a horror theme with huge various horrible voice filters and scary sound effect .

Voice Emulator directly in Games double up the fun for games, meetings, live streaming and calls.

All pre-made voices can be adjusted with offered sound parameters.

Offers more natural and realistic voices with background sounds for almost 125+ voice filters.
Cons:

It is a new software in the market, not as famous as others.

Some sound effects with incorrect name.
Watch Video Guide About MagicMic Scream Ghostface Voice Changer
2. Voicemod [Windows]
Voicemod has made it easier to add spooky music bites and sounds. You can transform your gaming journey into a suspense-filled adventure. If you're a Windows user, Voicemod can be a decent option. Let's unveil some of the exciting features of Voicemod;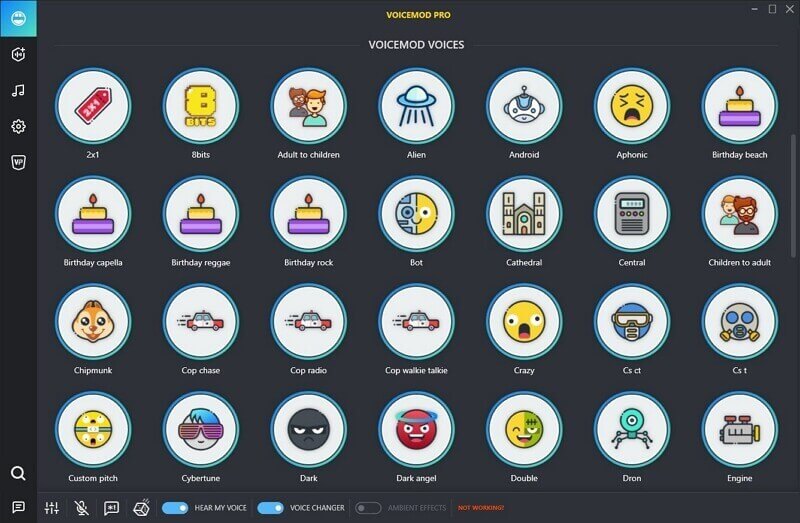 Features of Voicemod
Compatibility with various games and your favorite programs

Usability on all the latest versions of Windows

Ever-growing sound library of voices and background sound effects
Pros:

It's free to download software— later on, you need to buy its subscription

Allows sound fluctuations, including slowing and fastening it
Cons:

The interface needs improvements as it's a bit difficult for novices

Applying sound variations makes it sound a bit unnatural
Part 3: How to Do Ghostface Voice Changer on Mobile
If you're looking for a ghostface voice changer app, then this section is going to be the most thrilling for you. Mobile users are increasing every day, so your pocket must have a voice changer to create unforgettable memories that last forever. Let's share two exceptional Ghostface voice changer applications for mobile users to prank friends;
1. MagicCall [iOS/Android]
MagicCall is an innovative way of pranking your friends and near ones by using your Android or iPhone device. Just dial the call and pick your desired voice. There are plenty of voices and background music in the sound library of MagicCall. A few prominent voices include male, female, child, concert, traffic, birthday, cartoon, and racecar.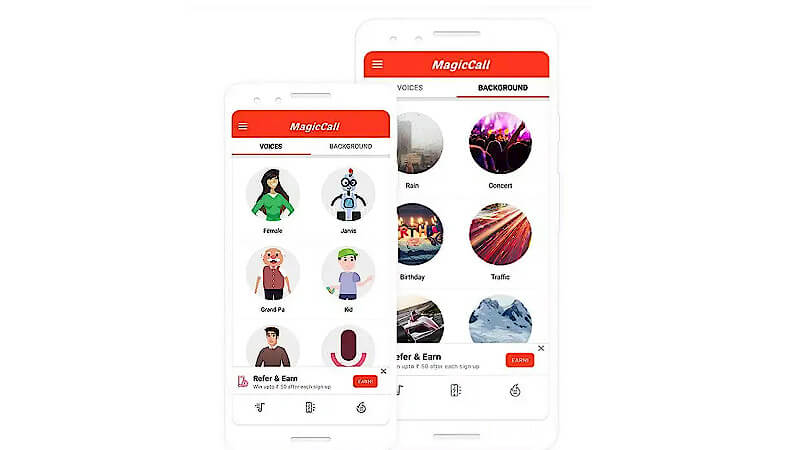 The emoticon section of the application includes kiss, clap, gasp, laugh, punch, ghost, and multiple other such voices. So, if you're planning to prank your friend with a voice changer online, then dial a call now. Choose the ghostface voice from the MagicCall sound library and prank them with a frightening voice!
Features of MagicCall:
Comes with various innovative background voices, including Concert, Traffic, Birthday

Offers a clean, user-friendly interface

You can play background music on call.
Pros:

It's simply easy to use

Offers various voice effects and background sounds for call.

Works with both Android and Apple devices
Cons:

Recently users are reporting some glitches

The number is usually visible at the other end, which makes the prank tasteless
If developers come up with a solution to glitches and bugs, then this app can be a great fun voice changer application. There's another Ghostface voice changer app; let's explore something more about it;
2. FunCalls [Android/iOS]
App developed by BNG mobiles provides a unique, fun experience to users. It's available to both Android or iPhone users. You can even make international calls with it. Various voice-changing features and background sounds make it more interesting. Let's make an insightful at the features of FunCalls.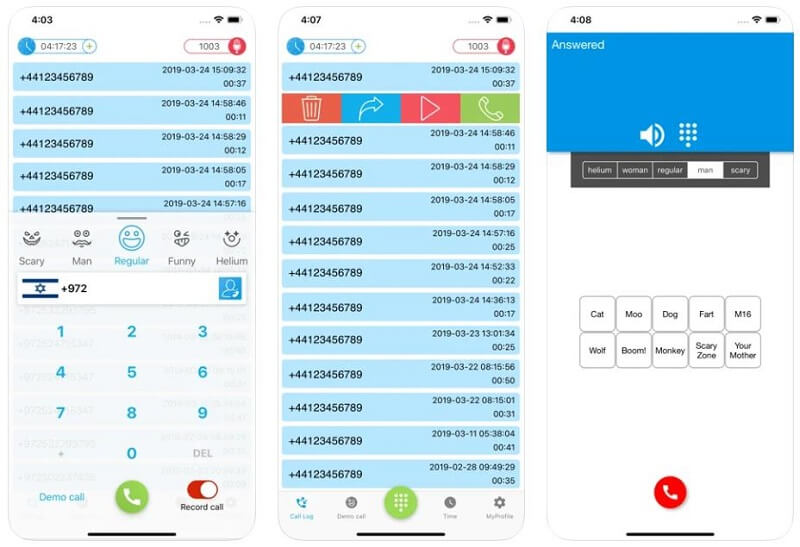 Features of Funcalls:
Provides a feature to download recorded voices and share them with others

International calls facility attests to its universality

It allows you to make a demo call to test the effect before your prank.
Pros:

You can record your call on both iOS and Android devices

It allows you to alter your voice in real-time with scary, helium, women voice and so on

Common sound effects such as moo, cat, dog, wolf, and other such voices
Cons:

The sound library is too limited

The volume of voice effects are too low.
Part 3: Real Prank Story with Ghostface Costume and a Ghostface Voice Changer
A few days back, we had a reunion. Old college friends gathered at a single place to cherish memories of the past. But a reunion without laughter and crackers doesn't make any sense. So, we decided to play a crazy ghost prank on one of our chubby friends.
He went out to answer a phone call, and immediately, we finalized the idea. We turned off the lights, put a white bedsheet on a friend, and torched him from the back to give a ghost effect. I just turned on the MagicMic ghostface voice changer to create a scream ghostface voice.
We immediately implemented our plan when he came back to the room after answering the call. A real-sounding ghost face voice made him run back, but our laughter made him realize the crazy prank. It was unquestionably the best moment of reunion because it gave us beloved laughter back.
If you've any such crazy idea in your mind, then Ghostface voice changer can help you concrete it. Today, we will discuss several ghost face voice changers for you to choose from. Let's keep reading.
Conclusion
Fun shouldn't be cut out of life. Keep connecting with friends to create moments and memories that never get older. Scary pranks are one such way of making crazy memories.
If you're looking to create a Ghostface prank call, one effective tool you can use is a Ghostface voice changer. By using this voice changer, you can modify your voice to sound like the creepy, distorted voice of Ghostface from the Scream movies. Just download the best Ghostface voice changer and start pranking like never before.
Are you ready to start the fun? Just download a Scream Ghostface voice changer Now!My choice is MagicMic Scream Voice Changer since I use Macbook! What's your choice?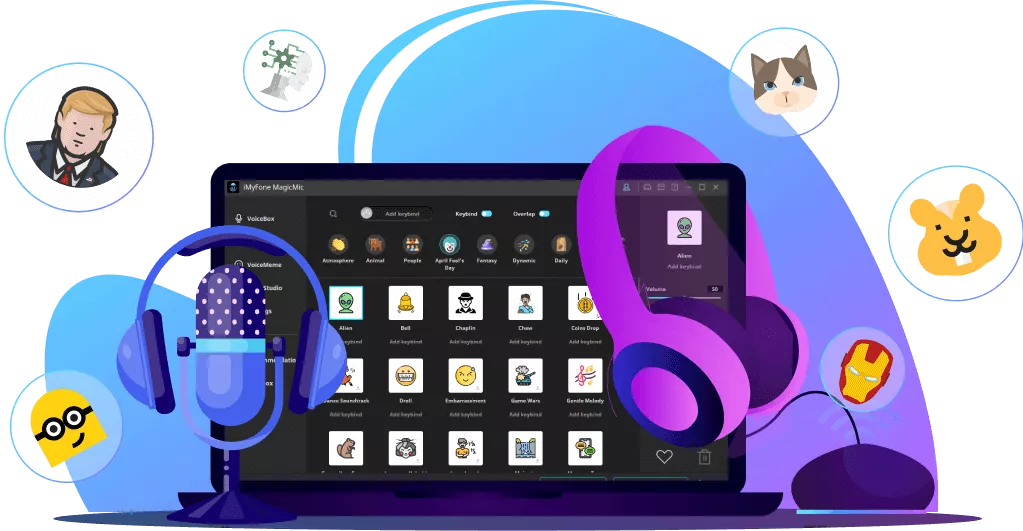 125+ Voice effects for one-click voice changing in real-time.
Huge library with 300+ Voice Effects and 150+ Voice Memes.
Sound emulator in games, live, chatting, online class and more.
Voice recording and audio voice changing is supported.
Voice studio lets you create any voice you like.