Autotune voice changer tools are not that easy to find, and the ones you find, may make your device lag and have unatural voice changing effects. But you should know that not all voice-changing software is a nightmare for your device because some of them are pretty good too.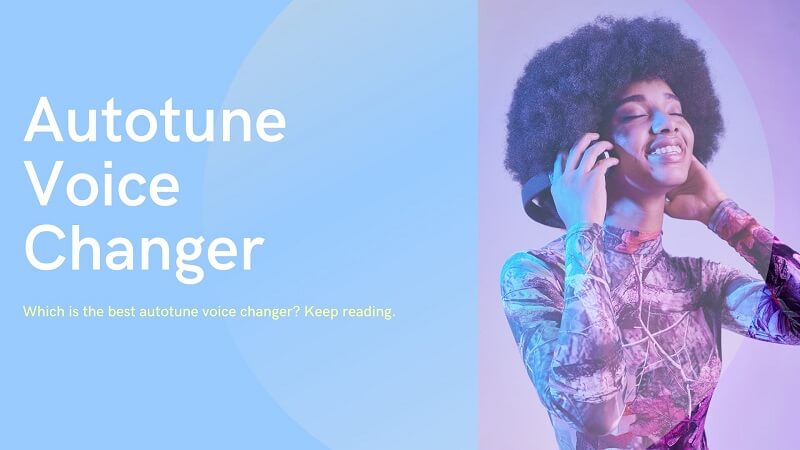 For instance, MagicMic, VoiceFX, and Voicemod are pretty great if you are looking for a permanent solution to your autotune problem in voice changers. If you are interested in finding out the best auto tune voice changer for Mac, Windows, online and mobile, keep reading.
Part 1: Top 3 Autotune Voice Changer for PC
There are quite a lot of autotune voice changers that are just perfect for your PC, but you have to pick the best because you really cannot compromise with it. So, let's find out the top three auto-tune voice changers for PCs.
MagicMic AI autotune voice changer is known as one of the best voice-changing software, and it certainly does its job. Not only can you change your voice during live streaming, but it also has a feature of auto-tuning now that lets you fix your distorted voice without any hassle.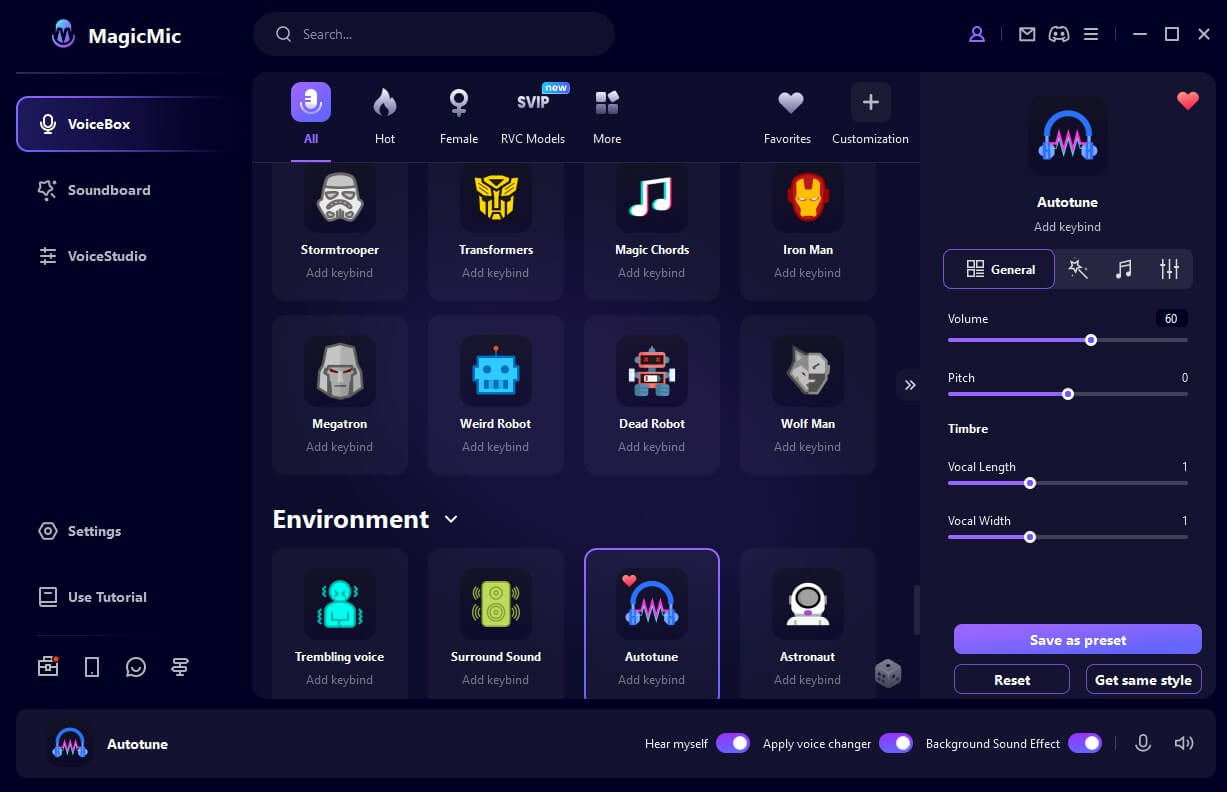 You can also use 250+ different voice filters during streaming with this autotune voice changer on Discord, and it can be used quite easily on your PC. MagicMic is known for being the most extensive sound studio for Windows and Mac, where you can customize your audio and tune it to fit into your live streaming perfectly.
Support Systems:
Window , Mac, IOS, Android
Pros:

It offers more than 250 in-build voice filters, including auto tune voice filters for real-time, audio files and recording voice changing.

It does not take up a lot of space, only 3MBs

Adds hotkeys to control for voice changing effects and sound effects directly to the live stream and gaming.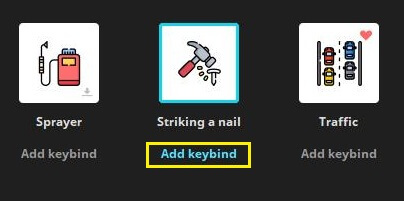 It helps with importing your favourite sound effects.

It allows you to customize your own voice effects.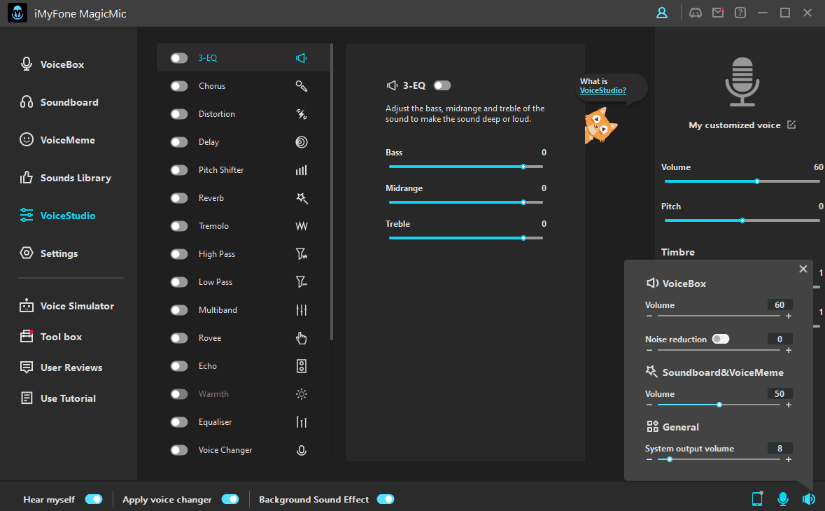 Cons:

It is a new product on the market.
Watch this Video to Know More about MagicMic AI Autotune Voice Changer:
How to Use MagicMic Autotune Voice Changer?
Step 1: Download and Launch
Start by downloading the MagicMic software and installing it on your device. Once the installation is complete, open the application and sign in using your email credentials.
Step 2: Configure Input and Program Settings
Adjust the program settings by selecting your primary microphone and headphone as the input device. Additionally, make sure to enable the "Apply Voice Changer" and "Hear myself" options located at the bottom of the interface.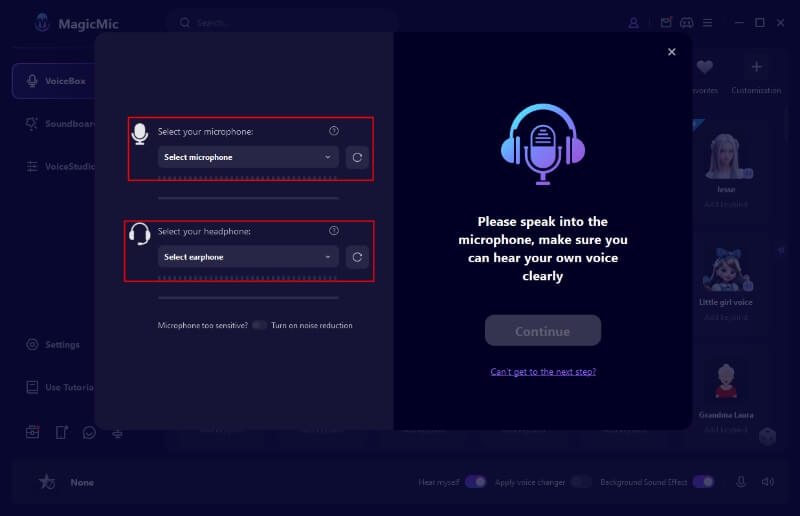 Step 3: Select the MagicMic Virtual Audio Device
In the application where you wish to modify your voice, choose "Microphone (Voice Changer Virtual Audio Device)" as the input device. This selection ensures that your altered voice is captured and transmitted effectively.
Step 4: Choose Autotune Voice to Change Voice in Real-Time
Click "VoiceBox"-"Robot" to select Autotune voice to make yourself sound like it in real-time chatting and more.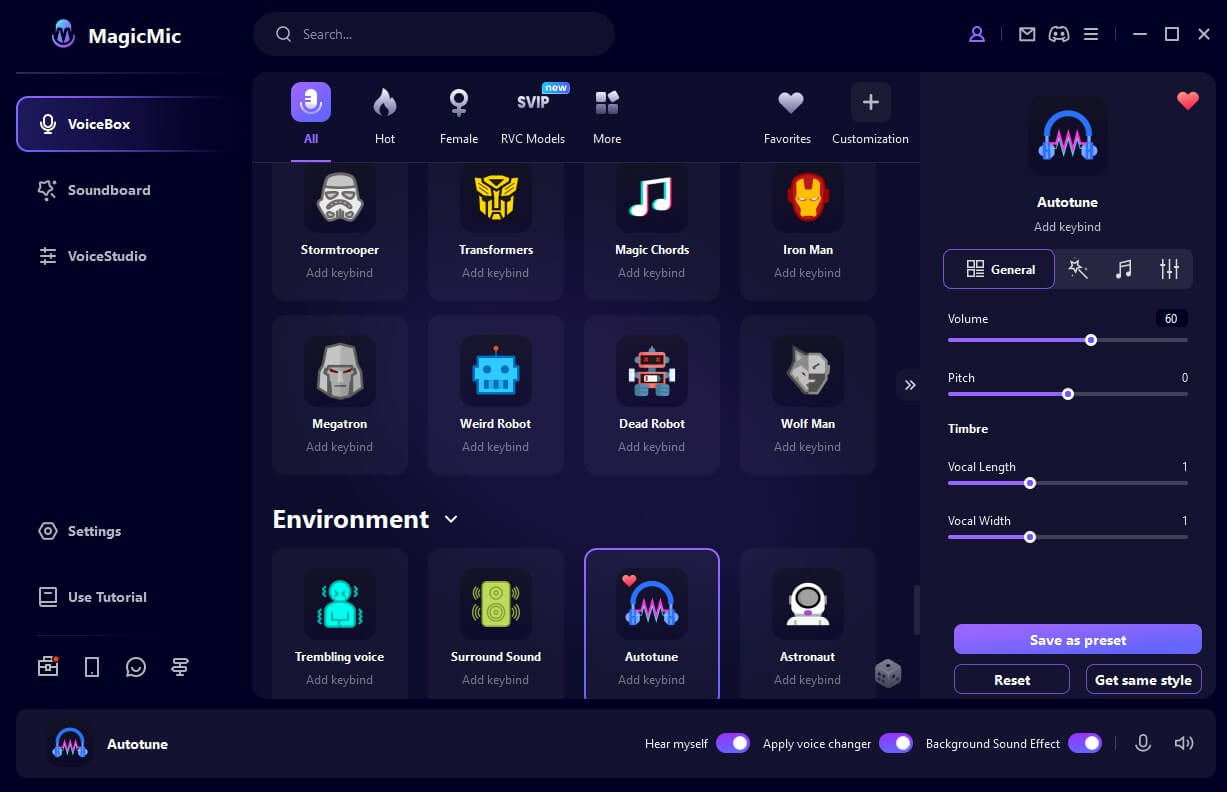 2) Voicemod Auto Tune Voice Changer [Mac/Windows]
Voicemod autotune voice changer is made explicitly for usage during gaming or live streaming. You can use it while playing all kinds of games, and by enabling its feature, you can also fix your voice quite quickly.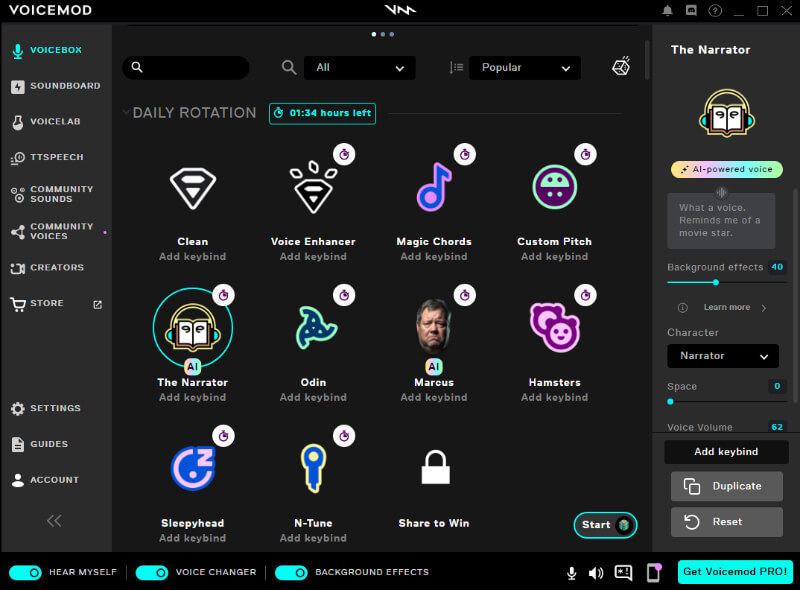 Voicemod can be used for tuning your voice and making it sound better during streaming. There are quite a lot of themed sounds in this software, too that you can get once you download it on your windows PCs.
Support Systems:
Windows only
Pros:

Highly professional and efficient interface

Real-time voice changing features

Compatible with multiple games and apps

Has advanced features like voice skins and voice avatars
Cons:

It is easily crashed.

Voice changing effects are not natral enough.
Guide to Use Voicemod on Discord>>
3. VB-Audio VoiceMeeter
VoiceMeeter is an audio mixer and auto tune voice changer PC that autotunes your audio virtually without editing it constantly. You just have to set it up, and the software would work on your computer without any hassle.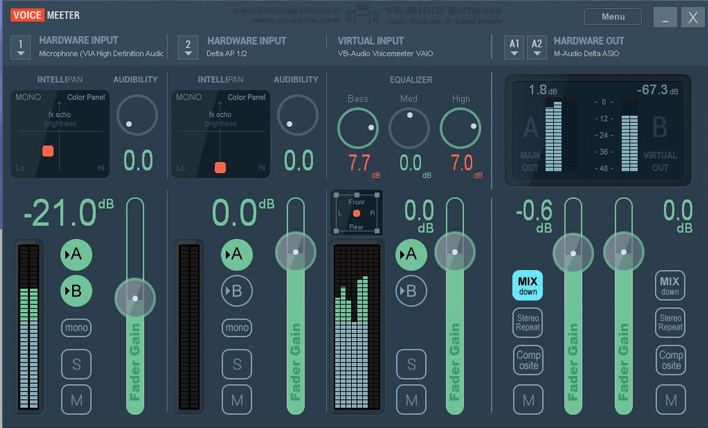 The connectivity of this software is best, and it is perfect for professional auto tunning. You can also use this software for podcasts or live streaming on Skype. It also helps with the management of audio voices on your PC.
Support Systems:
Windows
Pros:

The interface is very advanced

3D panoramic control features

High-quality auto tuning

Highly compatible
Cons:

It is complicated to use and not for beginners
Part 2: Top 3 Auto Tune Voice Changer for Mobile
Finding a good quality free autotune voice changer for mobile is a lot more difficult than finding one for PC because there are not many options out there for mobile. But, we have listed the top 3 autotune voice changers that are going to be your absolute favorite for mobile so let's get into it:
1. VoiceFX
VoiceFx is one of those apps designed for professional voice changing on your phone, and it is a pretty powerful tool. All the voice effects available on this app are not just exciting but highly mainstream.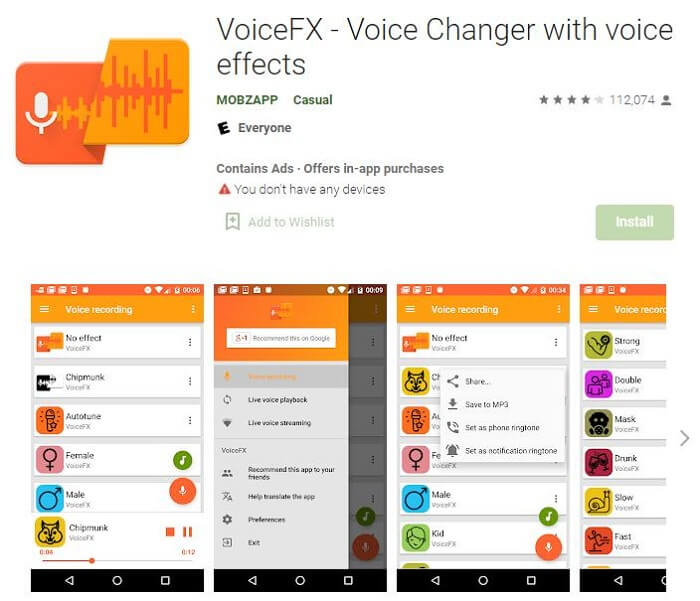 You can not just change your voice but also tune it up a bit to make it sound just the way you want with this voice changer for mobile.
Support Systems:
Android
Pros:

Perfect for professional use

It does not make the mobile lag

All the sound effects are of high quality

Does not take a lot of space
Cons:

The number of sound effects is very limited
2. Auto Tune Voice Changer for Girls
Auto Tune Voice Changer for Girls is super basic and the easiest app you would use on your phone. So, if you are a beginner, you have got to try this. It has multiple voice filters to enhance your voice, and you can even use it for voice tuning, and it works for that too.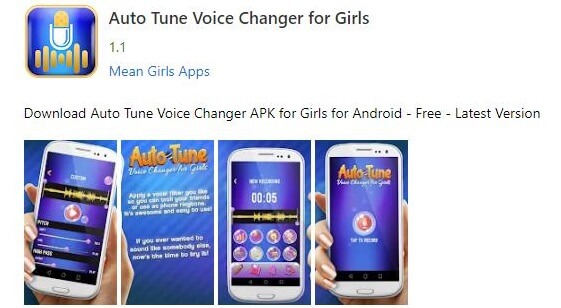 Support Systems:
Android
Pros:

Highly professional and efficient interface

Simple to use

User-friendly interface

Auto tuning features

Filters for changing voice
Cons:

Not suitable for professional use
3. Voice Changer.io Autotune Voice Changer Online
Voice changer.io is free autotune voice changer online. It has a whole variety of different sound effects to choose from, and the end results are also very promising. You can tune your voice just the way you want with this app in no time and with very minimum effort. However, it can be only used for audio/recording voice change. Real-time autotune free online can't be used on the online tool.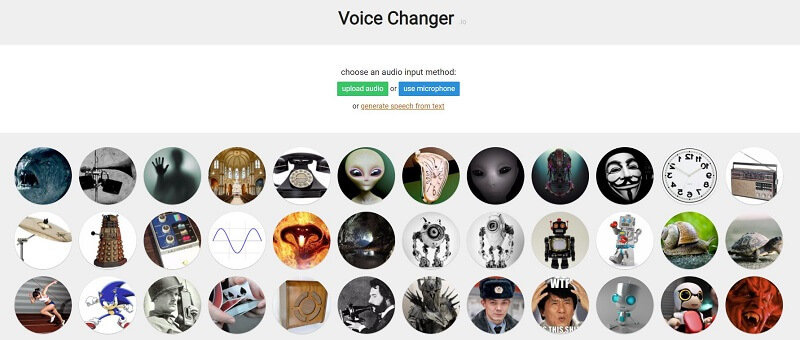 Support Systems:
Online
Pros:

Easy to use, and offer free autotune voices.

Perfect for beginners

Has a variety of sound effects

It has the ability to autotune your voice while using iPhone
Cons:

It cannot be used for a autotune voice change realtime on platforms like gaming voice chat or live streaming.

Voice effects are out-dated, and voice amount is small.
Part 3: Hot FAQs about Autotune Voice Changer
How does Autotune Voice Changer work?
Autotune voice changer alters the pitch of the user's voice. It analyzes the incoming audio signal, detects the pitch of the voice, and then adjusts it to the desired pitch based on the user's settings. This process can be done in real-time, allowing users to hear the modified voice immediately.
Can Autotune Voice Changer be used for both singing and speaking?
Yes, Autotune voice changer can be used for both singing and speaking. It is commonly used by musicians and vocalists to correct pitch inaccuracies while singing. However, it can also be used for creative purposes in spoken word recordings, podcasts, or even during live performances to add unique vocal effects.
Can Autotune Voice Changer be used in real-time during live performances?
Yes, many Autotune voice changer applications are designed to be used in real-time, making them suitable for live performances. Musicians and performers can connect a microphone to their device running the Autotune software or app and apply the desired vocal effects instantaneously as they sing or speak.
What is the best Auto-Tune Voice changer?
When it comes to the best Auto-tune voice changer, iMyFone MagicMic should be the first one to check out, courtesy of its wide compatibility and high-quality Autotune voice to change into.
How do I get Auto-Tune on my phone?
Download MagicMic, you can get access to Auto-tune voice and click it to change into another voice with autotune.
Conclusion
Autotune voice changer is one of the secrets on the way to becoming a professional streamer or a funny guy. You need to find software or autotune free online that not just adds a lot of AI autotune voice effects during your gaming but also autotunes your audio to make it more appealing.
We would highly recommend you to go for MagicMic auto tune voice changer if you are looking for the most advanced features and just the right kind of auto-tuning. It is the finest voice changer and works with Windows as well as Mac, so give it a go, and you certainly will not regret it.