Mickey Mouse is one of the most loved anime characters of Disney world by both children and adults alike. If you're one of the many people who'd love to switch out their voices to that of Mickey Mouse, then look no further.
Thanks to the latest voice changer to Mickey Mouse tools, it has become easier than ever for you to sound like your favorite anime character.
Stick to reading and find out the best Mickey Mouse voice changer apps you can use on your PC or smartphone.
Part 1. 2021 5 Best Mickey Mouse Voice Changer
1. Online
If you don't want to install any third-party app, then install VoiceChanger.io.
a. VoiceChanger.io
This Mickey Mouse voice changer online app is as easy to use as it can get. On its Home page, you'll see several voice effects including Mickey Mouse that you can apply on a voice by just one-click.
You can either upload a voice stored on your computer or directly record a new voice session using microphone and then, add the Mickey Mouse effect.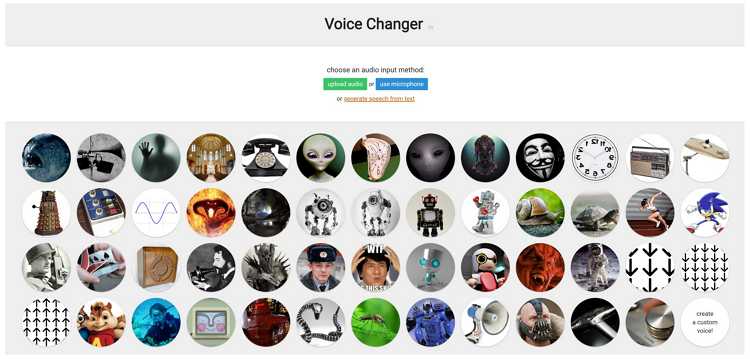 Key Features
Offers many voice changer effects

Users can record new audio and apply effects on it

Can also generate speech from text
Pros:


Simple, easy, and efficient


100% free


Preview you sound
Cons:

Limited voice effects

Can't share the creation on social media directly
Price: Free
2. PC
Here are the two Mickey Mouse voice changer pc apps.
Scramby is a fairly simple yet multi-featured Mickey Mouse voice changing app which allows you to add interesting effects to your voice. If you want to sound like Mickey Mouse to have a laugh or joke with friend, then all you need is to install Scramby on your PC.
Using its amazing plug-ins, you can completely change your voice to seem like that of a Mickey Mouse and dozens of other sounds.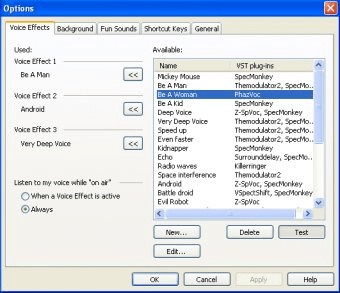 Key Features
It offers more than 130 different funny sounds

Dozens of embedded voice patterns

Built-in audio editor
Pros:


A wide variety of sounds for background audio formation


Works equally good on weak computers


Provides high-quality speech processing
Cons:

The biggest downside of Scramby is it doesn't offer any fine voice settings like frequencies or timbre, etc.

Works only in real-time
Price: Free
b. Anime Voice Changer (VoiceMod)
Developed by VOICEMOD, Anime Voice Changer is one of the best mickey voice changer apps you can use. Its biggest drawcard is its simple UI and ease of use even for novice users. With just a few clicks you can sound like a Mickey Mouse.
What's best is you can even make your own sound on VoiceMod.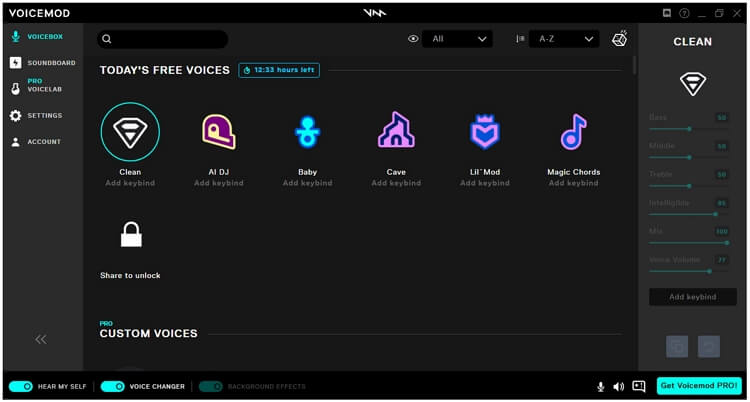 Key Features
Allows voice change in real time

Supports voice in MP3 and WAV formats

More than 90 voice effects including Mickey Mouse
Pros:


Simple user interface


100% free to use


Compatibility with many other chat services
Cons:

Many users have reported voice cracking issues.
Price: Free, allows in-app purchases
3. Mobile
Here're our voice changer picks for both Android and iOS users.
Having 4.6 ratings, Voice Changer Plus is powerful and highest-rated Mickey Mouse voice changer iPhone app. Apart from changing your voice to Mickey Mouse, it offers dozens of amazing and super funny voice effects to modulate your voice to your satisfaction.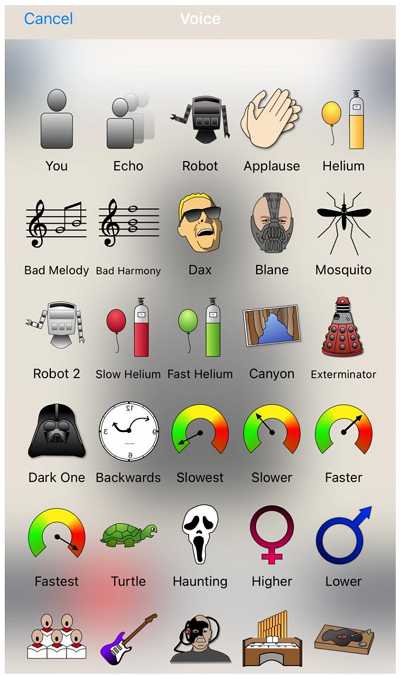 Key Features
55 Voice effects with background sounds

In-built editor to edit a recorded sound

It also allows you to adjust the speed of the voice and play it backward if you want.
Pros:


It is completely free


Full voiceover support


Share edited videos directly to social media
Cons:

No real-time recording feature

Limited free features
Price: Free, allows in-app purchases.
Small in size yet full-featured app that lets Android users to modify and change their voice to Mickey Mouse with just a few taps. Having over 10 million downloads, this app is simple, easy to use, and works smoothly with all chat applications on your smartphone.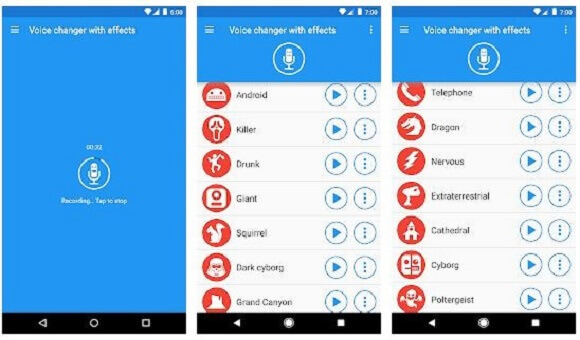 Key Features
Can apply effects on both pre-recorded and live recording voices

Over 40 unique and exciting voice effects including Mickey Mouse

Creates a voice from a text file

Set the output file as a ringtone or share it on email, WhatsApp, etc.
Pros:

Create image with sound

Tons of voice effects

Remove different filters without recording the voice again
Cons:

The audio quality is compromised

Can produce slight lag in the recorded audio
Price: It's a free app but allows in-app purchases
Part 2. Get Funny Voice Changer Effect during Video Editing - iMyFone Filme
iMyFone Filme bombards users with all the basic and advanced video editing features that they expect in a top-notch premium video editor. What's more, this powerful tool lets users apply amazing voice over effects during video editing and edit audio the way they want. It offers some of the latest voice effects that you can add to your video (or audio) with just one-click.
What sets this ubiquitous software apart from other players is the wide variety of voice-changing themes and futuristic animations it provides to the users. Thanks to its simplified and intuitive interface, even the beginners can use it without any technical hassle.
Watch this video to learn how to use Filme to change voice:
Key Features
Here is why iMyFone Filme is worth-buying:
Provides 14 unique and exciting voice styles

Adds voice effects to both real-time voice and pre-recorded voice

Unlimited video editing tools – both basic and advanced

Tons of audio editing effects
Pros:


Simple, efficient, and easy to use


Allows you to record audiobooks for personal use or commercial use


Add thousands of wonderful built-in audio and video effects to your video


Multiple voices for dubbing videos


Preview the effects while applying
Here's how you use iMyFone Filme to apply a voice-changing effect while video editing.
Step 1
Once downloaded, install and launch iMyFone Filme on your computer.
Step 2
Hot on the "+" icon and import the video file which you want edit and add the voice-changing to it.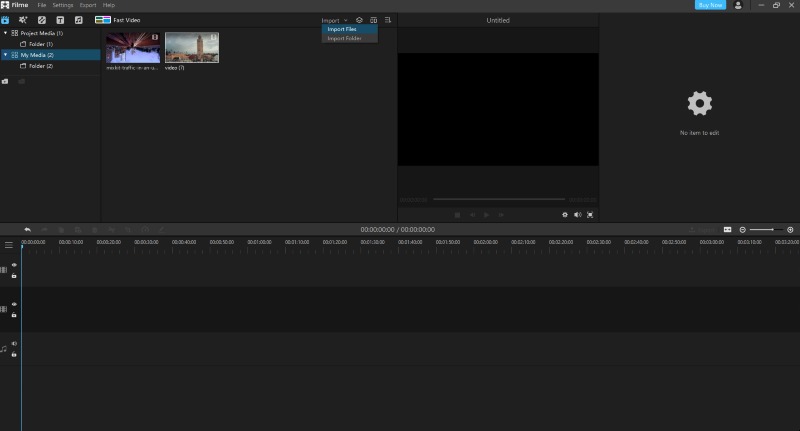 Step 3
When the file is loaded, and click on the "+" sign on the video to load it into the Filme's timeline.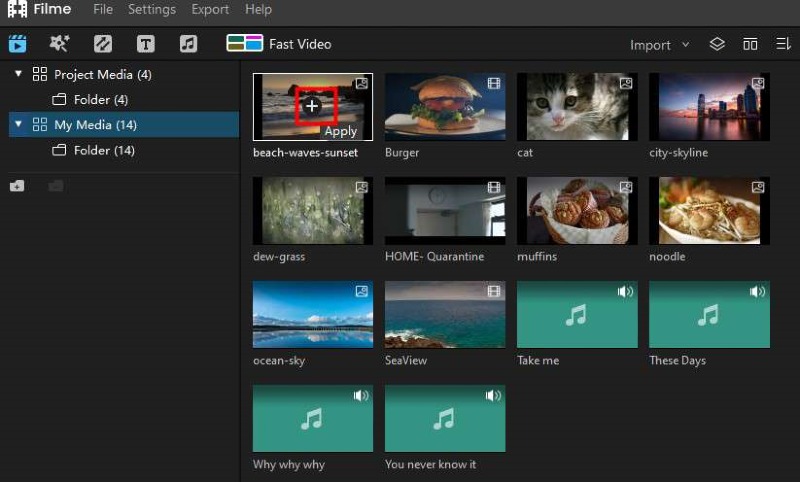 Step 4
Now, place your cursor on the file and click on the "edit" option or press "Ctrl+ E." The program will show your file in the playing screen.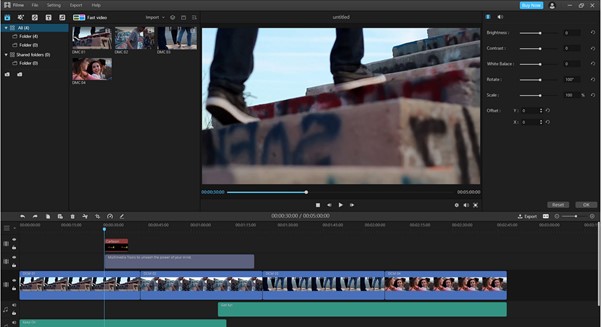 Step 5
Here you can add thousands of video and audio editing effects to your video.
To add Voice Changer themes, click on the "Volume icon" on the top bar and the program will show 14 unique and funny voice effects.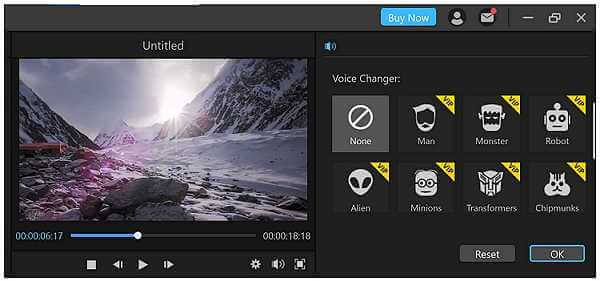 Step 6
Click on a filter to apply it to the video. Preview the effect and hit on any other filter to replace the previous one. Click on Ok when you're done.
Step 7
Finally, click on Export to save the recorded video on your computer.
Also Read:
Best Voice Changer APP for Discord
Voice Changer for Discord MAC PC Online
Part 3. FAQs About Voice of Mickey Mouse
Want to know more about the topic at hand? Read up the below questions.
1. How can I make my voice sound like Mickey Mouse?
To sound like Mickey Mouse, you need a third-party voice changer. This article has summarized some of the best Mickey Mouse voice changers that you can install on your Windows, Android, or iPhone to change your voice to Mickey Mouse.
2. Who was the original voice for Mickey Mouse?
Walt Disney, the co-creator of Mickey Mouse and founder of The Walt Disney Company, was the original voice creator for Mickey Mouse. The character was created in 1928 by the Walt Disney Company.
Part 4. Conclusion
To wrap it up, this article has discussed in detail several Mickey Mouse voice changer download software. Which product you should choose depends on your device PC, Android, or iPhone) and individual preferences.
When it comes to the best video editor with tons of funny voice changing effects, then iMyFone Filme is head and shoulders above than rest of the players in the market. We recommend users installing this advanced video editor to create amazing and super cool videos.