If you are looking for smart ideas to spice up your content, Voicemod soundboard is unrivaled. It is easy to use and offers a myriad of sounds to use. However, it occurs problem sometimes, let's find out how to use Voicemod soundboard on Discord, discuss some tips to fix the bug like voicemod soundboard not working, and the most powerful alternative of Voicemod for you to make things more interesting.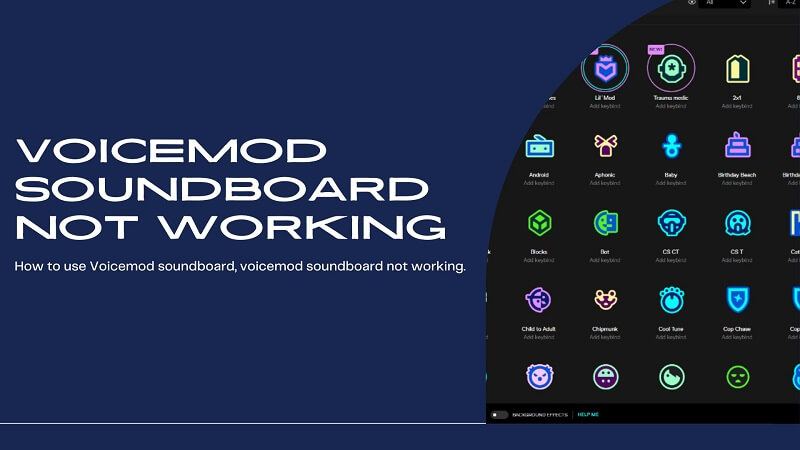 Part 1: How to Use Voicemod Soundboard
The Voicemod soundboard is not only interesting but also brings excellent voiceover features for its users. The software just needs a simple downloading, and you are all set to become as spookiest or funniest as you wish to become.
Tips
Voicemod soundboard is only available for Windows version. It doesn't have Mac Version.
MagicMic soundboard
supports both Mac and Windows, you can download it free now.
Here is how you can install Voicemod Soundboard on your PC.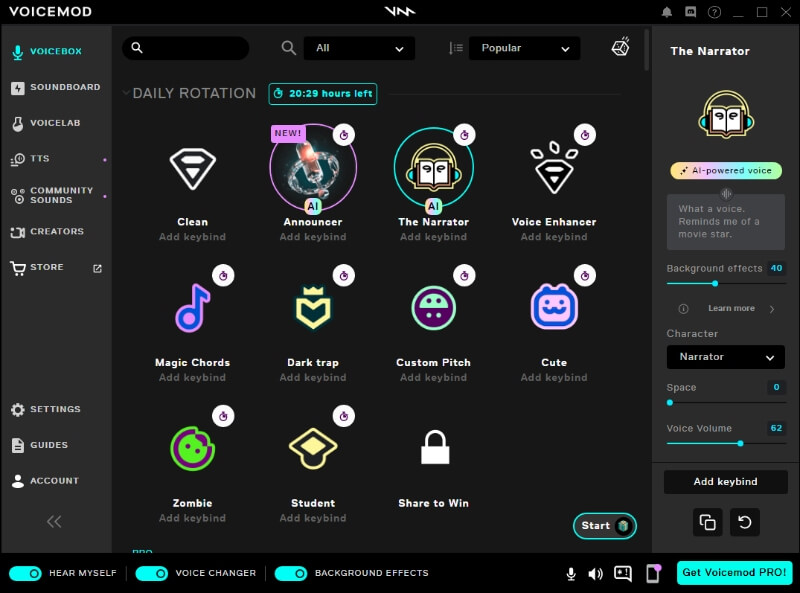 1. Download Voicemod
Go to theofficial website of Voicemod, where you will find a link saying 'Get Voicemod Free.'
Click on the link, and you will be asked to log into your Google, Discord, or Twitch account.
Once the login is successful, complete the setup in .exe format, and a file will be downloaded to your PC.
Open the file and it will take you through the installation process.
2. Set the Input Device
The first thing after the program initiates is to select the input and output devices you will be using. Select the main microphone as input and check the voice quality for any distortions and disturbances in the background. Check the voice through the output devices such as headphones or speakers. This is to see how you will sound to others.
3. Explore the Voice Filters
Once you have selected the output and input devices, now is the time to explore the different filters. Browse the soundboards and assign your favorites to keybinds for easy use. You can also create your sounds if you can't find suitable ones.
Voicemod soundboard sounds are updated daily but to access all filters; you will have to upgrade to the 'pro-version' of the software. You can also unlock additional free-filter by sharing them on your social media accounts.
4. Voicemod Setting
When using Voicemod with any other app such as Discord, you need to go to Settings > Voice & Video and change from Default to Voicemod Virtual Audio Device in the application you want to use with the soundboard.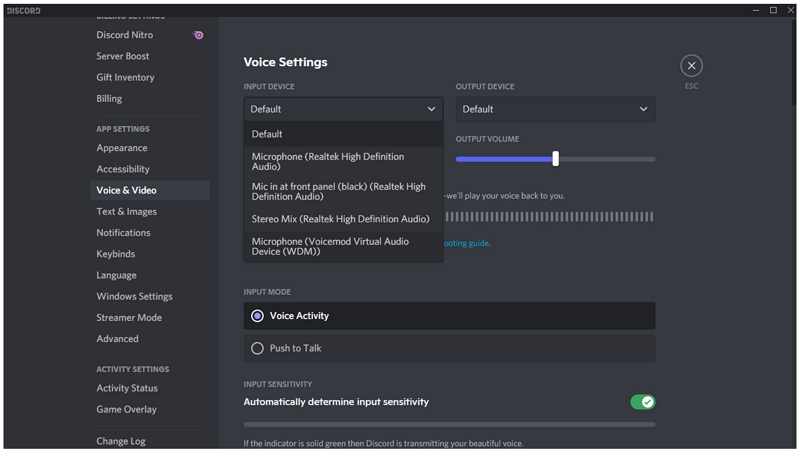 Part 2: How to Fix Voicemod Soundboard Not Working
You are all set to amaze your friends in your next Fortnite game or on Zoom and Discord through squeaky and funny sounds, but you suddenly find out there is an issue. Your Voicemod soundboard not working is extremely heartbreaking.
But worry not because some quick fixes can resolve your Voicemod soundboard cracks.
Restart Your Computer
The first intuitive fix we all can perform is to restart the computer. Restarting the system brings all the settings to their default format, and in case any of the settings are corrupted, they are also fixed automatically. Besides, restarting the computer resolves all the hardware and program-related issues.
Make Sure Your Microphone is Properly Setup
If restarting the system doesn't work, you need to check the microphone's settings. This is because faulty settings can cause a severe glitch. Follow the steps to resolve the issue:
Go to System from Window Settings. You will find the Sound option on the left side.
Under the Input Section, select the Headset option instead of the Voicemod microphone to test the microphone.
Click on the Device properties and test the microphone. Make sure to uncheck the disable box and keep the volume at 100.
The microphone must be working at above 0 volume.
Restart your Voicemod app to see if it is working or not. If the problem persists, check our next solution.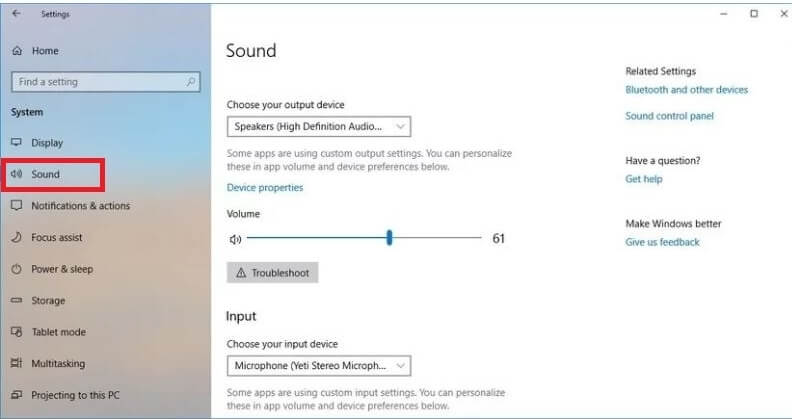 Re-install Voicemod
Sometimes the issue might be due to outdated or faulty drivers. To handle that, you need to re-install your Voicemod driver. First, uninstall the Voicemod drivers through the below steps:
Press the Windows button and I key to open the Run box.
Type "devmgmt.msc" and click OK. A Device Manager will appear.
Go to the ' Expand' option of Audio Inputs and Outputs.
Then, select Microphone WMD > Uninstall device option.
A pop-up will ask you to click on the Uninstall button.
Restart the PC and re-install the application from the official website of Voicemod.
Update Your Windows Version
You can also make Voicemod work by updating your Windows to the latest version. Windows 10 has two kinds of updated security patches and performance boosts, and an update can fix certain conflicts. Here is how it works:
Open Setting by pressing Windows, and I Key.
Go to Update & Security and then Windows Update.
Click on the Check for update button in the right pane, and if an update is found, it will be installed automatically.
Restart your computer and check the Voicemod functionality.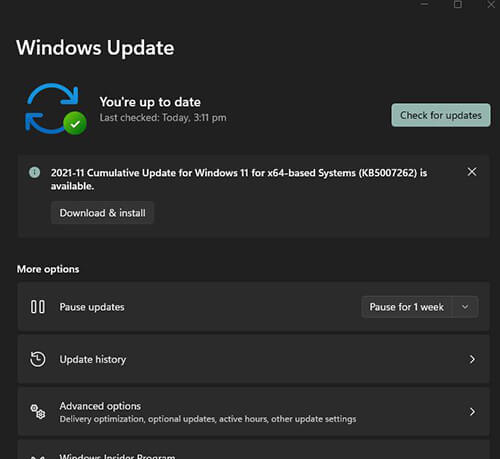 Part 3: Powerful Voicemod Soundboard Alternatives – MagicMic Soundboard
Voicemod is a popular voice modifying app, but it doesn't work often. So we have an amazing one that has more voices and is more stable for you. Yes, it's MagicMic soundboard.
Looking for a Voicemod alternative? Discover the power of MagicMic, the ultimate tool for real-time ai voice pranks and gaming. Elevate your experience with funny voices and cool sound effects using MagicMic, your all-in-one solution for Discord soundboard fun.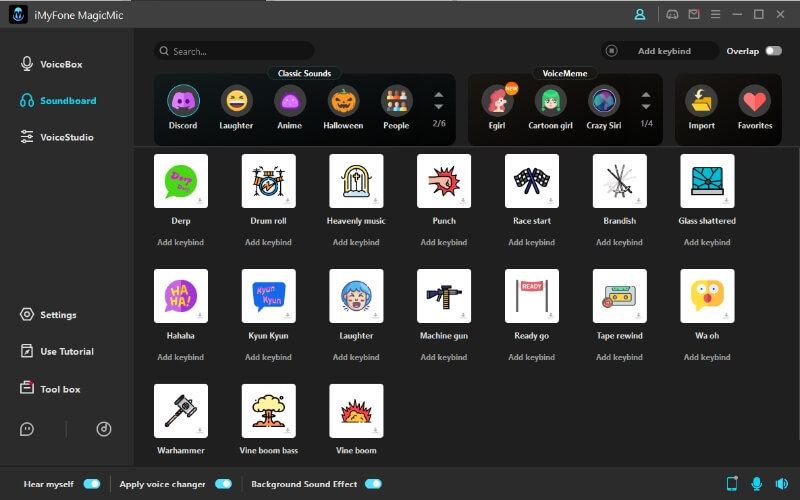 Praiseworthy Features
More than 100,000 users have already enjoyed the app. The features of MagicMic soundboard for Discord, which we all are crushing over include the following:
225+ collection of voice changing effects including squeaky Minions, ghostface, robots, weird Aliens, and many more.
Allows users to set the keybind and switch voices with just a click.
Over 600+ popular sound effects of people, animals, environment, etc.
High-quality, stable voice-changing output.
Works on Discord, Skype, Zoom, PUBG, WOW, Second Life, Fortnite, Streamlabs, Twitch, and all such platforms.
Huge voice changing effects for recording and audio files.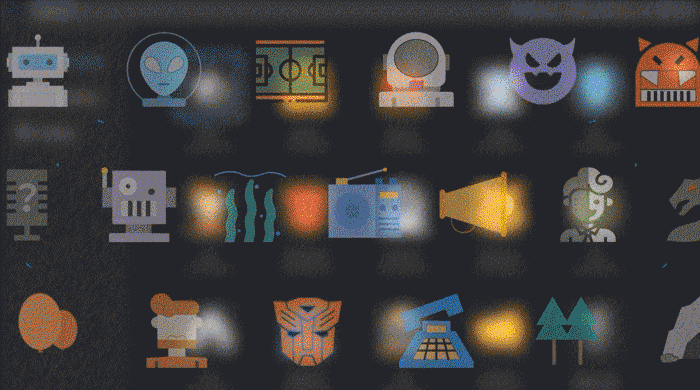 Steps to Use MagicMic
The MagicMic is full of surprises and great features which can be mastered and enjoyed even by beginners. Let's see how this wonderful app does its magic.
Step 1: Install and launch the app MagicMic from the official website. Click on the user icon in the upper right corner to register at MagicMic. A login panel will appear; log in with a licensed email and code.
Step 2: Set your Input and Output devices. Select real microphones for input devices and headphones as output devices.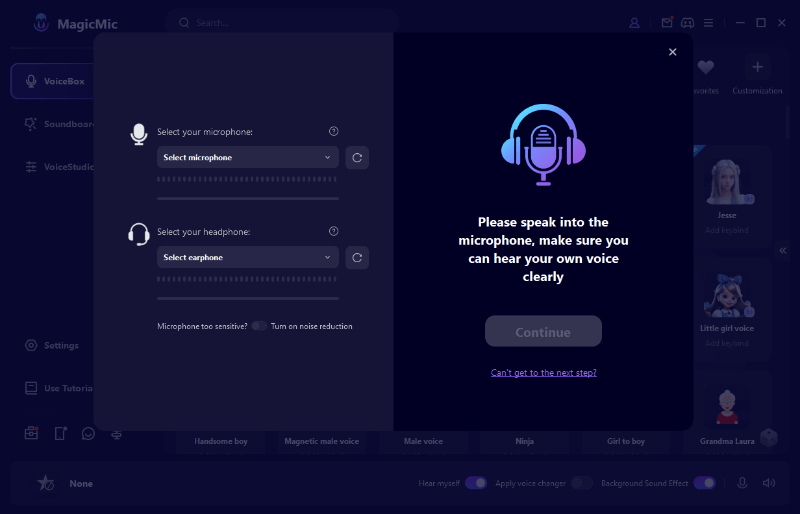 Step 3: Explore the different voice-changing effects, and the MagicMic will change your voice in a snap. The sounds include Monster, Man, baby, chipmunks, and many more.
Step 4: Adjust the sensitivity setting while talking in your microphone. It should not be too loud to feel irritating nor too low to be unclear.
Part 4: FAQs about Discord Soundboard not Working
Why is my Discord soundboard not working?
There could be several reasons why your Discord soundboard is not working. It could be due to outdated software, audio driver issues, incorrect audio settings, or even server connection issues.
How do I troubleshoot my Discord soundboard?
To troubleshoot your Discord soundboard, you can try checking your audio settings, ensuring that you have the latest version of the soundboard software, checking your audio drivers, and testing your microphone and headset.
What are the common causes of a Discord soundboard not working?
Some common causes of a Discord soundboard not working include outdated software, audio driver issues, incorrect audio settings, server connection issues, and compatibility issues with other applications.
What should I do if my Discord soundboard is still not working after troubleshooting?
If your Discord soundboard is still not working after troubleshooting, you can try reinstalling the software or contacting the developer for support.
Is there a specific soundboard that is compatible with Discord?
There are several soundboards that are compatible with Discord, but it is important to ensure that the one you choose is compatible with your operating system and version of Discord.
Conclusion
Voicemod Soundboard brings a huge opportunity to add fun to the boring phone and video calls, but some of its glitches can be nerve-wracking when you do not have much time at hand.
Under such cases, MagicMic Soundboard serves as the most recommended voice-changing app on the internet. It is an excellent voice changer with a video editor that just doubles up the fun. If Voicemod soundboard not working on Discord, why don't save time to fix it and changing to a better soundboard for Discord?
Watch Video Guide About MagicMic Soundboard for Discord