Are you looking for the best ghostface scream voice changer app and want to change your voice into ghost sounds?
If yes, we have something interesting for you, which we'd explain later in the article. You'll see countless scream voice changer apps and offering the services of adding scream voice to human voices. Unfortunately, only a few are effective, as you must have been looking for.
Looking into this aspect, we've decided to introduce the powerful 5 Scream voice changers.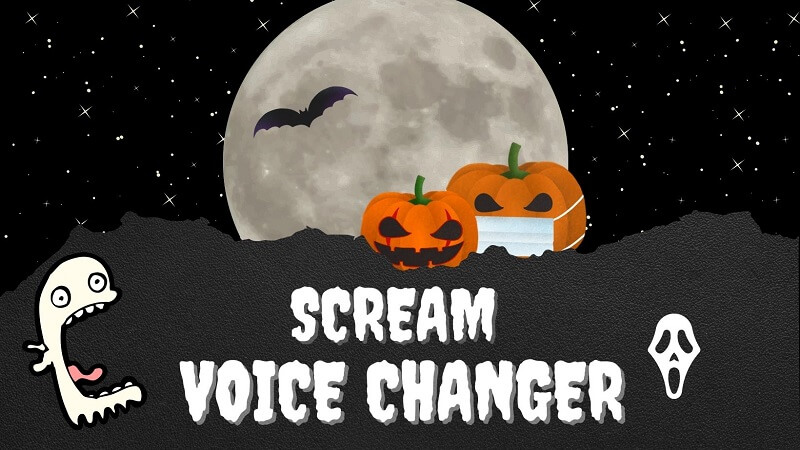 Part 1: Scream Voice Changers Features Comparison
As we've explored 4 Scream voice changers for different devices, let make a summary of their features so that you can choose it easier.
| Product Name | OS | Voice Filters | Voice Effects | Main Functions |
| --- | --- | --- | --- | --- |
| iMyFone MagicMic | Mac&Windows | 100+ | 300+ | Real-time voice changer |
| Scary voice changer | Android | 8+ | No in-build | Voice recorder and audio editor |
| Scary Voice Changer and Recorder | iOS | 50+ | 20+ | Voice recorder and audio editor |
| MorphVOX Jr | Mac/Win | 3 | 3 | Real-time voice changer |
| LingoJam | Online | 15+ | No | Text to Speech Generator |
Part 2: 5 Excellent Scream Voice Changers
iMyFone MagicMic is a scream voice changer among our recommending list, allowing you to change your voice for Halloween party.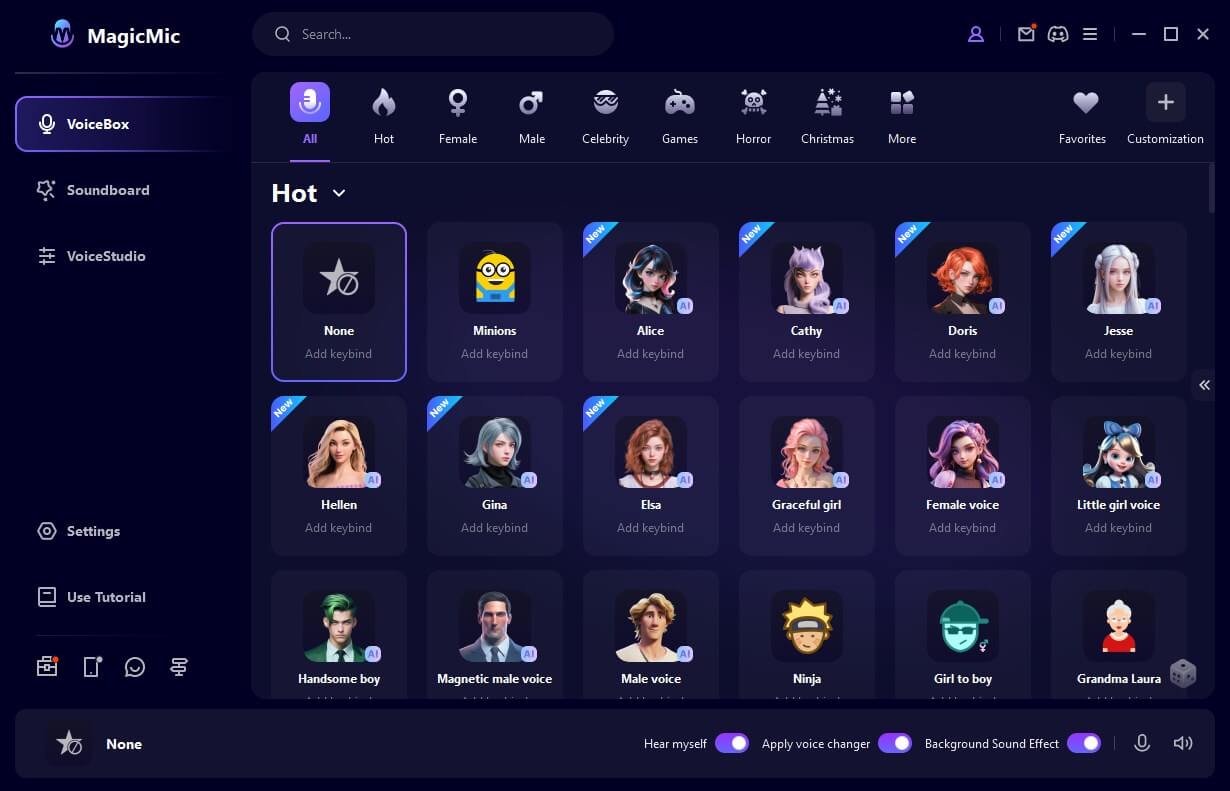 Its interface is user-friendly, meaning even newcomers will find it pretty easy. This voice changer can change your voice into a ghost or scary voice without any difficulty.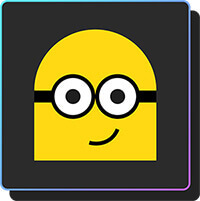 Features
It offers a variety ghostface and screams sound effects like Monster, Minions, Devil, Chipmunks, Robot, Alien, and many more.

Using iMyFone MagicMic, you'll get to see 125+ prolific voice effects to change your voice.

400+ sound effects available: You can use this tool to add popular sound effects when gaming, chatting, or live streaming.

With in-build background sound effects in voice filters you can change environment sounds

It allows you to set up keybinds to play, stop,cycle, replay sound effects.

It provides many kinds of scary voices, such as scream voice, ghostface voice, Freddy Krueger, Ghost, you can fool your friends on Halloween or any other time.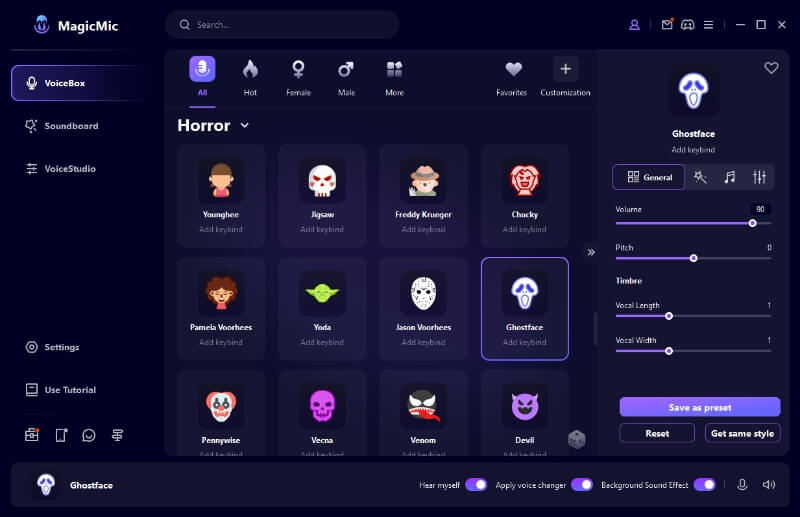 Pros

It works with both Windows and Mac devices.

It comes with the most voice filters than others.

Voice filters comes with background sounds.

All-in-one voice changer with huge voice and sound effects,voice memes and voice customzation.
Cons:

It is still a new software on the market,not as famous as others.

Guidance for some features is not clear enough.
Watch Video Guide About MagicMic Scream Voice Changer
Don't be afraid when this tool changes your voice into a Ghostface scary voice. Due to its unique ability to change your voice into different varieties of scary voices, it's been seen as one of the best scream voice changer apps.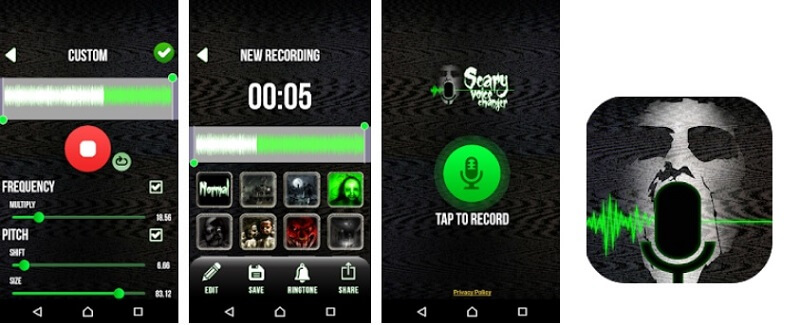 It offers a sound that can make anyone frightened in a matter of seconds. You don't need to acquire a useless voice changer, especially when Scary Voice Changer offers its presence for you. You'll get spooky screams and frightening noise with this excellent talking tool.
Features
This horror sound changer features monstrous cellphone tunes

It possesses a prolific audio generator with horrifying effects and alarms.

You'll also get a voice disguiser that contains a terrible noise.
Pros

It is a free voice changer to help you to change and record your voice.

It offers you various sound effects to edit your voice.

It allows you to change the pitch of your voice.
Cons:

It is not a real-time voice changer so you can't use it on voice chatting directly.

Several voices are not effective.
It's one of the best iPhone voice changers that can create fun content for you. This Scary Voice Changer allows you to create your video with Ghost sounds. You'll get some brilliant built-in filters, including a man's voice enhancements, a woman's voice transformer, and wildlife, including a rabbit or snail, among others.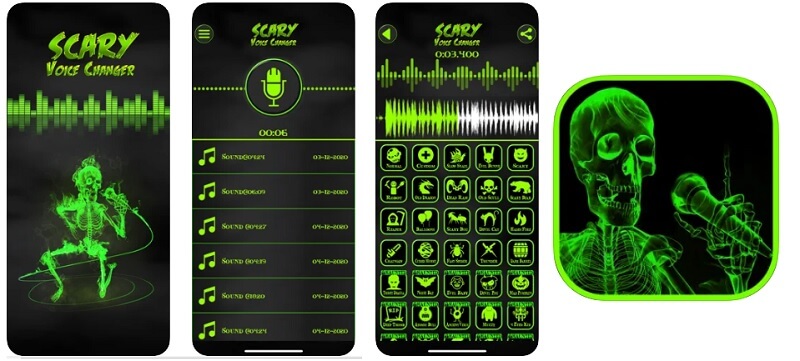 This tool also offers you an opportunity to add background audio effects. Its most popular effects are Darth Vader and Chipmunk.
Features
Scary Voice Changer and Recorder offers a great variety of built-in effects.

you can change the speed and pitch of your voice.

It allows you to import the recording and share it on Discord.
Pros

It comes with wide options of scary effects.

You can modify your voice instantly.

With this app,you can delete and rename your recording,and listen to it.
Cons:

The color of the interface is too dazzling.

You will be interrupted by very loud annoying video ads often.
Morphvox Jr is the most versatile Ghostface voice changer that allows you to edit your voice in real time. It also possesses an easy-to-use free version that impresses many users worldwide.For example,you can it on platforms like Second Life and CSGO.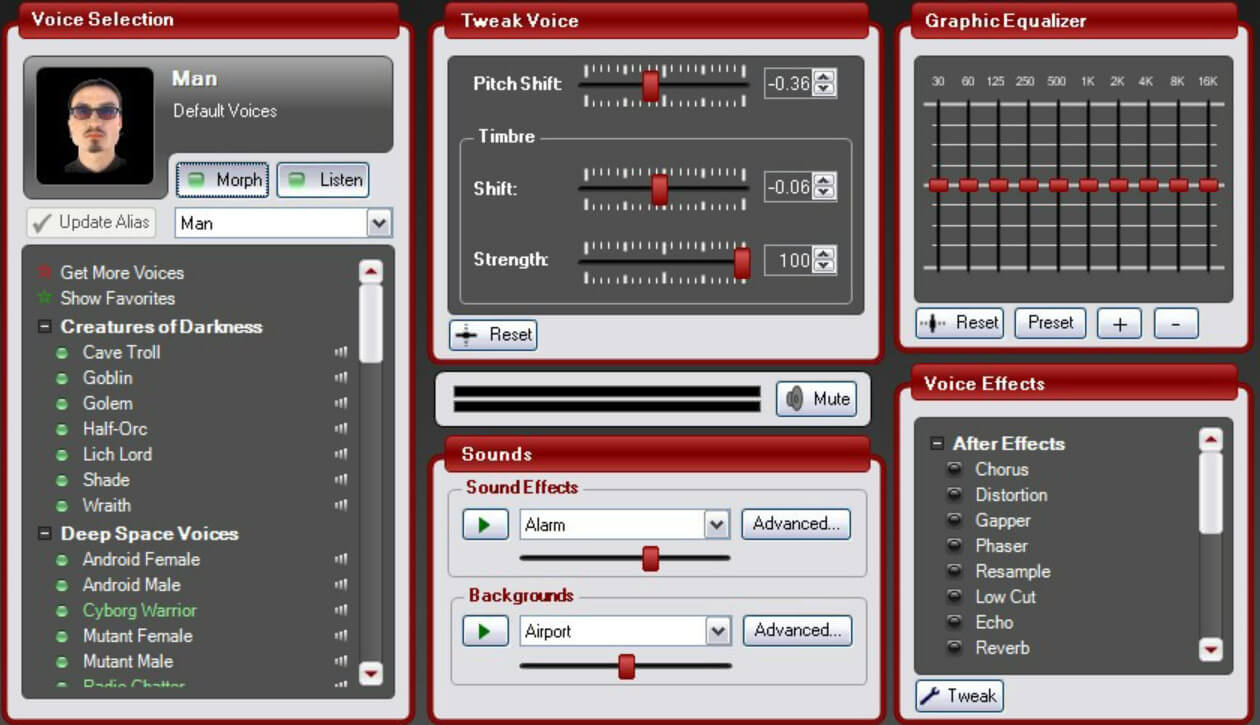 If you want to change your voice professionally, there's also a Morphvox Echo version available for you. Using the tool, a user can transform his voice into a monster, a machine, an older female, and the renowned flying squirrel's voice.
Features
Morphvox Jr possesses tremendous sound-altering techniques.
It is a real-time voice changer for changing voice directly on games, live, and voice chat.
It comes with high-quality output voices.
It offers you various sound parameters to adjust your voice.
Pros

It offers various Audio Bundles for download separately.

It offers professional adjustment sound parameters.

The output quality of voice effects are good.
Cons:

It only comes with 3 voices on Junior version.

If you need ghost voices,you need to pay 39.9$ to buy Pro version.
Let's watch How to Use MorphVox Pro:
LingoJam is a pretty scary scream voice changer online that can frighten anyone. It possesses some interesting voices that are pretty funny yet terrifying.
LingoJam also allows you to record your spooky voices. It offers some brilliant filters and effects to change the pitch of your sound.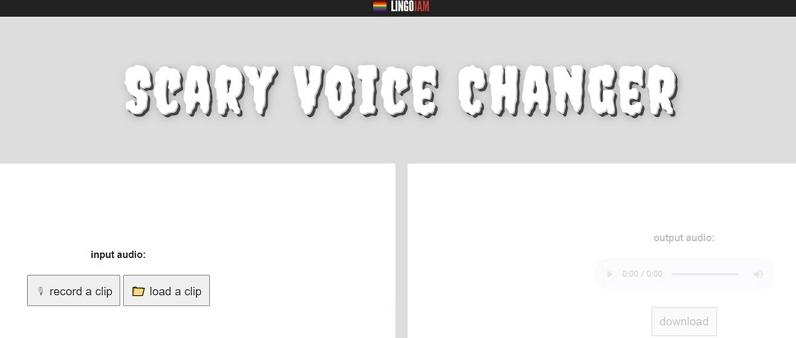 The biggest advantage of online tools is that you don't have to download software and save space on your device.
But it also has drawbacks, that is, it has high requirements for network speed and at the same time, it might come with low stability.
Features
It's free and everyone can use this tool.
With a realistic and simple design, LingoJam is an unbelievably good scream-voice changer.
It works as a voice recorder and voice editor.
Pros

You can record your voice and change it with scary voice effects.

It also allows you to edit audio files.

It is an online tool so you don't need to download any software.
Cons:

It is more than a audio editor than a voice changer.

Voice effects are limited and you can't use it real-time.
FAQs about Scream Voice Changer
1. Are Scream voice changers illegal?
Voice changers used to apply effects to alter the structure of a sound are permitted and legal. You can legitimately change the person's voice into a ghost voice for fun.
However, if changing the voice of a sound breaks the law, it surely is illegal and forbidden.
2. What makes a voice scary?
You can make a voice scary using the features of a Scream voice changer. Choosing a villain's voice for adding to your original voice is common nowadays.
You only need to download a Ghostface voice changer application. After downloading it, you can easily make your voice look like Ghost's voice.
3. How to Use Real-time Scary Voice Changer:
Step 1: launch the Voice chnager you selected
Download the voice changer you selected on your device and then launch it.
Step 2: Select The Output and Input Device
Select Voice Changer Virtual Audio Device (WDM) as audio input in the communication app that you use for online games, and choose your real headphone as an output device.
Step 3: Select The Voice You Want
Now you can select the voice like ghostface voice you want with ease and change your voice in real-time when gaming, livestreaming, and chatting.
Final Words
While searching for an appropriate scream voice changer, you must look for a tool that offers prolific effects and can adjust your voice in real time.
There are mainly two kinds of voice changers: Real-time and unreal-time voice changers. What you need to do is to make clear what you want to use with a scream voice modulator, then basic on your needs and device, choose a powerful scream voice changer app that you can get voice of scream.