The Chipmunks franchise is nearly 60 years old but has remained a classic through the decades. Part of the allure, of course, is the voices, which were manually pitch-shifted upwards to make the characters sound like how a chipmunk might sound if it spoke. That fascination with the voice is still with us to this day.
Nowadays, there are chipmunk voice changer apps that digitally manipulate your voice to increase the pitch to chipmunk-level! Let's check out some of the best chipmunk voice changer apps you can find in 2021. We'll also show you how to do it on your PC so you can add it to any video that you've decided to make. It's a barrel of laughs and will have everyone ROFL-ing until they pass out!
Best Chipmunk Voice Changer for PC - iMyFone MagicMic [Free Download]
MagicMic is a dedicated voice changer and editor tool by iMyFone, giving you more than 24 different voices, including the ones related to the scariest festival on the planet.
Besides helping you change the voice and add sound effects to the video, MagicMic's real-time voice changing system lets you change your voice while playing games like PUBG or Fortnite.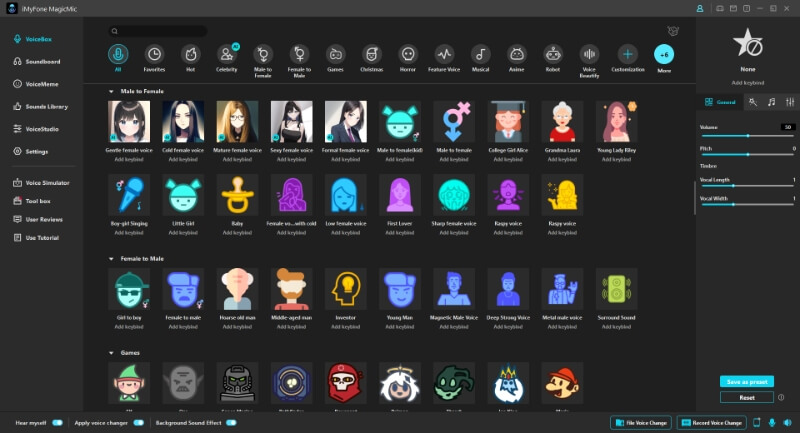 Key Features of MagicMic
Change your voice in real-time, you can also set the keybind and switch your voice with 1 click.

Can be used on Discord, Skype, Zoom,PUBG, LOL, CF, WOW, Second Life, Fortnite, CSGO, Overwatch,Twitch, Xsplit, Streamlabs and many other platforms.

A huge collection of voice-changing effects, such as: Chipmunks,Woman to Man, Monster, Minions, Devil, Robot, Alien, etc.

Hundreds of sound effects imitating people, animals, the environment, and so on.

Affordable price: This application is available for free! Pro version: $4.95/1 Month;$19.9/1 Year; $39.95/Life Time
Pros:

MagicMic offers you extensive support for troubleshooting the software.

It has support for a wide range of third-party applications giving you complete control over your voice and sound effects.
Cons:

At present, MagicMic is only available on Windows operating system.
Best Chipmunk Voice Changer Online
There are also several online services that offer chipmunk voice changer functionality. Each site offers different ways to accomplish this: use the real-time online voice changer, upload a file and apply the effect before downloading it, or record a clip and then apply the chipmunk voice changer effect before saving the file. Let's look at the Best 3 chipmunk voice changer online services.
#1: LingoJam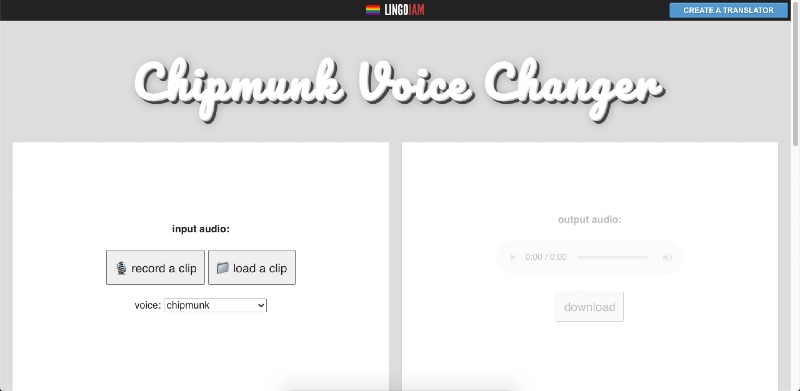 LingoJam allows you to either upload an audio clip to apply the effect or to record yourself with the voice of a chipmunk. It's easy to use and works well for both functions.
Features:

Multiple chipmunk voice options from extremely low pitch to extremely high pitch
Two ways to change your voice upload a file or record your voice
Simple interface, easy for first-time users
Pros:

User-friendly interface

Fast conversion

Multiple options
Cons:

No real-time recording

Difficult to upload large files
#2: VoiceChanger.io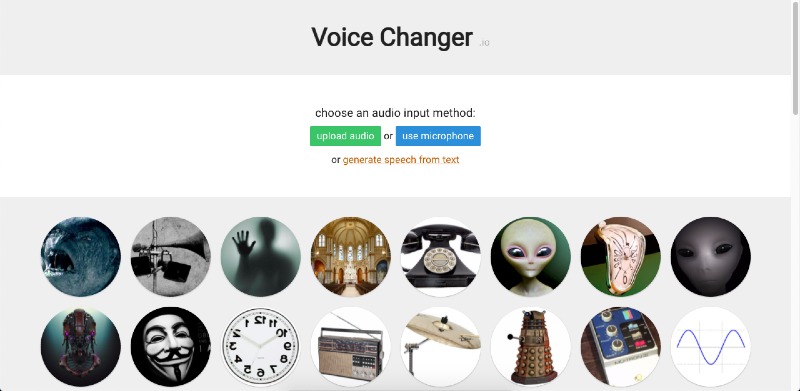 Another great online chipmunk voice changer service is voicechanger.io. The unique feature here is that, apart from being able to record your voice online or upload an audio file, you can also use the TTS or Text-To-Speech function to generate a chipmunk voice.
Features:

Wide range of voice options
Custom voice creation feature
TTS feature
Pros:

Easy to use

Multiple upload/input methods

Create a unique custom voice

TTS support
Cons:

Voice generator is not very advanced when reading typed text

Some voices sound very similar to each other
#3: Myvoicemod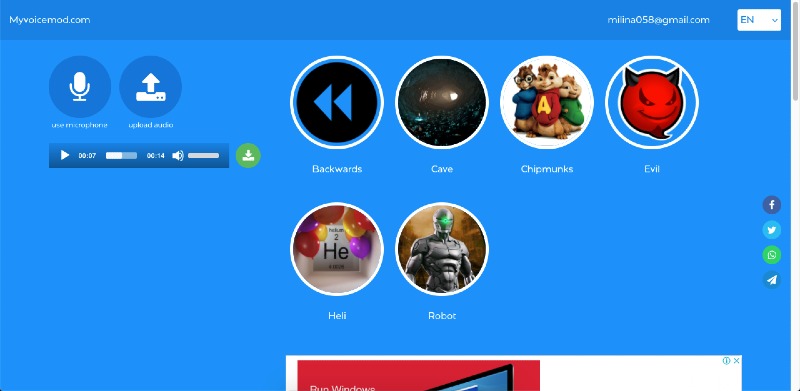 The third online chipmunk voice changer website has a very slick and smoother interface, and all the controls are on the same page, which makes it easier to see the process flow. It's quite easy to use and the voice options are clearly marked with labels and icons/images.
Features:

Backward voice effect
Preview the voice change before uploading or recording
Real-time preview of multiple voices - play the sample and click a voice to change it
Pros:

A well-designed website with a clear layout and easy controls

Multiple upload/input methods

All common voice change options including chipmunk voice
Cons:

The chipmunk voice has a bit of a reverb/echo effect that you can't remove

Some of the other voices aren't perfect, e.g. the Robot voice
Best Chipmunk Voice Changer Apps for iOS and Android
If you're using your mobile, the chipmunk voice changer function can be used to make prank calls to your friends. Here are the best apps we found for iOS and Android for this purpose:
#1: Prankcall - Live Voice Changer [iOS]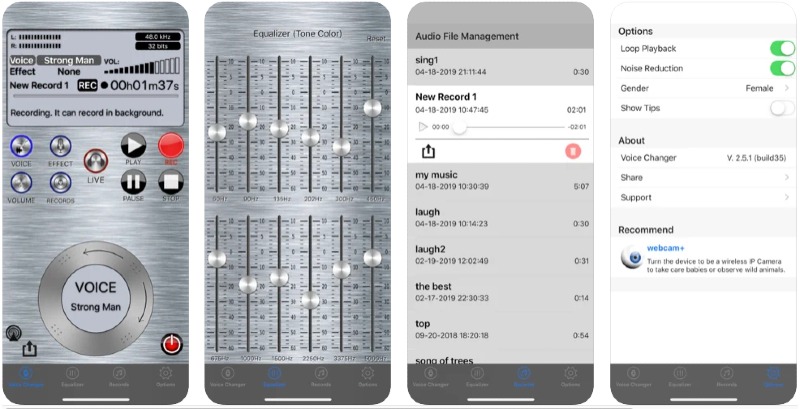 This cool iOS app gives you a lot of options for changing your voice, one of which is the classic chipmunk voice changer feature. It's got a modern-looking interface and comes with a special EQ function where you can modify audio on the go while you're on a prank call.
Features:

Chipmunk voice changer in real-time
Full-range equalizer
Add echo, reverb, etc.
Pros:

Use with AirPlay

Elegant design

Chipmunk voice changer feature can record your voice like a chipmunk's
Cons:

You have to pay for advanced features

The basic free version of the app is limited in terms of functionality
#2: Chipmunk Voice Changer Editor [Android and iOS]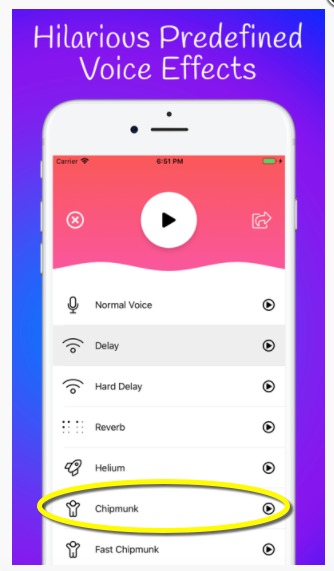 This Android app is also available as an iOS version. You just need to record your regular voice and then choose the chipmunk effect to make it sound hilarious. Even serious conversation sounds rip-roaringly funny when you apply the chipmunk effect. Try it and see.
Features:

Chipmunk plus a few other voice changer options
Easy installation via the website
Simple tap-to-record operation
Pros:

Multiple predefined voice changer options

Easy to use
Cons:

Free only for a limited trial period

Not available on Google Play Store - needs APK download
#3: Voice changer with effects [Android]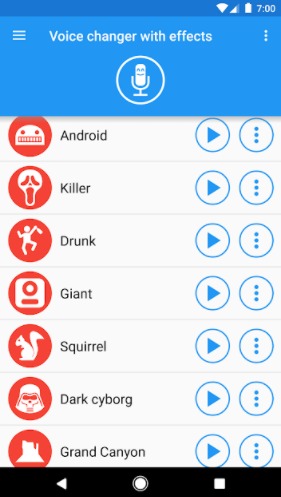 This voice changer app for the chipmunk effect lists the feature as a squirrel voice so it could be a little confusing, but it's basically the same effect. There are more than 40 other types of voices you can change your original voice into, plus extras like audio imports, piano sounds, Text-To-Speech, and more.
Features:

Share options
Recordings can be saved
Create an image along with sound to share on Facebook
Supports TTS (text-to-speech)
Pros:

Simple interface

Lots of effect options

Save and share recordings
Cons:

Lots of bugs reported by users

Paying to remove ads is not
permanent
Also Read:
Morphvox Voice Changer Full Review 2021
Change Voice in Video in 2 Best Ways
[2021 Update] Best Voice Changer App for Discord Android/iPhone
Final Thoughts on using a Chipmunk Voice Changer
The whole point of using a chipmunk voice changer app or desktop utility is to make your voice sound funny. While any kinds of voice sounds hilarious when pitched-up, having a set script to say when recording can make it even funnier. For instance, you can record a pitched-up chipmunk voice and prank your friends by calling them and playing the recording; or you can record a funny poem and add it to a video you're making and share it on social media. The point is for you to get as creative as possible to maximize the effect of using a chipmunk voice changer. Have fun with it, and if you're using it for a video, be sure to use iMyFone Filme to enhance the quality so it looks like a studio-produced piece of content done by professionals.