Venom fans are pretty over the board with their love and appreciation for the movie. But lately, the Gen-Z are looking for a venom voice changer that makes their voice sound precisely like Venom on the Discord app.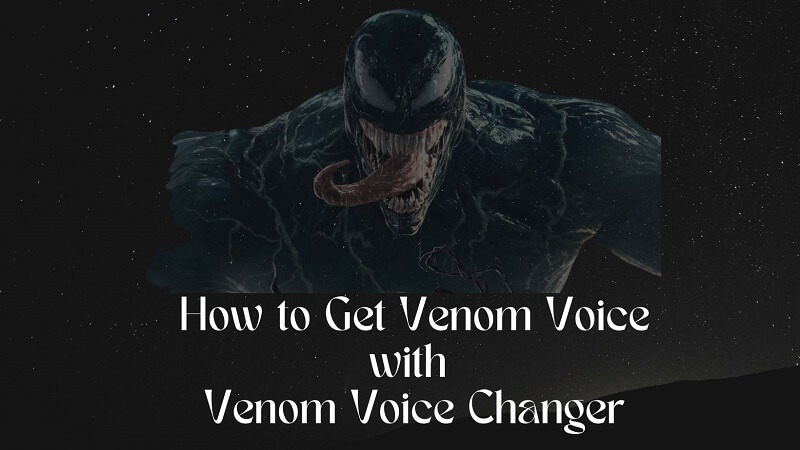 Interestingly, now it is possible to make your voice sound like voice of venom by using different software like MagicMic, Voicemod, Morphvox pro, Voxal, and Clownfish. So, keep reading to find out more about it.
Part 1: Top 5 Venom Voice Changers with Venom Voice
People often do live streams and play games on Discord, and for that, they need a solid voice to keep their viewers hooked. Venom voice is one of the most unique voices you can get out there, which is why it is so in demand, and only many software are offering this voice.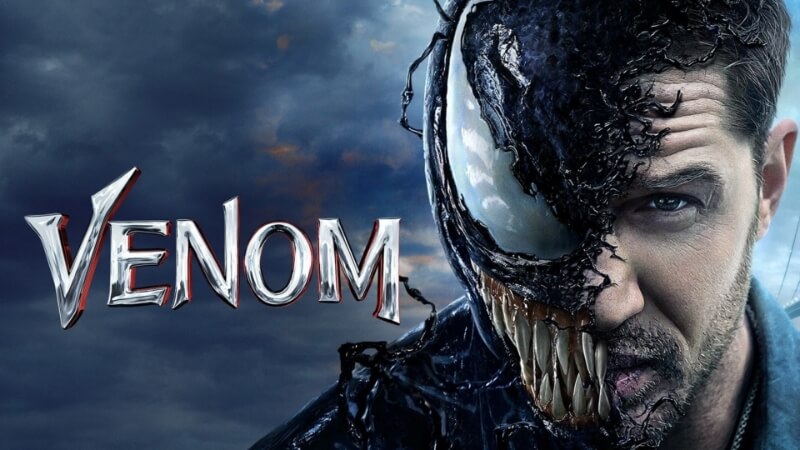 But do you know who is the voice of venom? It is star Tom Hardy who took on the role of Eddie Brock, the man under the symbiote, but who voiced Venom in both it and the sequel.
So, we will list all the software where you can get the voice of Venom with venom voice changer.
Changing your voice during gaming can be hard for many people because the voice changers are not that efficient. But, MagicMic is one of those softwares that are known for their efficiency in the online gaming industry on both Windows and Mac PC.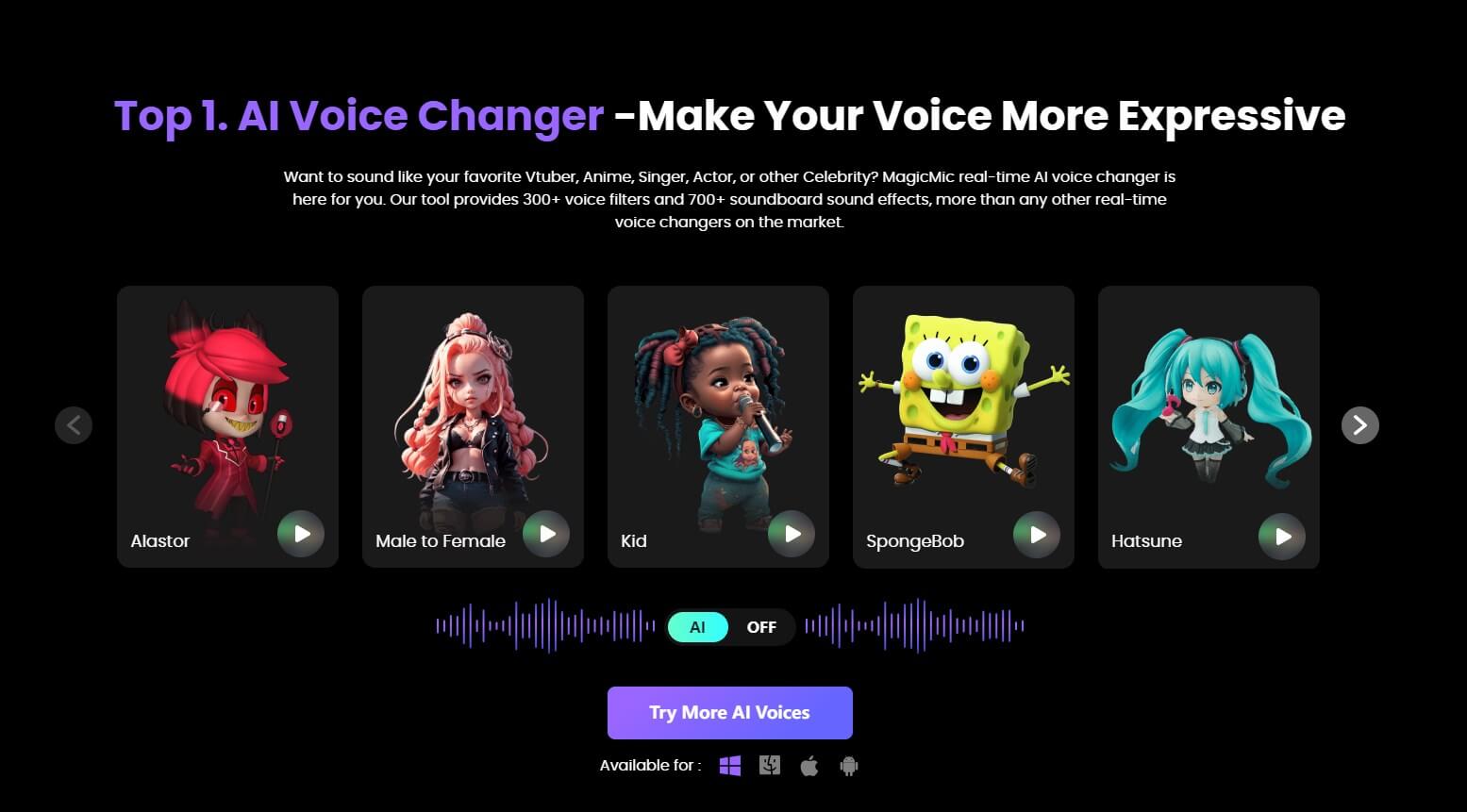 Features:
You can find the Venom voice in this voice changer software, and you can stream games and go live on Discord while using this voice changer app.

The good thing about this app is that you don't have to click on multiple buttons while playing the game and the Venom voice changer is just one click away from you.

Magicmic is a real-time voice changer, and we highly recommend it mainly because it does not wreck the sound quality like other voice changer apps available out there.

There are free and paid versions of this software as well, and works with windows and Mac systems.
Limitation:

New released, not so many people know this good software.
Also Read:
Getting a voice changer for Discord and live gaming is not a cakewalk, but with Voicemod, you can get it all. This app is free, which increases its value as a successful voice changer app.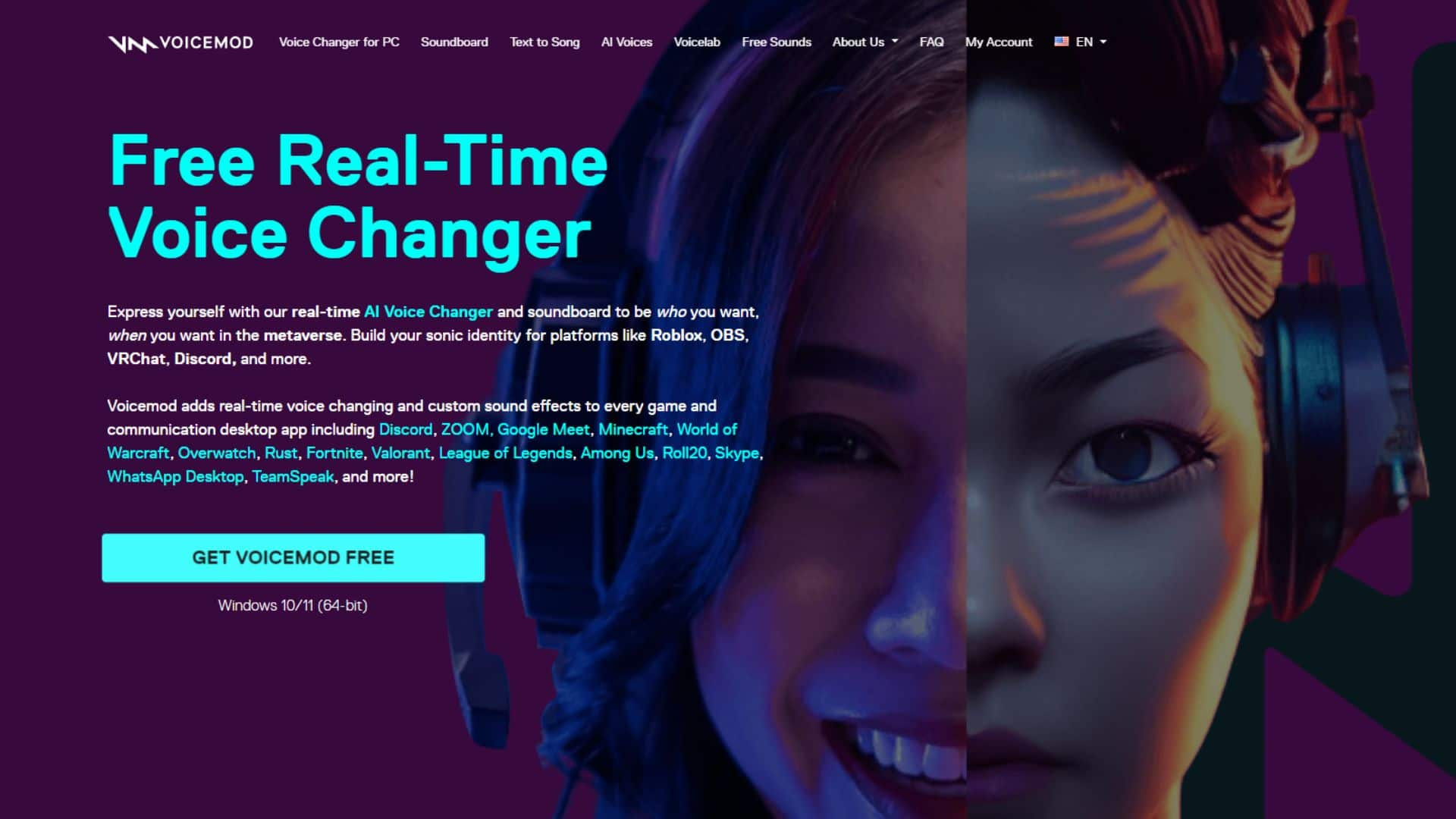 Features:
With its powerful sound effects, you can also get the Venom voice for live gaming on Discord.

Those new to online gaming can also use this software with ease, and your game does not even lag while using this Voicemod, which is usually the problem with most software.

You don't need to have a third-party app for using Venom voice during your Discord streaming.
Limitation:

Ads are overwhelming.
Also Read:
Change Your Voice on Discord >>
Morphvox is an absolute favorite of gamers mainly because it is free and downloading it is not a hassle. If you install the premium version, it obviously has its own perks, but the free version is just as good.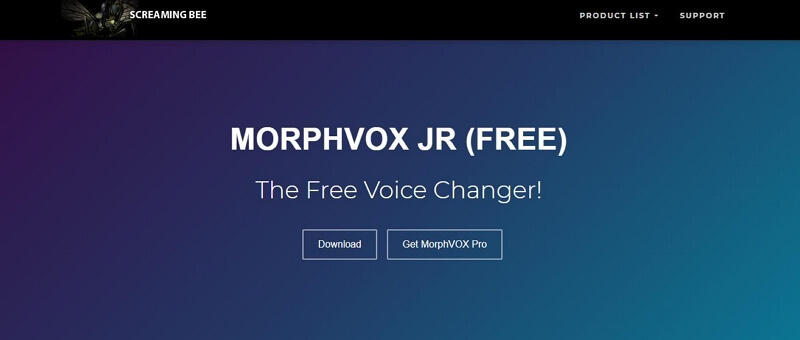 Features:
Venom voice is also available in this voice changer, and you can directly stream on Discord using Venom voice with this app.

It not only enhances your gaming performance but also offers amazing voice quality.

The bandwidth of this software is also low, and it contains numerous built-in sounds, and operating it is the easiest of all.

You won't have to press multiple buttons just to keep the voice changer running during gaming because all you need are a few mouse clicks as this software has custom shortcuts for the mouse.
Limitation:

Not for beginners.
Also Read:
Morphvox Voice Changer Full Review >>
Voxal is a very user-friendly software, and you can use it on both Windows and Mac. It allows you to experience a wide range of sounds, including the famous Venom sound effect, and guess what? You can even use it on Discord without affecting your gaming experience.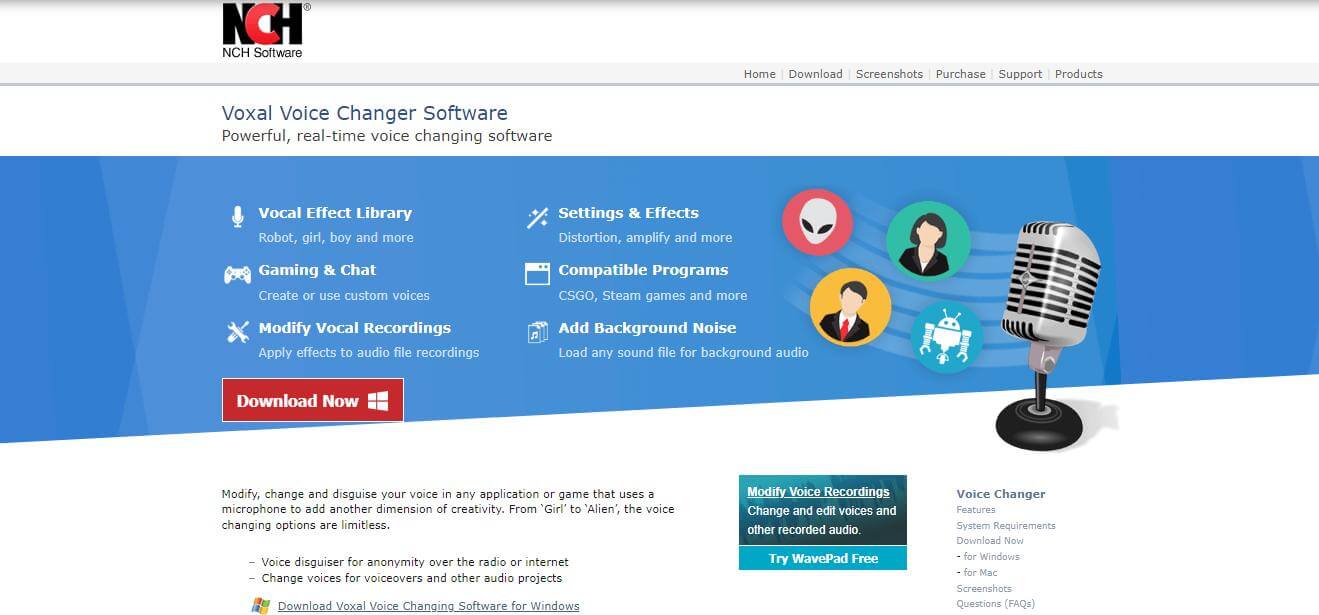 Features:
The problem that most gamers face is storage, but it does not even take up a lot of space on your disk.

Multiple options for customization and making your Venom voice sound better and deeper.

It does not make your game slow because it does not take up your device's resources and lets your game run smoothly without any interference or problem.
Limitation:

The good quality sound effects are only available for the premium version.
The Clownfish application is perfect for you as a beginner because it is easy to use. You can stream games easily on Discord using this software as it can run on all the apps that use the microphone. The audio quality of this app is also worthwhile, and above all, you can find the Venom voice changer on this app too.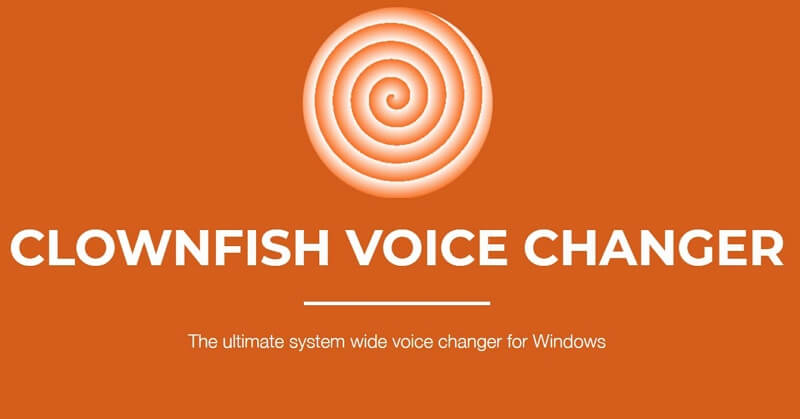 Features:
Comes with a user-friendly interface so you can stream without any hassle.

You can also write your dialogues, and it will convert them into a speech.

High-quality features and sound effects.
Limitation:

The interface is not advanced enough if compared to the competitors.
Also Read:
Clownfish Voice Changer Review>>
Part 2: How to Do Voice of Venom for Discord with Venom Voice Changer
Now that you have a grasp of the software you will use for your Venom voice effect on Discord, it is time to learn a few tricks on how exactly you are going to use a voice changer on Discord because it is not as easy as most people think.
Discord does not offer any in-built software for voice changing, and that is why most people use different voice changing software for online streaming. You just need to install your desired app or software and follow our steps for a perfect streaming experience.
How To Use Venom Voice On Discord For PC?
We are taking the example of Magicmic to explain the steps because it is the best app you can get out there for voice changing.
Step 1:
The first step of setting up our Magicmic would be to install this software on your computer
Step 2:
Now, set up the input device and make sure that it is the microphone you are using.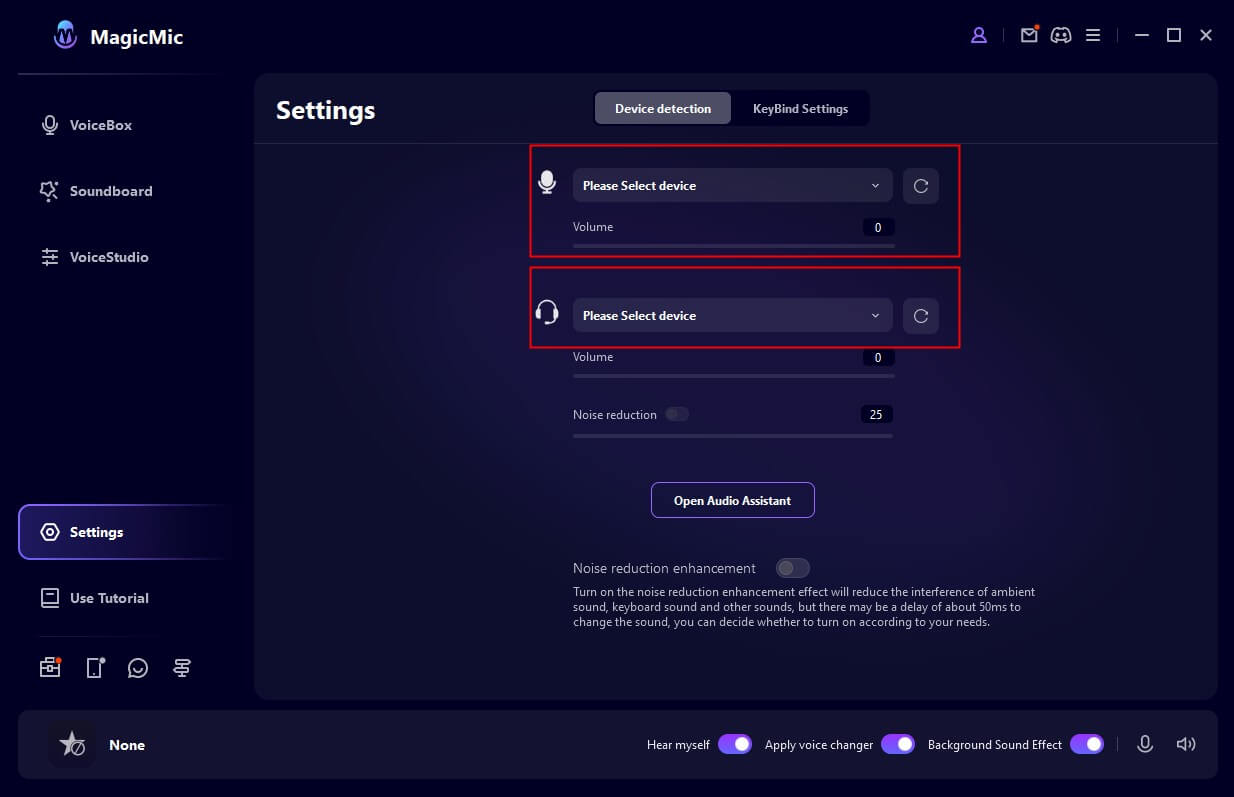 Step 3:
You will see an option for a voice changer at the bottom of the Magicmic window; turn it on.
Step 4:
Now, browse your Venom sound effect on Magicmic.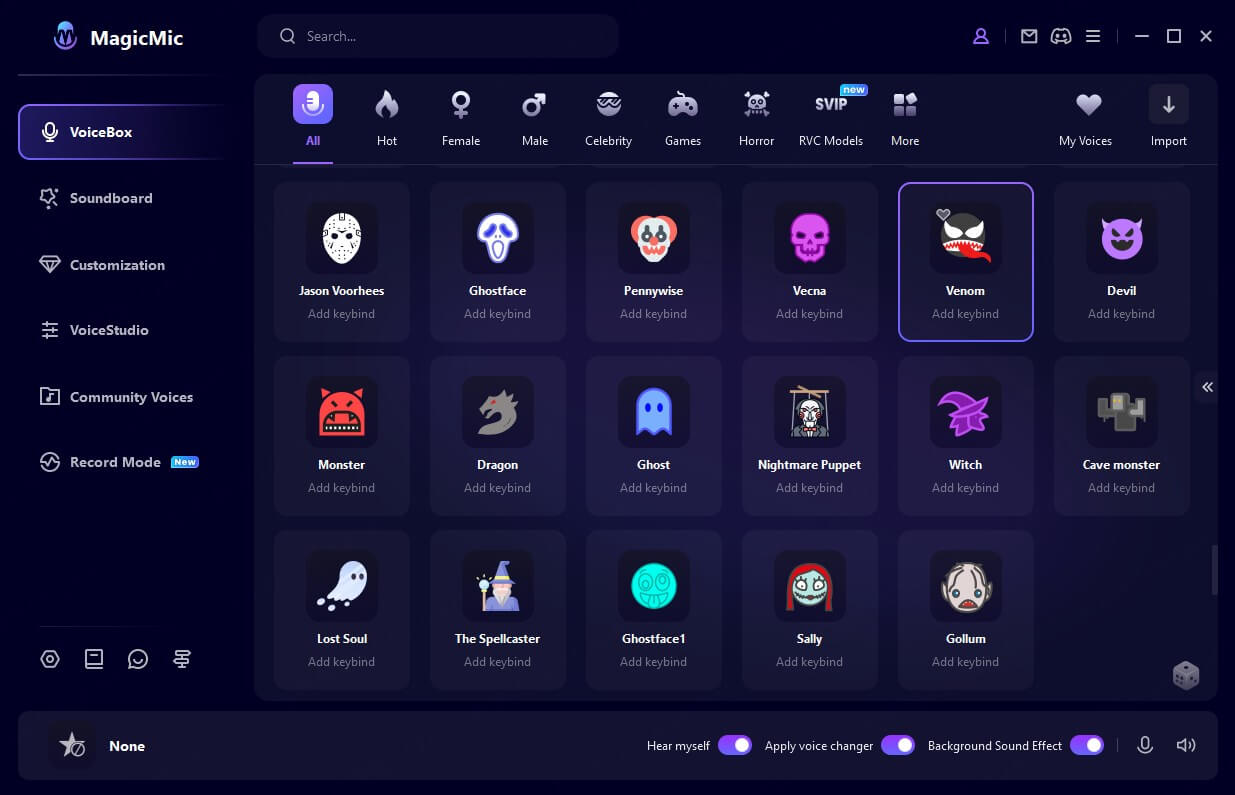 Step 5:
Once you are done with choosing the sound effect, you will see a small icon at the bottom with the "hear myself" sign; turn it on so you can see how your venom voice sounds.
Conclusion
In this article,we've explore who is offering venom voice and the best venom voice changers,also guide to do voice of venom on discord. If you want to try something new,don't miss the trend to use a voice changer for discord. By the way, you can try my favorite voice changer-MagicMic Venom soundboard, it will make you satisfied.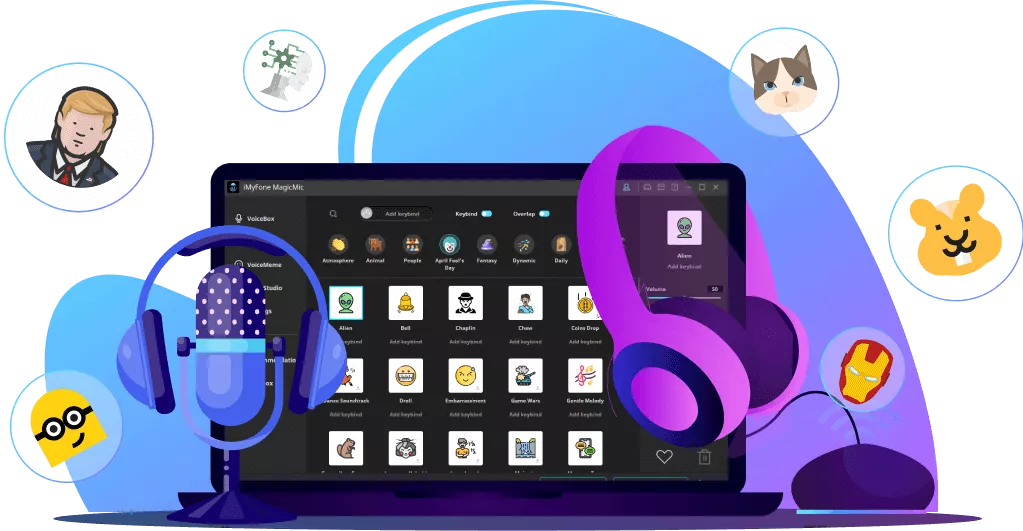 125+ Voice filters for one-click voice changing in real-time.
Huge library with 400+ Voice Effects and 150+ Voice Memes.
Sound emulator in games, live, chatting, online classes, and more.
Voice recording and audio voice changing is supported.
Voice studio lets you create any voice you like.