If you are looking for funny voice changers and their introductions to know all the details about them, including the steps on how to use them, then this article might be helpful for you. In this article, I have mentioned 8 different funny voice changers with their detailed information. All of them are the top most rated and used funny voice changers. Read below to find out.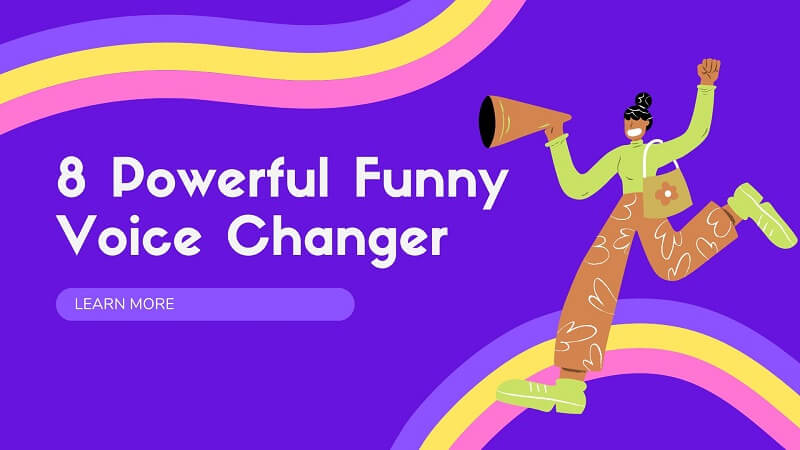 Part 1: 3 Best Funny Voice Changers on Desktop
The best funny voice changers on the desktop are given below:
It's quite light-in-weight and doesn't slow down even the low-end PCs. With the impeccable features it offers to users at such a customer-friendly price, it's a good bargain on any day.The most exciting thing is that this funny voice changer has 100+ voice changing filters,more than others.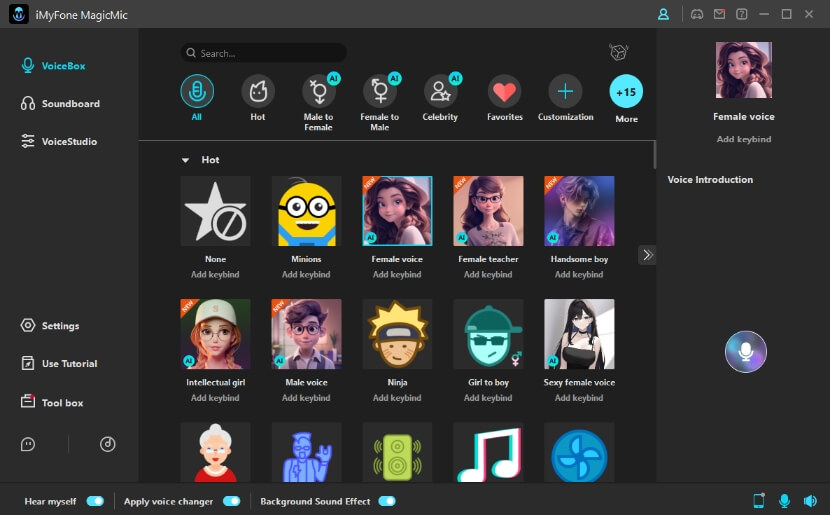 Step 1: Launch the Latest Version
First, you need to download and install the iMyFone MagicMic from the official website. Make sure to download the latest version to have all the functions available.
Step 2: Set the Input Device
Then select your real microphone as the input device. Select your headphones as the output device.
Step 3:Set the Output Device
Then select your real microphone as the input device. Select your headphones as the output device.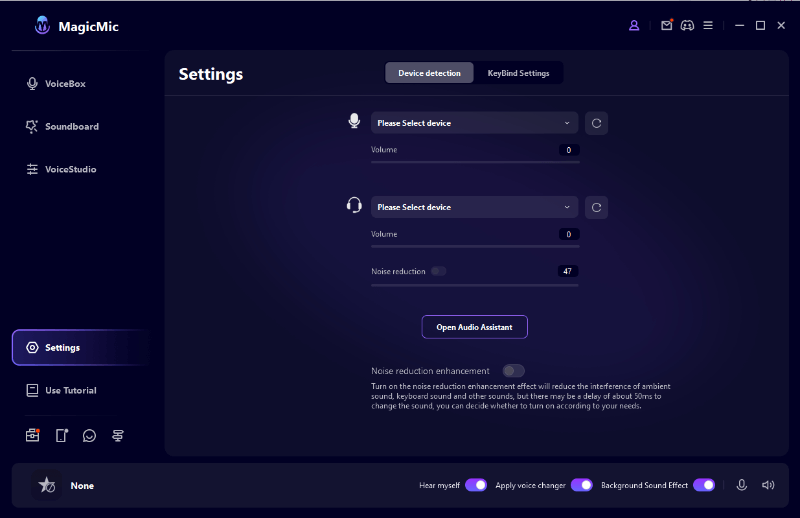 Step 4: Choose Voice Effect
Now you can click any voice effect in MagicMic and speak into your microphone to check if it really change your voice.
AV voice changer might seem like a hard tool to use, but once you get the hang of it, it will be as easy as breathing. It has many effects but to gain access to all of them; you need to pay the required amount of money. The free trial is only for about 14 days; also, this app is for Windows only.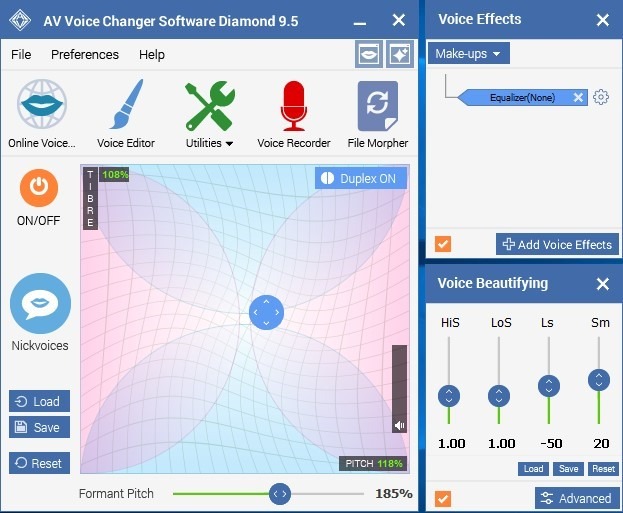 Features
You can record your voice and then add effects.

You can also easily save the recording you made and add whichever sound effect you want.

There are a lot more effects in this app than any other.
How-to step
The steps to use this app are given below:
Step 1: Download this app on your device
The first thing you need to do is download this app on your phone and then use it for free.
Step 2: Open it
After downloading this app, open it and agree to the audio and video recorder to gain access through your device.
Step 3: Tap on an effect or hold on it for recording
When you have the app running, you will see many effects. Click on whichever one you want your voice to contain, or hold on to it so that it starts recording. Send it to your friends if you want
Step 4: Call your friends
You can call your friends, and your voice will be converted into the selected audio. Also, your number will be changed so that your friends don't know who is calling them, and your identity will be secured.
Step 5: Record or share
You can record your voice or share it directly with your friends if you want.
This has to be the easiest voice changer out there. It allows you to change your voice into whichever effect you like from the given ones. There is even a helper assistant type of character in this app that gives you directions. It helps you to adjust the volume however you seem fit.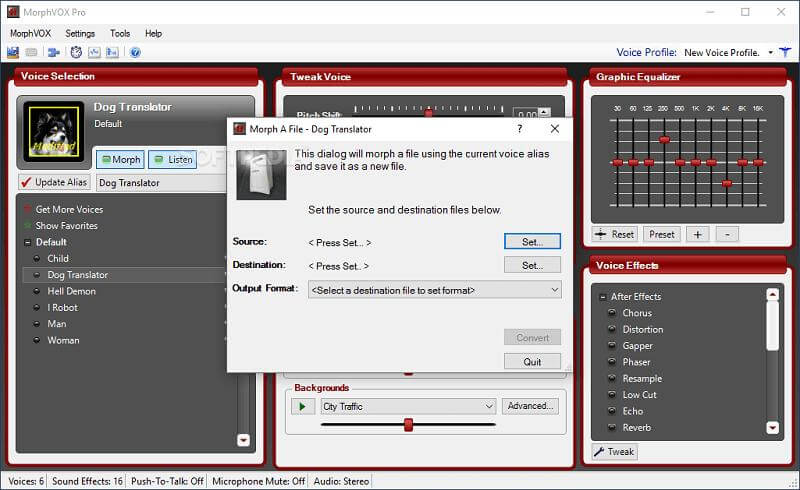 Part 2: Top 5 Funny Voice Changers for Phone,Android and iOS
For all those iPhone and Android users, I have mentioned different voice changers individually. They include:
Android
This app is the best among the best voice-changing apps out there. This is because of its specialty that it allows you to record your voice just by holding on to the effect you like, and then it will be equalized with your voice, and the effect will be there.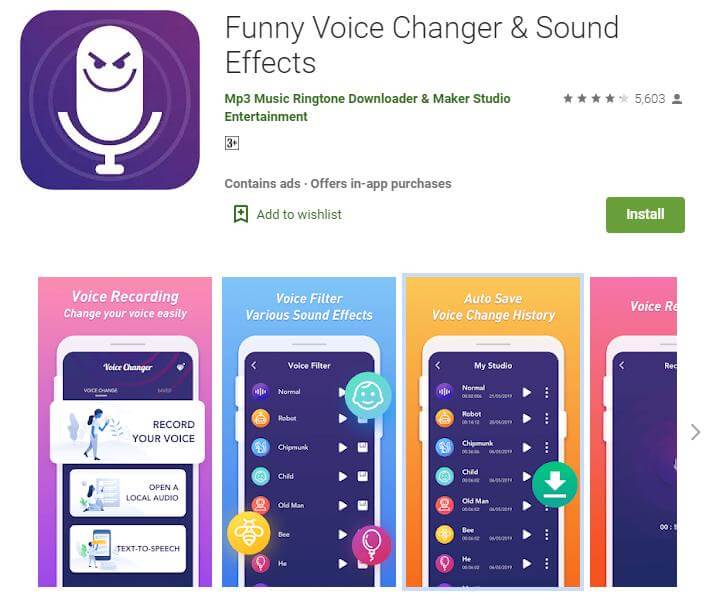 As the name states, this app contains cute and funny sounds that make your voice unrecognizable even for the people who know you. You can easily put the effect you like, including chipmunks, ghosts, older people, or even robotic sound. You can use these effects to do a voiceover on your videos or have an animated voice for your YouTube account.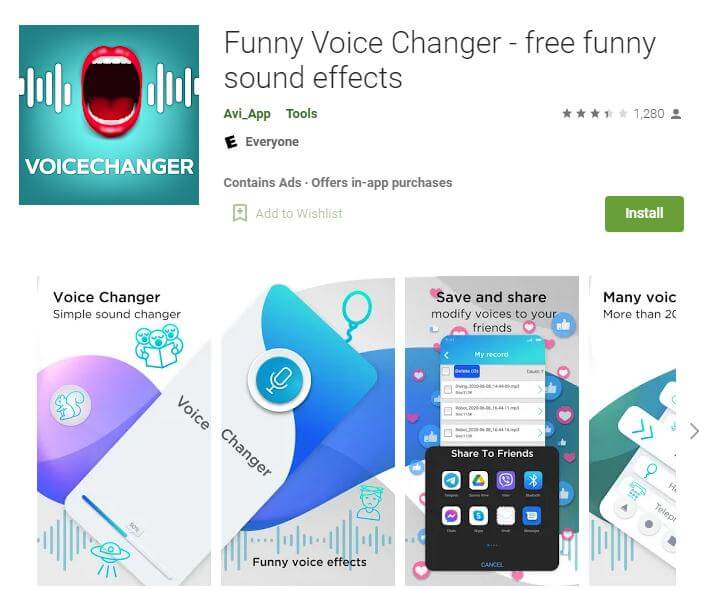 This is the funniest app you'll find. Although it only contains a few effects, 6 to be exact, still it is a great app to pass your time in a fun way. If you like those effects, then I'm sure that you would like the other ones, something 15+ effects, but for that, you need to pay to unlock them. But I reassure you, it will be worth it.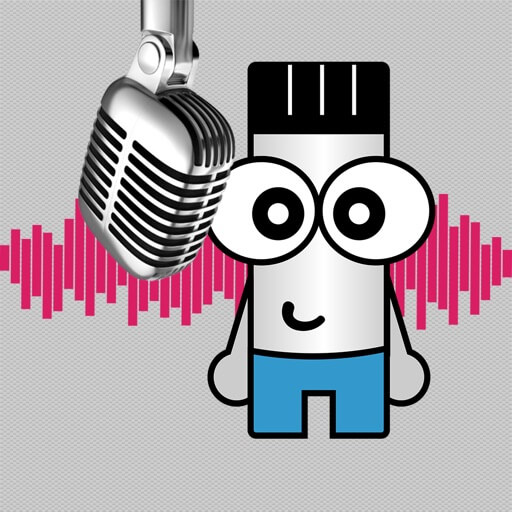 Funny Call has been in use for a long. It has a lot of new features that most apps don't contain. One of them is the option to record sounds that could easily be used in calls. This app also contains a lot of features that need to be unlocked by payment.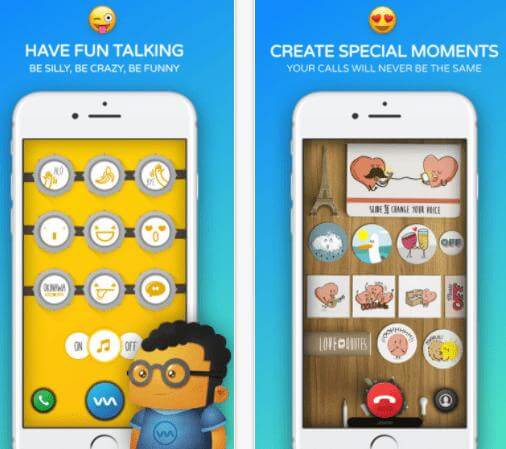 Funny voice effects and changer is an ios app made for fun purposes. As the name states, you can easily change your voice into the selected one, either when being on-call or a pre-recorded sound. It is really easy to use this app, with just a few clicks, and you are good to go and prank whoever you want.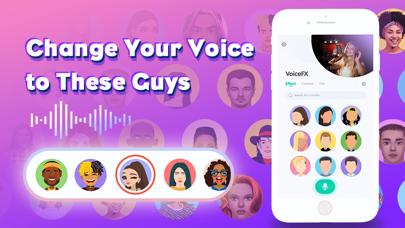 All-in-one Funny Voice Changer&Video Editor
The best all-in-one funny voice changer and video editor app are iMyFone Filme. The reasons for that and the thorough details about Filme are given right below.
Filme is one of the best editing apps because for a lot of reasons. They include that it allows you to make videos within minutes, which is not only mind-blowing but also contains a touch of a professional's work. It is used not only by professionals but also millennials and also newbies. You can learn many new things from this app, as it contains everything a video editing app should have.
Key Features
Easy to access.

Easy to understand.

Used by millennials and professionals.

Gen-Z's cup of tea.

Contains more than 50 audios to use.

Has more than 170 filters.

Contains more than 110 transitions.

Allows voice changing.

Allows users to use fast video mode, from 20+ of them.

Makes high-quality videos within minutes.
How to Change Your Voice using iMyFone Filme
If you want to know how to make a video with voice-changing effects using Filme, then read the below-given steps. These steps start after you have downloaded the Filme.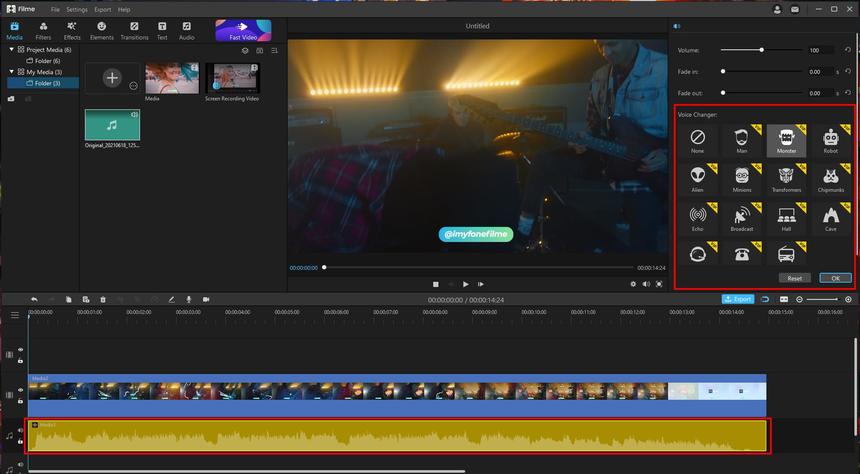 Method 1: Open Filme and go to the audio section
The first thing you need to do is open Filme and then go to the audio section, from where you can select effects.
Method 2: Change the existing audio track
From there, select the effect you like so that you can use it over a pre-recorded video's voice.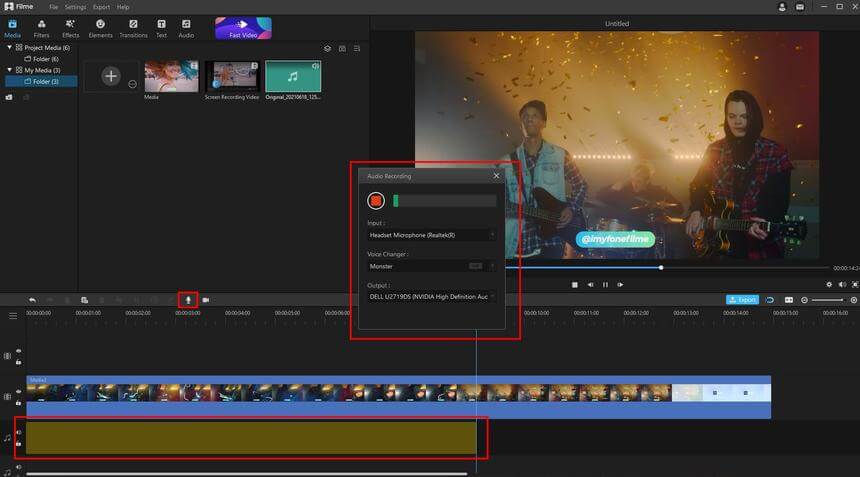 Method 3: Connect microphone
If you want to do a real-time voice-over, then you need to connect your microphone with Filme. To connect your microphone to Filme, you need to go to the settings of the microphone and then allow access to other apps to use the microphone.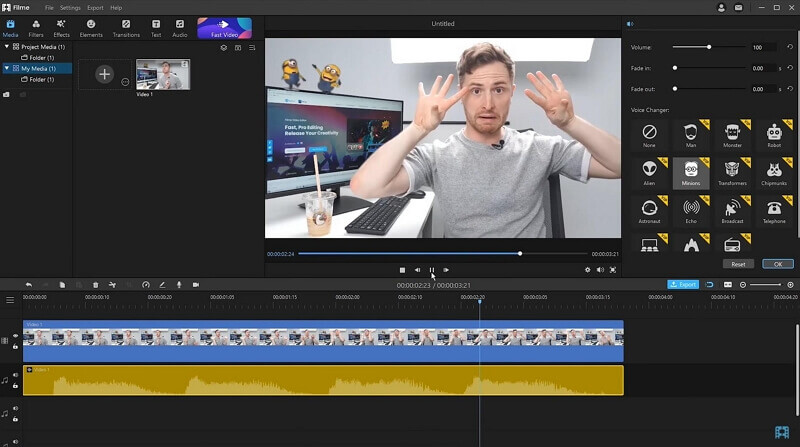 Method 4: Real-time effect
When you have connected the microphone, go to the Filme and select the desired audio. When you do that, the effects will start working immediately.
Method 5: Start speaking
When you have done the steps mentioned above, you can start speaking, either on a call or on a video game, or however you like.
Conclusion
Everyone loves to have fun and all the voice changer apps outlined in this blog post allow you to enter a world of creativity and entertainment.
As for our recommendation, we urge the readers to install iMyFone MagicMic. which is hands down the best voice changing software available in 2021.