In this tech-oriented yet digital-based era, social media applications are ruling the world, especially every single individual's life. Among all social media platforms, Instagram is the most popular one because of its picture-based interface where one can enjoy watching pictures of happenings, allowing them to connect easily. Moreover, publishing slideshow videos on instagram has greater retention than posting just simple random pictures. In this article, we will discuss how to make a slideshow with music, which you can post on your Instagram profile and grab everyone's attention.
How to Add Music to Instagram Story
As mentioned above, Instagram is a great yet most popular social media platform where one can share photos with your friends and followers, and adding music to instagram stories will take it to the next level. Unfortunately, many don't even know some exclusive features of this fantastic social media application, and adding music to stories is one of them. Please keep reading because we will share step by step guide of making Instagram slideshow with music. Let's get started:
Step by Step of Adding Music to Your Instagram Story
Step 1. Launch instagram apps on your smartphone.
Step 2. Click on the camera icon to enter in your stories mode.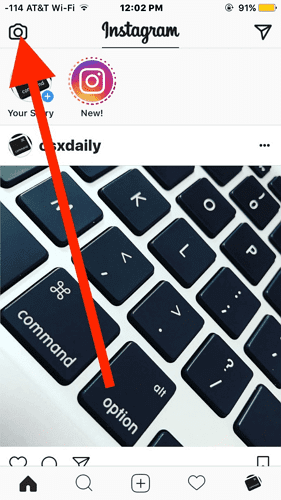 Step 3. Press the circle located at its bottom to record your stories or take photos.
Step 4. After completing your recording, you'll notice numerous features on the screen, such as location, mention, hashtag, music, poll, question, and else.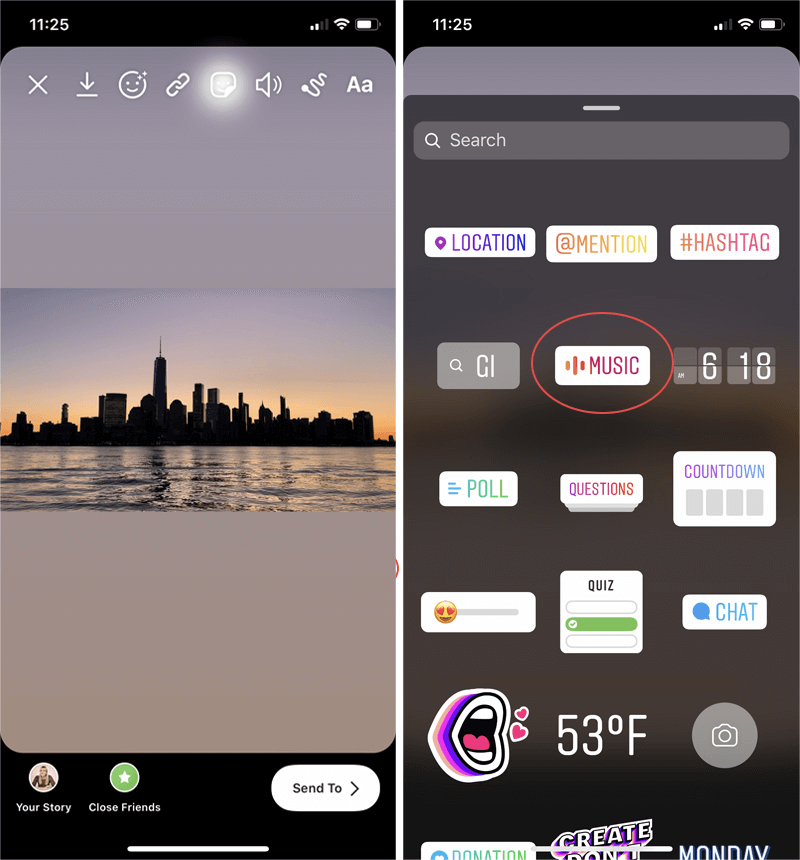 Step 5. Click on the 'Music Sticker' that will route you to your music library, allowing you to search and find your favorite music or song.
Step 6. After finding your favorite song, it's time to choose and add to your story, which you have recorded earlier.
Step 7. Now, the most important part is to select/drag/crop and set the most favorite part of that particular song to add on your story.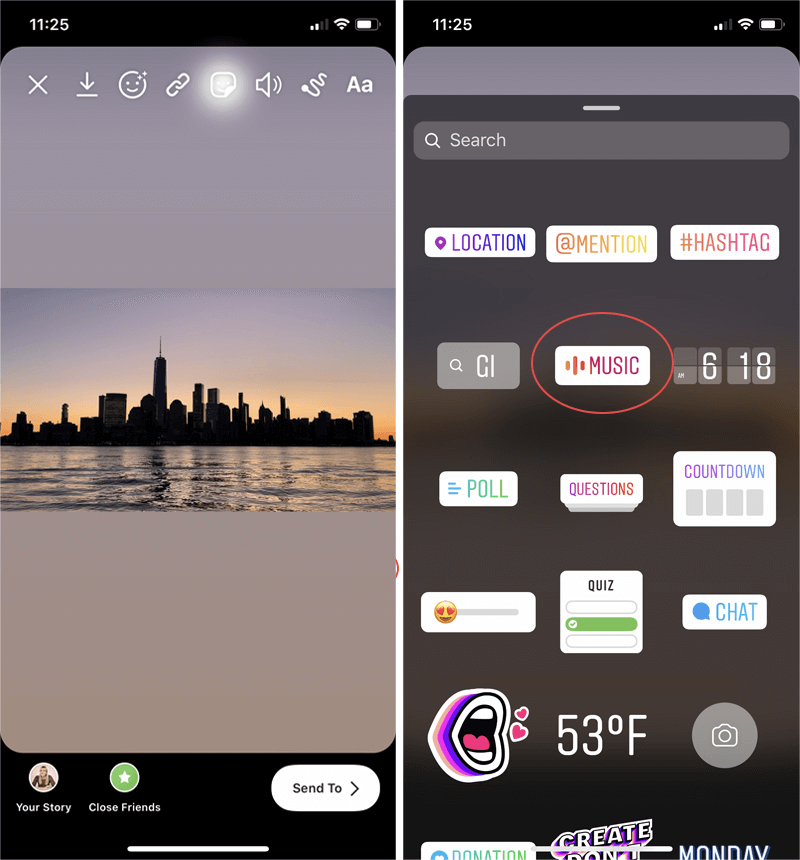 Step 8. After completion, you can publish and get appreciation.
Part 2: How to Add Music to Instagram Story without Music Sticker
In case, you won't be able to add music on your instagram stories because of no 'Music Sticker' option available then don't worry because we have multiple options that let you add music without any hassle, allowing you to make a slideshow with music for instagram. Here are 02 solutions:
Solution # 01 – Record Instagram Videos with Music
Step 1. Open your favorite music app, such as spotify or else and play your favorite song on it, and keep it running in the background.
Step 2. Launch instagram apps on your smartphone.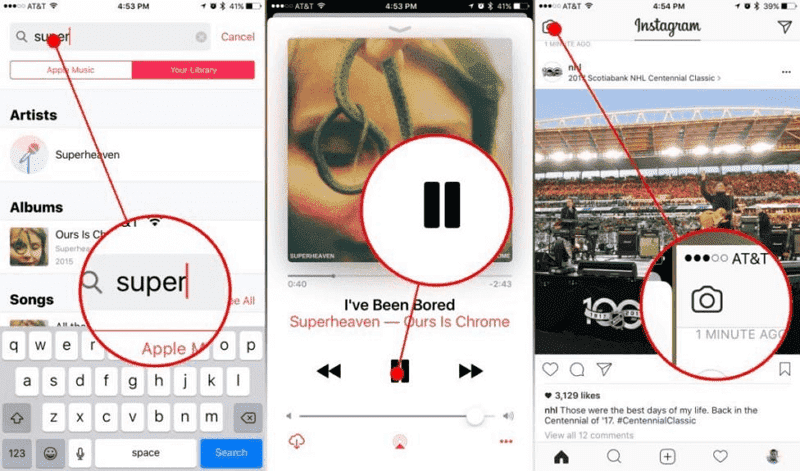 Step 3. Click on the camera icon to enter in your stories mode.
Step 4. Press the circle located at its bottom to record your stories or take photos.
Step 5. After recording, you can choose to edit your videos, such as add text, filters, or else to make it more captivating.
Step 6. At last, you can post stories with your followers.
In this way, you can easily add background music on your instagram stories without any hassle. Now, it's time to discuss the second solution, which is:
Solution # 02 – Upload music video from your Mobile phone
Step 1. Here you will make instagram stories via your mobile built-in camera application rather than choosing instagram app directly.
Step 2. After shooting your video, bring it to any video editor.
Step 3. In video editor, you can add filters, text, effects, and especially background music to make it interesting and captivating.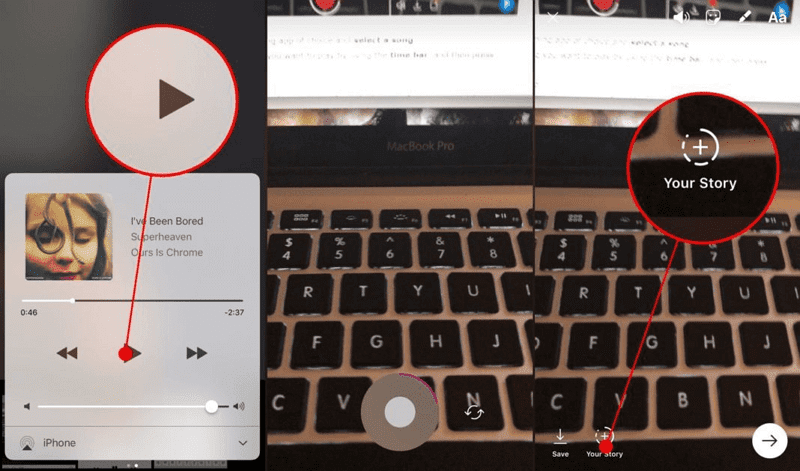 Step 4. Launch instagram apps on your smartphone.
Step 5. Go to your instagram stories page and click the 'Square Icon' located in the lower left corner of the application.
Step 6. Choose the video you have already edited from your media library.
Step 7. Publish the video with your followers.
In this way, you can easily shot instagram stories either you have working internet or not. With this technique, you can make stories anytime you want and publish whenever you feels so.
Part 3: Pro tips to Use the Instagram Slideshow with Music to your Advantage
1. Match the Theme & Add Music
Usually, people get confused because of having similar pictures in hand and don't know which one to post! Well, you can post all similar images via making slideshow videos and complement them with an interesting background score that stun your audience.
2. Background Music with Storytelling
Adding background music is not enough to stun your audience! Sometimes, it's important to connect with your audience via storytelling. You can create instagram stories via talking to your audience and add background music as a filler. With this fantastic technique, it seems like watch a movie and one can't get their eyes off from your stories.
3. Use Songs with Matched Lyrics
Another fantastic yet pro tip for making stunning instagram slideshow videos is to add music that match your pictures. Like, there are numerous songs available over the internet with lyrics that match what you're trying to say. For example, while making inspirational quote slideshow videos, you can add motivational songs, keeping your audience engaged and stunned.
4. Using Top-Chart Songs
Sometimes, people just love to listen to songs rather than watching videos. With this technique, you can easily use music to advantage your instagram slideshow stories. You can use weekly top-chart songs with hashtags, allowing you to grab everyone's attention while making routine videos.
5. Make Music Videos
If you're a musician then there is no better way to stun your videos via making behind the scene music recording or instrument playing videos. Today, there are numerous channels or influencers who're teaching instruments, such as guitar, piano, or else to their followers.
6. Music with PRO Editing
Last but not the least, you can stun your audience with your pro level music editing. With this technique you can easily grab everyone's attention by taking your video to the next level.
Part 4: Best Alternative to Create an Instagram Slideshow with Music on Desktop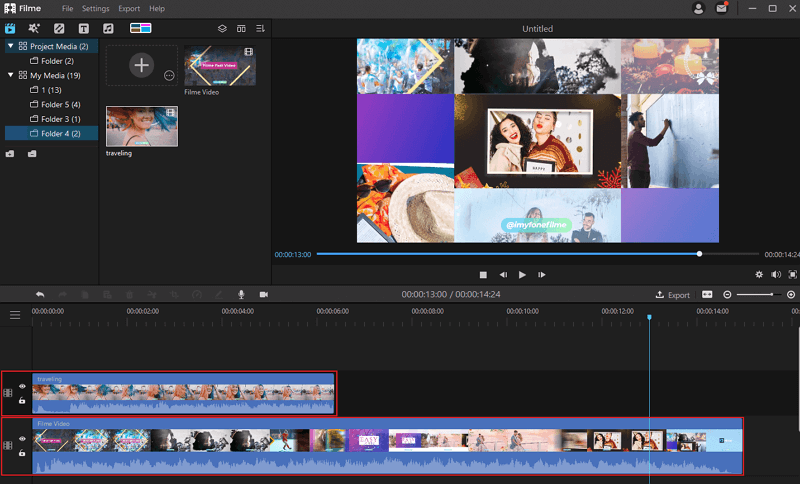 Making slideshow videos need basic editing knowledge, user-friendly tools, and some templates to stun your audience. If you're not able to find the perfect yet beginner-friendly app to make slideshow with music for instagram then let us introduce the most fantastic software for making instagram slideshow videos, such as iMyFone Filme. This fantastic software is capturing attention worldwide because of its ready to use slideshow templates and user-friendly interface.
With this software, you have the freedom to prepare and edit slideshow videos either on Windows or Mac, making it a perfect choice for everyone. Let's review some of its key features and step by step guide on how to make a slideshow with music:
Key Features
Equipped with 170+ video effects Allow you to make your videos more unique.

50+ audio provided Giving you the freedom to add music, if needed.

One-click video editing Zooming, trimming, and cropping are just the matter of a few clicks, making it beginner and user-friendly.

Offering 20+ instant modesYou can easily opt for different themes while editing videos.
How to Create a Slideshow with Music on Instagram:
Step 1. First, you need to install on your system if it's not there then launch the application to start with editing, especially adding background music.
Step 2. It's time to add all your desired photos stored into the system or mobile phone and drag
Step 3. With its fantastic 'Stock Music' feature, you can directly import your own audio track to the slideshow video that sound your video more interesting. Moreover, can also import the desired the music file store onto the system by clicking 'Import Files' button from the top menu.
Step 4. After finalizing the music, you can simply drag and drop to the music bar timeline that matches your slideshow video. Don't forget to match your photos with the rhythm of your music to keep it captivating.
Step 5. If you need further editing to music file, you can 'double-click' the video that allows you to adjust the volume, play speed, and else. Add some nice music to video would be helpful to make a nice slideshow.
Step 6. After completing your video, you can export in your desired format.
Step 7. Now, it's time to share your video with the audience.
Also Read:
Best Instagram Slideshow Apps for Creating Outstanding Slideshows >>
How to Speed Up a Video on Instagram Easily >>