Are you planning to make the birthday of your loved one really special? But not getting any thrilling idea? So don't you worry as you are on a right spot now!
Birthdays are the occasions on which we can send lot of wishes and our heartfelt prayers to our family or friends. And one of the most important parts of wishing a happy birthday is making a birthday video. Birthday slideshow templates have made it really convenient to make happy birthday wishes, a next level thing. Here, we bring you some of the best birthday slideshow templates you can add to the birthday video.
Tips
We recommend a comprehensive video editor for you! It is called
iMyFone Filme
. This tool can make free birthday slideshow videos with various templates in simple clicks. And the video made by Filme is high quality and stunning , so that you can really surprise your loved one!
Download it for free below and try it first.
6 Best Birthday After Effects Templates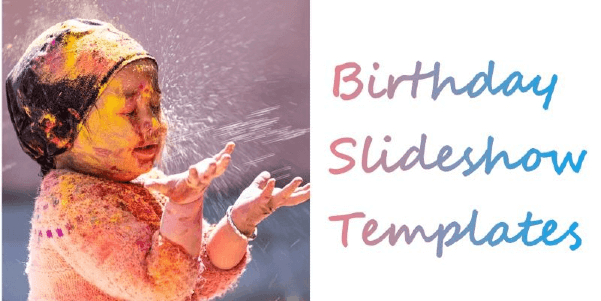 Following are some after effect birthday slideshow template free for any of the theme you want to choose:
The first on this list is this latest template that allows you to add any kind of text you want to wish. The template is 649 MB quite heavy right? But it worth's it, because in addition to this feature you are getting a free tutorial in this template to help you to get it deeply.
This is an introductory video template of about 10 seconds. It is available in a resolution of 1920 x 1080, which makes up a space of 127 MB. Since the video is of shorter length but still you can add further decorations.
Sometimes you might need a family template to show case your affection and love for the families in the slideshow, so, do try this template. This is a 40 Mb resolution template with duration of 2 minutes. Perfect for sharing the happy and golden moments you had with your family.
There is another exciting template for making the recap videos. The duration of the template is comparatively small but your job will be done finely!
The doodling feature of the template, makes it the most attractive and eye-catching template. This is a full HD template but it will weigh about 16 dollars on your pocket. And there you go with the number of options to share your memories with your family and friends.
This template is available on the iMyFone Filme. You can download this free birthday slideshow template from their website, a best choice if you are trying to make parents of a baby happy! The template is very easy to use. It is with full resolution of 1920 x 1018p. Along with the high resolution you will get 25 place holders for adding videos and 12 for whatever text you want to add.
So above are some exciting templates you can use but now let's discuss how we can we personalize the birthday videos without using templates.
Create a Stunning Video with Free Birthday Slideshow Templates Easily
There is a software that allows user to make free birthday slideshow videos with template easily. This software is known as iMyFone Filme. It is the best tool for anyone working for the first time. User can easily make any slideshows they want in this software.
iMyFone Filme allows a user to do a professional's editing. In this software, you can easily make slideshow video with music of your choice. It has different templates for different slideshows. If you want to make a slideshow video for birthday, there are birthday templates available.

iMyFone Filme
20+ Fast Video Templates/110+ Transitions for Slideshow
Download Now
Key Features:
25+ Ready-made templates for your choice, including birthday, wedding, holiday, events and so on.

170+ effects so if a user wants to add any, they can choose from one of these.

50+ audio from which you can choose the ones you like.

Crop or cut the video however they like.

Do typography and add abundant fonts.

Create slideshow videos with music.

Make transitions however they want.

Choose from the countless ratios and templates
These were the features provided by iMyFone Filme. You can use whatever you want, however you want. iMyFone Filme contains everything that you might need.
How to Create a Stunning Birthday Slideshow with Fast Video Templates in Filme
Want to know to create birthday slideshow with fast video templates in Filme? Well, I can show you some ways in which you can easily make birthday slideshow with fast video templates. All you need to do is follow these simple steps:
Method 1: Choosing Fast Video Mode:
Go to the media library and from there, select the fast video option present at the top. This will bring you to the 'fast video' mode.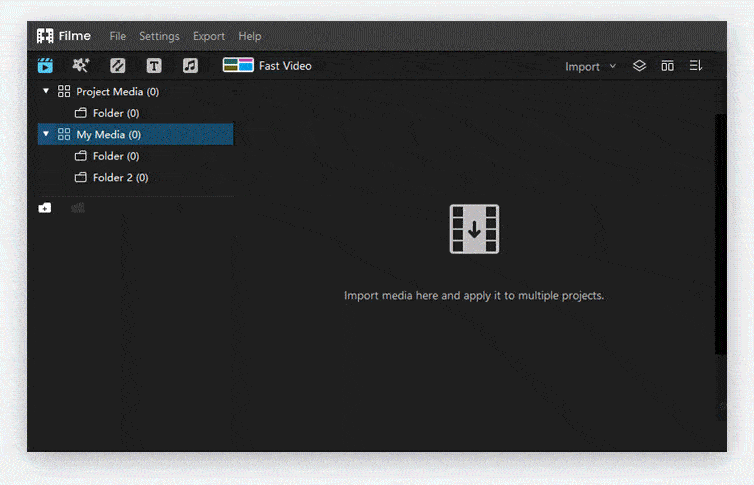 Add your Media Button
Click on the 'add your media' button present there when you have selected a template from the 7 given ones. Transport all the pictures you want here but they cannot excess more than 10. After that, check if everything is set or not.
Export to Relish
After making sure that all the things are set in the slideshow click on the 'save' option or the 'export' button present there. In this way you can export it into your device.
Method 2: Personalize a Birthday Video without Templates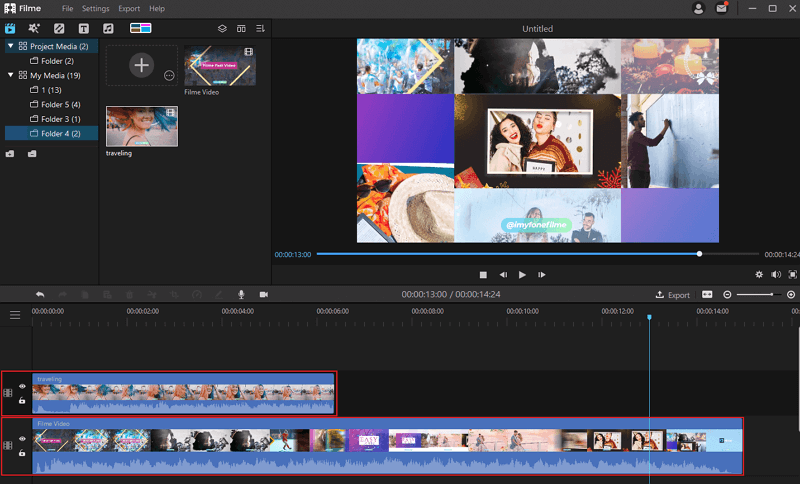 Along with the free birthday slide show templates, iMyFone Filme is providing you the best video editor for the creation of dynamic videos. Following are the steps you can follow to personalize the videos.
Step 1: Firstly the most important job you have to do is to choose the videos you want to add to the video, whether it's a whole family photo album or just individual birthday snaps ad wishes.
Step 2: After you have chosen the snaps next step is that you are now free to let go your fancy creativity. You have a lot of sticker options and you can add music of your choice. Font styles also play quite an important role in beautifying the whole video. Last but not the least countless choice of ratio aspects is also available.
3 Ways to Celebrate Your Unforgettable Birthday with Slideshow Videos
Let's discuss some of the exciting ways you can edit your slideshow videos with. There might be many ways you can add some spice in birthday bashes! Sometimes, we want to gift a birthday slideshow video, sharing our memorial pictures in it. Because, typically, birthdays are occasions where you are free to express your feelings. And the slideshow videos help your do this in a fabulous way.
Here are three of the innovative ways you can celebrate your unforgettable birthday via using birthday slideshows.
Birthday Gift Video
This is one of the best options to make the birthday of your friends or a family member unforgettable. By using the customizing options make it a very memorial video. You can gift the sensuous video to your friend as a token of love.
Birthday Wishes Video
Birthday wishes are one of the essential of birthdays, the wishes are something everyone is in need of. If you are somehow not able to buy some expensive flowers or lend your friend a gift, then some beautiful heartfelt wishes can make someone's day. So send the happy birthday wishes video to your loved one for bringing an extra smile on their faces.
Birthday Recap Video
Birthday recap video is another best option. Recollect all the dispersed loveable birthday videos and images to make a recap video of them and double the joy. Recapping is a very interesting and convenient way to design your videos.
5 Creative Ideas to Make a Unique Birthday Slideshow:
Want to make a unique birthday slideshow? Well, I can give you some creative ideas to help you with that. They all are very creative and fun ideas that hopefully you will love as everyone else will. You can make a unique birthday slideshow in iMyFone Filme easily. The ideas I am going to give you can easily be applied in this software.
Make A Timeline Video
If you want to make a unique birthday slideshow for your friends, family or anyone else, you can make a timeline video in Filme and then post it in their timeline. This is a very unique idea, most people do boring things like give birthday cards, have dinner etc. but your idea of making a timeline video can be very creative.
Showcase Their Interest With A Slideshow Video
You can easily make a unique birthday slideshow in Filme. When you make a slideshow in Filme and give it to the birthday person, you can actually show your interest with a slideshow video.
Include Their Pets
To make a unique but a simple birthday slideshow, never forget to include that person's pet or pets in it. If you add their pets, they will think that you adding a lot of effort in making it and will create an emotional connection instantly.
Bloopers
This idea is very unique even just with its name. If you want a fun and unique birthday slideshow, add all the fun bloopers you made of the birthday person. This will make everyone laugh and your birthday slideshow will be appreciated the most.
Making a Compilation of People having beverages
Make a birthday Slideshow with people Having Beverages. This idea just seems a lot of aye catching and unique. There is just something about people sitting together and having their beverages, having a small talk that catches people's eye the most.
3 Keys to Make a Meaningful and Unforgettable Birthday Slideshow
If you want to make a meaningful and unforgettable birthday slides, don't forget to use iMyFone Filme. iMyFone Filme can be the best option you can choose. There are different templates present in Filme for various purposes. For example: If you want to make a birthday slideshow for family, there are particular templates for it, if you want to make a birthday slideshow for your husband, there are other pre-designed templates already present in Filme or if you want to make a birthday slideshow video for friends, there are specific templates for this reason.
1. Birthday Surprise Video Ideas for Your Honey
If you want to make a birthday surprise video for your husband, Filme is the best software to use. The ideas are
Personal touch
If are making a slideshow birthday video as a surprise for your husband, try to add some personal touches in them, for example,, you guys could have an inside joke that nobody knows of, or maybe add some things from the past to renew the old memories, etc.
Passion
If you want to make a surprise birthday slideshow for your husband, try to add his passion into the slideshow. For example if your husband has interest in photography, try finding some pictures in which you have clicked the right moment where he was capturing the nature with his DSLR or something like this. I am sure he will love it.
2. Birthday Video Ideas for Best Friends
If you are wanting to make a birthday video for your best friend, I can share some of my best ideas that hopefully will become useful for you. They are
Include the past
If you have a best friend since your childhood or teenage years, try finding some old pictures or videos of both of you. Then add all those pictures and make a whole slideshow with suitable music for birthday slideshow. This will be the best gift that you will give your best friends. He/she will never forget it.
3. Funny Birthday Video Tips
If you are looking for some tips to make your birthday video funny and entertaining, then here is what you need to do
History
If you are looking for ways to make your friends' or anyone else's birthday video fun, try making a video featuring him/her from way back in the memory lane and all the events that happened in their life till now with you. Try to add funny things like you guys joking around or playing or something. This will make your birthday video epic.
Slideshow
Not all the people make slideshows for birthday videos so if you try to make one, your video will stand out the most. Try to add funny things and make it as humorous as you can so that the audience do not get bore to death.