Retirement is a big occasion. It signifies everything that you have achieved in your life and it is a rite of passage into the next phase of your life. And there is no better way to commemorate your achievements in life than a retirement slideshow.
In this article, we are going to give you some great retirement slideshow ideas that are going to make your retirement party awesome. Let's get into it.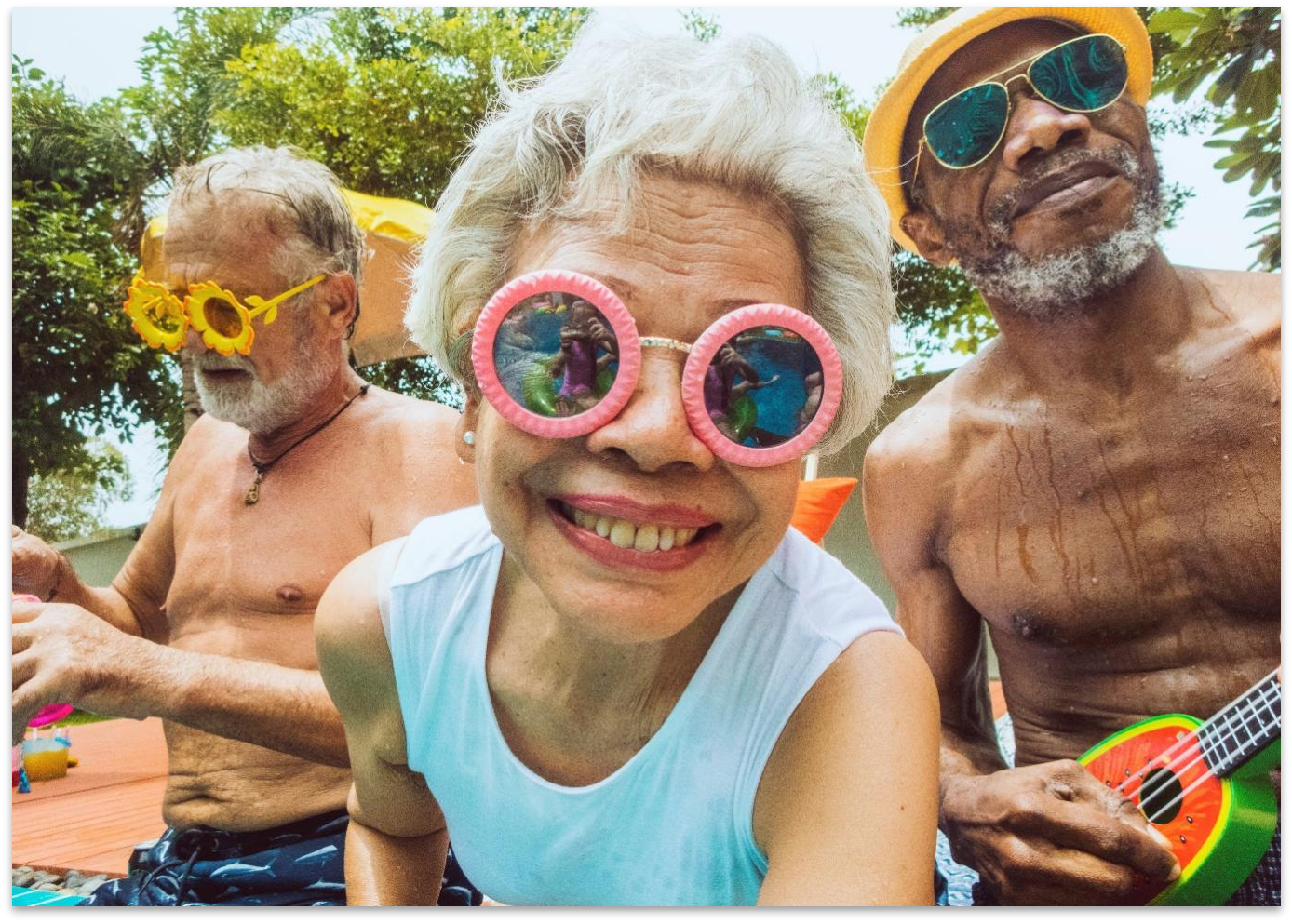 Part 1: Best Software for Retirement Slideshow on Desktop (Win&Mac)
If you are having a hard time deciding which software to go for to make your retirement slideshow then don't worry. We have you covered iMyFone Filme is the best tool if you don't have any prior experience in making slideshows. It is very easy to use and gives you tons of options that are going to make the whole process of making your retirement slideshow feel like a breeze. Here is a list of some of the key features that you get with iMyFone Filme.
Key Features
One-click editing– This software uses fast video mode where you can edit your videos with a single click without getting lost in complicated options and menus.

Great templates– iMyFone Filme has a lot of great templates to choose from. You will find the right theme for your retirement slideshow from their incredible selection.

Effects– iMyFone Filme also allows you to add effects to your videos. The process of adding effects to add creativity and spark to your videos is also very simple.
Part 2: 6 Keys to Create an Awesome Retirement Slideshow
It can get a little overwhelming when you are trying to create the perfect retirement slideshow with retirement songs that does justice to your career. We have created a simple 6 step plan that will help you out. Here is how you can create an amazing retirement slideshow:
Bonus Tips:
Create an Awesome Retirement Slideshow with Faster Tools-iMyFone Filme.
Special offer that can free try the resoureces for paid. Download it for trying it out!
1. Theme
Start by deciding the theme that you are going to use. The theme is going to set the tone for your entire retirement party slideshow. If you want it to be upbeat and light, then go for an informal and bright color scheme but if you want it to look more formal and professional then go for a neutral preferably darker color scheme.
2. Songs
While the theme is going to set the tone, the songs are going to create the mood for your retirement party slideshow. If there is a family gathering, songs for family can be considered in the list too. Choosing the right songs for your retirement slideshow is crucial. We are going to give you our top picks for the best retirement slideshow songs later in the article.
3. Software
You need to choose the right software to create your retirement slideshow. You don't want to get stuck with a software that is overly complicated, and you don't want a software that affects the quality of your retirement party slideshow either. Go with any software that feels easy to use for you.
4. Use Treasured Moments
Don't put everything that you find in your retirement slideshow. Be selective and use images and videos that you consider treasured moments only.
5. Slideshow Template
Choose a template for your retirement party slideshow that pops. It has to be awesome to really bring life to your achievements in your career.
6. Customize It
It is a good idea to start with a retirement party slideshow template but feel free to customize it to your liking. Do it your way.
Once you are satisfied with the retirement slideshow and you have a smile on your face, export it and start to get ready for your big day.
Part 3: Top 15 Retirement Songs for a Party or Slideshow
As we mentioned earlier, here is our list of good retirement songs for slideshow. We are going to divide them into three sections to make it easier for you to choose which ones you like the best. These songs are universal in their appeal and can work great for a military retirement slideshow and a teacher retirement slideshow alike. Meanwhile, for the slideshow reviewing your earlier lives, you may also use songs for kids growing up, songs for birthday slideshow to add more intriguing elements.
Top 5 Songs that Wish for a Happy Retirement
1. Hello, Goodbye by The Beatles
The reason that this is the best retirement songs, it is by The Beatles, and two, that it conveys that your retirement is not a bad thing in any sense. If you want your retirement to feel like a new beginning, then this is a great choice of song for your retirement slideshow.
2. My Way by Frank Sinatra
If you want your retirement party slideshow to focus heavily on your achievements and success then there is no better song out there. The silky voice of Frank and the touching lyrics make this a great song for your retirement slideshow.
3. Good Riddance (Time of Your Life) by Green Day
By the name you might not think that this a good choice for your retirement slideshow, but this song is all about positivity and good vibes. It will sound great for your retirement party slideshow.
4. Hall of Fame by The Script
This is a great song if you are looking for something that is up-beat and celebrates your career. It will provide the perfect background for the part of your slideshow where you show everything that you faced in your career. It is a great way to highlight your resilience and perseverance in the face of adversity.
5. 9 to 5 by Dolly Parton
This song may not necessarily be retirement-themed, but this song very much encapsulates what it's like to be retired. It highlights all the perks that come with retirement and has an overall feel-good vibe.
Top 5 Funny Songs for Retirement slideshow
1. Born To Be Wild by Steppenwolf
If you are creating a retirement slideshow that shows you as a fun-loving and risk-taking person then you will not find a more suitable song for your retirement slideshow.
2. Cups by Anna Kendrick
If you want to go for a more pop feel for your retirement part slideshow and want to tell your co-workers that they will miss you a lot when you are not coming to work, you will want to go with this song.
3. Margaritaville by Jimmy Buffett
As you can tell by the title that this song is all about a chilled-out vibe. If you want to show your co-workers that you are looking forward to retirement, then this is an excellent song to include in your retirement party slideshow.
4. Sittin' On The Dock Of The Bay by Otis Redding
This is a classic song that is a great choice to show how fun your retirement is going to be. It a must-have for your retirement party because this song is all about being lazy and enjoying yourself.
5. You Haven't Seen the Last of Me by Cher
If you want your retirement slideshow to show the impact that you have made on your organization or community then this is a great humorous way of showing it.
Top 5 Upbeat Songs for Retirement slideshow
1. I Gotta Feeling by The Black Eyed Peas
This is one of the best upbeat songs out there and would be a great fit for your retirement slideshow or party.
2. Celebration by Kool and The Gang
If you want the people who are at your retirement party to have a great time then this is the ideal song to have at your retirement party.
3. Good Times Roll by The Cars
This is another one of those songs that will have people have a great time during your retirement slideshow or party.
4. The Best is Yet to Come by Frank Sinatra
This is a classic upbeat song that gives a touch of class to any retirement party. Make sure to include it in your retirement party.
5. We've Only Just Begun by The Carpenters
An evergreen song to bring a feel-good vibe to your retirement party. It can also work great for your retirement slideshow.
Part 4: 8 Retirement Slideshow Ideas
To make your retirement video great here are a few ideas that you can use:
1. Music Video
If you are willing to go through the effort, then having a music video for your retirement party can be a fun and great idea.
2. Interviews
You can have interviews with your co-workers and office staff in your retirement video. It will help provide the perspective of the people that you worked with over your career in your retirement video.
3. Movie Trailer
Another great fun idea for your retirement video is to recreate a trailer of a famous movie with a retirement theme to it.
4. Prank
You plan a prank on the people attending the party with the help of your retirement video. You will have to get creative and think of something that they will have good laugh about.
5. Dancing
If you are proud of your dancing skills, then you can break a leg and record a flash mob and incorporate it with a music video for your retirement video.
6. Magic
You can also make a funny video by using humor magic tricks in your retirement video. It can be a huge hit with the attendees of your retirement party.
7. Speech
If you are a good orator, then having a speech in your retirement video is also a great choice.
8. Costume
If you are not afraid of making bold choices, then you can try to do a character from pop culture in your retirement video as well.
Part 5: 6 Ideas to Make a Memorable Slideshow
Your retirement slideshow is going to be a major part of your retirement party. You want to have a slideshow that the attendees will remember. Here are some idea to make your slideshow memorable:
1. Strong Opening
The first thing that you want to do to make your retirement slideshow memorable is, you want to open with something that stands out. Maybe a good joke or a great image. This will grab the attention of the people that are watching it.
2. Milestones
A memorable retirement slideshow should show the progression of your career. So make sure to focus on all the challenges that you faced and how you overcame them. This will give the people who are listening a deeper insight into who you are as a person.
3. Advice
Since you are the one retiring this is your chance to give some advice to the people who are still working on how they can succeed. If you want your retirement slideshow to be memorable then make sure that you include everything that you learned on your job.
4. Speak from the Heart
To get a reaction out of the people who are at your retirement party try to include things that they will miss about you this will help create an emotional impact and help your retirement slideshow remain the memory of the people that see it.
5. Humor
Take a jibe at some of your close colleagues and friends from work. Everyone is going to appreciate and enjoy a good laugh at your retirement party. So make sure that you make this a part of your retirement slideshow.
6. Keep it Compact
And last but not least you want your slideshow to be short and impactful. Don't fill it up with extra things. Keep it compact. If you drag it out for too long, then it will not have as strong of an impact.
Also Read:
Memorial Funeral Slideshows: Bring Your Loved One's Story to Life >>