The best way to share and recall those married life memories is by creating a slideshow. Today, we will share how you can create a perfect slideshow for your anniversary party. We will share some video editors and tools that can create a slideshow quickly. We will also share some anniversary video ideas that you can use.
Part 1. How to Make a Stunning Anniversary Slideshow Video?
Desktop video editors have more options as compared to mobile applications and online tools. We recommend iMyFone Filme as it is a simple and easy-to-use video editor. It has advanced features, including effects, transitions, stickers, text, picture-in-picture effect, and many tools that can make your video stunning. Most importantly, it has a Fast Video mode that can help you create slideshows using templates.
Method 1: Using Template
Step 1: Lunch Filme on your computer. Go to File>New Project and select the aspect ratio.
Step 2: Click on Fast Video. You will see dozens of templates. You can select any of them that you think is suitable to create an anniversary video. Filme also has an anniversary template.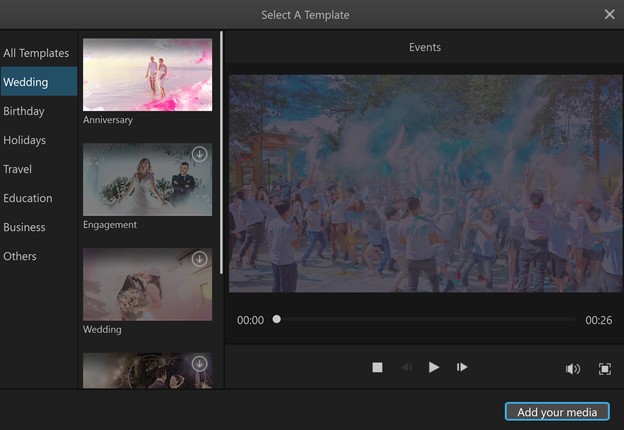 Step 3: Click on Add Your Media and import the images that you want to add to the video. After importing the images, arrange them.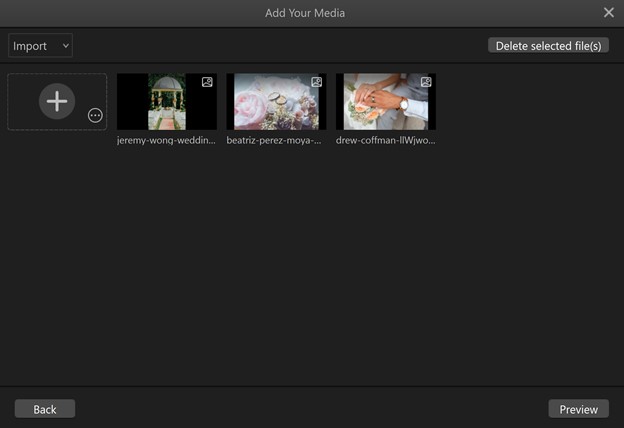 Step 4: Click on Preview to see the video. Your slideshow is ready. The video will have audio, but you can also change it. Finally, click on Export to save the video. Select the desired settings and click on Export.

Method 2: Creating a Slideshow Without Template
Step 1: After opening Filme, go to the File menu and create a new project.
Step 2: Go to the Media menu. Click to import the video and images from your computer or Android phone. Filme also has a wireless import option for Android devices.
Step 3: Drag the images to the timeline. You can arrange them as you want. Drag the ends of the images to adjust the duration.

Step 4: Your slideshow is ready. Now, you can add effects, text, music, transition, or anything you like. For music, import the file and drag it to the timeline. Adjust the duration of the music by dragging its ends.
Step 5: Click on the Export button. You will see the export window. You can select the location and other settings. For advanced settings, click on Settings and adjust the settings as you like.
There are dozens of video and slideshow making applications, but we recommend PicPlayPost. It is an amazing application that is available on iOS and Android. It also has some pre-made templates that can add transitions and effects to the slideshow.
Steps to Use PicPlayPost
We are explaining the method of using PicPlayPost on Android only as there is no difference whether you use it on iOS or Android.
Step 1: Open PicPlayPost on your device. Tap on Create a Movie or Slideshow. This feature will help you create a slideshow manually using the video editor.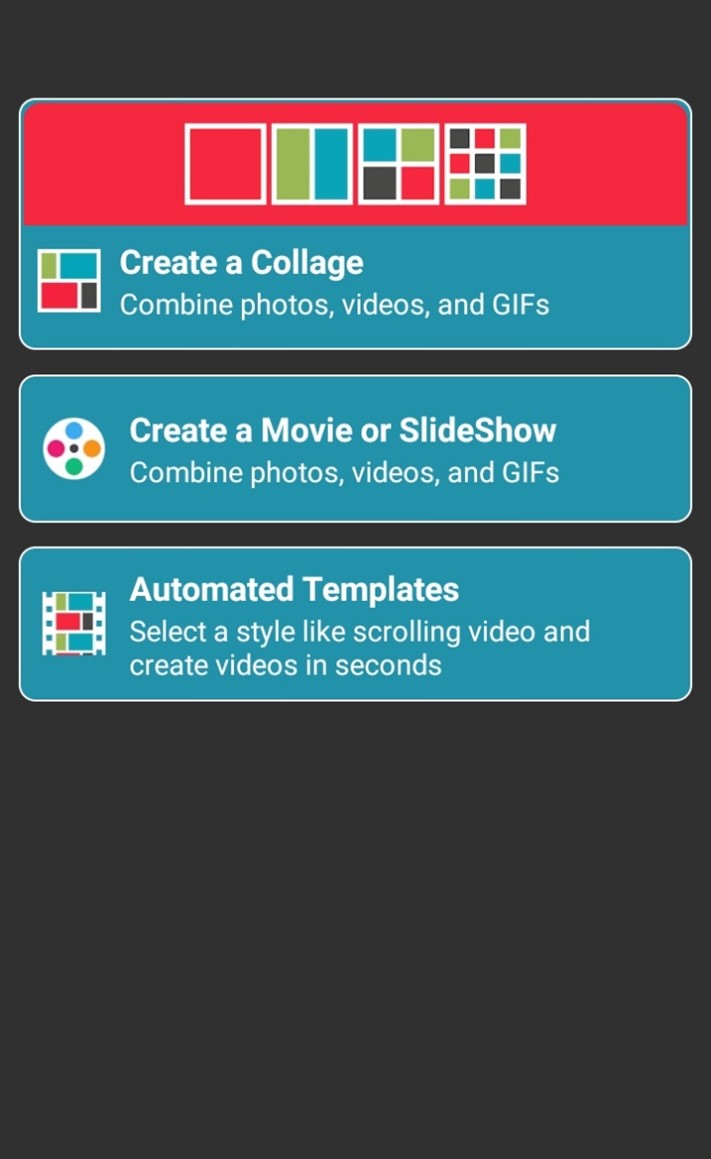 Step 2: You will see the video editor. You need to import the images to create a slideshow. At the bottom left, you will see a "+" button. Tap on the button and select the images and videos that you need in the slideshow. Tap on Next.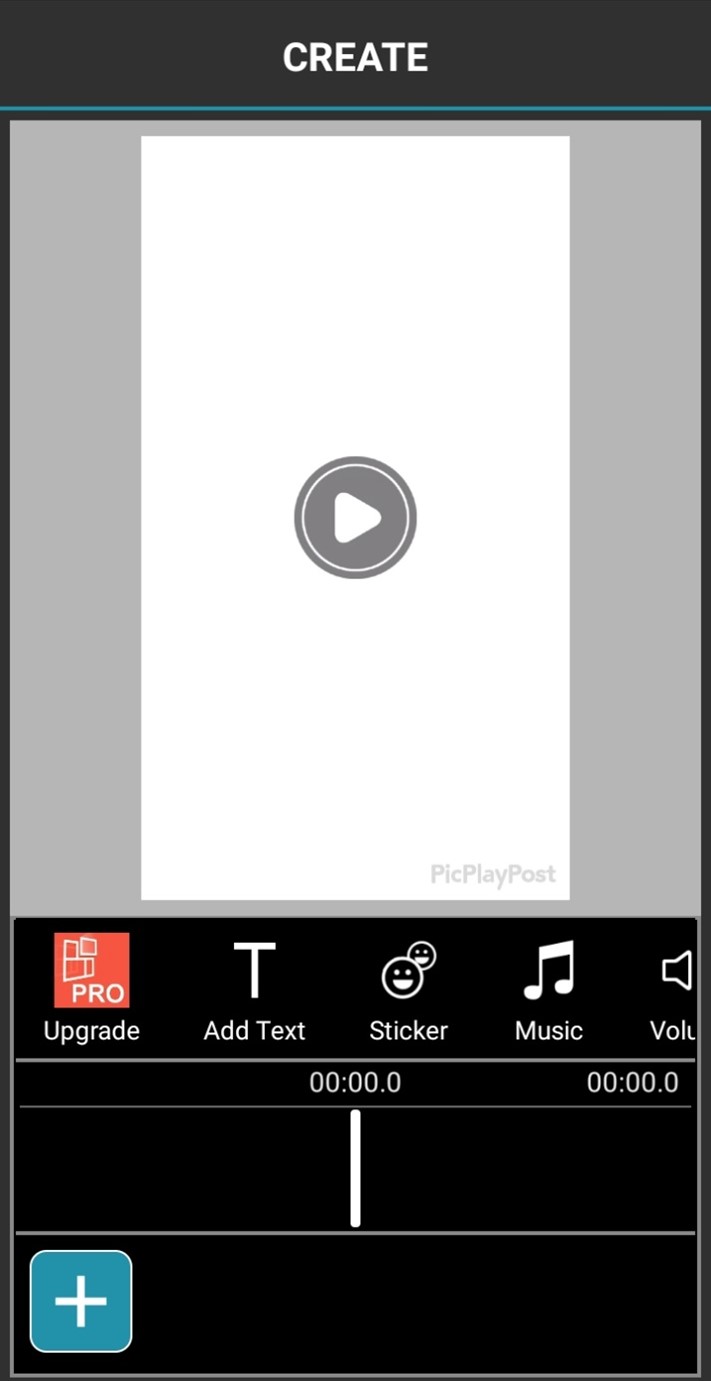 Step 3: Now, your slideshow is ready. You will see the imported images in the timeline. You can also arrange the images as you like. After every image, you will see the transition option. You can change the transition. At this stage, you can add text and stickers. Tap on Add Text to add text in the video.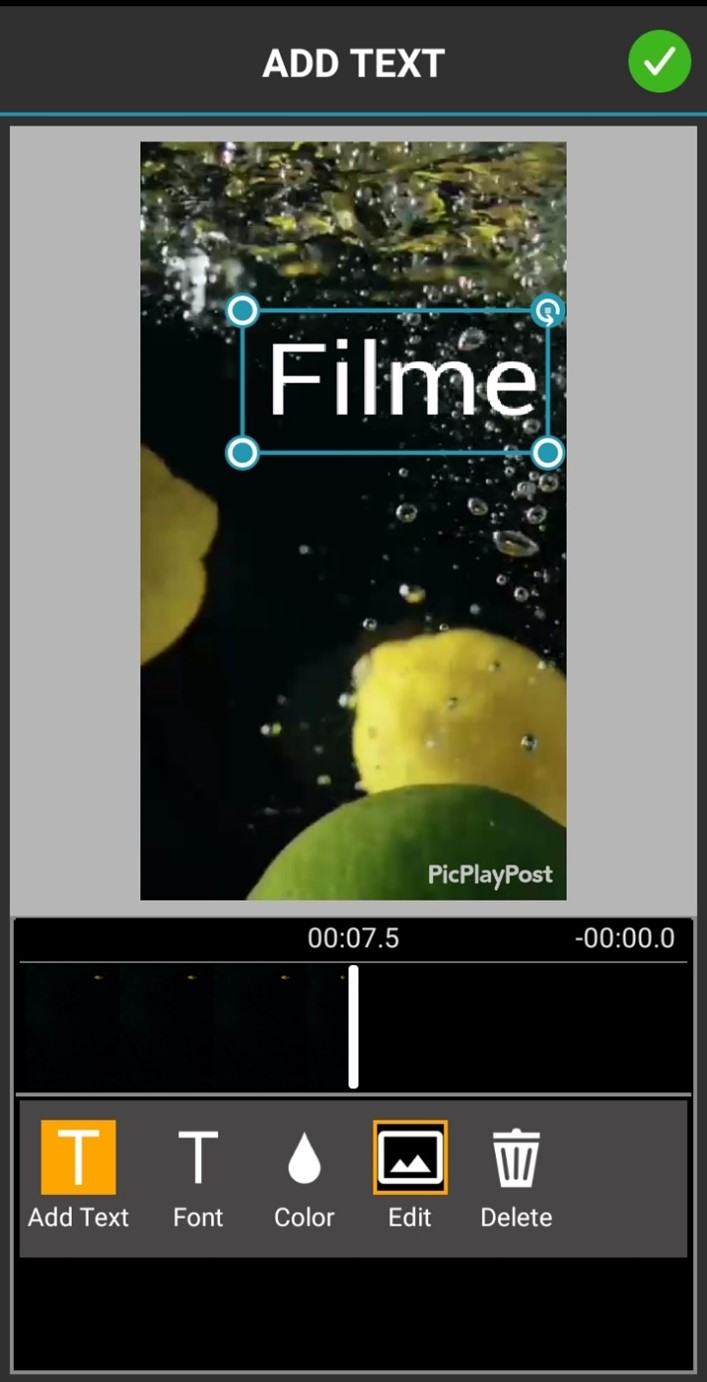 Step 4: Tap on Music. You will have two options. Click on My Music to upload from your mobile. You can also use free music from the library by tapping on Theme Music.
Step 5: See the video, and when you are satisfied, tap on Share. Tap on Gallery to save the file to mobile, or you can also share it on social media platforms.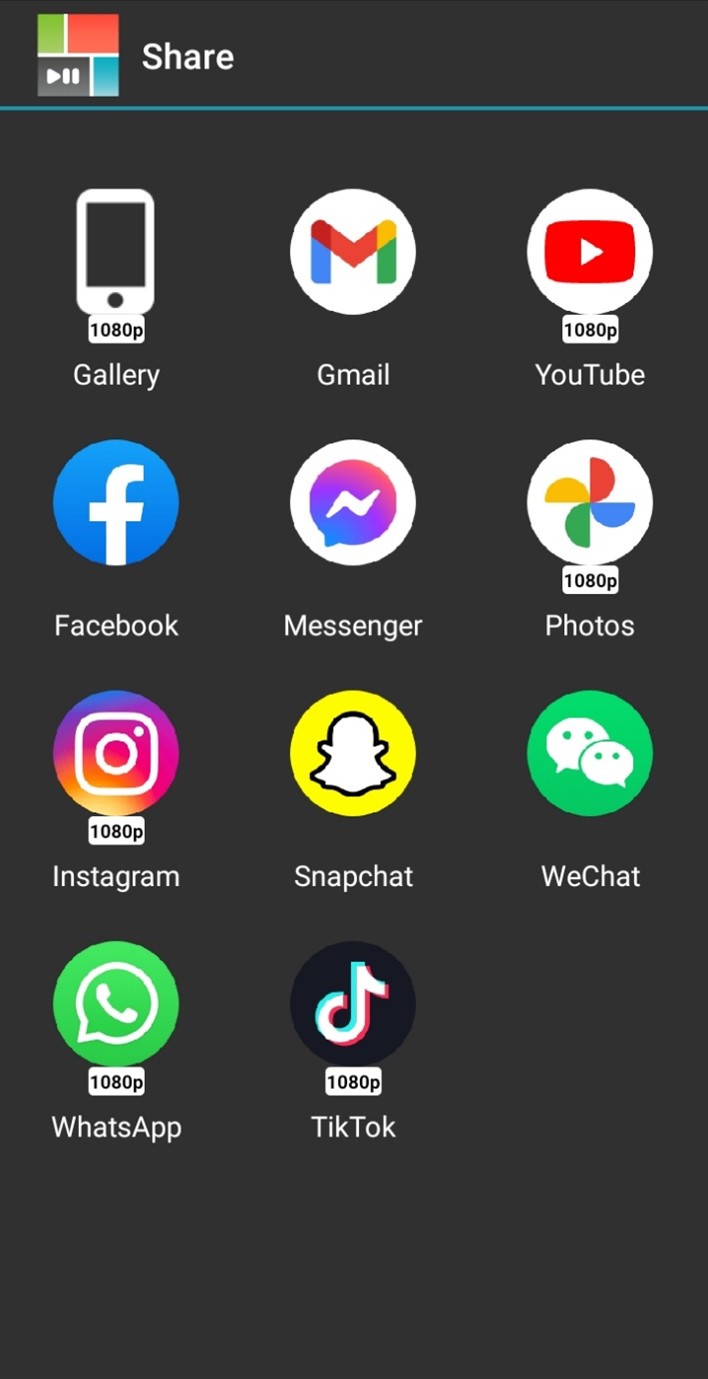 We recommend Smilebox for creating a slideshow online. You can use this online tool and create an awesome anniversary slideshow without any hassle. It also has dozens of templates to make everything easy.
Step 1: Open Smilebox on any browser and log in to your account. You can also log in through your social media account.
Step 2: You will have many templates. Search for the anniversary templates. Select any template you like. Click on Customize to edit the template.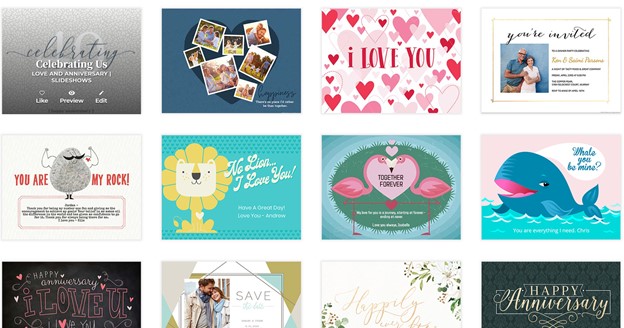 Step 3: Add photos to the template to customize it. You will see the Add Photo option at the top left corner. You can import from your computer, and then you can add the images to the slides. You will see the slides in the timeline.
Step 4: Add your music to the video. You can also add effects and make other changes to the slides.
Step 5: At the top, click on the Preview button to see the video. When you are done, click on the Share button and share to social media or email. You can also download the video.
Also Read:
Create Slideshow from Google Photos and Slides >>
Make a Slideshow with Premiere Pro >>
Part 2. 10 Best Songs to Make Anniversary Slideshow
1) Anniversary (By Tony Toni Tone)
This is an evergreen anniversary song that people like very much. The song is completely around the anniversary, so it suits slideshows. The singer has repeated the word "Anniversary" many times, which is why it is good for slideshows.
2) Halo (By Beyonce)
This pop song by Beyonce is perfect for your loved one. You can use it in your anniversary slideshow as its lyrics show love with a person.
3) All of Me (John Legend)
It is a love song by a legend, John Legend. You can dedicate this song to your life partners in the slideshows. John dedicated this song to his wife.
4) Thinking Out Loud (By Ed Shereen)
This Ed Shereen song is another way of expressing your love to your wife. The music and lyrics are more than amazing. It will be perfect for your anniversary slideshows.
5) Forever and For Always (By Shania Twain)
This is a lovely song to express your love. You can use it in the slideshows, and its fast music will make everything more engaging and energetic.
6) Dance Me to the End of Love (By Leonard Cohen)
This is an old song of 1984; however, its lyrics are full of love and affection. If you like old songs, it would be perfect.
7) Can't Help Falling in Love (By Elvis Presley)
This is another evergreen song for an evergreen love. It was released in 1961, but it is still perfect for anniversaries.
8) This Will Be (An Everlasting Love) (By Natalie Cole)
The song is perfect for everlasting love. It can blend with the photos in the slideshow. Its pop nature is energetic.
9) Dreamlover (By Mariah Carey)
This is a pop song for expressing love to someone. It will sound perfect in slideshows.
10) Always (By Bon Jovi)
This song has the love that Romeo had. It will help your partner realize that your love is eternal.
Part 3. Best Anniversary Video Ideas for Creating Anniversary Slideshow
We have some awesome ideas that can help you create a memorable slideshow for your partner and people attending the party.
Include Your Lovely Memories
The best way of creating a slideshow is by adding lovely memories of your life to it. You can gather all your pictures from the first day. You can share the happy moments of your life and your family. There can be images of your wedding, tours, children, or anything you love. It is better to arrange all the images according to the dates. Your life partner will surely enjoy recalling those moments. Most importantly, the people gathered at the party will see your life and your memorable moments.
Surprise in the End
If you have planned a surprise, you can show it at the end of the slideshows. It will definitely shock your partner. Many people plan for jewelry or a tour. Whatever you have planned, you can reveal it at the end of the slideshow. People at the party will also witness your love.
Select His/Her Favorite Song
Your anniversary slideshow should have a relevant song. If your partner loves any song related to your relationship, you can use that song. Otherwise, you can select any of the soundtracks that we have shared, or you can pick something else. The song makes the slideshow more enjoyable.
Video Messages
There can be video messages from your loved ones, including your children and siblings. You can include their wishes in the slideshow. If someone is unable to attend the party, he/she can share a video message.
Thank Your Partner
Your partner has been with you in happiness, sorrow, joy, and every moment of your life. Your anniversary is the perfect time to thank your partner for his/her love and affection. It will be very emotional, and the best way to do it is by including a video message at the end of the slideshow.
Final Words
It is a lovely idea to share a photo slideshow at the anniversary party. We have already seen how easy it is to create a slideshow using images and videos. You can follow any method and create a slideshow on your own. There are many tools available; however, we recommend iMyFone Filme as it is a desktop video editor with many features and tools. You can easily use it even if you have never used any video editor before.