When it comes to making a slideshow there are so many options that you can choose from and often it can become a little overwhelming. You obviously want to choose a good slideshow maker, but you don't quite know which one you want to go with. We are going to help you with that choice by a Movavi slideshow maker review in this article. Keep on reading to learn more.
And we will also recommend another comprehensive slideshow maker for you, which is called iMyFone Filme. It is much easier to use and comes with more refined slideshow templates for you to choose from. You can create slideshow in a flash just within one click. Download it for free and have a try!
Features of Movavi Slideshow Maker
We are going to kick off our Movavi Slideshow Maker review by telling you about some of its features. There are 4 popular versions of Movavi slideshow maker. Movavi Slideshow Maker 2, Movavi Slideshow Maker 3, Movavi Slideshow Maker 5, and Movavi Slideshow Maker 7. You can also download the Movavi Slideshow mac if you don't have windows. The main features that set the Movavi Slideshow Maker apart from other softwares on the market are that it is very easy to use and gives a large choice of options for customization. Here are its main features:
Key Features
Filters - Movavi Slideshow Maker is featured with more than 150 filters to edit your videos and slideshows. You can change the feel and tone of your slideshow or video very easily.

Music and Transitions - It has more than 100 transitions. This means that your video or slideshow will look snappy and well made no matter what media resources you import into it. It also gives you a lot of presets for music but you also have the option to import any music file that you want in your slideshow or video.
Full Analysis- Pros and Cons of Movavi Slideshow Maker
Now that you have a basic idea about the features that you get with the Movavi Slideshow Maker let's head on over to the next part of our Movavi Slideshow Maker review and look at some of the pros and cons of this software. Movavi Slideshow makes has a 7-day trial version after which you can buy a 1-year personal license for 39.95 USD or a professional one for 59.95 USD. You can also go for the business plan which is 79.95 USD for one year or 99.95 USD for a lifetime.
Pros:

1. Easy to use – The first and biggest advantage that Movavi slideshow maker has over some of the other softwares on the market is that it is incredibly easy to use. It is great for people who might not be well versed in the art of editing slideshows or videos. The user interface is simple and intuitive. It does not bog you down with complicated menus or options. Everything is pretty much one click.

2. Auto adjustment for images – You know how it is so difficult to adjust images according to the music that you have in your slideshow or video? Movavi slideshow maker does it for you automatically. You don't have to worry about a thing. It adjusts all your images according to the music automatically.
As great as Movavi Slideshow Maker is, it still has some flaws. Not everything is perfect and same is the case for this software. These are not major flaws but let's just say that if you are looking for something that is a little more detail-oriented then this might not be the right software for that. It is intended for casual use.
Cons:

1. Imported files – When you are working with a large number of pictures it is ideal if your software gives you the option to organize them instead of having to upload them one by one. The Movavi slideshow maker lacks in this regard. It does not offer the user any type of imported file management system.

2. Lack of detail – The Movavi Slideshow maker is not as refined as one would expect. Small things like not having the ability to use different transitions in the same video leave a bit to be desired.
Final Take – Is It Worth Buying?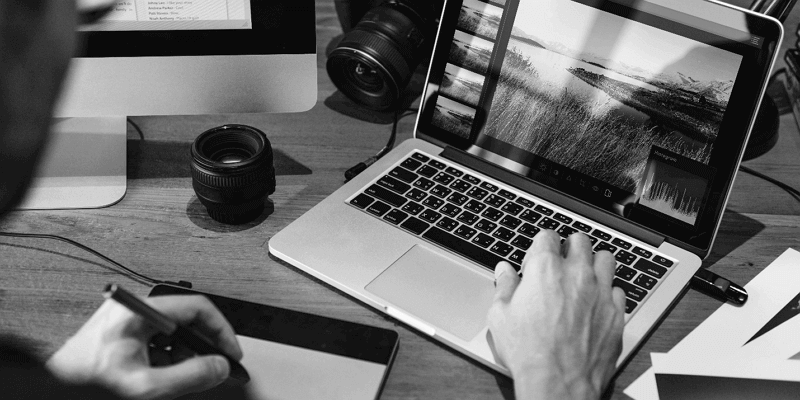 So, there you have it. Our Movavi Slideshow maker review. After using the software extensively and finding everything about it. We can tell you that it is worth buying. It is a simple yet effective software that will help you make slideshows and videos without any problem. It has some great features and it offers a lot of customizations. The interactive and clean user interface allows for easy interaction with the software and you can do whatever you want without getting lost in the menus. The price also gives great value for money. There are a lot of softwares out there that are half as good, but charge double the price of Movavi Slideshow maker.
If you are looking for a slideshow or video maker that you can use for your parties or office use then we highly recommend going with Movavi Slideshow Maker. It will work great at events and parties. If for some reason you are not satisfied with the performance of the Movavi Slideshow maker then you there is another alternative to it iMyFone Filme. It is another great software that gives you the same options as the Movavi Slideshow maker and is even better in some areas.
Best Alternative to Movavi Slideshow Maker for Slideshow Making- iMyFone Filme
If you are looking for an alternative to the Movavi Slideshow maker then iMyFone Filme is an excellent choice to consider. It is a great editing software that will allow you to create slideshows and videos with ease. It is very easy to use and has some great features that are even better than Movavi Slideshow maker in some regards. Here is a list of some of its key features:
Features

One-click editing. iMyFone Filme has been designed with the end-user in mind which means that everything is responsive, intuitive, and easy to use. You will be able to edit everything to your liking with a single click most of the time.
Templates. They offer a huge library of templates that is regularly updated. You will never have to use the same template twice if you don't want to, there will always be something new for you.
Effects. They have more than 100 effects and transitions that you can use in your slideshows and videos to make them pop and come to life.
Advanced features. This is where this software really shines. It offers you very advanced features like multi-layering, the ability to add more than 8 music tracks at the same time, and the option to preview your slideshow or video instantly.
How to create a slideshow using iMyFone Filme
Despite having so many features creating a slideshow on iMyFone Filme is very easy. Here is how you can do it:
Step 1. Choose the template that you like
Browse the templates section and choose whichever templates attract you the most. You can easily choose the templates to create amazing wedding slideshow, graduation slideshow, birthday slideshow, Chirstmas slideshow and so on. You wouldn't be bothered by downloading dozens of templates online any more.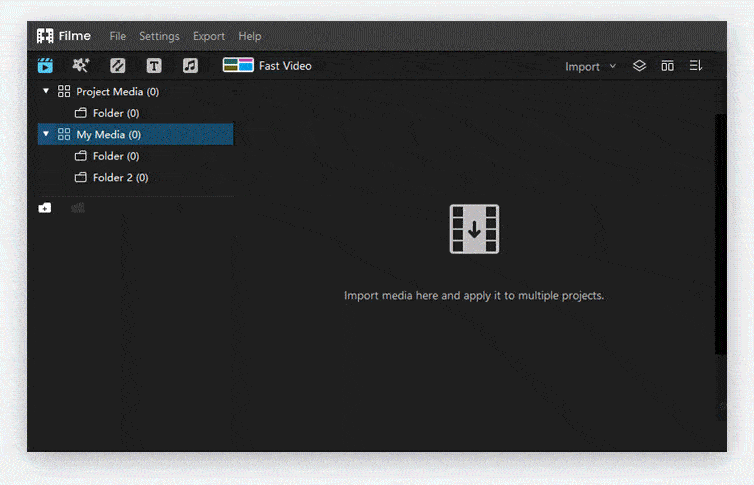 Step 2. Customize it
Edit it to your liking. Add your pictures and songs. For instance, check the list of best songs for baby slideshow, best music for kids growing up and top hits for family slideshow, and you will get some inspirations about the choice of slideshow's music.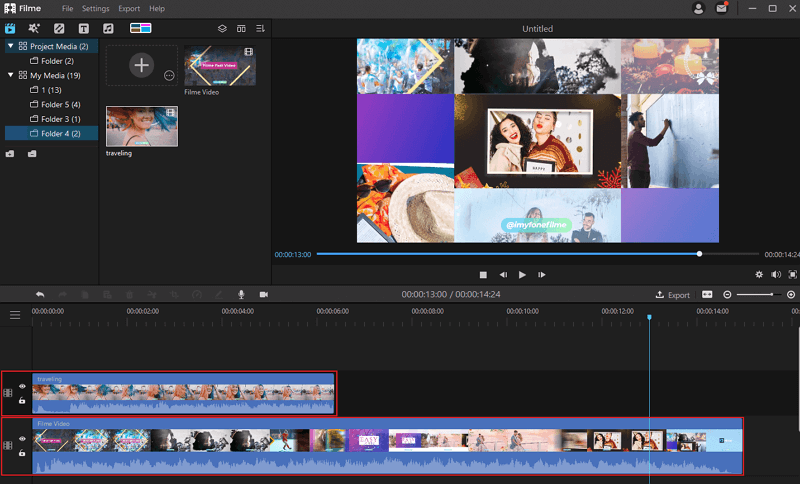 Step 3. Export
And you are done. Export the slideshow and share it with friends, co-workers, and family members.

iMyFone Filme
20+ Fast Video Templates/110+ Transitions for Slideshow
Download Now
How do I Choose the Best Slideshow Maker?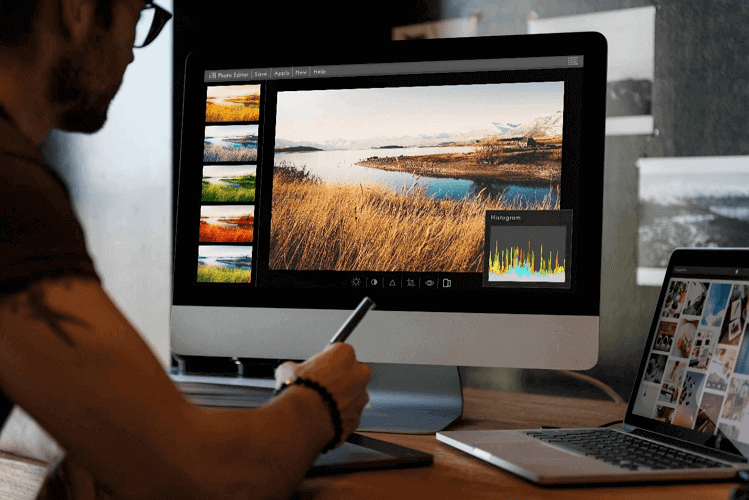 If you are wondering how you can choose the best slideshow creator then don't worry, we are here to make your job easier. There are so many options to choose from and we understand that it can get a little too much sometimes. Use these steps to see what fits your needs:
1. Your budget
Allocate a budget and stick with it. There are going to be a lot of options that will be over your budget simply write them off. Don't consider them. You don't want to break the bank for a software. It is only going to be useful if it is within your budget.
2. Features
Make a list of features that you need and compare them with the softwares that you are considering.
3. The Future
You also need to consider any features that you might need in the future and if the software you are considering has them or not.
4. Research
Don't get frustrated. Be patient and do your research. There is no shortage of options on the market. If one software does not seem right, drop it and start looking for another option.
5. Reviews
The best way to tell if a software is any good or not is to look at its reviews. Pay attention to reviews before buying any software. For instance, you can have a glimpse of the review of Movavi as screen recorder to know whether its function meets your need.
6. Demo
When you think you have the right software, try it. Download a demo. Spend some time using it and exploring it. It is the best way to tell if the software will suit your needs or not. You don't want to pay full price for a software without trying it out first.