Making slideshow videos either on your computer or mobile phone is quite yet interesting at the same time because of higher viewer retention. With basic editing knowledge, right editing tools, and some creativity allows you to build engaging yet captivating video presentations that will stun your audience! Today, this article is all about me slideshow ideas, which you can use for fun and turn any static images or photos into a dynamic one by using amazing slideshow ideas. Let's start this article with the best yet popular topic on which you can make slideshow videos.
6 Best Popular Slideshow Video Ideas
As we all know, there are numerous niches on which you can make slideshow videos but some of the best yet popular topics are as follows:
1. Cooking Recipes
The cooking recipe niche is included among the most watched videos over the internet. With this niche, you can easily grab everyone's attention via making interesting cooking recipes slideshow videos. There are numerous sub-topics on which you can make videos, such as Italian recipes, Asian cuisines, continental cuisine recipes, and much more. Moreover, you can also make occasional recipe videos, such as Halloween cake recipes, Easter cookie recipes, and so on.
Check this fantastic video, covering cuisine name along with price and brief about its taste.
2. DIY Home Remedies
Another most popular niche is DIY home remedies, where viewers will be looking for solutions either it could be related to kitchen, bathroom, garden, clothing, painting, cleaning, and so on. You can easily summarize or share solutions to any problem with some easy DIY trick or tips via making its slideshow videos, so one can save their time.
Check this fantastic video, revealing some home remedies to treat macular degeneration via food.
3. Traveling Videos
Without any doubt, everyone loves to watch traveling videos either on YouTube or Facebook in their spare time. There are numerous sub-topics on which you can make videos via using cool photo slideshow ideas, such as amazing places to visit, top 10 islands in the world, best places for destination weddings, most clean beaches to enjoy in the world, and so on.
Check this fantastic video, showing traveling memories and sharing them with their viewers.
4. Interior Designing
Now, the next in our countdown is interior designing because everyone loves to décor and improvise their room or home from time to time and there is no better option to grab ideas rather than watching slideshow videos over the internet. Similar to other niches, you can make dozens of interior designing videos via using photo slideshow ideas that turn any boring video into the entertaining one. You can make videos on topics, such as best living room décor ideas, best kids bedroom décor ideas, best patio décor ideas, best Halloween décor ideas, and so on.
Check this fantastic video, revealing some amazing kitchen design ideas in a slideshow format.
5. Inspiration Quotes
Who doesn't love watching inspiration quote videos, especially when they're feeling morally down? I have personally known many channels over the internet who have millions of views just by making and sharing inspirational quotes slideshow ideas.
Check this fantastic video, motivating their viewers via 1 hour inspiration quote video.
6. Slideshow Video for a Social Cause
Last but not the least, you can also make slideshow videos on social cause, such as women empowerment, clean and green society, female infanticide, save water, global warming, and so on that help creating awareness among people while keep them entertain.
Check this fantastic video, creating awareness among viewers about global warming.
10 Amazing Video Presentation Ideas to Stun Your Audience
1. Telling a Story
Everyone just loves stories, and making slideshow videos with a similar concept will definitely stun your audience. So, instead of making videos on a series of facts, you can bring some creativity and turn your boring yet fact-based video into an interesting story.
2. Ask Question in-between Videos
Always try to engage your audience, don't make a consistent presentation that sounds trite and expected. By adding questions in-between your presentation videos will break rhythm and help you emphasize what you're trying to convey.
3. Clear & Concise
While making slideshow videos, you have to more emphasize on visuals rather than text. So, it's recommended to keep it clear and concise while making it visually attractive by using some cool photo slideshow ideas, increasing viewer retention.
4. Add some Humor
None loves boring yet formal videos, so it's recommended to add some humor in videos to keep your audience engaged and entertain. Cracking jokes or some real-life funny stories always brings out the best version of you because none would like to work with stiff or serious people.
5. Design a Persuasive Video
Before preparing or creating a slideshow video, you always have a clear perspective or goal in mind in order to make a persuasive video. You can use multiple ready to use slideshow templates, bringing out the best slideshow video without making any extra effort.
6. Use Attractive Visuals
While making slideshow videos, you specially need to focus on your images. It should be high-quality and can connect with your video. Don't use distorted or bad-quality images, otherwise you will lose viewer's attention and be unable to impress them at the end.
7. Add Music
Yes! Another most important aspect of creating stunning slideshow videos is to add background music. Picking suitable songs for your slideshow is essential. For example, choose from top family songs for your family slideshow. Everyone loves to listen music, so either you're making cooking, traveling, or quote based videos – Don't forget to add an interesting soundtrack.
8. Add some Animation
Sometimes, adding static images or photos continuously will ultimately lose the viewer's attention! But, you can bring a change by adding some stunning animations to change the overall feel of your videos. In this way, viewers will feel connected and engaged.
9. Using Smart Art
While making fact-based videos, it's recommended to use graphical representation or smart art, making your slideshow videos look more attractive. Usually, it's difficult for viewers to read every single text written in the description in order to understand what you're trying to say, but with smart art or graphical representation you can solve this problem.
10. Come with a conclusion
Usually, people don't like videos that have no conclusion at the end. So, always come up with your opinion at the end of your slideshow video, allowing the user to connect with you.
Ideas on How to Make an Amazing Slideshow
1. Deciding on Slideshow content
Planning or brainstorming is the most crucial part before the preparation of any slideshow videos. First, you need to decide whether you're making slideshow ideas for fun or slideshow ideas for school or education purposes. Without a proper brief in your mind, you can't even make a perfect video that grabs everyone's attention. So, it's always recommended to brainstorm your thoughts and come up with something interesting that stun your audience.
2. Preparing the slideshow content
After deciding the topic or purpose, it's time to prepare yourself for making slideshow videos. In this phase, you can write a script, prepare/collect some cool photo slideshow ideas, and arrange a background music that helps you create stunning slideshow videos perfectly.
3. Creating the Slideshow content
After preparing yourself with photos, scripts, and music – It's time to create a slideshow video and turn your dream into reality. There are numerous easy to use software available in the market, such as iMyFone Filme that you can use for making stunning videos. First, you need to bring videos on to the software, stitch all the images together, add some interesting transitions, add some relevant texts or descriptions, and finally add music to complete your video.
4. Displaying the Slideshow
Now, it's time to showcase or share with your fans or viewers to keep them entertained and educated. You can upload on numerous social media platforms, such as YouTube, Facebook, Instagram, Twitter, and many more to stun worldwide audiences in no time.
If you're still worried on how to make slideshow videos then keep reading because in the next part we will be sharing step by step guide to make slideshow videos on iMyFone Filme.
Best Tool to Create Amazing Video Presentation that Will Stun Your Audience
Without any doubt, iMyFone Filme is one of the most fantastic yet easiest video editing software for making slideshow videos. With its beginner-friendly features, one can utilize it to make stunning slideshow videos in no time. Moreover, the software is ready to use templates, allowing users to make interesting yet engaging videos, increasing your viewer's retention.
This amazing application has tons of slideshow features, allowing quick, smart, and easy creation of slideshow videos in no time. This application works on both the desktop and Mac platform, making it popular among pro editors as well as beginners due to its functionality and easy usage. Let's highlight some of the key advantages of iMyFone Filme:
Key Features
Beginner-friendly user interface.

Perfect for making slideshow videos.

Numerous ready to use slideshow templates.

You can add background sound in videos.

Add text and subtitles, making it more engaging.

Available for both Windows & Mac users.
Steps of Making Slideshow Videos with iMyFone Filme
To create a mesmerizing slideshow videos on iMyFone Filme to stun your audience, you need to follow these simple steps mentioned below:
Step 1 – First, you need to download and install the app, if it's not available on your system. After opening the app, go to the select option and select the photos that you want to add to the slideshow video.
Step 2 – After selecting the photos, drop them one by one into the timeline in the sequence that you want the photos to appear.
Step 3 – In the next Step, you need to add some interesting transitions and special effects that make your video look interesting. Select the picture and then select the effects that you want on the video. Moreover, you can either apply same transition on all or apply different transition on each picture individually.
Step 4 – Then, you need to select the background music for the video using the app's library or the songs on your device.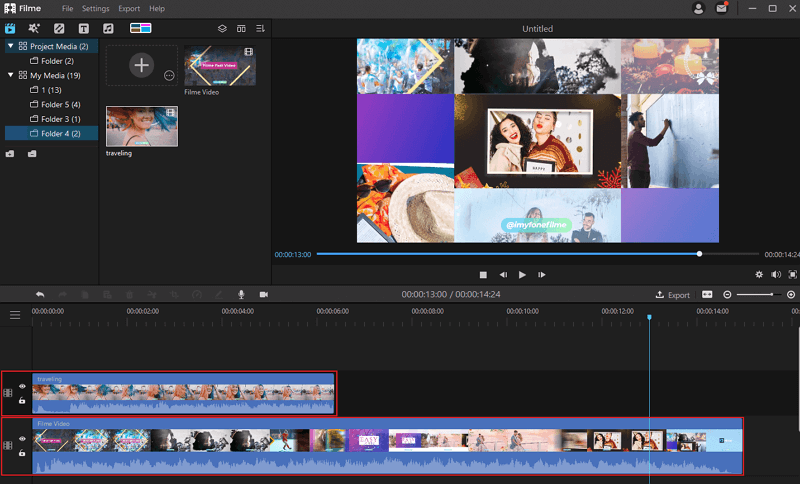 Step 5 – Save the video, and you're ready to display.