Question
I want to add text over my photos and create a video out of those images for my Instagram. What is the easiest way to write text on photos?
One of the most common questions of the Instagram creators is - how to write words or add texts on Instagram photos? The trend to add words to your pictures and videos on Instagram to tell a story is not new, but it's extremely popular. Thus, we have collected a few methods for you which allow you to easily write text on your Instagram photos.
Add Text on Instagram Photo with Instagram (for Mobile)
When you are trying to add text on photos that are meant for Instagram, the very basic step you can try is to do so via the Instagram app itself. However, note that the facility to add text over photos on Instagram comes with a very limited set of features. Also, Instagram doesn't let you add graphics or transitions. But in case if you are looking for an extremely easy method, then this is the one.
Add Text on Instagram Photos via Story Panel:
Step 1. If you want to add Text on Instagram photos directly via the Instagram App, you first need to open your Instagram app on Android or iOS and log-in with your credentials.
Step 2. Once you are inside the Instagram application, click on the "Your Story" with a "+" and your Display picture on the top left corner of the Insta Feed. Or, you can simply "Swipe Left" to access the Story window.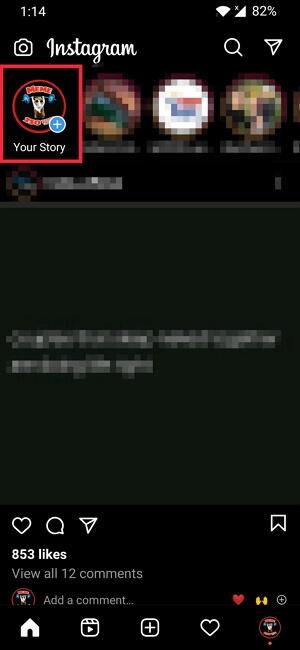 Step 3. Once you are on the Story window, you can either directly click a picture using the Camera functionalities, or you can choose a photo through the Gallery functionality in the Bottom Left of the  Story window.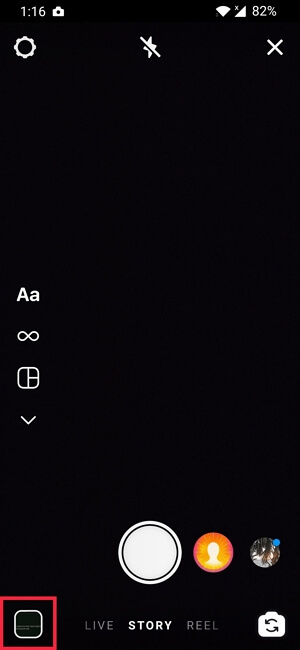 Step 4. Once you have selected the photo to which you want to add text on Instagram, you will see a new Story Editing window. In the new window, you will have all the editing options such as Effects, Pen, Text, etcetera on the top of the window. Click on the "Aa" option to add text.
Tips
You can choose from different Text Colors and Fonts while adding the Text on Instagram photos. You can also align the Text over the photo as per your requirements. Once the text is added, click on the "↓" option in the top center of the Story window. This will save the photo to your device.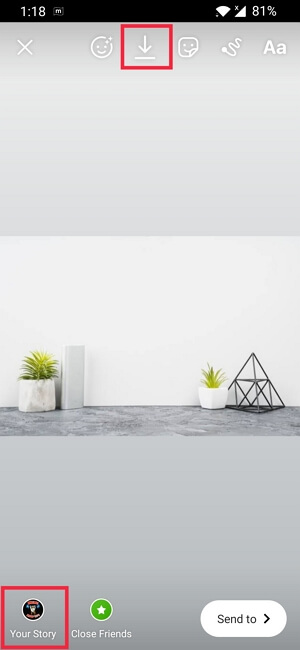 Step 5. Now, you can either directly upload the image with text as a story on your Instagram using the "Your Story" option at the bottom left corner of the Story window. Or you can upload the Saved image with text as a post on Instagram.
Watch this video to learn adding text to Instagram photos:
After you added text or title for your Instagram, if you are not satisfied enough and want to further edit them and add some animation for your text, upload the video to other website like facebook, vimeo, youtube with single click. You can download iMyFone Filme on PC to resize your twitter video now, after you resize video, you can upload to tiktok, youtube at different size. Download iMyFone Filme now below.
Write on Instagram Photos with Photoshop (for Desktop)
If you want to add text to photos for Instagram using your PC, then you might not be able to do so via the native Instagram app. However, there are several other tools you can use like Photoshop to achieve that. The app allows you to write over the images without much hassle.
Use Photoshop to add text on photos for Instagram:
Step 1. To add text on Instagram photos using Photoshop, head to the Photoshop application on your PC or the web, and access the Photoshop.
Step 2. Once you are inside Photoshop, you will see various panels on the top and on the right. In the center, you will see the editing window. Now, click on the "File" option in the menu bar, and choose "Open" to add the picture of your choice.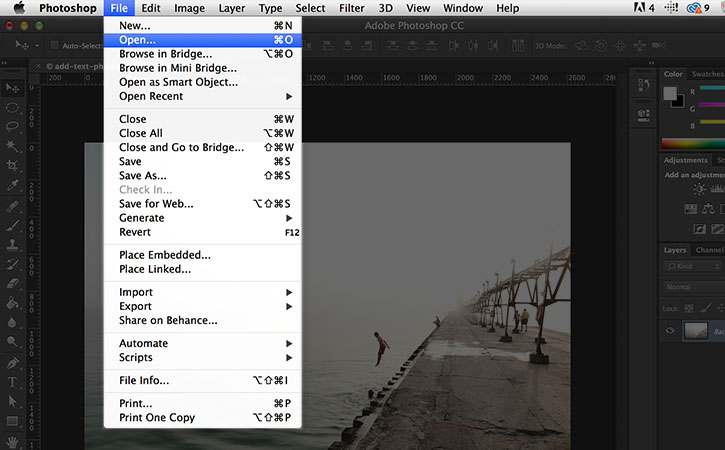 Step 3. Once you have added the Instagram photo to add text on it, you need to select "T" from the bottom half section of the Tools Panel. You can also choose to add Horizontal text or Vertical text. Now, select the area on the photo where you want to add the text and then add the desired text.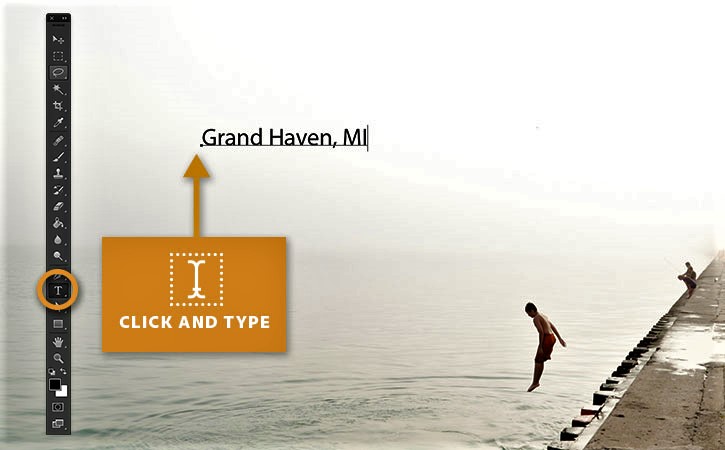 Step 4. To edit or enhance the text, you can choose from various options such as different fonts, font sizes, text type, color, orientation, from the top panel of the Photoshop workspace. Once the text is set as per your requirement. Go to "File > Save" and Save the photo to upload on Instagram.
Add Text on Instagram photos with Instagram Using iMyFone Filme (Recommended)
While both the above-mentioned methods do the job for you, none of them come with enough features and capabilities to match all your needs. However, if you need a tool that can easily add text over photos, and can also turn your multiple photos into a video, then there's no better option than iMyFone Filme.
iMyFone Filme comes with a ton of functionality that allows you the power of doing much more than just adding text to the photos. You can choose from various templates, create mind-blowing slideshows, add from a ton of filters and animation. All of that for free under the trial plan.
How to add text on photos for Instagram using iMyFone Filme?
Adding text on photos for Instagram using iMyFone Filme is extremely easy, and you can also create a video out of them without any hassle. All you need to do is to install the tool on your System and then follow 3-basic-steps.
To install iMyFone Filme on your system, download the compatible version with one click. After downloading the tool, simply install it on your system and launch the tool.
Follow the below-mentioned steps to successfully add text to your Instagram photos.
Step 1. Launch Filme
Once you have successfully installed and registered iMyFone Filme on your PC, you need to launch the Application. Inside the Filme app, you'll see an extremely simplified and feature-packed UI that contains all the props of your need in one window. Now, you need to import the images on which you want to add text for Instagram.
Step 2. Add an image
To add the images, simply click on the Media Library panel at the upper left section which says, "Click here to import your media files". Clicking here would allow you to browse through your system and add images to the Media Library. Then, click on the "+" button that appears over the image you just imported to the Media Library; this will add the image to the Timeline.
Tips
While adding images to the Timeline panel, you can add more than one image. You can also add video clips and Soundtracks.
Step 3. Add text to image
Once the image is transferred in Timeline and shows in the Preview Window, you simply need to click on the "T" (Text) option at the top menu bar. Choose the type of Text you want to add. Now you can add the text on the photos for your Instagram in the Editing window aligned at the right side of the Preview Window.
Tips
While clicking on "T" to add text, you will get various types of Text styles to choose from. You can choose different Text formats such as Titles, Subtitles, End Subtitles. Under the formats also you can choose various kinds of Text styles. You can also utilize different Text fonts, colors, alignment, and spacing through the various options available on the Editing Window.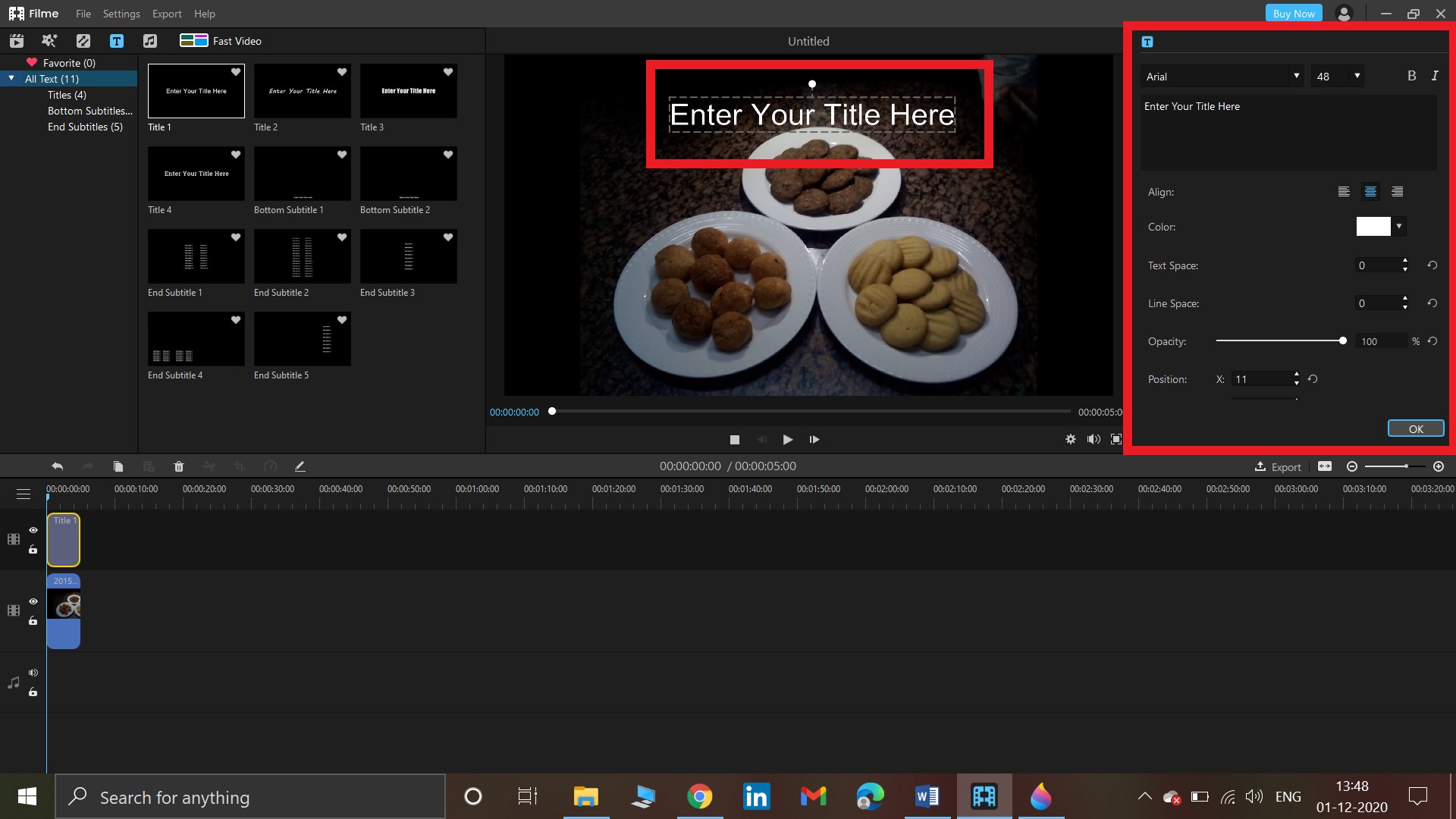 You can add text to several images under the same project to create a video out of it by following the same process. Once you have put the desired words on your Instagram photos, click on the "Export" button above the Timeline panel. Here you can choose the format and the location as per your preference.
When the photos or the video are exported and saved on your System, you can choose to upload it on Instagram in whichever way you wish.
Also Learn:
Make a Slideshow with Music on Instagram >>
YouTube Shorts Vs. Instagram Reels >>
Watch this video to see how to use Filme to edit and create stunning videos, including adding text:
Conclusion
Usually, adding text on photos for Instagram isn't a heavy task, but creating a vlog out of those photos is something that seeks efforts. Tools like iMyFone Filme comes in handy during such tasks. They provide you with an extremely easy editing process, and tons of features to fulfill your creative desire. And if you would like to make a slideshow for Instagram , Filme definitely can be a great helper.