A loop slideshow is an interactive and fantastic way to attract the crowd coming in and going out from any establishment. A slideshow with recurring images added with relevant music will certainly provide a better user experience. Be it for an event, promotional image show, or a hospital where you want to inform the visitors and patients. A loop slideshow sends across the message with images and music combined.
All of this is good, but how to make your slideshow loop is the real question that we will answer today. It is a piece of cake, provided you are using the right platform to make it. What tool will you use to make a loop slideshow? Powerpoint? Well, if you want to make an impact with your slideshow, a PowerPoint is not the best option.
Let's find out more about making a loop slideshow and which tools you should use.
Part 1: When Will You Need a Loop Slideshow?
A loop slideshow has several use cases. Depending upon the situation and target audience, you can learn how to make a slideshow loop on Mac or a Windows-powered system. Let's discuss the situations first.
1. To Show the main Highlights of an Event
After completing an event, you must want to share the major highlights with your friends and relatives. It can be a birthday party, a wedding, a concert, or even a corporate event.
With a loop slideshow, you can gather all the images and videos that you are proud of and which share the event story perfectly, arrange them together, and add some music for better engagement.
A loop slideshow will let you select the pictures you want to show and make an interactive video out of it.
2. Promote your Products and Services
This one is a common use case that can be often seen in supermarkets or even healthcare institutes. The business establishments can use a slideshow combined with free slideshow music loops to showcase their products, offerings, services, expertise, or portfolio.
The motive is informing, attracting, and engaging with the viewers so that they are able to better understand what a business has to offer.
3. Instructional or Training Video
Slideshow loops can be made to create training lessons that will keep on running in the institutes or coaching centers to help the teachers explain concepts and lessons.
These instructional slideshows can include pictures of the subject matter combined with music or teacher's audio. It will save the teachers from going through the trouble to click next on every picture.
Part 2: The Best 3 Loop Slideshow Makers
While choosing a slideshow maker, you would want to keep a few things in mind. First is the ease of use, which means that the software must be intuitive enough to let you create slideshows with minimal effort. Second, the tool you use must have a wide variety of image transitions, animations, and music. Third, it should let you modify the slideshow as per your requirements without restricting your efforts in doing so.
1. Filme
iMyfone Filme lets you create stunning slideshows with two popular methods. The Fast Mode automates the slideshow-making process letting you create high-quality slideshows in a jiffy. The Editing Mode is more detail-oriented, giving you complete control of the slideshow-making process.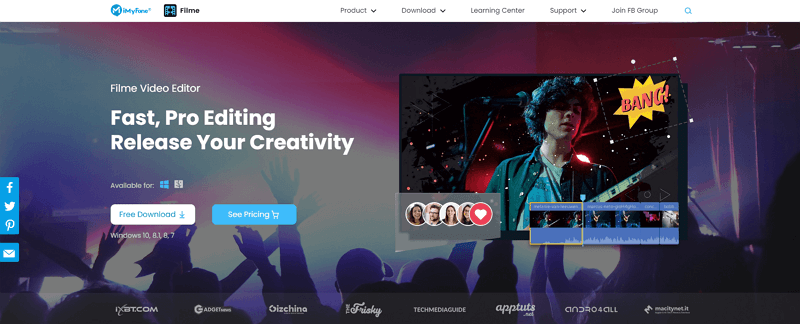 When it comes to how to make a slideshow loop, Filme gives you access to numerous effects and transitions to build a bespoke slideshow replete with eye-catchy transitions.
Apart from this, Filme lets you;
● Add text effects
● Add in-built audio files or import them from external storage.
To improve your slideshow creation process, Filme also provides additional support, including real-time effects preview and giving you up to four options to import the images into the platform. Besides, you can make a loop video with Filme in just a few clicks!
2. Promo
Promo offers a wide gamut of features to enhance your video marketing efforts that includes the ability to create bespoke slideshows. One of the best things about this slideshow maker is that it is super fast and has an intuitive interface. Apart from this, Promo is your go-to slideshow maker if you want to create stunning presentations.

Added to this, the software has a plethora of slideshow sharing options and file import capabilities that makes adding image and audio files a walk in the park. From multiple transition effects to controlling the access of the slideshow, Promo has both basic and some advanced features to make highly customized slideshows for any occasion.
3. Adobe Spark
When it comes to creating and editing the media content, there Adobe always comes on the top of the list. There is a reason why we would suggest you to create an Adobe Spark slideshow loop. Adobe Spark is an agile platform that lets you add images, music, and transition to create the best slideshows.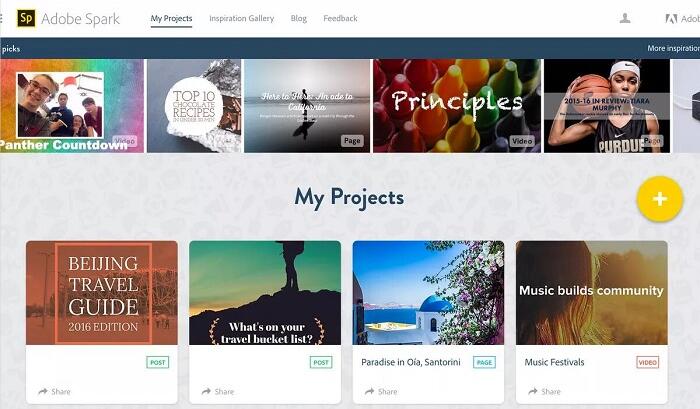 If that's not all, you will easily find all the answers to how to make your slideshow loop with Adobe as there is a huge community to support you into learning more about the software. You can either make a slideshow from scratch or use a template, add images, some music, and export the file.
Using any of these platforms to make a loop slideshow is an interesting activity. However, working with Filme is better than its substitutes. With Filme, you can build a continuous loop slideshow with either of the two methods.
Part 3: How to Make a Loop Slideshow
iMyFone Filme is an interactive slideshow maker that has several integrated features to help you make incredible and perfect loop slideshows in a few easy steps. Filme is the best answer to how to make a slideshow loop on Mac or a Windows system. Out of all the attractive benefits, the convenience, simplicity, and a power punch of compatible features make Filme the best choice to create, edit, and modify customized loop slideshows.
Here are a few features of the software you need to know;

Powerful Toolset: Filme gives you access to all sorts of basic editing and creative tools to make slideshows with precision.
Extensive Amount of Effects:There are hundreds if not thousands of ready-to-use effects, including transitions, texts, and audio files. You can use any of these elements to make an attractive loop slideshow.
Innovative Features: This is where Filme makes a big difference. Filme's advanced tools include instant preview, multi-track audio, and style adjustment abilities.
Here's a Step By Step Guide to Make a Loop Slideshow with Filme
As stated before, Filme gives you access to slideshow making methods;
● Fast Mode
● Detailed Editing Mode
Fast Mode
Step 1. Launch iMyFone Filme and Click on the Fast Mode from the options given on the top left corner. The Fast Mode lets you choose from an extended list of templates with preloaded music segregated into different headings based on the type of slideshow.
Step 2. Once you select the template, make sure to play it once in its raw form to check whether it will suit your purpose or not. Add the images by one of the four methods mentioned.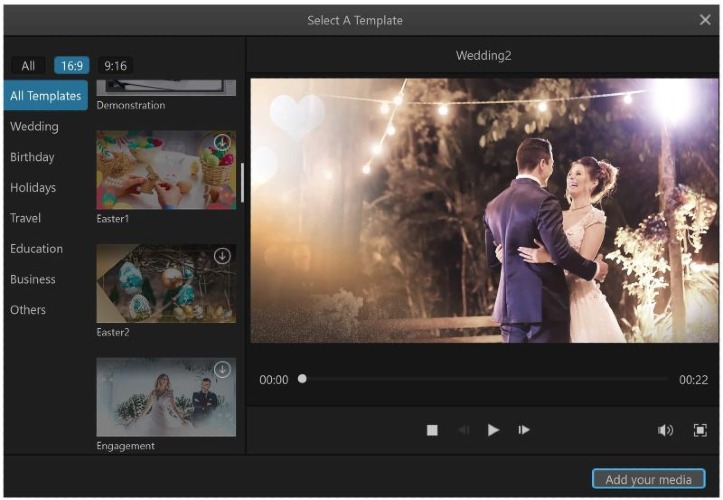 Step 3. Click on Preview to check the slideshow, followed by clicking on Export. Here you can choose to either save the file on your system or upload the same on YouTube, Vimeo, Facebook, or Twitter.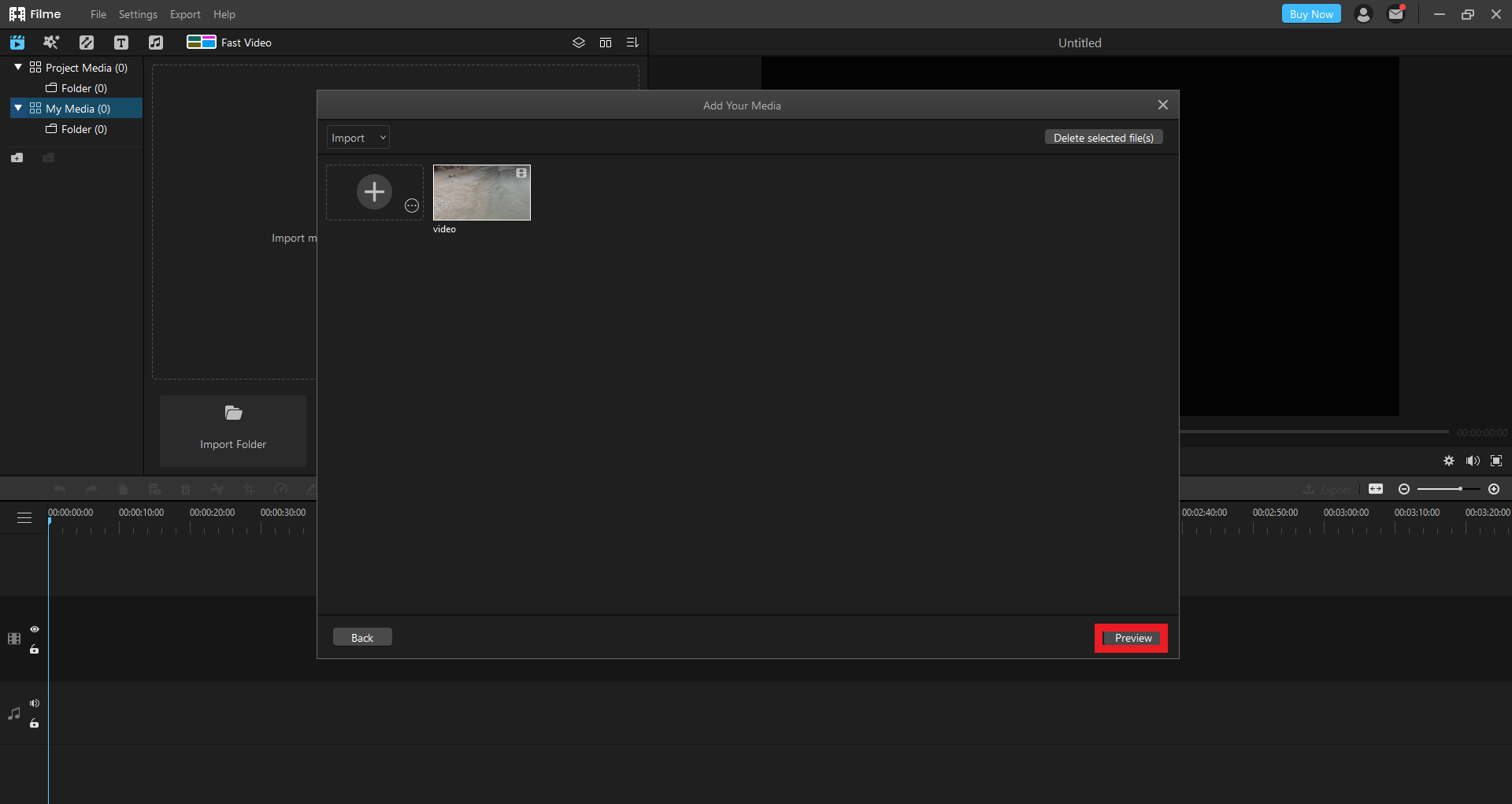 Detailed Editing Mode
With the detailed editing mode, you get access to a wide range of possibilities and features. This is the detailed version of how to make your slideshow loop video with Filme
Step 1. As you can see, there are four ways to add images to the Filme loop slideshow maker.
Drag and Drop the Images
Import the Folder from your disk drive.
Import the images from your phone via a USB connection.
Import the images from your phone with a wireless method.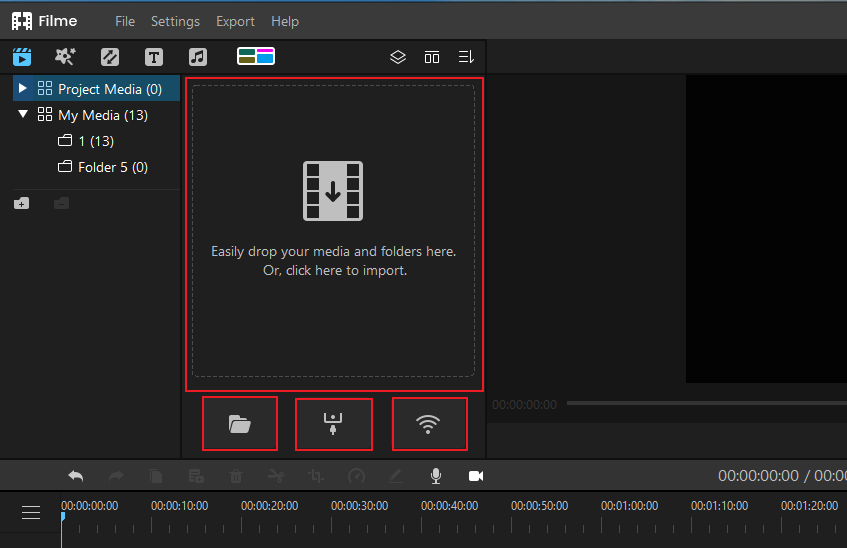 Step 2. After uploading the images, you can add music to your video. Choose the audio effect based on the category and ensure that it is relevant to your slideshow topic and purpose. You can also import your own audio files from the disk drive and add it to the images as background music.
Step 3. For editing the photos, double-click on the image in the timeline, and it will prompt you to open the editing toolkit on the right side of the window. You can adjust the Brightness, Contrast, and White Balance of the image. Also, it is possible to Rotate and Scale the image as required.
Step 4. A few other additional interactive tools include;
Zoom In and Out: Click on the Photo >> Crop >> Pan&Zoom. Adjust the image between two rectangles to adjust the zoom intensity.
Add Effects:On the top left corner click on Effects. Browse and choose the effect you want to add. With Filme, you can also add stickers and filters to the images to make them look attractive and engaging.

Transition: For a more natural and smooth slideshow, you must add transitions. Click on the Transitions tab located on the top toolbar and select the transition effect you want to add. Once selected, carefully place the transition effect between the two photos.

Add Text or Title:Click on the "T" option in the top right toolbar. Select the Text adding template from the options available and enter your text.
Step 5. If everything's good to go, Click on Export. However, if you want, you can change the background music and make changes to the image duration. Click on the Clock on the right bottom toolbar to change the time, and click on the Music Note to change the music.
With file export, choose between saving it on your local disk or any device from the list provided. You can also choose to upload the same on YouTube and Vimeo. Filme also gives you the option to directly post the video on Facebook or Twitter. For this, you have to sign in via the dialog box and upload the video from your account.
Conclusion
Well, here you are, with a detailed answer on how to make your slideshow loop. Making a slideshow and adjusting it to run continuously on loop is a great way to share information or highlights of an event with background music and attractive editing elements.
Among other tools to help you make a loop slideshow, iMyFone Filme gives you the ability to make endless adjustments to the entire slideshow and add it with effects, text, transition, and bespoke audio.
Using Filme is easy, intuitive, and rewarding experience that will help you make the most out of your slideshow-making activity.