As well all know – Video is the king of engagement, especially on a platform like Facebook with an average 8 Billion views in a single day. So, if you really want to crave a piece out of video for brand awareness then videos are the best way, especially to get around Facebook pay to play model. In this guide, we will discuss how to make a picture video on Facebook that catches everyone's attention. Let's get started with the information
How to Make a Picture Video on Facebook
Are you struggling to reach your audience and have no way out other than pictures? Then keep reading this section where you will learn how to make video with photos on Facebook:
Step # 1 – Go to Your Facebook Page
Creating videos on Facebook is incredibly easy, you don't need any special editing skills. Simply, log on to your Facebook profile on your desktop and head straight to your page. Afterwards, click on the "Photo/Video" button via the status update section and select "Create a slideshow" that turns your boring photos into a dynamic one.
Step # 2 – Choose Your Video Setting
A new setting tab will pop up after clicking the "Create a Slideshow" option. Now, you need to make some appropriate settings, like video aspect ratio, image or slideshow duration, transitions, and other similar things before making a slideshow video. Remember, you can always change these settings before publishing a video.
Step # 3 – Add Music to Your Facebook Slideshow
Don't forget to add the music, which gives life to your slideshow videos. The good thing about adding music to your Facebook slideshow videos is the royalty-free music, giving you the freedom to add. Moreover, there are several genres, like energetic, inspirational, trustworthy, fun, and modern that suit everyone's needs.

Step # 4 – Upload Your Images
Now, this is the most important part while creating slideshow videos on Facebook. Remember, you need to upload at least three images and maximum of ten images. Simply, click on the 'ADD' button and upload photos either from your timeline, desktop, or even click photos with your webcam.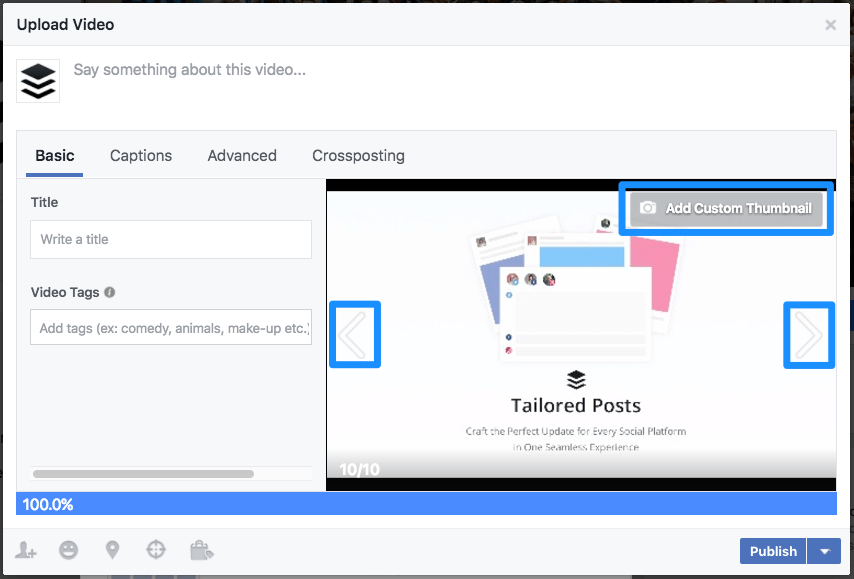 Step # 5 – Preview Your Facebook Slideshow
If you've uploaded all your images with the right sequence, right music, and appropriate video settings – Now is the time to preview your video before publishing. Remember, at this stage, you're completely allowed to change music or video settings if needed. So, spend as much time as required to bring out the best version of your slideshow video.
Step # 6 – Publish your Slideshow Video
After completion of making, editing, and reviewing – This is the right time to publish your video and grab everyone's attention on it.
Fantastic Ideas for Your Facebook Picture Videos
If you're newbie to this domain and don't have any idea to turn your pictures into a video then keep reading this section where we will be discussing fantastic ideas for your Facebook picture videos:
1. Create Product Demo & Instructional Videos
This is one of the most popular domains that have the highest number of user's engagement and retention periods. With this fantastic idea, you can educate or teach your audience in a fun yet engaging way. You can simply educate step-by-step cooking recipes, demonstrate how to guide, features of your product, and much more.
2. Tell a Story
Turning your pictures into a visual storey brings tons of engagement and retention, allowing you to take your audience to the visual adventure. You're your picture slides to create stunning life stories, motivational stories, social awareness, and much more. In this way, you can keep your audience connected, which will ultimately bring the maximum return of investment either on your product or FB page engagement.
3. Creating a Collection
With this fantastic idea, you can simply create your product collection, fashion trends, ending year recap, best moments of your life, and many other similar things. In this way, you can simply compile your collection and show your audience what you've got for them.
4. New Product Teaser
Would you like to create suspense that lets your audience leave with anticipation? Then creating a teaser video is the perfect way to do that! You can create product teaser, your life changing moment teaser, behind the scene videos, and many other similar things to get your hands on.
Pro Tip: Create Wonderful Picture Videos on Facebook
Here comes a PRO TIP, allowing you to create wonderful picture videos on Facebook instantly without even needing professional editing knowledge – How? With the help iMyFone Filme, you can create awesome slideshow videos without even visiting Facebook.
This fantastic video editing software brings ease to user life, offering great opportunity with its top-notch features, which is mentioned below:
Key Features
Easy to Use – With its smart yet easy interface design, you can enjoy the beginner-friendly interface,allowing quick and high quality video editing before your posting.

Instagrammers Cup of Tea – With its quick editing feature, this fantastic editing software is the instagrammers and millennial and generation Z's cup of tea.

Ready-made Templates – This editing software is equipped with readymade templates, allowing you to quickly make slideshow videos in a couple of minutes.

Fast Video Mode – This easy to use video editing software comes with fast video mode editing mode, giving you the freedom to make instant videos.
How to Create Wonderful Picture Videos using iMyFone Filme
Method # 1 – Use One of the Pre-Designed Templates
This iMyFone Filme app comes with built-in readymade templates, allowing you to quickly make slideshow videos that purely reflect your editing skills and impresses everyone around you.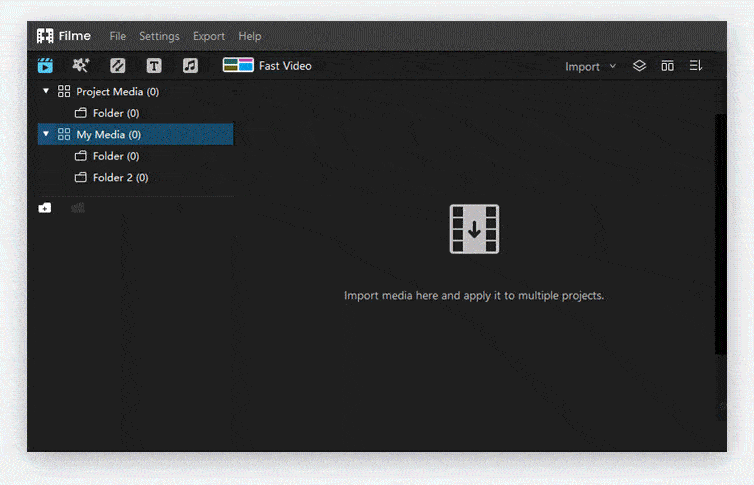 Method # 2 – Customize your slideshow the way you want
If you don't wish to use readymade templates for making slideshow videos then you're allowed to fully customize your slideshow the way you want. This fantastic app comes with user-friendly quick editing features, giving you the freedom to bring out the vest version of slideshow without spending too much time on editing.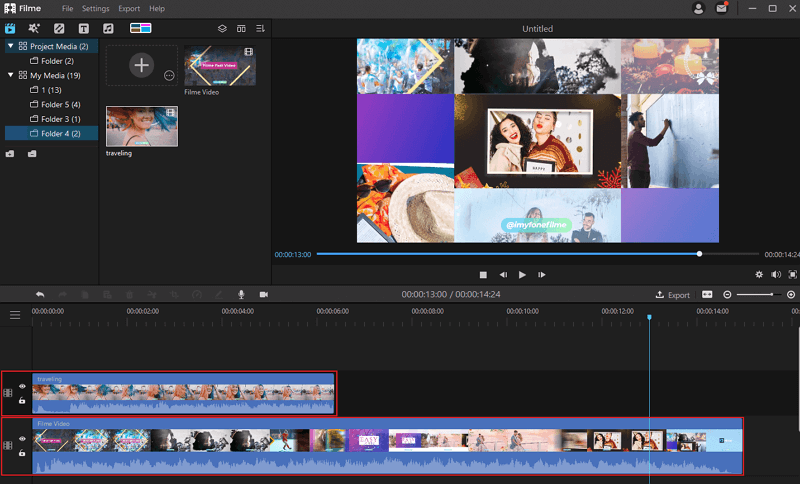 With this fantastic technique, you can simply create stunning slideshow videos for your Facebook and grab everyone's attention without making any extra effort.
Step # 1 – First, you need to download and install the app, if it's not available on your system. After opening the app, go to the select option and select the photos that you want to add to the slideshow video.
Step # 2 – After selecting the photos, drop them one by one into the timeline in the sequence that you want the photos to appear.
Step # 3 – In the next step, you need to add some interesting transitions and special effects that make your video look interesting. Select the picture and then select the effects that you want on the video. Moreover, you can either apply the same transition on all or apply a different transition on each picture individually.
Step # 4 – Then, you need to select the background music for the video using the app's library or the songs on your device.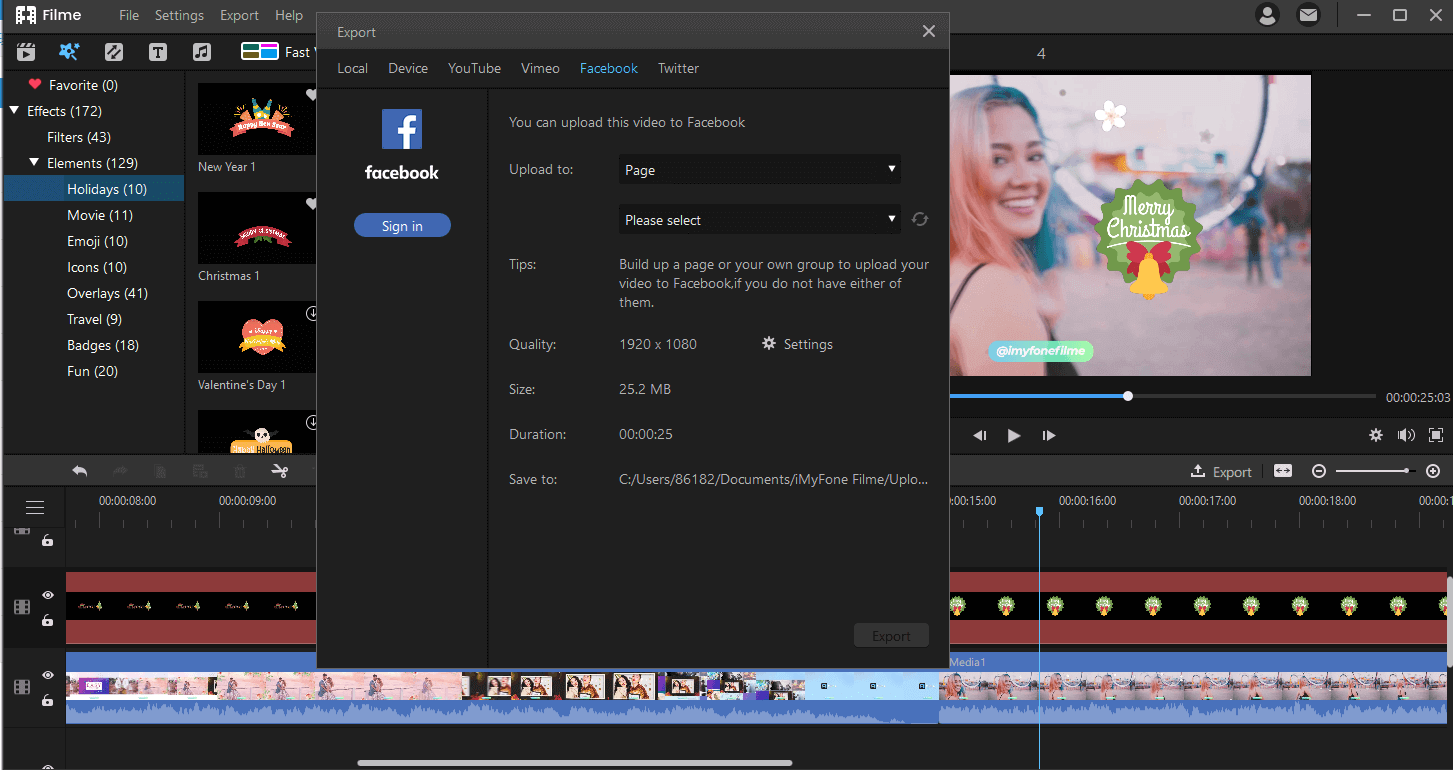 Step # 5 – Save the video, and you're ready to publish.