Even though we love both our parents equally, the mother tends to take a larger share of the love. Be it gifts or gratitude expressions; a mother receives more than a father. But that does not mean you should not do anything for your father. Even though fathers are ready to make do with all the love they get, making a father's day slideshow would be a great surprise, don't you think?
The best part about creating a free father's day slideshow is that it is an unexpected yet amazing gift that you can give to your buddy. Slideshows help you share your emotions and bring back the memories of the good old days when your father was revered as the big boy of the town. Read on to know more about how to make a good father's day slideshow.
Part 1: What Do You Need to Prepare Before making A Father's Day Slideshow
Preparing for an occasion as special as father's day should not be done without taking care of a few things first. If you think that making a slideshow is simple, you are right. But that is only if you have the best slideshow-making software at your disposal and decide on the things that will go with the slideshow, including images, songs, quotes, etc.
1. Gather all the Pictures
The purpose of collecting all the images beforehand is manifold. First, you will not have to spend time on finding relevant images if they are already saved on your drive. It will save a lot of time and effort at the time of making a father's day slideshow. Second, having a library of images will also help you choose the best ones easily.
2. Choose some quotes
The slideshow maker we will be discussing ahead has the option to add text onto the images added to the slideshow. Hence it would be great if you can choose some quotes beforehand. A meaningful quote will certainly help you express your emotions positively.
3. Select some Songs
A slideshow shall be added with a good song that will run in the background. You must know some of your father's favorite songs. Collect them all in one place so that it is easier to add them to the slideshow when required.
4. A Good Slideshow Making Software
If you are thinking about creating the slide with Windows movie maker or Microsoft Powerpoint, you are not thinking wrong. But making a slideshow with these platforms will take time, and you won't have a lot of editing options to make it more impressive.
Part 2: The Best Songs for Father's Day Slideshow
Well, we know that your father might have some excellent song collection, and adding any one of those songs to the father's day slideshow seems appropriate. However, you can also try to add some special songs made for fathers or help you express your emotions, respect, and love for your dad with lesser words.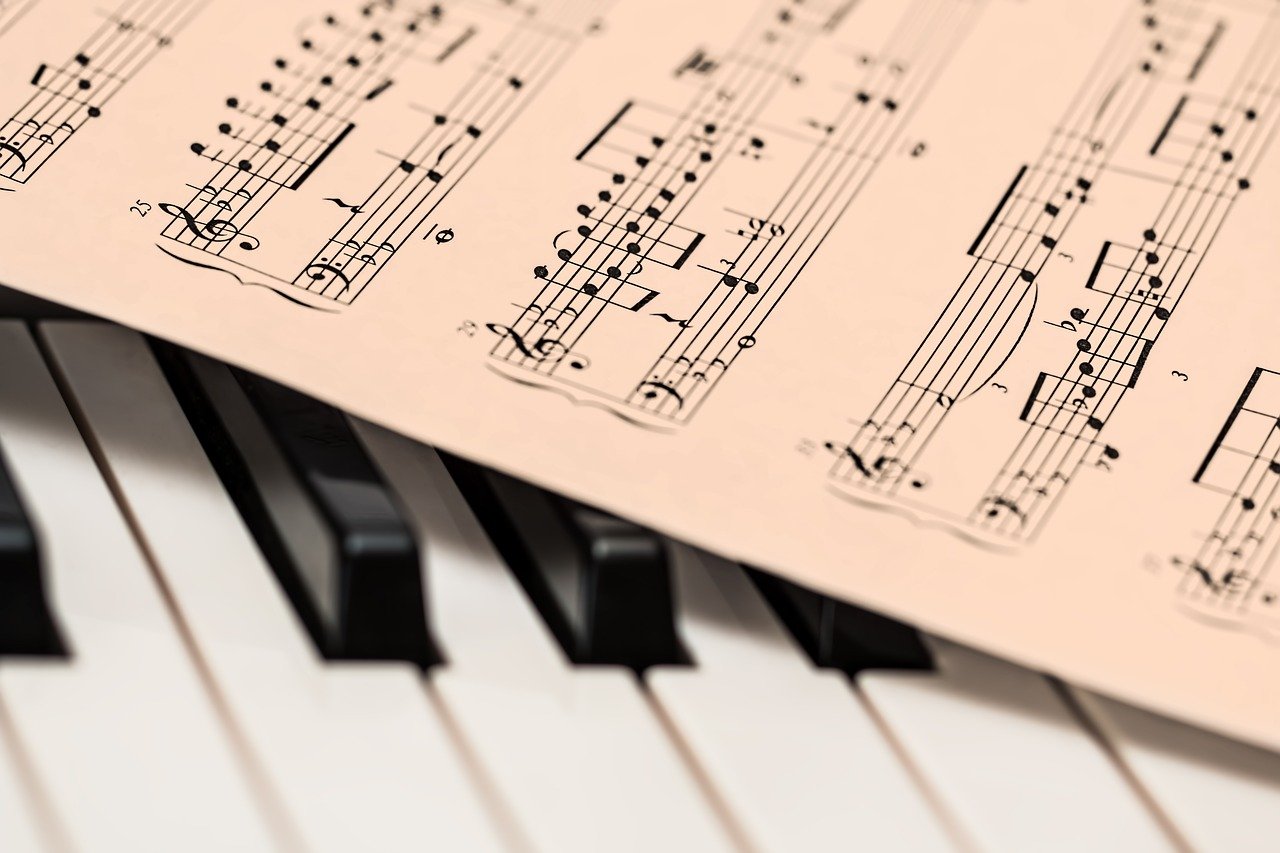 The software you choose to work with might have some great sound effects or even a few songs preloaded. But there is no guarantee that out of all the options, you will find the perfect one for the slideshow.
Here are a few of the best songs for the father's day slideshow.
1. Just the Two of Us (Will Smith)
Will Smith sang the song after getting inspiration from the same title by Bill Withers and Grover Washington, Jr. The song is about the relationship between a father and son. A couple of other artists have also contributed to make the song a hit and rule at the 20th spot in US Billboard Hot 100.
2. My Little Girl (Tim McGraw)
Even daughters can express eternal love for their father by making a father's day slideshow and adding this song in the background. One of the most impressive things about the song are its lyrics that evoke a special meaning and make sure that a father's and daughter's bond is expressed perfectly with the song.
3. Papa Don't Preach (Madonna)
The queen of pop has also not refrained from creating a song that expresses the fatherly love and support for a daughter. Madonna asks a father in the song to support her when she comes of age to become a young mother and ahead. Every part of the song is about expressing the importance of a father's love and support for her daughter.
4. Cat's in the Cradle (Harry Chapin)
Cat's in the cradle is a song that wishes to express how a son misses his father throughout the years. Sometimes, we need to express our emotions via songs rather than saying things directly to the other person. This song will certainly help you say a lot to your father with nothing but emotions.
5. Love Without End, Amen (George Strait)
This song will help you say thanks to your dad for all the years he has loved you through thick and thin unconditionally. This is a good song for the father's day slideshow as it helps you say thanks to your father with images and music.
Part 3: How to Make a Good Father's Day slideshow
Moving on to the main part of the guide on father's day slideshow. We will learn to make a slideshow with iMyFone Filme, a tool built by iMyFone as an incredible video editor with highly efficient features and functions.
There are two methods to create a father's day slideshow with Filme.
1. Fast Mode
In Fast Mode, you can complete a free father's day slideshow in three simple parts; Add, Preview, and Export.
Step 1. In the first step, open Filme and click on Fast Mode. When you click here, a list of readymade templates will open. Choose from the templates, which are also segmented according to the purpose and requirements.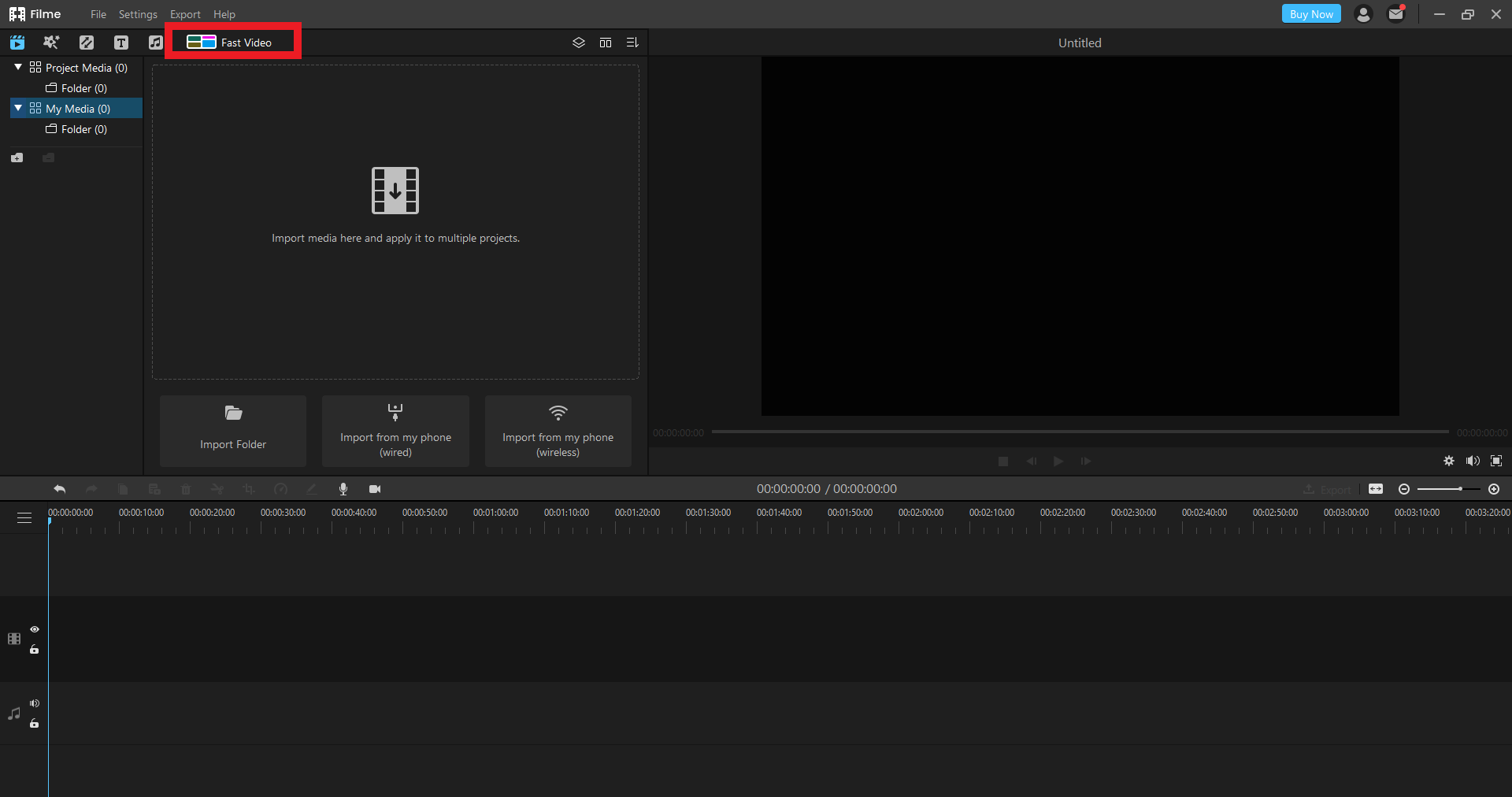 Step 2. After choosing the template, add images with one of the four methods, including drag-drop and wireless transfer. The purpose of Fast Mode is to help you complete the process quickly, so there is no need to explore the editing tools.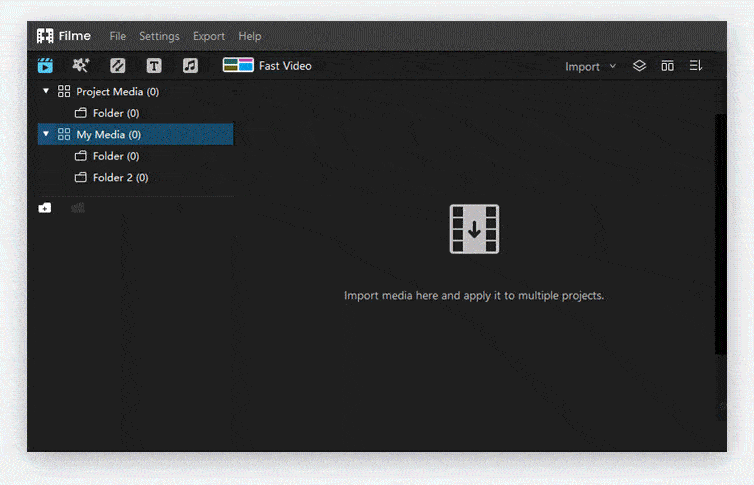 Step 3. With images added after you choose the templates, you will need to import your media files like photos and videos, then click on "Preview" and "Export". Your slideshow is done now!
2. Editing Mode
This type of making the free father's day slideshow becomes important if you have more time on your hands and want to learn how to make a professional slideshow.
Step 1. Start by adding images to the interface. You can use one of the four ways to add images. Drag-drop the pictures, import the folder, add them from your phone via USB, or import them from the phone via wireless.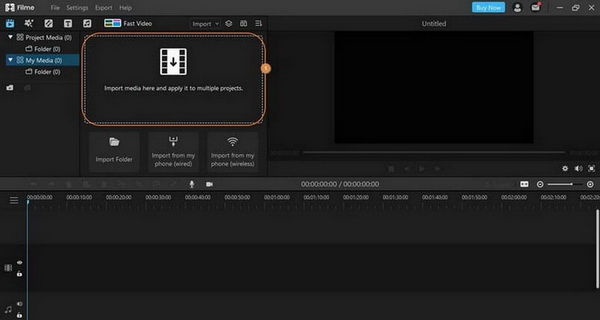 Step 2. After adding them, add the song you want to play in the background. Until this point, the images and the audio file will be present on the top interface.
Step 3. Start by inserting the pictures into the timeline below. Here you can arrange the pictures as you like. Do the same for the audio.
Step 4. The next part is about adding transitions, effects, and texts to the images. You can do this individually or create a common effect for all the images. Filme gives you access to hundreds of transitions, effects, and text styles.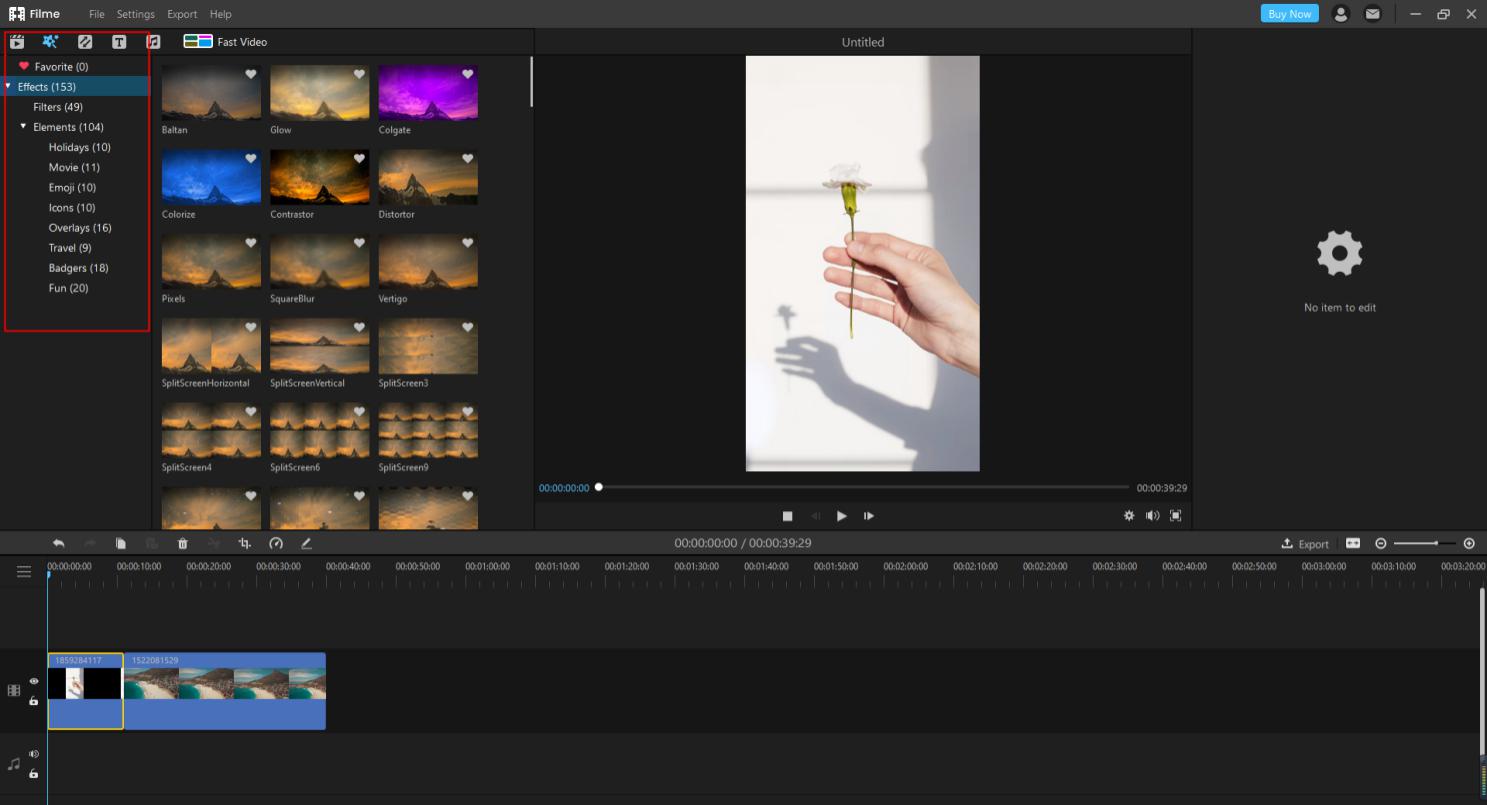 Step 5. Here, you can also edit the images with the basic editing tools accessible right above the timeline. You can crop, edit, pan & zoom and work on the images with a couple of other tools.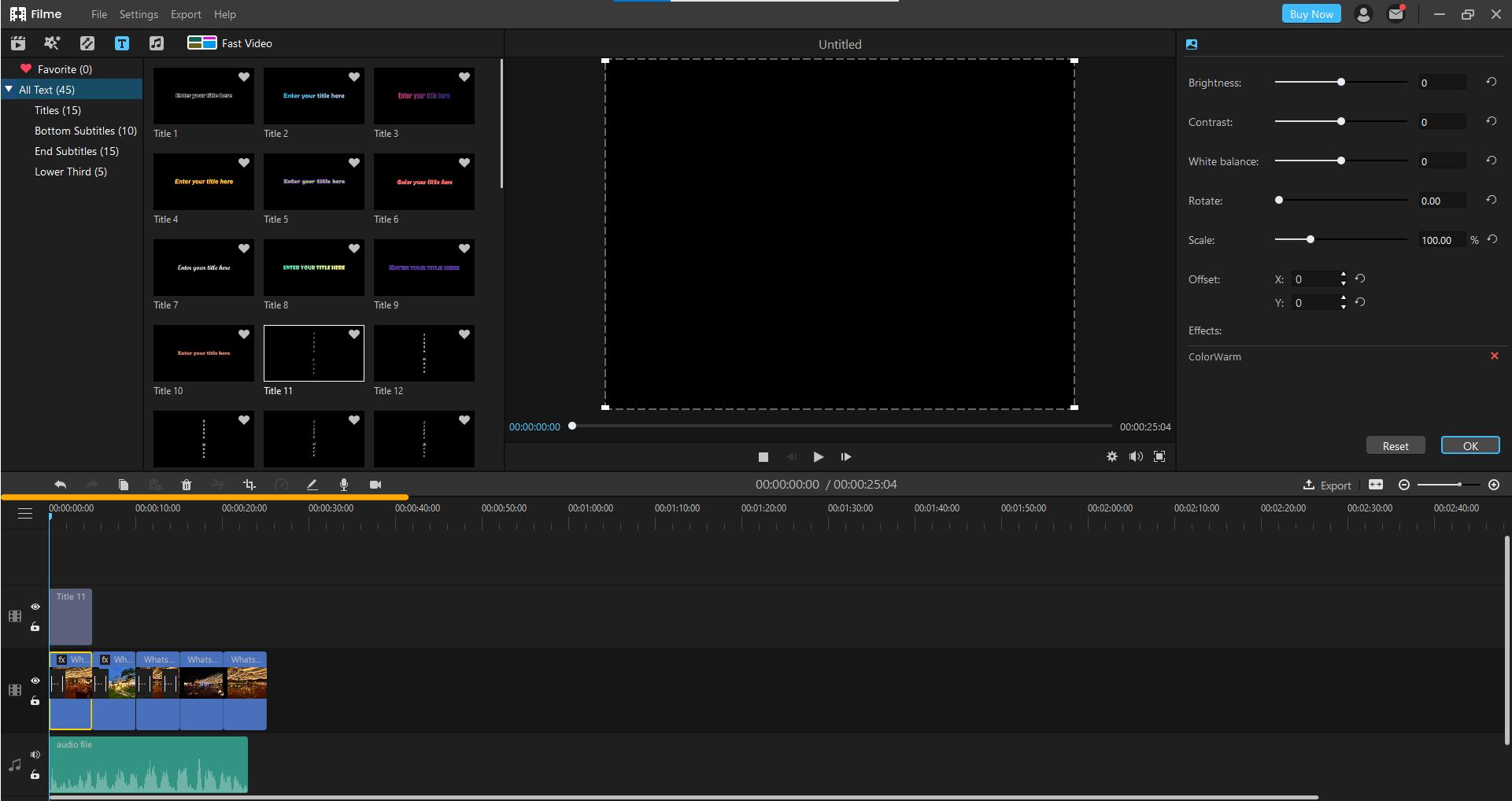 Step 6. After adding the graphics, give the slideshow a test run by clicking on Preview. Check every transition, effect, and text to ensure that it fits with the slideshow.
Step 7. Export the video to the disk drive, or you can also share the same on YouTube, Vimeo, Twitter, or Facebook.
That is how you can build an incredible father's day slideshow and express your love for your father with his pictures and a beautiful background song.
You might also interested in doing other kinds of slideshow:
2. Stunning Graduation Slideshow
Part 4: 3 Best Father's Day Slideshow Examples
1. Father's Day Slideshow 2019
Made by UF Health Jacksonville, the slideshow is built to highlight the importance of a father figure in a person's life. The slideshow depicts the photos of daughters and fathers working together at UF Health Jacksonville. This is a good slideshow to take as inspiration if you want to make a short and simple presentation for Father's day.
2. Father's Day Slideshow
A YouTuber Jonel Joleena made this slideshow for her father on the eve of Father's day. The slideshow starts off with a Thank You note addressed to the father. This is followed by father-daughter pictures with some background song to add more excitement. You will also notice some transitions on every image while changing.
3. Father's Day Slideshow - Warriors
The Manchaca Warriors made a father's day slideshow for all the dads who had supported their kids to play the game. The slideshow starts with the gaming equipment and then shows pictures of fathers and sons together, either practicing, talking, or preparing for the game. The video does not fail to depict the importance of a father in the kid's life.
Conclusion
Making a father's day slideshow is going to be a rewarding exercise, especially when you come across a picture from the old days when you were just a kid trying to figure out the nitty-gritty of life.
Your experience of making a free father's day slideshow will turn out to be even better when you work with Filme, as this software has everything you need to build the best slideshow ever. From basic editing tools to high-quality transitions and effects, you can use create an incredible slideshow and add any song or music in the background.