On Instagram, artists, model, and content creators showcase their masterpieces for the general public and gain fame over time. Sometimes a single hit video of Instagram can get you fame overnight. Getting recognized on Instagram is not pure luck, as some people might think. Behind each video, there is the effort and creativity of the artists that mesmerizes the viewers. Recently slideshows have become popular on Instagram.
You may be still scratching to know which app you can use and you should use to make a slideshow for instagram like a pro, in this article,you will find some good Instagram Slideshow Apps:
Part 1: 5 Best Instagram Slideshow Apps for Creating Outstanding Slideshows
Here are some of the finest apps that let you create beautiful Instagram slideshows. All of these tools are used by top-level Instagrammers. Let's review them one by one.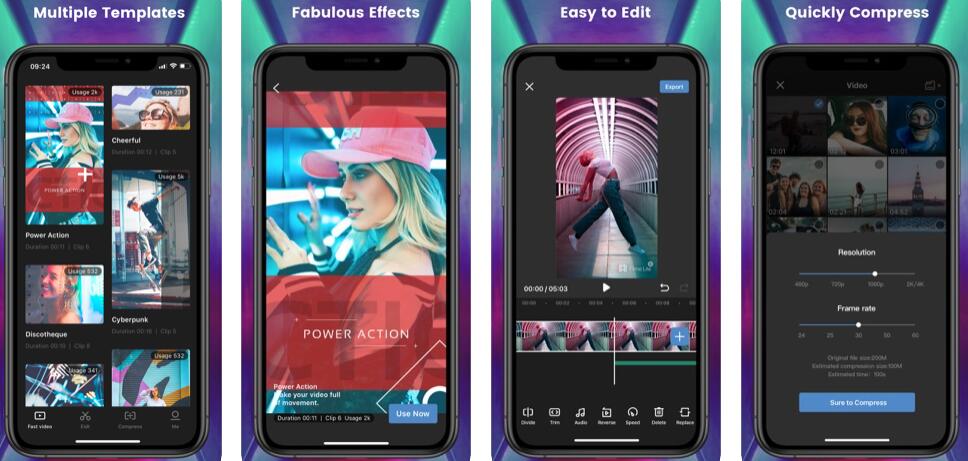 This is the perfect app for making slideshows and video editing. It has tons of features and choices that align with the latest slideshow trends that are used on Instagram. You can add your favorite images and videos to the slideshows and make use of the long list of effects that this software has to offer. Aside from the effects, this app also lets you decide the transition type of the images that are displayed. On top of all this, this app is very user-friendly. A newbie can easily learn to use this app in a matter of minutes and start creating his/her own slideshows. You can also set the time duration that each image appears for and apply different effects to each image.
Pros:

It is easy to use and has a user-friendly interface.

It offers tons of options.
Cons:

Some functions require premium access.
2. Best for Special Effects : VivaVideo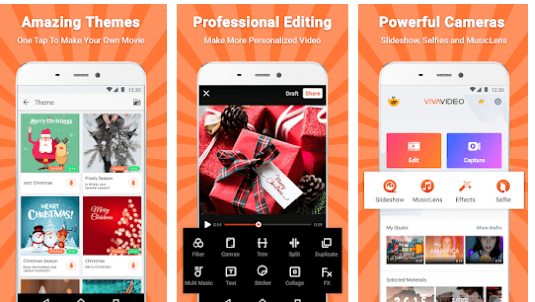 If you want to turn up your game a bit and start exploring different effects for your slideshows, Vivavideo is the perfect app to turn to. This app provides limitless options in regard to special effects and allows you to turn your video into a masterpiece. You can apply different special effects to each picture when you make a slideshow and even add background music from the music library of Vivavideo. Combining different special effects in a single video can be an amazing experience for newbies considering the vast options that you have at your hand while using this software. Making slideshows with this software is quite fun.
Pros:

It offers tons of options and special video effects.

It is very easy to use.
Cons:

Beginner knowledge required to use this app.
3. Best for Pro Users: Movavi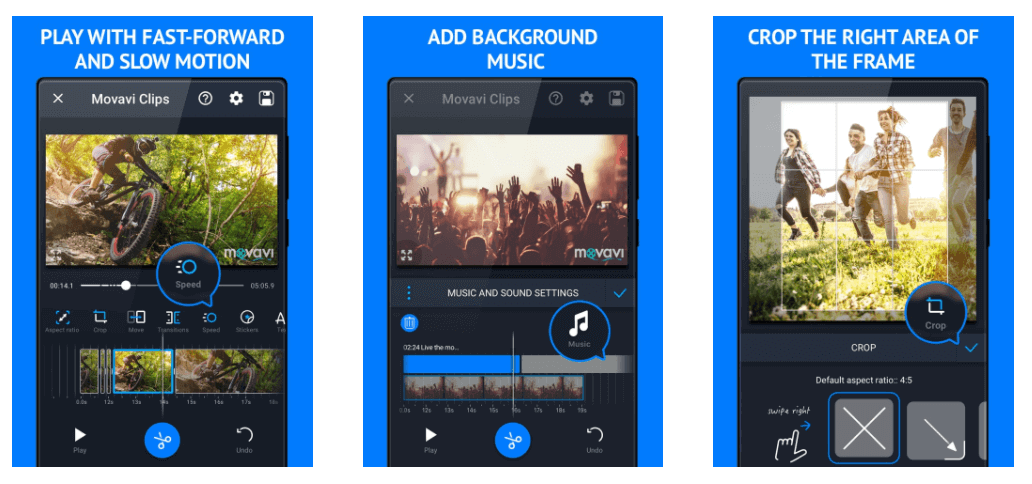 Once you have the grip on the basics and know what to do during the making of slideshow videos, you can consider using Movavi. This is the app that many pros of Instagram use to make their slideshows and edit their videos. With Movavi, you can even make online slideshow videos with no need for downloading. It lets you create videos in a matter of minutes and download them instantly for your use. 
You can add transitions between clips and even customize the duration of each slide with the app. Just like VivaVideo, Movavi also has its own music library that allows you to choose your favorite song from millions of options. For example, if you want to make a slideshow for your kids with best songs, besides searching for best songs for kids growing up slideshows, you can also find suitable songs for your slideshow here.
Pros:

Thousands of songs in the music library.

User-friendly interface
Cons:

It is best suited for pro users.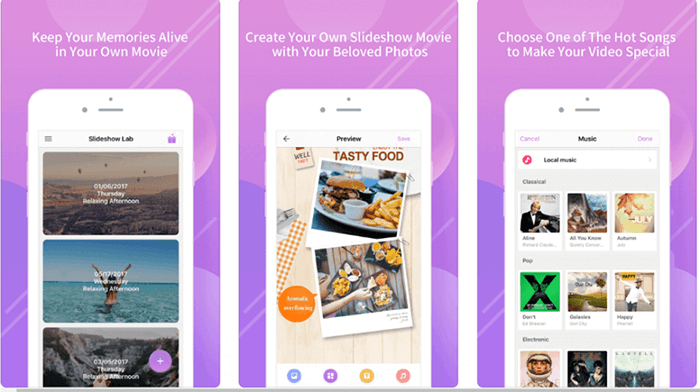 If you're new to the game, begin by using the Slideshow Lab app. This app has an easy-to-use interface and gives you the ability to make slideshow videos in no time. Simply drop your images into the app after selection and then select them one by one in the order that you want them to appear. Select the background music for your video and apply the transitions to the images before saving the video. It is very easy to use, and its interface is also easy to understand for a newbie.
Pros:

Less time-consuming.

Easy to understand and user-friendly interface.
Cons:

Best suited for beginners.
5. Best for Instagram Photos: MoShow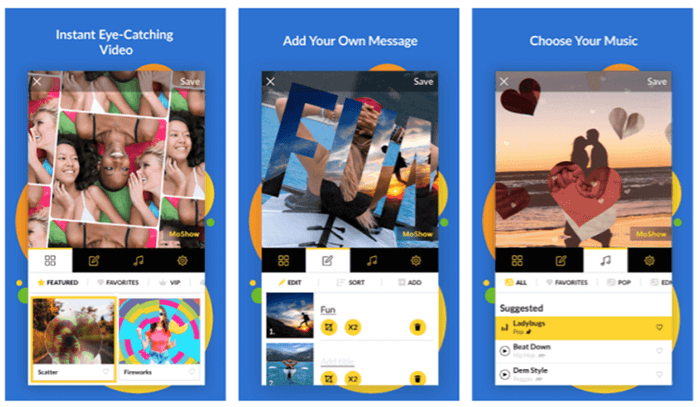 There are several kinds of images that you can use to make slideshow videos, but in case you need to make a slideshow video of your Instagram photos, make sure that you use MoShow. This software maintains the high quality of the Instagram images and allows you to easily make slideshow videos. This software infuses light and motion pictures and turns everyday pictures into stunning captures.
Pros:

Specially designed for Instagram photos.

Uses light and motion pictures to improve the result.
Cons:

Some features require pro-level knowledge to use.
Pro Tips to Use for Instagram Slideshow Standing out
What is an Instagram slide show? It is an amazing feature of Instagram that allows you to post multiple images and videos within one post. This post is termed an Instagram carousel, and you can add up to 10 photos to make your post more attractive and engaging. A few amazing tips to use Instagram slide show are discussed below:
Post all the images in the right order
Most important usage of the Instagram slide show is to create a before and after sequence. It means that you should post all the images in the right order. Avoid random uploading of images and write an amazing caption.
Use intriguing images to engage your followers
By using multiple images or videos, you can tell a complex story in a very interesting way. Attractive images will engage your follower to view all the photos or videos to understand the hidden story in the post.
Avoid penalty by Instagram algorithm
Instagram algorithmdiscourages multiple postings on the same day, and it may get spammed. So using the Instagram slideshow feature will help you in avoiding any warning or penalty.
Showcase for your brand
This amazing feature helps out most brands to display their products in a particular order. This Instagram slide show can act as a showcase for your brand.
Make an amazing demo or tutorial
If you intend to teach something to your followers, then you can make an amazing demo or tutorialusing this feature. It is very easy to teach any particular procedure step by step by using the Instagram slide show feature. Add some proper text to your instagram slideshow to illustrate your tips and tricks.
Run a contest
By using an Instagram slideshow, you can run a contest. For example, if you have any product, for example, a t-shirt, you can post multiple images in which contestants are wearing the same shirt and posing differently. In the same way, you can also create a giveaway for your followers.
Best Alternative to Instagram Slideshow Post on Desktop -iMyFone Filme ( Win & Mac)
If you are working on a desktop or a Mac and not satisfied with the software or just want to try something new to let your creativity run wild, iMyfone Filme is a perfect app for you.
This application has tons of features and a user-friendly interface that allows quick, smart, and easy creation of slideshow videos. This application works on both the desktop and platform and is popular in the pro editors as well as beginners due to its functionality and easy usage. Let's start by taking a look at the pros and cons of this application.
Key Features
Auto Create to intelligent match a slide template for your video.

20+ ready-made eye-cathing slideshow templates.

110+ transitions to make your slideshow natural.

Adding background sound up to 08 tracks.

Beginner friendly user interface.

Quick editing tools

Multiple video and audio supporting formats.
Pros:

You can create slideshow videos on both platforms, whether desktop or Mac.

It takes minimum time to make slideshow videos using this software due to its user-friendly interface.

It is used both by beginners and pros.

It allows single-click editing and has hundreds of options to choose from.
Cons:

Unlocking the full version requires premium to access.
How to Create an Instagram Slideshow Post Using iMyFone Filme?
Method 1: Fast Video Templates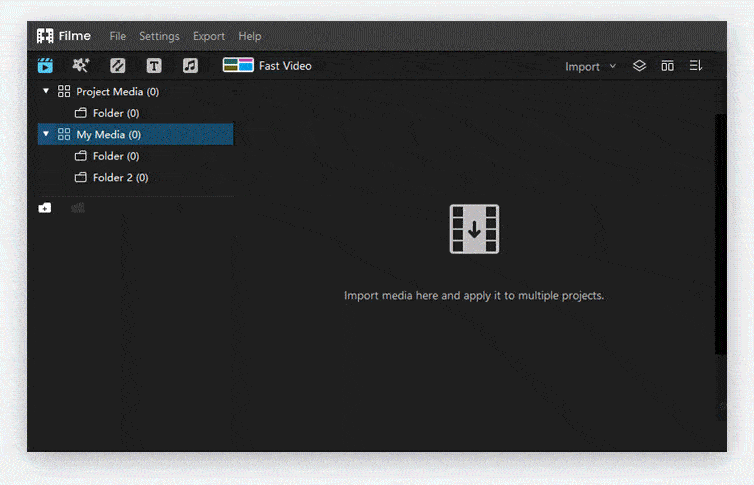 Step 1.

Click Fast Video Templates

Step 2.

Choose Templates You Want and Add Media

Step 3.

Export and Share

iMyFone Filme
20+ Fast Video Templates/110+ Transitions for Slideshow
Download Now
Method 2: Personalize Your Slideshow
To create a mesmerizing slideshow video to stun your audience, you need to follow these simple steps mentioned below.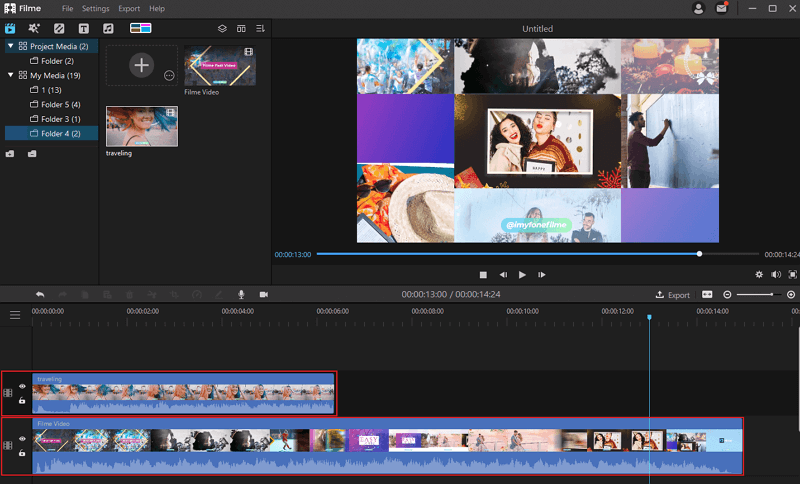 Step 1.After opening the app, go to the select option and select the photos that you want to add to the slideshow video.
Step 2.After selecting the photos, drop them one by one into the timeline in the order that you want the photos to appear.
Step 3.In the next step, you need to add any transitions and special effects to the video. You can add some filters that work for instagram's vibe.
Step 4.Select the picture and then select the effects that you want on the video. Do the same for transitions on each picture to apply different effects and transitions.
Step 5.Then, you need to select the background music for the video using the app's library or the songs on your device.
Step 6.Save the video, and you're ready to post it!