We all love slideshow for making our memories safe in a great way. After we have made the slideshow video, we want to share it with all our friends and family. But the latest features of Instagram may cause trouble for many users in posting the slideshow. But you don't need to worry now.
This post will help you in knowing how to post a slideshow on Instagram. If you are looking for some guidance about posting the slideshow, give this blog a read.
How to Post a Slideshow on Instagram?
Uncertainly, Instagram is the most used social media app these days. Moreover, creating and posting a slideshow is an in-trend way to spread the video among your social circle.
Here we are going to present four steps that you must follow while creating an Instagram slideshow post to know about how to post a picture slideshow on Instagram.
Check the video tutorial guide >>
1. Uploading
The first thing is to upload your photos. Click on the + (plus) icon at the bottom of the screen. If you want to add multiple pictures to the slideshow, select multiple images by clicking on the multiple images icon.
The maximum number of images you can add is 10. Once you select 10 images, you will get a notification about the maximum image limit.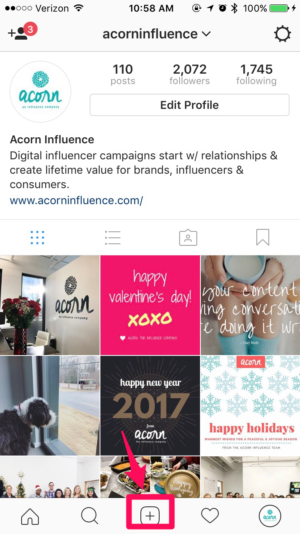 2. Organizing
Now, you have to sequence all the selected images. The sequence of images will appear in the way you selected them. In case you want to change the order of any image, click on t, and slide it to the number you want it to be.
If you have mistakenly chosen any image that you want to cut, you can simply cut it from the rest of the images by taking it to the trash option.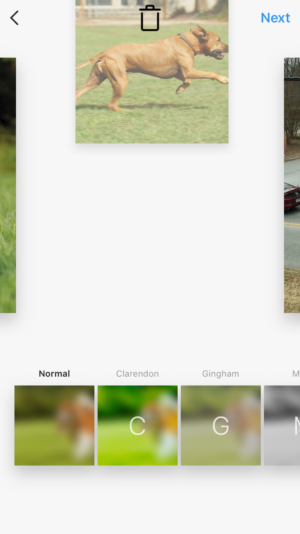 3. Editing
Now comes the most interesting part that is editing. You can either use the features on Instagram or use Instagram slideshow apps. On Instagram or third-party apps, it is up to you which filters you prefer adding to your pictures. You can also adjust the brightness or saturation of the images.
After you are done with adding filters to your images, you can now provide the location. Moreover, you can write an engaging caption also.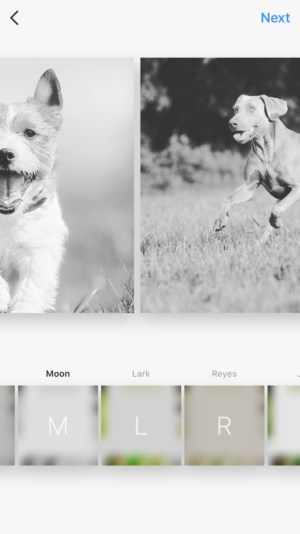 4. Publishing
The final step is to publish your slideshow. You can tag your friends to notify them about the slideshow you posted.
After publishing, the slideshow will appear on different pages equal to the number of images or videos you have added. There will be given circles at the base that will tell you about the total number of images or videos you have in the slideshow.
How to Create and Schedule a Slideshow Post Using Sked Social?
We get many queries like how do I post a slideshow on Instagram. If you want to create and schedule a perfect slideshow, it is important to use user-friendly software.
Sked Social allows you to make excellent quality slideshows that have excellent colors and audio quality. Moreover, the numerous theme options you will get-go with all your pictures and do wonders in turning your images into a great slideshow.
Here you will read how to create and schedule a slideshow post using Sked Social.
1. Login
The very first step is to create an account on Sked Social. In case you are an old user, simply login to your account.
2. Upload
Now, you have to select your images. When you click on the add image option, you will get various options like your computer, drive, gallery from where you can select the image.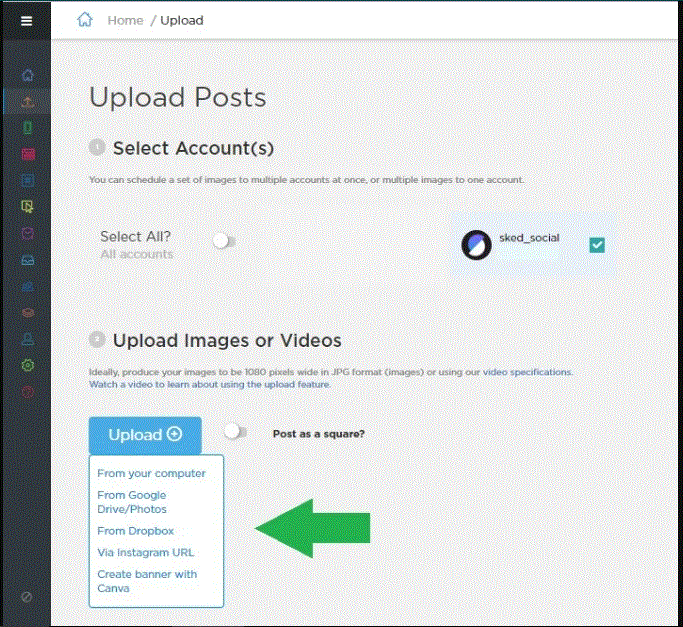 3. Select Carousel Post Feature
The carousel feature in Sked Social allows you to integrate numerous images into a single slideshow. The maximum number of images you can include is ten.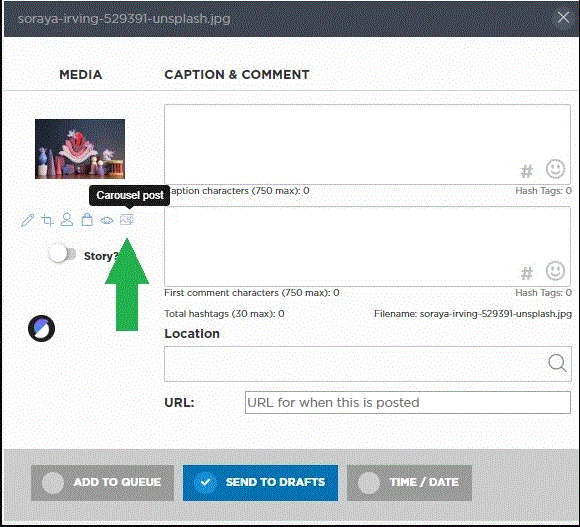 4. Add Images
Now, click on the plus icon to start adding the images. You will get this plus icon maximum of nine times to include a total of ten images in the slideshow.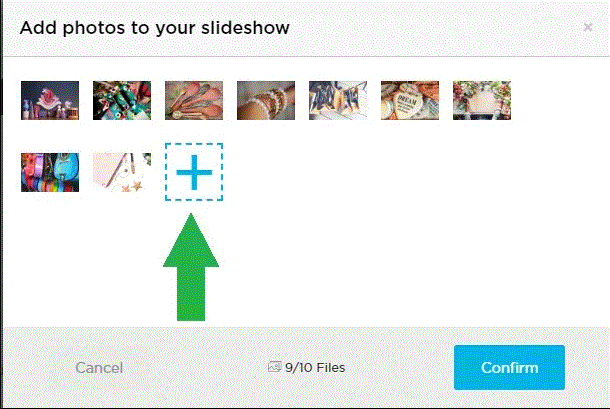 5. Add Captions
Now, if you want to write some extra text to explain to your viewers about the slideshow, you may add it in the caption area.
6. Schedule or Queue Your Post
Once you are done editing, selecting, and adding captions to your slideshow, it is now ready to be added to the queue or scheduling folder.
Best Practices for Instagram Slideshow
Here are the top six practices for the Instagram post slideshow feature that you must know. So, let's start reading.
1. For Storytelling Purpose
One awesome way to share your story with everyone on Instagram is using the Instagram slideshow option. Forget the time when people used to type lengthy captions to convey their messages to others. Switch to using engaging photos and videos for interacting with your Instagram people.
2. Product Marketing
If you want to display and share your products with your Instagram family, you can use slideshows. With the help of the Instagram slideshow posts, you can integrate multiple images of your product.
Also, with excellent color contrasts and themes from the slideshow-making software, attracting the viewers is much easier.
3. Demonstration Videos
If you are looking for a tutorial for your viewers, and Instagram slideshow post is a great option. It allows you to add up to ten pictures and adds great colors for engaging the viewers better.
4. Event Featuring
If you have plenty of pictures and are confused to decide the best to post on Instagram, you can go for the Instagram slideshow post feature. Add about ten images and increase your people's engagement and attraction.
5. Instagram Influencers
The best way for an Instagram influencer to attract customers is by sharing quality images and videos. How about adding both the images and videos in a single slideshow post! Do try it out to see your business grow.
6. For Presenting Before and After Scenarios
If you want to present before and after views with enough captions, you may use the Instagram slideshow post. This way, you can add multiple pictures, voices, and text to understand your audience about the whole post better.
Also Read:
What is IGTV and How to Use IGTV on Instagram [2021 Latest] >>
2 Ways to Create a Photo Slideshow on iPhone [2021 Quick Guide] >>
Complete Guide for Creating Custom Slideshow with Ease >>
Best Software to Create an Instagram Slideshow Post on Desktop- iMyFone Filme (Window & Mac)
iMyFone Filme
Do you want software that allows you to make an Instagram slideshow post on your desktop? iMyFone Filme is one of the most used software for creating amazing Instagram slideshow posts. Continue reading to find out more about the iMyFone Filme.
Key Features
It offers attractive, and numerous templates from where you can choose anyone you like or that goes with your images.

It allows you to multi-layer your videos, images, audios, and music options to generate an engaging slideshow filled with various features.

You will get all font styles and text sizes for adding titles and captions to your slideshow for the viewers' extra attraction.

Also, it allows you to repost slideshow Instagram for saving your memories in an engaging and better manner.
How to Create an Instagram Slideshow Post Using iMyFone Filme
Here we are going to present two methods using which you can create amazing Instagram slideshow posts.
Method 1: Fast video Templates
One way you can create an Instagram slideshow post is to use fast video templates.
Step 1: Firstly, click on the Fat Video icon present at the top.
Step 2: Secondly, start importing the images or media from your desktop.
Step 3: Select as many picture sup to ten you want to include, and add music to your instagram slideshow.
Step 4: Finally, preview the slideshow once to check if everything is okay or not. Then add it to the device by clicking on the save your slideshow option.
Method 2: Upload Media and Combine Videos or Pictures Yourselves
Another way to make Instagram slideshow posts using iMyFone Filme is to collect and gather the images or videos yourself. So, look at the given steps to know how to post a slideshow on Instagram using Filme.
Step 1: Firstly, import the media from your device.
Step 2: Now, add a theme to make your slideshow more attractive.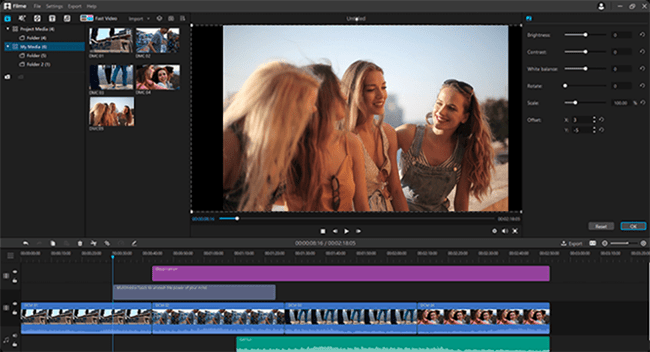 Step 3: Now, press on the plus icon to include the images you want.
Step 4: Now, you may add filters to make your pictures colorful and attractive.
Step 4: Then, you may add music that provides a tone that contrasts with your images.
Step 5: Your slideshow is ready to be saved or downloaded.
Conclusion
Hopefully, this post will be much helpful in guiding you about how to create an Instagram slideshow post. Carefully read all the steps and make sure that you follow them perfectly.
Whether you are using iMyFone Filme or Sked Social, make sure that you first understand Instagram slideshow posts' best practices. Also, put great attention to the themes and playback music for your slideshow posts.