Graduation is a time of realizing that the days of cafeteria lunches, pep rallies, and racing to make it to class on time are soon to close. So the graduations are more than a turning of the page. It is difficult to select the graduation songs for a slideshow to capture the mixed emotions of excitement, sadness, and nervousness. However, always try to make this day perfect by using the best songs for the graduation slideshow. The pandemic has changed how adolescents identify their school and college years. Whether you are graduated from your school or college, you should need to try graduation party slideshow songs.
Part 1: 15 Best Songs for Graduation Slideshow
Here we have enlisted the best preschool graduation songs for a slideshow with unbeatable tunes.
1. I will Remember you by Amy Gran:
The song is about to remember people who have held a significant part in our lives. So you can say it is the best one from the list of slow songs for the graduation slideshow.
2. My Generation by the Who:
It is one of the most liked songs for the kindergarten graduation slideshow. The rock and roll tune of this song has become classic. So it is suitable for a graduation ceremony with tiny cheering.
3. The Times they are a-Changin':
The song is ideal as preschool graduation songs for a slideshow that reminds us how time flies and pleasant memories remain. It is perfect for taking the next step in life while cherishing the memories of the past.
4. Time in a Bottle:
Time in a bottle song reminds us about treasuring and cherishing moments in life. It is ideal to make lasting impressions by emphasizing the significance of this milestone.
5. Easy Goodbye Song by Dream English Kids:
If you want a simple preschool graduation song for a slideshow, it is the best choice, and kids can easily learn it.
6. Remember me by Bo Bice:
The song Bo Bice is best as graduation slideshow song suggestions with classy lyrics. Therefore, it is classy choice for kindergarten graduation slideshow songs.
7. You Got a Friend in Me:
This song is something that kids will love to sing. It could be played as a tribute to the friendship that has made in school.
8. Each of us is a Flower:
It is one of the most inspiring songs for the graduation slideshow by Charlotte diamond. The children will feel special with the song as it specializes in their talents and traits.
9. Good Luck, Goodbye:
The song has ideal lyrics and makes a generic sense. Moreover, it is suitable for all age groups and every occasion.
10. Graduation Day by Freddie Shoehorn:
The song is about all things learned throughout the graduation years. It is mainly a tribute by kids to the parents, teachers, and other staff.
11. Circle of Life by Elton John:
It is the best graduation song for the slideshow that reminds us of life as a full circle. The song is beautifully pictured in Film on the father-son duo in the movie.
12. These are Special Times by Christina Aguilera:
If you are looking for the best songs for the girl graduation slideshow, it is the ideal tune.
13. Make it Happen:
Make it happen is an inspiration and pep song for children to go ahead and make things for the future.
14. It's Hard to Say Goodbye:
This song is to remind us about the Goodbye waves and thanking everyone who helped us in our graduation.
15. Preschool Graduation Song by Young Music Company:
It is one of the most liked preschool graduation songs for slideshows, and the little ones can sing it at their graduation ceremony.
Part 2 Tips for Making an Inspirational Graduation Slideshow:
If you want to make an ideal graduation slideshow, you have to follow some ideas. Have a look at the below-mentioned tips to bring creativity to your video.
1. Start with a Slideshow Maker:
The first thing to consider is the selection of slideshow maker with creative graduation songs for the slideshow. Always start with a new project to create a slideshow from scratch. It will be helpful for you to make an exclusive graduation slideshow.
2. Add Video and Photos Clips:
When you add your video clips and photos with inspirational songs for the graduation slideshow, it will bring innovation and style to your video. You can arrange your pictures into a collage to showcase every life moment. You can also add short video clips to add a pinch of action, but try to keep the video less than five minutes.
3. Add Music:
The slideshow makers provide users an option to add different songs to their videos. Therefore, if you are making a graduation slideshow, always try to add a blend of music.
4. Insert Captions:
One of the best things to bring creativity in the video is the use of captions. It's a good idea to add different text like congratulations or advice in a slideshow. If you are creating a preschool graduation video, you can add a school hymn with lyrics.
Part 3 Create Graduation Slideshow with iMyFone Filme
The iMyFone Filme is one of the most formidable free slideshow makers without any doubt. It's a powerful and amazing video editing tool that can help you to create exclusive graduation slideshows. With fast editing, tons of features, attractive user interface, and an easy-to-handle process, IMyFone Filme is one of the most favorite tools in the market. The tool has a 5-star rating so far, and its size is 1.1 MB. Moreover, it provides users innumerable graduation slideshow song suggestions.
Features:

The tool has a fast video mode to create excellent slideshows in a short time.
It contains a continuously updating template that will help users to make creative slideshows.
It has different editing options like split, rotate, crop, adjust, pan and zoom, etc.
The software has cool effects that can make your video brilliant and trendy.
It also allows users to preview the video in an instant.
You can add text and styles to your video if you want to make it more attractive.
Users can also mix video, music, and photos in the slideshow.
Pros:

Offer tons of transitions, effects, and cinematic texts for your videos

Fast video editing mode with one-click system

Allow playing more than eight audio simultaneously

Easy to use, even for beginners

Offer free trial for trying it out for free
Steps to Make a Graduation Slideshow with Filme:
1. Go to the file and click on the new project to make a creative graduation slideshow. However, always select the aspect ratio according to your video size.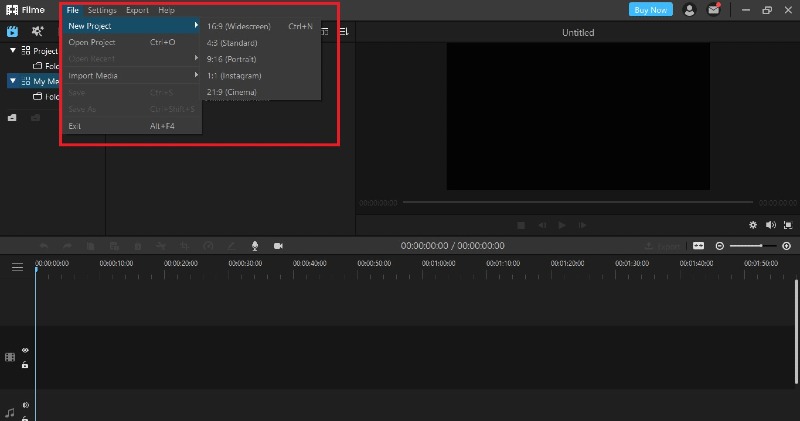 2. Now tap on the fast window, and there you will find different templates. You can choose any style from the templates. Now click on add music to find the best Christian songs for the preschool graduation slideshow.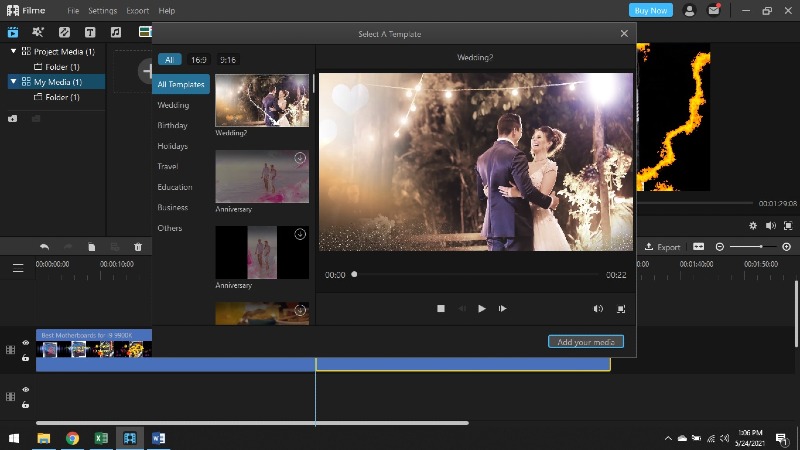 3. Import the images from your mobile phone or computer and arrange them as you like.
4. If you want to change the sound, you can click on the track you want to add. The iMyFone Filme also provides its users an option to change the slide duration.
5. In the final step, you need to export your video from the setting menu.

Also Read:
Top 10 Online Free Birthday Slideshow Makers >>
Retirement Slideshow Ideas for An Awesome Celebration >>
Final Words:
We know that graduations are the start of something exciting and new for any person. Therefore, selecting inspirational songs for graduation slideshows is the best way to create personalized graduation videos. These songs are all about remembering friends who have held a great place in our lives. It personifies the relationships between teachers and students will remember this as their special life occasion. We have mentioned the 15 best graduation songs for slideshow in the blog, and you can choose any of them according to your choice.