Choosing a best song for your next TikTok video may help you go viral because this fantastic application is not only the king of the social media world, but also ruling the world of music discovery too. So, if you really want to become the new sensation then keep reading this article because we will discuss 10 best TikTok songs 2020-2021 to go viral easily. Actually, the application allows you to make 15 seconds long videos, so it's quite challenging to pick a short segment of song, which catches everyone's attention and helps you go viral. Let's get started:
Part 1: 10 Best TikTok Songs 2020 – 2021 to Go Viral
As we all know, music is the core of TikTok videos, so choosing the perfect one for your videos are imperative to your overall performance and success on the social media world. Below are the 10 best TikTok songs 2020 – 2021 that you should be using:
1. Say So by Doja Cat
The part you know – "Why don't you say so"
Say So by Doja Cat is one of the most trending songs among TikTokers, though the song has been there but became popular when cute dance moves were attached to it. The most interesting part of this song is when Doja invited Sharpe to her video of "Say So", where they performed or recreated a dance step. Moreover, it's one of the most popular songs and in-trend for months.
2. Savage by Megan The Stallion
The part you knowknow – "I'm a savage / Classy, boujee, ratchet / Sassy, moody, nasty / Acting stupid, what's happening"
Savage by Megan the stallion released this fantastic song two year ago, which got its own yet unique TikTok choreography soon after. But after gaining the popularity the singer collaborated with Beyoncé and released its remix version in the year 2020, making it best TikTok songs rap and is still popular among TikTok video makers who'd like to try something unique with the essence of their own dance steps.
3. Laxed by Siren Beat
This fantastic rock-funk song gives Goosebumps with its fascinating beat, revealing a cultural message and ended up becoming a Jason Derulo song. This mesmerizing song was recreated as an instrument to give tribute to his Samoan and cook island heritage. When this song tried by some video maker in their TikTok videos then it soon goes viral.
4. Lottery by K Champ
The part you may recognize – "Go, Go, Go, Go, Let's Go"
Among many popular songs for making TikTok videos, Lottery by K champ has its own fan following. Just like the famous song "Say So" listed at top, this song also goes viral due to pairing with perfect choreography. Jalaiah Harmon is the original choreographer of this song but she didn't recognize much for her steps until her moves went viral.
5. Roses Remix by Imanbek & Saint Jhn
The part you know – It's hard to recognize the exact wording in the remix version but it seems like saying 'I might pull up flexing on these niggas like aerobics, I might tell your girl you cute but'
The remix version of Roses by Imanbek is another most popular addition to the list of best songs on TikTok that help you go viral easily. TikTok video makers turned this tremendous song into an odd hip-hop thing, but this was caught on by people doing this thing with their hands and slowly shaking their bodies to match with the beat.
6. Dreams by Fleetwood Mac
The part you know – "And what you lost, and what you had, and what you lost"
The list of best TikTok songs of 2020 – 2021 is incomplete without including Dreams by Fleetwood Mac. This simple song by 1970's band became more popular when they recreated a video while skateboarding and sipping cranberry juice with a song playing in the background. Soon after, this song became so popular that the juice brand actually collaborated with him. Consequently, the TikTokers who had not heard about Fleetwood Mac are now learning about the iconic band.
7. Boss Bitch by Doja Cat
The part you know – "I'm a bitch, I'm a boss"
This is the second song by Doja Cat, holding the top 10 chartbuster of best TikTok songs 2020 – 2021. It's one of the most fantastic songs that actually boost your energy and gives you a pump. People are trying to make solo videos as well as duet on this fabulous song. Though the song has been used with videos of cats and dogs too, it's still pretty fierce.
8. Supalonely by BENEE Ft.
The part you know – "I'm a sad girl, in this big world, it's a mad world, all of my friends, Know what's happened, you're a bad thing"
This song is also popular among TikTokers due to its unique choreography and high-beat drama. A dance was started by a girl with the username Zoifishh, then, famous YouTuber Emma Chamberlain did her own version.
9. Potential Breakup Song by Aly & Aj
The part you know – "I played along, I played along, I played along"
If you've not heard this song yet then you're missing out on a big chunk of going viral recipe. This fantastic song became viral on TikTok when Disney channel hive united in 2007, which skyrocketed their streaming to 60 million views and still increasing. There is no choreography yet but there could be one soon.
10. Stunning by Curtis
The part you know – "Ice on my neck that's incoming, 'm a pretty boy, I'm stunning"
This song (Stunning by Curtis) was used for different variations of trying different outfits in a single frame trend where people would put on different outfits for different themes.
Part 2: Why to Add the Most Popular Songs in Your TikTok Video
As we all know, TikTok is setting up fire on all social media platforms and every next person seems to get addicted but without songs or music, your videos will be just a piece of crap. If you dance without music, no one will watch – If you vlog without music, it seems boring, so choosing a right song tends to have many benefits and help you go viral, some of benefits are:
Catches Attention
Everyone loves music, it's the perfect way to catch anyone's attention without making any extra effort. So, you can still go viral if you have chosen the perfect song for your next video.
Create Awareness
There are plenty of songs on TikTok database, which helps to create awareness and connect with user, so if you're spreading a good message than some emotional or touchy songs will help you in that case, allowing you to connect with your audience better.
Help you GO Viral
Some songs are so good that they help you go viral in a few seconds, so don't underestimate the power of choosing a perfect song for your next TikTok video.
Part 3: Pro Tips on How to Make a Video with TikTok Hits to Go viral
If you really want to go viral with your next video then keep reading this section because we will reveal top 07 pro tips on how to make a video with TikTok hits to go viral – Let's get started:
1. Use tailored tracks
We recommend you to use clean tracks because submitting explicit content may delay the activation and approval of your video.
2. Create a Challenge
Creating a challenge for your fan base may skyrocket your video streaming because people love doing what's trending. In this way, you can ask your fan following to some steps and you'll be promoting their content with trending hashtags.
3. Tap into TikTok Influencers
It's advisable to give creative control over the video, once you've collaborated with the influencer. You can send them a suggestion in your pitch, as influencers are experts of using this fantastic platform and get you good streaming numbers that help you go viral in a few days.
4. Don't forget to use Hashtags
Usually, people underestimate the power of using hashtags but in-reality it will get you millions of views and help you go viral without doing intensive marketing. So, it's advisable to post your video with trending hashtags combined with a challenge for maximum results.
5. Do Collaboration
Collaboration with other TikTok celebrities help you increase fan following because teaming up with another artist to create duet videos will help you reach another person's fan base. In this way, you can reach to an entirely new network and help you go viral.
6. Quality Content
You may have heard that 'Quality Content is a King", so don't overlook the power of making quality content. For that, you can use different editing software, such as iMyFone Filme to edit professional level videos with just a click.
7. Share on Other Platform
It's also recommended to share your fantastic videos on other social media platforms, such as Facebook, Twitter, Instagram, or elsewhere, allowing to reach more potential viewers who're still not using TikTok.
Part 4: How to Make a Viral Video with Best TikTok Songs on Desktop
iMyFone Filme is one of the leading video editing applications for windows and Mac systems, and becoming popular day by day because of its easy yet beginner's ready interface. Its advanced level editing features allows you to create or edit incredibly cinematic videos for your TikTok that catches everyone's attention and help you go viral in no-time. It's suitable for editing video for family and friends, for sharing on social media and for business.
Key Features:

20+ Ready-made templates. Make stunning videos easily.

Beginner's ready. Yet easy to operate interface with quick features.
170+ editing effects.Make your videos more attractive with filters and intriguing elements. 
110+transitions.  Make your videos more cinematic and natural.
50+ Audio. They are absolutely at your disposal, allowing you to change, edit, or add soundtracks to go viral.
How to Make a Viral Video with Best TikTok Songs Using Filme
Step 1: First, you need to install this software on your windows or Mac system.
Step 2: Second, you need to shoot a TikTok video on your favorite yet best TikTok song, like performing some dance move to catch everyone's attention.
Step 3: Transfer the video file onto your computer system and import on iMyFone Filme application with its quick drag and drop feature.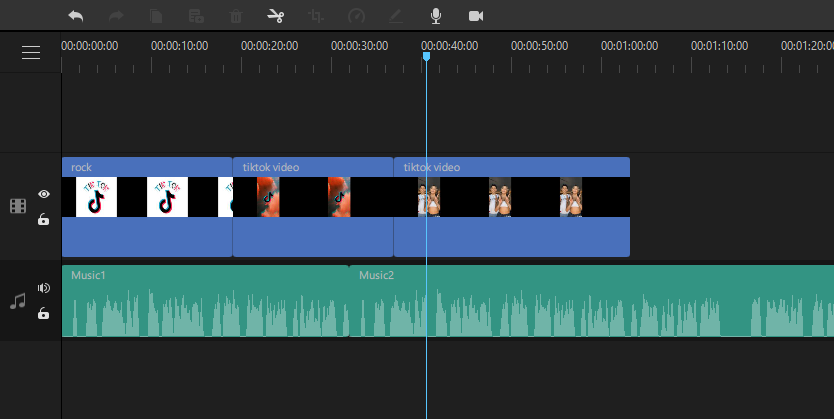 Step4: It's time to show your creativity by adding some transitions, stickers, text, and effects, giving your video a unique, professional, yet catchy look.
Step 5: Once you've done with the editing, it's time to export and share with your family, friends, or fans.
Pros:

Easy to operate

Built-in templates

Multi-layering feature

Beginner's ready software
Cons:

Basic video editing knowledge needed