You want to surprise your best friend by creating a splendid slideshow video for his coming birthday? With your gallery loaded with amazing photos, you just need an ideal slideshow maker to transform your simple images into an incredible video.
In the blog, we will introduce you to some of the top birthday slideshow makers available for free use online. With the help of these online software, you can create a stunning birthday slideshow that is both dynamic and even looks professional.
Top 10 Online Free Birthday Slideshow Makers
When choosing a birthday photo slideshow maker online, you want a tool that is easy to use even for an amateur and has all the editing features, allowing you to create a stunning birthday slideshow for your loved ones.
We have compiled some top-notch online birthday slideshow makers that can help you create a birthday video slideshow easily.
1. Clideo
Clideo is an effective happy birthday slideshow maker online. Upload your images, arrange the sequence of your images and adjust the duration of each clip and you are done. Your slideshow is ready to be shared. This is an advanced online tool allowing you to merge videos, images and audios to give you a high-quality slideshow video.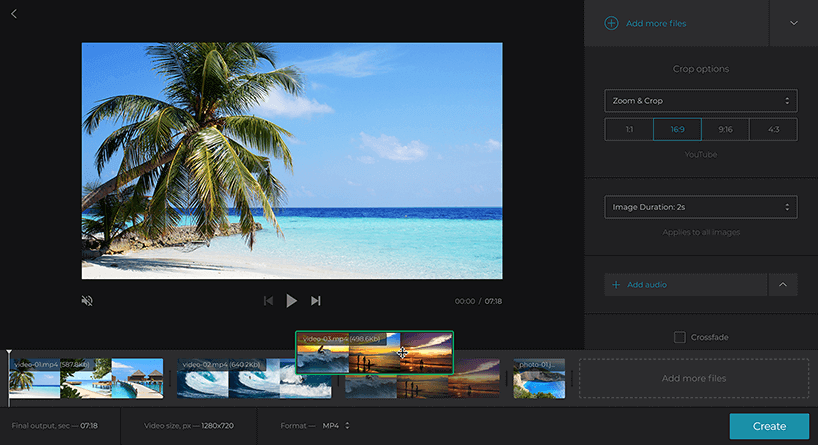 Features:
You can combine and upload images and videos with just a simple click.

With the simple, user-friendly interface, creating stunning slideshow videos is a quick process.

It enables you to share your video on all social media platforms.

You can add music or songs from your devices to make your slideshow more entertaining.
Pros:

It is compatible with all video formats, including MP4, AVI, MPG and more.

The website offers high-level security to its users.
Cons:

It has no built-in music library.

Comes with no themes and pre-made templates.
2. FlexClip
Need an online birthday slideshow maker free? With FlexClip you can create a fantastic birthday slideshow by using the variety of templates available in this software. This online tool guides beginners to create a slideshow from scratch. The tool can assist you well if you need a professional-looking slideshow video.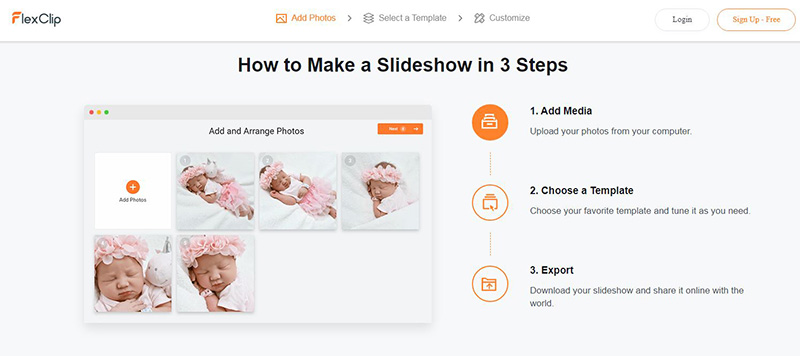 Features:
You can give your birthday slideshow a creative look by adding animated text.

It gives you access to a vast music library, or you can include your own songs.

The tool also allows you to include a voice-over in your videos.

It enables the users to edit, trim, rotate, merge or watermark videos and images.
Pros:

It has pre-built templates that you can adjust according to your taste.

It supports all major formats, including MP4, OGV, WMV, AVI, MPEG4, etc.

Although it is an online tool, it protects the privacy of its users.
Cons:

The maximum video creating time is 30 minutes.

At times, music clips take a lot of time to load.
3. Pholody
Create birthday slideshow online free with Pholody. You can directly access this online slideshow maker without downloading any software. You can create a stunning birthday slideshow using the effects and templates in this online tool.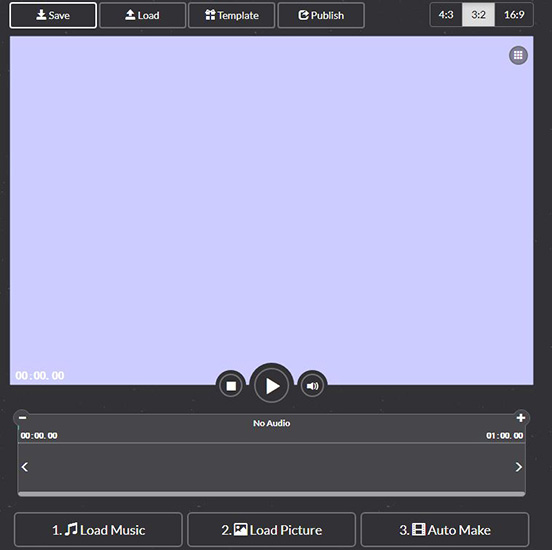 Features:
It gives you high-resolution images of 1080 P.

The tool aligns the video transitions with the background music automatically.

It also has a library of commercially licensed tracks enabling you to make your videos livelier.
Pros:

It is a fast video editing tool using which you can prepare a slideshow in just 3 steps.

Allows you to share videos on social media sites.
Cons:

You can save the video in Mp4 format only.

The slideshow prepared using this online tool will have a watermark on it.
4. InVideo
According to G2 Crowd and Capterra rating, InVideo is a top-rated video editing software. This software is even used by large companies, including ATT, Microsoft, and Aspen. It has ready-to-use templates that make slideshow preparing a quick task even for beginners.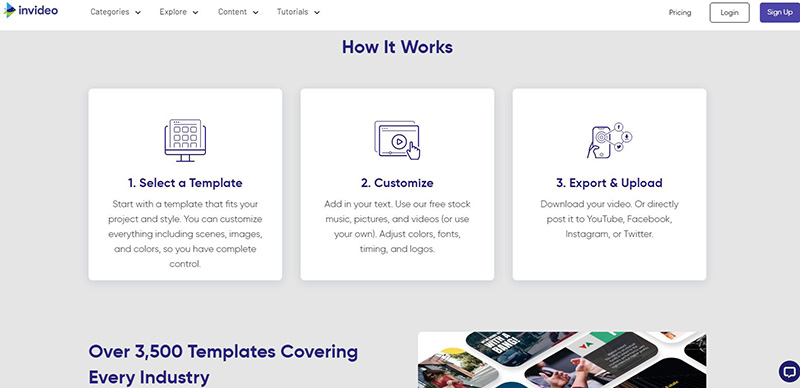 Features:
The software contains more than 4000 designer templates.

It contains basic and advanced video editing options.

The templates come in a variety of dimensions, making them accessible from all devices.
Pros:

It gives you access to the in-built Shutterstock and Storyblocks library.

It helps you be creative by using multiple fonts, transitions, and animations.

It supports multiple languages.
Cons:

It does not have a video timeline.
5. Magisto
Magisto is yet another slideshow maker that can simplify the process of making a slideshow for you. The software is fun to use and can transform your images and videos into a slideshow with a soundtrack that everyone can enjoy. The software is powered by artificial intelligence that will analyze and edit your slideshow by applying a suitable theme to it.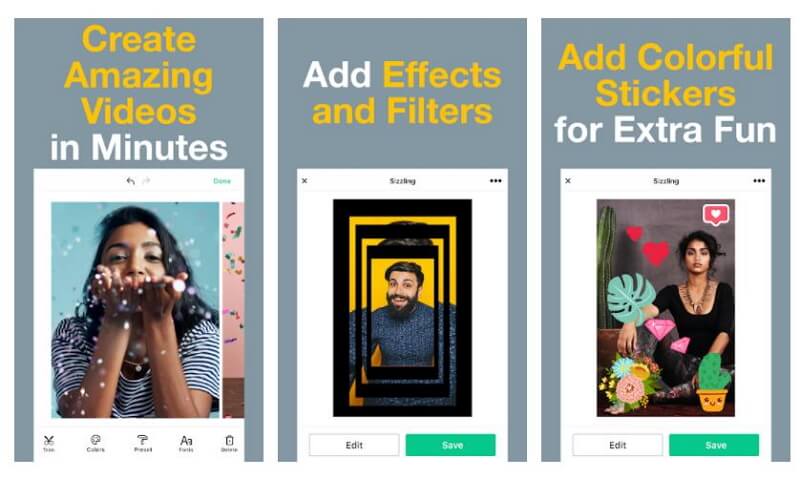 Features:
It allows users to customize the font and style of their captions.

The software has a commercially licensed music library.

It has theme templates to quickly create a slideshow.

Let you include graphics and transaction effects in your videos.
Pros:

Built-in guides and tutorials to help you learn.

Gives you high-quality output video.

Trim, merge, and text customization options available.
Cons:

Advanced editing features are available in the pro version.

The free version will give you videos containing a watermark.
6. MotionDen
MotionDen is an online slideshow maker. With the help of this tool, you cannot only create birthday slideshows but can also create promotional videos, explained business videos, and much more. Select a template and customize it according to your preference, and the software will create a slideshow for you.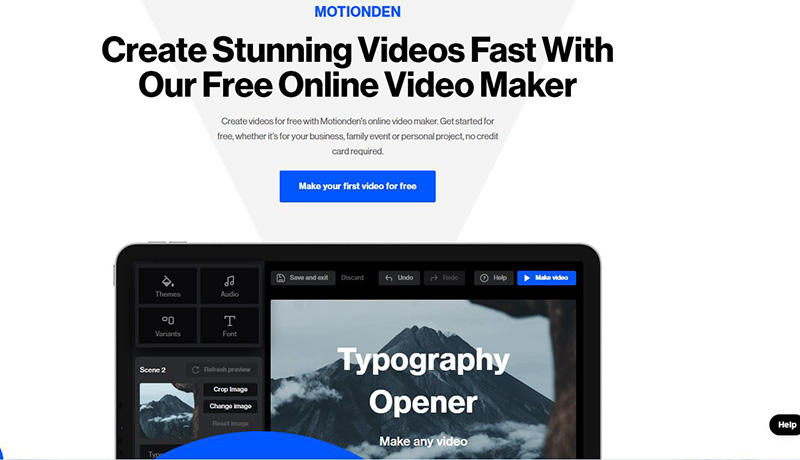 Features:
The software provides users with high-quality animation tools.

It also has an online advertisement editor that can help entrepreneurs create commercial videos in seconds.

Users can add music and songs to their slideshows using this software.

The tool lets you create video infographics, including statistical, informational, and much more.
Pros:

It offers 27 categories of templates, and each category contains even more templates for you to choose from.

It guides you on which template is suitable for your slideshow.
Cons:

You need to pay to get a video without a watermark.

The software does not allow you to create a video from scratch.
7. Slidely (Now Promo)
Slidely is one of the best online visual content software that is perfect for business and personal use. The software contains an array of editing and video sharing options making it a notable choice among users. You can either import images from a computer or download them from your social media account.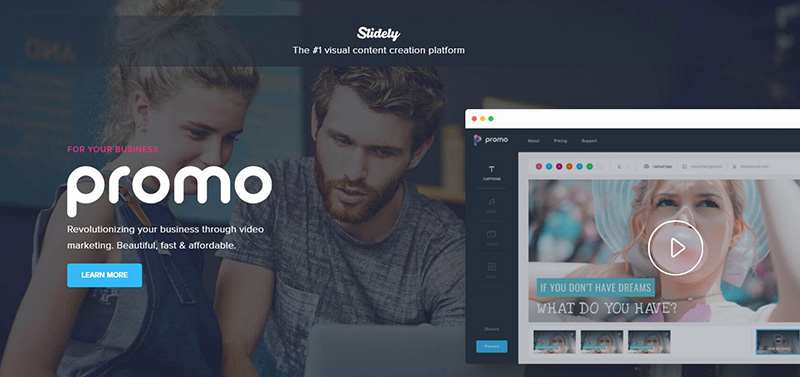 Features:
It allows users to share their slideshows on social media platforms, including Twitter, Facebook, and Instagram.

The users can add their own collection of music in the slideshow.

It has multiple style templates that allow users to create amazing collages with perfect ease.

Being an amazing slideshow maker with music, it allows you to create a birthday slideshow with your favorite music.
Pros:

The software is perfect for promoting your business, create brand awareness, and can help you increase traffic on your webpage.

It even lets you add text and logo to your marketing videos.

It enables you to create music videos, include music effects, and finally share them on YouTube.

The users can capture sequences and photos while also including stickers to make your birthday slideshow more attractive.
Cons:

The first-time users may find it complex.
8. LightMV
LightMV is an online tool that creates a themed slideshow once you have uploaded all your images. The amazing thing about this slideshow maker is that it has 11 themes, and each has its own style and background music. The tool is totally free to use and supports all platform types, including Windows, Mac, Android and iOS.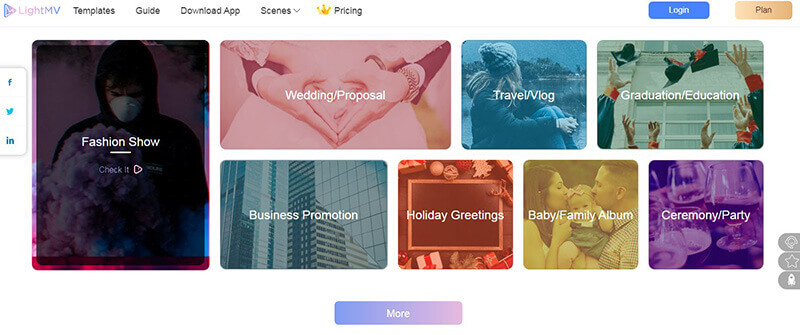 Features:
You don't have to sign up or install anything.

It has a perfect collection of themes designed by template designers.

Software is easy to use.

You can include text by arranging its font and size.
Pros:

You get HD quality videos.

You can directly share your videos online.
Cons:

New templates required time for uploading.
9. Fastreel
Fastreel by Movavi has all the high-tech features one desires for creating an impressive birthday slideshow video. Having an intuitive approach to creating videos and containing numerous tools, templates, and transitions, you can instantly create a video with this tool. The simple drag and drop technique lets you add images to your slideshow with ease.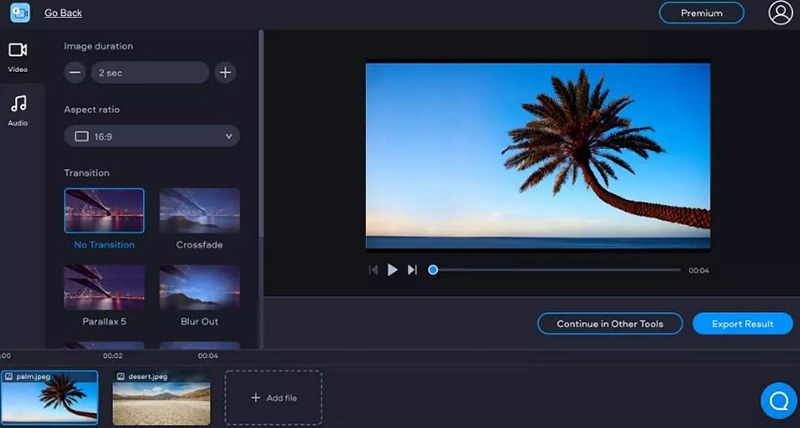 Features:
It let you upload videos and images in any input format.

It has a vast template gallery containing about 38-pre made themes.

The software contains a multifunctional toolkit that includes both basic as well as advanced editing options.
Pros:

It let you choose between ready-made templates or create a video using your creativity.

You get all the advanced editing features, including reverse videos, merge videos, create stop-motion videos, looping and adding subtitles in SRT format.
Cons:

The software only supports an input file size of 500 MB.

The free version overlays a watermark on the exported videos.
10. Animoto
Animoto can be your first choice while looking for a happy birthday slideshow maker free online. With more than 13 million users, the software has surely gained immense popularity. With its simple tools and steps, users can create an amazing birthday slideshow.
Features:
It let you share your videos on social media sites.

The final video has a 720 HD quality.

It has over 50 templates that can be used during slideshow preparation.

It allows users to add music from its built-in music library.
Pros:

It contains several styles and assists to make your video eye-catching.

All the templates are customizable, enabling you to be creative.

It has handy sharing options. Share your slideshow video on all your social media platforms.

The online video maker has advanced video creation tools, including editing, animation, custom text, and creating effects for your videos.
Cons:

The trial version does not allow you to include high-quality HD video.

Your saved video will have a watermark on it.
Best Birthday Slideshow Maker For Windows And Mac- ImyFone Filme
iMyFone Filme is a comprehensive yet super amazing slideshow maker. The software can transform your birthday images into a stunning video slideshow. With Filme, you just need to import all your birthday images to the software, and with one click, your videos are converted into a slideshow video. It is an all-in-one video editor for beginners allowing the users to create high-quality, professional and smooth-looking videos.
Features:
1. Create a birthday slideshow in just one click with music using the Fast Video Mode.
2. It is equipped with basic and professional image and video editing functions.
3. Using multiple effects, transitions and filters, you can be as creative as possible while preparing a birthday slideshow.
4. It contains numerous music files that can be included in your slideshow.
5. It supports all the famous file formats.
6. Along with images, you can import music and videos to create a perfect birthday slideshow.
Steps For Creating A Birthday Slideshow Using Filme
Go through the following simple steps for creating a birthday slideshow using the Fast Video Mode in Filme.
Step 1: Click on the Fast Video Mode in the Media Library.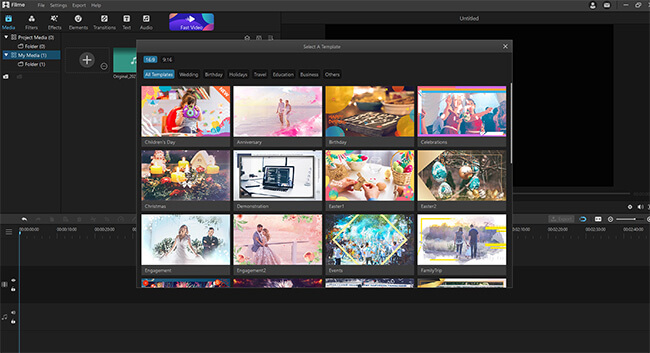 Step 2: Choose the "Birthday" category from the various template categories.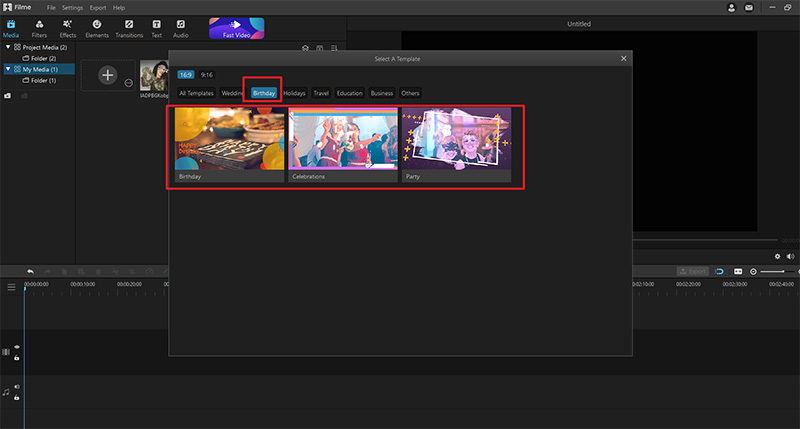 Step 3: Click on the "Add Your Media" button and start importing files from your device. Adjust the speed and duration of your images, apply filters and effects.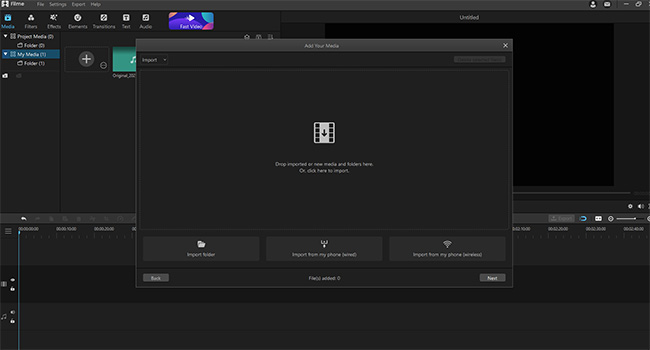 Step 4: Once you are satisfied with your birthday slideshowafter previewing it, press "Export" to download your slideshow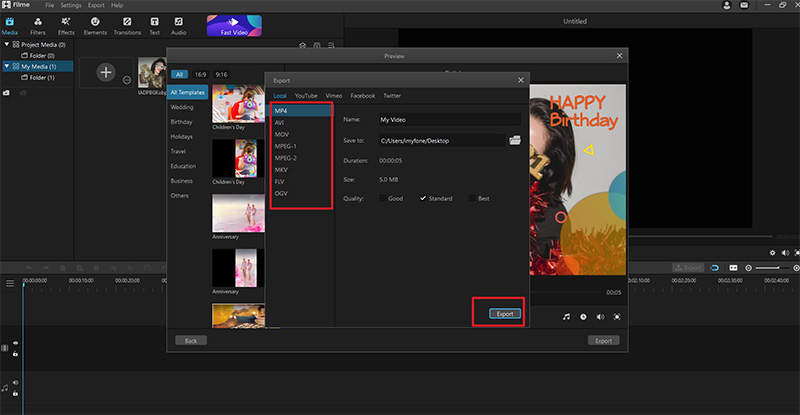 Pros:

It is super-easy and simple to use.

It gives you an easy social media sharing option allowing you to share videos on Facebook, Instagram, Vimeo, YouTube, and Twitter.

The downloaded video is of high quality.

It offers a free trial version.
Cons:

It is a relatively new software introduced in the market.
Final Thoughts
You can surely use any of the recommended tools, but if you are a beginner in creating slideshows and want a flawless birthday slideshow maker online for free, iMyFone Filme has you covered from all aspects. With just one simple click, you will have a stunning birthday slideshow that will display all your emotions the right way. It has all the features and editing tools that can make your slideshow lively and impressive.
Now you can surprise your friends and family with a fantastic birthday video with all those funny and candid images.