The end of the year is usually a time otherwise known as a rollercoaster of emotions. Since the end of a beautiful journey is approaching, children tend to feel nostalgia and sadness for leaving a whole era behind. To showcase all of these emotions into a slideshow, the one thing that needs to be perfect is the songs for end of year slideshow. Not only should these depict how sad and nostalgic the kids are, but they should also make them feel happy and uplifted for a new life.
Part 1: Top 10 End of The Year Slideshow Music
Here we have the top 20 All-time favourite end of year slideshow songs for you all to watch and enjoy!
#1 - "The Climb" by Miley Cyrus
This song is perfect for an end-of-year slideshow because it tells us that it does not matter what you achieve, but the experiences you went through and the lessons you learned while setting out to achieve your goals. It shows the kids a brighter side to their upcoming life as well.
#2- "Back Home" by Andy Grammer
One of the best songs for 1 year old slideshow is Back Home, which takes the kids down memory lane again. This song will showcase their emotions of nostalgia and sadness about leaving their school behind. The vibe of this song matches perfectly with that of college farewell parties.
#3- "Count on Me" by Bruno Mars
Talking about friendship and brotherhood, the first thing that comes to mind is Count on Me. This beautiful ode to emotion as pure as friendship is mesmerizing. It evokes feelings of togetherness and unity among the children. This song is always included in the list of songs for the senior year slideshow.
#4- "If I Didn't Have you" by Billy Crystal & John GoodMan
Disney songs always speak volumes about friendship, so they are always among our top end of the year songs for slideshow. This song is also about a pure and humorous friendship story which is enough to take the kids back to their classroom memories made with the best of friends.
#5- "We're Going to be Friends" by Jack Johnson
This song fits the new year slideshow maker because of its ability to make people feel at home. Newcomers can be very hesitant and scared, but with this song, they will remember that they can meet great friends and have a fun-filled school year. "We're going to be friends" is a welcoming and straightforward song that radiates positivity and happiness.
#6- "Your New Beginning" by Julie Durden
This song is perfect for graduation ceremonies because all it focuses on is how time passed, making you into who you are and giving you precious memories as a gift. Both the parents and the kids cannot help but start reminiscing how it all started.
#7- "I Will Remember You" by Sara McLachlan
This is the best songs for end of year slideshow for a farewell slideshow with pictures of the students during recess or during a field trip, making memories and strengthening friendships. "I Will Remember You" song is sure to make everyone feel nostalgic and even make them cry a tear or two because of its heartwarming lyrics.
#8- "It's Our Time" by Marty Casey
Music for end of the year slideshow must also contain upbeat and happy songs, so people do not feel too gloomy. "It's Our Time" is one of those songs that will make the students feel hopeful about their new start and motivate them to conquer the world!
#9- "Have It All" by Jason Mraz
Since Jason is all about spreading love and positivity, this song checks all the boxes for a yearbook slideshow template. It evokes feelings of affection, care, togetherness, and hope among the students. This song will go perfectly with photos from school events and sports clubs.
#10- "A Million Dreams" from The Greatest Showman
Clear from the name itself, this song speaks about the birthing of dreams and their journey towards reality. While graduating, students also have a lot of goals that they want to make true. This song gives them the hope for a better tomorrow, a tomorrow in which they achieve everything they ever wanted!
#11- "These Are the Days" by Keith Urban
"These Are the Days" song screams freshman-year vibes because its lyrics give the lesson of living in the present, for time passes a little too quickly! With a few welcoming photos, this song would fit nicely in a new year slideshow. It also gives the message of taking things as they come.
#12- "What a Wonderful World" by Louis Armstrong
Adding this to the list of upbeat songs will be a tremendous cheery addition to our end of year slideshow songs high school. This song radiates happiness and positivity, which is essential to keep the audience in a good mood! It gives the message of never losing hope in times of despair.
#13- "Let Them Be Little" by Lonestar
This one is for all the parents in the audience because they are just as important as the kids! This song is all about the parents' nostalgia and sadness when the kids were dependent on their parents and are now set off to make big dreams come true!
#14- "Good Old Days" by Macklemore Feat Kesha
This song also has some instrumental lessons that the kids must learn before stepping into real life. According to Kesha, not focusing on crappy days and always looking forward to good ones is the key to happiness. This song is easily one of the best graduation songs to exist!
#15- "See You Again" by Wiz Khalifa and Charlie Puth
On number 6, we have no other than the famous "See You Again" which is sure to make students cry in remembrance of their school life that has passed and the friends they have to forget. But, this song also focuses on reuniting with your loved ones again, one day or another.
#16- "On My Way" by Phil Collins
It is another song that is full of hope for a promising future and a life worth living. It showcases the uncountable possibilities that the future beholds for the students graduating high school. This song is perfect for dreamers and will make everyone feel uplifted! So, it is no wonder that it's number five on our list.
#17- "I Will Remember You" by Sara McLachlan
This one is also pretty darn sad and will go excellent with a slideshow of photos taken while making memories in the classroom or the playground. The song evokes feelings of nostalgia and makes the students realize that they are finally parting ways from old friends and familiar alleyways.
#18- "You've Got A Friend in Me" by Randy Newman
Not only is this song perfect for newcomers' welcome slideshow, but it also fits perfectly with graduation slideshows. Because this song talks about making friends that guide you throughout your entire life and that you can be friends with someone forever, it is indeed a beautiful choice!
#19- "Never Grow Up" by Taylor Swift
This song realizes kids getting old with every year passing and not feeling the change because that's how crazy growing up is! It is indeed an excellent choice and songs for senior year slideshow.
#20- "Long Live" by Taylor Swift
Another song is all about the moments spent together, holding hands and laughing without any worries of tomorrow! "Long Live" song makes kids look back at the beautiful school life they have lived and makes them feel hopeful about the next adventure they will embark on.
You May Also Like:
● 20 Best Songs about Kids Growing up >>
Part 2: How to Make End of Year Slideshow with Music on Desktop
Now that you know what songs to use in your graduation or first-year students slideshow, the next step is learning how to carry out the entire process. As long as you are following the proper steps, it shouldn't be that hard. Moreover, there are a few software that will make the process even more convenient for you. One of these is iMyFone Filme, a free and fast slideshow creating program loved by people worldwide.
There are two easy ways that you can follow to make your end of year slideshow.
Way 1: Use Fast Video Mode to Make End of Year Slideshow in One-Click
It is a more straightforward way to create your slideshow video.
1. The first step will be to choose Fast Video mode, and the second is to select your favourite end of the year slideshow template.
2. After that is done, add your chosen songs and wait for the program to do its magic.
3. You can export this video to any place on your computer and share it on other devices as well.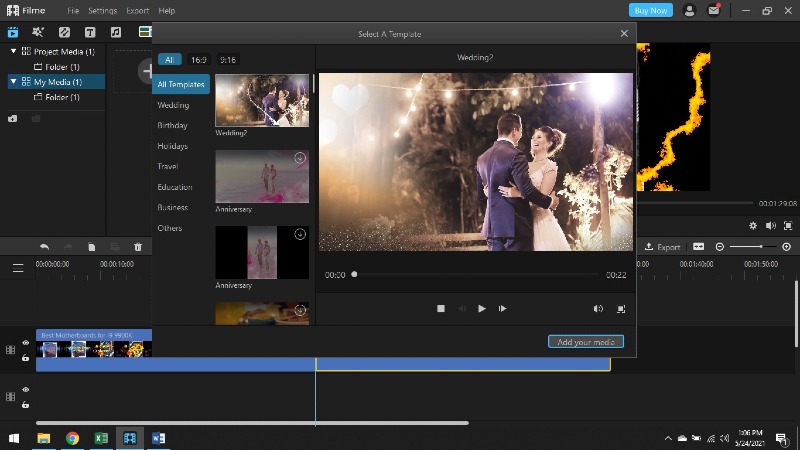 Way 2: Customize Your End of Year Slideshow Video with Ease
Customization of the slideshow according to your liking is also necessary for its smooth working. It will also ensure a good end product.
1. For this, first, upload all your selected photos that you want to incorporate into your slideshow into the software itself. After you have done that, your library will show all the pictures you have selected before.
2. To set the sequence according to the background music, click on the + icon and select your photos to include in the slideshow.
3. Music is crucial for your slideshow. To add music, Filme gives you a wide variety of options as well. Click on the music you want to select, which will be shown in the toolbar above. It is pretty simple. What you need is to choose your favourite soundtrack track and add it to your slideshow.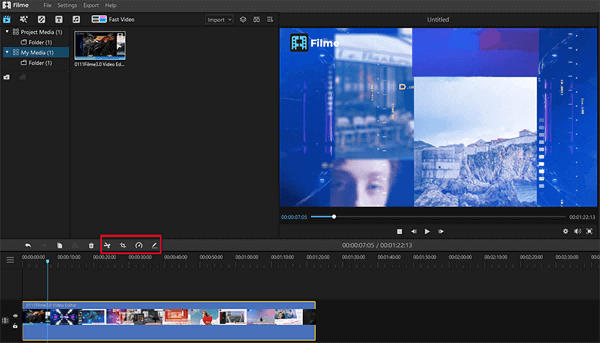 Advantages of Filme

This popular and easy-to-use software is fantastic for creating all kinds of slideshows for your graduation events. You will have absolute ease in uploading pictures as well as music.

Following are some more benefits that Filme comes with:

This software is convenient and easy to use even for people with little knowledge of computers.
It has 170+ effects that help you make a great-looking video.
It also has 60+ audios, so you can have variety while choosing your favourite soundtrack.
There are many editing features available on this software that make editing more accessible and even fun! These features include Crop Tool, Split Tool, Adjust Speed, Rotate Tool, etc.
Moreover, you can also share your video to various social platforms such as Facebook, Youtube, Vimeo, and Twitter.
Part 3: Bonus Tips to Create Great End of Year Slideshow with music
There are a few things that, if you keep in mind, you are more likely to end up with a great slideshow video that everyone will remember for the years to come. Because graduation is such a memorable event for most students, make sure you give all your energy into making this video unforgettable for them.
Some valuable tips to improve your slideshow making skills before the event are:
Do not stretch the video or make it too long. Everyone loves a short and precise video.
Make sure your slideshow is only as long as your song, which is 3-4 minutes.
Add 50-60 photos and try to allot 3-4 seconds to every image, so the audience does not get bored.
Use Filme tools to add transitions, effects, and animations. These elements are the key points to a great slideshow video.
Make sure the music matches the vibe of the event.
Do not use low-quality pictures. These will appear pixelated and ruin your whole video.
Make sure to add a surprise element at the end of your slideshow, which earns you big applause.
Keep editing until you think it is perfect!
Conclusion
With the previous knowledge, any one of you can make a fantastic end of year slideshow video with all the necessary fun elements that make it unique and memorable. iMyFone Filme makes the process easier for you by categorizing all the tools you will need into user-friendly editing software that you can on your desktop. Without further ado, get started on your end-of-year slideshow so you can have a lot of extra time on your hands for editing and minor changes. Good luck with your upcoming slideshow adventure!