Are you interested in finding the best songs for baby slideshow? We all want to preserve our moments by turning them into memories. Every time our kid speaks a new word or learns something new, we instantly want to save that memory. Sometimes, we use pictures, and sometimes, we go for slideshows or videos.
Along with excellent quality pictures, editing skills, you also need to add amazing music or songs to the video. In this post, we will present the top 30 best songs for baby slideshow. So, let's get started.
Best Software to Create a Baby Slideshow on Desktop- iMyFone Filme
iMyFone Filme presents the latest video editing software called Filme. It is the best tool for newbie parents to create an amazing slideshow. Whether you are a beginner or a pro, you won't face trouble using this software. You may use it for Windows or Mac devices to make excellent videos and slideshows for your friends or family.
Key features
It allows you to create multiple layers of images, texts, and videos, making your slideshow more attractive to the viewers.

It provides you with a free baby slideshow template so that you don't have to purchase any package for making your slideshows.

The easy-to-use interface allows seven beginners to create amazing slideshows using plenty of features.

50+ audio, 170+ effects, 110+ transitions are just at your disposal..
Steps to Follow
If you want to make an amazing slideshow for your baby, you may use the iMyFone Filmeslideshow maker application. It provides you with an amazing free baby slideshow template and other features that will beautifully turn your kid's pictures into a wonderful slideshow.
Here are four simple steps that you must follow to make a perfect slideshow.
1

Choose a Cute Baby Slideshow Template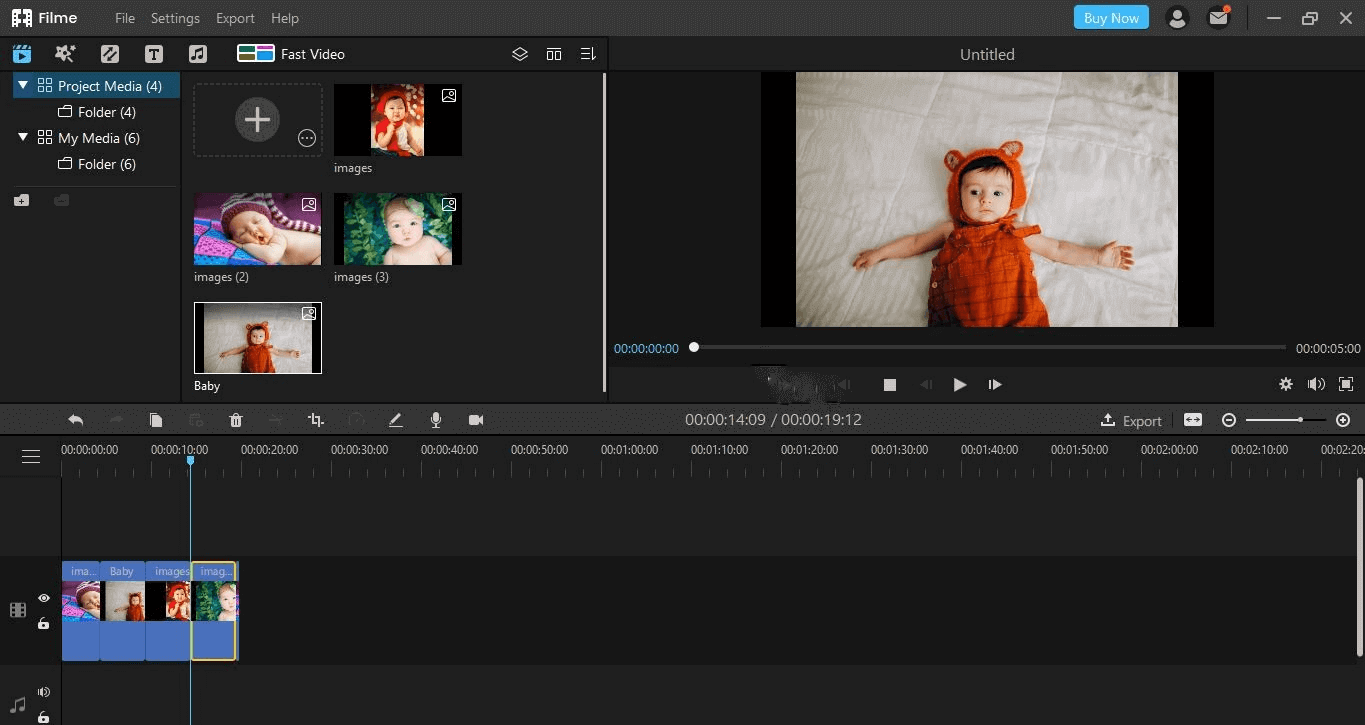 The very first thing to begin with is deciding on a theme or template. A template plays an important part in making the video lovely to your heat and eyes. If you like the template, only then can you like the whole slideshow.
Many people find it a hard task to design a template that is good in all aspects. You don't need to worry about this because now you can get excellent already designed baby shower slideshow templates.
So, browse through the various baby shower slideshow template options given in the software. Spend your time and choose a theme with wonderful color contrasts that goes with the slideshow. So, go for the template free download option to start making your slideshow.
2

Enjoy your Time with Collages and Clipart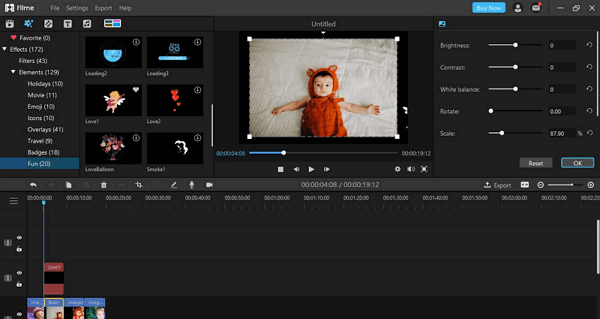 After this, you can now start designing your slideshow using amazing baby slideshow after effects. The best thing about using this software for making a slideshow is that it is user-friendly for even the beginner. The easy interface allows the user to create a video within minutes. You can make collages by adding several pictures of your baby to bring back all the memories within no time.
Also, you can apply attractive baby slideshow after effects, amazing filters to add more colors to your images. Choose your favorite options of transitions and animations to enhance the grace of your slideshow.
3

Choose a Baby Song for the Slideshow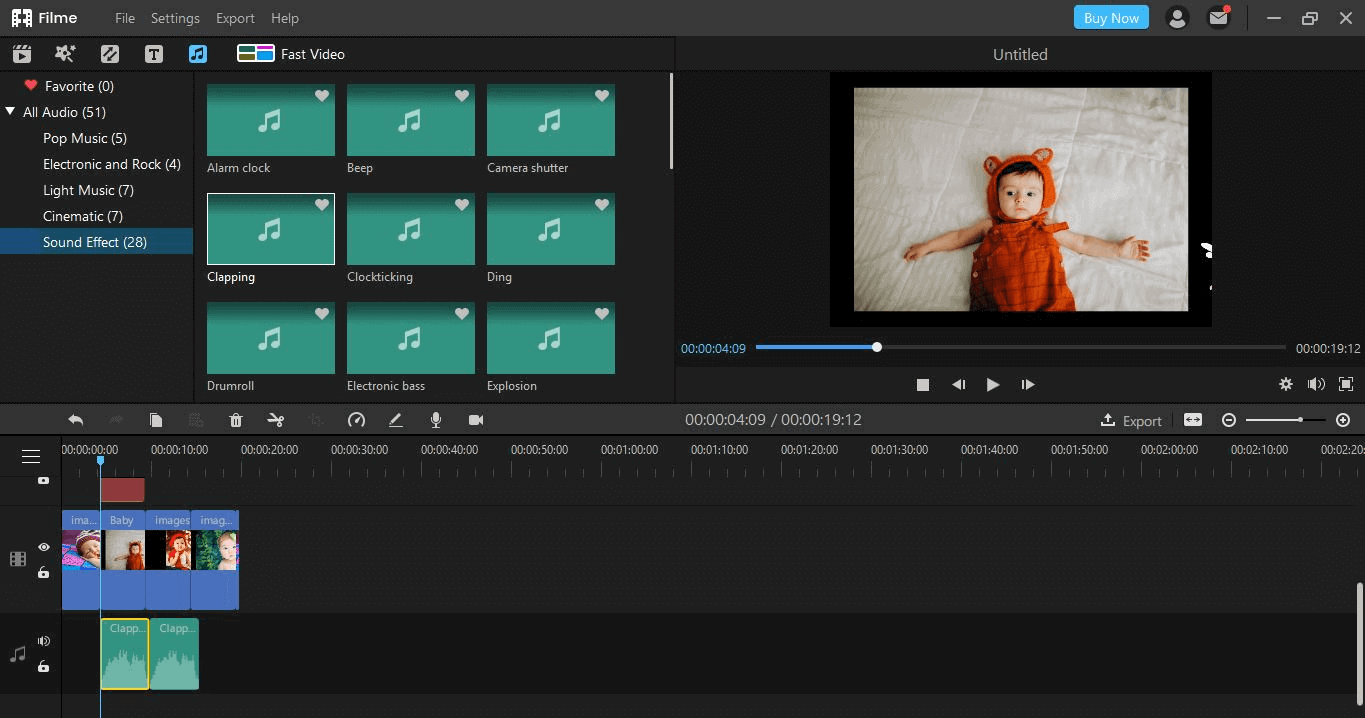 Even if you add the best images, colors, and filters, your slideshow won't be able to get that hype without a catchy song. Now, many people ask that what is a good song for a baby slideshow.
The only thing I can say on what is a good song for a baby slideshow is the one that matches the tone, event, and appearance of the images. So, always spend some time searching for the best songs for the baby slideshow.
We have also mentioned above a lot of songs from the Hip Hop, Oldies, Pop, and several other music categories. Make sure that the song for the baby slideshow you choose is going with the images. 
4

Record your Baby's Funny Moments
Finally, one amazing thing you can add to your slideshow is to add your baby's prerecorded voices. Along with adding the Bella baby photography slideshow song, you can add cute recordings of your baby also.
Most of the time, we don't understand the words small babies are trying to convey, but the way they convey their message wins our hearts.
Those chuckling, cute, soft voices of your baby trying to talk, laugh, or respond to your questions will make it even more attractive if added in the slideshow.
Pros:

Easy to use without any technical work.

Allows the addition of multiple videos.

Various font styles and color options for adding text to the video.
Cons:

Not works for Linux system at the moment.
Amazing Tips and Tricks for Guiding You About How to Make a Baby Slideshow
Here are some extra tips to consider while making the best kids slideshow.
Suitable length
Make sure that you keep in mind the length of the slideshow. And accordingly, choose a suitable number of pictures and also a song with a suitable length.
Keep videos short but engaging
Never think that the video's extreme length will determine the excellent quality, rather keep the slideshows short, simple, yet engaging.
Adopt intriguing colors
Try your best to present amazing colors to the slideshow. Even if you get a colorful template, add effects and filters to make it even more attractive.
Choose a right song
Choose a song that goes with the theme, like a party song for party related slideshow. Choose the right song that works for the age and the personality of your babies. Pay attention to focusing on the theme and make sure pick proper songs. For example, you should look for the songs for kids' growing up slideshow instead of those for birthday when you want to record the steady growth of your babies
Pick appropriate software
Always choose the photo editing and slideshow-making software accordingly. For example, for simple videos, you can use PowerPoint. However, for complex editing and complex videos, you can switch to iMyFone Filme.
Quality graphics
Use excellent quality graphicsto enhance the quality of your slideshow.
Use font style and color
Use font style and color for a better understanding slideshow accordingly.
Conclusion
Hopefully, this post will help you make a slideshow that will not just record your moments but also attract the eyes and win everyone's hearts.
It is also possible to go for the template free download option to enjoy numerous templates to integrate with your baby's slideshow. Make sure to follow the tips mentioned above and steps to make your baby's slideshow stand ahead of others.