With the onset of the pandemic, everything changed, even the way we celebrate birthdays. Virtual celebrations are the order of the day, and out of that has risen the demand for birthday slideshows with popular songs as background music. The question is what are the best songs for birthday slideshow, and where do you find them? Here are some ideas that can help.In this article,you can also learn how to create a birthday slideshow with music
Best 5 Songs for Birthday Slideshow( Kids)
Kids love up-tempo music with a lot of instrumentation and sing-along lyrics - and something they can all dance to, as well. While classics like Happy Birthday and It's Your Birthday are hugely popular, if you want your birthday slideshow to really stand out, you can try something innovative, like using the following songs for your kids' birthday slideshow:
ABC by The Jackson 5- This song was a hit in its day but it became even more popular as Michael Jackson grew into an adult pop star. In fact, the King of Pop's illustrious musical career is one of the reasons that even kids today know and love this song.
=Girls Just Wanna Have Fun by Cyndi Lauper- For a girls' birthday slideshow, this is a perfect song. It's lively and danceable and will appeal to children of most age groups due to its upbeat tempo and great musical arrangements.
=Happy Birthday by Stevie Wonder- Another all-time classic for birthday parties and birthday slideshows is this superhit from Mr. Wonder himself. It's a great song to dance to and will make the ideal background music for a birthday slideshow with equally quirky photos and video clips.
Celebration by Kool & The Gang- Though this band was formed way back in the 1960s, they're still rocking today, and this particular hit from their 1980 album called "Celebrate!" is as classic as they come!
Gangnam Style by PSY- Remember this awesome song that took over the world nearly 10 years ago? It's a great birthday slideshow track for teens who might remember dancing to this in their diapers!
Some of these songs are from decades ago but they're evergreen classics that get kids jumping with joy whenever they're played. Use them as background music to liven up any birthday slideshow.
Best 5 Songs for Birthday Slideshow for Younger Adults (18 to 30 Years Old)
Adults might like a slightly more mature tune for their birthday slideshow so be sure to pick something stylish yet fun. There are tons of such songs from popular artists that will really change the mood of the slideshow and make it fit for a birthday celebration. Here are some ideas:
In Da Club by 50 Cent- This laidback track is still considered "cool" by everyone in this age group. Turn the volume up on this hip-hop classic and use the audio track as your background music for a very memorable birthday slideshow.
Birthday by Destiny's Child- From the band that catapulted Beyonce Knowles to fame as the winner of no less than 28 Grammy Awards, Birthday is a true classic from the decade gone by. It's a cool and sophisticated song that any girl would love to hear on her birthday slideshow, that's for sure.
Happy Birthday by "Weird Al" Yankovic- This hilarious blockbuster from the master of parody lyrics will bring tears (of laughter) to anyone's eyes, especially those in the older half of this age group.
Happy Birthday by Sufjan Stevens- This beautiful guitar-picking melody is as soothing as it is celebratory. The calming tones of the song are a great match for nostalgic birthday slideshows. Get ready to cry!
Birthday by Maxi Priest- This reggae classic is as chilled-out as it gets. Add this head-bobbing song to your birthday slideshow to bring out the 'rasta' in everyone who watches it!
These five songs are a little more mature but they still have the fun element and will get everybody's feet tapping as they watch your collection of favorite photos and video clips of the birthday boy or girl.
Best 5 Songs for Birthday Slideshow(Elder)
For a more mature person, you can select from one of these Golden Oldies. They're from yesteryear but evergreen hits that everyone will love. In fact, it will take them back to the best years of their life, adding an extra touch of nostalgia to your memorable slideshow.
Girl from Ipanema- This rendition of the song sung by Frank Sinatra has to be one of the best versions of this jazz classic from 1962. You can also try an instrumental version - there's a fantastic one by Kenny G on Saxophone .
Happy Birthday Sweet Sixteen by Neil Sedaka- Oldies are truly Goldies! This classic from the '60s will set the clock back to the rockin' old days of rock and roll. A great idea for a birthday slideshow background music.
Doo Wah Diddy by Manfred Mann- Yet another classic from the '60s. Not a traditional birthday song but one that nearly everyone who's heard music from the period will remember for sure. It'll make an awesome soundtrack for a quirky video slideshow for any senior's birthday
Rock Around the Clock by Bill Haley & The Comets- Turn the clock back even further to 1955 with this classic from Bill Haley and his Comets. This good old rock-and-roll track will have their feet tapping and their minds time-traveling back to the Jive days of the '50s.
La Bamba by Los Lobos- There's literally nobody who's heard music from the '60s that hasn't heard this Richie Valens classic. Made even more famous by the namesake movie released in the '80s, this was the foot-tapper of the decade. Get the birthday boy's heart pumping when you add it to his birthday slideshow.
Part 4: Best Free Slideshow maker Making a Birthday Slideshow in Just 3 Clicks (Built-in Music Library)
iMyFone Filme is an excellent video editor for beginners and professionals alike. It comes with a full suite of editing tools and rich libraries containing text effects, animations, transitions, and even free music for your video birthday slideshow. The best part is the Fast Video Mode that allows you to import images, video clips, and photos from your desktop or smartphone and instantly create a birthday slideshow with background music. You can use one of the tracks we showcased above or use one of the many available options in Filme.
The process to create a video slideshow in Filme is very simple when you use Fast Video Mode. But first, download the YouTube video of your choice and extract the audio file as MP3. You can then use it for your slideshow.
To import your files to Filme, use the File → Import menu option and choose from the available import methods. This can also be done during the Fast Video Mode slideshow creation step.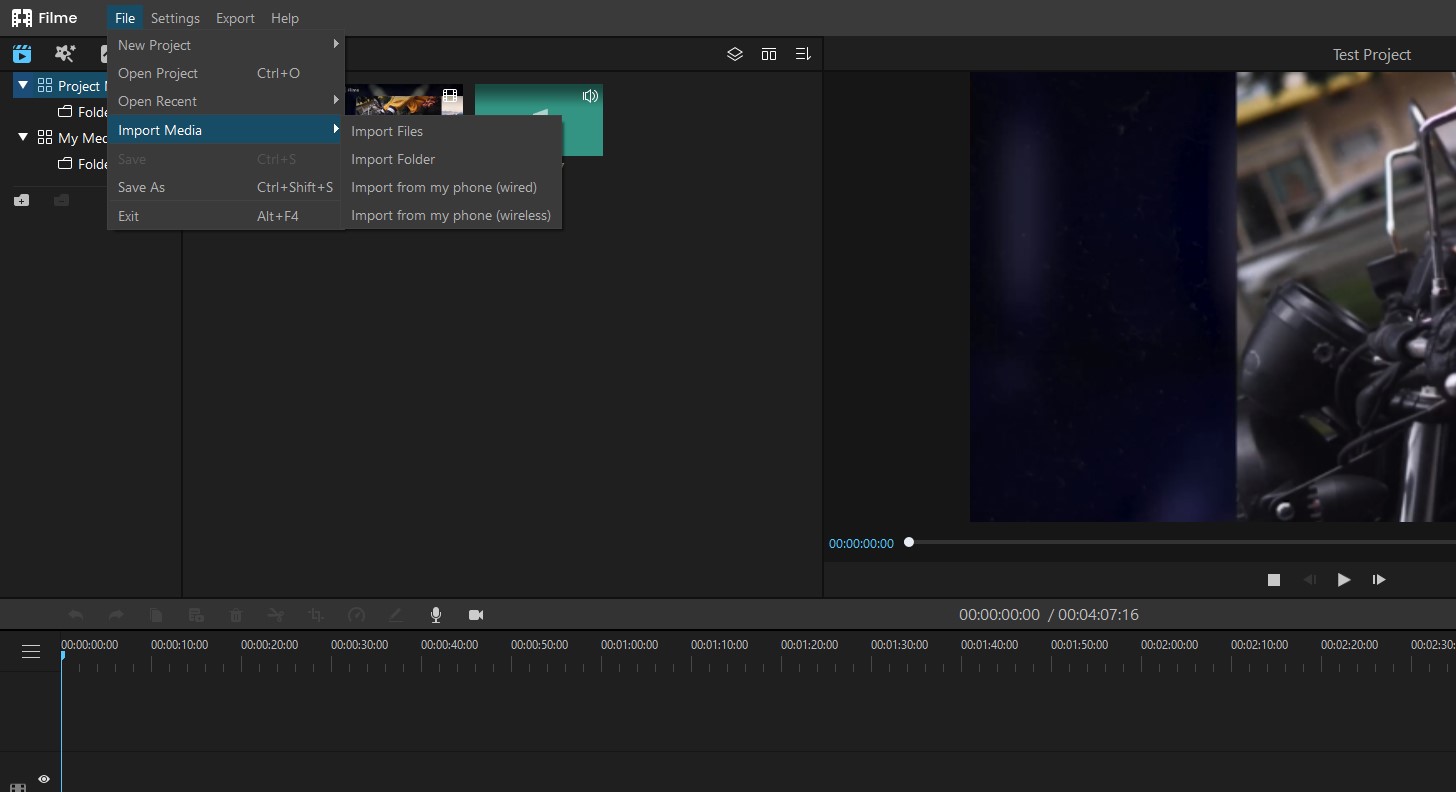 Click the Fast Video Mode button to open a new window for this feature. You can choose the theme from the left-side panel for this, and one of the main options is Birthday. Select an appropriate theme.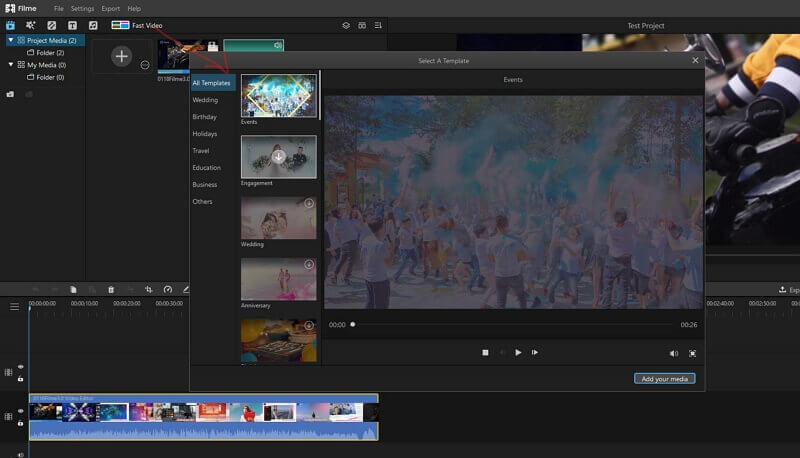 In the final step, add your media files in the sequence you want to create them. The music is automatically added. You can preview and export the file as MP4.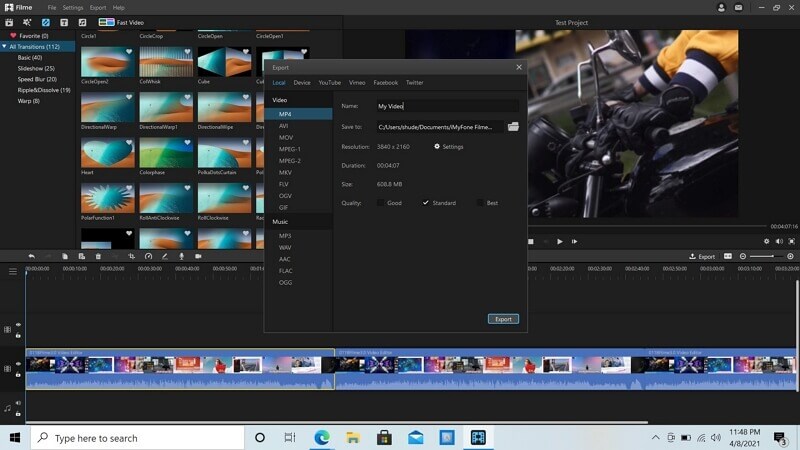 If you want to change the music on the video birthday slideshow, you can mute the existing audio and then add your downloaded song to a new audio track. For this, re-import the video into Filme and add the clip to the timeline. Double-click the track and then mute the existing audio.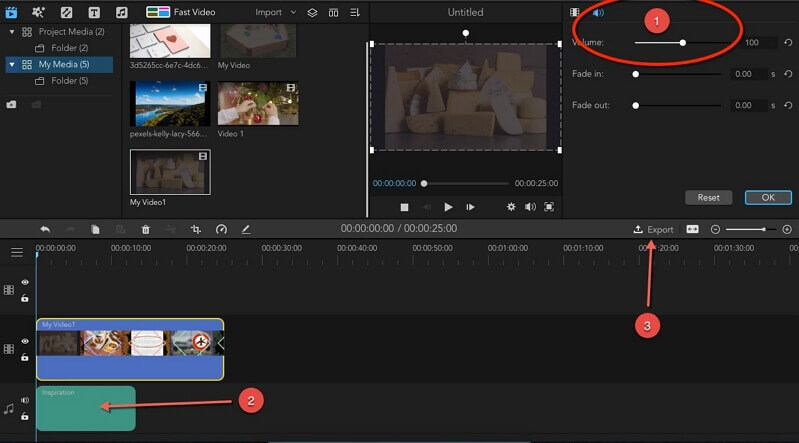 Next, add your imported music track on an audio track in the timeline. Export the video after adjusting the time of the audio track and adding fade-in/fade-out effects.
That's it! The first three steps are all you need to quickly create a video birthday slideshow for anyone. The additional steps show you how to add the best songs for a birthday slideshow to make it a truly exceptional experience for the person celebrating their birthday.