A beauty YouTube channel is an evergreen idea immensely loved by the targeted audience (girls and women). However, if you want to make your beauty channel successful, you need to brainstorm new beauty video ideas that can provide value to your audience.
With time, you might run out of ideas, but don't worry; we are here with some top beauty YouTube videos ideas. You can pick any of the ideas you have never tried and start creating on your own. We will introduce every concept and how it can help your audience. As a bonus, we will also share a splendid video editing tool that can help you create stunning beauty videos for your YouTube channel.
Then what are we waiting for? Let's dive into it.
20 Marvelous Beauty Video Ideas for Your YouTube Channel
We are going to list some YouTube video ideas for beauty channels. Pick suitable ones according to your existing and future goals.
Idea 1 : Makeup Tutorial for Beginner
Makeup tutorials have a massive demand on YouTube. Girls and women learn to do makeup for various occasions, such as birthday makeup, daily makeup, nighttime makeup, and wedding makeup. You can share how you do makeup for different occasions and teach beginners how they can do everything in the right way. Beginners love to watch these videos and try new tips and tricks to look more appealing and alluring.
The performance of your YouTube videos depends mainly on the quality and video editing. You need to control lights, contrast, sharpness, and everything to make a perfect video, and for that, you need a video editor.We recommend Filme as it is one of the best video editing tools for beginners, not only for its simple interface but also because of its stunning features. You don 't need any experience or expertise to use it. Just download the tool, and you are good to go.
Idea 2 : Product Review
We often check for reviews before buying a product. The same is the case with beauty products. Females try to pick the best product on the market according to their budget, so they search about the products and listen to the reviews.

You can give honest reviews of the products you have used and recommend them to your audience. It helps your viewers buy the right product without wasting money, and these videos get more attention. This idea can also be a source of earning if you include affiliate links to the products.

YouTubers are also approached by companies for the promotion of their brand and review of their product. Therefore, this idea has the potential to bring a massive stream of income to your business.
Idea 3 : Vlog
Vlogging is emerging day by day, and it has taken over its mother category, blogging. Bloggers even have their vlogs as video content tends to be more appealing and engaging than text.
Beauty vlogging is a great idea. You can put makeup on and share everything that happened to you and keep your audience updated. If you are going somewhere, you can share that video. Everything can be shared, from your wonderful experiences of buying cosmetics to your bedtime routine.
Idea 4 : Unboxing Cosmetics
Makeup lovers are crazy about cosmetics. As soon as they hear about the new cosmetic product, they love to try it or see its unboxing. Many can't buy every new product, so the best way is to see the unboxing and listen to the reviews.
These videos remain popular and evergreen among makeup lovers. Thus, you can share the unboxing of new cosmetic products and your opinion on whether they are worth it or not. Companies also provide their new products to influencers, so they might get new products before they come out.
Idea 5 : Daily Skincare Routine
Skincare is something that people are always curious about. They try to keep their skin healthy, clean, and free from acne, blackheads, hairs, and other unwanted elements. Thus, people like to discover the secrets and tricks of other people. If you know about skincare, you can share your daily skin routine and explain to your viewers how they can keep their skin healthy. These videos always remain on the search, so there are more chances of views and new subscribers.
Idea 6 : Top Favorites
You would be using dozens and hundreds of beauty products, but definitely, there would be a few products you love and use every day. You can tell your audience your top favorites, and they will get to know what they can buy. Your top picks will save your audience money.
Idea 7 : Q&A
Q & A videos give more insight and knowledge to your audience. They might be curious about your life, and they could have some questions related to any beauty product, tips, or anything else. You can answer every question you have received in the comments or email. These videos can also help you win more subscribers and convert new viewers into returning viewers.
Idea 8 : Hauls
Hauls are quite interesting, and they are just like trying new makeup in your room. The audience loves to watch hauls as these give them new product ideas. They can easily pick a suitable product and add it to their makeup collection.
Your audience can't buy every makeup product or might not have enough time to go shopping, so your hauls can help them get an overview of the products.
After getting famous, you might get new products from brands.
Idea 9 : Today's Look
We get ready every day after leaving the bed, and this is a nice idea to share your everyday look with your audience. It gives new ideas to people about clothing, makeup, new products, and things they can try. Your audience will remain curious to see the look of the day.
Idea 10 : Nail Art
Nail art is also an exciting and simple video idea. If you like to make your nails more appealing through creative ideas, you can create videos around them. It would be easy and eye-catching for the viewers. These videos are short, and a short video can also be used on YouTube Shorts to attract more audiences.
Idea 11 : Get Ready with Me
Get ready with me is one of the most intriguing ideas, especially if there is a special event. For instance, you can create a video on getting ready with me on Christmas. It does not need to be attached to an event; you can create such videos whenever you want. The video can guide the viewers on makeup, dressing, new styles, and mind-blowing ideas.
Idea 12 : What's in My Bag?
Everyone keeps a few go-to items in the bag, but it remains a secret until you divulge it. You can share what you carry in your bag to guide your viewers; they could be missing something, such as beauty products. You can recommend products that your audience should carry to maintain their beauty and make their lives easier.
Idea 13 : 5 Minute Makeup Challenge
People might not have enough time for makeup every day before going to the office or anywhere else. They can save their time by looking at the quick makeup tutorials, like a 5-minute challenge. This is only a trend, but it can also help viewers save time and do their makeup quickly. You can cover the essential steps of doing makeup to wind it up in five minutes.
Idea 14 : DIY Video
DIY videos have a massive potential of getting viral. If you have created an engaging, interesting, and surprising video, you will get more views and new subscribers. You teach your audience how to create a beauty box, make homemade beauty items, such as soap and cream, and use things in a different way. You can also share how to sew clothes at home and make amazing dresses. You can also recycle your old clothes and change their styling. There is a lot more possible as this niche is quite vast.
Idea 15 : Holiday Makeup Tutorial
Holidays are to increase the joy of your life. You need a long-lasting makeover that won't irritate you while enjoying moments. Beginners learn holiday makeup before going on any holiday. You can give ideas and tips to help them do the perfect makeup for their holiday trip.
Idea 16 : 10$ Makeup Challenge
Everyone would love to save money and get the makeup done in the least amount possible. This is why the $10 makeup challenge is quite famous and trendy. It is a great idea to make videos on this challenge. It will not only save your viewers money, but they will also enjoy the videos. You can buy $10 makeup and show your audience whether it is worth it or not and how to save money on makeup.
Idea 17 : Hairstyle
Hairstyling is a massive sub-niche. You can create a lot of videos around it. Girls and women love to learn new hairstyles and styling methods. You can create tutorials around the styles, and these videos will surely be loved by your audience. There can be videos for bridal hairstyles, anniversary hairstyles, party hairstyles, etc.
Idea 18 : Room Tour
If you have changed the décor of your room or never given a room tour to your room, you can make one or two videos on it. It is not an idea you can follow every day, but if you are in the process of decorating your room, you can make a video on every update, such as new curtains, bed, flowers, etc.
Idea 19 : Celebrity Makeup Tutorial
You can show your makeup skills by imitating any celebrity's makeup. People are usually inquisitive about how celebrities do their makeup. They could learn new things and how they can be like the celebrities they love. This idea can help you make many videos as you can try a new celebrity every week or day. Most importantly, these videos often get viral.
Idea 20 : Video Editing Tutorial
Your audience would be curious to learn about your video editing tools, tips, and tricks because they might want to follow you or create a YouTube channel in any other niche. Your tutorials can guide them, and they can learn a lot from your experiences. The best part is that these videos can target a vast audience.
The Most Popular Beauty Video YouTubers to Refer to
1. Jeffree Star
Jeffree Star is a famous YouTuber known for makeup tutorials, reviews, and vlogs. He is distinct from other YouTubers because he is the founder and owner of Jeffree Star Cosmetics. He has taken cosmetics to the next world and introduced some fantastic products. You get to know about the new products of the company and how to use them effectively. Despite all controversies, he is an amazing makeup artist, which is why he stands out from the crowd.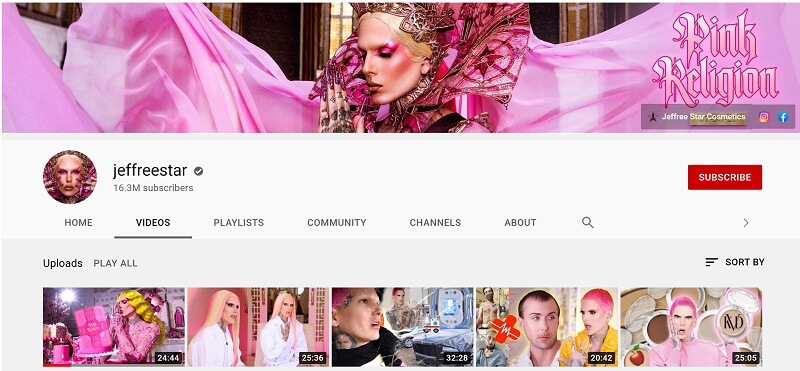 2. James Charles
James Charles needs no introduction when it comes to makeup. He is a brilliant makeup artist with extraordinary skills. He shares incredible and beneficial content for his audience, including makeup tutorials, product review/comparison, vlogs, challenges, hacks, tips, and a lot more.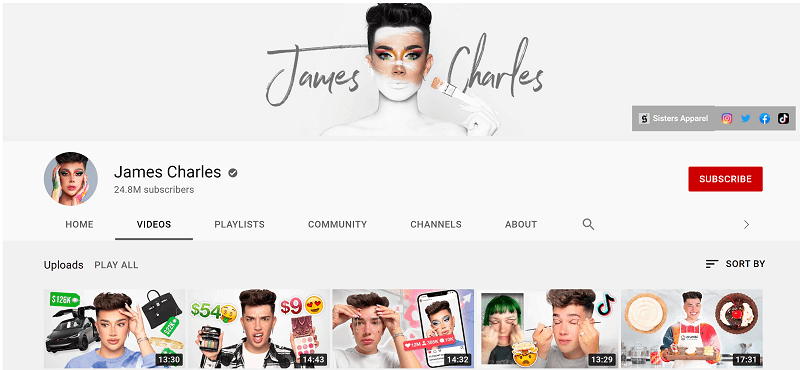 3. Michelle Phan
Michelle Phan is a well-known makeup artist and entrepreneur. She is famous for her cosmetics range, known as EM cosmetics. The way she teaches her audience is commendable. Her tutorials, skincare tips, product recommendations, conversations, vlogs, and all other types of videos are quite informative. She shares some useful tips and recommendations you can't find anywhere.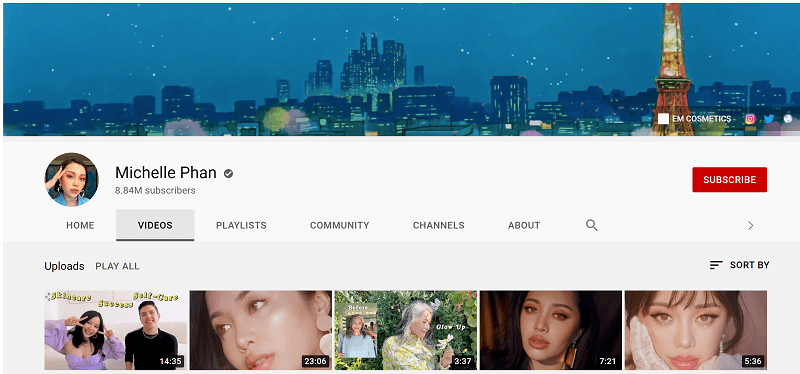 4. Cari Bybel
This is another beauty YouTuber that brings excellent content for makeup lovers. She is an amazing makeup artist. You will find makeup tutorials, product reviews, favorite products, challenges, and similar videos. She shares her experiences and explains what she does to look gorgeous. Her channel is also populated with vlogs that are quite interesting.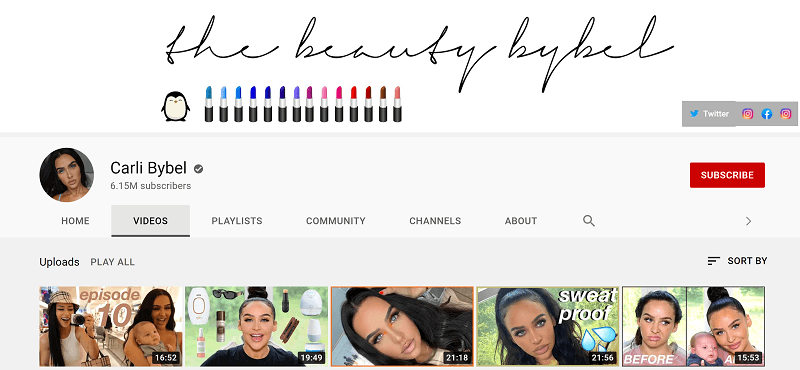 5. Nikkie de Jager
Nikkie de Jager is famous for her YouTube channel NikkieTutorials. She is a makeup artist and beauty vlogger. The best thing about her channel is that it is focused only on makeup. Her channel is populated with tips, makeup tutorials, new cosmetics, best products, challenges, do's and don't of makeup, and a lot more. She is often seen collaborating with other famous YouTube makeup artists, including James Charles.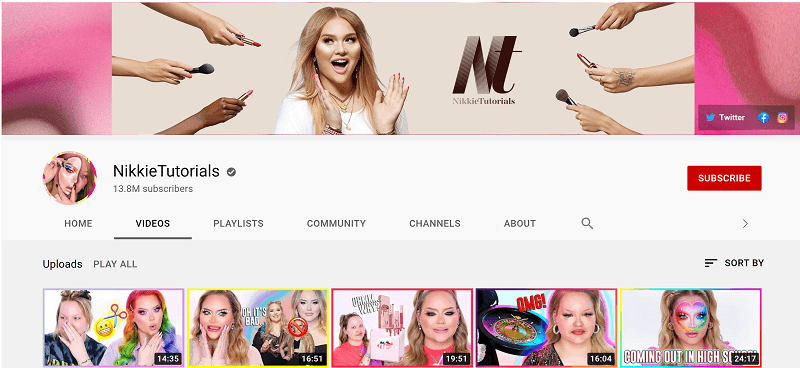 A Software Recommendation for Creating Beauty Video
There are dozens of video editors on the market, but most of them are quite complex, and beginners need to spend a lot of time learning them.
Features:
Filme supports all types of video, audio, GIFs, and image formats. You can import anything to it and use it in the video.
Adding transitions, filters, and effects is just a matter of a click. These will make your beauty videos more appealing.
You can add cinematic titles, subtitles, captions, and end titles to your videos. There are various styles, fonts, and sizes available.
Record your voiceover, edit audio, change voice, add effects, and make it as you like.
Export the file in any format, and it can be directly shared to social media.
Steps to Use Filme
Step 1: Launch Filme on your computer. It is a versatile video editor with a slideshow maker, screen recorder, audio recorder, and many other tools. For video editing, you need to click on Editing Mode.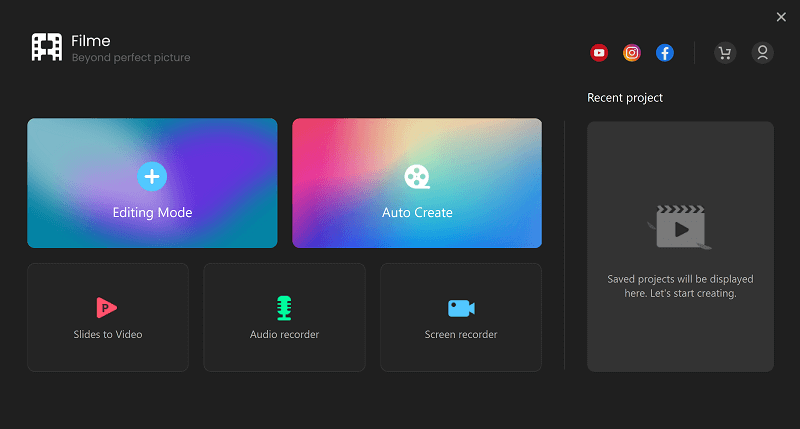 Step 2: You will see a video editor. Click on the File menu > New Project and select any aspect ratio.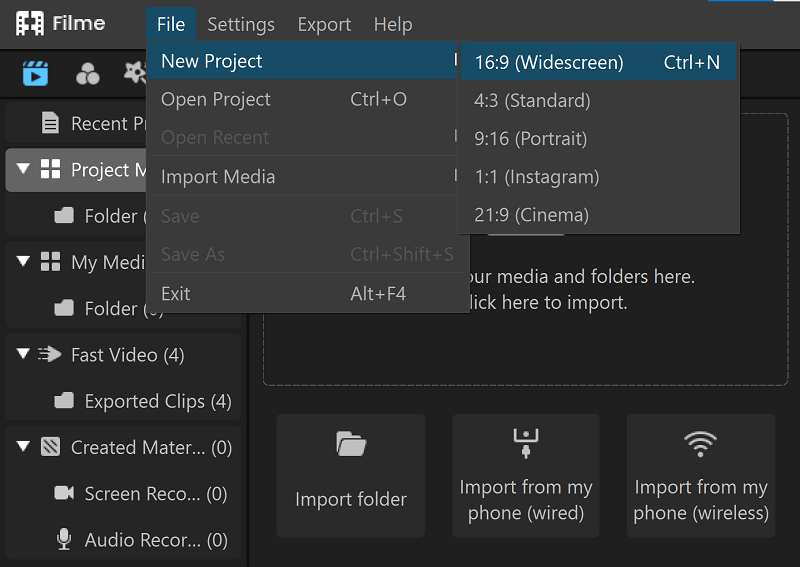 Step 3: On the top left, click on the media menu. Import the beauty video you want to edit. After importing the file, drag it to the timeline.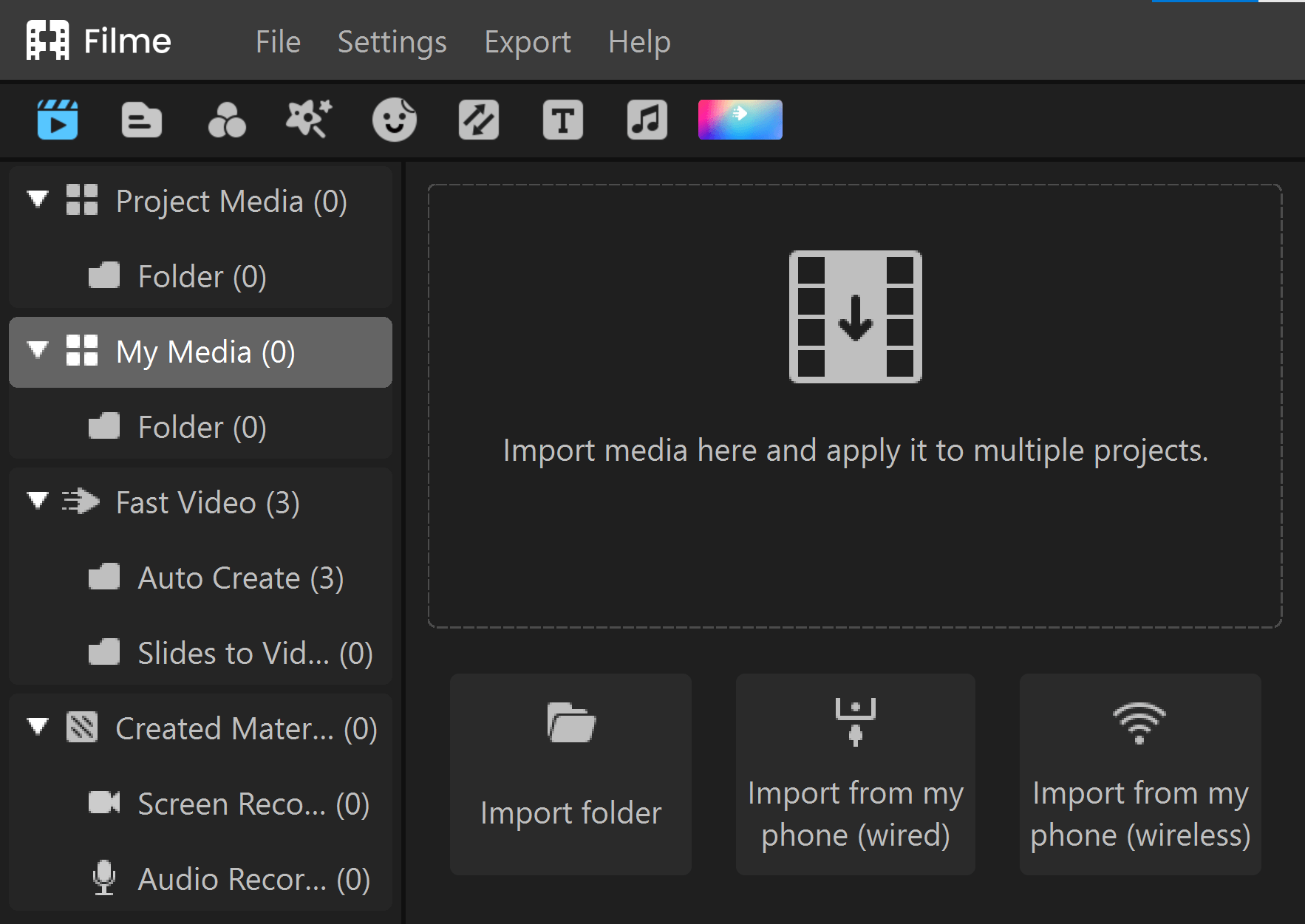 Step 4: Now, you are ready to edit the video. Click on the video in the timeline, and you will have some tools above the timeline. You can cut, crop, resize, record sound, record screen, change voice, adjust color, and make other changes.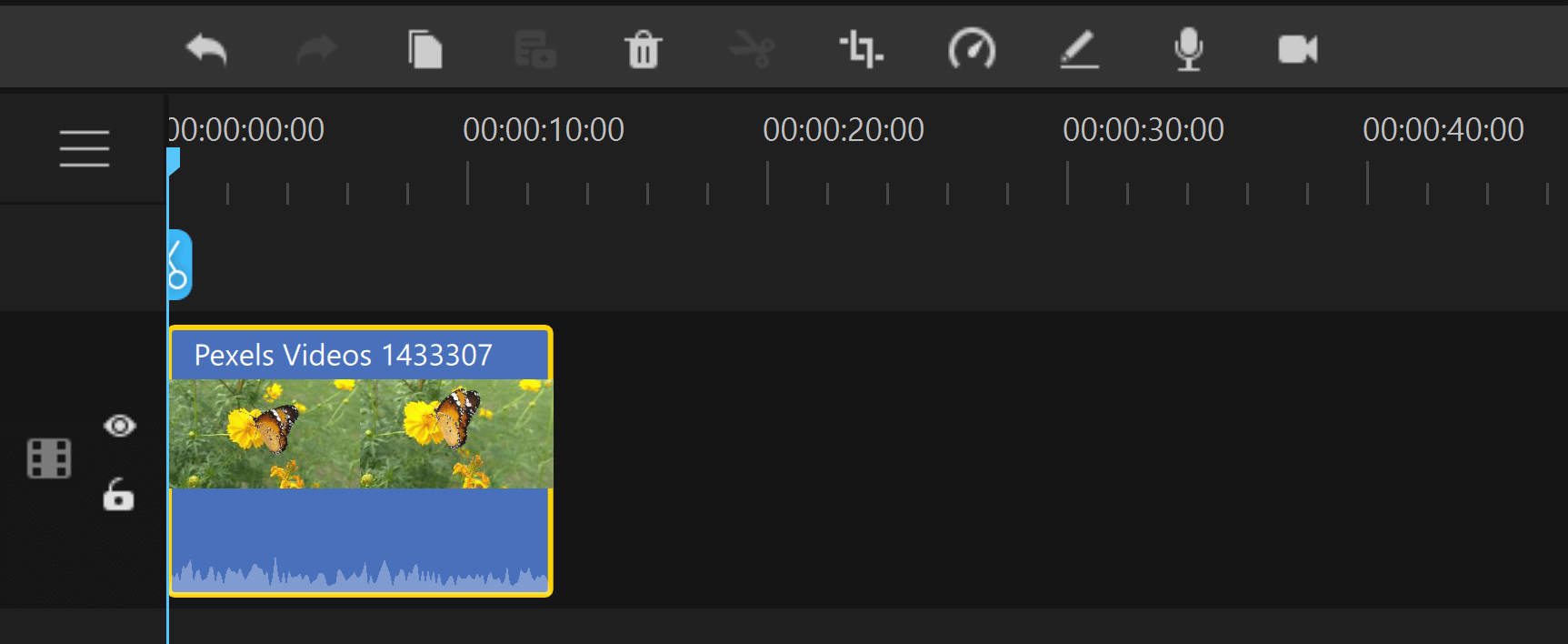 Step 5: You will see the menu in the top left corner. From there, you can add transitions, effects, filters, stickers, music, and text. Go to any menu, select the desired item and add it to the video. For instance, click on Filters. You will have a list of filters. Select anyone you like and click on the "+" button to apply to your video.
Step 6: You can add music and sound effects to your beauty video ideas. Filme offers a wide range of sound effects and free music. You can also import your own track. The best part is that you can edit the audio according to your needs.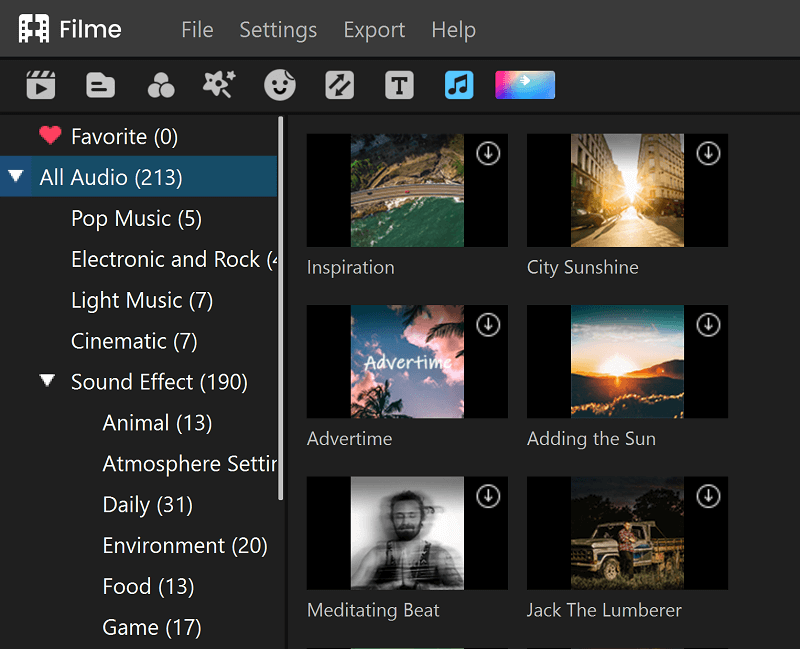 Step 7: Check the preview of the video. After all, click on the Export button and export the video in the format you need. You can also upload the video to YouTube, Twitter, or Vimeo directly from Filme.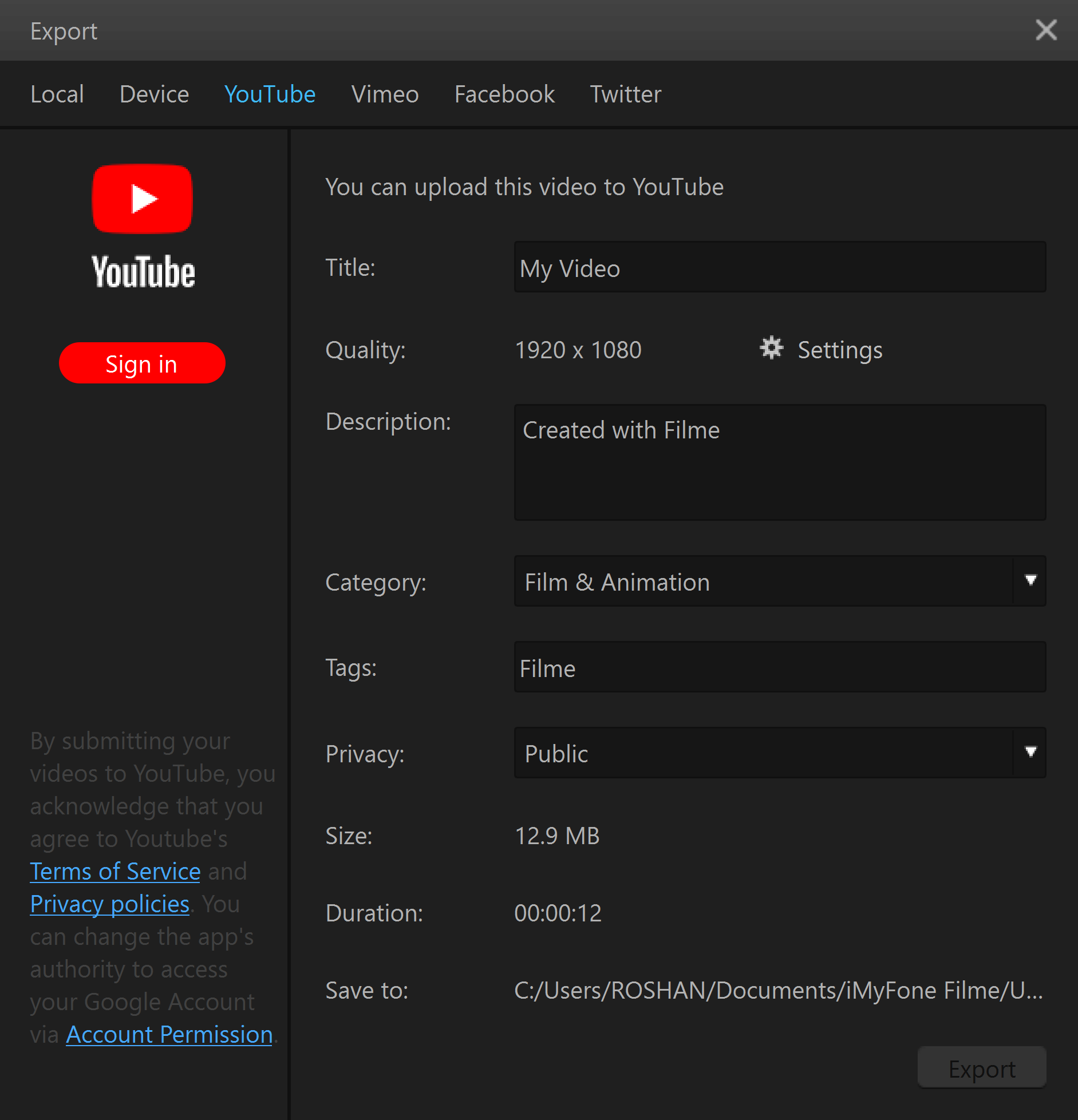 Final Words
Your YouTube audience will stay connected to your channel if you use your creativity and introduce new beauty video ideas. For your ease, we have introduced some of the best beauty guru video ideas. You can pick any of them and make your channel versatile. Once you have selected an idea and created a video, you need to edit it with perfection. For that, we recommend Filme as it is a beginner-friendly yet powerful tool that can make your beauty video ideas eye-catching and appealing and can make your creativity beyond pixel perfect.