Looking for what to create next for your YouTube channel? You are on the right site! Here, we will tell you about some of the great ideas for profitable video ideas for beauty gurus 2021!
50 Fun and Profitable Beauty YouTube Video Ideas
Here you go with some of the best YouTube video ideas for Beauty and Makeup:
1. Full Face Of Drug store Makeup
You can buy all the makeup products that you for your face from a drug store and then make a whole video of makeup by using these products and telling your viewers what you like and what you don't like about these products. You can also tell them what the difference is between these products and the products you use on a daily basis!
2. Halloween & Costume Tutorials
Halloween makeup ideas and costumes to go with the makeup it's a hard thing! You can make a video with lots of Halloween makeup ideas and tips and talk about the costumes that go well with the makeup.
3. Wedding Makeup
Wedding makeup is not easy at all! There are different types of people with different types of preferences in makeup. You can do bold makeup and also light makeup and talk about it. Your viewers will be getting great tips from these makeup ideas!
4. Makeup For Beginners
There are so many mistakes that we do as a beginner. Putting on base and foundation and blending them is the first step! It is the hardest too. Then there is mascara and eyeliner! You can make it easy for beginners by giving tips and guiding them to a decent makeup look.
5. A 'No Makeup' Tutorial
To make your face look makeup-free but still using it to enhance some of your features! This is a perfect video to make for the girls that are looking for this. A bit of color to your lips and cheeks and then some mascara to highlight your eyes! Let's go for these tips and tutorials for your next video!
6. Everyday Makeup
Everyone starts his/her day after freshening up. Girls prefer to look ready and beautiful every time, so they do a bit of makeup to make themselves presentable. Some enjoy bold makeup looks, and some enjoy minimal light makeup. You can make a video with both looks and give tips to all the makeup lovers out there.
7. Makeup Throughout History
You can make a video on makeup trends throughout history. Like, there was the eyebrow trend in the past where the eyebrow shape was preferred to be very thin, but now thicker eyebrows are in trend!
8. How To Contour, Create A Smoky Eye, Etc
Let's make a video with tips and guidance for everyone to contour according to their face structure and shape. A smoky eye is very tricky as we are playing with dark tones. So, to make it look professional, let's give out some great tips and help our viewers with it!
9. Celebrity Tutorials
You can make a celebrity look of makeup and give guidance to the audience.
10. First Day Of School Makeup
The first impression is the last! So, let's guide the students for their first day of school with minimal makeup tips and ideas.
11. Holiday Tutorials
Every occasion needs a new different you! There are different costumes and different makeup for every holiday. You can make a video on these holiday makeup ideas.
12. Best Of Beauty
You can make videos on the latest beauty trends and makeup ideas.
13. Travel Makeup
You can make a video of your travel makeup bag and tell how to manage everything in one small pouch. So you combine the style of traveling vlogs and make-up videos, which will surely make your vide icing on the cake.
14. Makeup Favourites
You can make a video and talk about your favorite skincare products and makeup brands.
15. Get Ready With Me
You can make a video while you are getting ready to go out or something like that and simply talk about your life and chat with the viewers. This can be one of the best vlog ideas since many Youtubers get well-known through this genre of videos.
16. How I Did My Makeup In High School
You can recreate your look from your high-school life and joke about your makeup blunders. You can also show some of the old pictures to your viewers.
17. This Not That (Dos and Don'ts)
There are many makeup blunders that we make by following others, but that does not mean that the same tricks are suitable for our face. So, you can talk about the dos and don'ts of makeup.
18. Reacting To Old Makeup Videos
You can go for re-watching your old YouTube videos and see how far you have come. You can make a reaction video while watching your older videos.
19. Full Face Using Only Kids Makeup
You can make a makeup video by using kids' makeup kit. These videos are also awesome if you can make this work.
20. The Power Of Makeup
You can do half face makeup and then talk about the difference and tell why you like to do what you do. This is a perfect way to show the power of makeup.
21. My ____ Does A Voiceover My Makeup Routine
This is a really fun way to engage your boyfriend or brothers or father to do a voiceover for your makeup routine.
22. 3 Minute Makeup Challenge
This small amount of time is a real challenge to complete your makeup. But, you can make a video and overcome this challenge. It can be a disaster too if you can't do this.
23. No Mirror Makeup Challenge
Now, this is like an impossible thing, but if you are a real guru, you can overcome this too. So, let's make a video and tackle this challenge!
24. My ____ Picks My Makeup
Let's get your male friends, boyfriend, or father in this video. You can let them pick a makeup product, and you will have to use it.
25. Dollar Store Makeup Challenge
Let's do some shopping at the dollar shop and get some cheap products. You can now make a video of using these products and giving your reviews about the products while using them.
26. Drugstore Versus High End
This will be interesting. You can do half of your face makeup with drugstore products and the other half with some high-quality products.
27. $20 Makeup Challenge
You can put a limit of 20 dollars and buy all the products that you need within that limit. Now, let's start with the makeup using only these products.
28. Testing Makeup
You can test a new makeup product and talk about its reviews and let your viewers know about your first impression of the product.
29. Makeup Reviews
You can use different products and talk about them and let people know what you think about the products.
30. New In Makeup
You can talk about new brands and products and talk about the bad and the best ones.
31. Empties
You can make a video on your empty products. Share them with your viewers and tell them what you feel about your used product.
32. Full Face
This is a tough challenge. But you can go for it and make a full face makeup video.
33. Makeup Haul
Let's go shopping and buy whatever you feel like.
34. Full Face Of One Brand
You can get all the makeup products of just one brand and do your makeup with just one brand. You can talk about the difference between your other brand's product and this brand.
35. What's In My Everyday Makeup Bag
You can make a video showing what's in your bag and talk about why you keep what you keep in your bag.
36. Morning & Night Routines
You can talk about your morning and night skincare routine.
37. Skincare Routine
You can talk about your favorite skincare brands and products and why you love them.
38. Best Of Brand / Ever
Let's talk about the best brands and their best products.
39. Ride Or Die Makeup Tag
These are great ways to collab with other YouTubers.
40. YouTube Made Me Buy
You can talk about the things that you bought after watching it on youtube.
41. ___ Does My Makeup
Ask your boyfriend or father, or brother to do your makeup and record it. Let's see what comes out of you!
42. Used Abused Makeup Tag
Make a video on used, abused makeup.
43. This Or That Tag
You can do half of your face with one style of makeup and the other half with another makeup style.
44. 7 Deadly Sins Of Beauty Tag
Make a video on the deadly sins of beauty and use these tags.
45. Would You Rather Beauty Tag
You can go for a 'would you rather beauty' tag video.
46. Top 5
Make a video on top brands or top products of makeup. Talk about why they are top-rated.
47. DIY Beauty
You can go for DIYs of beauty products and tell your audience what they can do with what they have at home.
48. New Releases
Every day, something new is coming, and you can make a video on these upcoming products. You can let your viewers know what to expect.
49. Mail Opening
You can make a video of unboxing emails from your fans or PR packages. Let your audience know what is going on in your life.
50. Daily Vlog
Do some vlogging with the best daily vlog ideas, tell your audience what is going on or what you do, and give them insight into their favorite YouTuber.
5 Exciting Beauty YouTube Video Ideas that Can Make Your Channel Profitable
You might have seen a lot of beauty gurus making makeup tutorials on YouTube, and often this thought might have struck you that "why don't I start a YouTube channel of my own and post some great makeup tutorials that my subscribers would love?" right? But then again, you can't think of a makeup look that people might need casually as well as on occasions, so here I am, with some exciting beauty YouTube video ideas that surely would make your channel profitable for others and will also be profitable for your channel. You can earn a great deal of money from these ideas, so pay attention.
1. Launch your digital product and make a video about it
This idea is both profitable as well as helpful for others. All you need to do is launch an online product and wait to see its result and reviews from your customers. You might think it is hard to launch a digital product, but in reality, it truly isn't. You never know how much someone else needed this in their lives or their work to be easier. Your digital product can be anything, like an eBook or even templates of graphic designing. The benefit of digital products is that you don't need to make more once it has started its selling. All in one, the starting depends on you; whenever you feel like launching your product, its selling will start at such a pace that it will leave you surprised.
The great thing about this is that you don't need to depend on a big audience to sell out your product, like a million subscribers on your channels, and after that, your product starts selling, none of that. Once you have launched your product, you will see that there are many customers who may have never even heard of you and are buying from you. This is because people are always surfing the internet for great products, and if they like yours, then they buy, simple. Just keep one thing in mind that your products should not have high prices start from low, and upload high-quality pictures from different angles.
2. Show how you edit photos and sell Lightroom presets that you use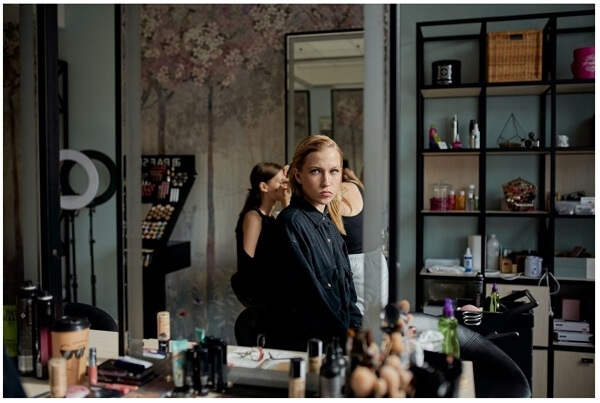 There are many beauty channels on YouTube with similar or unique ideas, but if you also start to make the same looks, people won't subscribe to you. If you start your beauty channel, make sure that your content is unique, and no one has made it before. As, of course, you have to upload many pictures, and you want to look good, then you might want to learn a few quick editing hacks. When you upload pictures, people may wonder how you edit them or what app you use.
This may be a good start to make your editing style and brand and start selling it. For that, you will have to compile your editing methods into LUTs and also compile them into presets so that they can be used and then start selling. After all that, you can make videos on how you edit your pictures and encourage your subscribers to buy them from you so that they can also edit their pictures just as well as yours.
All you need to do is launch a product on any online store with great pictures of it, and start your brand with low prices so that people will buy and not fear risking a lot of money on a new unknown product. You can also make social media accounts to advertise your product. A benefit of a review video is that they would know exactly what to expect from buying your product and how it works. Also, making videos and having tons of views on it will make you a lot of money as well, and also from the product if people buy, so it's like killing two birds with one stone.
3. Review makeup and earn with affiliate marketing
This idea is both helpful to others and you because when buying a new product, people don't want to waste their money, so they either check the reviews or comments or see some review videos from YouTube. This is because people are afraid to buy products they may or may not like and also they can't return. A benefit of makeup review videos is that you will never run out of content, as there are a million new products and someone needs to review them, and also you can find the right product for yourself, all the same while earning money from these reviews videos.
Your reviews don't revolve around the popular and expensive items; you can also try the local items and see if they are worth it or not. In your review videos, you can also compare the duplicates of a popular product to some fake company and see if they are similar at all or not. You can mention their different texture, scents, or even if they absorb on your skin, etc. You can also sign up with some companies and help them sell their products by reviewing them. In this way, you can earn money from both the review videos, as well as the company, not to mention free products. If you put up some code for a discount, so people buy from them, you can also have some percentage from that company for selling their product.
One thing to keep in mind is that do not be disheartened if you don't have many views at the start, as everyone starts as slow and gradually grows up. Don't worry; in time, both your viewership and your brand will grow and add up for all the time missed.
4. Do a brand sponsorship & tell your viewers about an interesting product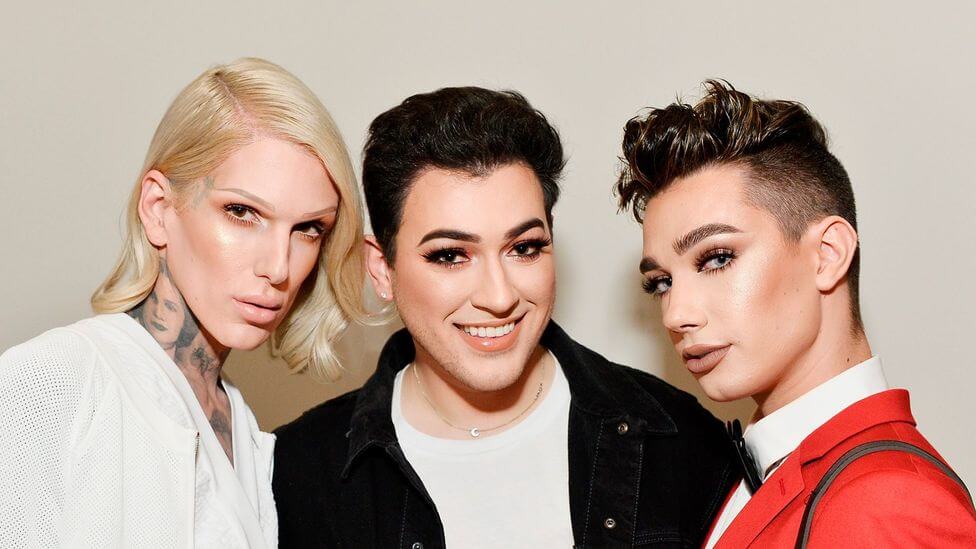 This is a great idea in itself. If you are making review videos and don't have any kind of sponsorship, you will be getting many brand sponsors on your own. You don't have to check brand sponsors, anything; they will come to you themselves if they think you are a good reviewer. The amount of money you get depends on your stats, it can be only 25$, or it can soar up to hundreds or thousands of dollars.
Sponsor videos are better than any normal review video because you are getting paid from two places, as well as a free product that you are reviewing as a gift, and also you don't have to use your own money to buy a product you won't like at the end of the video. If you do full face makeup using a sponsored brand, you are to be well paid and prepared. You can learn from other beauty vloggers that do full face makeup reviews and see how much they earn from them; they also give discounts to further the sponsorship they are getting.
5. Launch your beauty product
If you are someone who loves makeup and does a lot of review videos on them, then I'm sure this thought might have crossed your mind to make your product. Well, who doesn't want to make something they can call theirs, right? But one thing is sure; if you are a beauty product reviewer, then people would believe you blindly if you launch a product; this is because they trust your reviews as they have seen with their own eyes and because people also love it when a vlogger launches a product.
This is because people have another item to use that they are sure is worth it. Your viewers become your army of customers that you are sure will never turn their back on you. But, at the same time, it's mostly not worth it, especially when you have little to no followers. But if your product is good, and you stick to your dedication, then I'm sure your hard work will pay off, and one day you will have lots of customers.
How to Create Stunning YouTube Makeup Videos with Best Video Editor
If you want to make high-quality makeup videos for your YouTube channel, then this software is the best for editing as it has a lot of features that are helpful for quick touch-ups to your videos. The software that I was talking about is iMyFoneFilme. Check its details down below.
Filme has been recognized as one of the best editing software due to its pre-prepared features like templates, transitions, filters, and other fun things. The good thing is that you don't need a professional's knowledge to use it, just a few clicks and boom! Your video has been made with the best high-quality edits.
Key Features
Filme is used to make high-quality videos within minutes

You don't need any professional's knowledge to gain access to it

It is used by both millennials and professionals too due to its great features

You can use Filme to make your YouTube makeup videos and edit them however you want.

There are more than 170 filters available in Filme

There are also more than 110 transitions present in Filme

Users can use audios from the 50+already present in Filme

If users want, they can use 20+ fast video modes in Filme
How to Edit your videos using iMyFone Filme.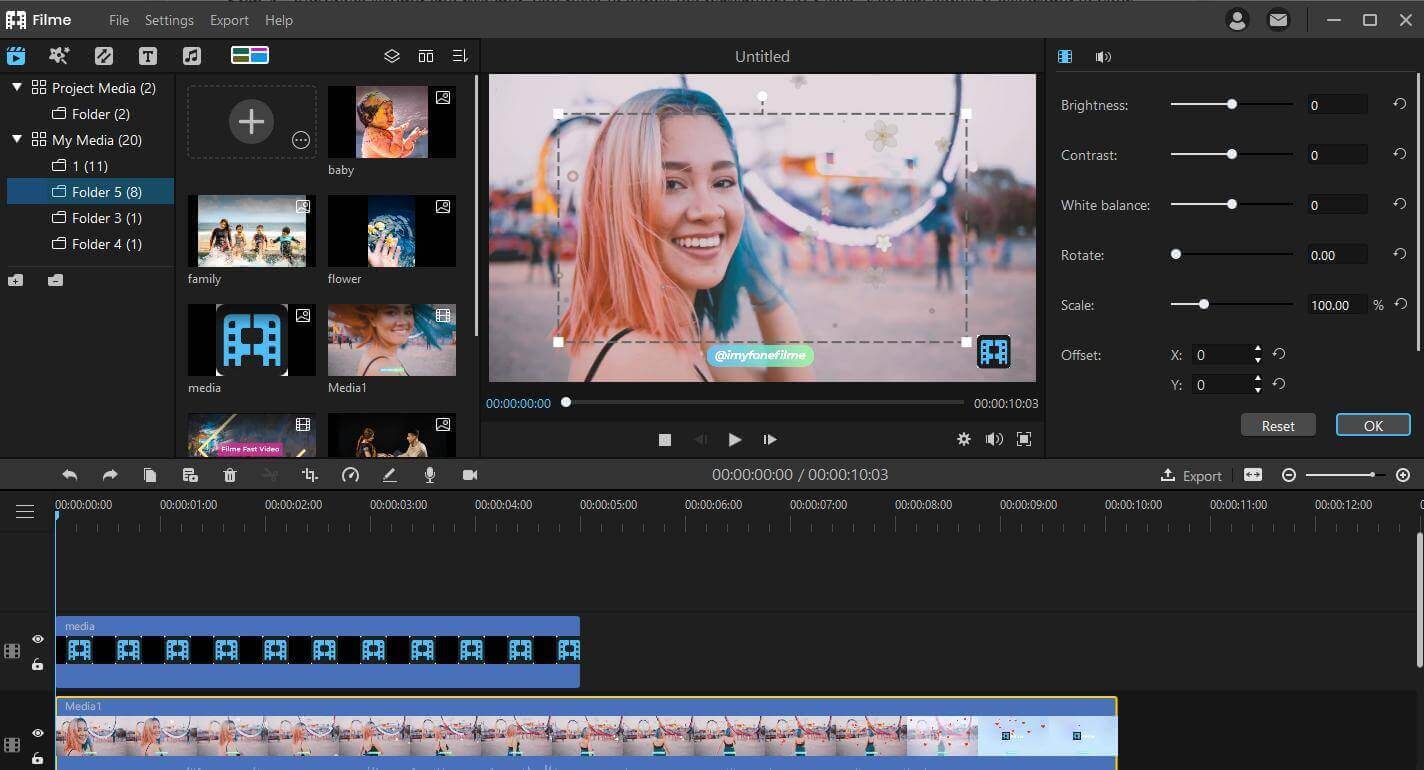 To use Filme, these steps are given sequence-wise, but the first thing you need to do is download Filme.
Step 1: Add Your Clips to Filme
When you have open Filme, you will see that on your left of the screen; there is a black and white icon; click on that so that you can import the media you want to edit into Filme. You can select however many videos you want, all at once, to edit.
Step 2: Edit However You Want
After you have added all the videos you wanted, you can start editing however you like. You can either add filters or even transitions in your video. You can also add templates if you want or make them on your own
Step 3: Add Audio
After all the editing and stuff, you can add audio to your video editing if you want. There are many pre-prepared audios in Filme, you can either choose from them, or you can add your audio by selecting one from your library. To do so, you will see an icon of music on the top toolbar of Filme; by clicking on it, you can add the desired media from your library.
Step 4: Add Writing
This is an optional step. You can skip it if you want. But if you want to add text or some kind of message in your video, then click on the text button from the toolbar, and start writing whatever you want.
Step 5: Save
The last step is to save your edits. For that, click on the Save button, and your edits will be transported to your device's library or gallery; and also, if you want, you can share it with your friends through social media.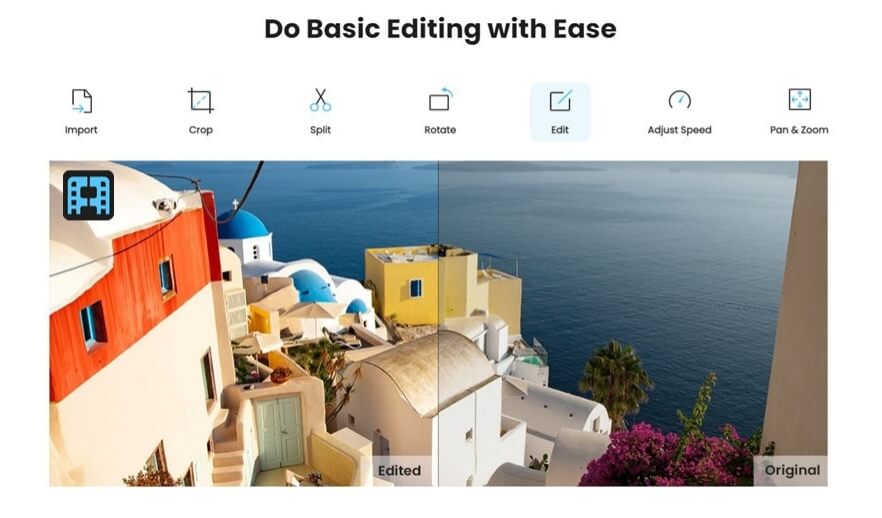 iMyFone Filme
Create Your Make-up Videos with Best Video Editor!
Download Now