Preparing for your next shoot? Looking for some inspirations and ideas for it? Great! We are here to help you with some impressive one-shot music video ideas for your next shoot.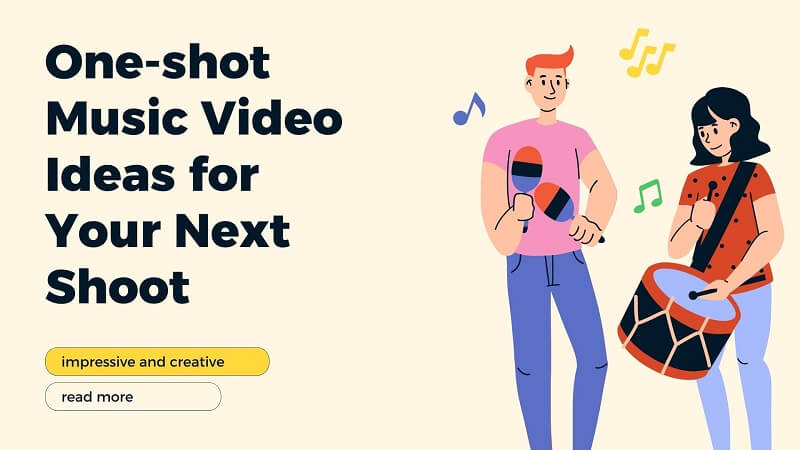 10 Impressive One-shot Music Videos
To get an impeccable and successful one-shot, there are a lot of things to take care of. Some of the essential elements for successful one-shots are Polished Choreography, Long Rehearsals, and Pre-planned Camera Movements. Even after all this planning, there is still a chance that you make a mistake, and you have to retake the one-shot. Sometimes, you even have to change the settings too to match your theme. This is why taking one shot is so difficult but challenging and fun at the same time. Here, we are going to tell you about some great one-shot music videos.
1. The Black Keys – "Lonely Boy"
It was totally on accident that Tuggle became the star of the music video "Lonely Boy" by The Black Keys. This was originally a cast of 40 people with all the actors, musicians, and security guards, but while filming the video for the song, the band disliked both of the edits for this song. But, they liked the scene of Tuggle's dance. That dance scene was so good that they made the whole music video with that scene. The inspiration for that dance was taken from Micheal Jackson, Alfonso Ribiero, and John Travolta. Here is a video to help you in better understanding the one-shot.
2. Green Day – "Redundant"
For the music video of Redundant, the band was to perform in a vibrant room. Some of the people had to repeat the same act for the whole song's video. Until the routine is broken by something, people were to keep repeating the same act for the whole of the video duration. Here is a video to help you in better understanding the one-shot.
3. Blink-182 – "Always"
The editing for this music video was impeccable, as there were three clips following each member in their pursuit of the same girl simultaneously. In 2005, David Blackburn was awarded for best editing in this video. Here is a video to help you in better understanding the one-shot.
4. OK Go – "Here It Goes Again"
Most of the music videos of OK Go are one-shot videos, but Here It Goes Again is one of the best of all the other videos. It is also no surprise that they won the 2007 Grammy Award for the Best Music Video as the video shows a routine of jumping around treadmills, and it is no easy feat. Here is a video to help you in better understanding the one-shot.
5. Never Shout Never – "Red Balloon"
In this music video, a panning camera is following Christofer Drew in a red-adorned park. The camera is capturing the beautiful view of the park track. In one of his interviews, drew said that it was a very easy one-shot shoot that was done in Austin, Texas, during one of his tours. There was only one difficulty, and that was that the song was played at twice the actual speed so that they can capture the slow-motion effect. Here is a video to help you in better understanding the one-shot.
6. Gin Blossoms – "Allison Road"
From the sophomore efforts of Gin Blossoms' New Miserable Experience, "Allison Road" was released in 1994. It was their sixth one-shot. In this music video, a single camera was used to capture a collection of televisions that were playing a pop song by Gin Blossoms. Here is a video to help you in better understanding the one-shot.
7. Feist – "1234"
The one-shot music video of 1234 was beautifully choreographed by the Patrick Daughters. This music video was launched in 2007, and the singer/songwriter Feist was launched in the US mainstream popularity. Not only the best dance routines, but it was also nominated for the Best Female Pop Vocal Performance! It was also named as one of the songs of the decade by Pitchfork Media. Here is a video to help you in better understanding the one-shot.
8. Lorde – "Tennis Court"
The music video of "Tennis Court" was directed by Joel Kefali, who was also the director of the music video of "Royals." This one-shot video by Lorde features the pop star of New Zealand, staring and lip-syncing to the "Yeah" parts. That too, only at the ending of each verse and also during the chorus! Here is a video to help you in better understanding the one-shot.
9. Justin Timberlake –"Say Something ft. Chris Stapleton"
In this music video, more than 70 people joined Justin Timberlake and Christ Stapleton. All of them were captured live in this music video, and all of them performing in the Bradbury Building in Los Angeles. This was a very tricky and challenging shoot, and there were many solutions needed to make this one-shot impeccable. It was so tricky that you would have to study them thoroughly to get an idea. Here is a video to help you in better understanding the one-shot.
10. Radiohead –"No surprises."
The music video of this song is so simple that it tugs at our heartstrings. In this video, the head of Thom Yorke, the Radiohead Frontman, is stuck in an astronaut's helmet, and the camera is up close and personal to it. At many different angles, the video is shot, and these varieties of angles have many potential meanings. The video was simple yet complex at the same time due to these different angles and the meaning behind them. Here is a video to help you in better understanding the one-shot.
People Who Liked this Content Also Liked
25 Extremely Creative Music Video Ideas >>
How to Make a Music Video for YouTube Using Top 4 Easy Tools >>
The Best Free Music Video Editing Software 2021 >>
10 Cool Music Video Ideas to Bring to Your Next Shoot
We all want to make a great video, whether it is of animation, musical, or even performance-based, right? So, why not just follow the looking ideas and see for ourselves their results. And believe me when I say that they are worth giving a try.
1. Make your light move with the music.
If you want to shoot your singer playing his song indoors, then you might need a net and a few bulbs. This idea is affordable and effective 100%. All you need to do is hang the net over the place surrounding the space that all the musicians will take up and then put bulbs through them in an exposed manner. Another thing you need is to hang a rope on one side of the net and ask a little help to pull the rope whenever the band starts playing. This is a creative idea, used commonly in a lot of shootings.
2. Record your footage at different speeds
Musical videos are as important as the song because they break the filmmaking rules in many ways. When recording, try using different paces or speeds. Like when you are recording the musicians, try slowing down the song so that they can lip-sync effectively. You can speed it up later and also slow it down for dramatic effects. On the other hand, speeding up will create urgency and a cool effect to the song and the video.
3. Craft the slow reveal
Another one of the great ideas is to make or craft the slow reveals. Slow reveals recording the musician's face up close, and then slowly and gradually zoom out to make it look like you are showing something unexpected. This will keep the audience on their toes. At first, make it look like there is only one singer, then zoom out and show the total number of singers. The benefit of slow reveal is that it creates a lot of suspense and drama along with surprises for the audience.
4. Create a one-shot video
This idea needs professional's skills along with a great performance from only the particular selected musician. But the good thing about this is that you only need one camera and place. All you need to do is move backward; you can also take someone's help from the staff. This can get a little bit of a challenge to shoot, but worth the effort.
The catch is that the singer needs to be constantly looking at the camera while lip-syncing to create one shot. All you need to do is stand at one palace and use a tripod for moving the camera.
5. Shoot on a green screen
Green screening is common and effective for shooting indoors. It is used to make up virtual places that do not exist in real life or if you can't afford to travel to certain places. All you need to do is record your music video in front of a green screen, and when shooting is done, start editing to the places you want the audience to see.
6. Shoot during golden hour
One thing we must focus on is that the shooting should take place in the daylight so that you don't have a lot of problems shooting the video at night using artificial lights and having to do a lot of editing and setups. This can help save a lot of time, effort, and money. Golden hour, according to the photography term, means the time during the sunrise and sunset. During this time, there are warm tones of sunlight that fit perfectly into the background. All you need to do is leave everything related to light up to the sun.
7. Add stop-motion animation
This is an intensive step but has been used long to be considered an old-school technique. This creates a magical effect on the video. This step needs high-level skills to shoot the stills of the singers. Also, try to record an enormous amount of stills. This idea is both affordable and effective.
8. Use a drone
If you can afford a drone easily, which many of you can, try using it and record the video from various heights and angles. A lot of artists do use drones for b-roll shots establishment; you can do the same.
9. Let the musicians shoot the video themselves.
This is also an entertaining and unique idea. Bands do go around on tours, in different studios or countries, try and let them record a musical video themselves, recording all the goofing around they do and a little bit of background and behind the scenes to catch the audience's attention. This can easily be afforded and also have a touch of creativity from different band members. Just keep in mind that the musicians record the video horizontally, not vertically.
10. Produce your video with animation in mind
Animation is a great way to keep the audience interested. You might have seen a lot of music videos with animated parts. If you also want to make a great and interesting musical video, then try adding a little bit of animation; well, of course, for that, you need to make plans and preparations beforehand. Don't use a green screen, which you can change into animation. Try using the scribble effect on your video. This will make your video worth watching every single second.
How to Film a One-Shot Music Video
The key features for any one-shot music video are Lyrics and Visual content, Lightings, and then the quality of Equipment.
Musical and Visual Content
Before anything else, the music's lyrics and the artist are to be studied thoroughly. You have to listen to the lyrics carefully to make concepts for your video. The lyrics have to match with the theme of the music video. Try to make sure that the music video is showing exactly what the lyrics and the musician are trying to portray. This is the very first step of shooting.
Lighting
Good lighting is essential for a good viewing experience for the audience. How you might ask. Well, for starters, we can say that good lights set the mode of the video and also affect the mental thinking of the audience to think that it's going to end well. You might have noticed that many people leave many movies from the start or in between just because of silly little reasons like bad quality or LED lights, even if the storyline is good.
If you have watched the Elise Trouw video, you might have noticed the great in-frame background lights and the way it fits in the shots, one of the reasons it is famous. Elise is also famous for the designs, use of vibrant colors in music, and also creative props to keep the musical video eye-catching. But the sad thing is we filmmakers only have three white walls, only the independent filmmakers.
To carry out the lights in the perfect way, I used many things, like 2 LED lights as backlights, one small LED as key lights in the front, and a never-ending supply of fog. This helped to make the window entirely invisible and also to fill the background. As you know, I used two LED light panels individually, and also the sun, so to make them merge as one light source, fog played a big role. In this way, the light was used as one source on Phil's face to not make a silhouette.
Equipment
Equipment is an essential part of shooting too. The camera, lens, gimbal, monitor, etc., make up the equipment. They have to be good as sometimes, both your hands are busy holding the gimbal, and you may need very good autofocus. As not all cameras are good in autofocus, you will have to select wisely before starting up with the shooting.
How to Create One-shot Music Video with Best Video Editor
iMyFone Filme
iMyFone Filme is the best editing software out there, used by many millennials, professionals, and gen Z. the reason it is so famous is because of its pre-prepared features and editing quality and time consumption. Read till the end to find great things about Filme.
Key Features
The main features of Filme are:
Filme allows quick with high-quality video editing.

Filme is used by millennials, Instagrammers, and gen Z commonly.

Filme contains 50+ audio a user can choose from.

There are more than 110 transitions that can be used.

Filme has more than 170 filters per=present that a user can use.

There are more than 20 fast video modes in Filme.
How to Edit your videos using iMyFone Filme
After downloading and opening Filme on your device, let's start the step-by-step procedure. They are: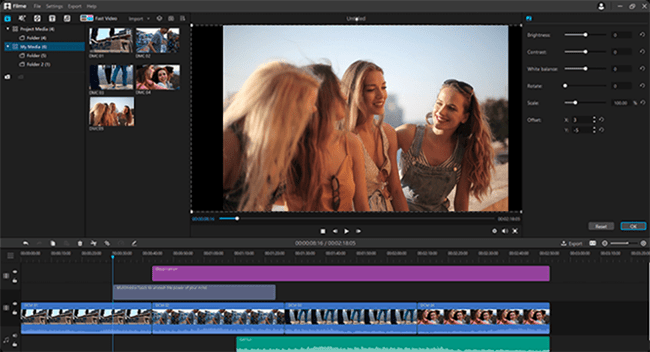 Step 1: Import Media
The first thing that a user needs to do is click on the white and black icon on the left to import the media they want into the Filme. When you click on that icon, a pop-up window opens, from where you can choose the media you want, however many you want.
Step 2: Add Effects
You can choose whatever you want or whatever editing you want on your media. For example, you can add filters from the variety present in Filme, select audio, add transitions, or apply fast video mode on your editing.
Step 3: Cut/Crop
If you want to cut your media, you can do that by simply dragging the video and leaving it wherever you see fit.
Step 4: Add a Message
You can also add text to your video if you want. To do that, all you need to do is click on the text option present on the top toolbar of the Filme and type the message you like.
Step 5: Save
After you are done editing, you can save your masterpiece by clicking on the save button present on the top left corner of Filme. You can also share it with others via email or social media accounts.