A career ends with retirement. However, a new era and journey of life begins. It is our last shot at life, to enjoy it to the fullest.
Wow, that's a big deal! Right?
Suppose you wish to thank a colleague who has dedicated a large part of their life to their career. Then it would be great if you had a present that expresses your gratitude for their long-time service in a more personalized and remarkable way.
Part 1: 8 Best Retirement Video Ideas
So, how can you congratulate and remarkably thank a retired person?
You can make great retirement videos in some minutes, and add background music like pop music, light music, electronic and rock music, cinematic music to your video easily. you can upload retirement video to facebook, vimeo, youtube with single click. So download Filme to make retirement videos now.
Bonus Tips:
If you want to make a funny retirement video, I would recommend iMyFone Filme for best retirement video maker to store your retirement memory.
Special offer that can free try the resoureces for paid. Download it for trying it out!
Well, what better way to give a tribute to a retiree than by making a video montage for them.
This unexpected film montage is a gift to be cherished for years. We have listed 8 best retirement video ideas in this article.
However, that is not all. This article has more to offer. Take a look at the content outline to learn more.
When it comes to giving tribute to a retiree, video montage is the best option. They are also fun to create and watch.
Let coworkers, friends and family wish them well in their new chapter in life. Imagine their astonishment when everyone they know joins them in a video to congratulate them on their success and thank them for their years of hard work and dedication.
Below, we will list down the most popular ideas for montage videos that will surely help you plan the retirement video efficiently.
Idea#1: A Video Montage of Thoughtful Messages as a Group
The most heartfelt retirement videos feature group video montages. All of the retirees' loved ones share a pleasant, meaningful, or humorous remark.
You may leave it up to individuals with what they want to share rather than imposing a notion on them about what they should do or say in the video. Any form of contribution is excellent. For instance,
It might be a heartfelt letter wishing the retiree well in the future,

Thanking them for working hard for the organization, recognizing their accomplishments, or

Simply saying something amusing to make the retiree chuckle.
Idea#2: Funny Story Video Montage in a Group
Another great way to honor the retiree is to create a group film montage of funny stories and experiences.
Retirement is a significant life achievement that is frequently celebrated. The retiree closes a significant chapter in their life and begins a new one with a plethora of fresh experiences to be had.
As a result, a retirement video in which people contribute amusing memories about significant times in the retiree's life is a fantastic retirement video concept.
To commemorate or mock the retiree, do as follows,
Encourage everyone to offer humorous, large, teachable, laughable, or embarrassing tales in a video.

Also, explain why that particular moment is one they will never forget.
Idea#3: A 1-minute video montage of group toasts
Just like I said before. Retirement is a time to enjoy and cherish. What is a celebration without champagne, after all?
Even if you are socially isolated or live far away, you can still honor the retiree with a champagne toast with other individuals. Simply film it and create a group video montage of 1-minute toasts. The following is how it works:
Make sure that everyone in the retirement video drinks from the same glass of champagne or sparkling wine.

Ask everyone to copy each other in the video: grasp the glass with their right hand outside the screen, make a toast, and then put the glass away with their left hand outside the screen.

And as the first person in the film, you can pop the champagne bottle, make the initial toast, and pass on the glass to your left.
When you compose a group video montage with all of the footage, it appears as if everyone is toasting with the same champagne glass.
Idea#4: Answers To Questions In A Group Video Montage
When folks are stumped for what to say in a retirement video, answering the questions about the retiree is your go-to solution.
It's pretty simple; all they have to do is answer a few questions. And, because there are so many people, you'll get a wide range of responses that are either amusing or honest.
Because the video's success is determined by the order in which the answers are given, it takes a little more effort to arrange the videos in the order that you choose.
Tips
If you want to produce a hilarious retirement video, ask funny questions, and if you want to make a meaningful vid, ask individuals to answer your questions honestly. Alternatively, you may leave it up to them.
Idea#5: Video Montage Of Written Words In A Group
We wish Martin a very happy retirement and thank him for his service to our community. pic.twitter.com/xc2Nho4y4C

— Camp Hill Boys News (@KEVICHB) July 21, 2021
A more silent retirement video is also a great concept. There is no need for anyone to say anything. It's all written words set to pleasant music. You can have individuals record a brief video while holding a sign with a single phrase or a few words on it.
They can each hold a sign with a message for the retiree. You can compile all of the video messages into one video montage.
Alternatively, you can make a single retirement video with a single statement that everyone participates in. Each participant holds a sign with a portion of the complete message written on it.
Idea#6: Bucket List Ideas Video Montage
Create a retirement bucket list video to provide ideas for the retiree's bucket list. Everyone who participates in the retirement video contributes one or more bucket list suggestions that the retiree can check off during their retirement.
Many people overlook that retirement is a huge lifestyle transition that comes with a slew of challenges. Many retirees lose motivation to make their retirement the best time of their lives because they don't know what to do with their spare time.
As a result, getting a retirement video full of inspiration and ideas is both enjoyable and valuable.
It can work as a helpful reminder that now is the time to accomplish all of their goals. The retiree can view the video as often as they want during difficult times, or when they are bored.
Idea#7: Career Highlights Montage Video
On their last day of work, many employees want to honor the retiree with a presentation of their career highlights. Or even at their retirement party at work.
If you are coming short for an innovative way to honor a true workplace legend with a retirement video, this could be it. You can make a film containing a collection of old videos and photographs, as well as text, to emphasize the retiree's professional accomplishments. You are done once you have added some music.
Tips
You can add their most significant traits in text, other accomplishments, and reasons why the retiree is an actual genuine one-of-a-kind person.
Idea#8: Music Video clip
Making a music video is another entertaining retirement video idea. You can sing or dance along to the retiree's favorite song or a popular song.
You may explore getting everyone together and recording a music video together in one location, such as the office.
Alternatively, have folks make their videos while singing and dancing to the same tune. And you combine all of the videos into one music video.
Ask everyone to record themselves singing or dancing to the whole song so you can pick out the best sections per lyric. Also, don't forget to dress up in costume and use props.
Tips
For a few years, people worldwide danced to the same song: happy. You can use the video to get ideas for your retirement music video by watching it.
Part 2: How to Create a Video Tribute for Retirement
Now, when you have all the right ideas in your head, let us move further and discuss how to compile these ideas and make a fantastic video. There is no need to be an editing expert to make a video tribute, as online software can do all that work for you.
So, let's start,
Step#1: Gather the Stuff
Firstly, we are going to get the following things ready:
Pictures (Hard or Soft Copy)

Camcorder or Mobile Phone with good video resolution.

Scanner

Video Editor
Step#2: Collect the photos
Collect all photos of the person who is retiring that are relevant. Look for his photos at business events, such as holiday parties or during his career.
Step#3: Make a video
Record the retiring person's employer and coworkers on video. Allow them to express their gratitude and provide a few short stories about their interactions with him. To avoid shakiness, use a tripod and photograph in a well-lit setting. Shoot in a variety of locations. Shoot one person at the office desk and another at the lunch table, for example.
Step#4: Choose a perfect song
Choose a song that represents the retiree's career. Dolly Parton's "9 to 5", Johnny Paycheck's "Take This Job and Shove It," and Frank Sinatra's "Young at Heart" are all possible suggestions.
Step#5: Scan the Pictures
Create a folder on your computer desktop and scan the pictures you have gathered onto a PC. Save them in the new folder.
Step#6: Create a fabulous video using the best video editor
Lastly, all you need is software to combine your photos and videos and create a compilation video for you within minutes.
For this purpose, let us introduce a phenomenal video editor that can do all the editing tasks for you in just a few minutes.
Part 3: Best Video Editor for Retirement Video Editing
iMyFone Filme has all the characteristics of the top-of-the-line products on the list of best video editors to make your fantastic vlog ideas come true. When it comes to video editing software, Filme is about as multi-faceted as they come. iMyFone's standard, simple, and high-quality video editor is currently available on Windows and Mac PC.
The design is interactive and easy to use. It comes replete with filters, overlays, motion elements, transitions, and unique templates and effects. Here are a few innovative features Filme offers:
Features of iMyFone Filme
Straightforward/Interactive Interface: Filme is everyone's cup of tea.

110+ transitions, 170+ filters, 50+ audio: Keep your videos unique and creative.

Multi-Layer Option: Supports multi-layering of videos, audio, text, and images.

Professional Features: Fast Video Mode, PIP Effects, Quick Slideshow Maker.

One-Click Edit: Hassle-free video editing in one go.

Gif Support: Import, edit, and export GIF Files.
How to Combine Pictures and Video Clips Using iMyFone Filme
Compiling images and video clips into one video using iMyFone Filme is an easy and efficient task. Even for novices, this software is the best one-stop shop. Let's see how it works,
Step 1: Import Your Video clips on the Timeline:
Firstly, to edit the clips and to combine them with pictures, drag and drop the clips directly on the Timeline or upload the clips by clicking on the + tab available on the media interface.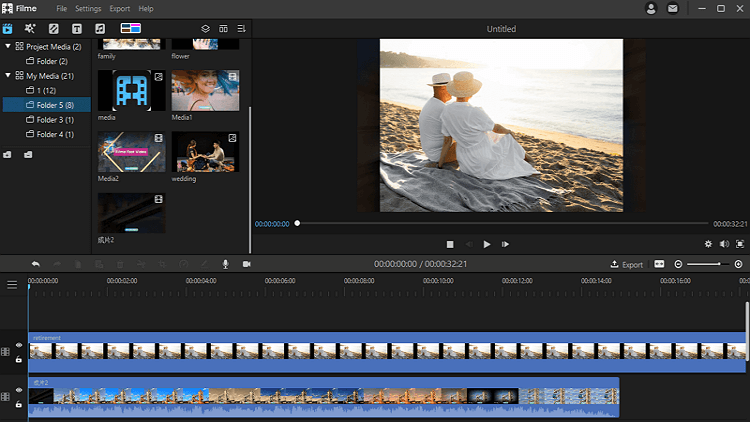 Step 2: Do the basic editing:
To edit the video clips, select easy editing options such as, cropping, cutting, splitting adjusting, or trimming videos.
Step 3: Use Multi-Layer Option:
This option of Filme will let you create compelling video montages for music videos by rearranging the stacking order and rotating, scaling, and repositioning each clip.
Step 4: Add Pictures in a Video Clip:
You can add an image into a video clip, in between the clips, or at the end of the track. To use an image as an overlay, drag the image to a track above the video clip.
Step 5: Export and Save Your Tribute Video.
To save your video anywhere, click the export button next to the Timeline, edit the details and save the file.
That's it! Now you are all ready to play the tribute or memorial video on the day of the party. Play it, burn it to DVD, and present it to the retiree as a token of appreciation.