Why do people blog? The answer is simple: they have something to share with the world, an audience to appreciate it, and ample platforms to showcase their talents. So, what software do you need to edit your vlog and make it super-appealing to a mass audience? That's what we're here to discuss today. The two lists of vlog editing software showcased here contain important information that can help you stand out from the crowd and be noticed online.
5 Best Free Vlog Editing Software (For Beginners)
This list is for those who are getting started on their journey to vlogging stardom. They're all simple to use but have powerful features that will give your vlogs a polished look and great audience appeal. Here they are!
1

iMyFone Filme (100% free - Pro version available by default)
System Compatibility: Windows 7/Windows 8.1/Windows 10 (64 bit OS)
Filme from iMyFone is an advanced tool for vlog editing but we've put it in the beginner's list because it's so easy to use and simple to understand. It is one of the top free vlog editing software applications you'll find for the Windows environment. You'll also find lots of helpful guides and other resources on the website to get you started the right way. This is possibly the best vlog editing software for Windows free.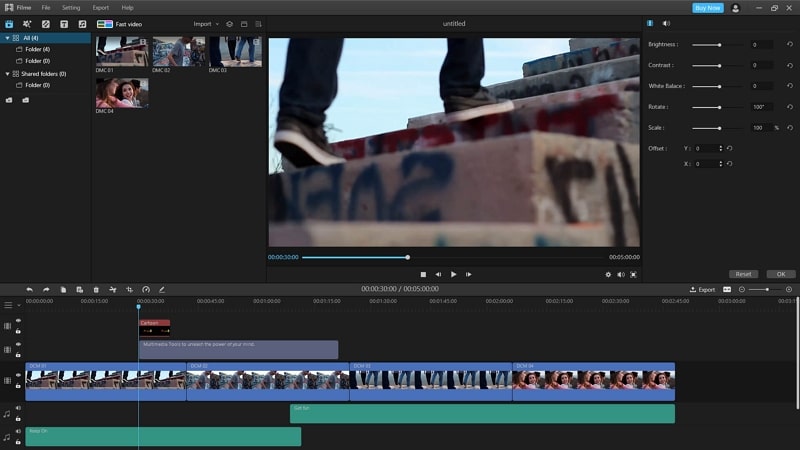 Key Features:

The clean and user-friendly interface is convenient for a new vlogger to start using and get comfortable with.

Powerful features like multiple editing modes and one-click video slideshow creation will allow you to create vlogs at a faster pace

Add rich media like background music or voice-overs (with multitrack audio), captions, etc. so your audience remains engaged until the end of the vlog

Create vlogs quickly using an extensive template collection

Preview the changes you make right away instead of waiting - that way, you can see your vlog shaping up as you go along

Use a mix of images, video, audio, and text to create a richer experience for your vlog followers
Pros:

100% free to use even though it has tons of pro features

New vloggers can quickly get up to speed with the functions and tools because of the user-friendly interface

Find the right set of templates from the available collection and create a consistent branding effect on your growing audience

Quickly export to your social media channel of choice from within the software
Cons:

It's a relatively new product so you may not have heard of it

Not available for macOS, only Windows 7 through Windows 10
Another great video editor is Microsoft's free vlog editing software for Windows. The functions are basic, such as trimming, merging, adding music and text captions, etc. However, it's a great tool for new vloggers using Windows PCs because there's no additional investment other than your digital camera or whatever hardware you'll need for the actual recording. When you start doing this seriously, you can always upgrade to the Pro version, which unlocks advanced features like Full HD (1080p) output, speed control, image overlays, etc.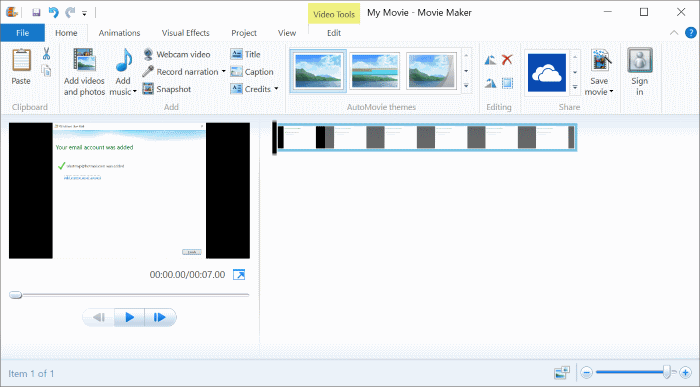 Key Features:

All the basic vlog editing tools you'll need to kick-start your first vlogging project

Combine video and photos to create rich vlogs for your viewers

Add text title slides

Enhance photos before integrating them into your vlog

30+ effects and transitions

Built-in music editor

720p output (HD)
Pros:

Great for new vloggers

Easy to install

Covers all basic vlogging requirements
Cons:

No macOS version

No advanced features unless you upgrade to Pro
Of course, we're thinking of you, too, Mac users! iMovie is a great vlog editing software for Mac systems. It's free, naturally, and it's really quite a solid vlog editor for Mac if you're not too keen on a third-party utility.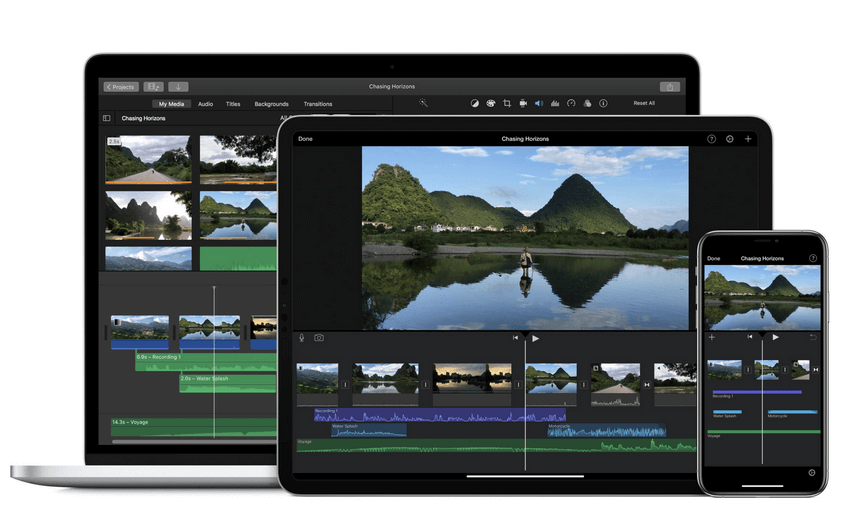 Key Features:

One-click import from digital sources like video recorders and smartphones

Timeline editor offers a better visual experience when creating vlogs

Add simple effects to photos and video clips to enhance viewer experience

Control the sequence of short clips to create a compelling vlog

Add music from your local or iTunes collection - music increases engagement but make sure it's behind the main voice track

Voiceover recording

Captions and title addition
Pros:

Native Mac app, so it's easy to get used to

All the basic editing features you'll need to make smooth and polished vlogs

Audio editing module lets you set proper volume levels, etc.
Cons:

Mac systems only

No advanced editing tools

Limited output formats (QuickTime and MPEG-4)
Avidemux is a well-known free vlog editing software for Windows, Mac, and Linux. It is a cross-platform application because it is a completely online, cloud-based tool. You can create great-looking videos with this software as long as you don't need complex transitions and advanced effects.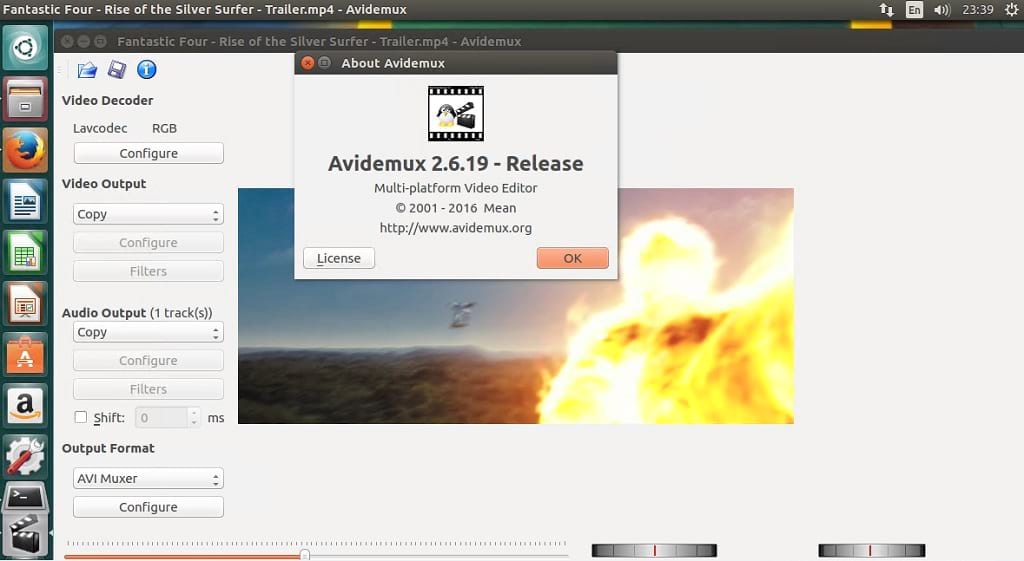 Key Features:

Cut and trim videos

Copy or remove parts of a video

Filters for video and audio

Video conversion for publishing and archiving

Reduce video file size

Supports all common video file formats for input
Pros:

Simple vlog editing tool with no complicated settings or features to confuse new users

Mix and match from a range of video clips to create custom content for your audience

Use the file size reduction feature for your viewers to download easily (if applicable)

Save bits of your video for future use on fresh vlogs - saves time
Cons:

All your work is saved online so it may pose a security risk depending on your Internet connection

No advanced features like transitions and other effects
5

Lightworks (Free with paid upgrade)
A professional-grade video editor with free music that gives you thousands of effects and filters to play around with. It also comes with a built-in screen recorder to make tutorial-style screen capture videos. Multiple audio tracks means you can play around with different music styles on the same video. Excellent audio editing capabilities will give your clips massive audience appeal.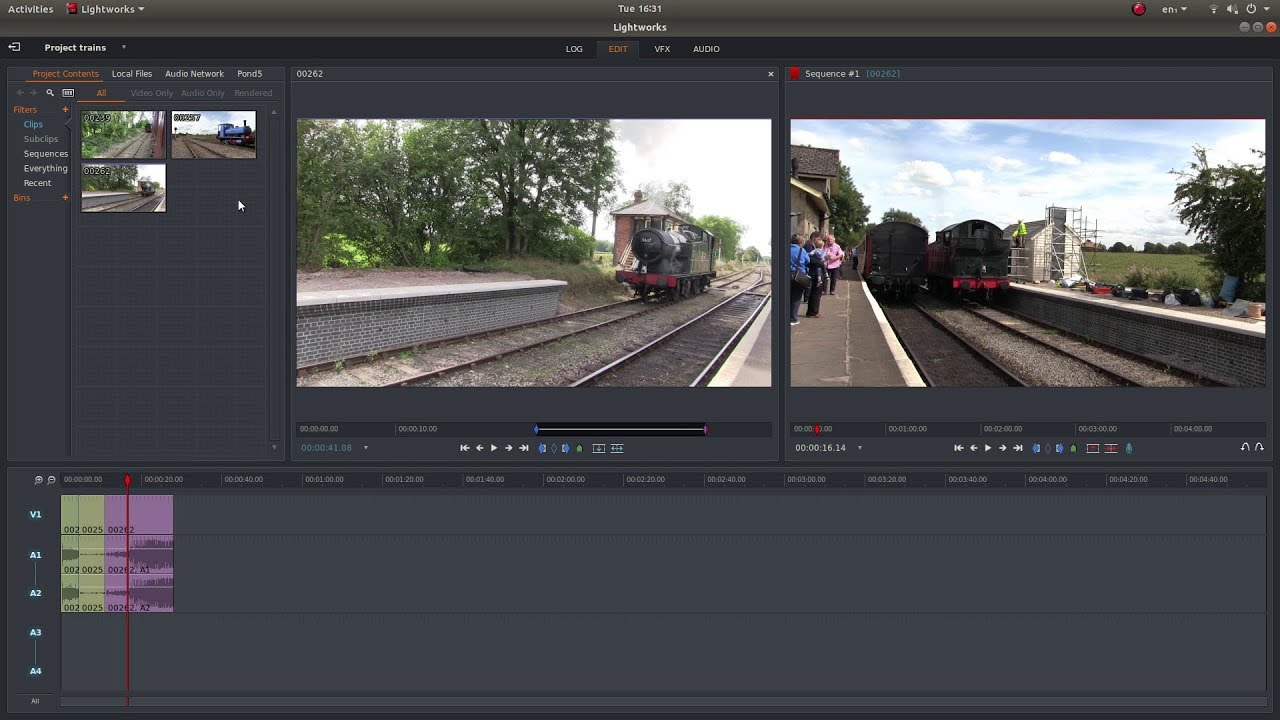 Key Features:

Versions available for Windows, Mac, and Linux

Wide range of input formats supported

Fast editing

Precision trimming

Multicamera editing
Pros:

Pro-quality vlog editing capabilities

Minimal or no delays when editing

Even works with 4K videos in real-time when adding effect presets, etc.
Cons:

Expensive to upgrade to Pro or purchase outright

Advanced features need a little getting used to

Quick-view Comparison Table
Quick-view Comparison Table
Name

Media Library

Input Formats

Output Formats

Operating System

Star

Filme

All latest video, audio, and image formats - over 60 formats supported

MP4, AVI, MOV, MPEG-1, MPEG-2, MKV, FLV, OGV
Full HD output supported

Windows 64-bit (Windows 7, Windows 8.x, Windows 10

Windows Movie Maker

asf, avi, .m1v, mp2, .mp2v, mpe, .mpeg, mpg, mpv2, wm, wmv.

MPEG, WMV, H264, MP4, MP3, AVI, MOV and WMA
Full HD output supported

64-bit Windows (7,8,10)

iMovie

Apple Animation Codec; Apple Intermediate Codec; Apple ProRes; AVCHD(including AVCCAM, AVCHD Lite, and NXCAM); DV (including DVCAM, DVCPRO, and DVCPRO50); H.264; HDV; HEVC; iFrame; Motion JPEG (OpenDML only); MPEG-4 SP; Photo; JPEG; XAVC-S

MPEG-4 and QuickTime; Up to 4K output supported

macOS

Avidemux

Cinepak, DV, FFV1, H.263, H.264/MPEG-4 Part 10 AVC, H.265/HEVC, HuffYUV, MPEG-1/2, MPEG-4 Part 2, Motion JPEG, MSMPEG-4 v2, Raw video – RGB, Raw video – YV12, Sorenson Video 3 (SVQ3), VC-1, VP3/6/8/9, Windows Media Video 8, Y800

MPEG-2, MPEG-4.AVC, MPEG-4.ASP (lavc), MPEG-4 (xvid), H.263Full HD output supported

Linux, BSD, Microsoft Windows and Mac OS X (under x11)

Lightworks

All latest video, audio, and image formats

MPEG4/H.264 and Lightworks Archive (Free version)
Up to 720p (HD)

MPEG4/H.264 and Lightworks Archive (Free version)Up to 720p (HD)
Top 10 Vlog Editing Software for Semi-Pro & Pro Vlogger (Free & Paid)
Moving up the vlogging editor food chain, we arrive at a set of more advanced editing tools for those with a little or a lot of experience under their belts. These free or paid utilities have full editing capabilities, tons of effects and transitions, speed control, audio editing, and support a wide range of file formats for audio, video, and images.

1

DaVinci Resolve (Free with paid upgrade to Studio version)
DaVinci Resolve 16 is a free video and vlog editing software application that provides a truly professional experience. Although many of the powerful features are locked out of the free version, you still have access to a lot of editing and other tools without the need to upgrade.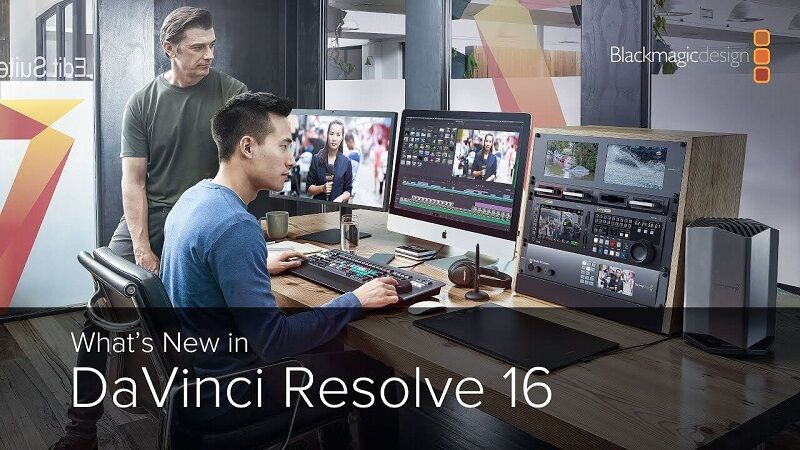 Key Features:

DaVinci Resolve 16 is a free video and vlog editing software application that provides a truly professional experience. Although many of the powerful features are locked out of the free version, you still have access to a lot of editing and other tools without the need to upgrade.

Wide range of editing features gives your videos a polished look that will appeal to any audience

Captioning and subtitles to communicate clearly with your vlog viewers

Title templates in 2D and 3D to create engaging videos with high view times

On-screen annotations to highlight specific parts of your visuals

Effects plug-in support to create mind-blowing transitions
Pros:

Pro-level vlog editor for free

Great for amateur vloggers looking to go pro

Multicamera editing and stacked timelines features let you work easily with different sources and create dynamic content to keep your viewers glued to the screen
Cons:

Need to upgrade in order to access new and advanced features such as project sharing and HEVC decoding

No HDR support in the free version
2

HitFilm Express (Free trial with subscriptions starting at $10/month)
System Compatibility: Web-based, cross-browser
HitFilm Express is great for any vlogger looking for professional features but doesn't want to invest heavily into editing software. HitFilm provides all the editing and effects tools you'll need to create eye-catching vlogs that stand out from the rest of the crowd. It also offers some unique features that you won't find in most other free vlog editing software tools.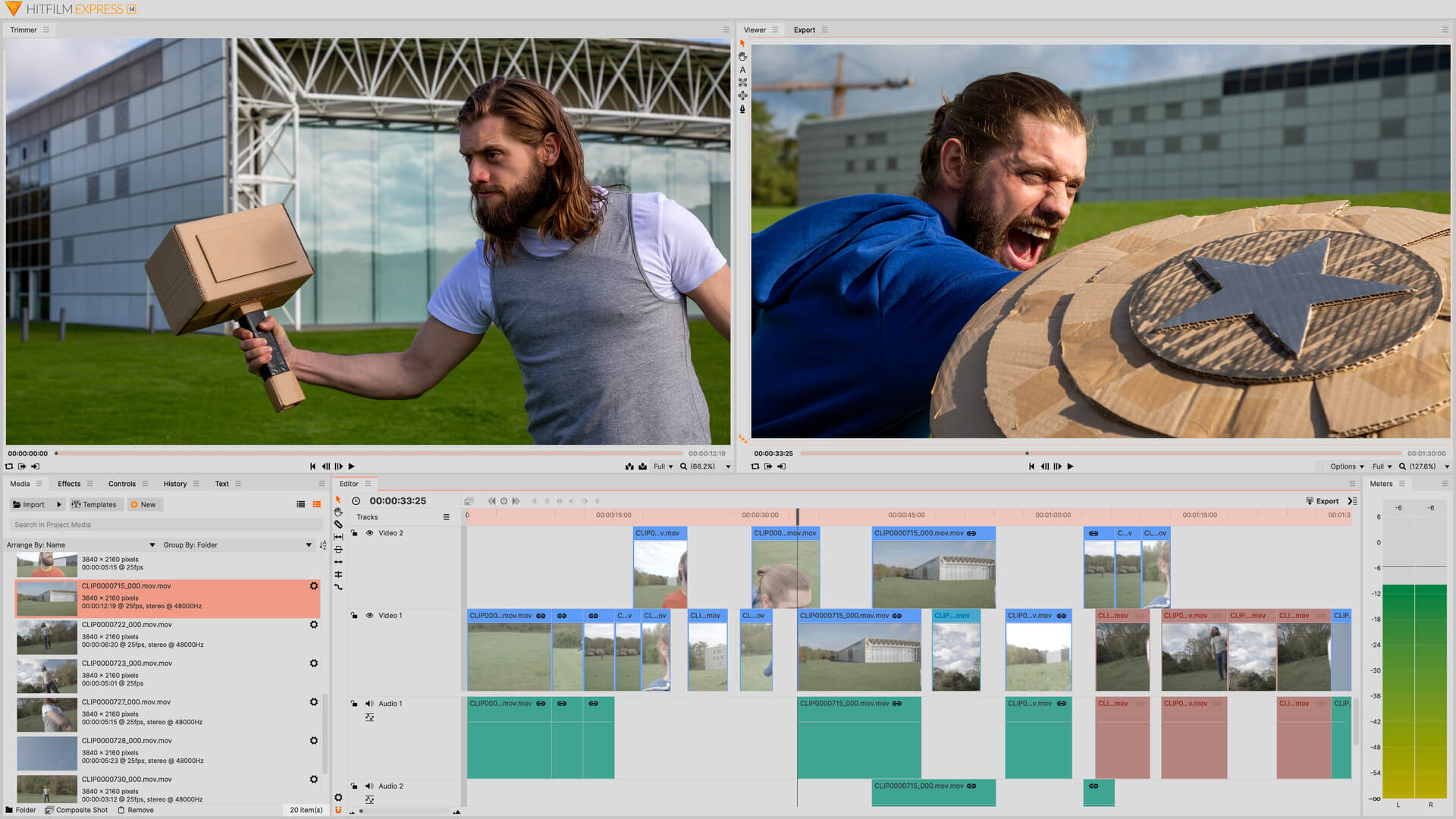 Key Features:

Polished interface with easy video clip import options - create vlogs quickly by importing from any camera source

Advanced tracking gives motion-based videos greater stability

Light effects can change the entire mood and tone of your vlog to give a more realistic experience to the audience

Masking and layering allows you to create composite videos and create special effects
Pros:

Professional-grade, affordable vlog editor

Import and perform 3D model animation

Sky replacement tool lets you change the background for more realism that vlog enthusiasts will absolutely love
Cons:

Specific packs are sold individually, which could add up to quite a bit

Low export performance

Advanced add-ons are mostly paid options
3

Adobe Premiere Pro (Free trial with subscriptions starting at $29.99/month)
System Compatibility: Windows and Mac
Adobe Premiere Pro is a well-known vlog editing software tool for professionals as well as amateurs looking for a smooth and user-friendly interface packed with advanced features. It allows you to take raw footage and quickly convert it into a compelling story with very little effort on your part.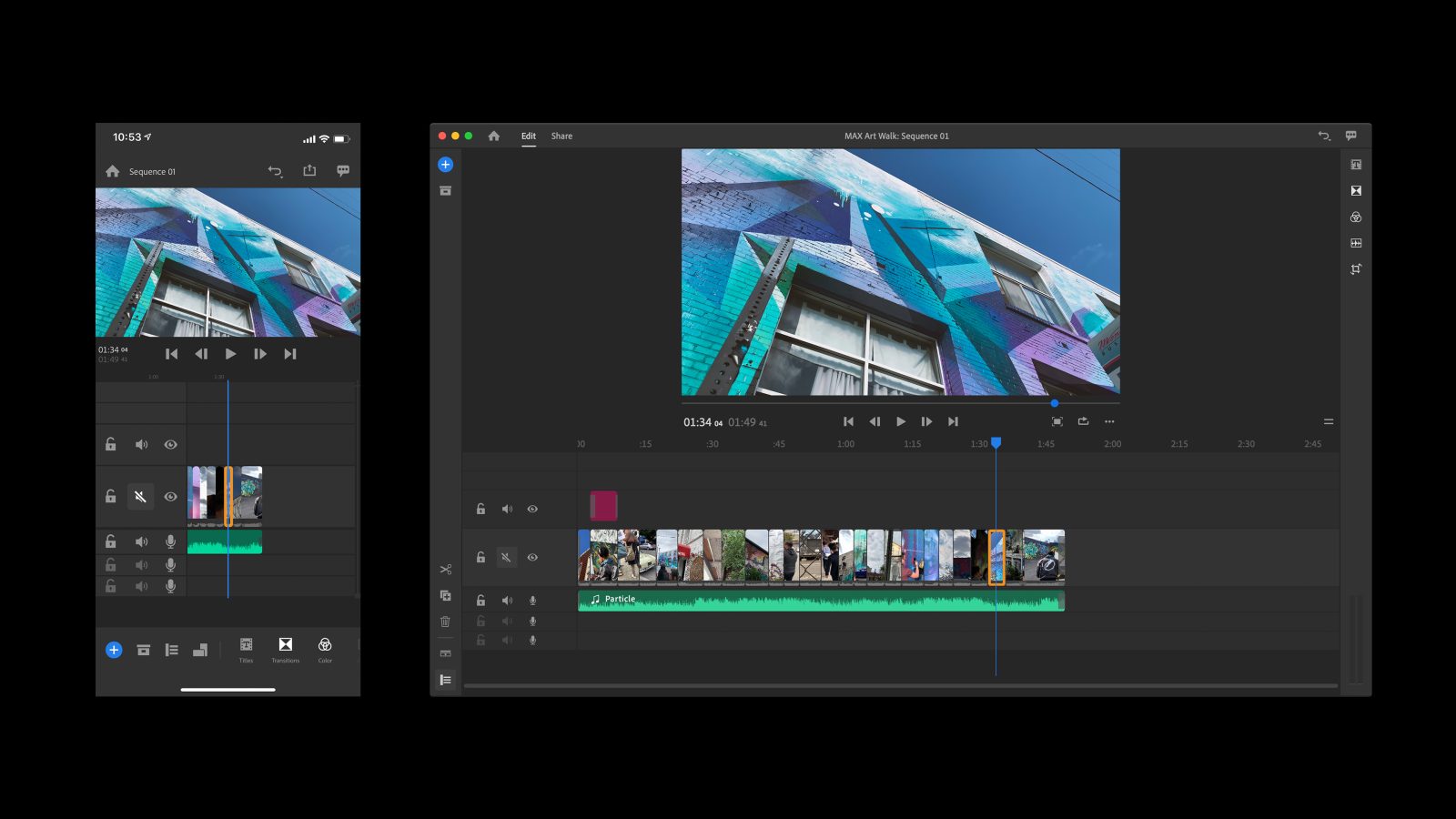 Key Features:

Full editing capabilities

Effects, transitions, labels, and more

Tool for typing text into a scene

Edit VR content

Simultaneous and share project support
Pros:

Polished and professional UI

Smooth editing experience

Supports immersive virtual reality

Regular feature updates
Cons:

Expensive at nearly $30 a month for individuals

Might crash several times if your system isn't high-end

Needs 32GB RAM for 4K videos
4

PowerDirector (Free trial version with paid upgrade starting at $4.33/mo on an annual plan)
System Compatibility: Windows, iOS, and Android
PowerDirector 365 is an award-winning vlog editing software application specially designed to help vloggers create stunning and attention-grabbing YouTube videos. It is available for Windows computers, and iOS and Android devices, and new features are added at least four times a year.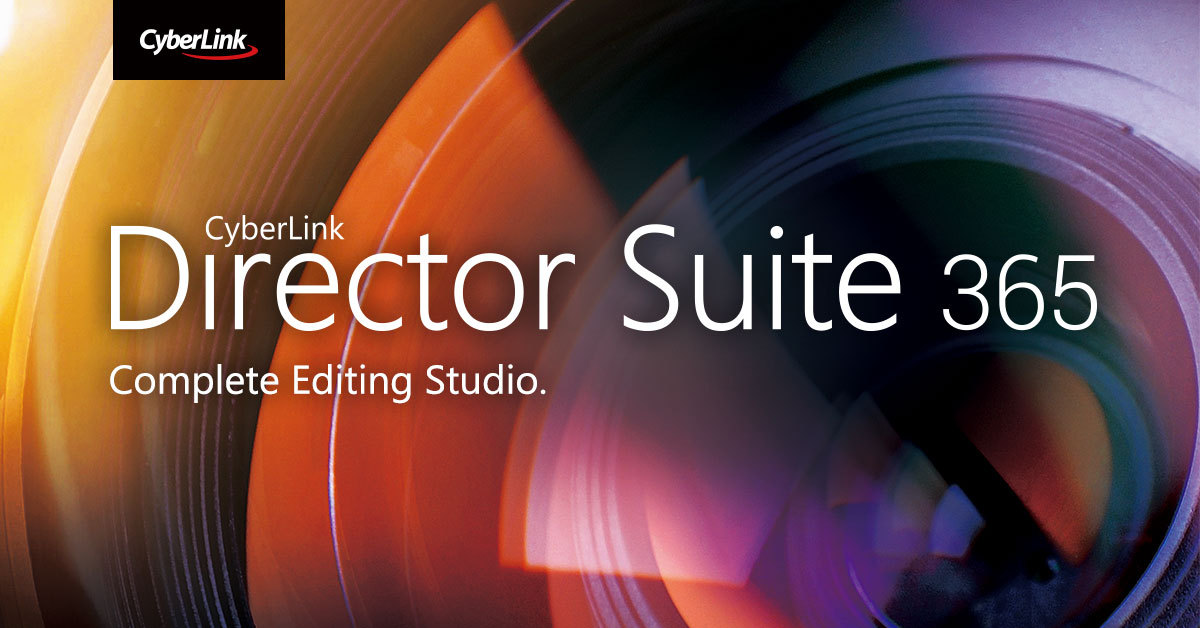 Key Features:

Over 200 editing tools make it easy to create vlogs from camera sources and existing clips, images, and audio

Add customized vector shapes to give your vlogs a personal and direct touch that speaks to the audience

Add animated titles and motion graphics for a more dynamic output

Supports 1:1 aspect ratio for Instagram and Facebook

Green screen chroma key lets you add various backgrounds and make your vlogs a lot more interesting
Pros:

Advanced features that are affordable

Dozens of transition effects for variation

Gentle learning curve for beginners
Cons:

Limited features in the trial version

Intrusive feature ads while working on your videos

Slow rendering if your system isn't high-end
5

KineMaster (Free trial with paid upgrade @ $4.99/mo)
System Compatibility: iOS and Android (web-based)
Kinemaster Pro is a full-features vlog editing software app for mobile devices running iOS and Android. The free trial version has limited features but an affordable upgrade unlocks the whole editing suite and other capabilities. Ideal for editing vlogs on the go - perfect for travel vloggers.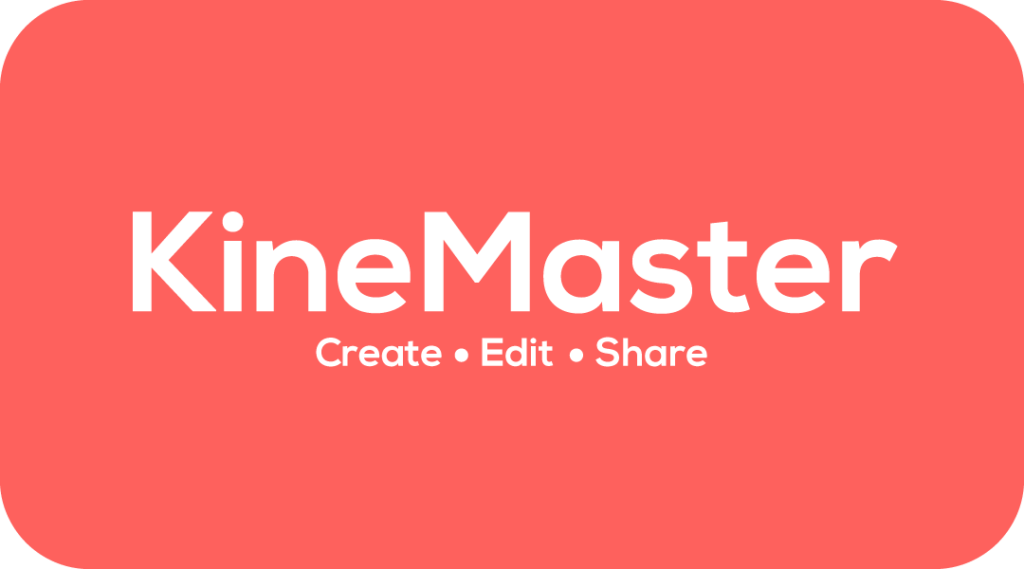 Key Features:

Multilayer support to create visually rich vlog content

Easy adjustment tools for lighting, etc. to improve viewer experience

Record audio and video in real-time and integrate them into your vlogs

Direct social media sharing gives you a faster turnaround time (no conversion required)
Pros:

Ideal tool for editing vlogs on the go

A comprehensive toolset that covers many advanced functions like effects and transitions

Different animation styles offer greater variation for unique content creation
Cons:

No downloadable desktop version

Web-based - speed and performance depend on mobile data speed
System Compatibility: macOS only
Final Cut Pro X from Apple is every Mac-using vlogger's go-to video editing software. The slick interface, support for HDR, VR and 360-degree video editing features, faster speed (new metal engine), and Mac Pro optimization combine to make this a very compelling choice for professional vloggers on Mac.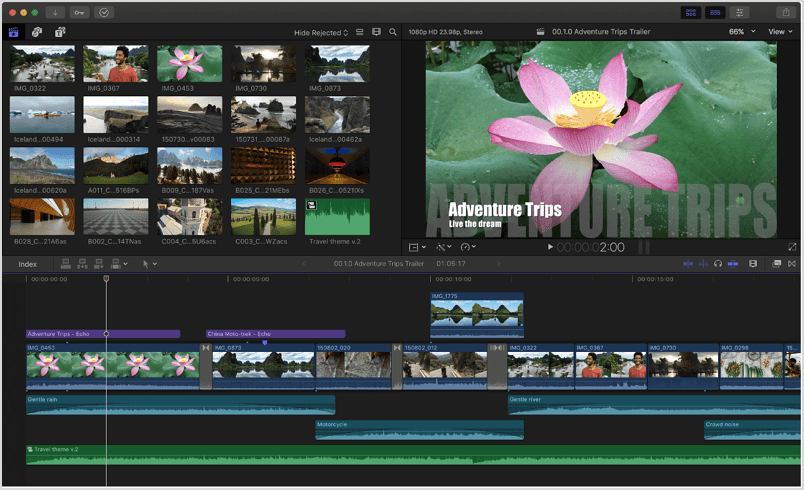 Key Features:

New metal engine for faster rendering - saves time and makes you more productive

Designed for Mac Pro and is well-integrated with GPU cores, etc.

Multicam editing lets you draw from diverse sources to create truly engaging videos that your vlog audience will lap up like puppies guzzling milk!

Reduce video noise and give your viewers the clarity and crispness they expect from a professional vlogger's output
Pros:

Perfect for Mac Pro users

Free trial to test out the features

Easy purchase and download from the Mac App Store
Cons:

Expensive at $299

Free version has limited features and tools
System Compatibility: Web-based, iOS, Android
Perfect for product marketing and promotional videos, Magisto is loaded with basic and advanced vlog editing tools. The artificial intelligence integration helps you create stunning videos in just minutes using existing video clips and photos.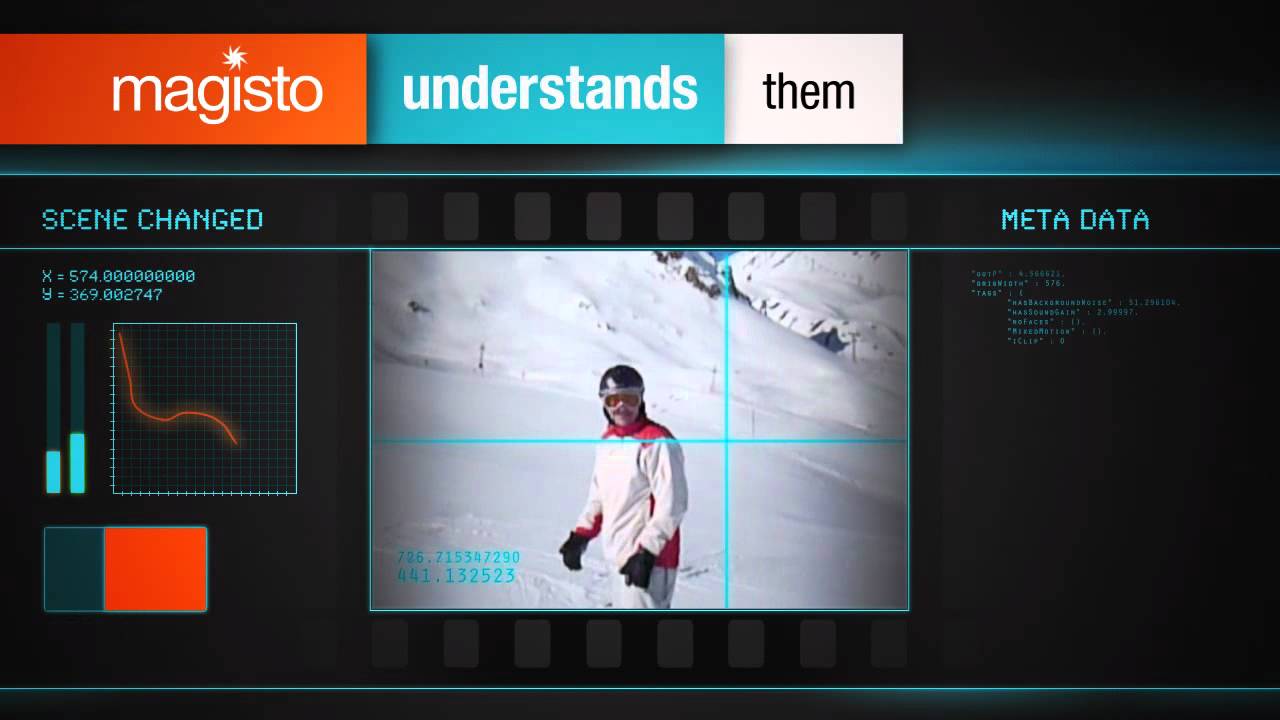 Key Features:

Simple editing interface focused on creating an experience rather than technical aspects of editing

Multiple themes to suit any kind of vlog category

Add logos and caption for better brand awareness and messaging clarity

Music tracks included so your audience has a 'bed' while watching your vlog

Ideal for long videos and HD output

AI-driven editing means less work for you with greater throughput - keep your vlog audience busy watching you
Pros:

AI-driven interface makes it suitable for non-professionals

Business-centric solutions and themes

Rearrange scenes and edit them to create a better video flow for your audience
Cons:

Limited free trial period

Customer support is not great

Most premium templates are paid upgrades
System Compatibility: 64-bit Windows versions
Pinnacle Studio 23 is a professional editing suite for seasoned vloggers. The main highlight of the software is its precision editing capability but it also sports some powerful effects and transitions.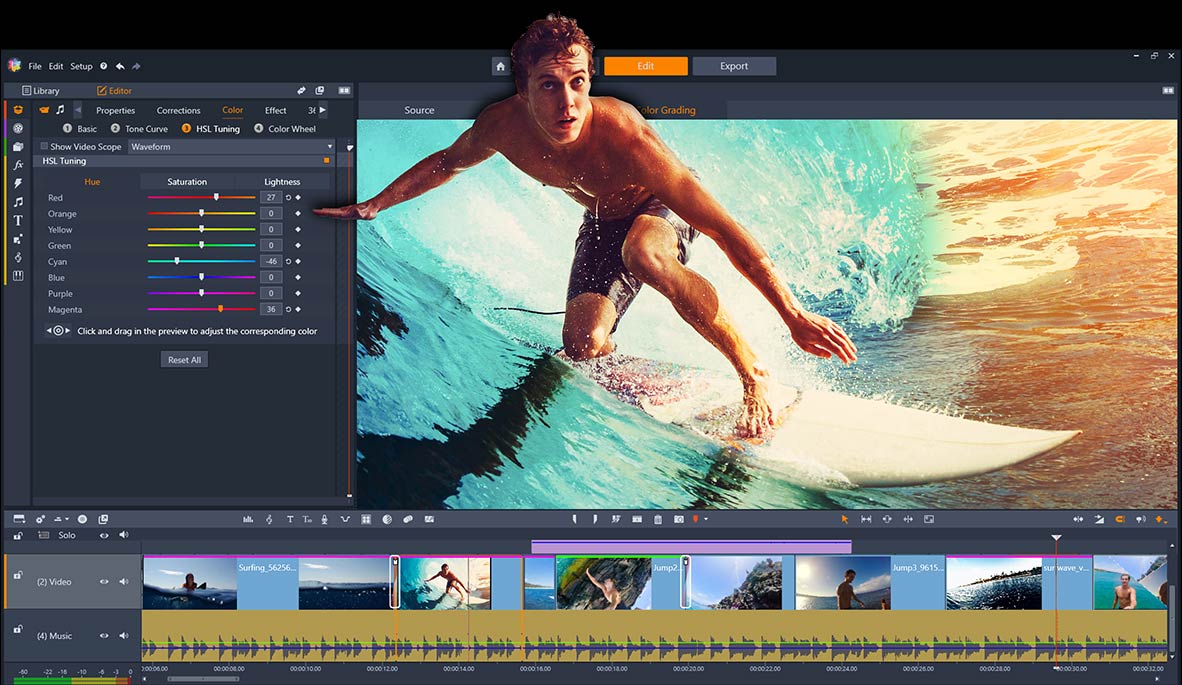 Key Features:

Pro-caliber editing tools

Granular color-grading down to single frames

Advanced masks and overlays

Speed control

Multicam editing

Edit 360-degree videos
Pros:

Advanced editing capabilities to create professional vlogs that your audience will definitely notice

Grow followers with shareable content that stands out

Chroma key and green screen let you show your audience different backgrounds for more variety
Cons:

No free trial but the product comes with a 30-day money-back guarantee

Expensive unless you plan to use the advanced features

Upgrades are paid
System Compatibility: 64-bit Windows versions
LumaFusion is an iOS app for editing vlogs and short videos on your iPhone or iPad. Advanced editing features make this a must-have for Apple mobile device owners who vlog regularly.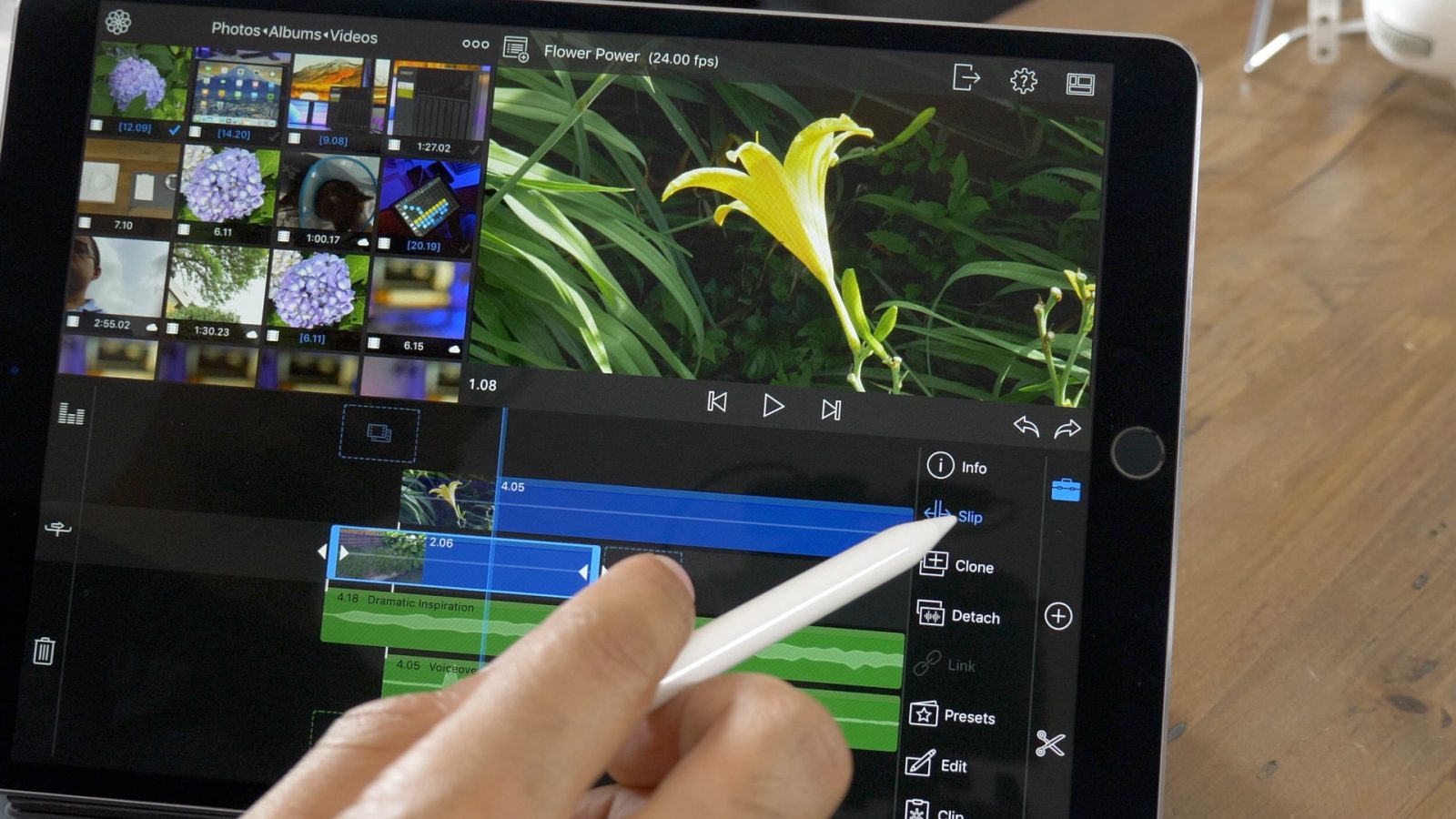 Key Features:

Multitrack video and audio (6 tracks each) for combining rich media content - better audience engagement

Keyframe audio leveling for precision control - better viewer experience

Multiple effect layers

Share effects presets

Flexible project management tools to manage multiple vlogs simultaneously
Pros:

Slick interface

Fast editing on mobile iDevices

Easy 4K exporting if your device supports it
Cons:

No desktop or Android version

No free version or free trial
10

Filmora
System Compatibility: 64-bit Windows versions
FilmoraGo comes from a family of professional video editors for beginners and professionals alike. The feature-rich environment gives you everything you need to create and edit vlogs on the go.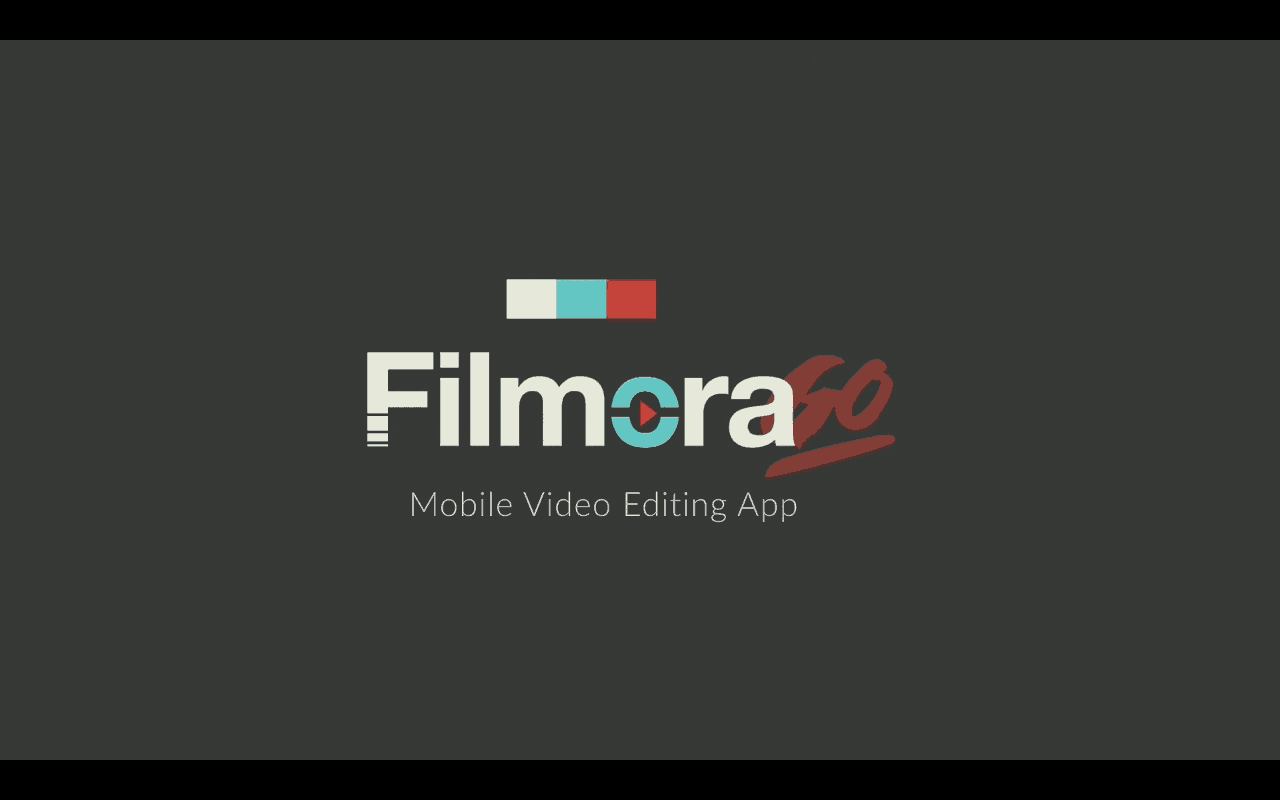 Key Features:

Trim, crop, split

Transitions

Custom aspect ratio to cover a wider audience using different device types

Speed control - fast or slow-motion

Reverse play for creating fun clips
Pros:

Edit on the go with your iPhone or Android device

Lots of special effects to make your videos pop

Royalty-free music and sound effects, iTunes imports supported
Cons:

Some of the editing tools are only available as in-app purchases

Still some minor glitches and bugs in the Android version
Quick choice comparison to pick up your target video editor
Video editor with free music not enough to satisfy your craving for unusual and stand-out soundtracks? No problem. The following table shows you where to go for even more free music, what type of licenses they carry, and related information. Please note that all tracks may not carry the same licenses. Be sure to check the individual track's CC license type before using any track for your videos. The information below is merely for guidance.
| | | | | | | |
| --- | --- | --- | --- | --- | --- | --- |
| Name | Media Library | Input Formats | Output Formats | OS Support | Price | Star |
| DaVinci Resolve | | All latest video and audio formats | All major video formats; Up to 8K | macOS, Windows, Linux | Free, Upgrade to Studio for $299 | |
| HitFilm Express | | Quicktime, AVCHD, AVI, M2T, M2TS, MOV, MP4 (AVC/H264 & AAC), MPEG-1 & MPEG-2 (TS, PS, MPE, MPG, MPEG, M2V), MTS, MXF (DVCPro HD), DV, HDV, WMV | QuickTime, MP4 (AVC/H264 & AAC), Image sequence (PNG, JPG, BMP), AVI (uncompressed, PAL DV, NTSC DV), YouTube direct upload | Windows 8/10, macOS High Sierra and later | Free, Upgrade to Pro for $349 for 3 computers | |
| Adobe Premiere Pro | | All latest video, audio, and image formats | All latest video formats | Windows 64-bit, macOS 10.13 or higher | Starts at $20.99 per month with an annual plan | |
| PowerDirector 365 | | DivX (if preinstalled), HD MPEG-2, DVR-MS, DV-AVI, DAT, MPEG-1, MPEG-2, VOB, VRO, ASF, WMV, WMV HD, MOV, MOD, TOD AVCHD, MPEG-4, AVC (H.264), .ts, .mts, .m2ts, WTV (single channel) | All major video formats; Up to 4K (UHD) | Windows 64-bit | Free limited version, Upgrade starts at $4.33/month | |
| Kinemaster Pro | | MP4, 3GP, MOV, 3GP, AVI, MOV (QuickTime), MP4, MTS/M2TS, MXF | MP4; Up to 4K depending on the device | iOS, Android | Free limited version, Upgrade starts at $4.99/month | |
| Final Cut Pro X | | 3GP, AVI, MOV (QuickTime), MP4, MTS/M2TS, MXF | | | | |