Have you ever wondered about the ways to make self-introduction videos?
Well, the first part of any video is what decides the outcome of the content. The same implies to self-introduction videos. Whether you're making the videos for promoting your brand or promoting your blogs, the most important thing is planning an engaging and compelling introduction. We have come with some precious advice for you about introducing a video. If you read this article, you'll be able to make a catchy self-introduction video.
Tips
iMyFone Filme
is our recommended video editor to edit your self-introduction videos and make it extraordinary. It is super easy to get start, even you are new in video editing.
Download it and try it below!
How to Introduce Myself in a Video?
At some stage of your life, you must have thought about'' how to introduce yourself in a particular video that you make''?
Introduction of anything is paramount whether it is writing an article or making a video; the most popular thing about both of these is your first impression. We have gathered some good information about how you can introduce yourself in a video appropriately.
Let's begin it.
1. Start with stories rather than your title and name
Starting the introduction of a video by your name or title isn't a good idea. It will make your viewers bore, and, consequently, they'll leave your video.
That's why you should start your video introduction video with a story instead of straight facts.
This aspect is important because stories make our content memorable by engaging the audiences' emotions and feelings. After your appealing and influencing intro, they will go through the whole video.
After introducing your video with a story, you can show what you are all about and why people should listen.
2. Personify the Camera
While making a video for your audience, make sure they can see you on their screens. In this way, they'll feel that you're interacting with them in real-time.
But to make those videos more compelling and engaging, you'll need to be more authentic and honest about your opinions.
A professional approach will help you to attain the attention of many viewers. To make your experience better, you can see a camera as a potential listener.
In this way, you can feel the presence of a person in front of you. Moreover, you can ask your friend to stand behind your camera to make it more authentic.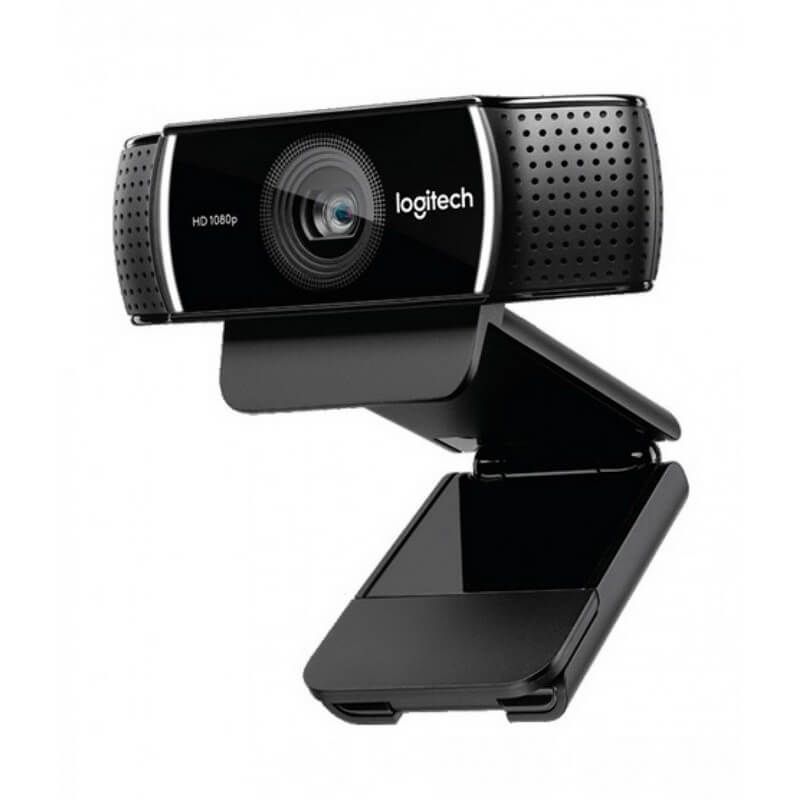 3. Convey a message that your audience wants to listen
For communicating with your viewers, authenticity is indeed pretty essential, but that's not enough from people's point of view. They want to hear what you have for them and what you are capable of doing for them.
It means, with professionally preparing your video's intro, you'll need to make sure you are conveying a message what your audience likes to listen to. If you speak in a manner that is challenging to follow, it can harm your reputation and brand.
Before coming in front of the camera, be prepared to guide your audience in a particular manner to help your audience in the long run. Suppose you're going to create a useless introduction with no relevant information.
In that case, your video will be of no use, irrespective of how much effort you are putting into the latter part of the video.

Also Read: 20 YouTube Video Ideas for Girls >>
Video Examples for Self Introduction Video
Let's talk about some of the video examples about Self introduction.
1. Video Templates for Self Introduction
Here is the first video example of self-introduction. In this, the video maker starts the proceedings by introducing their personality.
After telling about nature, Gabby, a video maker, tells about her journey and how much she loves traveling.
In the next phase, she speaks about the food she liked the most after moving to Greece. This is a perfect self-introduction idea that has all the basics covered about a particular person.
2. How to prepare 60 seconds introduction Presentation
Here is the video about the presentation of the 60-second introduction. It's not easy to introduce yourself and your motives in just 60 seconds.
But if you tell your audience what you are all about and how you're different from others, it can help you attract the eyes of many viewers.
In your introduction, you should tell the audience where you're going and how you can help the audience with your ideas. And, what's the outcome will be. You can check this video from the URL link below.
Tips for Self Introduction Video Ideas
You'll see many self-introduction videos ideas, but only a few of them are worthy and helpful. Here are some tips that might help you in making an appropriate introduction video without any hassle.
1: Focus on You
Your video should be about yourself, your interests, your experience, and your education. It would help if you convinced others why you are worth following and what benefits the audience can get from your videos.
2: Promote your content
Introducing yourself to the audience is not an alone thing you need to do. Instead, you must promote your content like a YouTube channel and blog on your video to make your audience feel like you're the right person for them
3: Highlight your brand
A self-introduction video is a perfect tool for promoting your brand. It can help you expand your brand's appeal and influence. To boost your brand in a befitting manner, try to mention the critical aspect, why your brand is different from others, and how you can provide breathtaking services.
In addition, you need to include the pictures of your employees in the video to add a human aspect to your self-introduction video.
4: Write a video's script in advance
Planning well in advance is a good idea for making a self-introduction video. It would help if you did not write your script in the flesh.
Instead, you can take notes from self-introduction video ideas. After taking views from different sources, you need to sit down for an hour and try to figure out what you're going to convey with your self-introduction video.
Great Introduction Video Maker -iMyFone Filme
Making a self-introduction video is not a difficult task. But, to make that video perfect and appealing, you'll need to edit certain things in it.
Luckily, a tool in the shape of iMyFone Filme can appropriately edit your self-introduction videos and make your videos breathtaking and extraordinary.
With Filme, you'll get all the attributes that are needed to edit an introduction video effectively. With the mix of solid features and loveable transitions, you can add a bit of flavor to your video.
Features
1. Quick Slide Show maker
iMyFone Filme provides the massive facility to make quick slide self-introduction videos. You can add the pictures to add a human touch in your video using the slideshow feature of iMyFone Filme.
2. Picture in Picture Effects
With Filme, you can show two different video clips at the same time on your screen. This type of feature is helpful when you are making a comparison between your brand and other brands in self-introduction videos.
3. Text options
If you want to add a title to your self-introduction video, iMyFone provides a text section option to get your job done.
4. Fast Video mode
You'll get 20 superb video mode options with the iMyFone Filme tool. This aspect will add more emphasis to your introduction video.
It also offers a 45 audio mode option; this way, you can set your background music accordingly.
5. Stunning transitions and breathtaking filters
Filme offers 110 transitions and over 170 mind-blowing features to add to make your video relevant and compelling.
Pros:

Easy to use interface

It'll produce high-quality videos for a fee.

It works faster than you think.
How to edit a video on iMyFone Filme
Step 1: Launch iMyFone Filme
Download the Filme tool and then look to install it. After doing so, launch it.
Step 2: Import a file
Now, import a video file that you want to add effects and transitions with.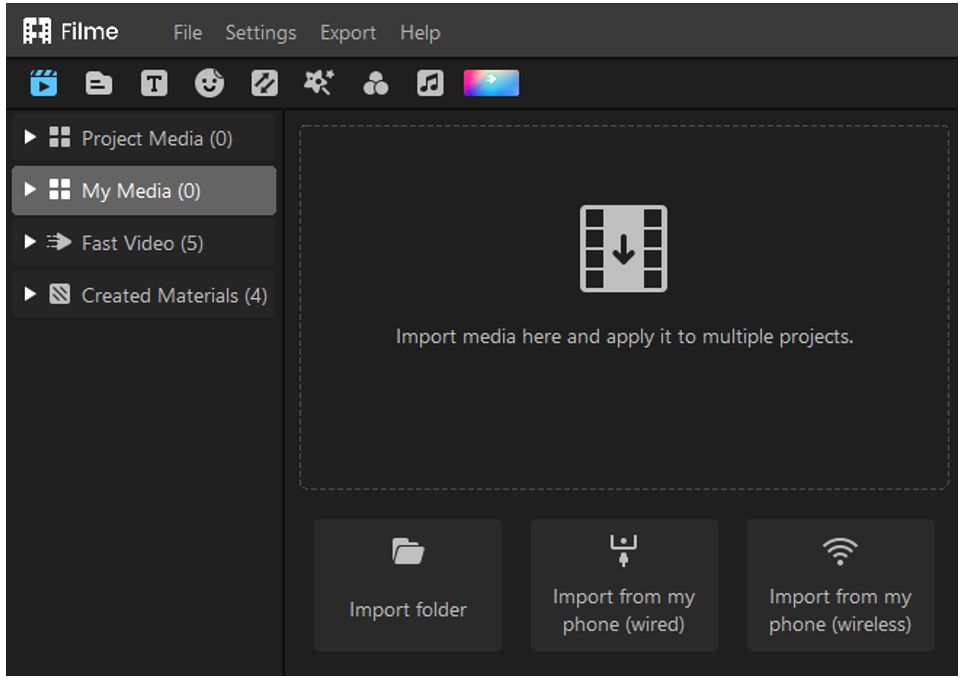 Step 3: Drag a video file towards the timeline
In this phase, you have to push a video clip towards the timeline. After dragging the video towards the timeline, you can add effects and transitions to it.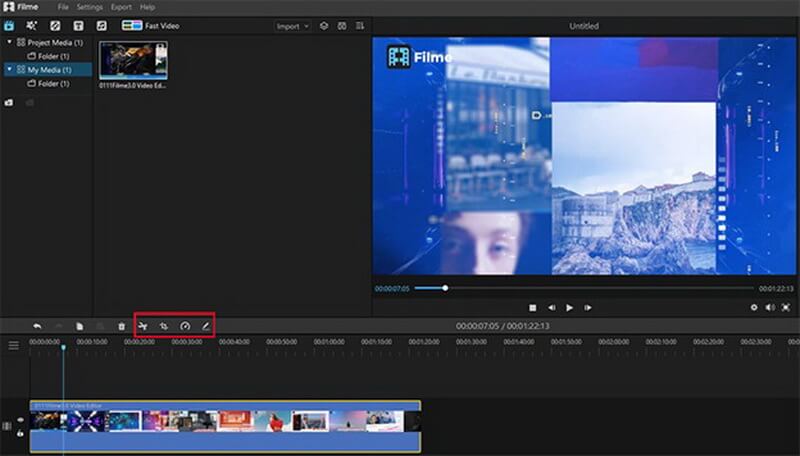 Step 4: Export the file
After you're done with all the editing work, you can now export the file.
Conclusion
To create an appropriate self-introduction video, you don't need to do much. You only need to pay attention to few minor things, and you'll be ok with it. First, you need to find all the solutions for the audience.
You can't succeed until you have all the basics covered in telling the audience what you are capable of doing for them. Second, you should not choose tedious and lengthy content for a self-introduction video.
Specific and to-the-point content is a must for an introduction video. Moreover, you'll need a video editor to make your video look perfect. We recommend iMyFone Filme for editing your self-introduction videos. It contains brilliant features and outrageous transitions that make your video fantastic.