Looking for some creative ideas for your Music Video? Great! You are right on the spot because here, we will tell you some of the best and extremely creative music video ideas for amateurs and professionals. Hope they help you in getting a perfect idea for your video:
5 Music Video Ideas for Musicians: Professional
If you want to add cool music to your video, I would recommend iMyFone Filme video editor, you can use free pop/electronic/light/cinematic music to your video easily, and then upload your music video to Facebook/YouTube/Twitter/ and other social platform with single click without open social website, Download iMyFone Filme now.
Some of the top music video ideas for professional musicians are:
1. One-Room Band Studio Shooting
Bands can record their videos in one room too. You can adjust the camera in one place on a tripod stand in such a way that all the members are captured in the frame. If you want to make your video a bit interesting, you can move your camera around the whole band members. You just have to move around the room and capture it all. This can be recorded in one-shot too, and you can cut the video according to your interest.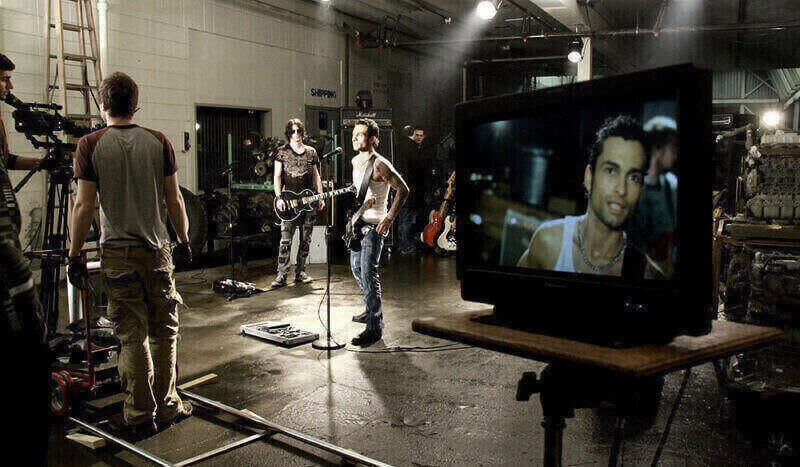 2. Music Video Idea According to the Personality
Every band and every singer has a unique personality. So, before starting with anything, look at the personality of the musician or band and then think of a theme that suits their personality and emphasizes it. Make a video that lets the audience know what their favourite band is like. Never think of an idea that you think will be cool or will sell out to a particular audience. Always think about what matches the personality of the artists. Make sure to research your artist or band before you produce anything.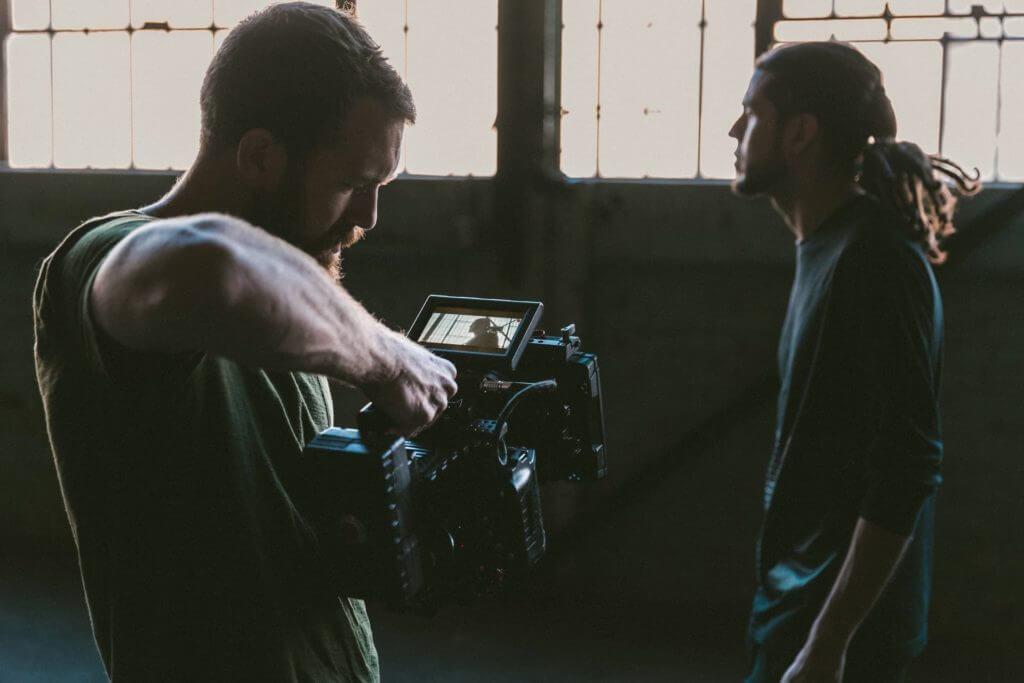 3. Lyrics Videos
There are a lot of lyrics videos on youtube, but they are not what a lyrics video should be like. Always make sure to do thorough research on your artist or artists and the type of song they are singing. There are a lot of cuts in the video that are necessary to put the lyrics in and make it look interesting. Make the artists lip-sync their part of the song and make them perform a bit to that part of theirs. Every artist has a unique hand gesture or way of singing that you can use in your video. Like the lyrics video of Sure Sure (Here is a link for their video). All the artists have performed in their unique way that portrays their unique personalities.
4. Music Video Idea According to the Lyrics
The lyrics of the song have a story and an idea behind them. Make sure to listen to the lyrics very carefully so that you can get to know what the writer of the song is trying to say. After you have understood the meaning behind the lyrics, now you can come up with the idea of your video. Understanding the lyrics is the most important part, and after this first task is completed, now you can easily get to the next step.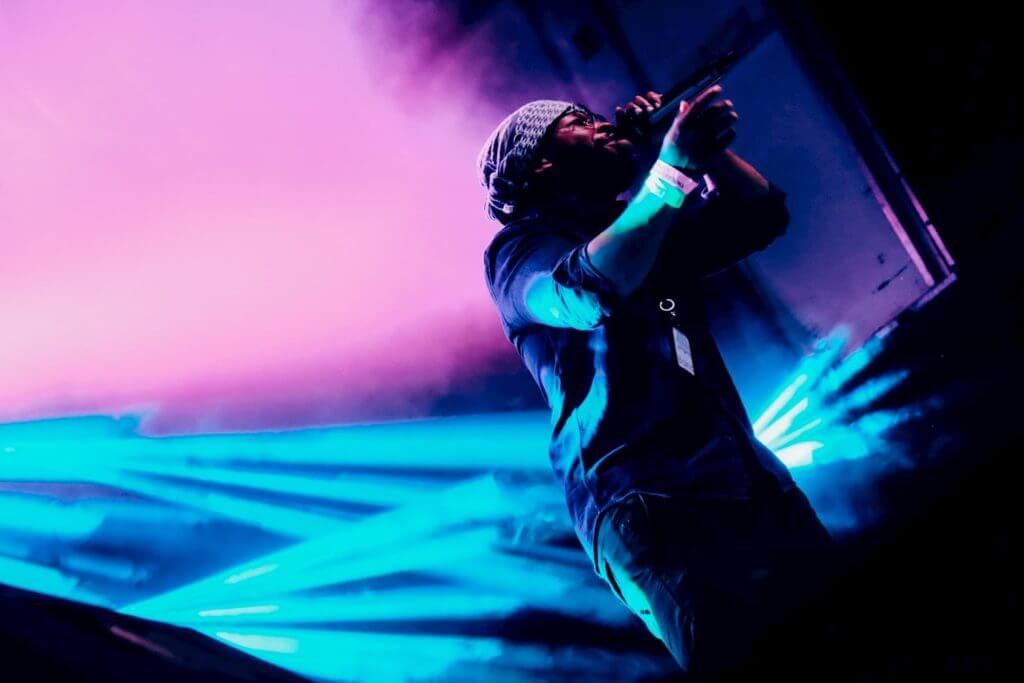 5. Inspiration from Other Works
Inspiration can be from anywhere. It can be from nature! It can be from people around you! It can be from other music videos! It can be from movies and dramas! Anywhere! So, to get the idea for your video, watch other works related to your lyrics. If the song lyrics are about sadness, then look up previous works on sad themes. If the lyrics are about something happy, then you can look up previous works with happy themes. Previous works are a creative way to get your inspiration. So, always watch other people's work to gain experience from their teachings and works. You can learn from their mistakes too.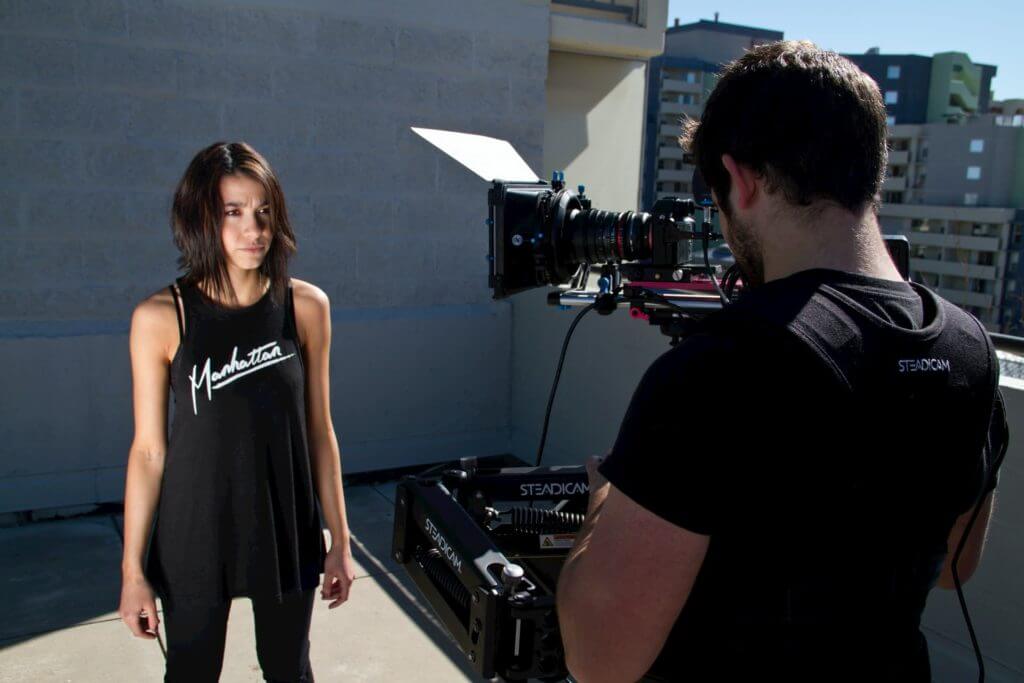 10 Extremely Creative Music Video Ideas for Low Budgets in 2021: Amateur's Choice
If you are a beginner and just came into this field, then let's start with some easy but effective techniques and ideas for your music videos. The top 10 extremely creative music video ideas for low budgets in 2021 for amateurs are:
6. Home Studio Idea
Home studio idea is the best choice in times like today. In these days of lockdown, it has become very difficult to go out and shoot videos. So, this is the best way to make your music video with very little effort. You just have to arrange some household items according to your music theme and for a more professional approach, use a backdrop cloth. Next, you can fix your camera on a tripod stand and film the whole video from just one fixed spot. This will make it the most effective, easy music video-making technique.
7. Total Animation Idea
There is little to almost no cost in making an animated music video, but a lot of work is needed. It is very time-consuming but gives the best results. You can easily get animation software from the internet at bare minimum costs. Using the software, you can implement all your fancy and unique ideas in the animation and synchronize them with your music lyrics and rhythms.
8. Concert Idea
Bands look great when they are performing live. So, to make a great music video, you can always try shooting videos during the band's live concert. If you are not doing a concert, even then, you can look likea live play by asking someone to record a video while performing. You can even ask some of your friends to come as an audience and record them during your performance. It is a good option to use a moving camera, but if you don't have a cameraman, then you can also fix some cameras on tripods and arrange them around you and one facing the audience. After some effects and editing, you can get a great music video.
9. Travel Video Idea
Music videos always get better when there are some random fun behind-the-scene clips. If your band likes to travel a lot or if they perform in different cities and countries, then you can turn on the camera in different unique places and capture their travel. You can take clips of travelling through forests or mountains or other places like that. You have to compile all these shots and do a lot of editing before the clips can be used in the music videos. You will have to adjust the clips in appropriate places in your music video to synchronize with the music lyrics and rhythms.
10. Unique Location Idea
You may have seen many music videos that are shot on mountains or other unique places like that. People are always trying to make their videos unique as there are plenty of music videos out there. There is a lot of competition. So, you need to step up your game and think of a unique place where you can set up for the music video. The band, Piano Guys, shot their video on top of the mountain for the cover of Paradise by Coldplay. They brought all of their instruments on top of the mountain just to get an innovative music video. You can also try one of these crazy places to shoot your music video.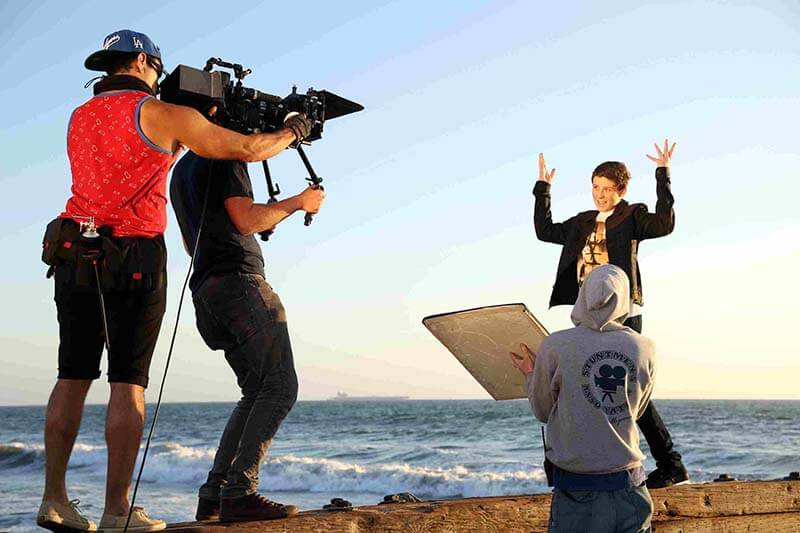 11. Drone Idea
The drone has now been used a lot for filmmaking and other videos. You can use a drone for B-rolling and performance shots. These drone clips are great to use for your music video, but you will have to polish them with drone video editing software before using them. Thissoftwarehelp in making the video more professional. There are a lot of scenes that are being shot with drones now for many documentaries. But you still have to polish them off with the editing tools!
12. Dance Shoot Idea
Dance grabs the attention of people very easily, no matter what country or state they belong to. Dance is a language that anyone can understand. There are many other types of arts too that you can use in your music videos. You can use sculptures, paintings,etc., but dance is a better option. You can match the steps of the dance in accordance with the music beat and rhythm. You will have to do great choreography with fancy makeup and brighter costumes to grab the viewers' attention. Along with all this, you need to get some good dancers to help you in all this.
13. Visual Effects Idea
You can use many visual effects by using VFX software to create your music video more interesting and engaging. Simple performances with just some fancy lights may get boring to the viewers, so to make your video more thrilling, you can sync the lights and effects in accordance with the music. This will get you great results. You can even use a green screen behind the band or the singer to make the music video more real. Your video quality can increase a great deal, especially for electronic songs.
14. Story Telling Idea
Storytelling is a great idea to make a music video unique and interesting. You may have seen this idea before, too, in many other music videos. In this type of music video, the video starts with narration or a story to give an inside of what to expect and what the line of the story is. A music video, Thriller by Micheal Jackson, is a great example of this type of music video. Click on the link to get an idea!
15. Editing Software Ideas
Editing software is a must! No video is ever uploaded without some editing. Editing can give any ordinary video a new and unique look too! Always look for the best editing software as they help in the final touching of the video. Your music video with some great editing can attract a lot of audiences. Editing software also gives a very professional look to your music video. You can add many effects and use built-in templates, or you can create your template. Your music video gets polished and professional.
10 Cool Music Video Ideas to Bring to Your Next Shoot: Shooting Techniques
16. "Golden Hour" Shooting
"Golden Hour" Shooting means the shooting done right before sunset or after sunrise. This is a term used in photography because at those times; you can capture some really beautiful golden and warm tones. Due to the perfectly diffused light at those times, you can get a perfectly warm and rich natural lighting effect to use for your shooting.

For any video, light is the most critical element, especially for music videos. Golden hour shooting is perfect for outdoor shoots as you can capture lens flare too at that time. At this hour, all the lighting work is done by the sun, and some amazing videos can be produced.
17. Light Movement with Music Effect
A very affordable idea for some amazing lighting effects is using the fishing net and exposed lightbulbs to move the light right over the musicians/artists. This is the most effective if you are shooting an indoor video. For this, you have to hang the net right over the area where the musicians will perform. After that, you will have to hang the exposed light-bulbs through the fishing net that you hung. Now that the net and lights are hung, you have to tie a rope on one side of the net. When the musicians are performing, you will need an assistant who can pull the rope to move the lights over the musicians. This light movement is very inexpensive but gives one of the best effects on the camera.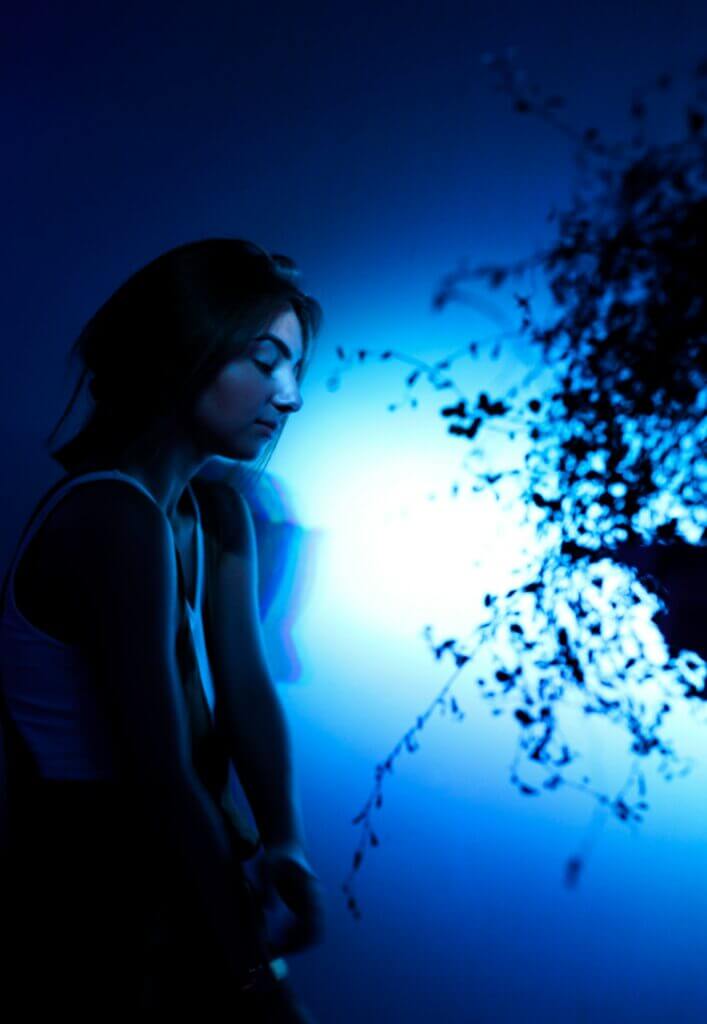 18. Different Speed Footages Idea
All of us already know that slow-motion creates a dramatic effect while fast video creates a sense of drama and urgency. You can use these variable speeds to create an element of surprise in your music video. Music videos have always broken the tradition of filmmaking rules, and this will be a great idea to give innovation to your music video. Sometimes you will have to slow down the playback if the musician is singing along just so that he/she can lip sync while you are recording.
19. Slow Reveal Craft
Slow reveal craft has been in the industry for a long time as this gives suspense and an element of surprise to the video. You must have seen videos where the camera is adjusted to capture the close-up of a singer, and then slowly the camera is moved back, and then it reveals that the singer is not alone and his/her whole band is with him/her. This is an element of surprise for the viewers. For an outdoor slow reveal, you can make a slow reveal by making your singer play infront of a picture frame and then slowly pull back the camera and capture the whole background to give this dramatic and surprise effect to your video.
20. One-Shot Shooting
This shooting technique is very tricky and challenging as the performers have to be extremely impressive in their performance. This type of shooting is challenging, but it gives a very cool effect to the video. For this type of shooting, only one location and camera are needed. You will need a helper or assistant who can guide you when you are moving backwards or sideways to clear out any hurdles. For the whole duration of the video, the singers will have to look directly at the camera. You can even use a tripod stand for this type of video and shoot the entire video without moving the camera.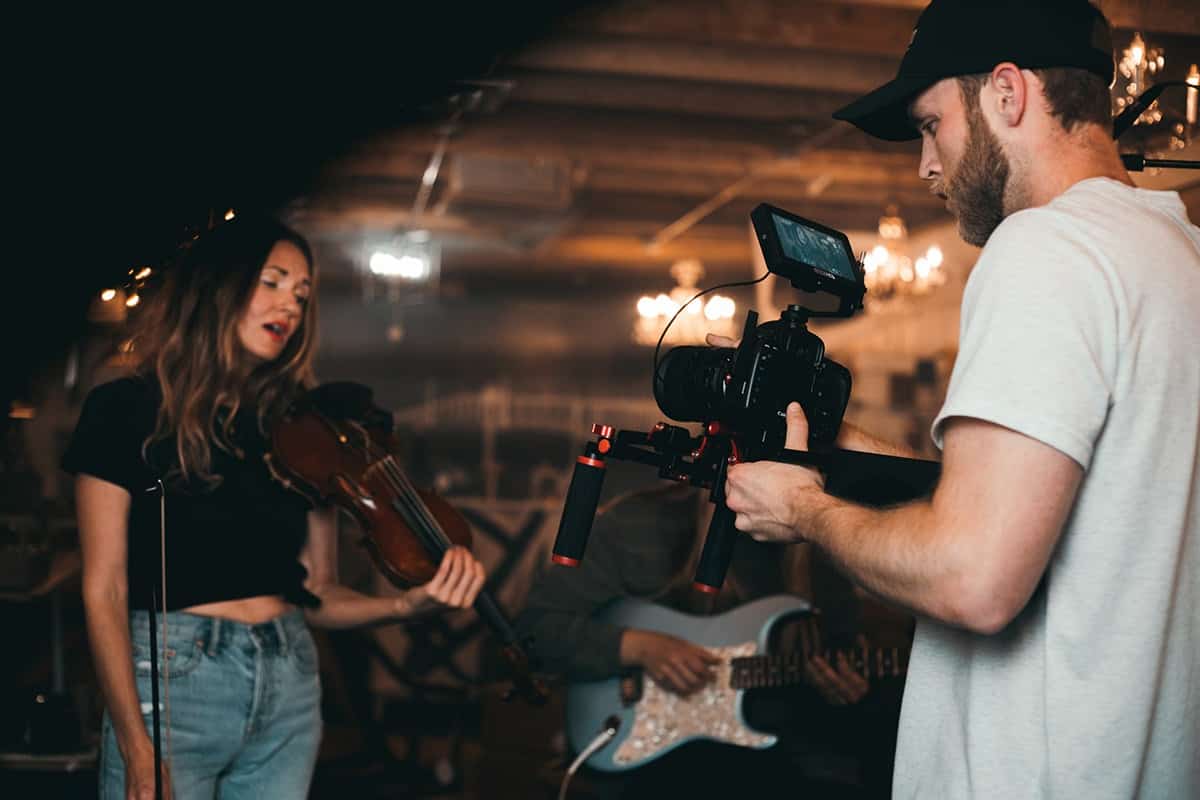 21. Green-Screen Shooting
There are so many video songs that show an imaginary and magical world. All these videos are shot infront of a green screen. We all know that location is a key for any great video, but shooting some parts of the video in front of a green screen and then putting a magical and nonexistent world in the background will attract the viewers a lot.
22. Stop-Motion Idea
Stop motion can give your video an old-school flipbook effect that will create "Video Magic". This technique requires intensive work as you will have to take many still shots of the musicians. This requires plenty of stills, but it is all worth it as your video stands out a lot at a very low cost at your end. After you have assembled all the photos, the resulting video is bound to stand out with a flipbook effect.
23. Drone Shooting
There is a good reason for drone footage saturation in the documentaries because the drone footage establishes shots like B-rolling or the performances on its own. So, if you are a drone operator or have one, you should consider recording a part of your video with it.
24. Artists to Shoot for Themselves
You can always get the musicians and artists to shoot the videos on their mobile phones while they are on tour or goofing around backstage. Make sure to ask them to record in landscape position instead of portrait. You can use this footage in a live performance, or you can even make a whole video out of it by assembling them. This is a great way to get the audience involved in the video as they always want to know about the lives of their idols.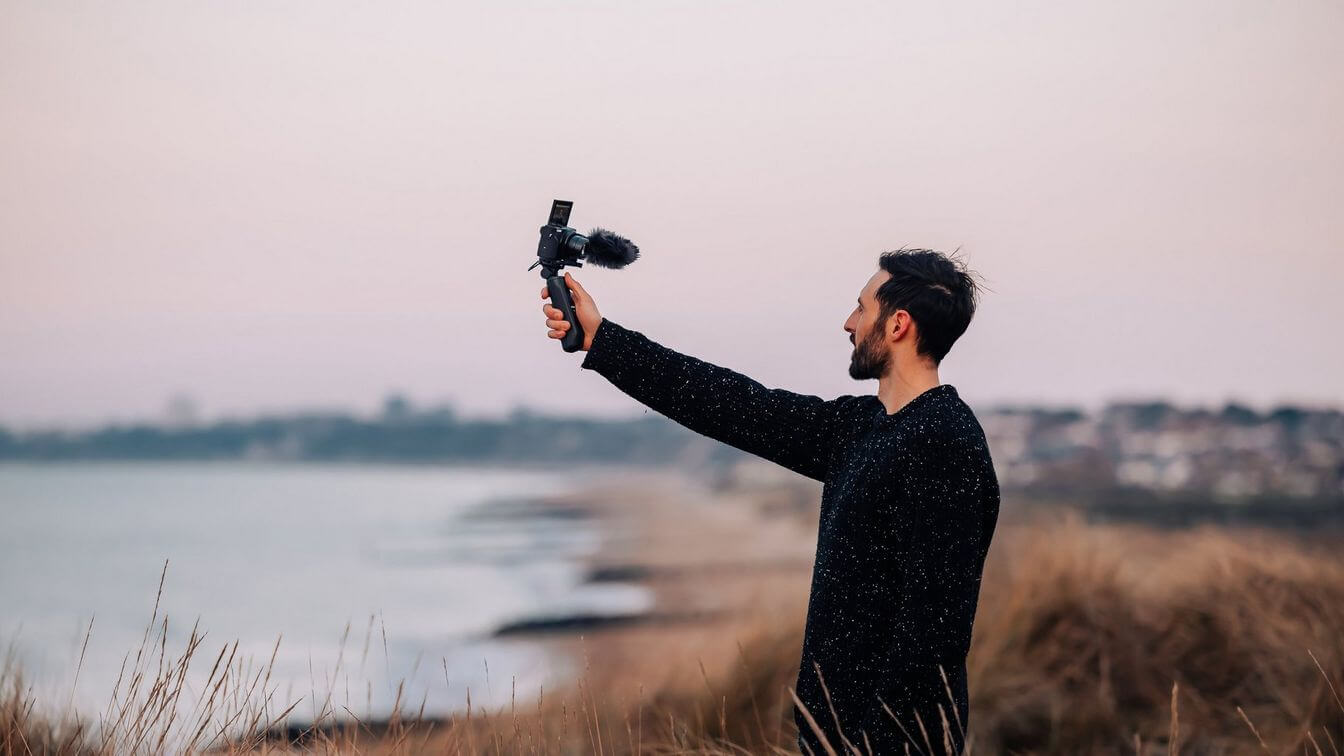 25. Video Production with "Scribble" Effect
For the production of your video with the Scribble effect, you will have to plan it all out before you can shoot the video. It is not always necessary to shoot on a green screen to integrate the element of animation, as you can just add the scribble effect over your video. This is the best way to elevate your video with post-production in mind.
Best All-in-one Video Editor to Make Your Music Video Ideas Realize
iMyFone Filme is one of the best editing software, which is quite easy to work on. You might think that you can't use any random app for editing, but Filme is quite good to start with. You can make video editing within a few minutes with high quality using Filme's pre-prepared features.
Key Features
Some of its key features are
You can make a video editing within a few minutes using pre-prepared designs.

Filme allows you to add a filter from its 170+ pre-present filters.

Filme allows users to use the pre-present 110+ transitions.

Users can use sounds from its 50+ audios.

A user can also use the fast video mode from the 20+ available ones.

Filme gives your edits a professional look with high-quality editing.

It is used by millennials, Instagrammers, and also gen Z.

iMyFone Filme
All-in-one Video Editor for Musicians to Create Music Videos
Download Now
How to edit your videos using iMyFone Filme?
These steps start after you have downloaded and opened the Filme.
1

Select the Video Footage You Shot
First of all, select a video you want to edit and import in Filme. That can be done by clicking on the black and white icon which is currently present on the left of your screen.
2

Add Video Effects to Make it Rock
All you need to do is add all the effects, filters, transitions you want. All those options are present on the toolbar right above.
3

Add Your Customized Audio
You can add whichever audio you like to your video by selecting one from the already present ones in Filme. There is a music icon present on the toolbar at the top. For example, adding songs for kids growing up when you are making a music video slideshow for your children.
4

Make Your Video Impressive by Adding Multiple Elements
If you want, you can add text of various sizes, colours, and styles. Just click on the "T" button in the top toolbar and type whatever you want to.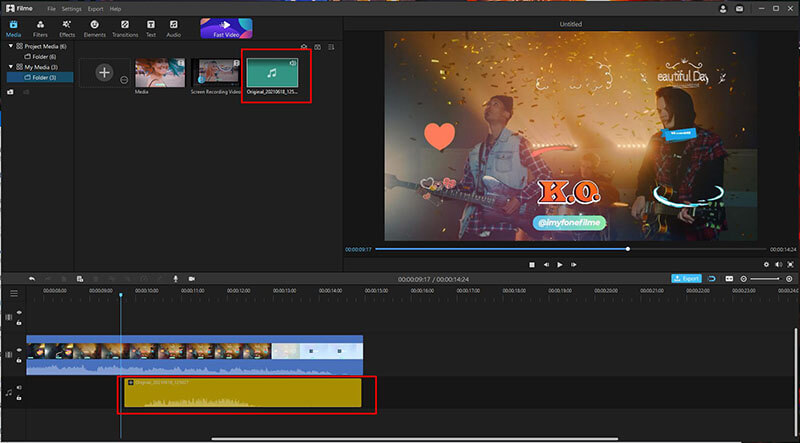 5

Save Your Video and Share
Last but not least, save the video by clicking on the save option, and the video will automatically be present in your gallery. Share it to Youtube, Twitter, Facebook directly on our export interface.