If you are looking to get the best and most expansive Zoom voice changer app of 2021, then you're on the right platform. Read this article till the end and find out.
The popularity of Zoom has skyrocketed in the last few years with students, teachers, managers, and employees using it regularly to hold video conference calls for routine purposes. If you have a knack for adding excitement to your video calls with friends or colleagues, why not try disguising your voice to sound like a robot or anime character.
Given this, this article will walk you through several top-ranked Zoom voice changers apps along with their pros and cons and a step-by-step guide on how to change Zoom voice.
Let's cut to the chase.
6 Best Voice Changer for Zoom in 2021
Here are the best and most comprehensive Zoom voice changer apps that you can use in 2021.
MagicMic is fully worthy of your attention if you want to change every aspect of your voice more in a natural way. With just one click, you can turn your voice into Woman to Man, Monster, Minions, Devil, Chipmunks, Dragon, Robot, Alien, etc.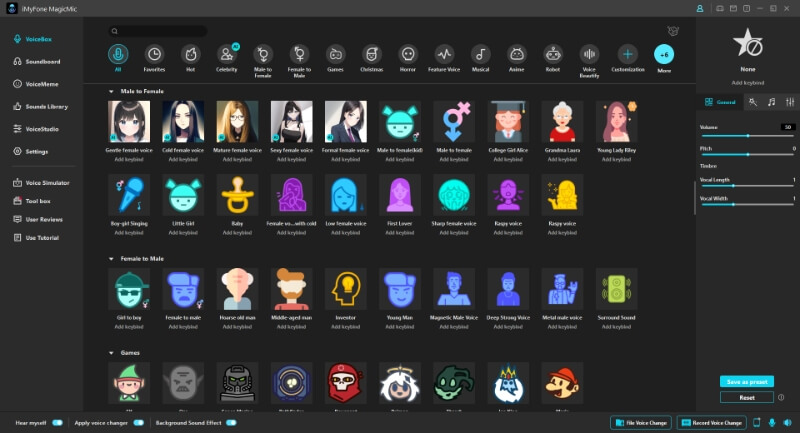 Key Features of MagicMic
Change Your Voice in Real-Time

Get Started within Only 5 Minutes

It works with all versions of Windows and supports tons of games (PUBG, LOL, CF, WOW, Second Life, Fortnite, CSGO, Overwatch).

With over 23+ voice filters

190+ Sound Effects to Satisfy All Your Need
Pros of Magicmic

Easy to use with an easy interface.

Can be used on Discord, Skype, Zoom,Twitch, Xsplit, Streamlabs and many other platforms.

Supports in Windows 7/Windows 8.1/Windows 10 (64 bit OS)/Windows 11.
Text Guide
1) Download, install and configure MagicMic on your PC.
2) Open Zoom and at the top right click on your settings option button.
3) After the settings window opens click on the "Audio" tab.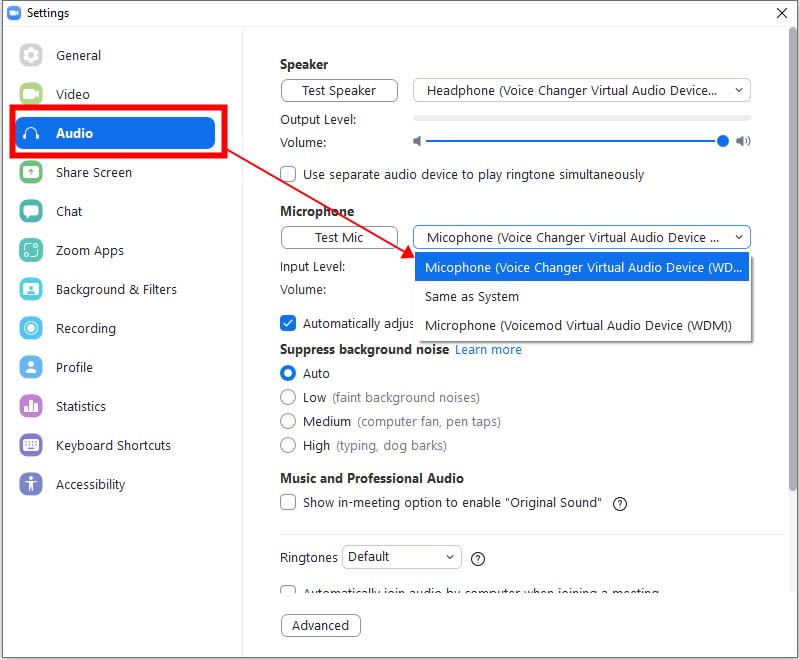 4) For Microphone Select "Microphone (Voice Changer Virtual Audio Device)" in the drop down.
5) Uncheck Automatically adjust volume.
6) Click the Test Mic button and speak into your microphone and adjust the microphone position to your mouth until the bars show in the middle when you talk. You may need to adjust your real microphone if it was originally not setup. You can do this by selecting your real microphone and running "Test Mic" for it, then switch back to the MagicMic Virtual Audio Device. Leave the MagicMic Virtual Audio Device microphone at 50%.
7) Close the settings dialog.
Also Read:
Another highly popular Zoom voice changer that empowers you to implement exciting voice-changing themes on Zoom. Being exclusively compatible with Windows OS, it comes with a user-friendly interface and straightforward interface that make it an ideal choice for beginners.
It also supports VST plugins that allow users to generate new sound effects in high quality. The best thing about Clownfish is it works great with Zoom and many others chatting apps like Discord, Viber, Steam, and so on.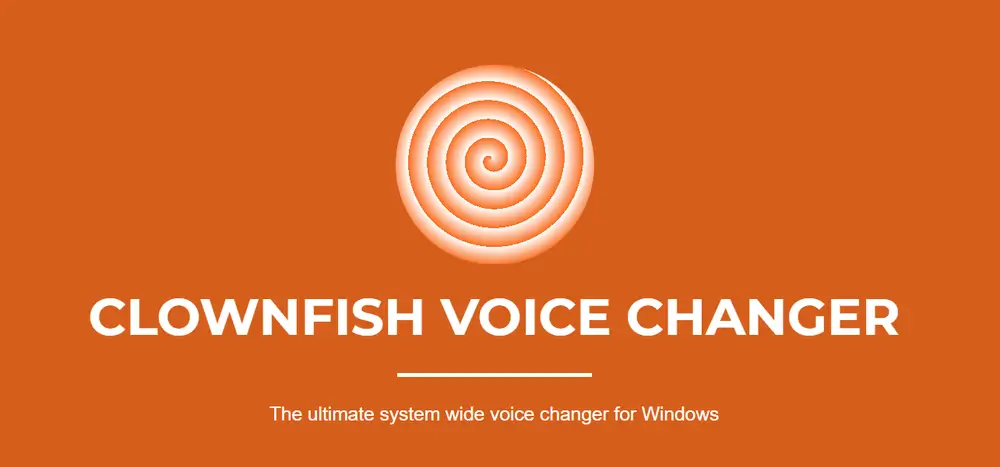 Features
Can convert text into speech

Offers tons of built-in voice styles

VST support

Adjust the microphone's background noise
Pros:

Open source and 100% free

Compatible with all Windows OS and Android

The interface is very simple and basic
Cons:

No advanced voice effects

Interface seems old-fashioned
Price: Open source and free
Also Read:
Voice Changer for Google Meet >>
Clownfish Voice Changer Not Working >>
If you love to modulate your voice to robotic themes, then RoboVox Voice Changer is an ideal choice. Equipped with a wide collection of voice-changing styles that you can implement on a Zoom call with one click, it provides a quick and simple solution to disguise your voice on Zoom.
RoboVox also offers plenty of other features including in-built X/Y control that enables the users to play their voices in real-time.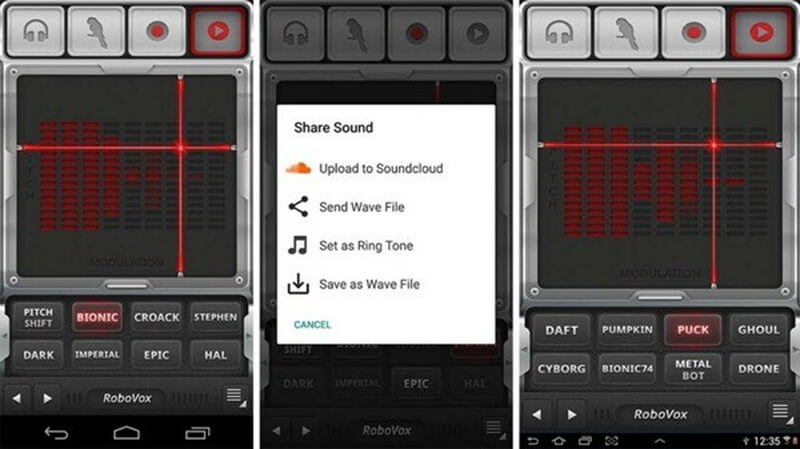 Features
The recorded time is up to 5 minutes

32 unique voice styles

Easily customizable pitch and modulation settings

Equipped with the latest vocoder technology
Pros:

Very simple interface

Supports latest Android versions

Three different modes including the real time mode
Cons:

Pushes for in-app purchases

Limited free voice styles
It's priced at $1.49 as of now.
Being compatible with both Windows and Mac it is one of the best tools to change your voice on Zoom. Having over a million users, it is popular for its flexibility and tons of hilarious voice effects.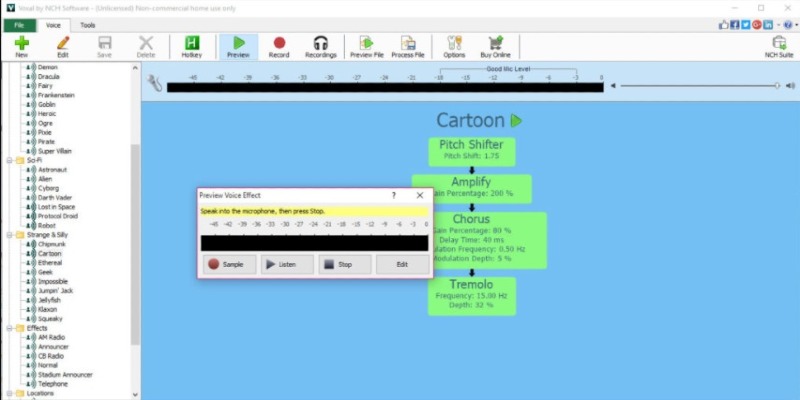 Features
Manu voices including funny, robot, monster, devil, and so on.

Supports multiple formats

Modulate voice in real-time

Directly share the output to the social media platforms.
Pros:

The voice changing styles are updated regularly

It's completely free

Easy to use
Cons:

Often crashes unexpectedly

Limited features

Too many ads
As of now, this app is 100% free for all users.
This powerful software has established itself as one of the best voice changers for Zoom – thanks to its impeccable features and intuitive interface. Having millions of downloads, AV Voice Changer offers a huge pool of unique and exciting voice effects that you can implement with just one click.
Aside from Zoom, it works perfectly fine with other audio and video chatting applications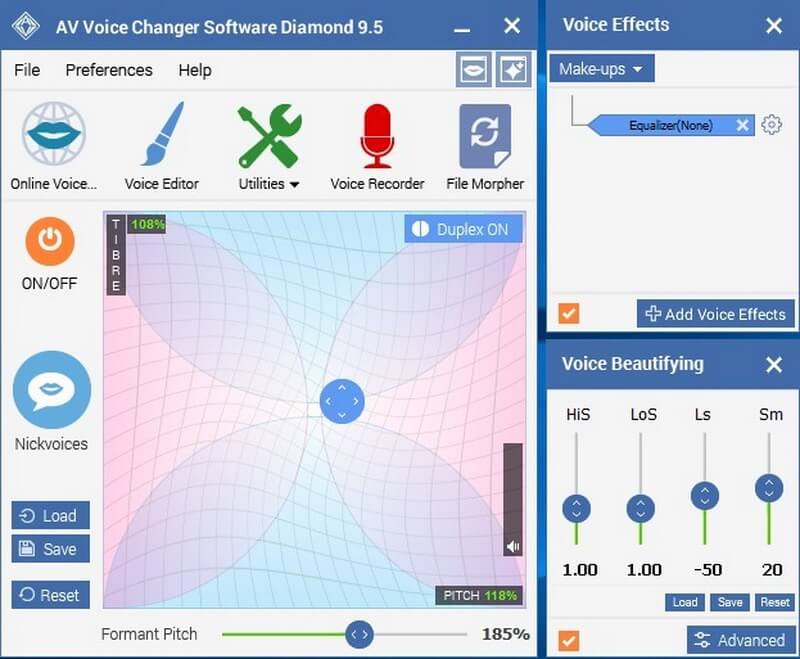 Features
Dozens of hilarious voice effects

Built-in professional editor

Equipped with the superior virtual driver technology

Apply voice theme on your recorded voice

Save in your Android and share with others
Pros:

Change voice in real-time as well as for the existing audio

Import pre-recorded audio into the program

Compatible with almost all VoIP programs
Cons:

Too expensive
Price: $99.5
VoiceMod is one of the most in-demand voice changers for Zoom that comes pre-loaded with a range of exciting voice styles including Baby, Android, Alien, and Chipmunk. Don't get confused by its simple interface as it includes all the impeccable voice-changing features that you want from a quality tool.
What's more, you can record your voice and disguise it to surprise your friends.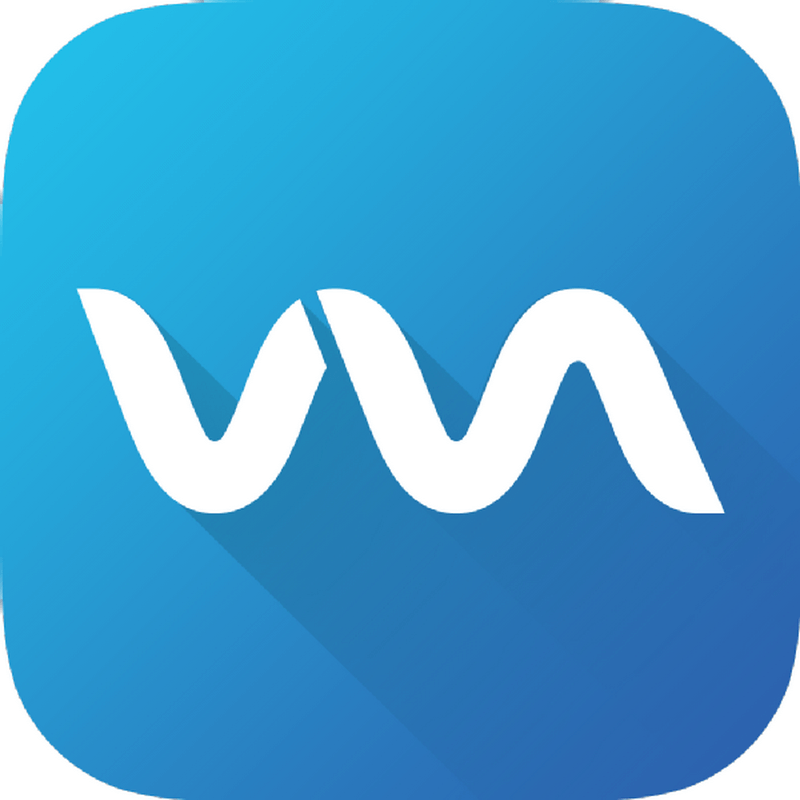 Features
Offers hundreds of voice modes

Applies effects in real-time as well as to pre-recorded voice

Create your own voice and/or add sounds to its soundboard

Provides live voice effect demos
Pros:

Free across all Windows OS

Easily integrate with other popular apps such as Skype, Twitter, modern games, and many online streaming apps

Voice effects sound natural and are of high-quality
Cons:

The free version has limited features

Grammatical mistakes in the app
Record Zoom Meeting and Change the Voice with iMyFone Filme
When it comes to the best screnn recodring, audio recording and voice changing software for Zoom, iMyFone Filme stands apart from other players in the market. It comes pre-loaded with all the stellar features and hilarious voice effects that a premium Zoom recording tool offers.
With its all-in-one features, users can record Zoom screen as well as edit the captured audio/video using the built-in professional editor. Even the newbies find in extremely easy to install and use.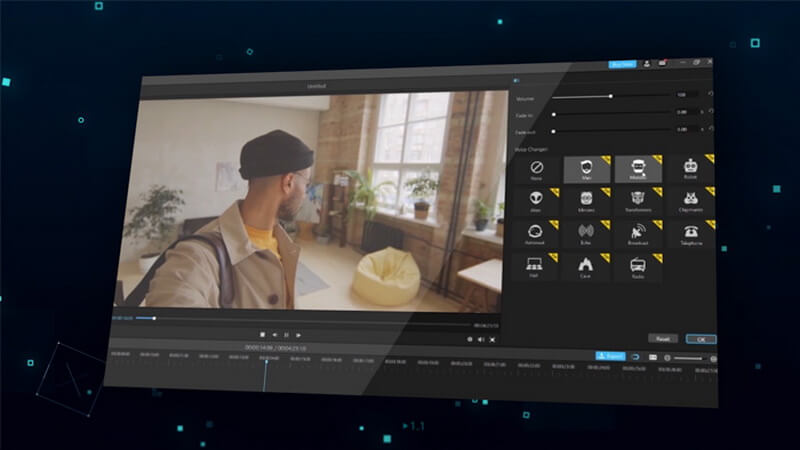 Key Features
Records Zoom in high quality

Offer real-time voice changing while recording

Provides tons of unique and exciting voice styles

Can modulate existing audio sources

Edit the captured audio
Pros:

Easy and simple to use even for beginners

Many voice changing modes

Compatibility with all Windows versions
Watch this video to learn how to use Filme to change voice:
Text Guide
Here's how to use iMyFone Filme:
Step 1
Once installed, launch iMyFone Filme on your computer.
Step 2
Now, you need an audio track in the Filme timeline. Use the "+" sign to import and load an audio file to Filme's timeline.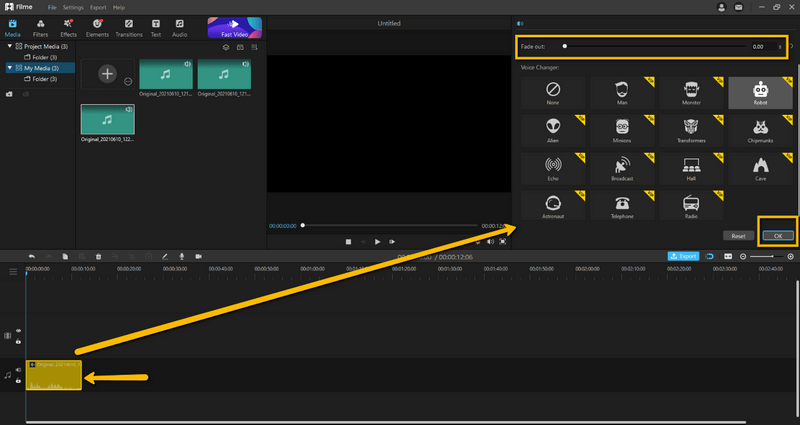 Step 3
Start Zoom meeting. Then, click on the Microphone icon to get going.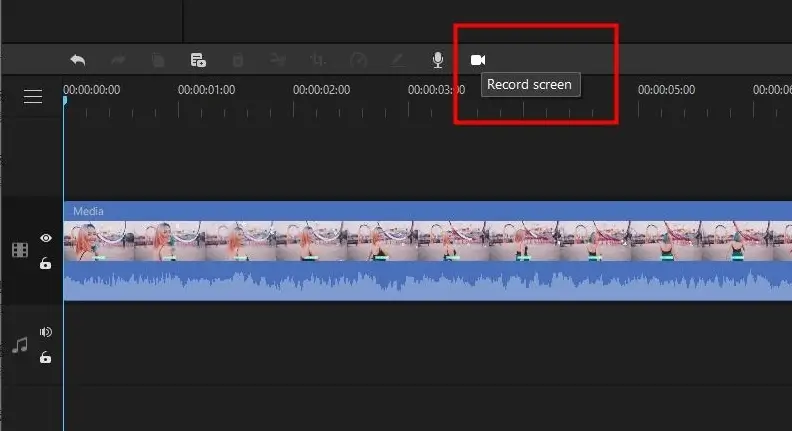 Step 4
On the popup tab, choose your Microphone as the input device. Here, you can select the voice-changing theme you want.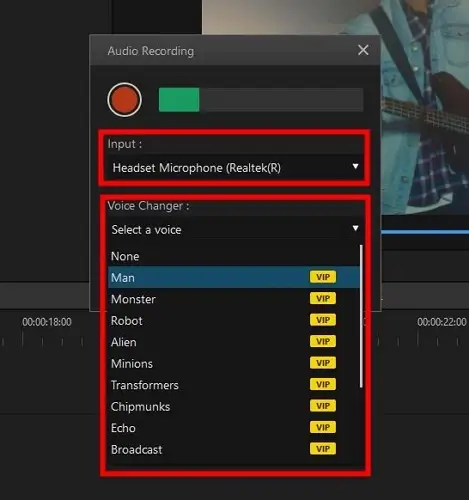 Step 5
After that, click on the Play icon to start recording Zoom.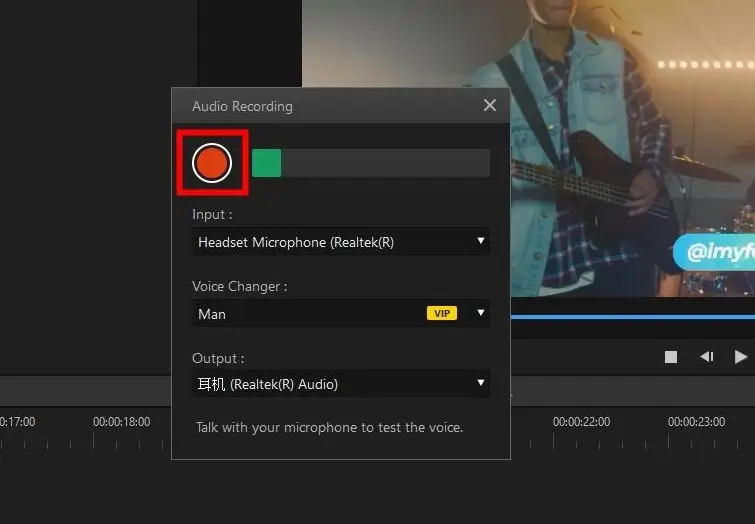 Once recorded, you'll see the output audio file in the timeline. You can apply dozens of sound effects to it.
Step 6
Finally, click on Export to save the output file on your computer.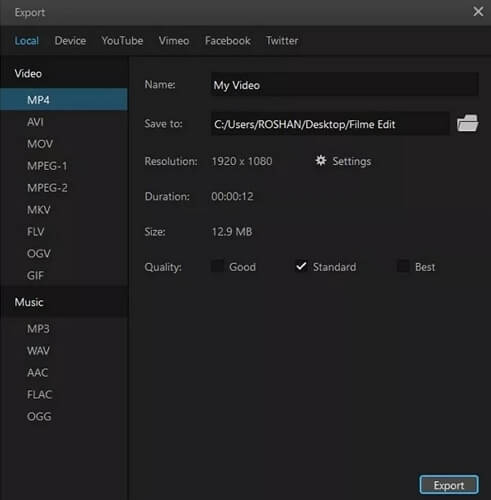 FAQs
1. Can You Use a Voice Changer on Zoom?
Yes, thousands of people use a third-party voice changer to disguise their voice during a Zoom meeting. It is a great way to add fun and excitement to a Zoom conference and to prank on your friends or colleagues.
2. What is the best Zoom voice changer app in 2021?
The internet is awash with efficient voice changing tools for Zoom. Depending on your requirements, you can use any of the below top-ranked apps:
Voicemod,

Clownfish voice changer

AV voice changer

NCH Voxal voice changer

RoboVox voice changer
Conclusion
This article shows that the internet is full of voice changer for Zoom apps. All the tools mentioned above are efficient and trustworthy and choosing one tool over the other depends on your individual preferences and requirements.
However, if you're looking for the most comprehensive and professional software for recording Zoom as well as apply voice-changing effects, then iMyFone Filme is your perfect choice.