With the rise of voice synthesis and Advanced AI technology, you'll see many voice generators becoming available in the market.
The advanced AI technology has made relying on large volumes of highly professional equipment or voice samples unnecessary. You can mimic anyone's voice in AI without making any effort.
With the prevalence of AI voice generators, selecting the best AI voice changer might take some effort. Luckily, we're going to reveal the 4 sensational AI voice changers.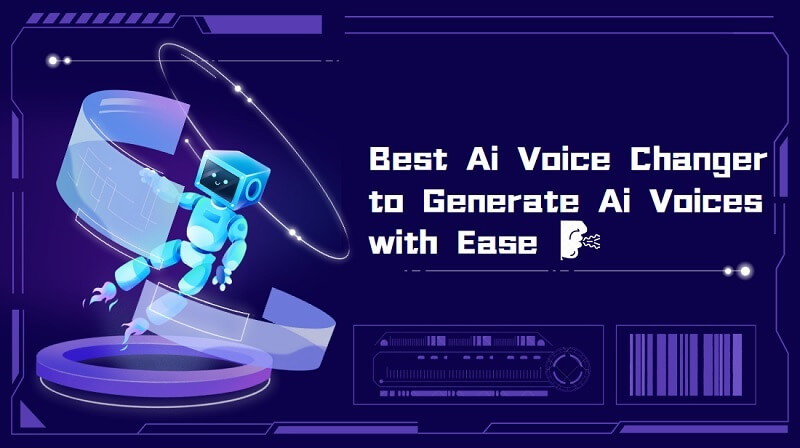 4 Powerful Ai Voice Changer to Generate Ai Voices Real-Time
The fascination with AI technology has addicted millions of people, and the popularity of an AI voice changer suggests how much people love using someone else's voice. The best AI voice generator that can help you generate flawless voice filters and sound effects is none other than the iMyFone MagicMic.
It is an unbelievably brilliant voice changer that, apart from getting updated every week, offers advanced features, blesses you with an effortless user interface, and empowers you to change your voice anytime, sitting anywhere in real-time.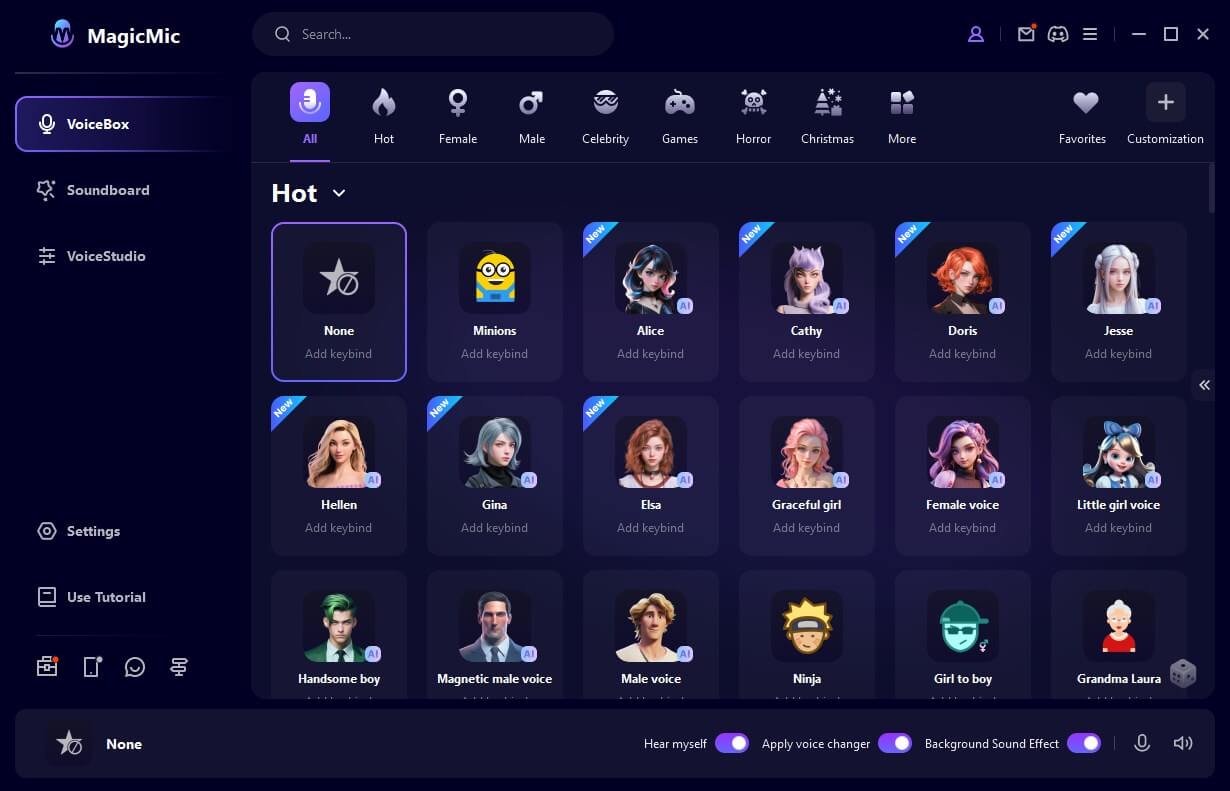 Features:
Change the voice with 125+ voice filters in real time

Use the 150+ voice memes and 400+ voice effects on your favorite online platforms

Noise Reduction, Keybinds control, voice custom, and audio edit

Supports voice recording and audio voice change

Compatible with Mac and Windows
Pros:
MagicMic is a lightweight voice changer that doesn't take massive storage on your PC.
MagicMic offers the user-friendly interface
Allows you to customize the voice
Assign keybinds to access the favorite voice filters quickly
Cons:
Mobile version no real-time voice change function yet
If you're a content creator or game lover looking for an AI voice changer, Voicemod will be a good idea. It is a terrific voice changer that helps you create unique voices and identities courtesy of the features Voicemod comes up with.
The AI technology of Voicemod is undoubtedly icing on the cake, helping you to make your voice sound like a girl, robot, woman, or man with minimal effort. You can use the Voicemod with your favorite games and more.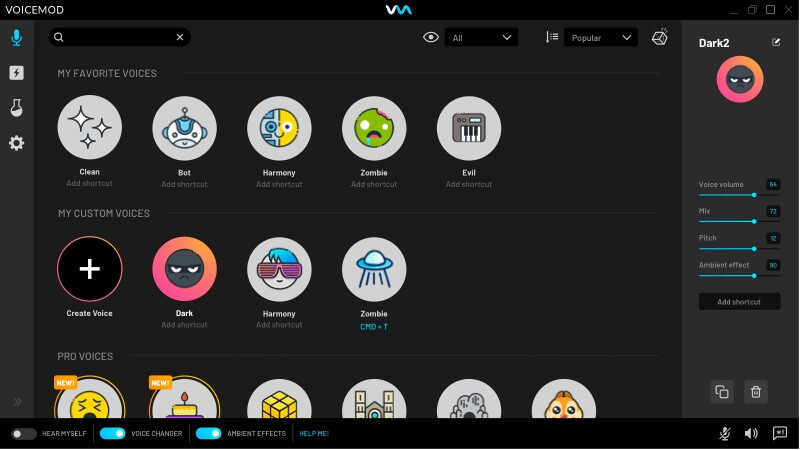 Pros:
Come with AI technology
Import the audio before applying the voice filters
Compatible with many modern games
It has many sound effects to download
Cons:
It might take a lot of time to get installed.
It doesn't working often with poor network server.
Installing an AI voice generator and setting it up on your device might take time and a lot of storage on your PC. Luckily, there is a workaround for those looking to acquire an online AI voice changer free, as you can visit the official website of Voice.ai.
Apart from being a terrific AI voice changer, this online tool is also a voice clone tool helping you to import your voice and make it sound like any character's voice. The combination of our 15 million unique speakers used to design this remarkable AI voice changer is genuinely breathtaking.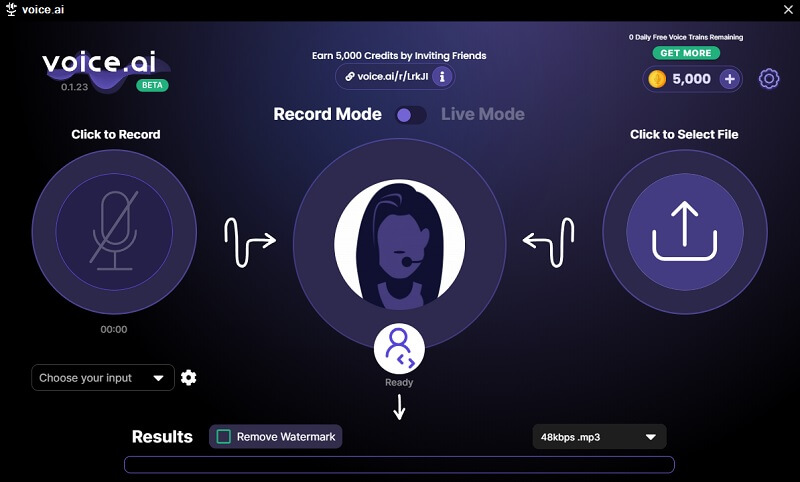 Pros:
Create the voiceovers in a few clicks
Change your voice in real-time on multiple streams
Supports voice cloning
Cons:
A slight slowness of internet speed can undo all your efforts
You can rely on a text-to-speech tool if you intend to generate your favorite character's voice but don't want to speed on the microphone.
Voxbox is a powerful text-to-speech generator for Windows users that empowers you to turn text into 46+ languages and 100+ characters' voices. It doesn't ask you for recording equipment, adding subtitles, or synchronizing your pictures with sound. Instead, you can use stunning features like TTS and audio to generate flawless audio.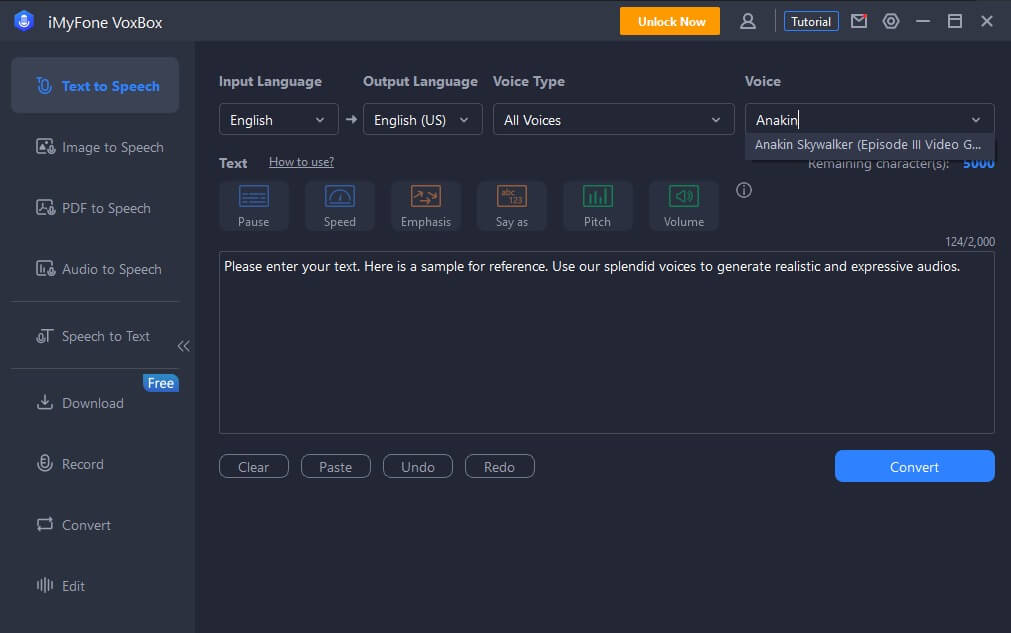 Pros:
3200+ voice likes, YouTubers, rappers, celebrities, cartoons, etc
46+ languages like British, Hindi, etc
Convert media files to your favorite audio formats
Cons:
Only available for Window
Part 2: Faqs about Ai Voice Changer
1. What's an AI voice changer?
There is a lot of noise from an AI voice changer, and rightly so. An AI voice changer uses artificial intelligence to change the voice of someone and make it sound like other characters' voices with ease.
You can use the AI voice generator to change the voice's speed, quality, and speed. Disguising a person's voice or making it sound like someone else's voice, such as a fictional character or celebrity, has become effortless courtesy of the AI voice changer.
The popularity of AI voice changers has been increasing, and millions of people are giving up on different voice-adjusting equipment upon the arrival of AI voice generators.
2. What can we do with AI voice changer
You can perform various activities via the AI voice changer. For instance, if you intend to prank your friends in real-time gaming and make them realize that someone else is sitting there, you can change your voice using the free AI generator.
Generating voiceovers for commercial purposes or improving the quality of podcasts has become effortless after the emergence of AI voice changers.
On top of that, an AI voice changer also allows you to record your voice and then export it after applying all your favorite voice filters and sound effects.
3. Popular ai voices: Darth Vader, Quandale dingle, Spongebob
Various AI-generated voices have taken this world to storm. SpongeBob, Quandale Dingle, and Darth Vader are some of the most famous voices.
Darth Vader
Darth Vader is a terrific character in Star Wars that has been on the priority list of people wanting to change their voice in real-time. He is a villainous military commander in Darth Vader with a frightening voice.
SpongeBob
SpongeBob is a popular cartoon with a unique voice. Many people tend to use SpongeBob's voice to prank others.
Quandale Dingle
Quandale Dingle had tweeted a post, and it went viral overnight. People liked Quandale Dingle's voice and began using it as meme material. Now, the Quandale Dingle is one of the most popular AI voices.
Conclusion:
With the brilliant 4 AI voice generators mentioned in this post, you can enhance your video gaming or content-creating experience to the next level.
Apart from helping you explore hundreds of voice filters and sound effects using the simple user interface, all these AI voice change tools empower you to change your voice in real time on various platforms. All the options are worth trying, but no one can match the supremacy of the MagicMic AI voice changer.
It is a highly recommended AI voice changer courtesy of the mind-blowing voice filters, sound effects, ability to record the voice in high sound quality, and change the voice in real life on multiple platforms.