Voices are an important part of a narrative. A voice sound can be part of a character or determine the course of a storytelling. That is why learning how to use a video voice changer can be a game changer if you are a content creator.
We have prepared a complete guide with different methods of how to use voice changer for videos. You can get to know different tools available and the process of using the video voice changers. It will be possible to record directly the voice changed or to modify an already existing voice audio.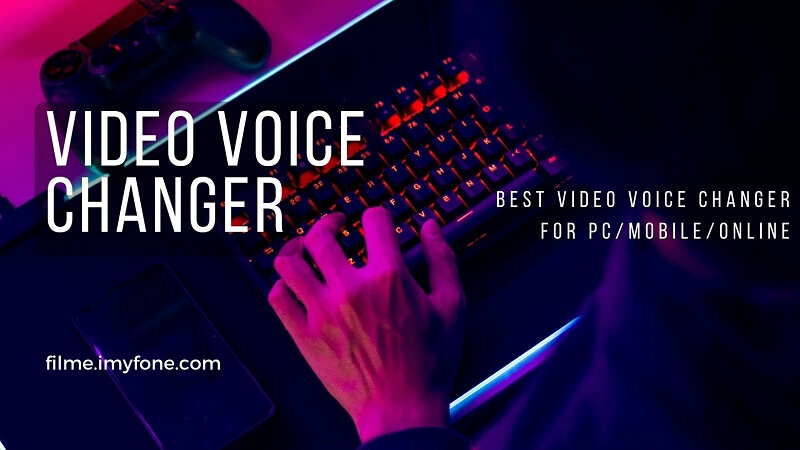 Part1: How to Change Video Voice?
Here are some alternative ways to change the voice in a video:
1.Voice modulation software
Use specialized voice modulation software to modify the voice in real-time or during post-production. These tools offer a range of voice effects and filters that can alter the pitch, tone, and overall characteristics of the voice.
2.Online voice-changing platforms
Explore online platforms that provide voice-changing services. These platforms allow you to upload your video and select from a variety of pre-recorded voices or voice effects to overlay onto your video.
3.Automated voice conversion tools
There are AI-powered tools that can change the voice in a video by leveraging text-to-speech (TTS) technology. You input the desired text, choose the desired voice style or accent, and the tool generates the corresponding voiceover.
4.Manual voiceover
Hire a voice actor or someone with a different voice to record a new voiceover for your video. This approach involves re-recording the entire script or specific sections with the desired voice, and then syncing the new audio with the video using video editing software.
5.Speech synthesis
Use speech synthesis software or text-to-speech (TTS) engines to convert text into spoken words. These tools generate artificial voices based on the text input, which you can then overlay onto your video.
6.Dubbing or lip-syncing
If you have access to the original video's script, you can record a new voiceover or dialogue in the desired voice and then synchronize it with the lip movements of the original video. This technique is commonly used for foreign language films or when the original audio needs to be replaced.
Tips
But the most convenient, fastest and cheapest way is to use video voice changer, so next we will introduce some useful video voice changers PC/Phone/online for you
Part2: 2 Best Video Voice Changer for PC
1. MagicMic Voice Changer [Mac/Windows, Android and iOS]
MagicMic is a powerful video voice changer that can instantly change voice for PC, play sound effects, and change voice for audio files and real-time recordings also.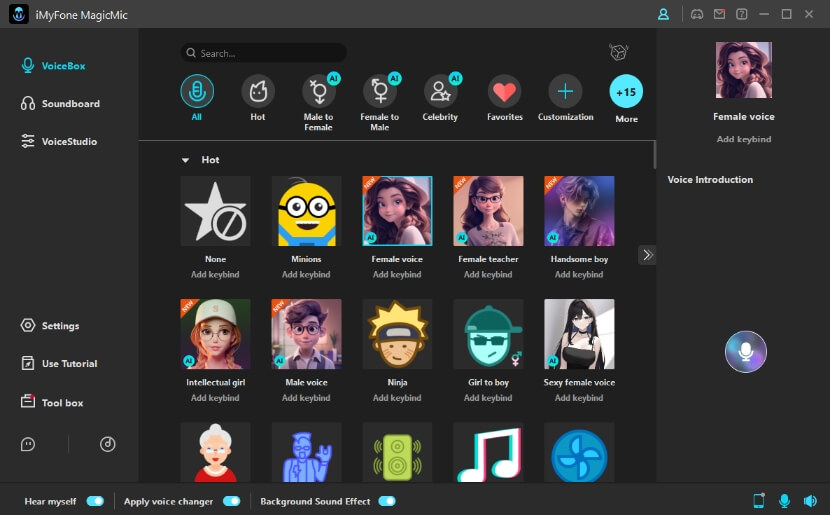 During the use of this product, you will be very surprised, because although this is a new software, it is quite functional, and it is very convenient to use. Moreover it is a mature software with great potential.
Product Specification:
Manufacturer: iMyFone LTD

Operate System: Windows, Mac, Andriod and IOS

Size: 6.3MB

Version: 5.3.5

Voice Library: 250+ voices

User Rate: 4.9 Stars
Why MagicMic:
There are 250+ voice changing effects for you to choose from.

600+ sound effects and 200+voice memes to dunble up fun.

Noise reduction is supported on MagicMic.

There are background sounds for you to create various environment sounds.

You can import endless sound effects and voice memes in MP3/MAV format.
How to Change Voice with MagicMic Video Voice Changer?
First,you need to download the latest version of MagicMic from its offical website or download buttons below.And then install and launch it.
Second step is to connect your device with a microphone headphones,and select it as input and output device on MagicMic settings.
Third step is to convert your video into MP3 files and import it into MagicMic follow the pictures tutorial below.

After import MP3 or MAV audio file,you can change the voice into varius in-build voices as you want.Selected voices and listen to the effect,export it if you are satisfied.(Noise reduction is supported.)
Then choose the file format you need to click confirm button,and then use import the audio file to your video.
Bonus Tips
How to sound like celebrities or movie characters when you are playing games or live streaming,here is magicmic real time voice changer which can help you make it!!
2. Filme Video Voice Changer [Mac & Windows]
In addition to voice changer for videos, you must also need an easy-to-use video editing software. Let us introduce one of the most recommended software to edit your videos: iMyFone Filme. This video editor is a reliable and robust software tool you can download for free. It was designed to offer all the tools a content creator might need.
Using Filme, you will gain access to audio editing functions like changing voice of the audio in the video. You can as well edit the video and add different effects and smooth transitions. The best part is that thanks to the intuitive interface, anyone can use it even while being a complete beginner.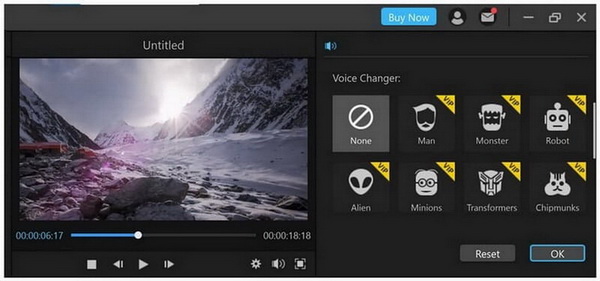 Product Specification:
Manufacturer: iMyFone LTD

Operate System: Windows and Mac

Size: 3.63 MB

Version: 4.1.0

Voice Library: 10+ voices

User Rate: 4.2 Stars
Why Filme:
You can use more than 10 voice changer options with effects like robot, monster, man, alien and others.

Video and audio recording. You can customize the part of the screen you want to record.

Audio and video editor with functions like trim, cut, adjust speed, paste, and more.

You can extract the audio from any video and edit it and then add it again to the video,suitable for YouTube video content maker.

It is compatible with Windows, MacOS operating systems.
How to Change Voice in Video with iMyFone Filme in 2 Ways
Filme is a versatile tool. Therefore, there are multiple ways to use the video voice changer. We will mention the both most common methods: One is to change the voice of an already existing audio file. The other method is to directly record the voice audio you want to modify.
Before starting, make sure you download and install the iMyFone Filme tool. You can access the free trial from the official website. Or you can directly click the download button below!
Watch this video to learn how to use Filme to change voice:
Method 1. Sound Change for Existing Audio Sources
This method works well if you already have the video or audio file you want to use the tool with. You can use Filme to detach the audio from any video. Then, you will be able to freely use the video voice changer. Here is a detailed guide on how to use this method:
Launch your iMyFone Filme tool. Then, proceed to import the audio or video media you want to use. For this example, we will work with a video but it is the same to work with an audio file.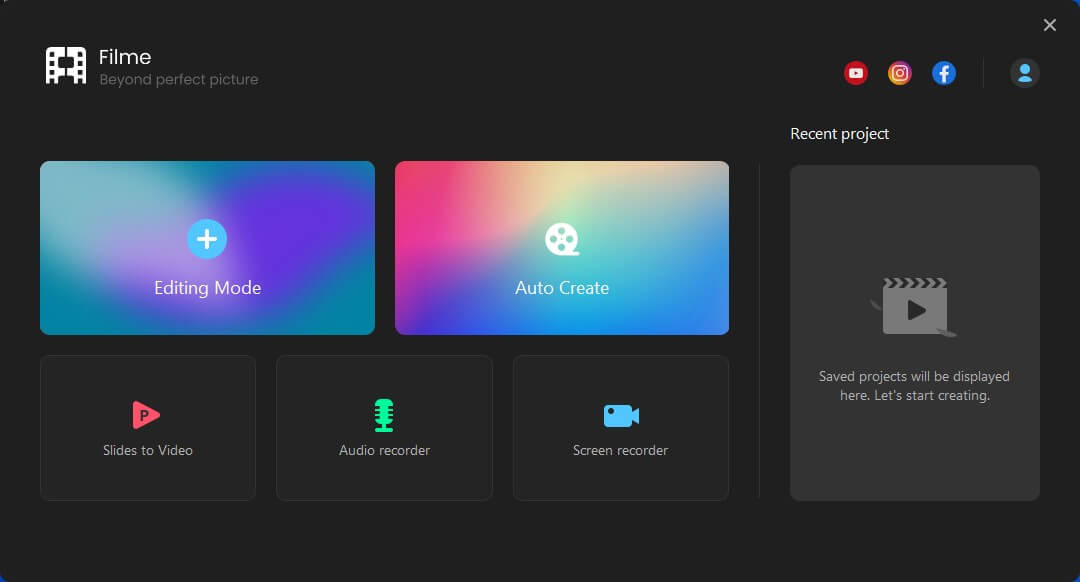 If you import a video, you need to detach the audio track from it. To achieve this, right click over the video track on the timeline. Among the options that will unfold, click on "Detach Audio" option. You now will see the audio track and the video track separately.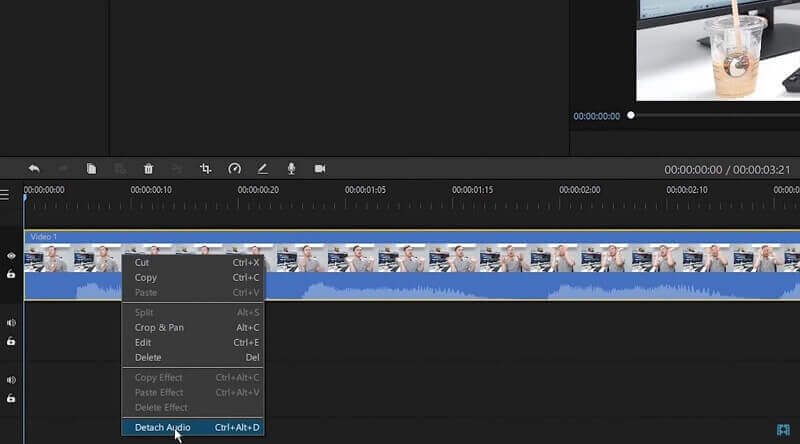 Now it is time to edit and use the video changer voice. Left click over the audio track and select the option "Special Voice effects". Now you need to choice among all the vide voice changer available.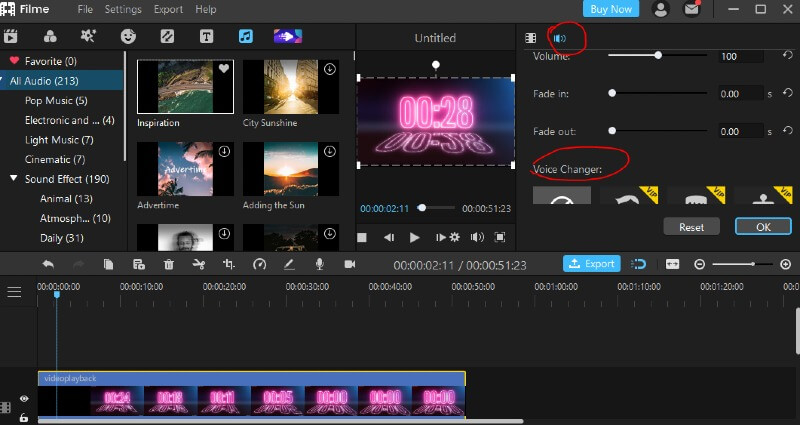 Once the audio is the way you want to, you can click on the "Export" option to save the video in any resolution or format you need it.
Method 2. Voice Change While Recording
Since iMyFone Filme also works as a recording tool, you can use it to directly record the modified voice for your video voice changer. Naturally, you will require a microphone for this.
Open your iMyFone Filme tool and proceed to click over the "Recording audio" option. It has a microphone icon.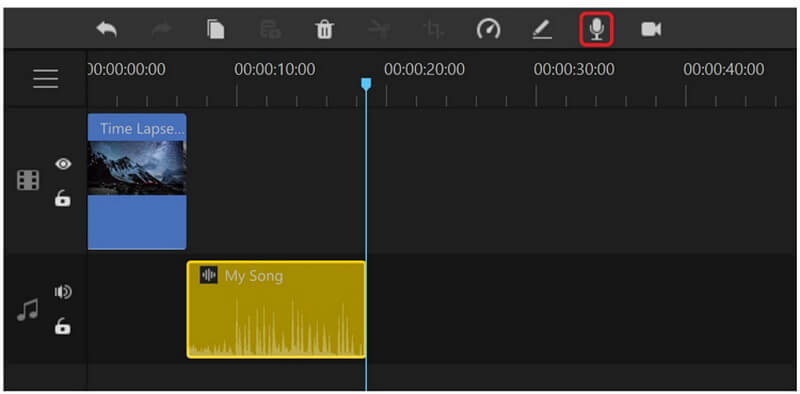 Now, you need to set your microphone as the input source. Then you can select the voice effect you want to add to your voice.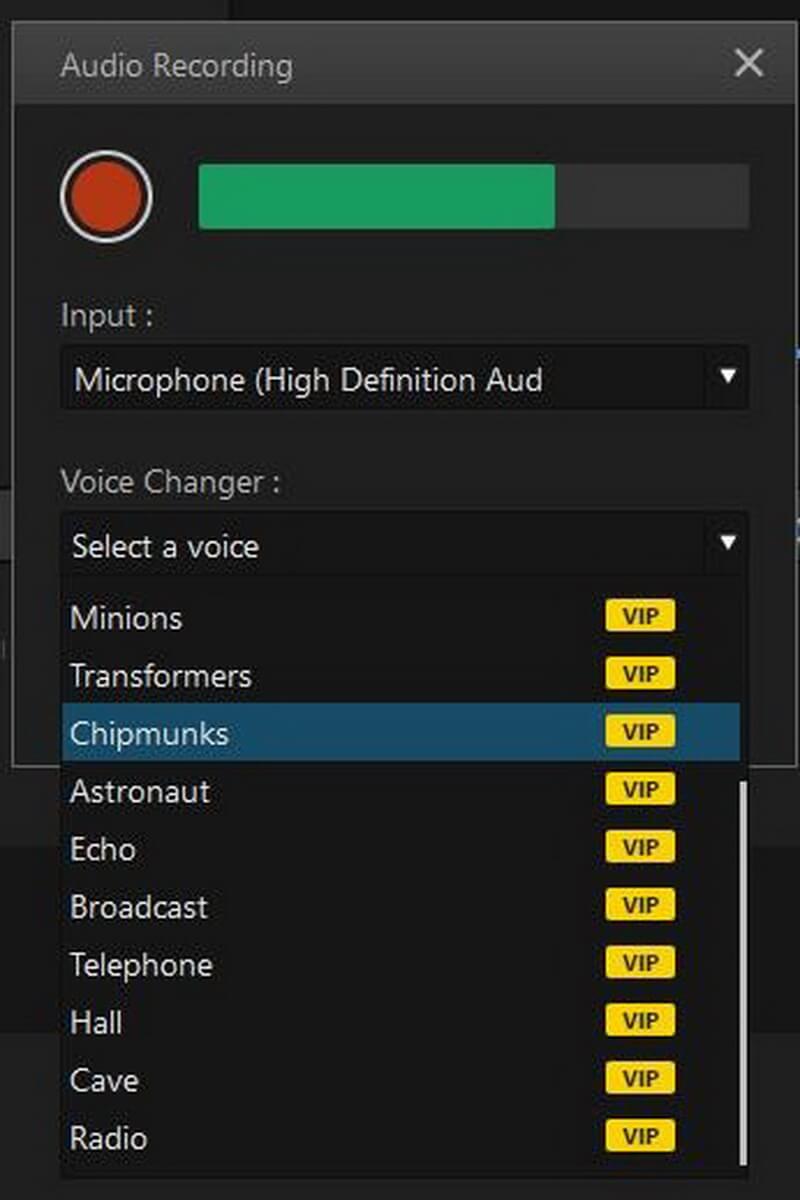 Once these two settings are adjusted, you can click on the "Recording" button, the red circle at the top of this window. You can stop the recording by clicking the same bottom again.

Edit and adjust your audio. To save you file, click on "Export" and adjust the audio quality and format.
Part 3: 3 Best Video Voice Changer Apps for Android & iPhone
If you are using your smartphone, you can still use different applications as video voice changers. Here we prepared a list with the best 3 alternatives you can use:
1. Video Voice Changer FX
This app is compatible with Android devices. Video Voice Changer and Editor is one simple video editor that includes the function of voice changer. The list of voice effects is simple, including effects such as chipmunks, men voice, woman voice, and others. It is great for quick videos that will make you laugh.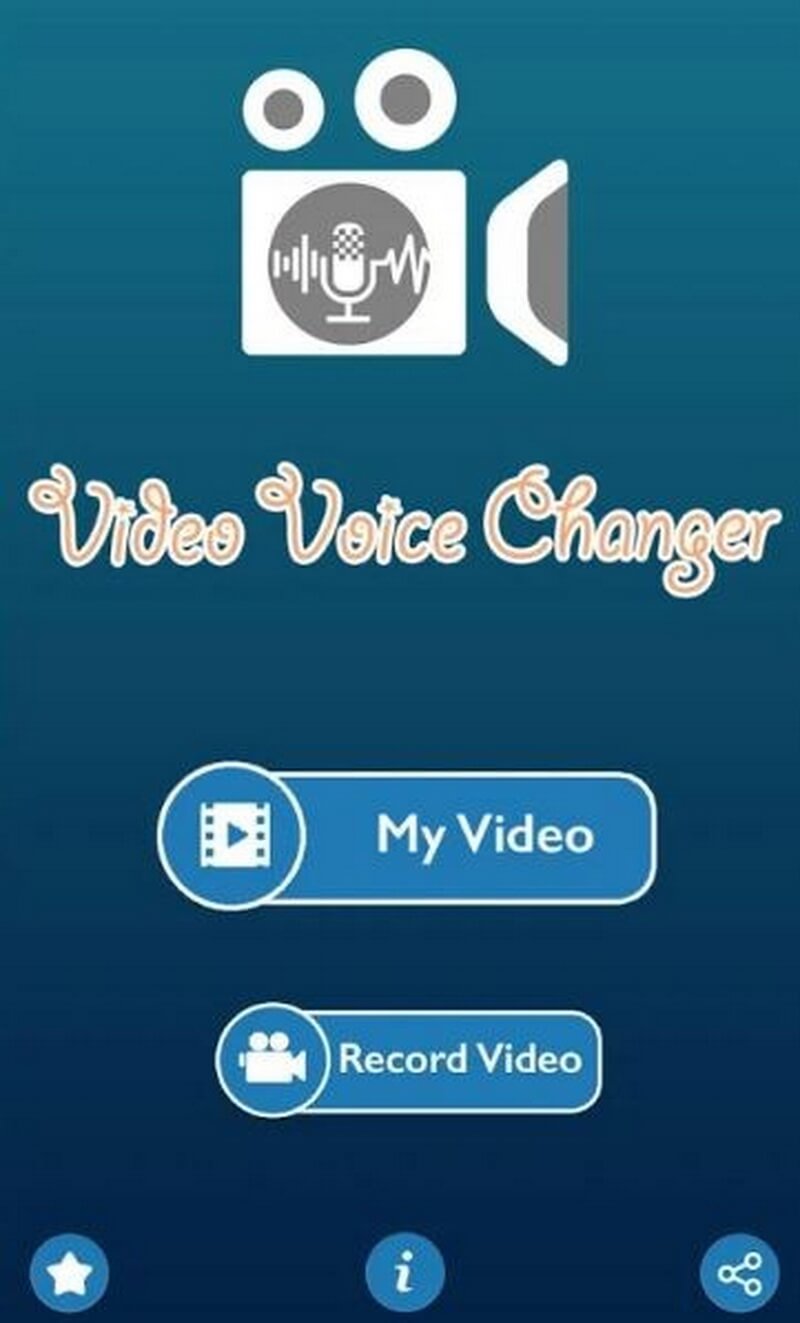 Product Specification:
Manufacturer: Bizo Mobile

Operate System: Android

Size: 33 MB

Version: 1.1.5

Price: In-App Purchase Products,$2.49 - $4.99 per item
Why Video Voice Changer FX:
This app allows you to change your voice in a video on Android.

You can use it to record a video or choose video from phone.

You can also toggle live effects while the video is playing.

It offers you 7+ various voice filters to change your voice,like helium,devil and robot.
2. DubYou
DubYou is an app compatible with iOS devices. You can download it for free on the Apple app store. With this tool you can add hilarious voice effects to your videos. Some of the options available are echo, mouse effect, and dog barks.
You can use it with video to record your voice changed with a Bad Lip Reading effect. It works to create videos from pictures as well, since it recognizes faces and simulates the mouth movement of all the sound you record.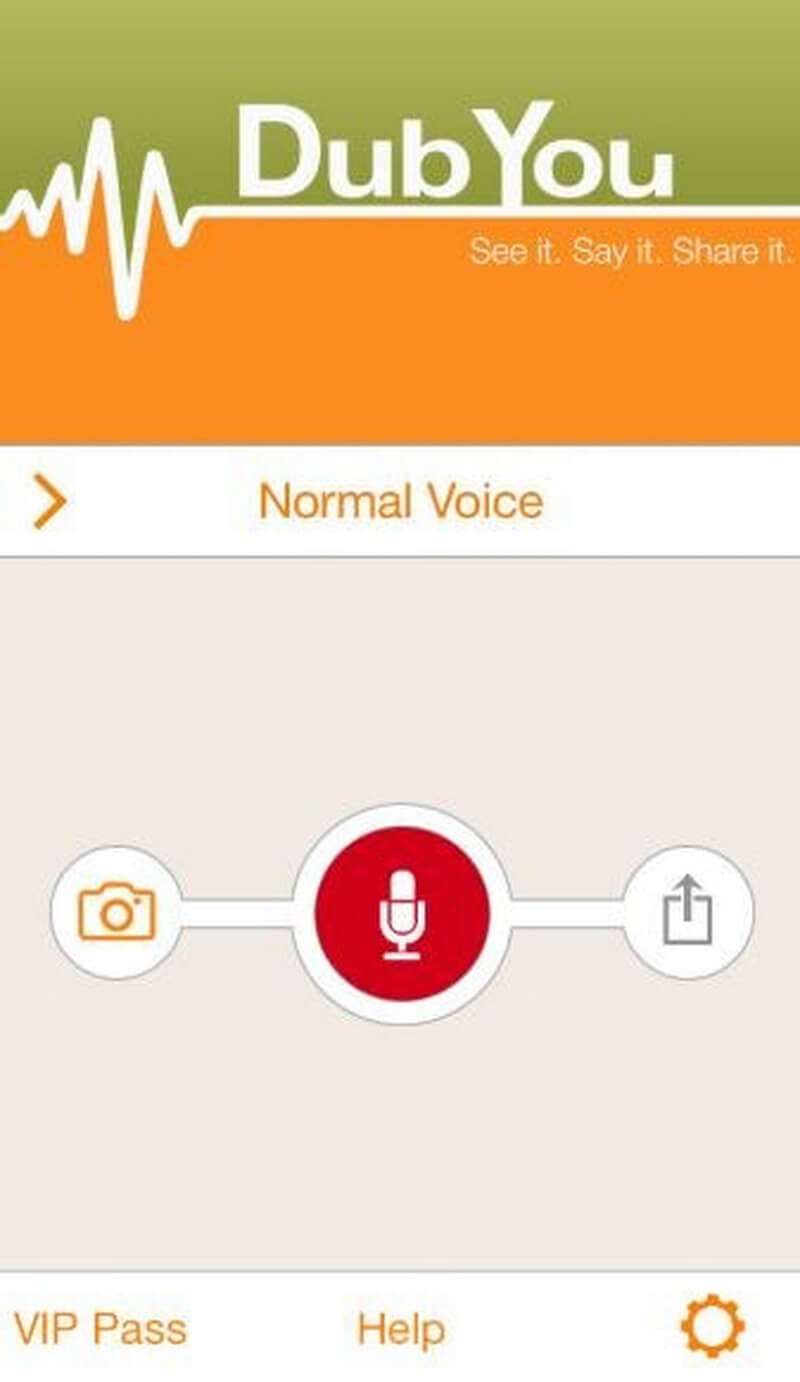 Product Specification:
Manufacturer: Arf Software Inc.

Operate System: iOS

Size: 13.5 MB

Version: 1.06

Price: In-App Purchase Products,$1.99 for VIP pass.
Why DubYou:
You can add funny voice effects to the original sound, or you can replace the sound with a completely new recording.

DubYou works with photos too.

No account signup required.

On premium VIP version,there are 30 best voice effects to choose from.
3. Voice Changer Voice Recorder Audio Editor
Voice Changer is a free video voice changer app that you can use with Android devices. If you are looking for a simple yet reliable voice changer for videos, then this app will be the right tool for you. You can add effects like robot, alien, bee, old person, and others. Record your voice and add the effect you want.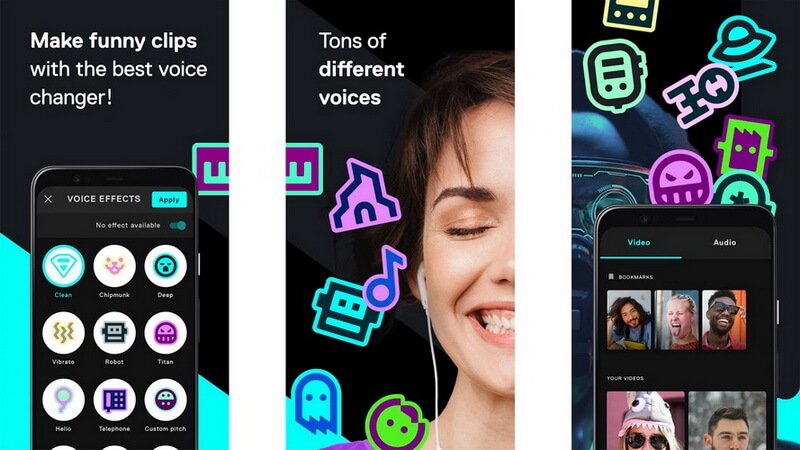 Product Specification:
Manufacturer: Handy Tools Studio

Operate System: Android

Size: Varies by device

Version: 2.0.6

Price: Free
Why Voice Changer Voice Recorder Audio Editor:
It allows you to make voice changer with effects which will transform your voice into many interesting sound effects and also improve the quality of your singing.

Supported to as voice changer for calls and voice messages.

It offers you 10+ voice effects to make fun,like robot,woman,bee and so on.
Part 4: 3 Best Video Voice Changer Online
1. VoiceChanger.io
This is a rather simple video voice changer website you can use to change your voice online. VoiceChanger.io offers a varied list of alternatives you can use to change your voice. The list includes different types of aliens, robots, monsters, and animals. You can record yourself directly and download the modified audio. You can upload an audio as well and modify it.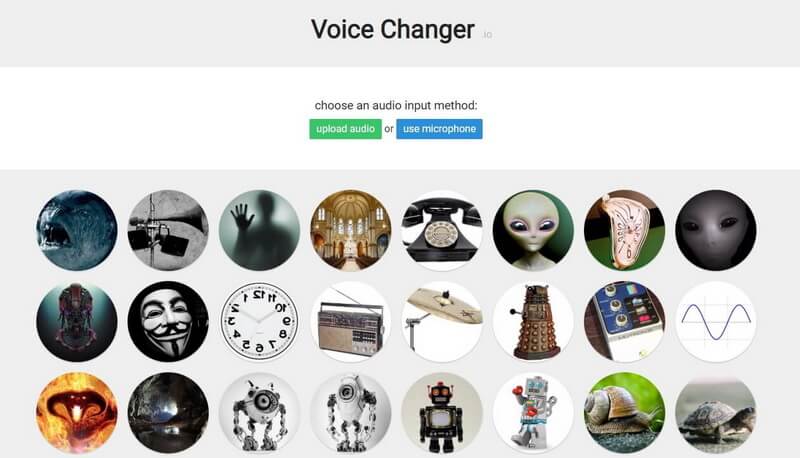 Product Specification:
Manufacturer: Voice Changer.io

Operate System: Online

Free
Why Voice Changer.io:
You can change your voice into 50+ voice effects for audio files and recording.

Text to speech voice change is supported on the tool.

It is also a voice maker which allows you to combine audio effects and shift the pitch of your voice.

It is a free tool.
2. Voice-Changer
If you need a quick video voice changer online, then the Voice-Changer website will solve your problems. You can reduce the time required to adjust all your audios and just let the available effects do all the work. You can record yourself directly or upload an audio that will be changed.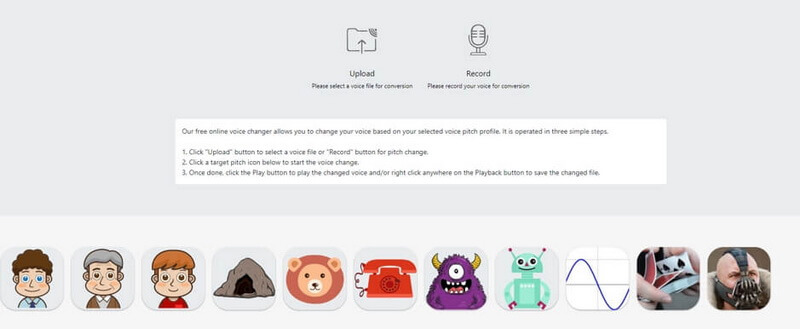 Product Specification:
Manufacturer: Voice Changer Org

Operate System: Online

Price: Free
Why Voice Changer Org:
This online voice changer offers video converter functions.

It also provides voice recorder function.

Text to speech is supported on the app.

It gives you 11 voice changing effects for you to change your video voice.
3. Online Tone Generator
Online tone generator can work as a quick adjustment for your video voice. You can use this tool to eliminate the background noise on your recordings. You might as well use the Pitch Shifter tool to change subtly the way your voice sounds.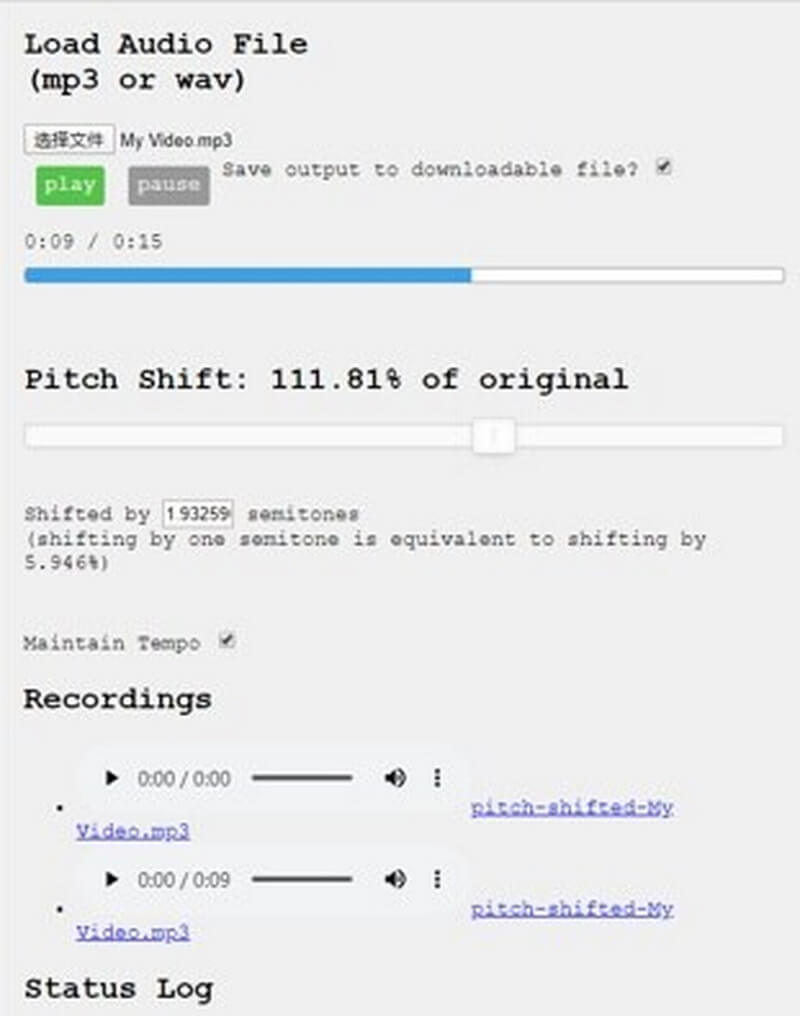 Product Specification:
Manufacturer: Onlinetonegenerator.com

Operate System: Online

Price: Free
Why Onlinetonegenerator:
This free online pitch shifter tool allows you to change the pitch of audio files (mp3 or wav format), without affecting the tempo.

You can either slow down or speed up your audio file.

This voice synthesizer tool allows you to enter any text into the box and listen to a computer generated voice speaking the output.

It is also a noise generator that you can block out other sounds.
Part5: FAQs About Video Voice Changer
What to do if my microphone does not show up as an input option?
If your video voice changer tool does not recognize your microphone, make sure it is properly plugged. You can clean the microphone plug and reconnect it. You might as well check your computer or device configuration for microphones devices.
How can you use a video voice changer for Android?
You can use a compatible application or software. There are multiple alternatives available on the Google App store. We recommend you to use a tool like iMyFone Filme to enable the video voice changer on Windows.
Can you change the voice from a video call?
You can use the voice changer for a live video call. You need to search tools that will quickly synthetize your voice with effects. You might use a program or a browser extension.
Conclusion
Using video voice changer software for PC and voice changer for video online can be a huge improvement for your videos and content creation. iMyFone MagicMic can enable the creation of different characters, storylines, and effects. You can keep your audience engaged on your content with these voice effects.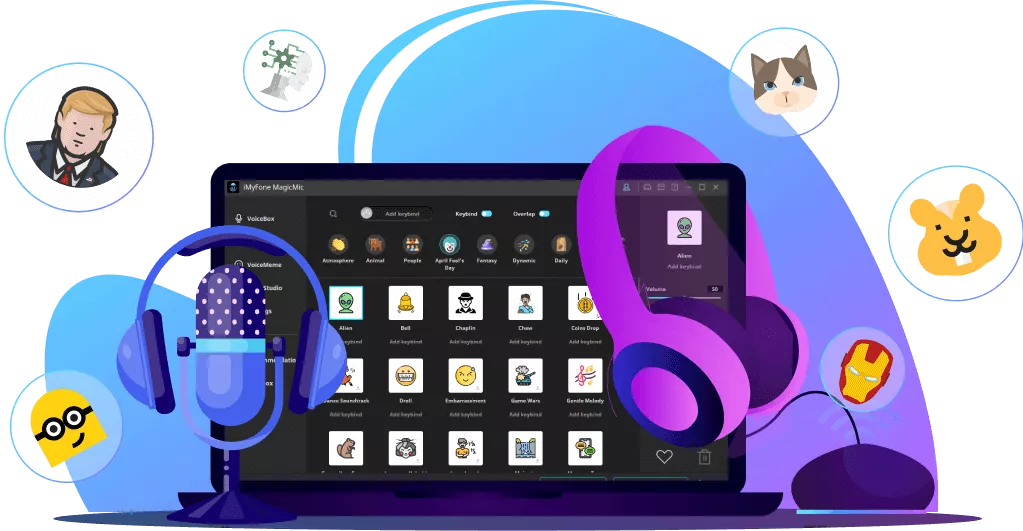 250+ Voice effects for one click voice changing in real-time.
Huge library with 600+ Voice Effects and 200+ Voice Memes.
Sound emulator in games,live,chatting,online class and more.
Voice record and audio voice changing are supported.
Voice studio lets you create any voice you like.