Voicemod is a voice changer, and many people use it to change voices for content creation, live streaming, gameplay, and other purposes. However, it has various issues, and some people also consider it a virus. Therefore, people find Voicemod alternative.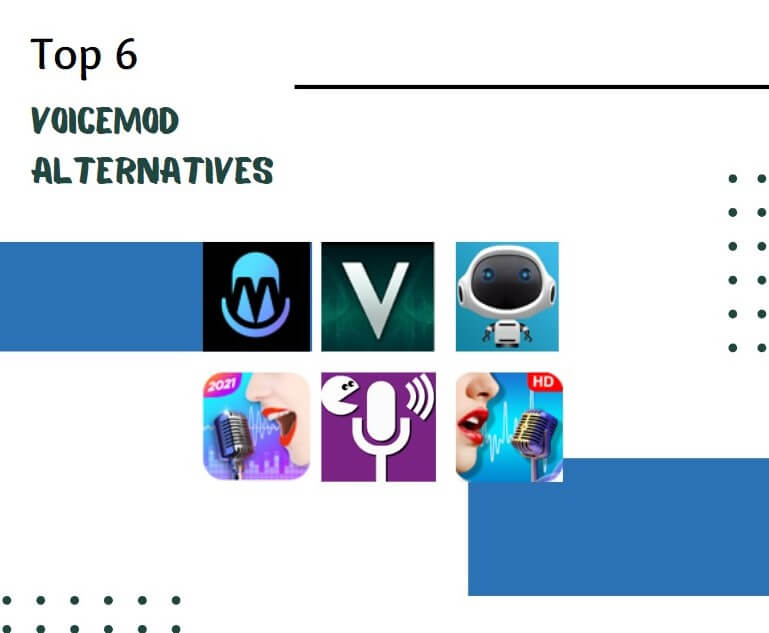 In this article, we will discuss 6 Voicemod alternatives. We will share Windows, macOS, iOS, and Android apps and tools. For your ease, we will discuss the pros and cons of each tool. Let's begin.
Part 1: Best Alternatives to Voicemod for Windows and Mac
MagicMic is a commendable and beginner-friendly voice changer for Windows and Mac. It is specially made for beginners and allows them to use the tool without any hassle. You can easily change your voice in real-time and make it more than perfect.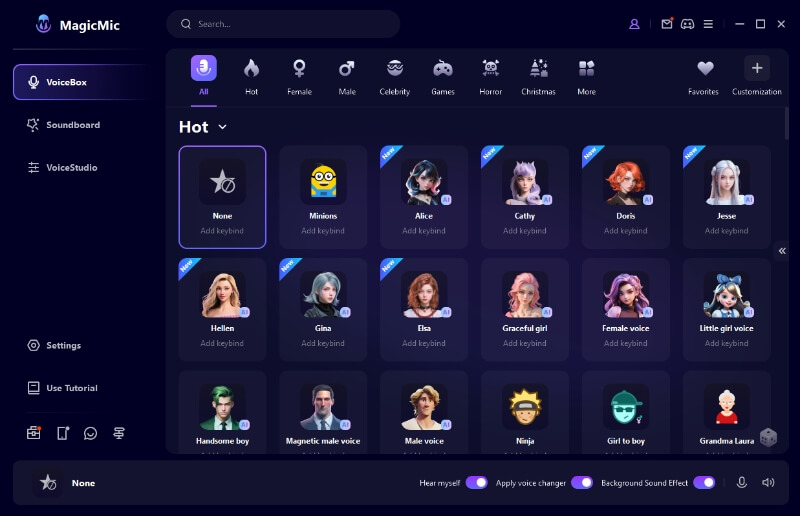 It is perfect for changing the voice for any purpose. Whether you need to prank someone, record your voice in a different tone, or create content, it is perfect for everything. This one tool is more than enough for your voice-changing needs.
Pros

After installing the tool, you just need to select the voice effect you need to apply to your voice. Just one click and you are done.

There are 100+ preset voice effects that are commonly used. The library is updated frequently.

It works with both Mac and Windows.

You can add sound effects using this tool; there are 300+ audio effects and 150+ voice memes.

The tool is compatible with keybinds control for voice and sound effects.

MagicMic offers background sounds for you to change environment sounds.

You can custom your voice with various adjustment sound parameters.
Cons

It is a new tool, and more voice effects are being added.

It is not as famous as old voice changers on the market.
Voxal Voice Changer is an amazing tool for Mac, and its Windows version is also available. It is an all-in-one voice changer for all your needs. You can do almost everything with it and use it for gaming, chatting, voice recording, adding background noise/effect, voiceovers, audiobooks, podcasts, and many other things. It is a pretty basic tool, but it has got tons of features.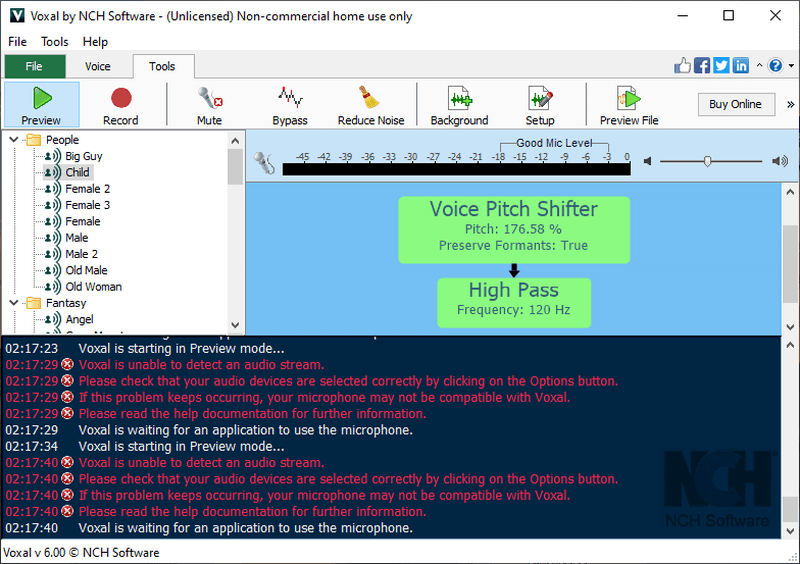 Pros

Voxal Voice Changer is compatible with Mac and Window devices.

It is quite easy to use. It requires three simple steps to start the real-time voice changing.

There are many background sound effects available to imitate the real surroundings.

It works in real-time, so you can use it for live calls and streaming.

It also has the feature of a custom voice effect. You can create a voice effect of your choice. You can create unlimited custom voices.
Cons

The interface looks quite old.

It comes with limited voices and sounds.
Part 2: Top 2 Alternatives to Voicemod for Android
Voice Changer by AndroidRock is an amazing voice-changing tool that changes your voice with one tap. It is one of the simplest voice-changing applications for Android that any beginner can use. It works perfectly well when you want to record audio or have pre-recorded audio. It is not a real-time voice changer that can work with other apps and tools. You can just change the recorded voice or any saved audio file.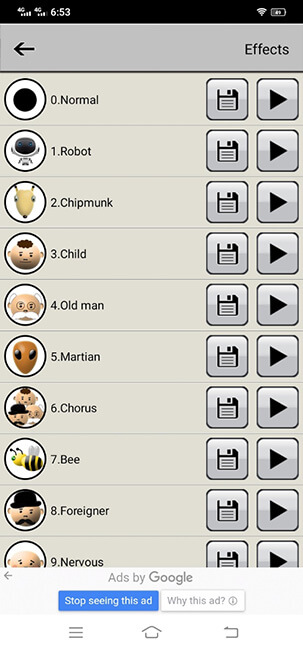 Pros

There are 50+ voice effects available. Once you record your voice, you can hear it with all those voice effects. You can save any of them you like.

If you already have any audio clip or recording, you can also change its voice.

The saved voices are organized in a separate folder so that you can easily find them whenever you want.

It allows you to add voice effects for audio files.
Cons

It is not for changing voices in real-time. You can change only recorded voices.

It has limited voice effects, and most of them are not very clear.

The ads on the interface are quite irritating.
This is another prolific voice changer for Android users. The interface of this application is quite attractive; its design is just like a modern-day application. It is also easy to use, and anyone can use it to change their voice.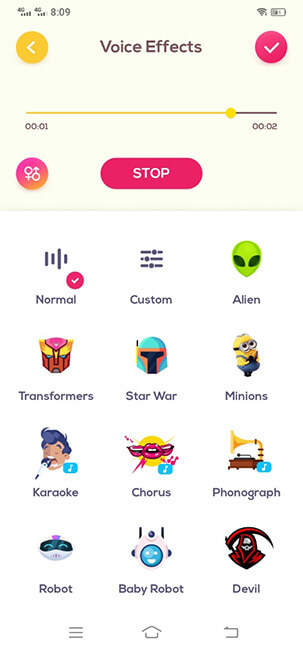 Pros

There are many voice effects available. You just need to tap on what you like.

It also has an option for custom voice. You can select the speed and pitch.

You can select your role, such as male, female, and child, to make the voice more realistic.

The saved audio clips are organized in a separate folder.
Cons

The advertisements are quite annoying; you will have them after every tap.

You cannot use it for real-time voice changing.
Part 3: Top 2 Alternatives to Voicemod for iPhone
This app is one of the best voice changers for iOS. It has got many voice effects, and it is perfect for your needs. Whether you want to prank someone or make content, this is a perfect tool. Once you record the voice, you have options of different voice effects, and you can choose any voice you like and save it to your device. You can apply different voice effects and hear them.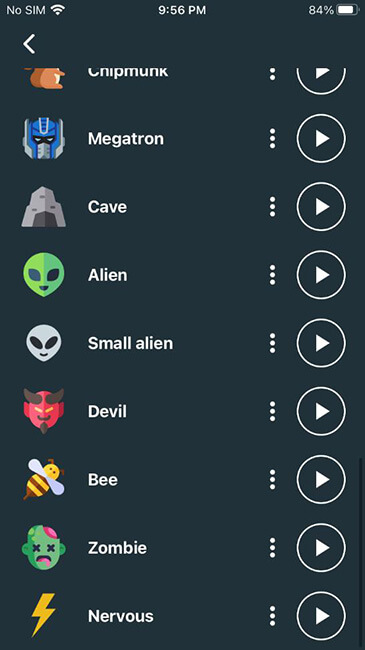 Pros

The converted voice sounds realistic.

It is an amazing tool that can help you change your voice without any hassle. You just need to select a suitable voice effect.

It has all commonly used voice effects.

It is a simple app that you can use easily.
Cons

You will have an advertisement after every tap.

There are limited voice effects, and you cannot have more.
It is a simple voice changer for iOS users. The best part is that it is free to download, and some voice effects are free. You can easily convert your voice using this application. Keep in mind that this application is only suitable if you convert voices once in a blue moon.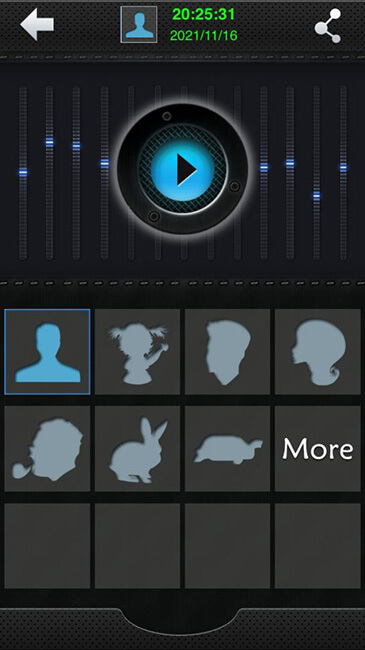 Pros

There are a few voices that you can use for free.

You can add more voices by purchasing the premium plan.

It is a very simple tool.
Cons

The interface looks too old.

There are only seven free voice effects available.

The changed voice does not sound realistic.
Conclusion
We have discussed several alternatives to Voicemod. If you want to use a voice changer on Windows, you can use iMyFone MagicMic. It is a simple and amazing voice changer that works in real-time. It can change your voice to different voices, and you can also apply various sound effects. For macOS, we have shared Voxal Voice changer. We have also shared applications for Android and iOS. Now, you can choose the voice changer you like.